Wrist Game or Crying Shame: Corum Bubble Shark Diver
Would you bring home the dome for €2,151?
This week on Wrist Game or Crying Shame, we bring in the Corum Bubble Shark Diver. This is one weird watch. But first…
Last week, I brought in some serious style with the Girard-Perregaux Sea Hawk 7100. Ok, it was a bit blingy with its polished bracelet and bi-color vibes. Perhaps it was due to these traits that the watch finished in a near dead heat at 50/50 (the fine print does show an 8 vote general election Crying Shame loss, but I think the electoral college would show this as a Wrist Game winner). I think that type of result is spot on because it supports what I always say – that 50% of the population has no fashion sense. I'll leave it to you to translate that cryptic remark. Today, we bring something even more polarizing with the Corum Bubble Shark Diver.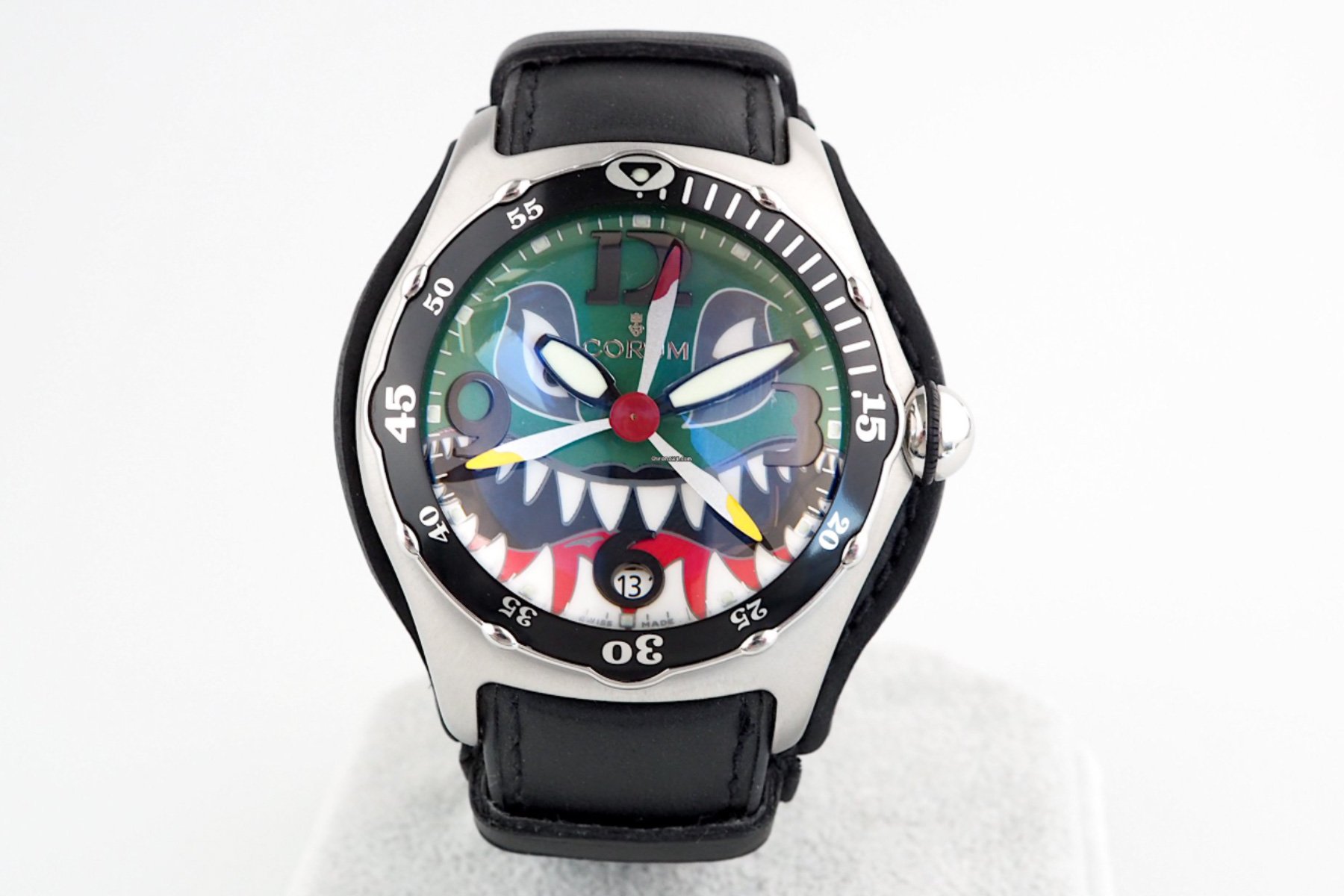 The Corum Bubble Shark Diver
Corum is one of those brands that's tough to describe. When I was a cranky tween taking a look at watches in the mall or, sparingly, on a Caribbean cruise, they were present and popular. Watches like the Coin were pretty loud and gaudy, but they were certainly different. Then, I can recall the Golden Bridge, which is still a really neat model in my eyes. But around the year 2000 (cue Conan O'Brien's epic "In the Year 2000" skits), we were blessed with an oddity called the Corum Bubble. Think of a relatively normal, but 44/45mm cased watch and throw on a massive sapphire bubble crystal. This wild protrusion brought the thickness up to a staggering 18.8mm.
Supposedly, the Corum Bubble was inspired by extreme depth dive watches (think Rolex Bathyscaphe Trieste and you're on the right track). However, I think almost all of the early models were sans any kind of dive bezel. The watches were and still are understandably flashy. To make matters flashier (or worse in some minds), they often had crazy dials! Skeletons, Jokers, artwork, etc were very typical. I even worked with someone who had a skull and crossbones version.  He wore some large and in charge watches, but this was a surprising one!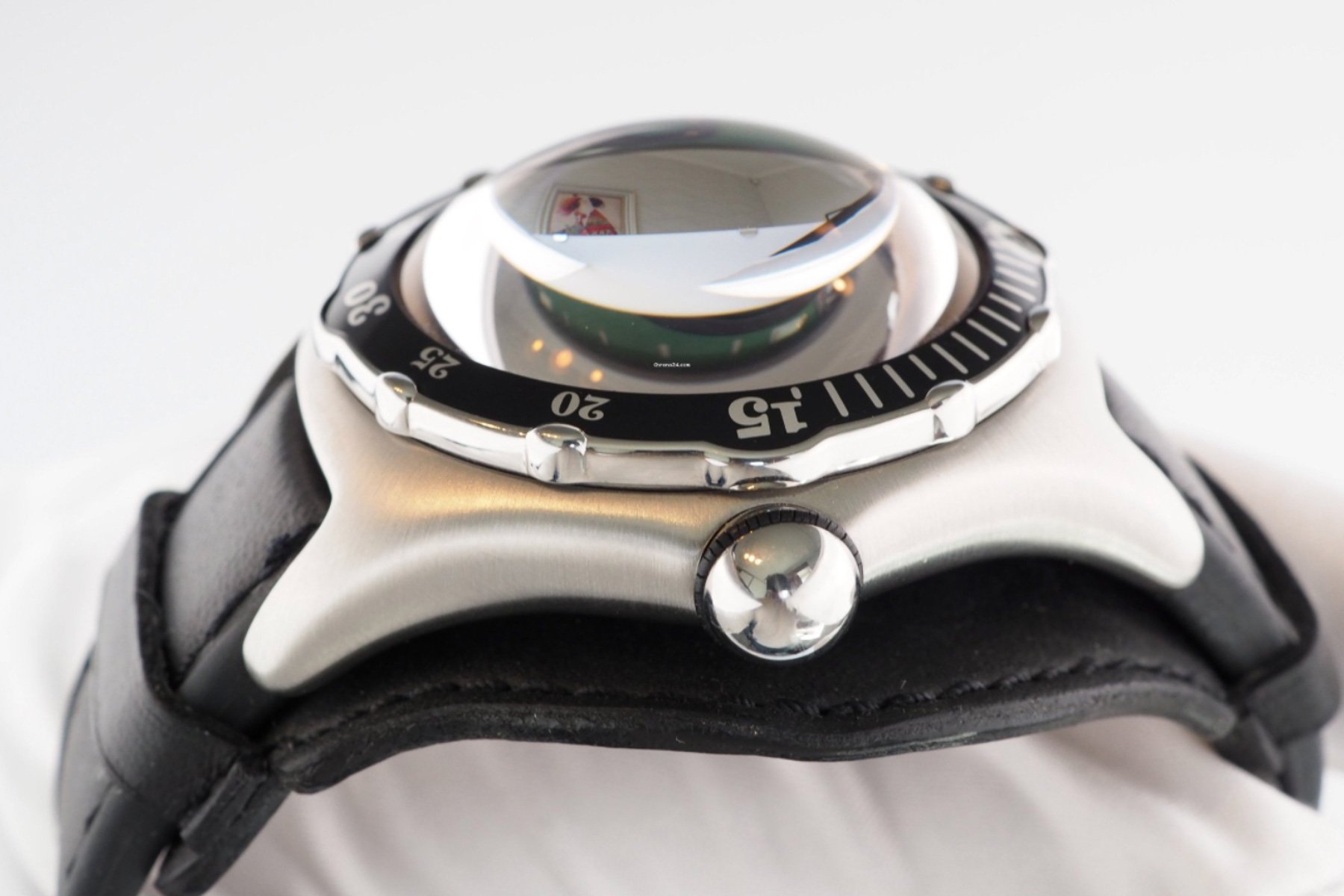 Some random thoughts and details
Most of you are probably snickering right now, but these Corum Bubble watches were extremely hot in the early 2000's. I'm not sure if they were Panerai hot, but they were seriously popular. Corum took full advantage of the situation and rolled out many limited edition pieces to hungry fans. In 2004, they added this semi proper dive version called the Corum Bubble Shark Diver (and I believe 2004 pieces). Now, this 45mm x 18 and change mm thickness steel watch did actually bring some diving chops. It has a dive bezel and it's good to 200 meters.  I'm assuming the crown is a screw-down affair.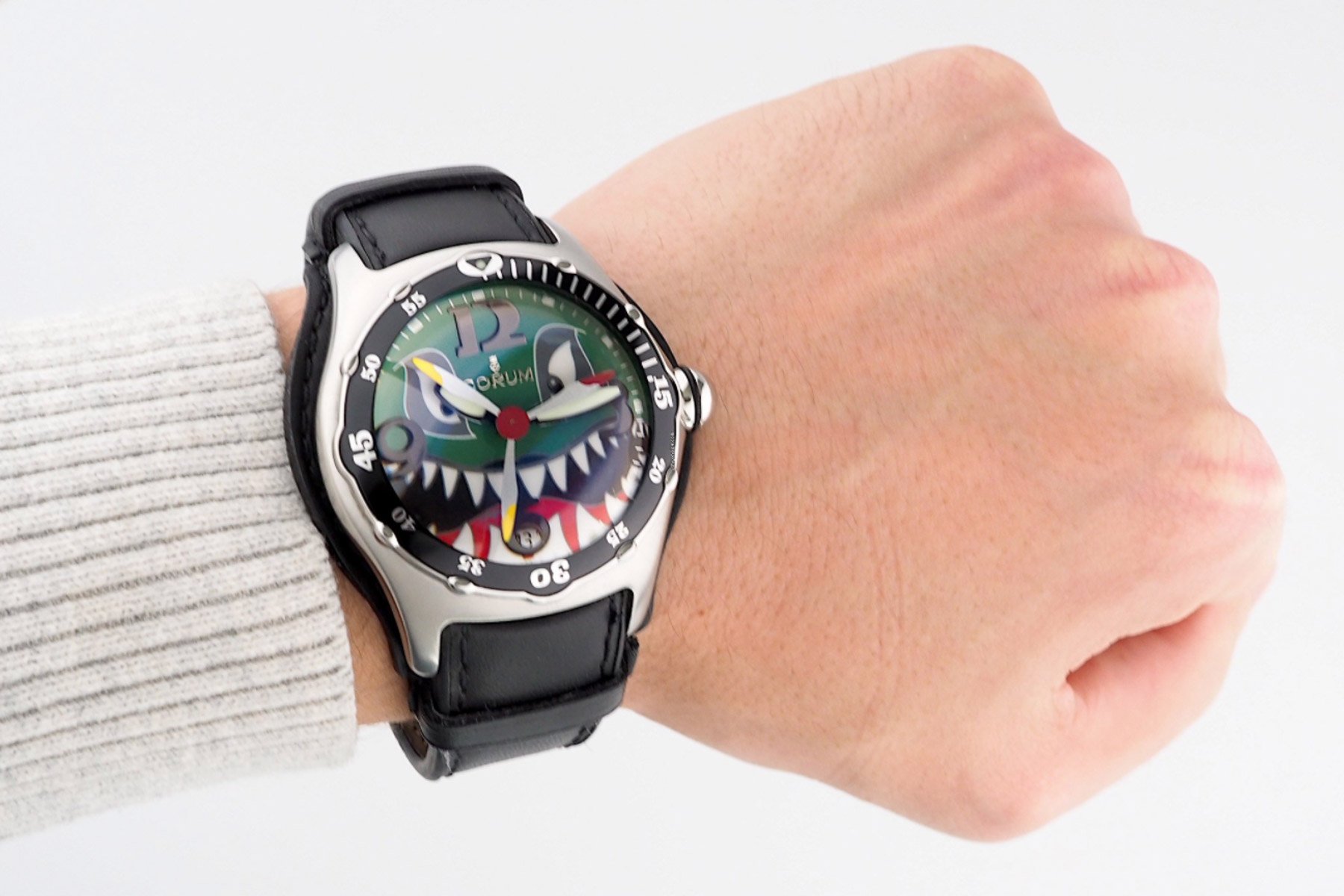 Seriously, stop sniggering. The Corum Bubble Shark Diver was meant to look like you are staring into the front of a World War 2 era fighter plane with such teeth. It even has a tri-blade seconds hand to complete the look! Oh, and if sharks aren't your thing, Corum made a similar tiger-adorned model to celebrate the, you guessed it, famed Flying Tigers. Is this watch seriously kitschy? Hell yes it is, but it's kind of rock 'n' roll.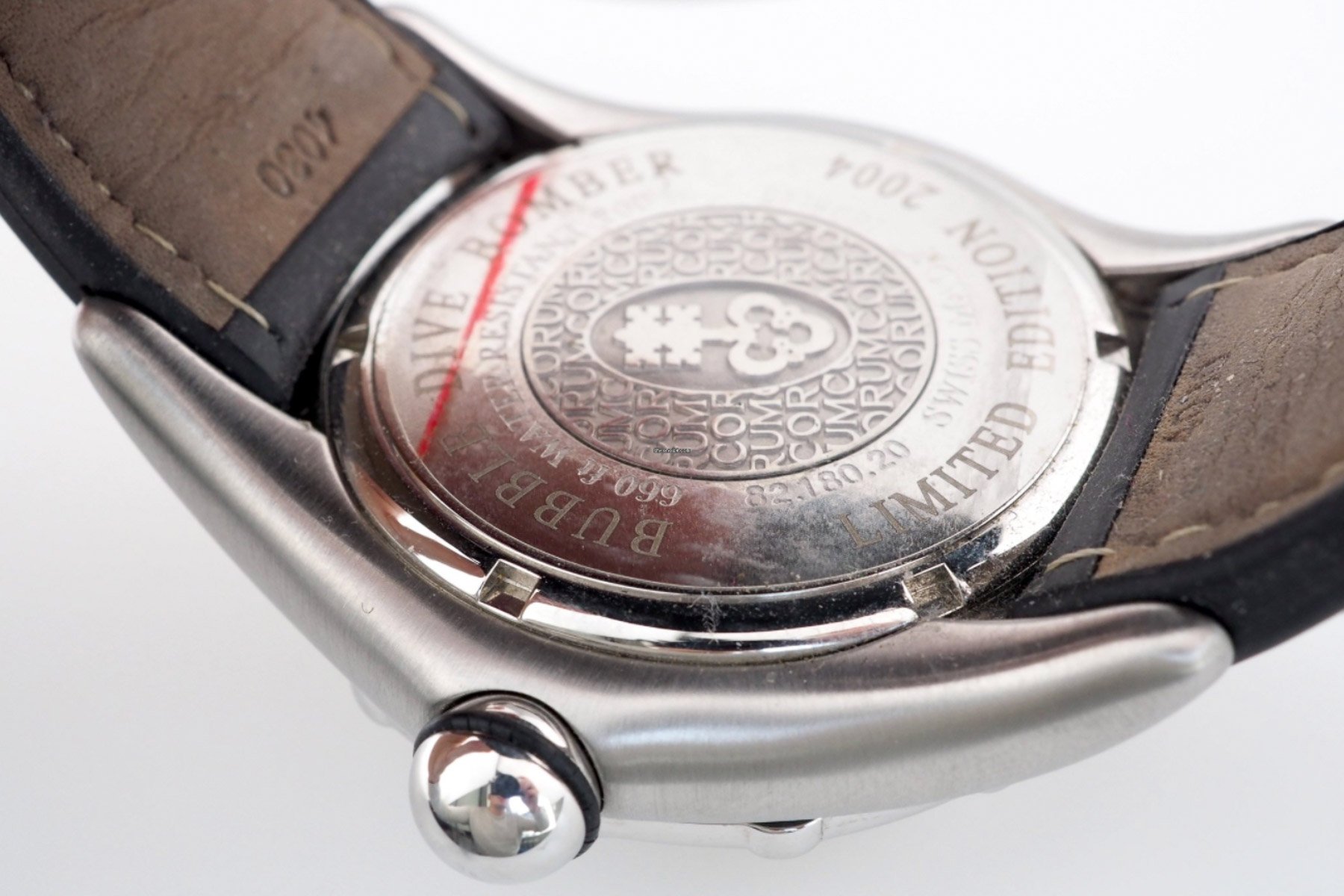 Who is this watch for?
Aside from the random buyer like my ex-colleague, I think a lot of Corum Bubble watches found homes on rockers, flashy folks (I'd guess L.A. was a big market) and maybe even some gangsters! Maybe this Shark Diver appeals to that latter group even more because if its aggressive cuff strap and ammo box packaging. Aside from those folks, I guess I see this and the other Bubbles as style statements. And in the end, if they're not my bag, they're kind of fun as long as you don't take them so seriously.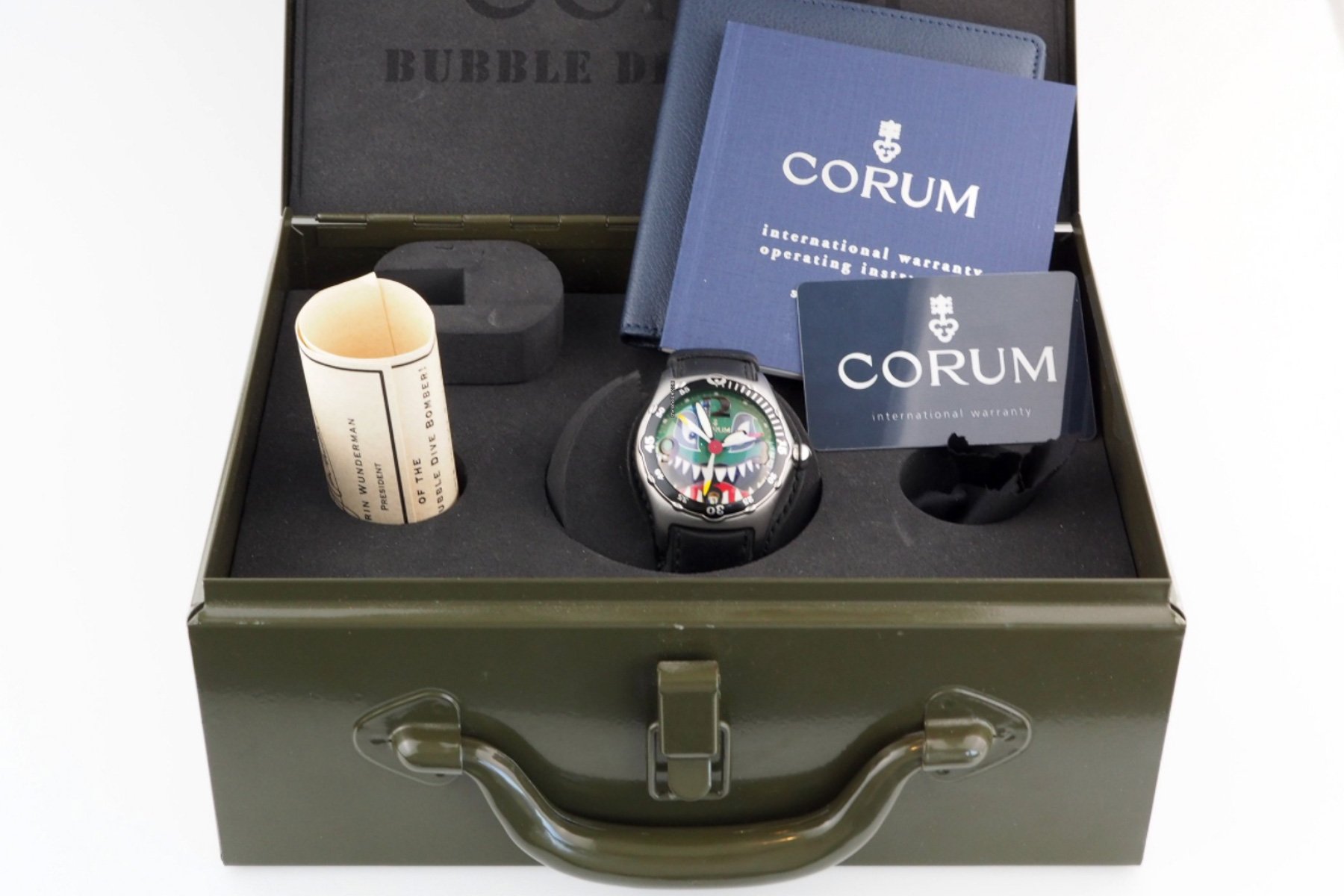 Today's candidate
Today's Corum Bubble Shark Diver was found on Chrono24 and the pictures belong to the current owner who presumably sits in Odessa, Ukraine. I don't know what this watch cost when it was new, but I'd bet a bucket of Hrivna that it was more than the €2,151 offer of today. The seller did a nice job of photographing this ornate piece (you don't know how rare that actually is when I'm hunting for my Wrist Game subjects) and it comes with everything. The box, the paperwork — including a little certificate from dearly departed former CEO and designer of the Bubble Severin Wunderman — and a new strap are all part of the deal. The watch is said to show a few minor scratches and I guess that's not such a surprise.
But let's see what you think about the Corum Bubble. Try not to be so cantankerous — I know, it's 2020 and easy to be a keyboard warrior grouch on our new comments system — and have some fun with this one.