Watches That Reign Supreme In Yellow Gold From Rolex, Patek Philippe, And Omega
And the "Midas Touch" also elevates watches from Cartier, Breguet, and G-Shock
Everything king Midas of Phrygia touched turned to gold. It was his wish come true after doing a good deed. The god of wine Dionysus made it happen, but to Midas' horror, his wish wasn't as glittery good as he hoped. When he wanted to eat, his food turned to gold. Even his beloved daughter Marigold (ironically) turned into a gold statue after he hugged her while trying to comfort her. If Midas visited a modern-day manufacture he could turn steel watches into gold ones. He would create watches that reign supreme in yellow gold from Cartier, Breguet, Casio G-Shock Rolex, Patek Philippe, and Omega.
Before I present you with six watches that look best in yellow gold, I must first tell you how the story of King Midas ends. And also explain the moral of the ancient Greek myth. So, the king couldn't eat, drink and touch his loved ones and that became a bit of a problem. And that's why king Midas, on the brink of dying of thirst, starvation, and despair, begged Dionysus to take back the gift. Luckily for the king, Dionysus, being one of the "good gods", agreed to do so. Finally, the king could eat and drink again and even Marigold became a person of flesh and blood again. The moral of the story is that too much greed has a blinding and devastating effect.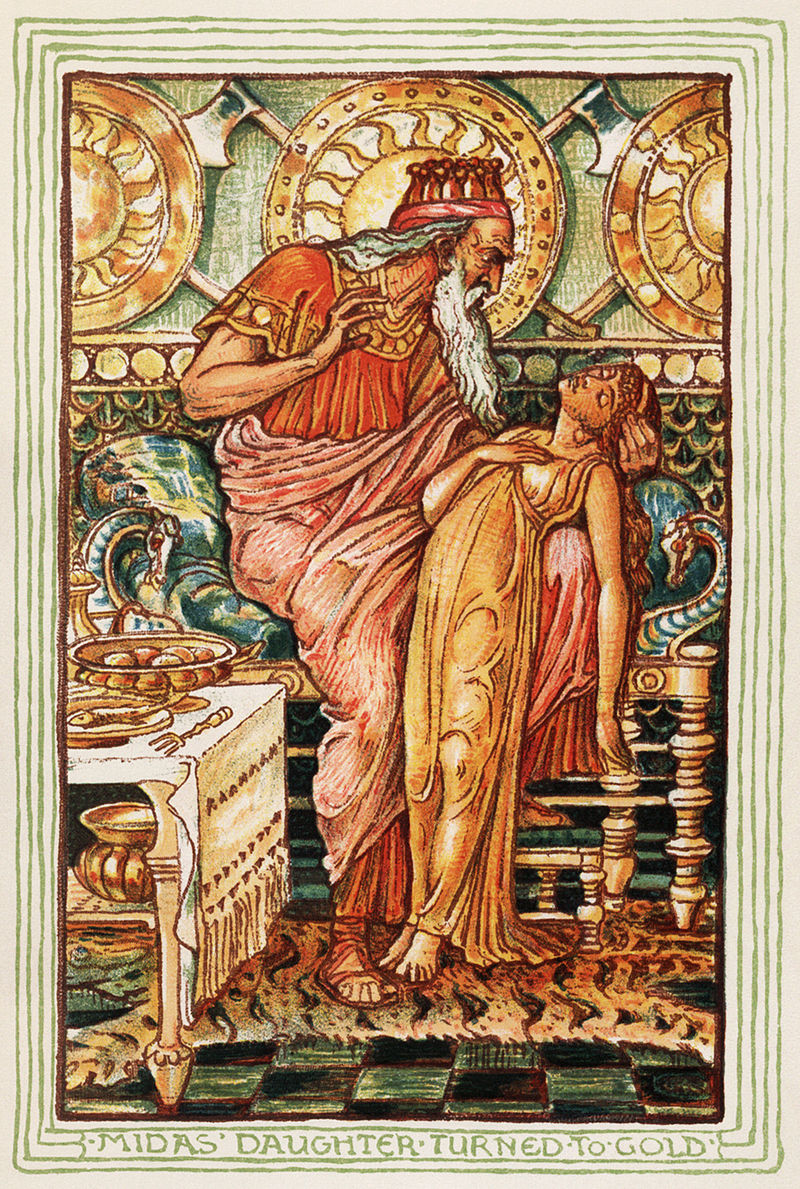 Rolex Daytona ref. 116508
The lesson king Midas learned has gone lost when it comes to the modern use of the "Midas Touch". The term is used nowadays to express the success someone has, especially when it comes to entrepreneurial endeavors. "Everything he touches turns into gold", meaning everything he does becomes a great success. If we use the modern take of the "Midas Touch" the next six watches sure profited from the king's magical hands. The first one is probably a controversial choice, the Rolex Daytona. The story of the Daytona starts in 1963 with the ref. 6239.
John, Paul, and Jonah
The Rolex Daytona has reached legendary status in the watch collecting world and is widely considered one of the most desirable timepieces ever, regardless of being vintage or contemporary. It all started in 1963 when Rolex debuted the ref. 6239. The watch evolved over the years became an icon because of Paul Newman, and apart from steel different types of gold and also platinum is used to create a plethora of Daytona chronographs. Nowadays, the steel Daytona is the most popular one. The craze is clearly visible on the parallel market. Step into your local Rolex AD, ask for a ref. 116500 in stainless steel with either a black or white dial and you will meet either a hysterical laugh or a twitching nerve and teary eyes in response.
Unfortunately, you will the same response when you ask for the most glorious of all modern Daytonas, the green-dialed yellow gold ref. 116508. Everything about this solid 18k yellow gold with a rich and deep, and above all, mesmerizing green dial screams "Midas Touch". It's the watch of choice of superstars such as John Mayer who called this Daytona a "sleeper hit", and award-winning actor Jonah Hill.
A sleeper hit no more
Unfortunately the ref. 116508 is no longer a "sleeper hit" — thanks a lot for that, John Mayer — because of the connection to the successful artist the watch was nicknamed after him, and now it's in very high demand. It's virtually impossible to get a hold of the €34.800 through the official channels. And on the gray market, it's very hard to find one that's priced under €70K. A possible alternative is the yellow gold version with a meteorite dial that costs €39.000. A stunning watch, but it doesn't radiate the same luxury the combination of yellow gold and green does. I know, the Daytona is a tool watch and steel is the most appropriate material for it, but you can't deny the allure of traditional yellow gold and the typical Rolex-green dial that makes for one bring-it-on, see-me-shine, and show-it-all type of watch.
You can find more information about the current Daytona collection, on the official Rolex website.
Cartier Tank, Santos, and Tortue
I can be very brief when it comes to Cartier and yellow gold. Any Tank, Santos, and Tortue — come to think of it, every classic Cartier — looks best in yellow gold. Preferably a watch from the Collection Privée Cartier Paris series that debuted in 1998. That was a collection of limited edition and limited produced watches, housed in Cartier's classic cases like the Santos, Tank, and Tortue. As a bonus, these watches were outfitted with high-end mechanical movements from Piaget, Jaeger-LeCoultre, and Frédéric Piguet amongst others. It was the time Cartier wanted to lure in the male watch aficionado by using top-of-the-line movements with excellent finishing visible behind display case backs.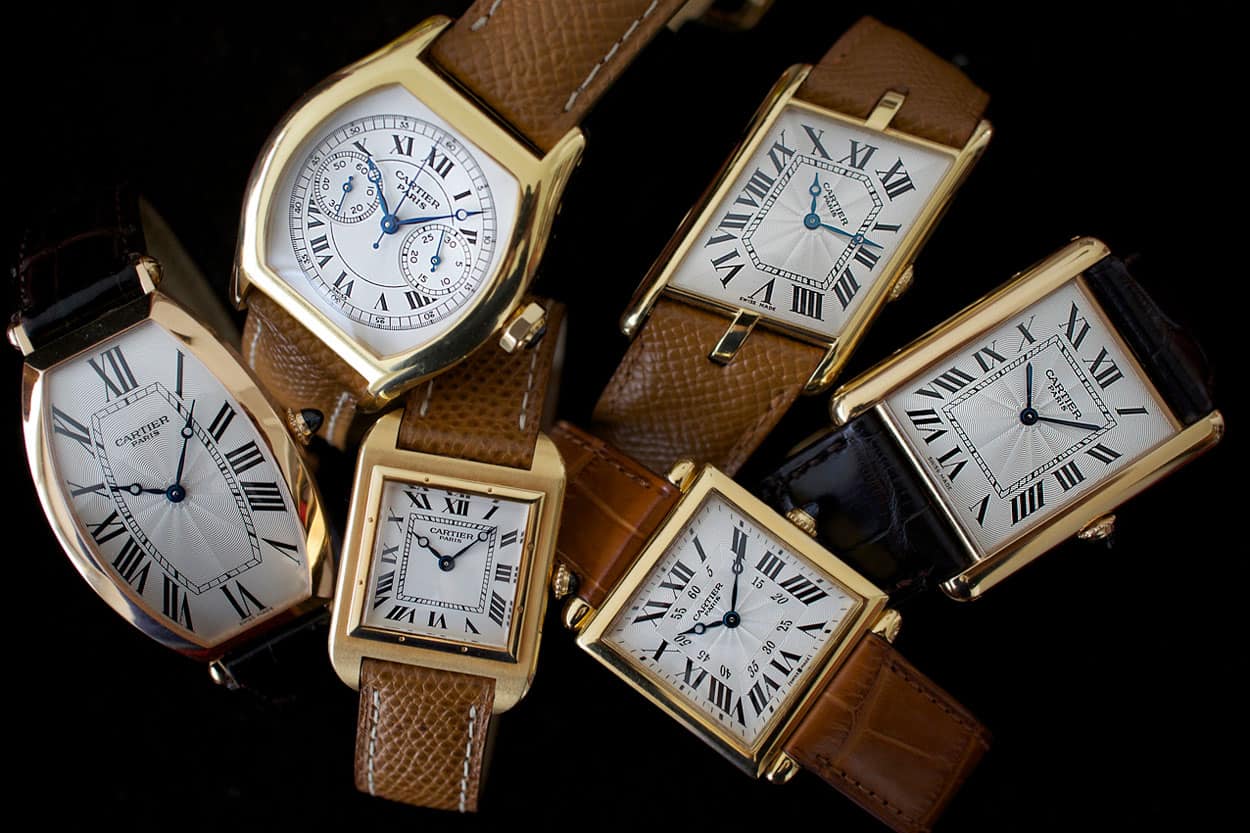 Nothing says Cartier like yellow gold
Did it work? Not really. The production numbers were too low to have a good worldwide presence in the many worldwide Cartier boutiques. It proved impossible to have limited editions of a hundred pieces work their magic in over 200 brand boutiques. Anyway, the discontinued "CPCP" models in yellow gold are the epitome of a classic French Cartier style matched with fine watchmaking from Swiss experts.
The large, yellow gold  €10.600 Tank Louis Cartier with a quartz movement, is a Cartier pur sang.
And when you look at the modern collection, it becomes obvious that nothing says "Cartier" like a yellow gold funky-shaped case with a white dial and Roman numerals. The large, yellow gold  €10.600 Tank Louis Cartier with a quartz movement, is a Cartier pur sang. The absence of a second hand also disguises the fact that it's quartz-equipped. It's all about the traditional, rich yellow gold here.
Find out what yellow gold models suit you best at the official Cartier website.
Patek Philippe Ref. 5327J — Grand Complications Perpetual Calendar
Don't go for the cool "G" nor the fashionable "R", in the case of Ref. 5327. The "J" is the superior watch here. The self-winding Grand Complications Perpetual Calendar comes in a sleek 39 × 9.71mm, yellow gold Calatrava case with beautifully sculpted lugs. You can have it in white or rose gold, sure, but works best in yellow gold. Why? Do you really have to ask after looking at the feuille hands that sweep across an ivory lacquered dial with recessed counters and gold applied Breguet numerals?
A symbol of prosperity
When I look at Ref. 5327J I understand why Patek Philippe is the most prestigious brand. This watch is really completely timeless and effortlessly connects the past with the present. Because of the use of traditional yellow gold that is a symbol of prosperity, exclusivity, and eternal beauty. But also because of the dial layout that is both reassuringly familiar and enchantingly complicated. And things only get better when you look at the business side of this QP. There you will find a sapphire-crystal case back that reveals the ultra-thin, self-winding caliber 240 Q. A highlight is without a doubt the micro-rotor, although the finishing with exquisite perlage, Côtes de Genève, and beveling is also hypnotizing beautiful.
Want to spend €87.700 on an emblematic, timeless, and complicated Patek Philippe instead of something sporty in steel? Sure you do, because the hype has no hold on you. And surprisingly you can find the Ref. 5327J at your local AD where the simple sport watch is conspicuous by its absence.
For more information, please visit Patek Philippe's official website here.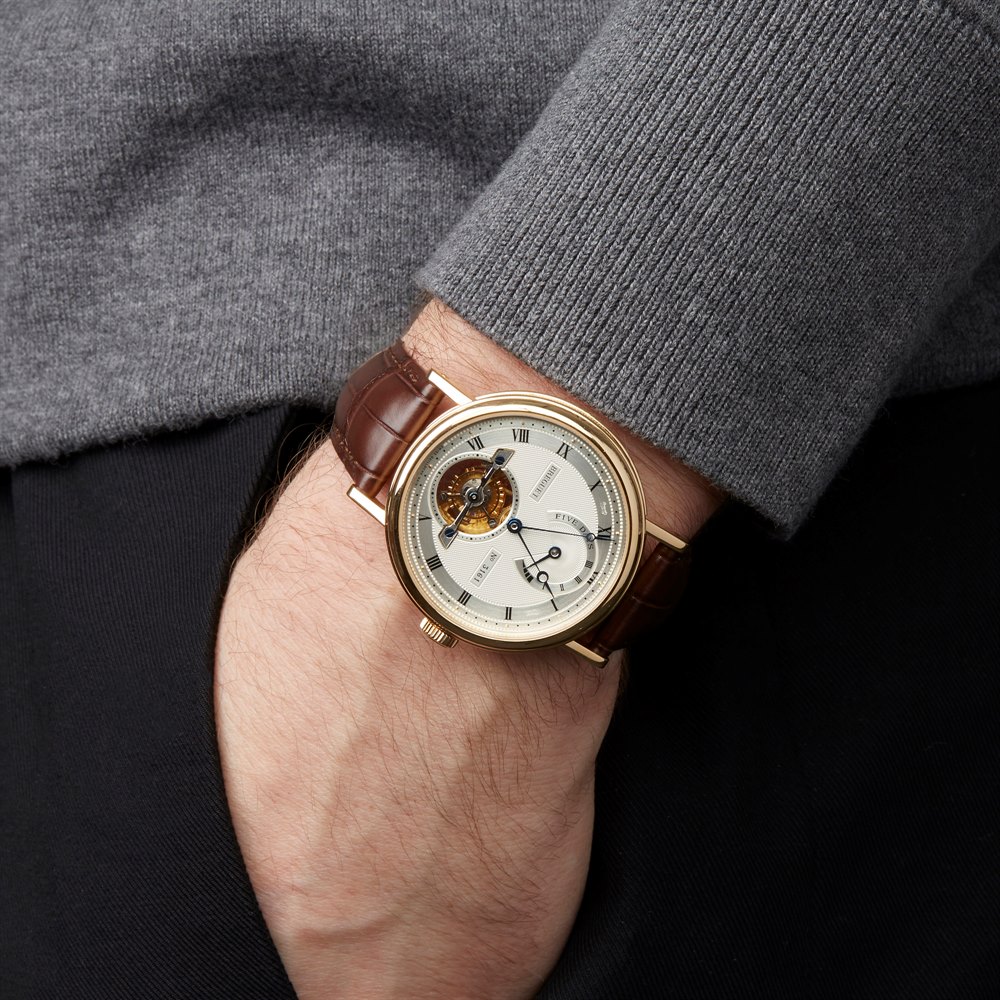 Breguet Classique "Grande Complication" Tourbillon 5317BA
In the unofficial "Year of the Tourbillon" the Breguet Classique "Grande Complication" in yellow gold with tourbillon is a proud representative of style and technicality. Since rose gold was only first used in the early 19th century by the famed jeweler Carl Fabergé, a classic Breguet should have a case in yellow gold as was used in Abraham-Louis Breguet's time. The 5317BA has an understated 39mm case in yellow gold that matches the hand-engraved, silvered gold dial. The layout of the dial is both clean, elegant, and traditional. And the same goes for the thin, blued hour and minute hands. The power reserve indication at 12 o 'clock and running seconds on the tourbillon shaft at 6 o'clock bring balance to the dial.
The "King Midas" option
Turn the watch over, and you will see a self-winding, 5-day power reserve movement engraved by hand. And there's also a compensating balance spring with Breguet overcoil. Everything is set in a yellow gold décor — a case with a with delicately fluted case band that is. If you want more gold, there's the option of opting for a yellow gold bracelet instead of the standard brown alligator strap. And that first lavish version is most definitely the "King Midas" option.
More information on the official Breguet website.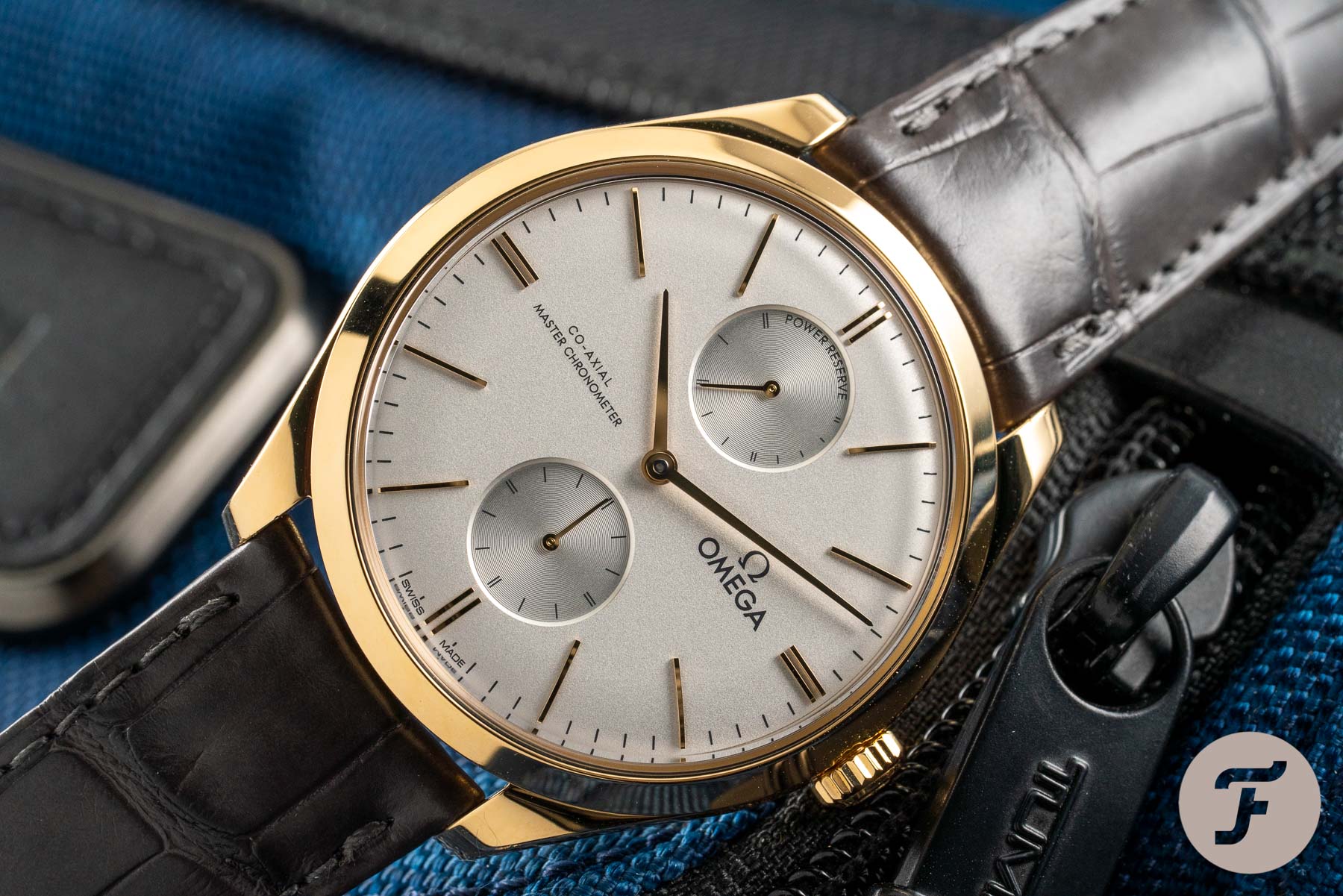 Omega De Ville Trésor Co-Axial Master Chronometer Power Reserve
The Speedmaster and Seamaster speak with loud voices. The more soft-spoken De Ville Trésor often gets snowed under. I get it, the Trésor that debuted way back in 1949 outfitted with Omega's famous 30mm caliber, is a sophisticated creature. But the €17.400 De Ville Trésor Co-Axial Master Chronometer Power Reserve 40mm (435.53.40.22.02.001) is something to keep in mind when on the prowl for a classic dress watch with a technical trick up its sleeve. The power reserve indicator at 12 o 'clock makes it a dress watch plus. The Master Chronometer Caliber 8935 also adds to the appeal of the watch.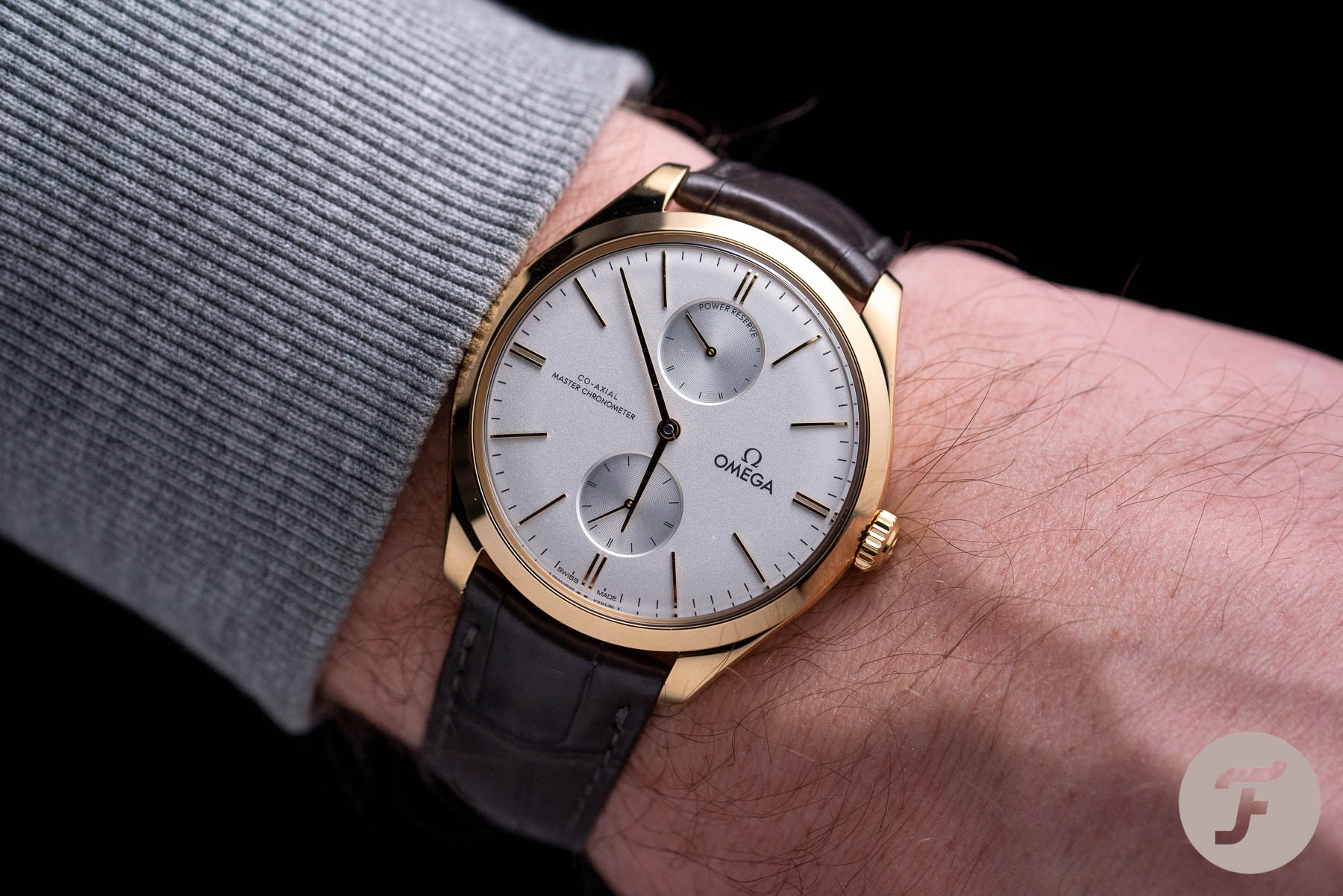 Such a nice cliché
Maybe the Trésor is also somewhat of an underestimated watch. As it was only in 2014 Omega decided to relaunch the Trésor as part of the De Ville collection. Seamasters and Speedmasters have a bigger presence and a larger-than-life story to tell — nothing beats James Bond and moon landings — but when it comes to sophistication a Trésor is the way to go. The Power Reserve is also available in a 40mm, rose-colored 18K Sedna gold and cool and collective steel case, but it's the traditional yellow gold version that hits the spot. Yes, a yellow gold watch with a white dial is cliché. But it's only a cliché because it never gets old and that sure is the (yellow gold) case with the Omega De Ville Trésor Power Reserve anyway.
Find out more about the elegant De Ville Trésor models on Omega's official website.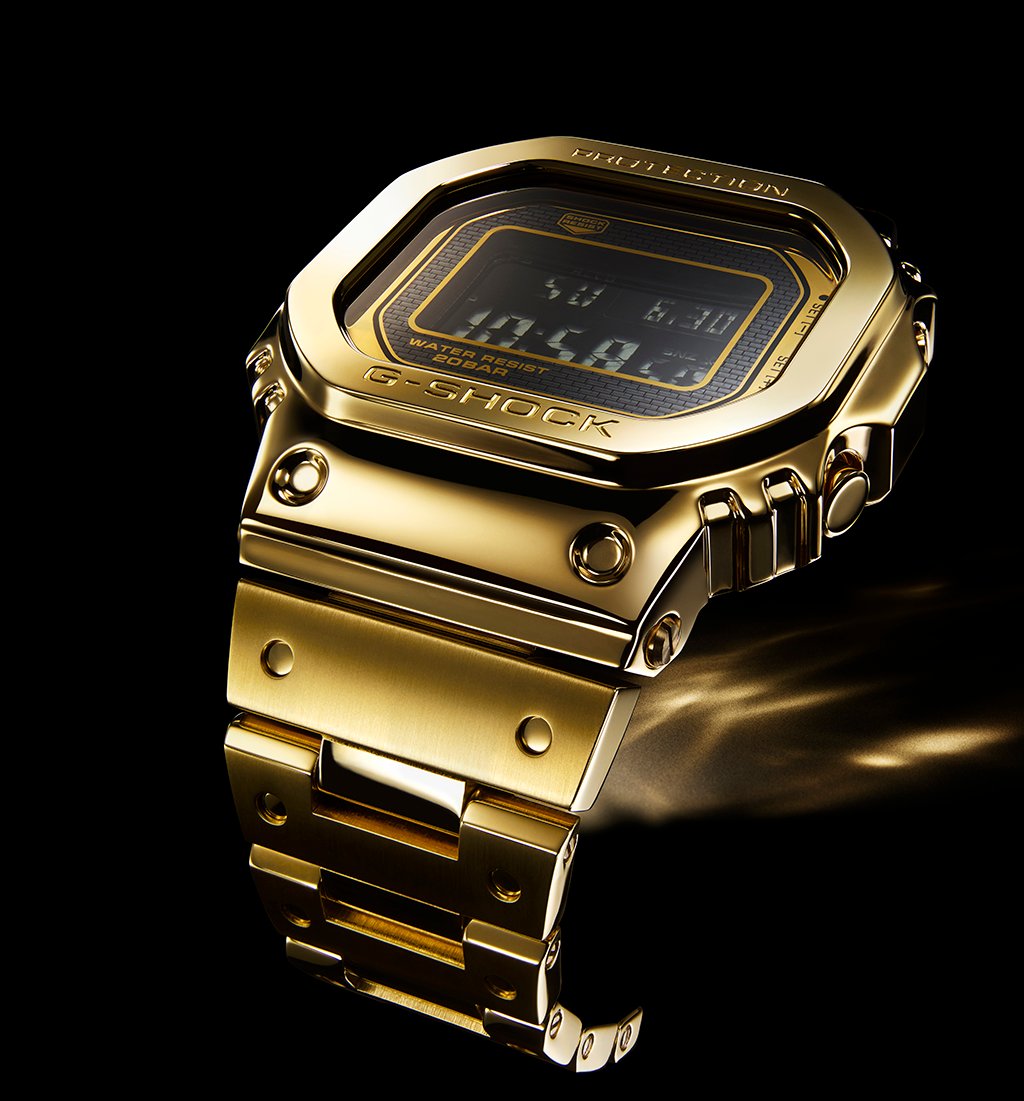 Casio G-Shock Dream Project "Pure Gold" G-D5000-9JR
I love my plastic, navy blue G-Shock "Square". But I worship the Casio G-Shock Dream Project "Pure Gold" G-D5000-9JR in 18k yellow gold. This $70,000 masterpiece is what would have happened if King Midas wore my plastic "Square" back in the day. This watch says Midas Touch more than any other watch in this shortlist. That's probably why it's both cool and preposterous at the same time. Only 35 watches are built and all of them sold out in the wink of an eye. Apparently, this Dream Project fulfilled dreams, who would have guessed.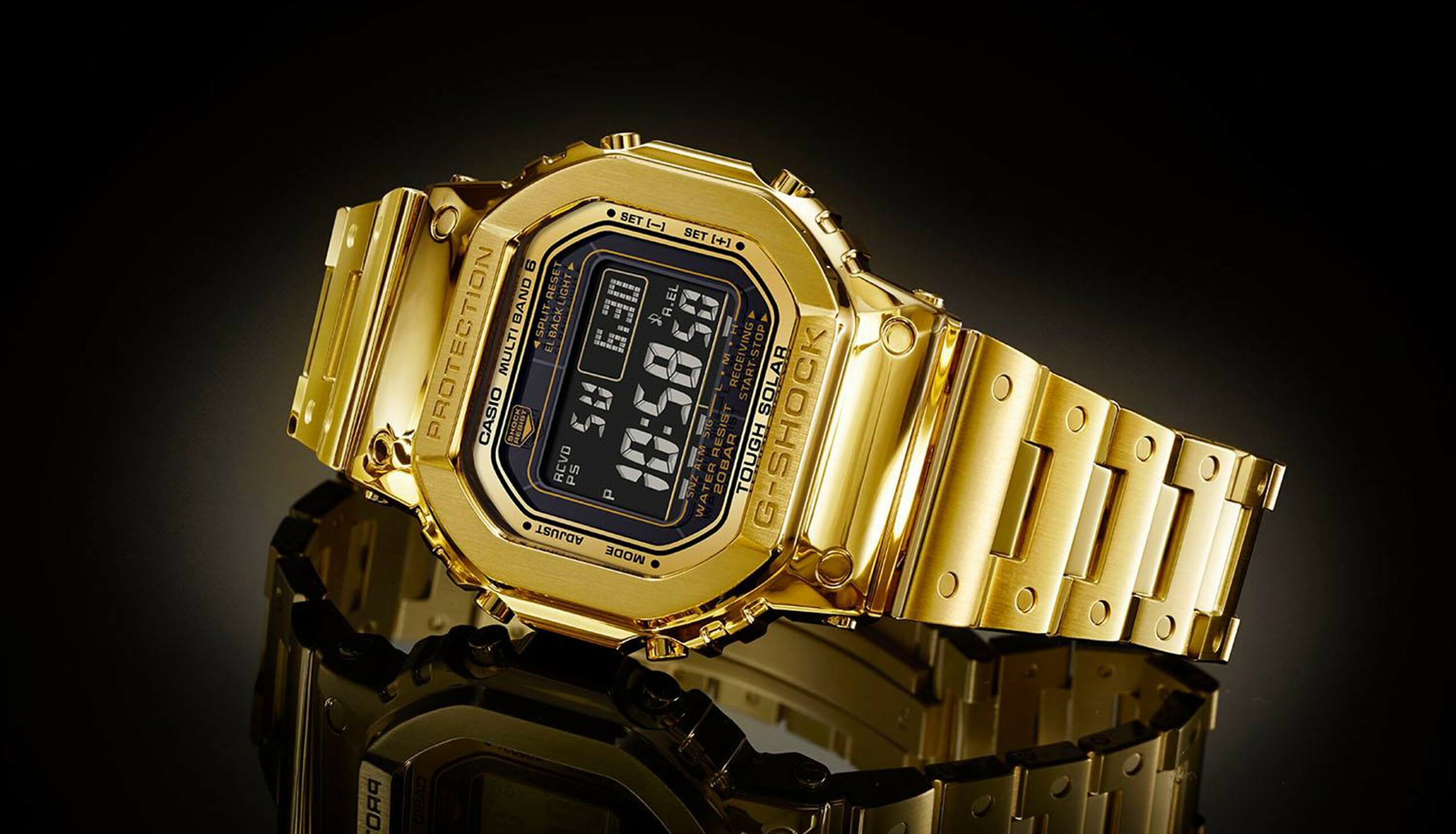 A "heavy hitter" for sure
Well, it was to be expected because when the watch was presented as a concept during Baselworld 2015, it got a lot of serious attention. The production watch is entirely made of 18k yellow gold and as a result, it weighs 297 grams.
It took five years to develop the gold watch because it had to be as shockproof as a standard G-Shock.
Yes, this watch is a "heavy hitter" in every possible way. It took five years to develop the gold watch because it had to be as shockproof as a standard G-Shock. The bad thing about the Dream Project is the fact that it's sold out and/or its price. A price that most likely will increase when one of the 35 lucky winners of the raffle decides to put it up for sale.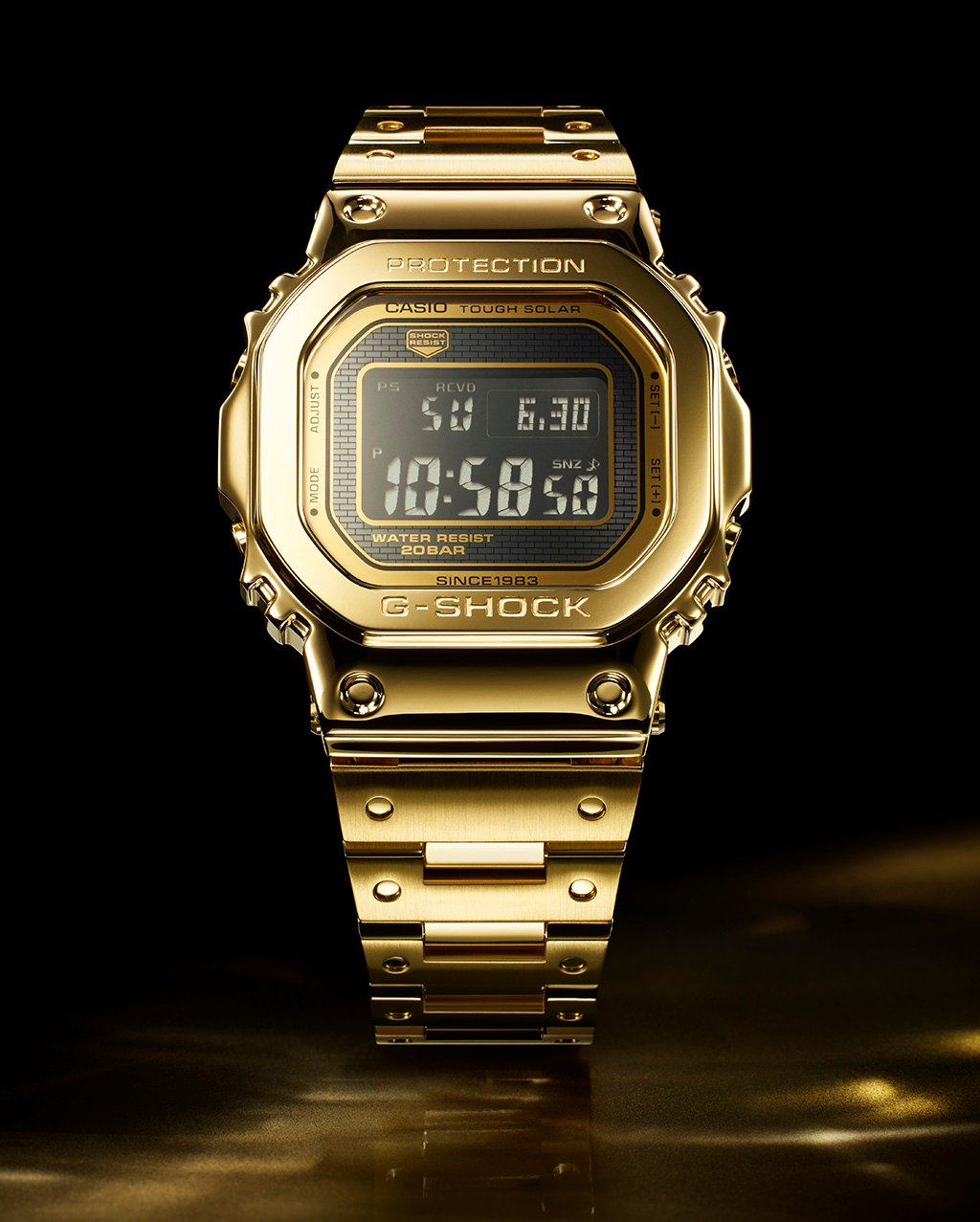 The "Midas Breath"
But not to worry, the GMW-B5000GD-9 is the €519 alternate reality to your unfulfilled watch dream. Sure, it's a steel watch with a yellow gold exterior, but it's still the most extravagant Square out there. Okay, it hasn't received the "Midas Touch" in the true sense of the expression, I grant you that. Maybe I should say that the GMW-B5000GD-9 received the "Midas Breath", but in any case, that was enough to empower this watch with the unbeatable allure of yellow gold.
Find out more about gold "Squares" on the Casio G-Shock official website.
Please find and follow me at Lex Stolk • Instagram