The York & Front Burrard — Hands-On With A Strong Canadian Debut
Easily a favorite everyday wearer with an elegant blend of styles
Sometimes I feel jaded when it comes to microbrands, with each successive one playing on the same vintage-diver heartstring. My experience makes me notice little details that seem irrelevant, but ones that for a "watch journo" become deal breakers. A silly name or an unbalanced dial can be enough for my OCD to kick in. This Canadian debut, the York & Front Burrard, has me searching for faults, but they are annoyingly missing. I've written about this watch before, and in the metal, it has a smile-inducing instant fit.
I love a fresh-colored dial or cool pastels to brighten up an outfit or even an entire day, but those don't cut it in the long run. As I grow older, I find myself appreciating a more understated style, smaller watches, and everyday versatility. I'll still sling on my purple-burgundy metal G-Shock for an office day to pep up my mood, but even with over 20 watches in my box, I can still find myself wearing just one for an entire weekend. Some watches have a quiet, chameleonic quality that allows them to fit with a T-shirt, a suit, or a woolly jumper. This is one of those, and that's a big compliment indeed.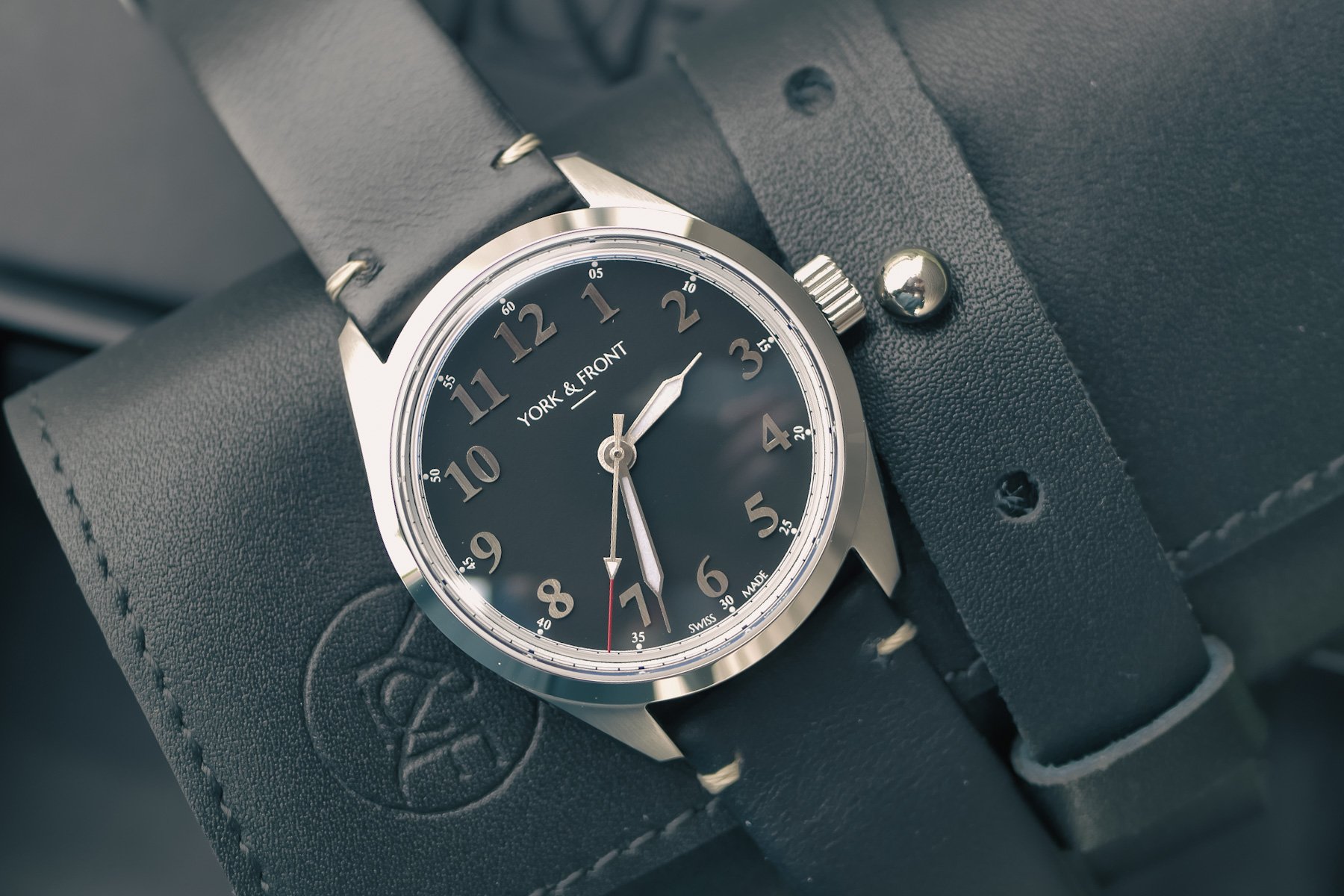 York & Front Burrard — Packaging design wins the first round
Packaging is the first point of contact when you receive a watch bought online. This might sound like a marketing spiel, but it still resonates with watch buyers. First impressions are everything. No matter how much a brand plays on sustainability USPs, we want that special feeling when unboxing a new watch. And York & Front has got it figured out. The cardboard box is reassuringly thick with an understated logo. And inside? A watch roll worthy of an offering three or four times the price of a $499 debut piece. The roll is soft, real leather with a proper stud closing for the strap, and will make an excellent travel kit for holidays. I have plenty of stiff, plasticky watch rolls and flimsy boxes lying around. This, however, is grade A in both design and feel.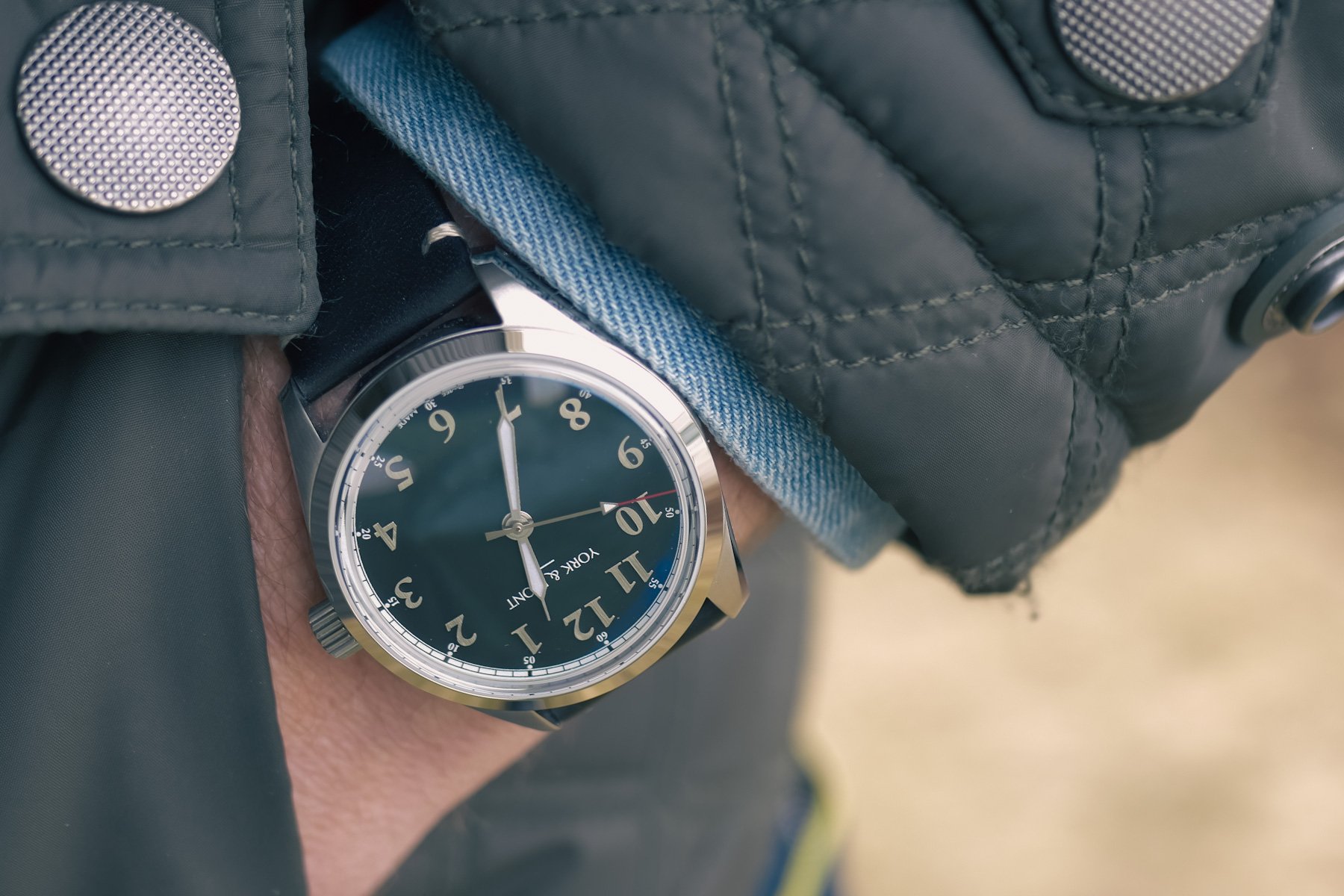 Getting the basics right
Though York & Front is the debut brand of Canadians Henry and Eric, it already has an air of maturity. It's a new name riffing on traditions and solidity, and it works. Just as important is the choice of strap, a detail that can be so easy to get wrong. I'm a strapaholic, so a new watch nearly always goes on another strap before it has even had a couple of hours on the wrist. This watch, however, was different. Weeks in, it still sits on its standard strap. It's a classic black two-stitch strap that is thick, smooth in texture, and perfectly soft. It's the kind of strap that shapes itself to your wrist and keeps the curve without becoming too soft. It could perhaps do with some quick-release spring bars, but I'm still undecided on the concept. For sub-$50 straps, I still prefer the solid feel of a normal spring bar, and the Burrard has drilled lugs to make strap swapping easy.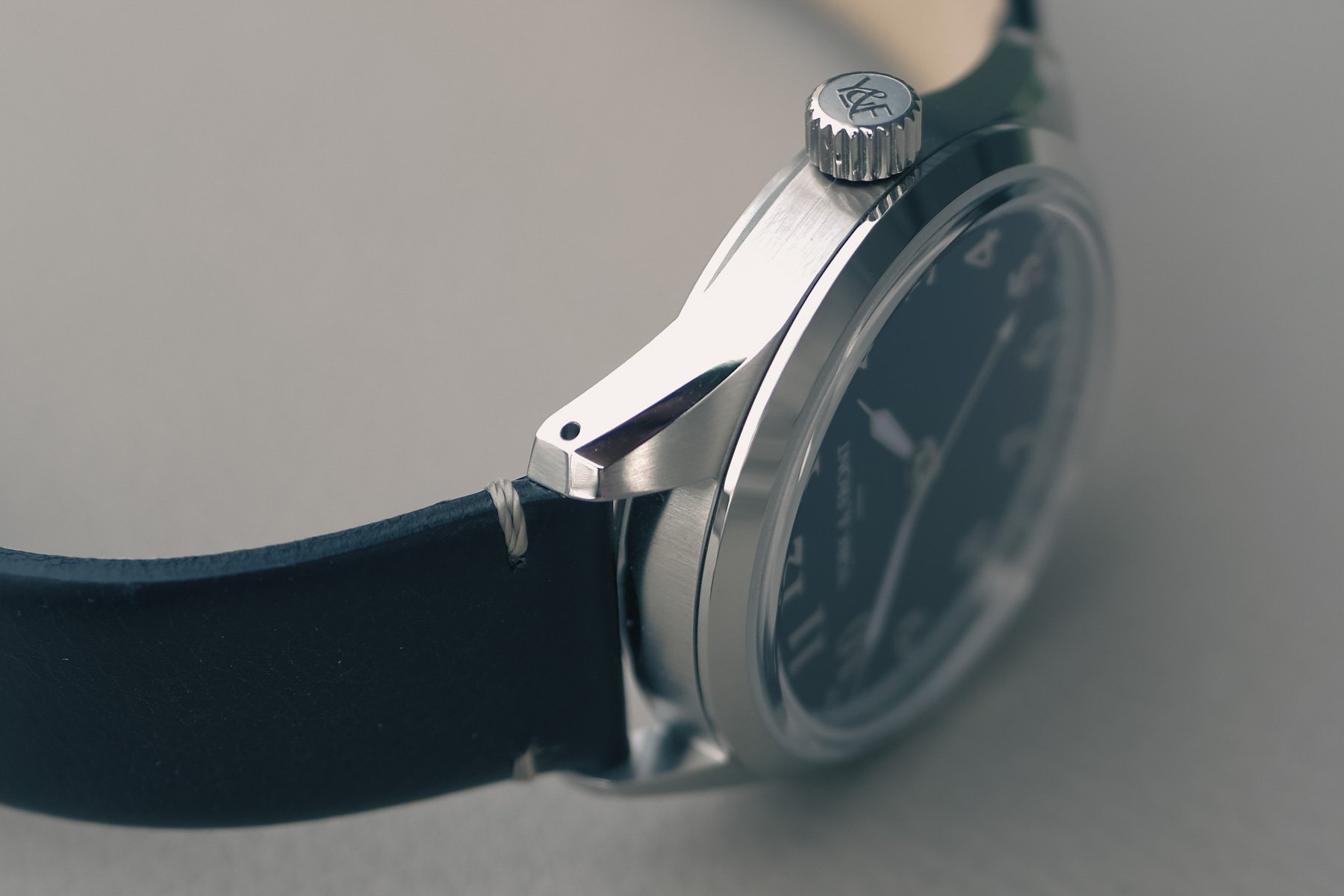 The lugs make the case
OK, that might be a slight exaggeration, but here, ergonomics are a key feature. I have tried on countless watches where the case diameter seems to be perfect but the lugs are way too long (you reading this, Longines?). There's not much point in a sweet 39mm case when a 49mm lug-to-lug makes it sit like a much larger watch. The York & Front Burrard, though, measures 38mm in diameter with a stubby 44mm lug-to-lug. The lugs themselves curve downwards to avoid that floaty feeling, and the bevels on their edges are just superb for the price. Strong polished chamfers sweep down from the case, cutting across the lug ends, while the sides and top remain brushed. Complemented by a polished bezel, it's a strong game for a first watch. This underlines the chameleonic style of its military-field watch aesthetic, elegant enough that it changes personality with any strap and outfit.
A studied dial
The 100m-water-resistant case is 12mm thick with classic 20mm lugs. A double-domed sapphire crystal with an anti-reflective coating sits atop a clean dial. On this black version (York & Front offers a crisp white one as well), the surface of the dial has a silky matte finish. The large numerals are applied and feature a vertical brushing that matches well with the finish of the syringe hands. The dial is encircled by a white minute track hiding under the slightly distorted edge of the crystal. White printed minute numerals and lume dots lie just inside of it. The lume game is strong with BGW9 Super-LumiNova, and it is simply a balanced, well-proportioned dial that I can't seem to find any faults with. And that's a pleasant change. Legibility-wise, the big numerals, minimal text, and no-date make the watch wear slightly larger than its 38mm diameter while maintaining the comfort of short lugs. That's a win-win in any book.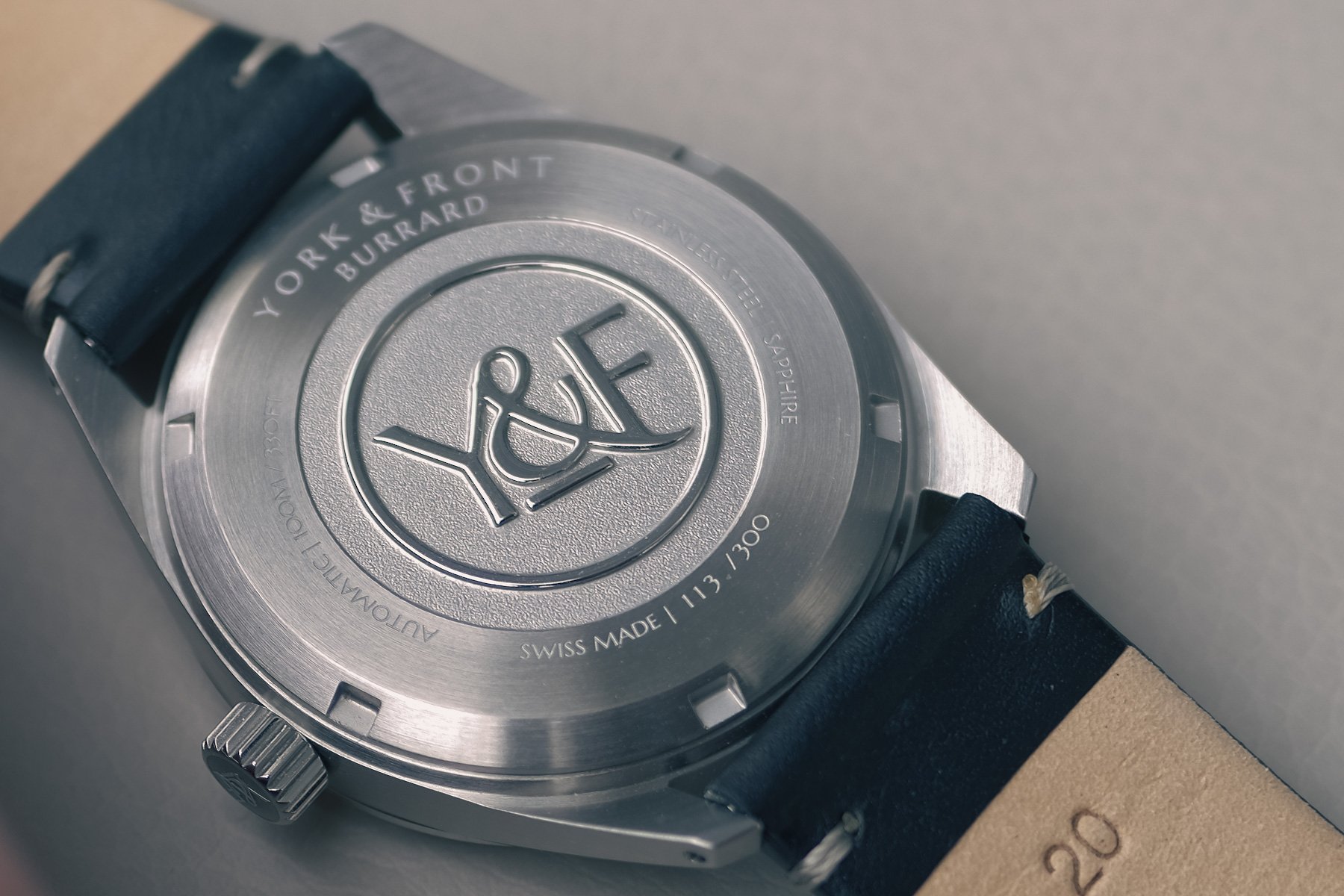 Logos, fonts, and conclusions on the York & Front Burrard
The York & Front logo sums up the design with a modern font and the vintage touch of a swoopy ampersand. These small details matter. The graphic balance of the logo and numerals on the dial are once again strong for a debut watch and better than most established microbrands. My favorite seconds-hand design is present and correct, with a long red tip to give it that tiny, important pop of color. Under a deeply engraved case back sits an automatic Swiss STP1-11 movement providing 44 hours of power reserve. It's legitimately modified to be a no-date caliber, which means there's no "ghost position" on the screw-down crown. The case back is numbered, as this is a limited production of 300 pieces in total. And frankly, I'm excited to see what York & Front will come up with next. A twin-register chronograph, guys? For now, though, at a price of $499, York & Front has made a great everyday watch. Check out the Burrard here.
What do you think? Would this 38mm field watch be a perfect everyday wearer, or are you still a microbrand skeptic? Let us know in the comments.
Find me and follow me at @thorsvaboe