Rodrigo is in the need of a dress watch with a brown leather strap. He noticed the Oris Classic Date that retails for under €1000, but he also has a couple of other thoughts he shared with us. He already owns the Omega De Ville Hour Vision, with a black leather strap and he likes the idea of being a one-brand guy.
Finding the right classic dress watch isn't easy. I've been struggling with this myself for a while, and also mentioned this in articles like this one. So let's see how we can help Rodrigo.
You Asked Us – Oris Classic Date or an Omega De Ville Prestige?
Good afternoon, dear friends at Fratello Watches,
I am a young man who started "collecting" watches not a long time ago. I own an Omega DeVille Hour Vision (the one with the Date Version) in a black leather strap and I now find myself in need of a dress watch in a brown leather strap (not gonna wear brown Oxford shoes with a black strap on my watch, right?). I have looked at the Oris Classic Date (which sells for under 1000€) and the Tag Heuer Carrera Calibre 5 (39 mm version with Date) which is quite more expensive. Now my question is: should I go for a more inexpensive watch (the Oris or some Longines, e.g.) or save for an Omega De Ville Prestige? Taking into account, of course, value, movements, general quality (does it compensate to get the costlier one?), etc. I really do like the idea of being an Omega-only watch guy (I also own a Seamaster 300), but I would have to hold off the purchase for now. Besides, the straight lugs on the De Ville look incredibly classy…
Also, do you have any advice regarding getting another brand? The watch I am looking for is between 35-40 mm, brown leather strap, straight lugs (if possible) and stainless steel (I'll consider a two-tone) with a tried and true good all-around movement.
So, there is more to it for Rodrigo. Not only he wonders if he isn't better off saving up for the Omega De Ville Prestige, he also wonders if there's another brand out there that would make him happy. A quick purchase would be the Oris Classic Date, or a Longines dress watch (may we hint on the Longines Record or Master Collection?). Although we love Oris very much and see no harm in buying the Classic Date at €890, it seems that it would have the same effect as fast food for you. It will satisfy you for the moment, but in the end, you are searching for something in the higher regions of horlogerie. Be aware that Oris can also fulfil that type of demand, with their manufacture models like the Oris Artelier (Calibre 111). Thing is, that watch is 43mm which exceeds the 40mm.
Oris Classic Date
When you already own an Omega De Ville Hour Vision, I wonder how long you will enjoy the Oris Classic Date. Sure you will wear it once in a while, but in my opinion, you should have severe difficulties every morning to decide which watch you want to wear. It is part of the fun. You will probably pick the Hour Vision or Seamaster 300 over the Classic Date any time. So in the end, you will find your Classic Date sitting in its box or in your safe for the rest of your ownership. That would be a pity. That said, the Oris Classic Date is an excellent choice for a dress watch under €1000 and to be really honest, I never considered it actually. My focus on Oris is mainly with their Aquis, Sixty-Five and Artelier models, but I will remember the Classic Date for future inquiries for an entry-level dress watch. The price is similar to a nice Seiko Presage model, but if you're not into watches made in Japan, it is a very valid option.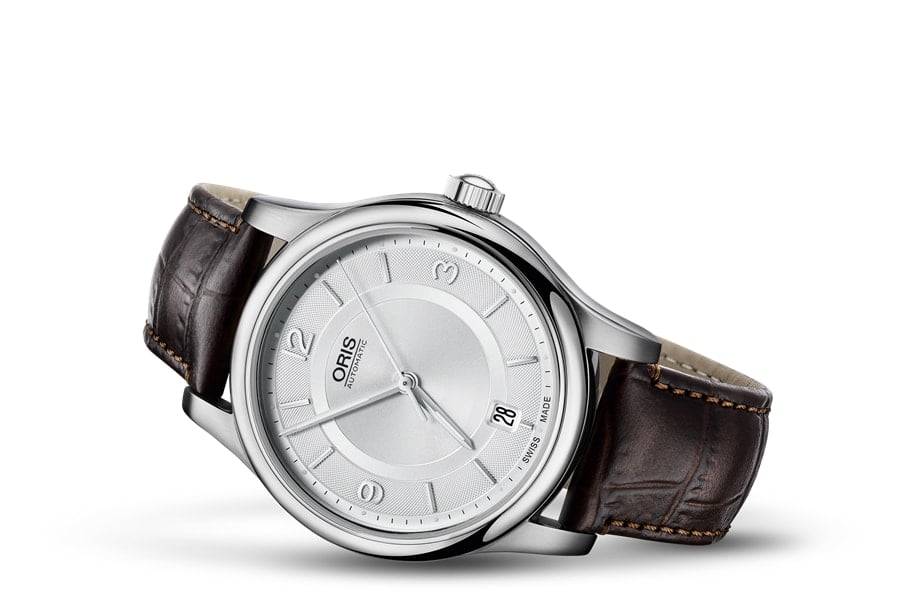 The Oris Classic Date does match the request for a watch between 35 and 40mm, with a brown leather strap. The movement inside is not overly exciting, as it is based on a Sellita SW 200-1 (Oris dubbed it their calibre 733). A good looking watch and good price/quality ratio. More details on this watch can be found on the Oris website here.
Omega De Ville Prestige
Now, I don't know which De Ville Hour Vision Rodrigo exactly owns, but it has the manufacture movement for sure, as Omega introduced it very early on in this collection. The current line up of the De Ville Hour Vision consists of 38 different variations and all have a diameter of 41mm. A steel model on a leather strap retails for €5600. That's a different league than the Oris Classic Date indeed.
The De Ville Prestige is another sub-family of the De Ville and has more than 247 different references. Tailoring it down to steel watches only, with a case diameter of 39.5mm and with a leather strap, it results in 20 remaining references. There are two with a brown leather strap, but our pick would be reference 424.13.40.20.02.002 which retails for €3000. You can find it here. The other one with a brown leather strap has an additional power reserve. It makes the dial quite cluttered, for a dress watch especially.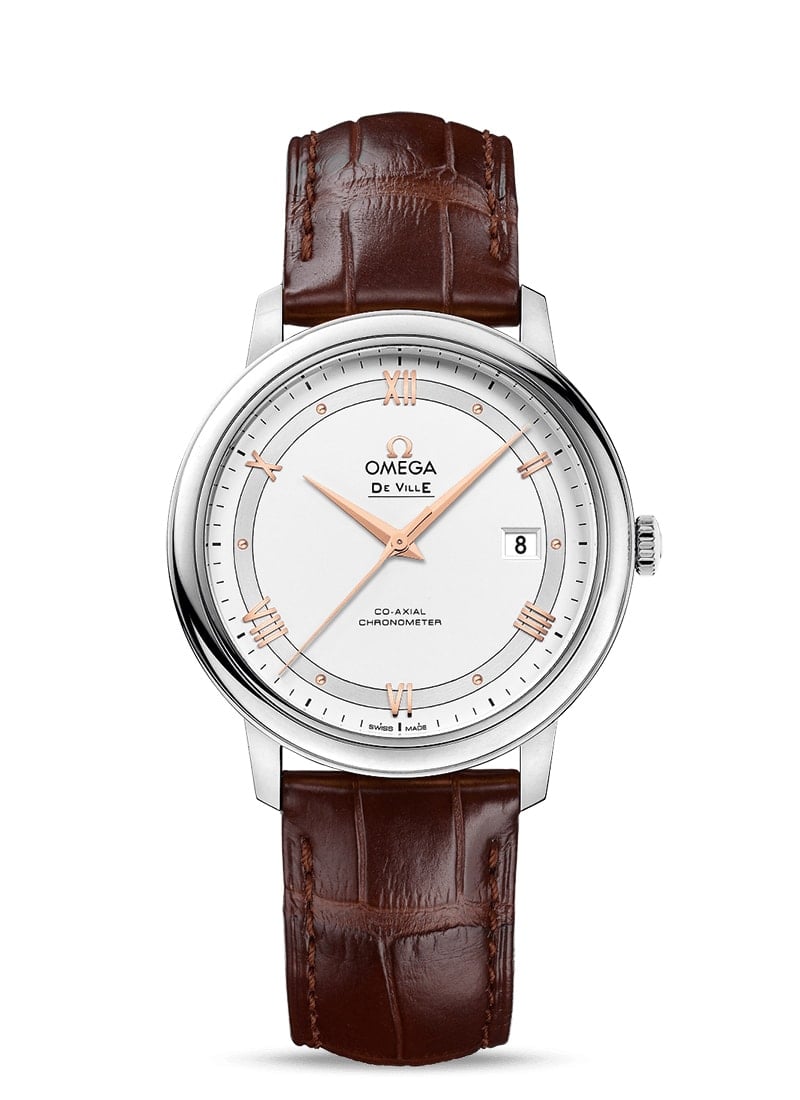 In all honesty, but you can just disregard personal opinions, of course, the De Ville Prestige is not amongst my favourites from Omega. I would pick the Hour Vision any time. A bi-colour or full gold De Ville Prestige might change that a bit, as I find those models a bit more exciting. The De Ville Prestige is powered by Omega's calibre 2500. A movement that is based on their calibre 1120 (introduced in 1994), a heavily modified ETA2892-A2 (not only the finish is different, the construction of the rotor is also different). Calibre 2500 has a co-axial escapement (compared to calibre 1120), which is definitely a wonderful thing. It is considered to be one of the greatest horological inventions of the 20th century. Less friction, more accurate, in a nutshell.
But, and this is the big but, you might still prefer your De Ville Hour Vision over the De Ville Prestige. These watches are very close to each other and the Hour Vision is the supreme ruler of the two.
Neither the Oris Classic Date or Omega De Ville Prestige
I love both Oris and, of course, Omega. That's no secret I guess, but in this case, I would leave both suggested watches alone. As said, you have the De Ville Hour Vision and the Seamaster 300. Two awesome watches. Being a mono-brand guy is an interesting thought, and although many think I am as well, I am not ; – ).
For starters, I would hold off a purchase for now. Anything you will purchase to still your hunger is a pity in the long run. Or, you purchase something that is nothing like the De Ville Hour Vision you already have and could be considered to something like a 'fun purchase'. It sounds a bit snobbish perhaps, a €1000 watch as 'fun', but it has to be fun in order for you to wear it beside your Omegas.
I briefly mentioned it already, but how about a Seiko cocktail watch or a Presage? These watches are quite a bang for the buck, have interesting movements (in-house as well!) and you will perhaps explore the art of Japanese watchmaking. I personally guarantee you, that you will be amazed.
However, I can also see you want to grow with your collection. Holding off a purchase now, to be able to buy something more high-end. At least that is what I extract from your question to us. Now, my other advice would be to save up and go for something interesting. Like a Grand Seiko. The SBGR261 comes to mind. It has a €4900 price tag, so way above the Oris and the Omega De Ville Prestige, but it is also a different kind of watch. You will find the finish on the case, dial and hands on a different level for sure. Grand Seiko has a small production, a lot of manual work in there and the availability is relatively difficult. This does guarantee quite a bit of exclusivity. But also realize that not many people will get it (yet), including watch enthusiasts. You will have some explaining to do to your friends when talking Grand Seiko and the price tag that would have gotten you the Oris and the Omega.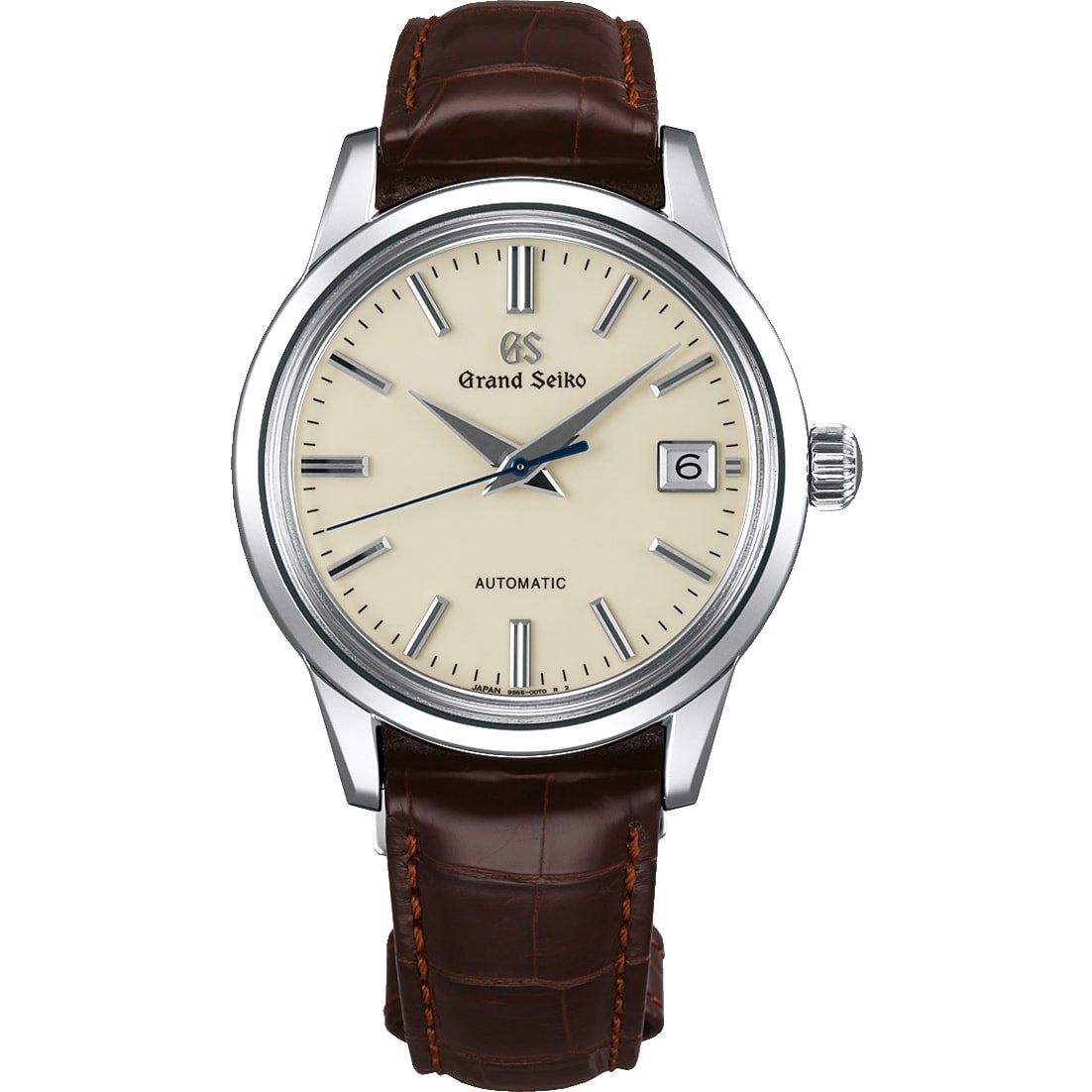 And, in my opinion, I think you should start with the Presage or other Seiko reference in order to learn a bit more about the brand. Grow some appreciation first. I can see the Grand Seiko owners among you shaking your heads, but I (as a GS owner myself these days) feel that the appreciation comes in certain stages.
We landed at a point where we are talking €5000 watches instead of a €890 Oris or a €3000 Omega. I can't tell Rodrigo what to do or what the best thing is to do, because buying a watch is very personal. But I can share with you my experience(s), of course. One thing Rodrigo also wrote, is that he also would consider a bi-colour watch. A bi-colour watch, a good movement and a leather strap. Oh, and smaller than 40mm. Also, Rodrigo let us know that he likes the idea of being a mono-brand guy. As an owner of the piece myself, it is very difficult to suppress my enthusiasm about the Omega Globemaster. I have one myself after I wrote this lengthy love-letter about it, and it is still on, between me and the Globemaster. Now, that's an all gold one, but these watches are also available in two-tone. We actually had one for review not too long ago, as Gerard is in love with the stainless steel and Sedna gold version of the 39mm Globemaster himself, he wrote this article about it.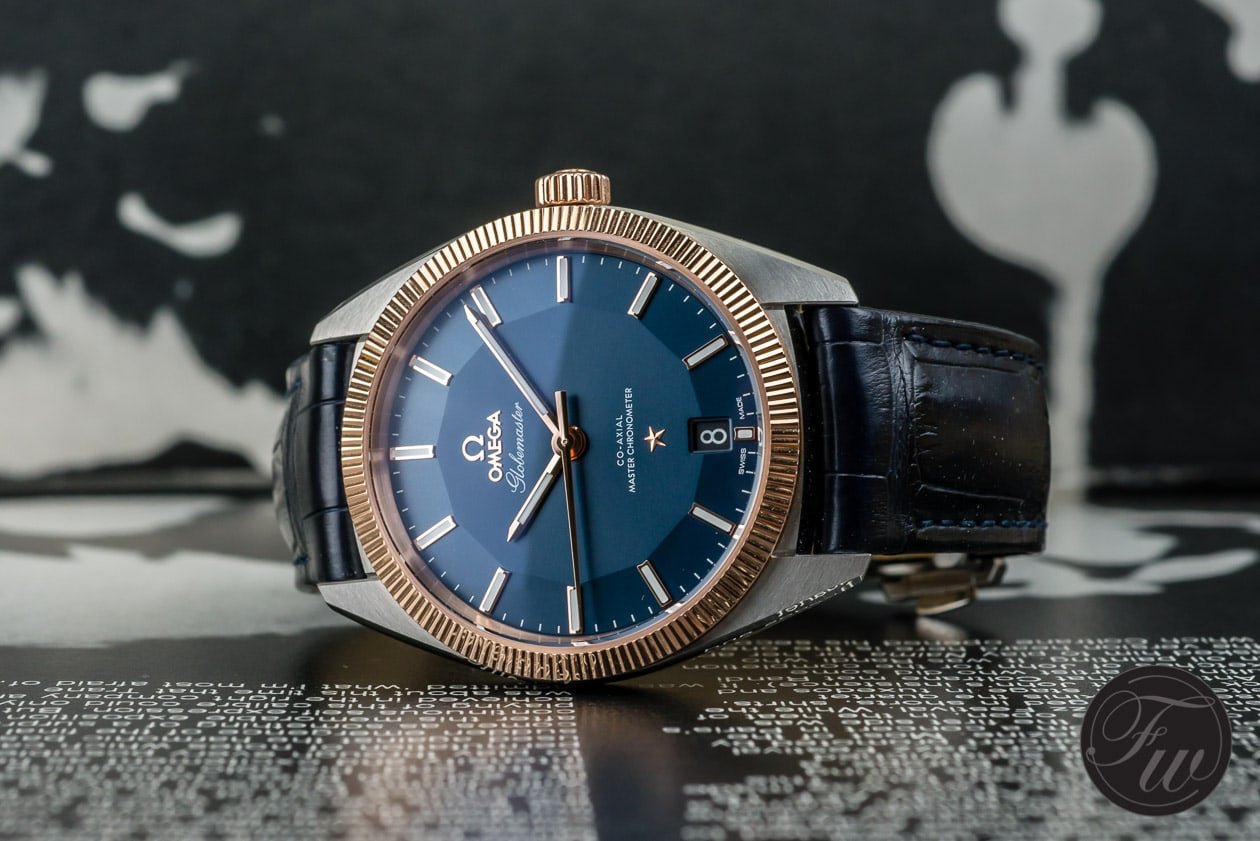 I am aware we are stretching the price once more, but Rodrigo mentioned two-tone and that will automatically increase the price tag. Especially in combination with Omega's amazing calibre 8900 movement that is Master Chronometer certified. I am not going to elaborate on that here, as we did many times. Just click one of the links provided above. With a retail price of €7900, this two-tone Globemaster doesn't come cheap, but you can also try to explore the pre-owned market for one. Unfortunately for Omega but fortunately for you, these models do not hold their value like their Speedmasters do for example. So you could try your luck there. It also applies to the Grand Seiko SBGR261 I mentioned above. If pre-owned is not an issue for Rodrigo, it reduces the saving-up time.
If money isn't an issue, or at least saving up a bit longer isn't, I would definitely either go Grand Seiko SBGR261 or pick the Globemaster with blue dial and Sedna gold bezel. I know the latter comes on a blue strap, but I am convinced finding an appropriate brown alligator strap to match Rodrigo's brown Oxford shoes won't be hard.
Do you have a horological question for us? We are happy to help, just drop a line via this form and you might end up in our weekly You Asked Us feature.