Hands-On With The Longines Master Collection Annual Calendar – And It Is Under 2000 Euro
Most of you who want to buy a watch, select based on price and brand name. It turns out that very few are after a specific complication. But for those who do care about functionality, there are a couple of interesting propositions on the market for perpetual calendars, moon phase watches, chronographs, divers and now an annual calendar as well. Brands like Montblanc and Frederique Constant achieved being able to offer a perpetual calendar under 10.000 Euro not long ago. This year, Longines makes it possible for you to buy an annual calendar with their Longines Master Collection Annual Calendar watch for under 2000 Euro.
Longines Master Collection Annual Calendar
This year, Longines caught us by surprise by showing this 40mm watch that could be categorized as a dress watch but also perfectly as a 'daily watch' for any occasion except sports. At first sight, it looks a bit like your average dress watch from Longines: sleek, stylish and with a practical date and month aperture on the dial. Most enthusiasts who read Fratello, and most likely some of the other titles out there, are more interested in the Heritage collection. It was even last week that I gave the new Heritage Legend Diver in black a spin here on Fratello. This new Longines watch with annual calendar complication isn't part of the Heritage collection, but of the Master Collection. The last time we reviewed one of the watches from that collection was in October 2014 and it was a Longines Master Collection Moon Phase model that also had to offer quite a bit of bang for the buck. But that watch was very different from the Longines Master Collection Annual Calendar I have for you today. It's a stealthy toned down watch with its three hands and 40mm case design. But inside is where the magic happens: an annual calendar.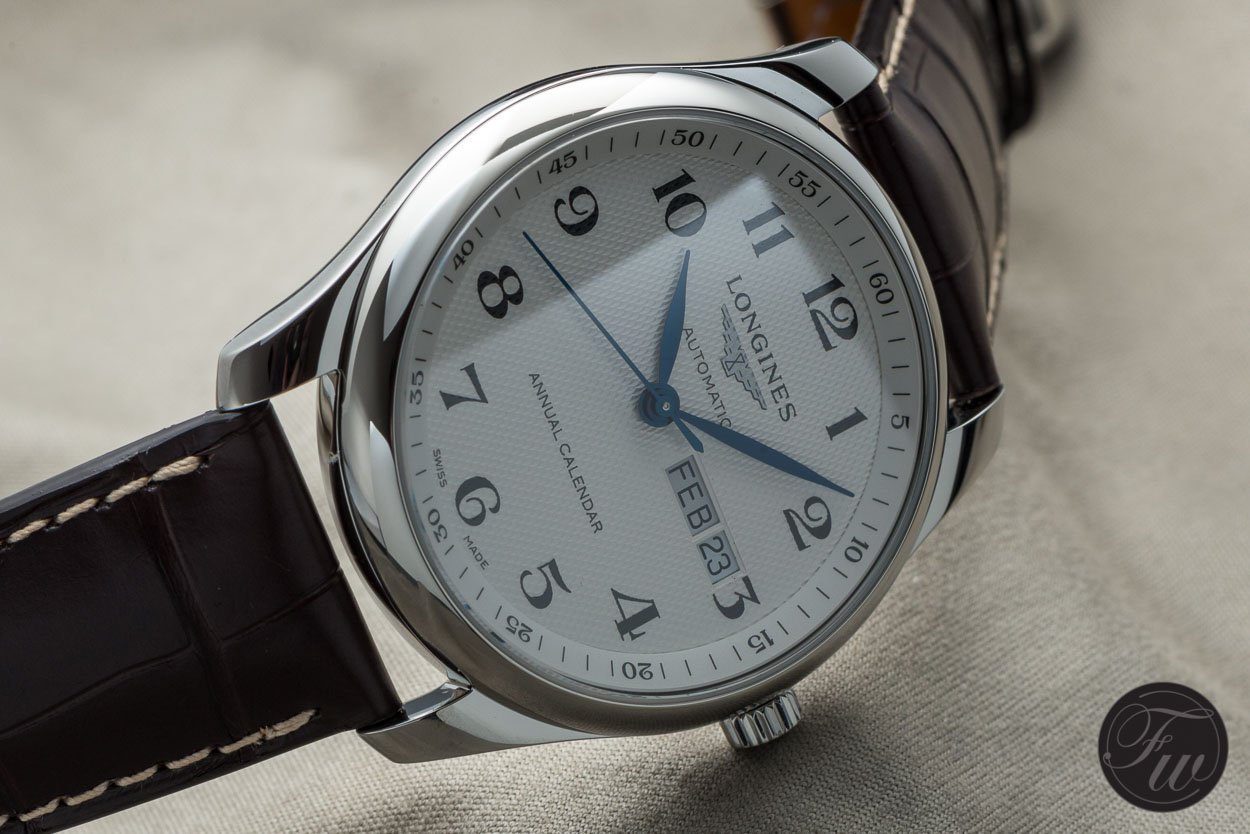 Annual Calendar versus Perpetual Calendar
We've explained the difference often here, but just in case you haven't read it, or simply haven't heard about annual calendars before, here's a short explanation. If you own a watch with a date feature, you occasionally run into the issue that the date aperture indicates it is the 31st of a month while it is actually the 1st of the new month. Your watch doesn't know whether it is June or July. Digital watches are the exception, of course, as those are programmed centuries ahead.  Some people find this annoying because they now need to advance the date by hand or when your watch does not have a quick-set date, you need to advance the hands 24 hours. An annual calendar is programmed to know which months have 30 days and which ones have 31 days. The exception is for February, so on the 1st of March you still need to correct your watch. If you want to have a complication that can be set once and will run for decades or even centuries without one single correction on March 1st, you need a perpetual calendar. But those often come with a very different price tag, as mentioned at the start of this article.
The Longines Master Collection Annual Calendar indicates the date and the month on the dial, so there's only one correction necessary on the first day of March. The rest of the year will go smoothly on each first day of the month. Quite an interesting mechanical complication, don't you think?
Annual calendars normally don't come cheap. Even in the pre-owned market of watches, an annual calendar of Swatch Group sister brand Omega is already around 4000 Euro. So a retail price of 1940 Euro for the Longines Master Collection Annual Calendar is – by far – the most accessible watch with this complication. Longines did a great job here.
Four Models
There will be four models, or executions, of this new Longines Master Collection Annual Calendar. You can go from a very classic, black dial with Roman numerals and a leather strap, to a version with stick markers and a blue dial on a stainless steel bracelet. We have the silver dial model (stamped "barleycorn" motif) with Arabic numerals and blued steel hands, on a leather strap. This is perhaps the 'in-between' variation of this watch. In total, Longines offers four different models so you can pick the one that suits you best. The three mentioned variations have a retail price of 1940 Euro, then there's one with 13 diamonds on the dial that will retail for 2260 Euro.
Longines Calibre L897.2
Inside we find the ETA (calibre ETA A31.L81) based Longines movement, dubbed L897.2. Besides the awesome annual calendar complication, this movement also offers you a lot of power reserve with no less than 64 hours on a fully wound mainspring. The watch ticks at the somewhat unusual speed of 25.200vph. And we would have fully understood when Longines decided to refrain from a nice optical finish on this movement and hide it for the owner beneath a steel case back. But Longines did not. Their calibre L897.2 has actually a nice finish, Geneva striped on the rotor and a bit of perlage on the plate. The rotor also has been engraved (in gold) with 'Longines' and the calibre number. As always, I find that there's a bit too much other text engraved on the case back, but others might enjoy it.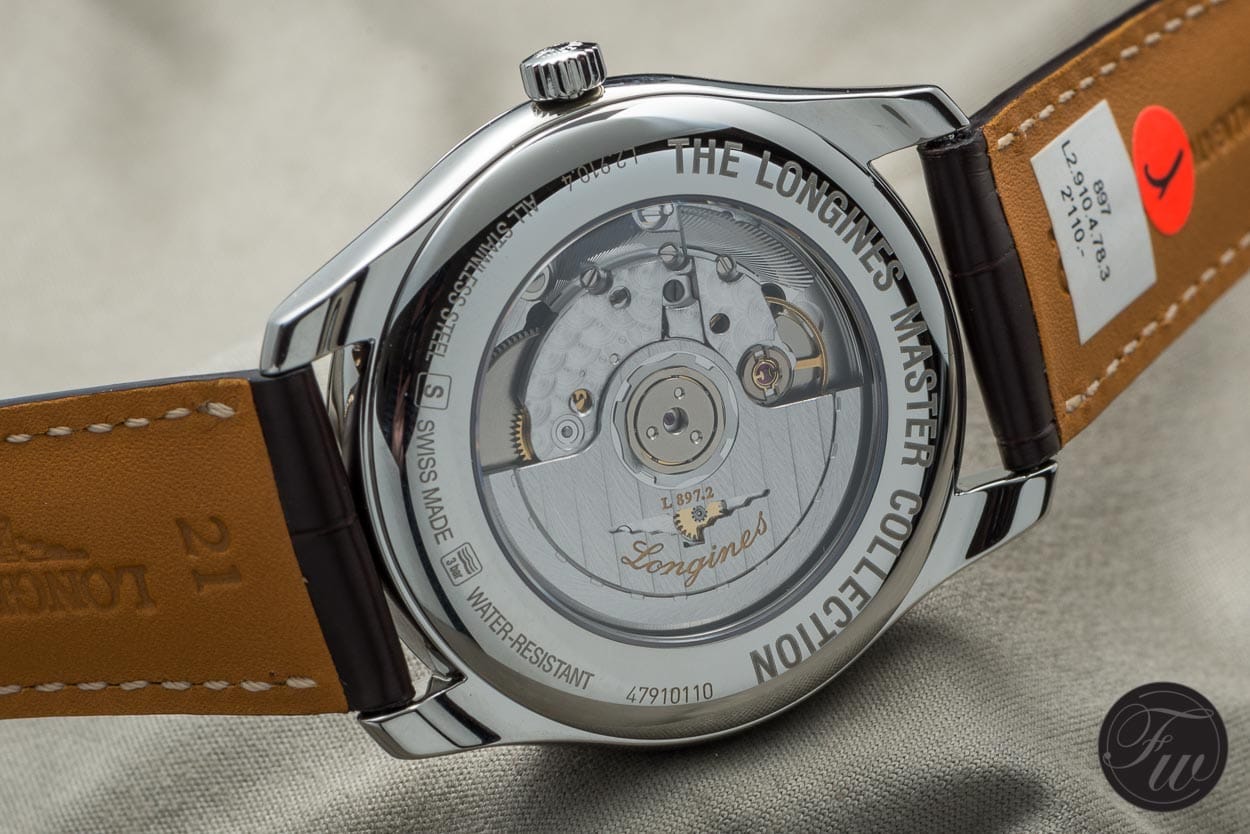 Some Thoughts On This Watch
I started this article with the statement that not many people buy a watch because of a complication. That's information based on the data we have collected over the years, but that doesn't mean there's no-one out there who just wants to have an annual calendar, perpetual calendar or moon phases watch and only then looks at the available brands and models. Most of the time it starts the other way round. If you're looking for an annual calendar in an affordable (most affordable actually) price range, the Longines is a great candidate. This would most likely also mean that you have to like the design of one of the four Longines Master Collection Annual Calendar variations of course. Longines did a nice job by creating 4 variations that are aiming at different 'profiles'. Clever.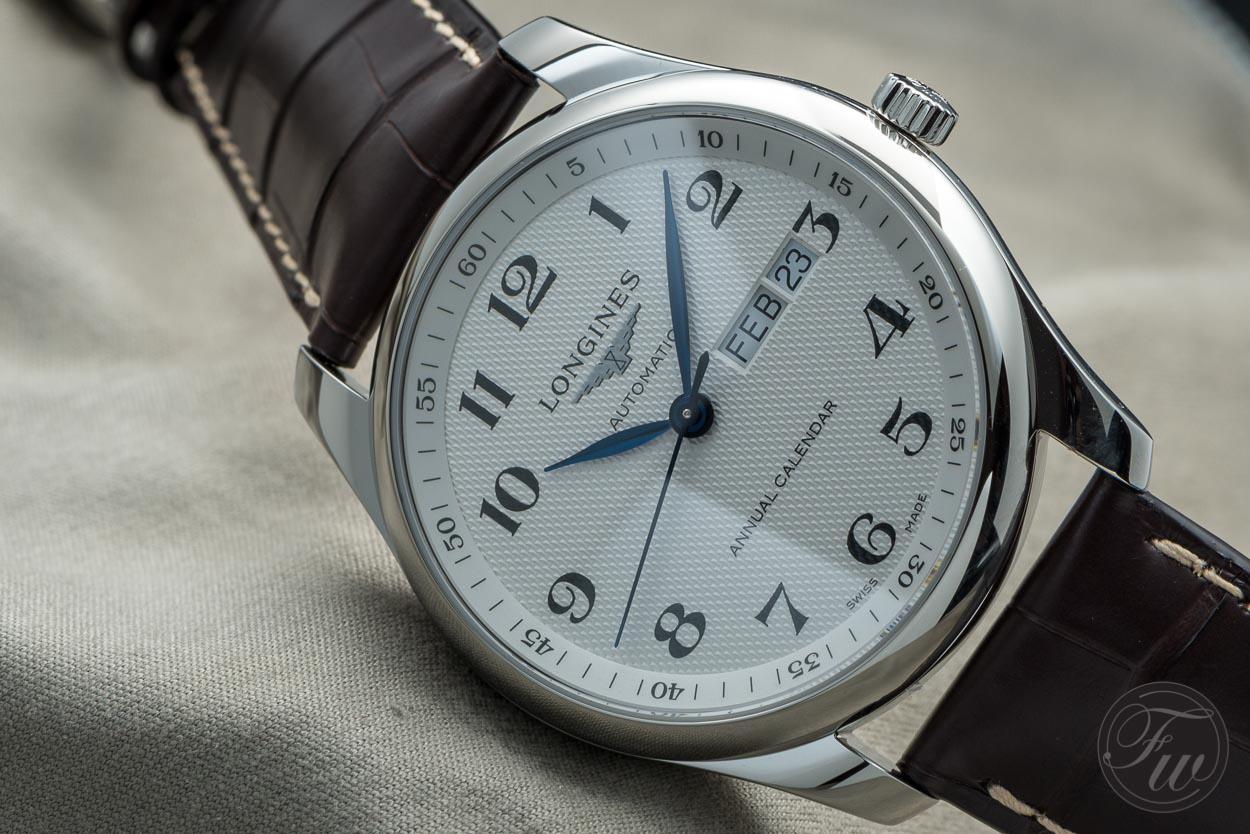 To be dead-honest I found the design a bit dull at first. The new Longines Record collection, for example, is something I'd prefer myself if I needed a dress watch. The watch only came to life when I noticed those two words at 6 o'clock: Annual Calendar. Reference L2.910.4.78.3  is what you see in this article, but if you – like me – prefer the watch to be a tad bit sportier, the reference L2.910.4.92.6 might be the one for your (blue dial, stainless steel bracelet). I definitely praise Longines for creating a watch with an annual calendar at such an interesting price level. Because Longines included the 'Annual Calendar' complication in the model name of the watch, I doubt that they will incorporate this movement (and thus complication) in a lot of other watches in the future. However, if they will also make at least one sports model with an annual calendar, that would be even more awesome.
That said, the Longines Master Collection Annual Calendar is unbeatable in price, also given the fact that it comes with an alligator strap on folding clasp or a stainless steel bracelet.
The Longines Master Collection Annual Calendar will be available later this year, with a retail price of €1940. Visit the official Longines website for more information.