You Asked Us: Should I Get A Vintage Watch As My First Piece?
Or is worry-free wearing the way to go?
We receive many questions from people asking us to help them decide on their watch purchases. Most of the time, these come through the website, but often also directly via a message or phone call. Just recently, I suddenly received a Whatsapp message from a friend of a friend, asking me for help regarding a watch purchase. This person let me know that it was time for him to buy a nice watch, but the question was whether it should be a brand-new watch or a vintage one. In our exchange of messages, the following concrete question was asked:
"I think I am more interested in new watches, as the idea of owning someone else's watch doesn't sound attractive. I never buy pre-owned things, but there's so much buzz around vintage watches that I start to wonder if I am overlooking something. What would be your choice for a first 'good' watch?"
You asked us: Should I buy vintage or new?
As we receive similar questions on a weekly basis, I thought it would be nice to wake up our old "You Asked Us" series from hibernation and use it to answer this question.
Let me start by saying that there's no right or wrong here, just personal preference. I don't know this person very well (we do have a mutual friend, but that hardly helps), which makes it incredibly difficult for me to give solid advice. However, the fact that the has some reluctance to buy anything pre-owned makes me wonder how much it will take to convince him that a vintage watch can be a very good option. Furthermore, if he needs a lot of convincing, is it not just better to recommend buying a new watch?
Keep in mind, it's a luxury accessory — you don't need it
The answer greatly depends on the mindset you have when buying watches and the reasons why you want to buy one in the first place. Let's be honest; you don't need a watch to tell the time. There are many devices around you that will give a very exact reading of the time. You wear a nice watch because you love the looks, the movement, or because it has a special meaning to you. On top of that, it shows the time, which is a convenient thing.
What do we prefer in the Fratello offices?
Looking at some of the people we have in the Fratello office, we're quite divided on this topic. There are Thomas and Nacho from the editorial team, backed up by our marketing manager Sofia and shop manager Laurits. They all love their vintage watches and have a clear preference for them. Some are convinced that watches were just nicer looking back in the day, while others buy them for the stories they tell. The watches also need to suit your style, of course. Sofia likes to dress her 1950s Vacheron Constantin "Disco Volante" in gold up with her vintage Versace shirt, while Nacho likes the rugged military looks of a vintage watch. Laurits likes his vintage Longines watches because they're classy-looking and thin — incredibly thin.
Then we have Lex, Daan, Jorg, and Sinara, who prefer to wear new watches. For them, it's not just about a watch's aesthetics. They also appreciate the modern production standards that result in a reliable watch. Walk outside in the rain with your vintage dress watch from the 1950s and you might be in trouble. With a new watch, on the other hand, you don't have to think twice.
In the middle
I have a foot in both camps regarding modern and vintage, as I own watches in both categories. I find myself wearing modern watches more often, I must admit. It's mainly because I don't have to worry about them. A few months ago, I went back and forth with some vintage Omega Constellations, and one of them started to get moisture on the inside of the crystal after walking 10 steps in the rain. It hadn't had a service in recent years, and I simply didn't think of that when I picked it out from the safe. It's something I don't have to think about when I choose a more modern piece. I can simply wind up and strap it to my wrist.
Respect for vintage watches
That said, I have great respect for many vintage watches out there. And I also think that vintage watches need to be treated with respect. They often tell their own stories based on the markings, scratches, and occasional dents on the case or a dial with a nice patina. It often makes me wonder who the first person was to buy it new, what he did, and whether he enjoyed the watch as much as I do now — in some cases, more than 70 years later. I have an incredibly weak spot for watches with a personal message engraved on the case back. That often adds some context to the story of a watch, making it even richer and more interesting to own.
Companion for life
But here's the kicker. As a first "good" watch, I hardly think buying a vintage watch is a wise idea. This is strictly my take, and you might get another opinion if you ask Sofia, Laurits, or Nacho from our team. However, to me, that first good watch you buy should be something special and, more importantly, personal. What I mean is that this watch should basically become your life companion. That sounds a bit heavy, but if you only wish for one good watch, it should be the watch that you will still like and appreciate for years, even decades to come. It's the watch you will wear (almost) daily and that will accompany you not only on your travels but also on special occasions — when you get married, for example, or when you have your first kid (or second, third…), when you go on holiday, or when you move to your next house… You get the point. Also, keep in mind that your watch will become vintage over time. But then, at least, it'll be your own vintage watch.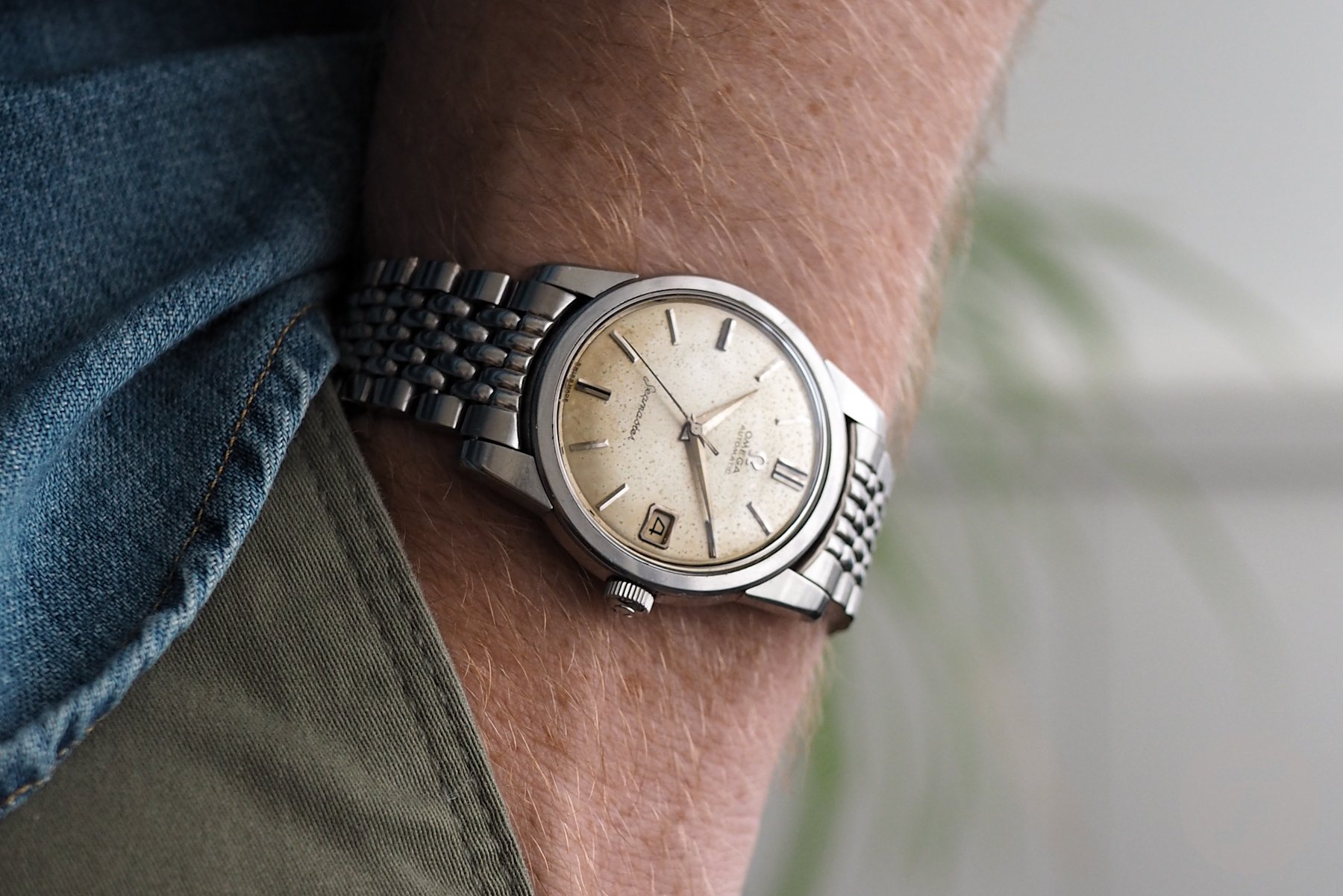 Battle scars from a previous life
True, you can also do this with a vintage watch, regardless of the brand or model. However, with a vintage watch, you are basically reliving someone else's history. The watch already had a life and probably accompanied someone else on all these journeys. It almost sounds like your watch has a soul, which, of course, is not the case. But it will likely have marks and scratches from its previous owners, the battle scars that he or she left on the watch.
I am very much an advocate of creating your own stories with a watch. Make that first scratch or ding, and don't lose sleep over it. It belongs to you and the watch, together. When you hand the watch down to one of your children at some point, they will see that it was their dad's or mom's watch and perhaps even recognize a certain scratch or ding. And then they can buy their own new watch and wear yours on special occasions, for example.
It will be all good
With vintage watches, what you can get depends on the offerings, the quality/reliability of which can vary greatly. A new watch will enable you to buy exactly what you want, and you won't have to worry about servicing/repairs, water resistance, accuracy, etc. It will be all good and ready to be worn as soon as you leave the boutique or dealer.
As written above, I have my share of vintage watches (from Rolex, Jaeger-LeCoultre, Omega, Seiko, Bulova, and a few others), and I cherish them a lot. But if I had to buy just one "good" watch, it would be a new one — a worry-free watch that matches my lifestyle, taste, and budget. As a next one, a vintage watch might be a very good idea.
Let us know your thoughts on this topic in the comments section below.