Your Speedmaster Story #2 – Verona, Grail Watch, and a ST1
Share your stories with the Speedmaster community
This is the second installment of our "Your Speedmaster Story" series with three new reader's stories. A few weeks ago, we asked you to share your Speedmaster story with us, and with the Speedmaster community. Besides admiring other people's Speedmaster watches, it's the stories that make the watches truly special.
This week, we have stories from Luca (Italy), David (The Netherlands), and Simon (Hong Kong). They share with you (and us) their Speedmaster stories for this Speedy Tuesday installment. Featuring are a modern Speedmaster Professional, a vintage Speedmaster Professional (145.022-69), and the first Speedmaster "Speedy Tuesday". Enjoy!
Your Speedmaster Story
We are interested in reading your story, and we're happy and proud to share them with all the Speedmaster fans that come to this website every Tuesday (and on other days). Hopefully, we meet (again) at one of the Speedy Tuesday events where you can show us your watches and share your stories face-to-face. Make sure to create a profile on Fratello and sign-up for our newsletter. This way you are the first to know about upcoming (Speedy Tuesday) events.
Verona
I'm Luca and I live in Italy. I'm a 22 years old computer engineering student and I follow you guys on Instagram and on your website as well. I'm an absolute fan of mechanical watches and I have a small, yet rapidly growing, watch collection, and the Omega Speedmaster Professional Moonwatch (reference 311.30.42.30.01.005) was the second mechanical watch I've ever bought. I'm absolutely in love with the watch and I use it almost every day. I send you a picture that I took some days ago, with the Speedy and the European Space Agency (ESA) polo shirt, as I'm an absolute fanatic of space exploration. I use the Speedy as a tool (I love tool watches). The Hesalite crystal is a bit scratched, but I have no intention to polish it. I bought it new 3 years ago, at a small watch shop in Verona, Italy. I'll always remember that day. Since then, each scratch tells me a story and I am not afraid of using it every day, as it was intended. Like NASA astronauts used to do back in the days. I'd love to add to the collection the X-33 Skywalker, as it is now in use by the astronauts of the European Space Agency.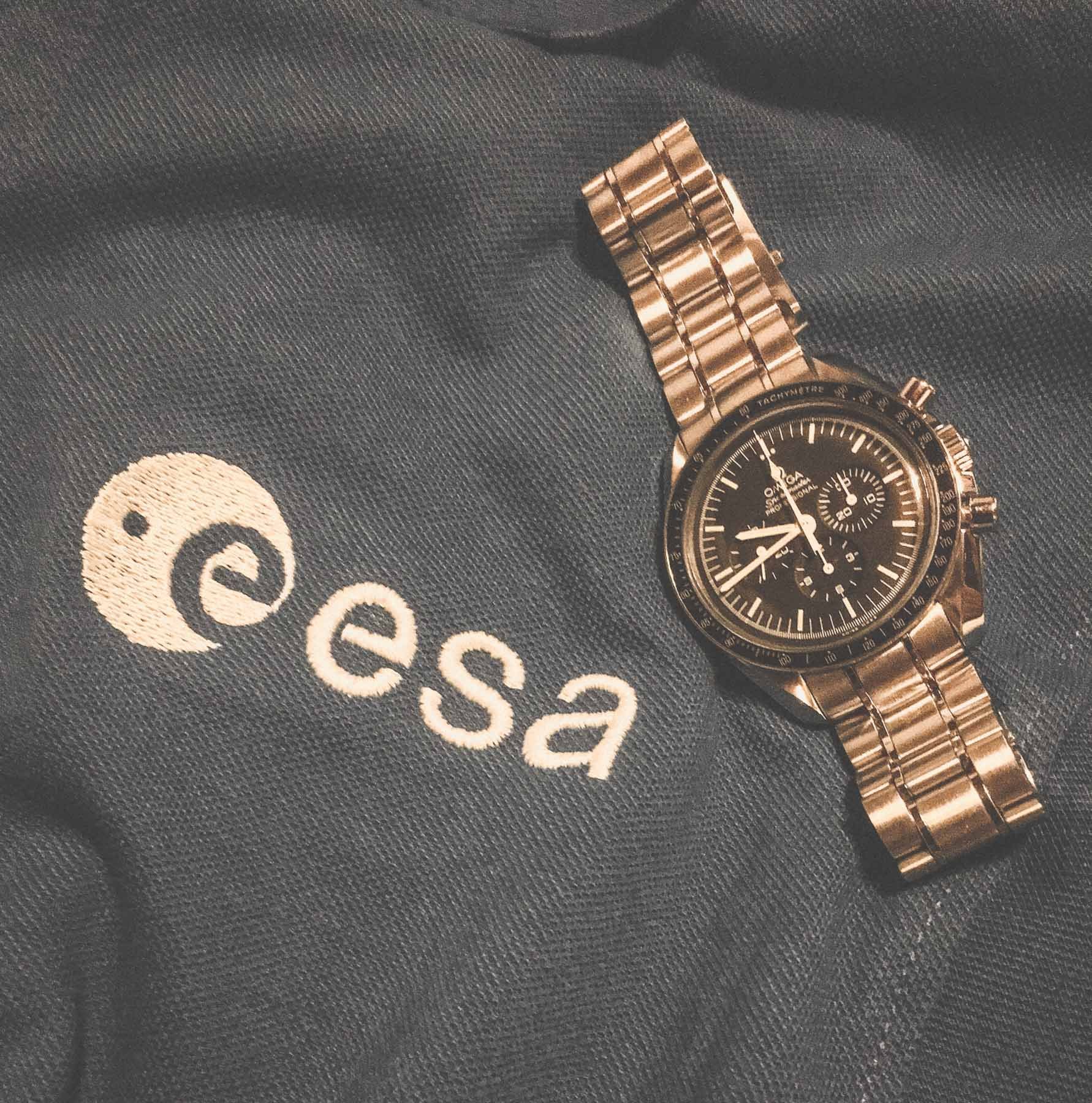 The day I bought the watch, after the deal was done, the shop owner suggested to me and my family a beautiful restaurant in the old town of Verona. To have lunch and celebrate the new purchase. With the watch documents, I also keep a small piece of paper where the shop owner wrote down the name and the address of the restaurant, as I think it is part of the story of the watch.
The best use case scenario of the Moonwatch is in the electronics laboratory, where I usually time electronics and other machinery. My colleagues these days use their smartphones, but I want to do it as engineers used to do back in the days.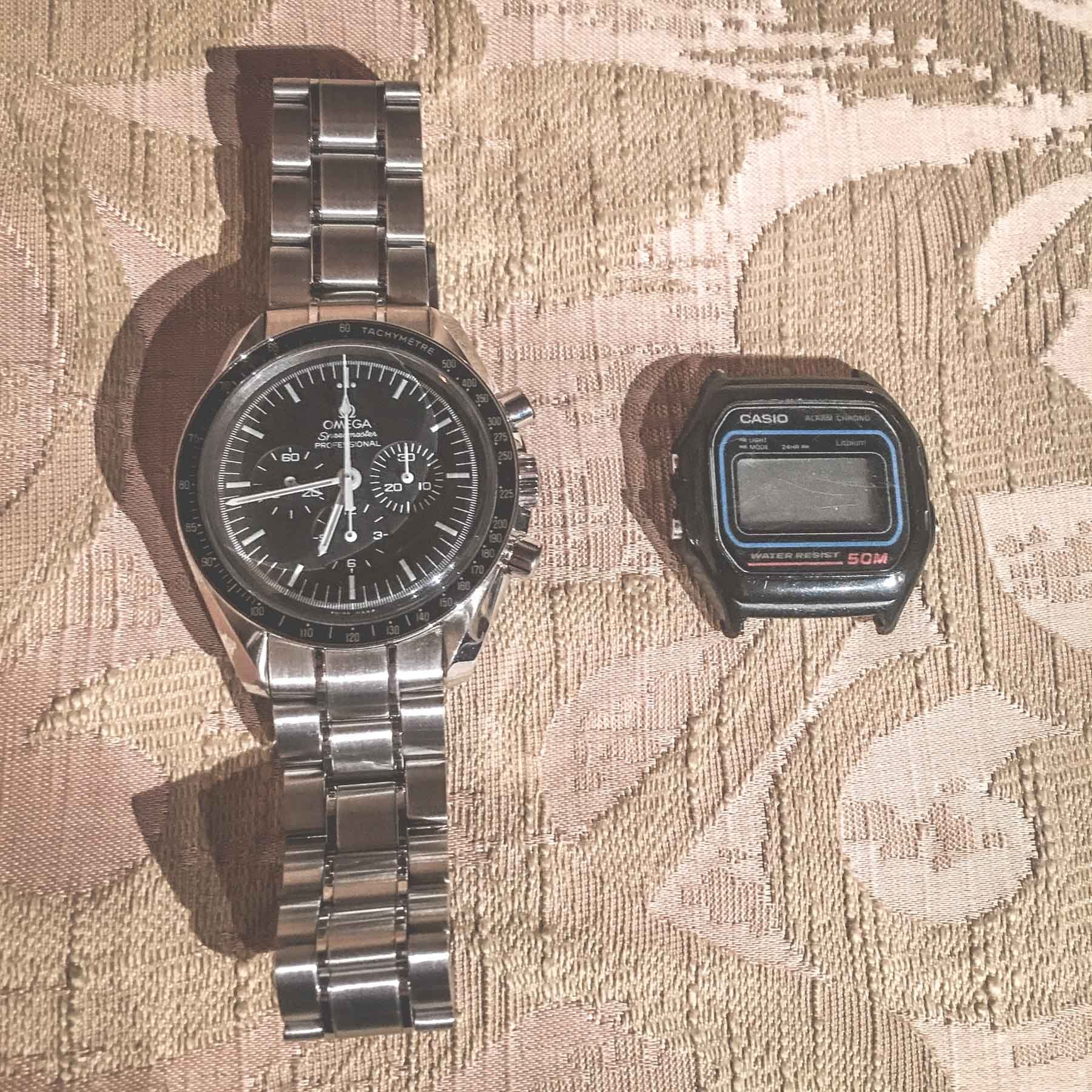 I also share a picture of the Speedy with my very first watch, a digital Casio watch. I wore it for about 6 years since I was 5 years old.
Keep up the good work,
Luca (IG @luca.ghislo)
My Grail Watch
Hi Fratello,
I saw your article about sharing the story of my Speedmaster.
A few years ago, my interest in vintage watches began. I inherited a mechanical watch from my grandpa in March/April 2017. The watch brought back memories to me. I remember my grandpa wearing this watch when I was younger. He told me, I must have been like 10 years old, 'if you hold the watch to your ear, you can hear it ticking'.
After I inherited that watch, I began searching on the internet for more information about this watch. Later, I joined a Dutch watch forum and spent a lot of time on the internet, reading and learning more about mechanical watches, particularly vintage.
One day, I found an article about the Sekonda (Poljot) Strela. I was very impressed. The watch was built with a purpose and used by Russian Cosmonauts during space missions. The looks, a chronograph with a black tachymeter dial, amazed me.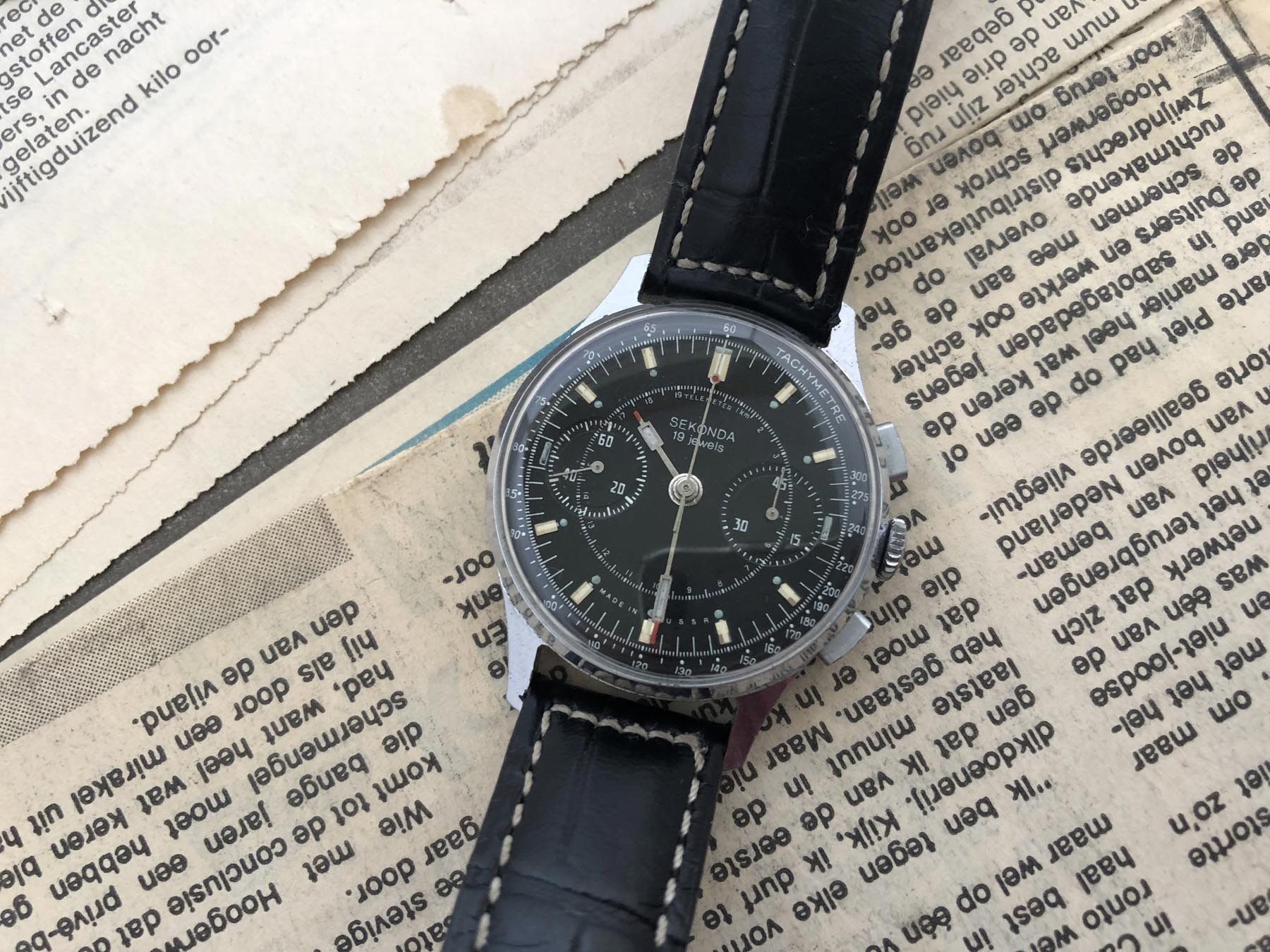 After a few days, I found a perfect example in the Dutch forum. Meanwhile, while I enjoyed my Sekonda, I continued reading and learning about vintage watches. I learned that my Sekonda was not made of stainless steel, but was chromed. Quality-wise, a lot less durable. After digging more on the web, I discovered another spacewatch, used by NASA for their space missions, and the moon landings. The Omega Speedmaster. But prices were high in my opinion, and while I was in love with the Speedmaster, I tried to get it out of my mind, because I could not imagine buying such an expensive watch.
So, I began to look further. I learned that chrome-plated was not the way to go, because quality-wise, it was not the greatest thing ever. So I came across an article about the Glycine Airman from the '60s. Black dial, 24 hours bezel, tritium, and instead of a chronograph function, a GMT function. History-wise, there were also interesting things to learn.  It was a watch often bought by pilots, so they could track a second time zone. Also, it was used a lot during the Vietnam war.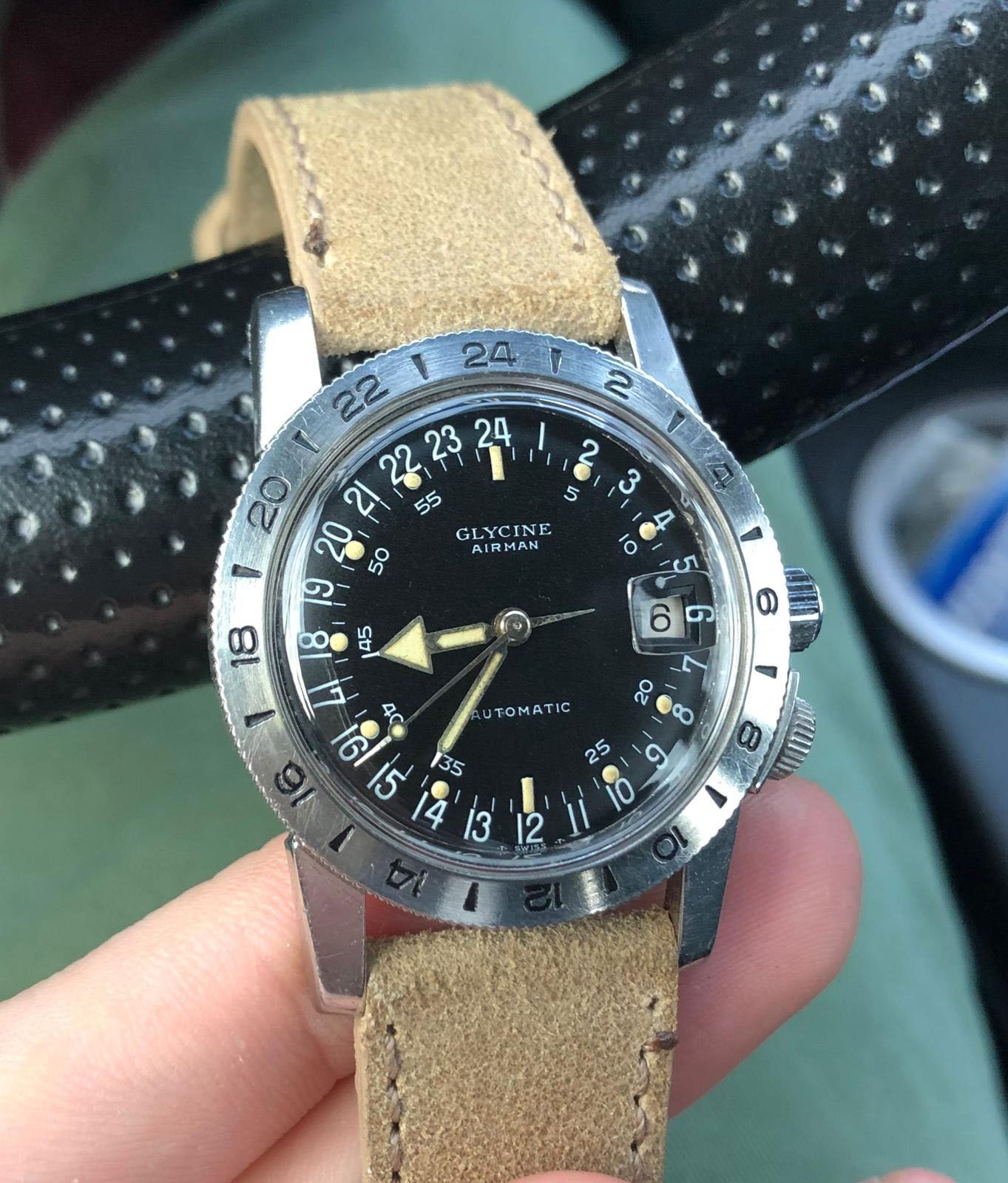 Unlike the Sekonda, I couldn't find a decent example of an original Airman. It took me over a year to find one. It appeared on Ebay, with very bad pictures. But from what I could see, it was completely original. And judging by the pictures, it was an honest 'barn find', something that I like. End of the day; I won the auction, sold my Sekonda a while before that, and received my Airman. I liked everything about this watch, and I still own it!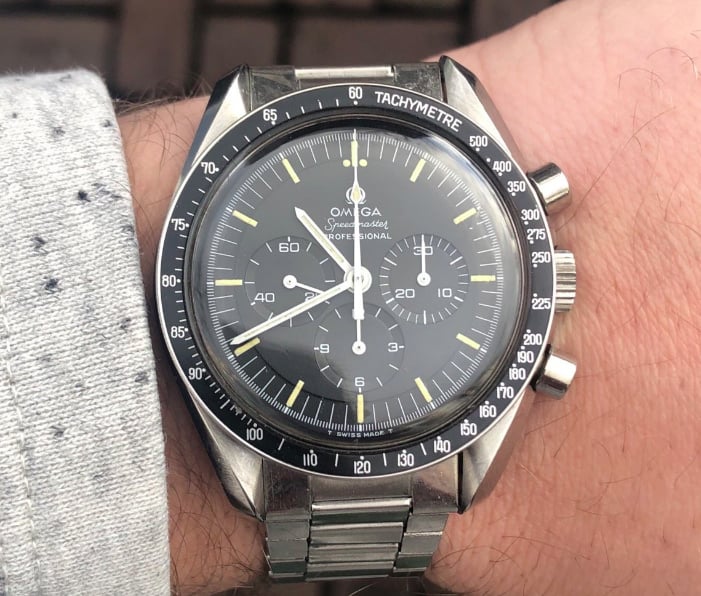 However, the Omega Speedmaster Professional was my grail. Searching for pictures of it almost every single day, reading about it, watching some Youtube videos. Until early 2020, when a fellow watch collector wanted to sell his pre-moon Speedmaster Professional (ref. 145.022 – 69 ST) with the original 1039 flatlink bracelet. I always loved that particular watch! Because it was in such a perfect and original condition, I went ahead and bought it from the original owner in The Netherlands (where I live). When I tried that watch during watch meetings, I was always impressed, and now, it's mine. I could not have been happier with my Speedmaster!
Thank you for reading this, and follow me on Instagram (D.f40_watches)
Speedy Tuesday 1
Dear Fratello team, this is the story of my Speedmaster Professional Speedy Tuesday (1) Limited Edition.
When I started collecting, I didn't really think much of Omega. Perhaps it was because of perception (my first nice watches were Rolexes), or a lack of knowledge about the brand and its history. But this watch changed everything. It was pure luck that I came across this watch on Omega's Instagram shortly after was announced. It was love at first sight. I made a reservation immediately, without thinking about how I would eventually finance the purchase.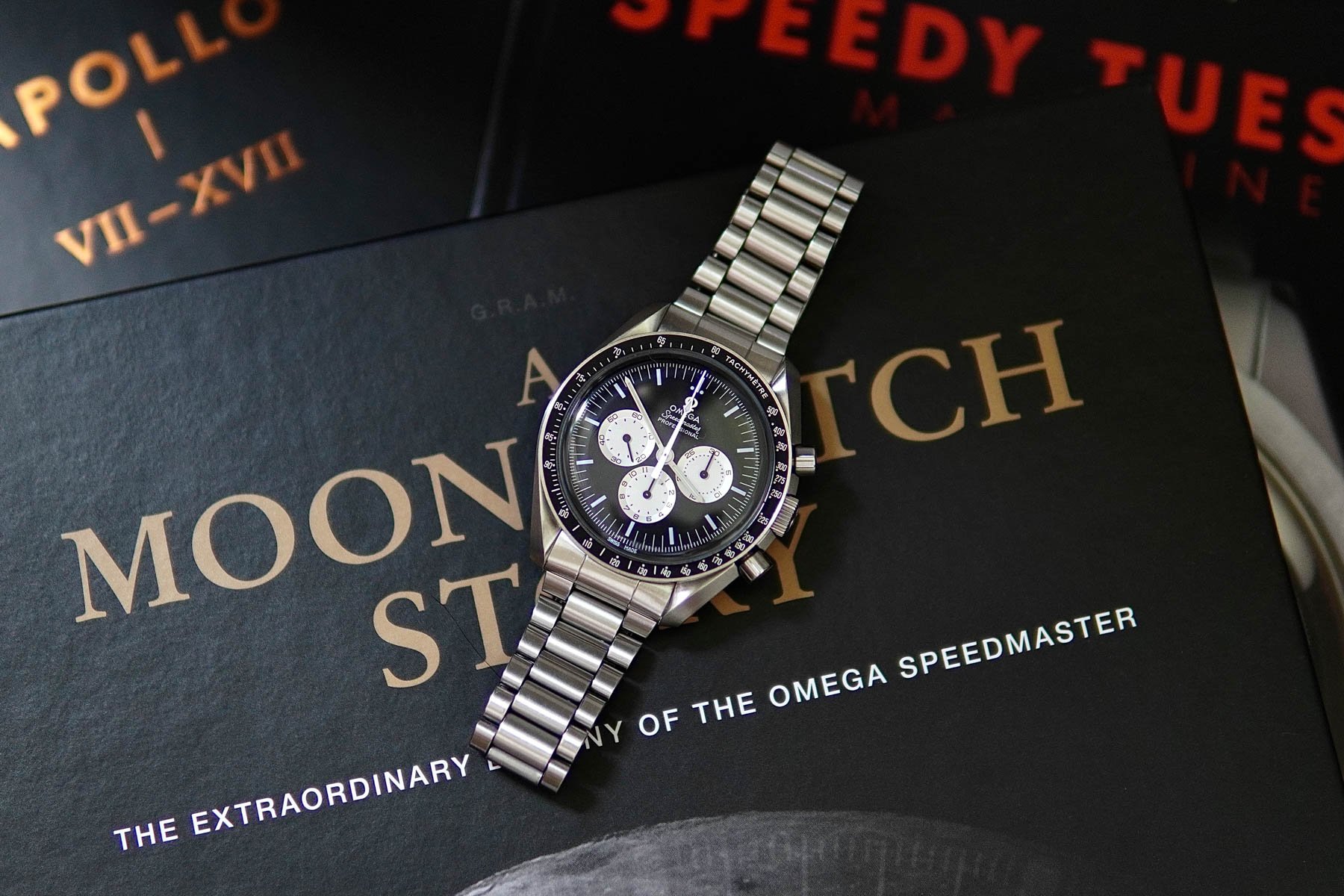 This purchase started my desire to learn more about Omega, in particular, it's history with NASA and the role Speedmasters played in the moon landing and space exploration. I always had an interest in science and space since I was young (who wasn't?), and this watch reignited that interest and learning to a whole new level, and also from a slightly different angle/perspective. Now I've found a connection with the Speedmaster and this watch.
After much deliberation, I sold my 8-month old Rolex Explorer 214270 in order to make funds to purchase the watch.
After a long, frustrating yet necessary 10-month wait, I finally received the call to pick up the watch. The pickup process at the Omega Boutique was special and memorable.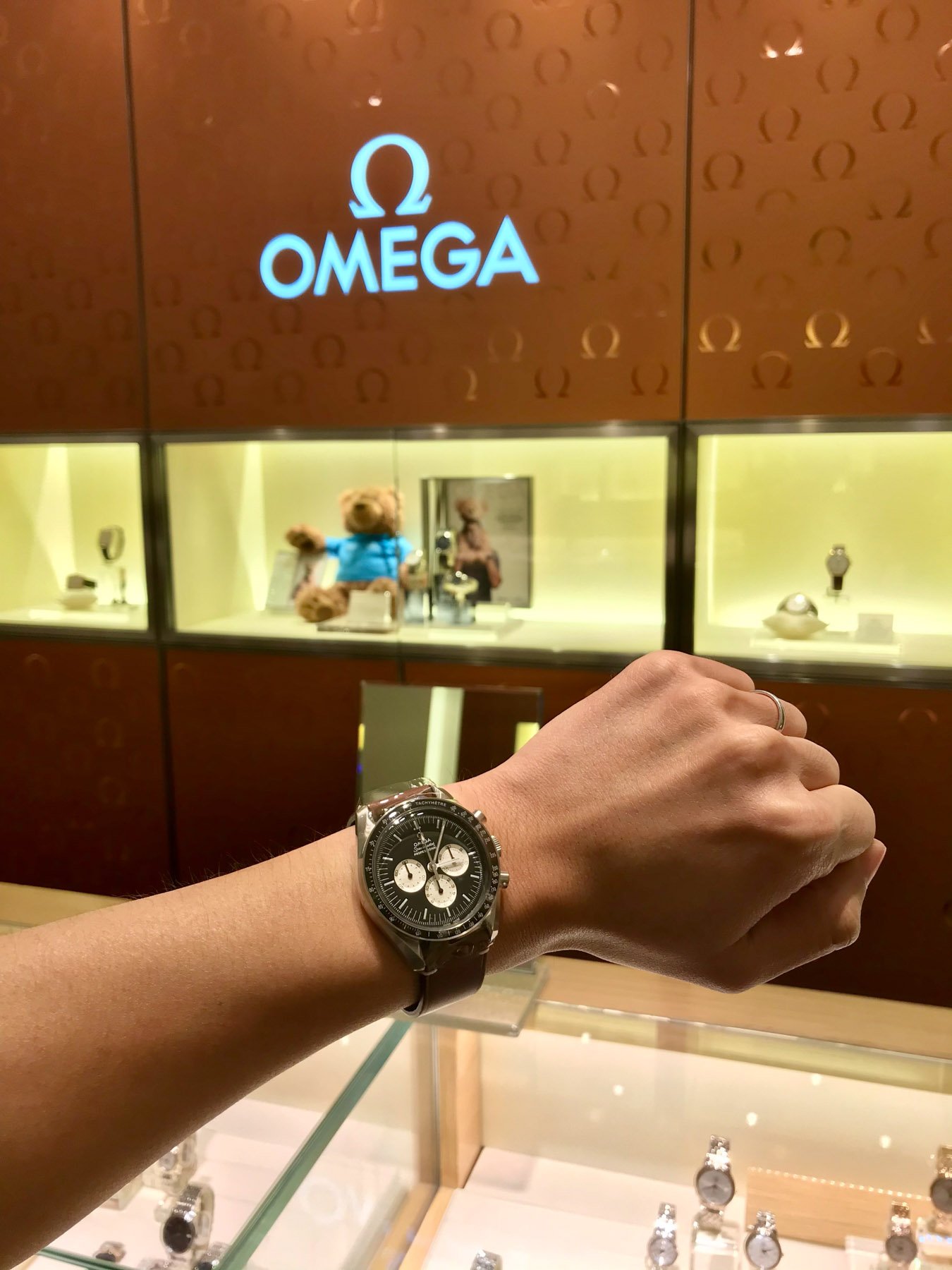 Ever since I made the reservation, I joined the #speedytuesday Facebook group, and it connected me with the people, from all corners of the world, who bought the same exact watch like me, as well as the broader circle of Speedy enthusiasts. I had the opportunity the meet fellow Speedy collectors and the Omega and Fratello team during a #SpeedyTuesday event in Hong Kong back in July 2019 (don't we miss in-person events?). We had a blast!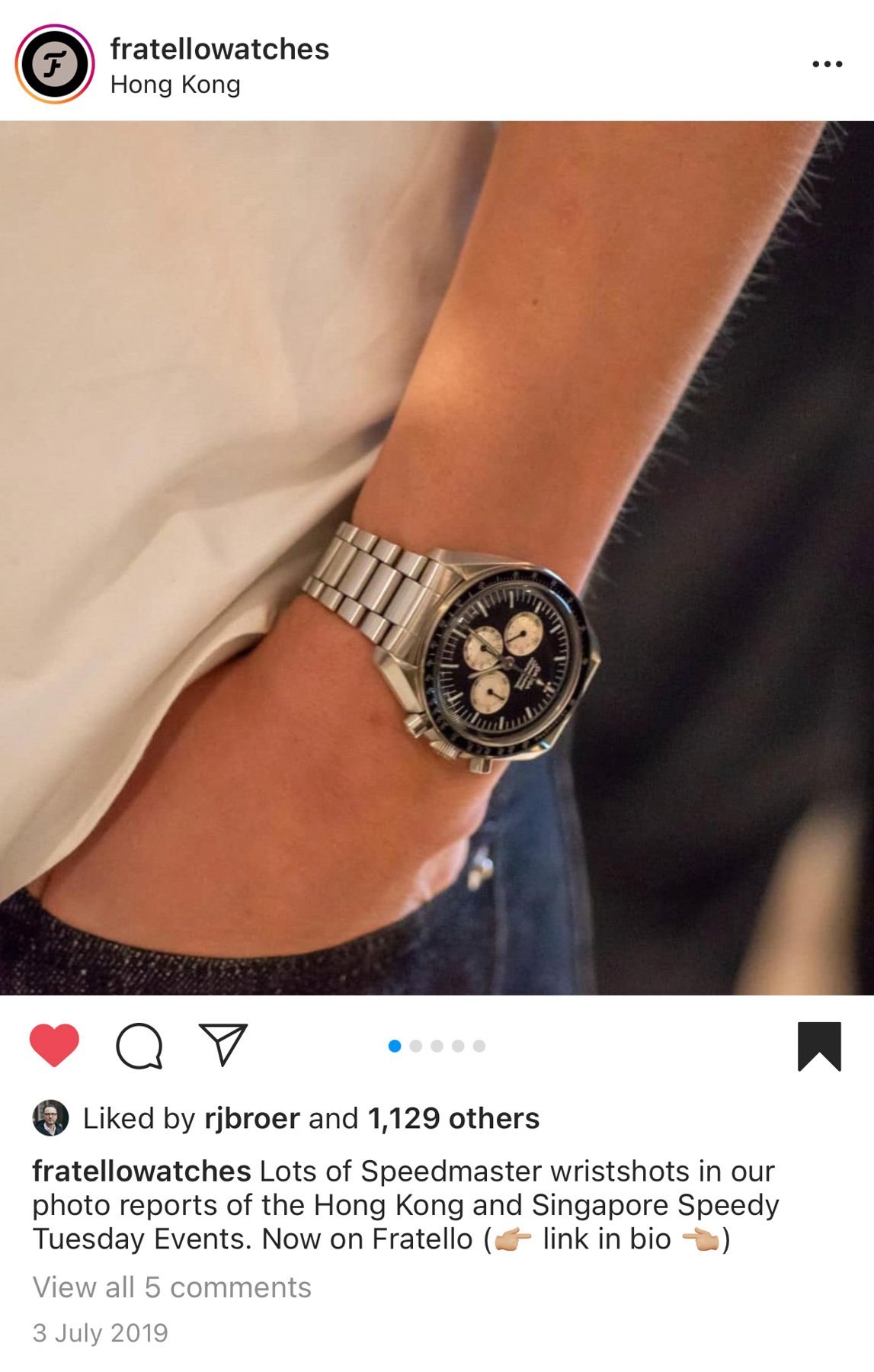 One issue I had with the watch is that it did not come with a bracelet. I've always preferred bracelets as leather straps don't look good on my thin Asian wrist and I dress in casuals in most days. I managed to hunt down a 1171/633 vintage bracelet and boy did it transform the watch. The vintage look of the bracelet matches perfectly with the ST1's all brushed finish.
Now I wear this watch with pride and joy. Knowing that I own a piece of history about the moon landing, and I am one of 2012 people who will ever own this special watch. And I belong to a great community that we can share the passion of collecting and owning Speedys.
Simon Law (on Instagram @simonlawhc), from Hong Kong.
Submit your Speedmaster Story
We have more Speedmaster stories coming up, but we'd love to read yours too! It doesn't matter if you're not a professional writer. Most of the time, submissions read very nicely, but if they need a final polish we have a managing editor who will happily take care of that. What does matter, however,  is that your story is accompanied by some high-resolution images of your Speedmaster watch. We are happy to share your Instagram account in the story as well, of course. Submit your story, accompanied by a few pictures, to speedmaster@fratellowatches.com.