Zenith Manufacture Visit Report
Just before year-end and thus before the 150th anniversary of the Zenith Manufacture, Bert and I visited the impressive and big building in Le Locle (Switzerland) to see with our own eyes what Zenith is about these days.
A friend of mine collects (mainly vintage) Zenith El Primero watches and I've always been very interested in their classics like the Chronomaster (with moon phase) and their El Primero Rainbow Fly-Back from the 1990s. When Zenith was headed by CEO Nataf I lost interest in the brand to be honest and only after his successor Dufour put Zenith back on the horological map for enthusiasts (a.o. with the introduction of the Zenith El Primero Striking 10th) my interest was triggered again.
Now that Dufour became CEO of Rolex and Zenith found a new CEO in Aldo Magada, I believe that the brand is on the eve of a next chapter. Without being a 'spoiler', the visit to the Zenith manufacture showed us that it seems everyone at Zenith is ready for big things but especially to remain home of the most appreciated and respected automatic chronograph movement. More important, to be(come) a very competitive brand (with a lot to offer) to some of the big brands in the same price range.
Zenith Manufacture Visit Report
Before our tour through the manufacture started, I had an interview with Aldo Magada, CEO of Zenith since last Summer. I will publish the interview somewhere in the next couple of weeks, but one thing that I'd like to mention here already is that Magada ran into a lot of pride amongst the employees of the Zenith Manufacture. Proud about what they established in those (almost) 150 years and proud of what they are doing today. Perhaps without him realizing that he came across as proud as all the other employees we met during that day, after only being there for a couple of months.
Our tour was hosted by Romain Mazzilli, who is senior watch trainer at Zenith and has a watchmaking background. Again, with a lot of pride he showed Bert and myself around in the beautiful buildings of Zenith Manufacture in Le Locle.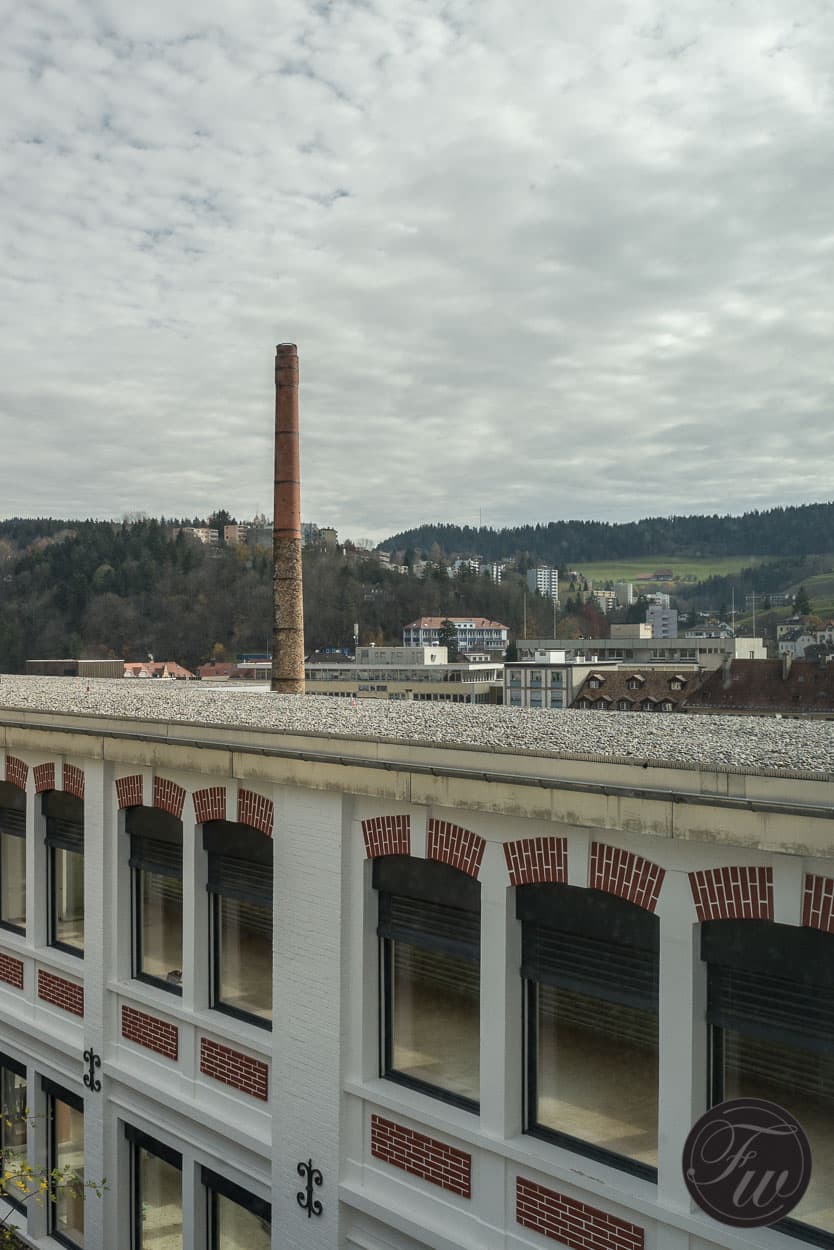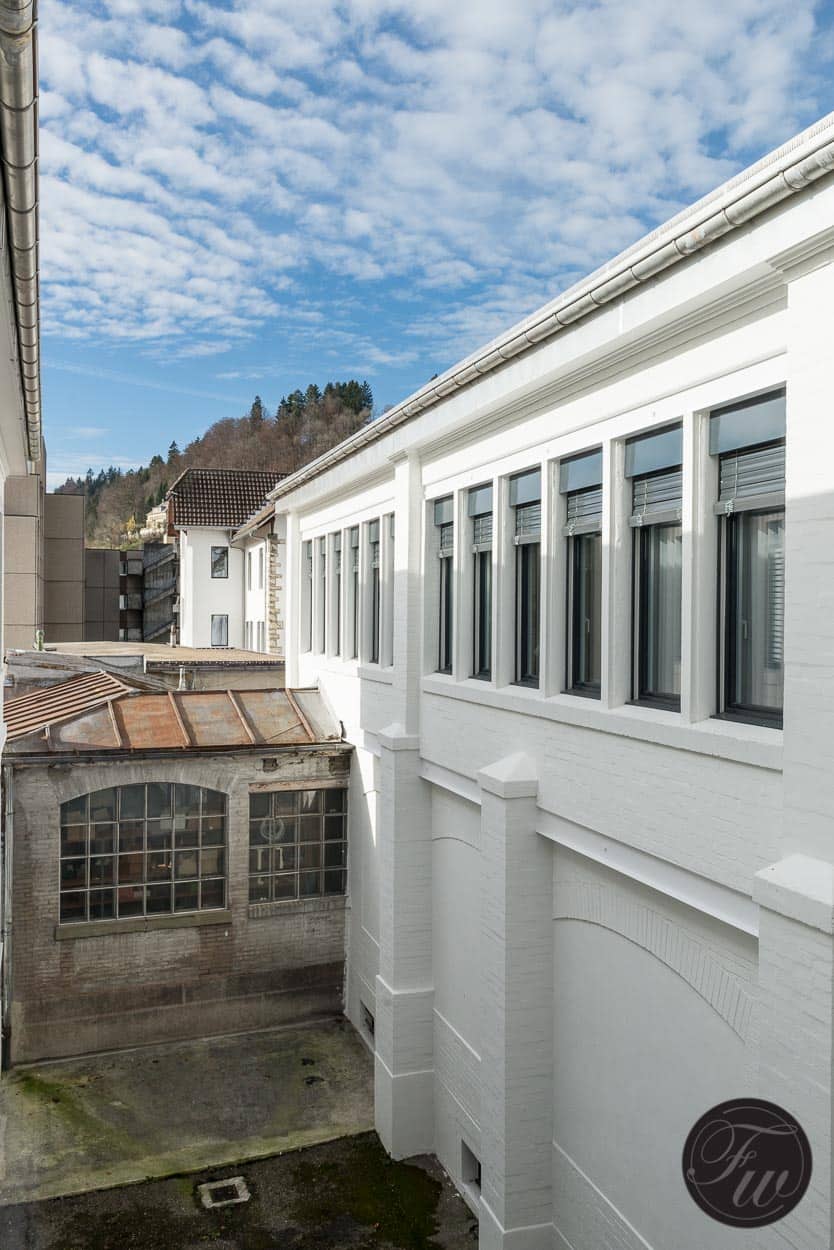 Zenith's founder Georges Favre-Jacot made sure that all the buildings would fetch as much day light as possible and large enough to host all the machinery and tools to build watch cases, dials, movements and so on. All the different buildings are all connected to each other and they house about 250 employees working on Zenith's watches. The Zenith Manufacture is like a little watchmaking village in Le Locle.
Mazzilli explained that – since the Zenith Manufacture has a capacity of 80 different professions and all in the same building – they can work quite fast and efficient on developing movements and prototyping them. We unfortunately were unable to take any photos in their development department for obvious reasons but at least it was shown to us. Combining the art of watchmaking with the latest standards on CAD solutions for watchmaking, some of the best ideas come to life in this department that is connected to the main building.
However, our really first step into the world of the Zenith Manufacture starts at the beginning of the watchmaking process. Big bars of brass enter the manufacture and are being cut into small pieces that will eventually will become the famous (a.o.) El Primero movement.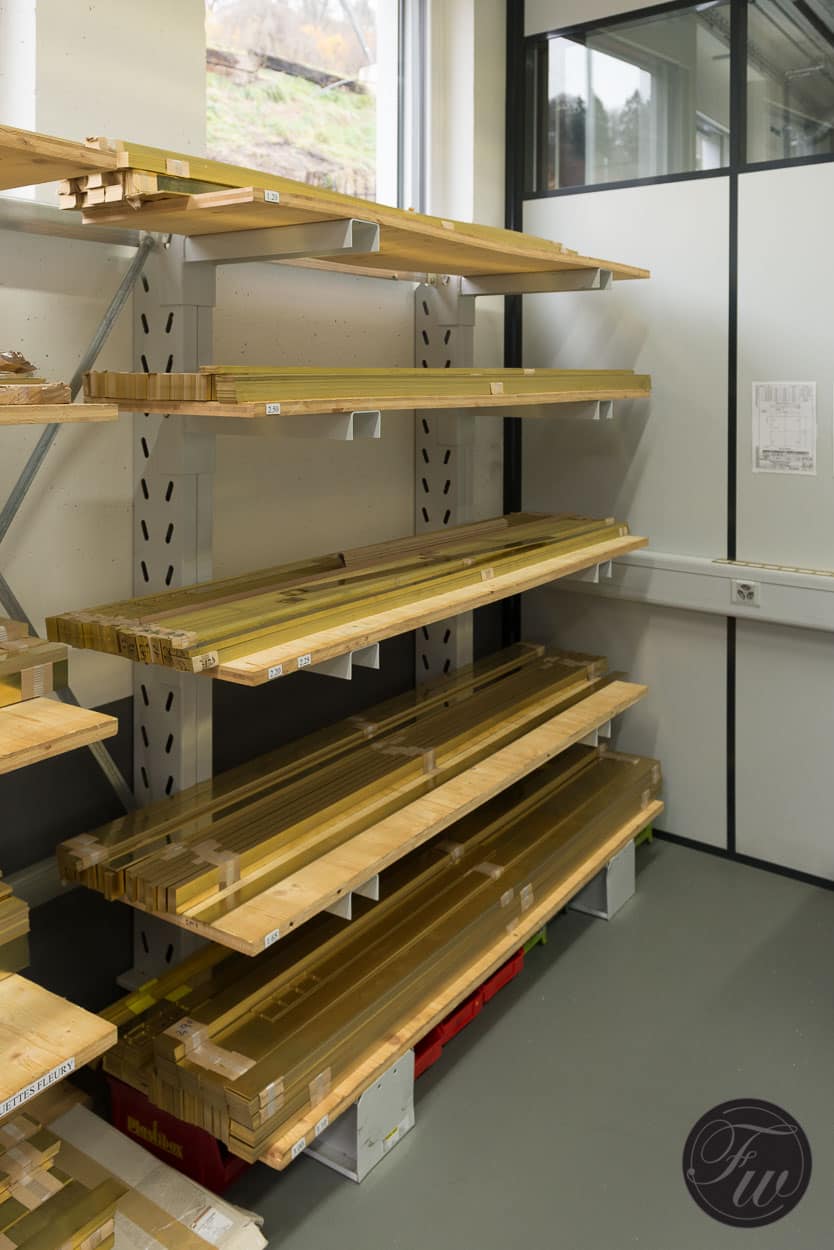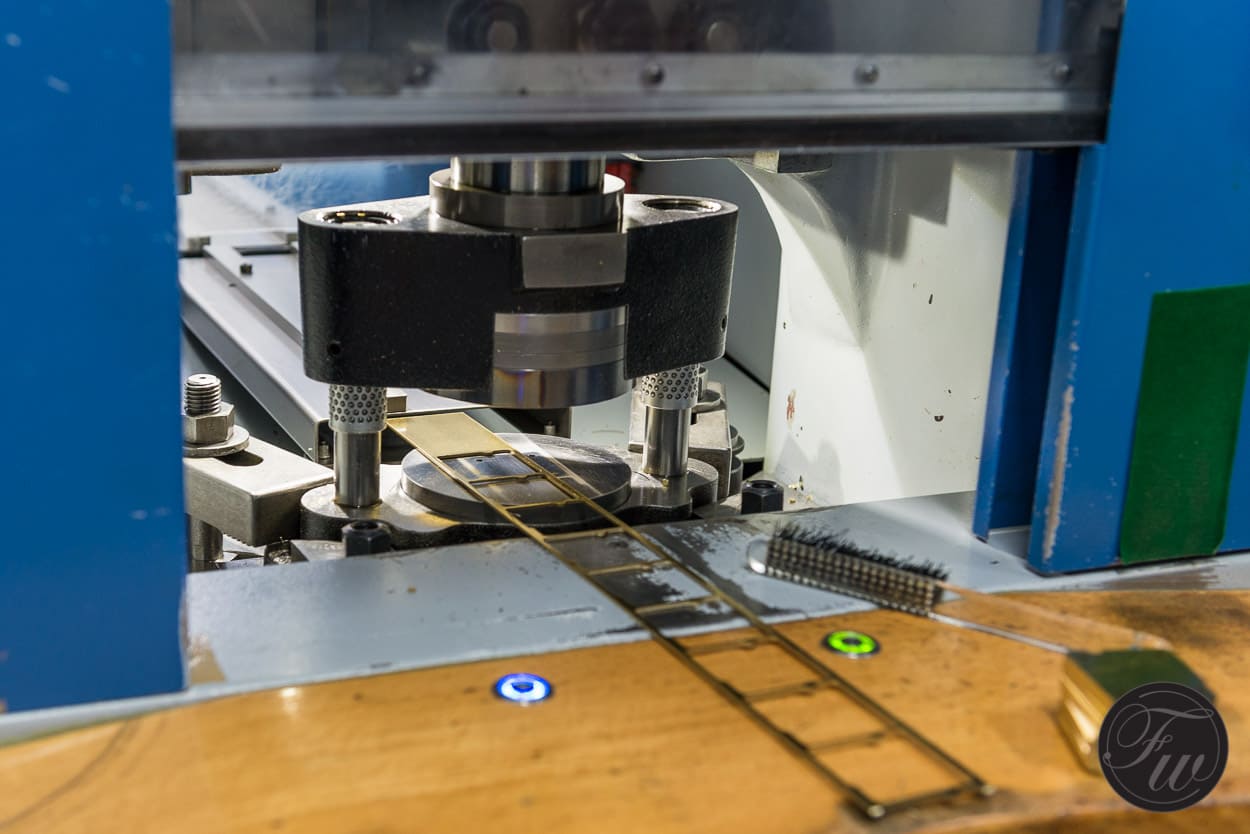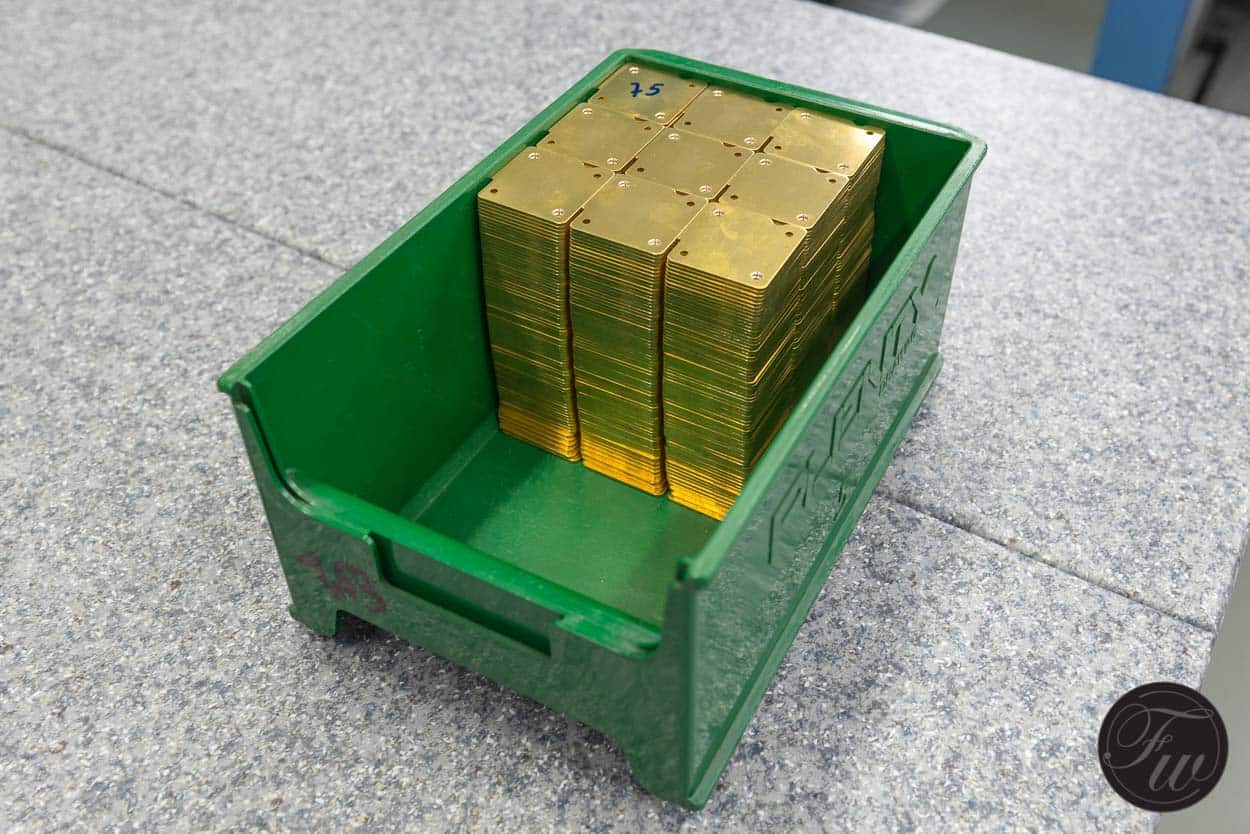 After some milling and drilling, the little metal plate is almost ready to be used. Holes for the gears, barrels and screws are being drilled and the little brass plate is made pre-ready for the real assembly that will follow later.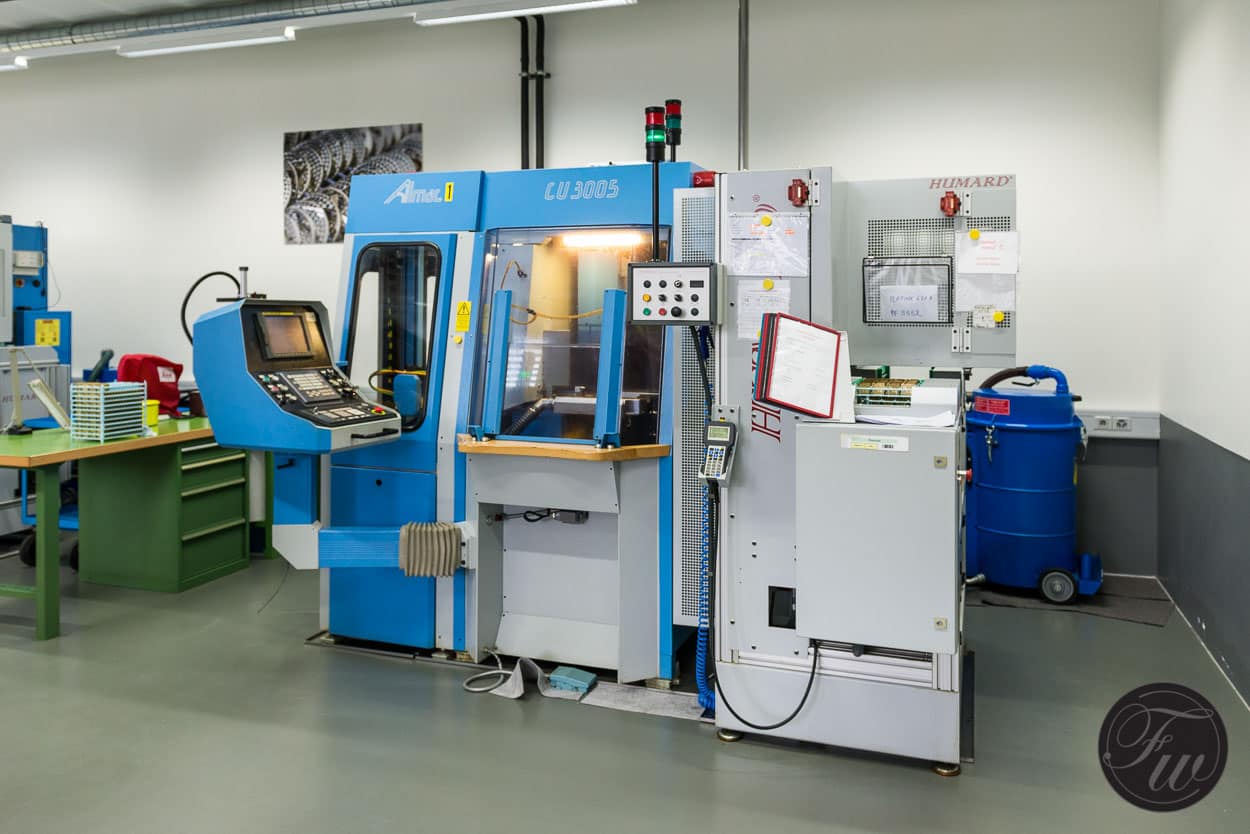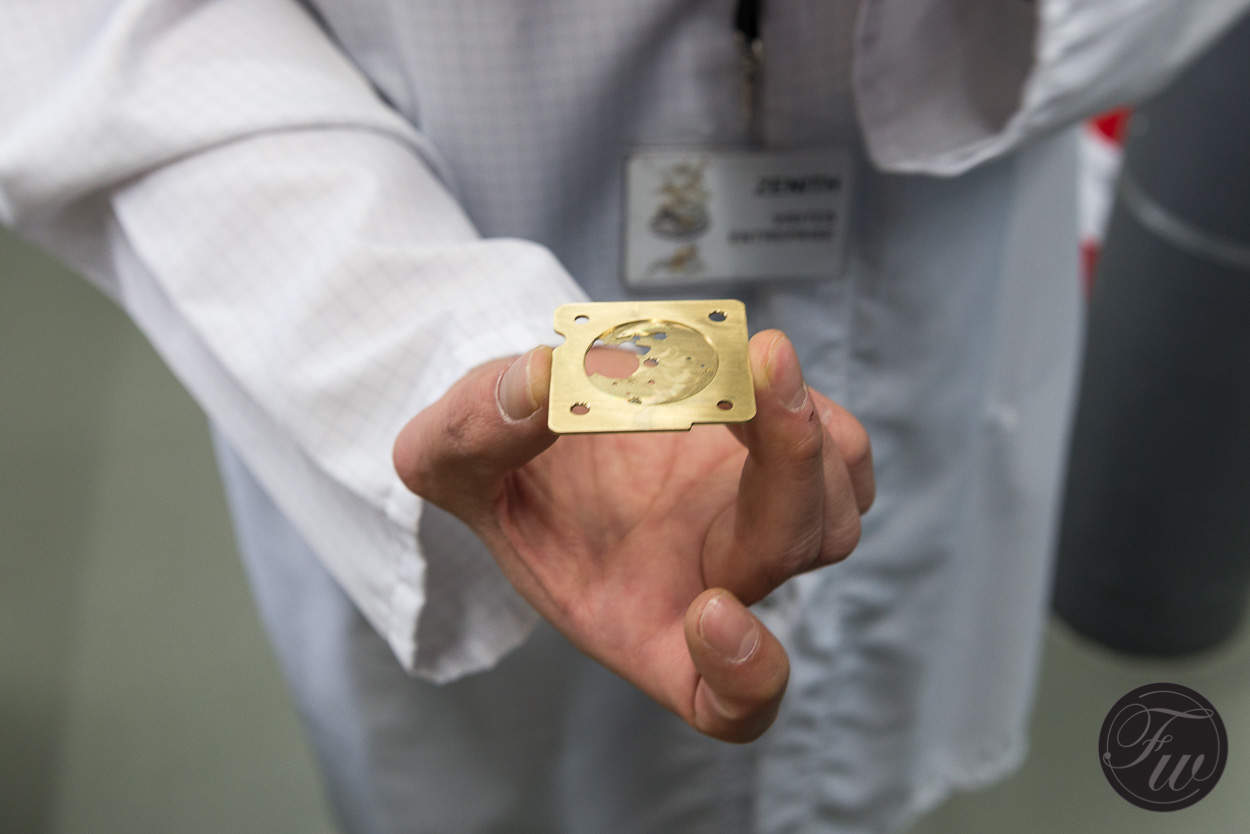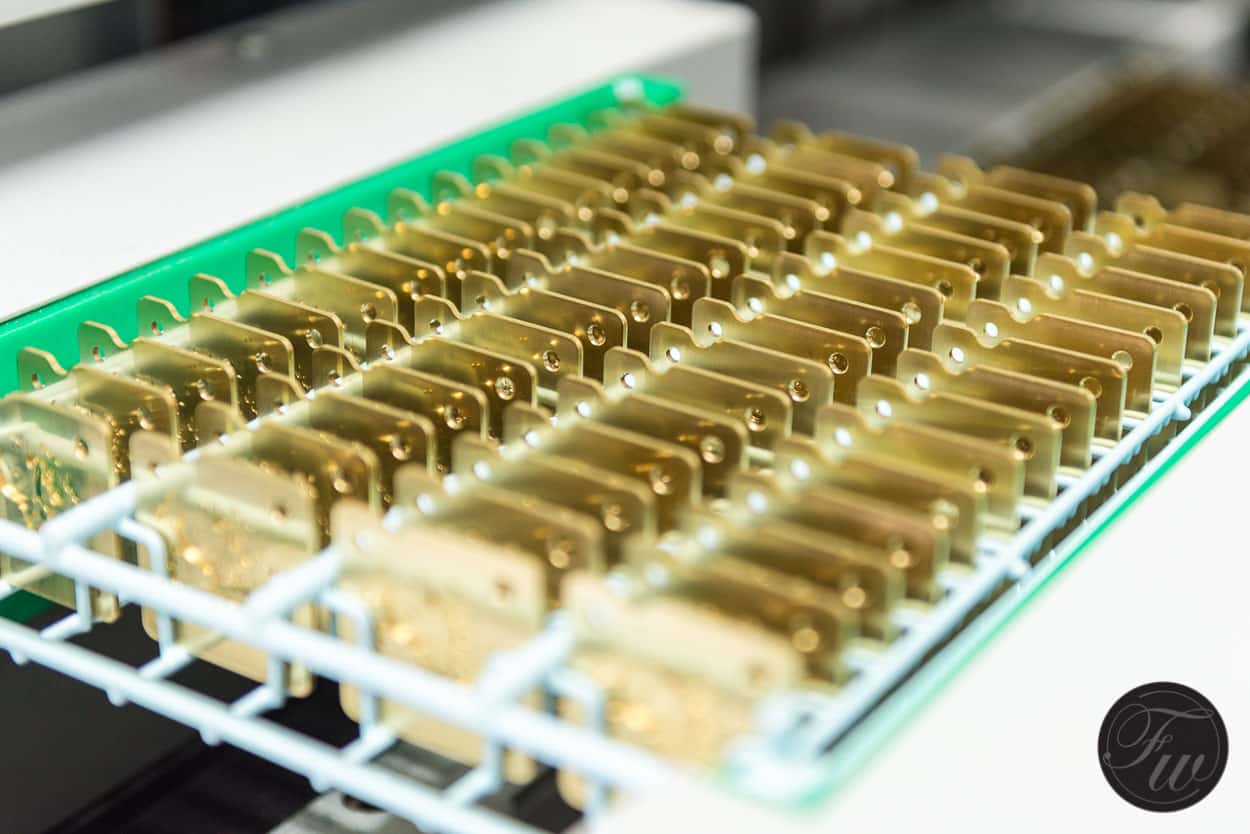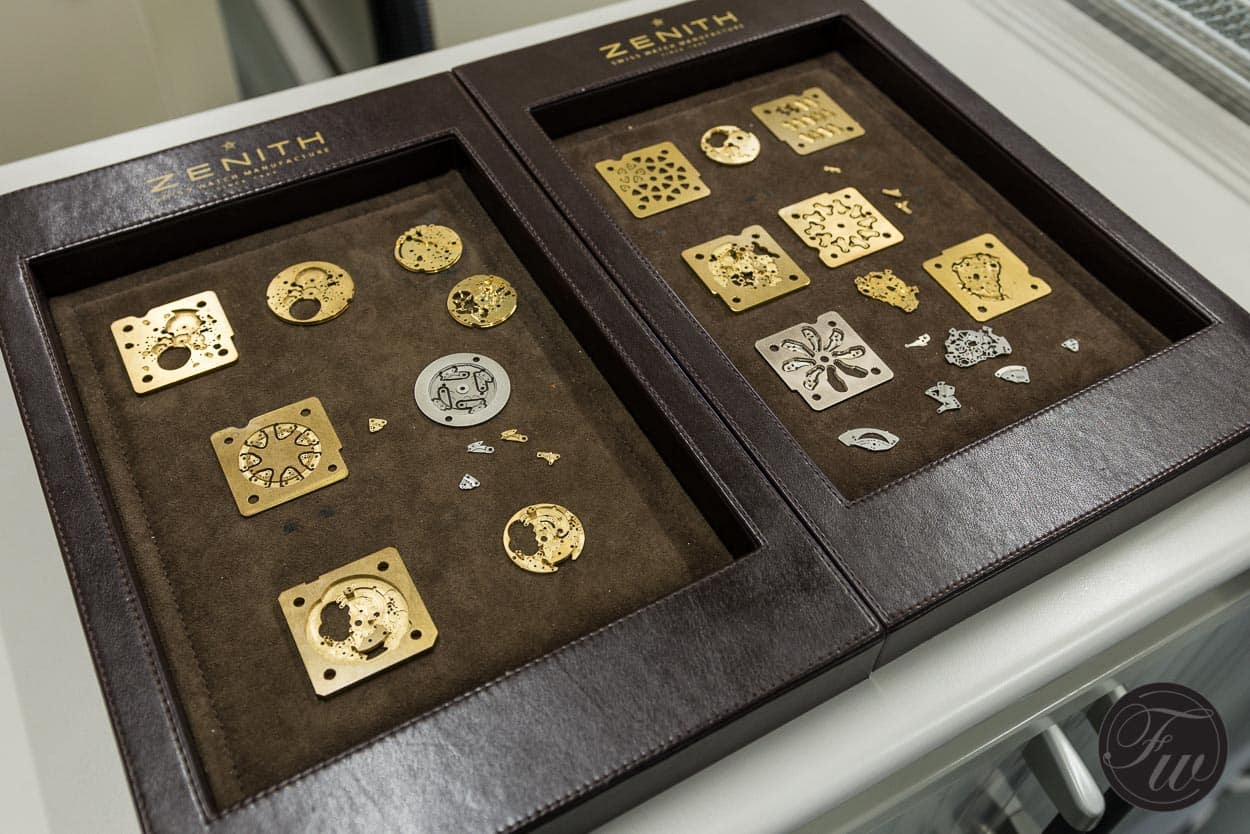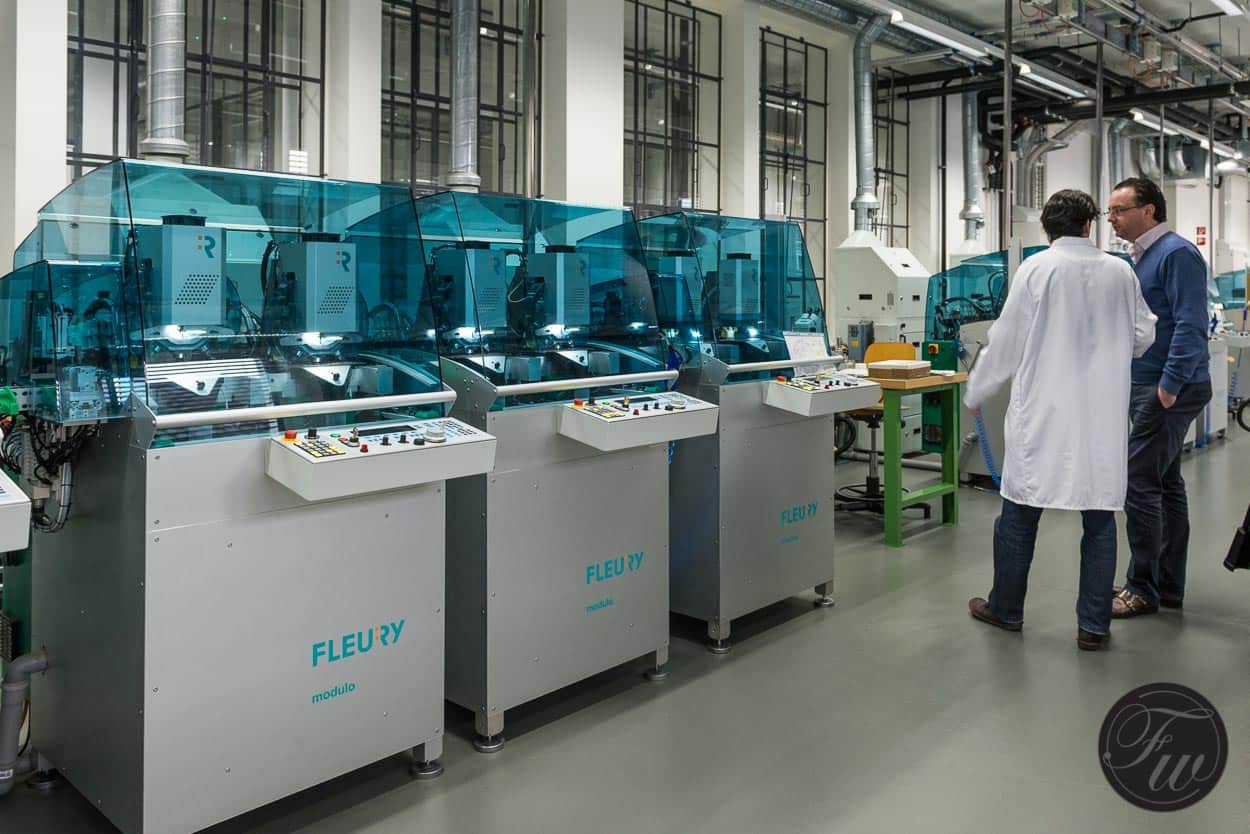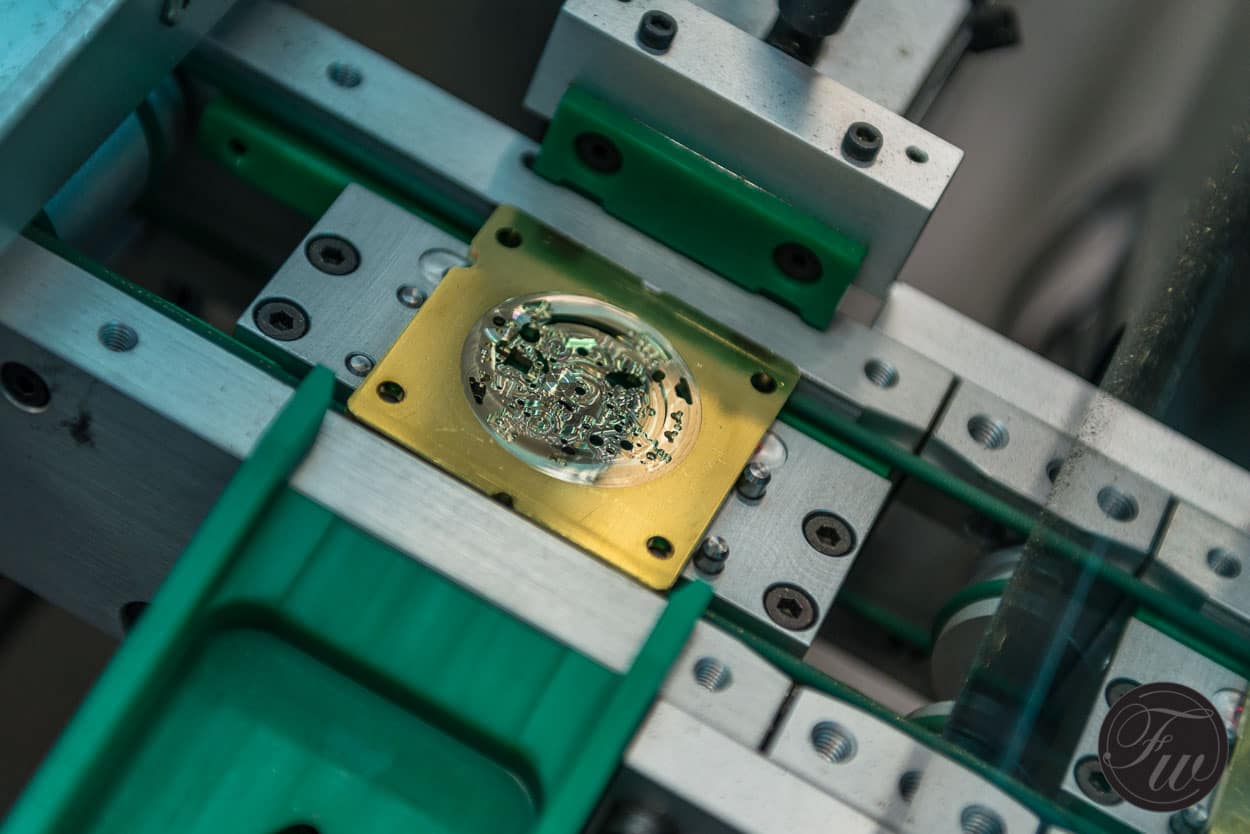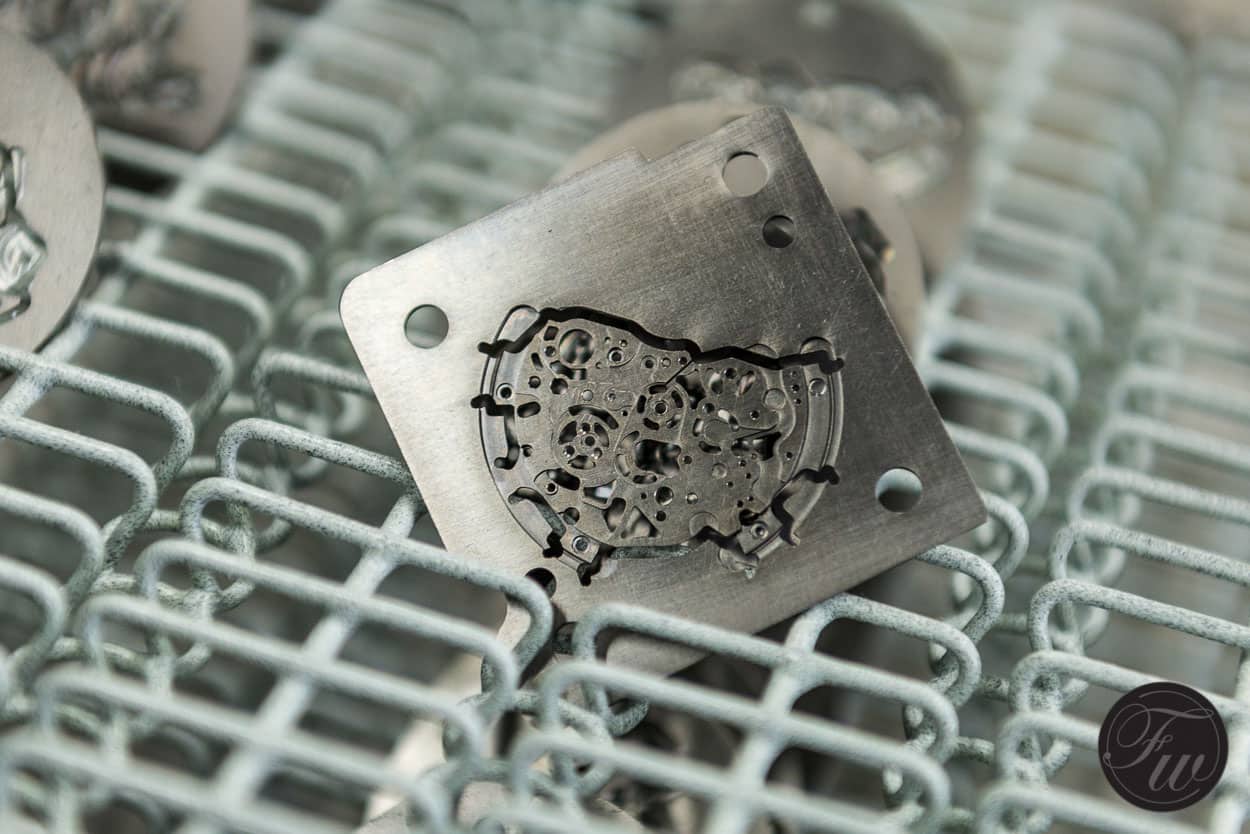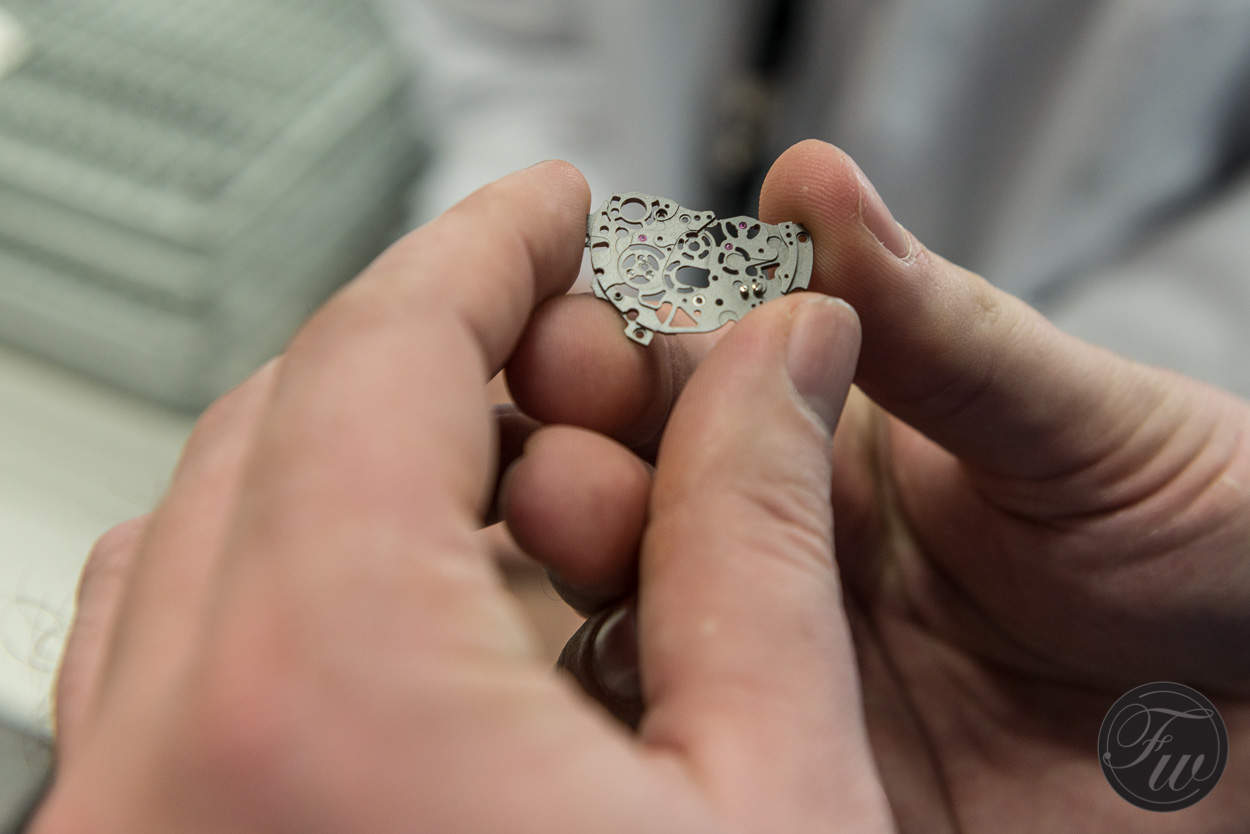 There it is, the raw version of the Zenith El Primero movement. Ready for the next steps in the process, the assembly and finishing of all the parts.
By using a combination of old and super modern machines the Zenith movements are being manufactured step-by-step. The in-house production of just about every part also means that it is fairly easy for Zenith to reproduce parts for their movements. Whether it is a caliber 3019 El Primero movement from 1969 or one of the latest caliber 400 movements, the Zenith Manufacture is able to produce parts. This also makes the Zenith El Primero a very interesting watch to buy (or collect) as you know it will be relatively easy (and thus not as crazily expensive as some other brands that either have to buy their movement parts from third parties or don't have NOS parts anymore from early movements) to service as they are perfectly capable of getting the right parts for your watch.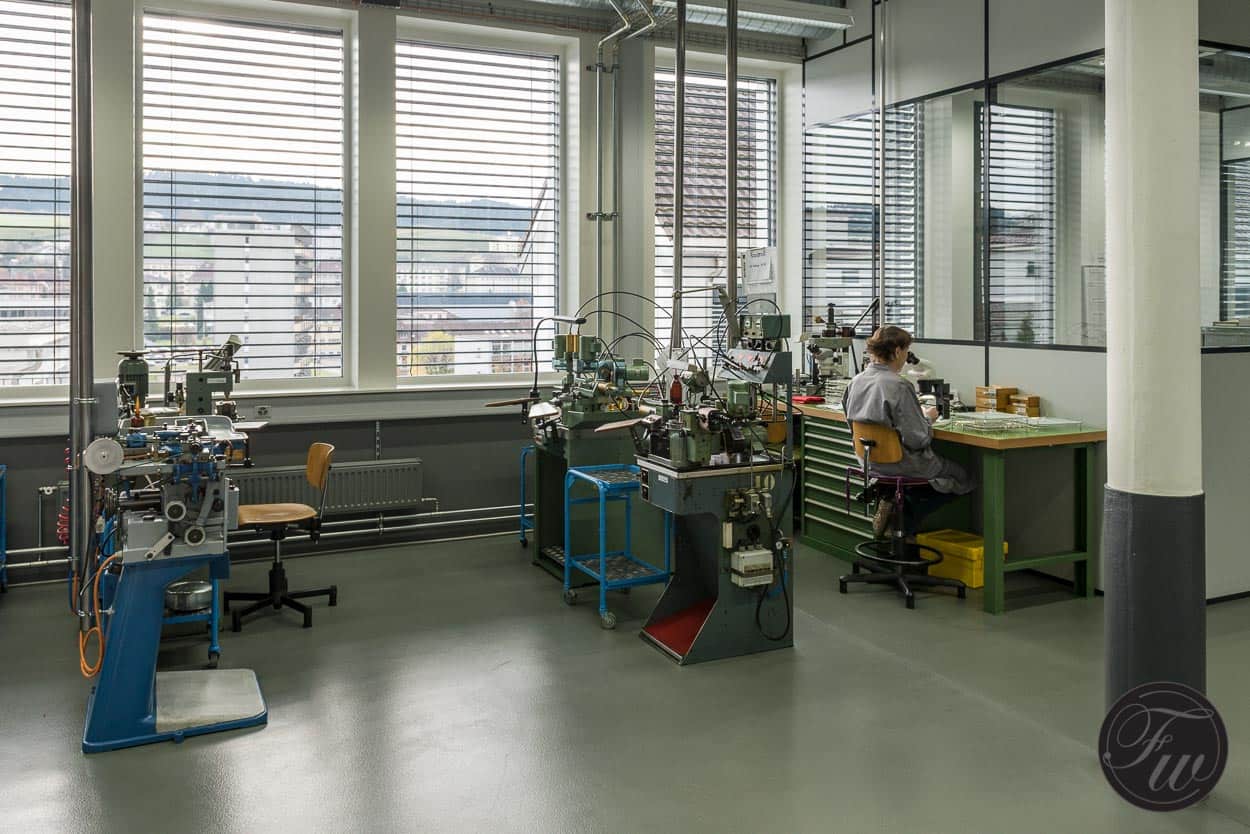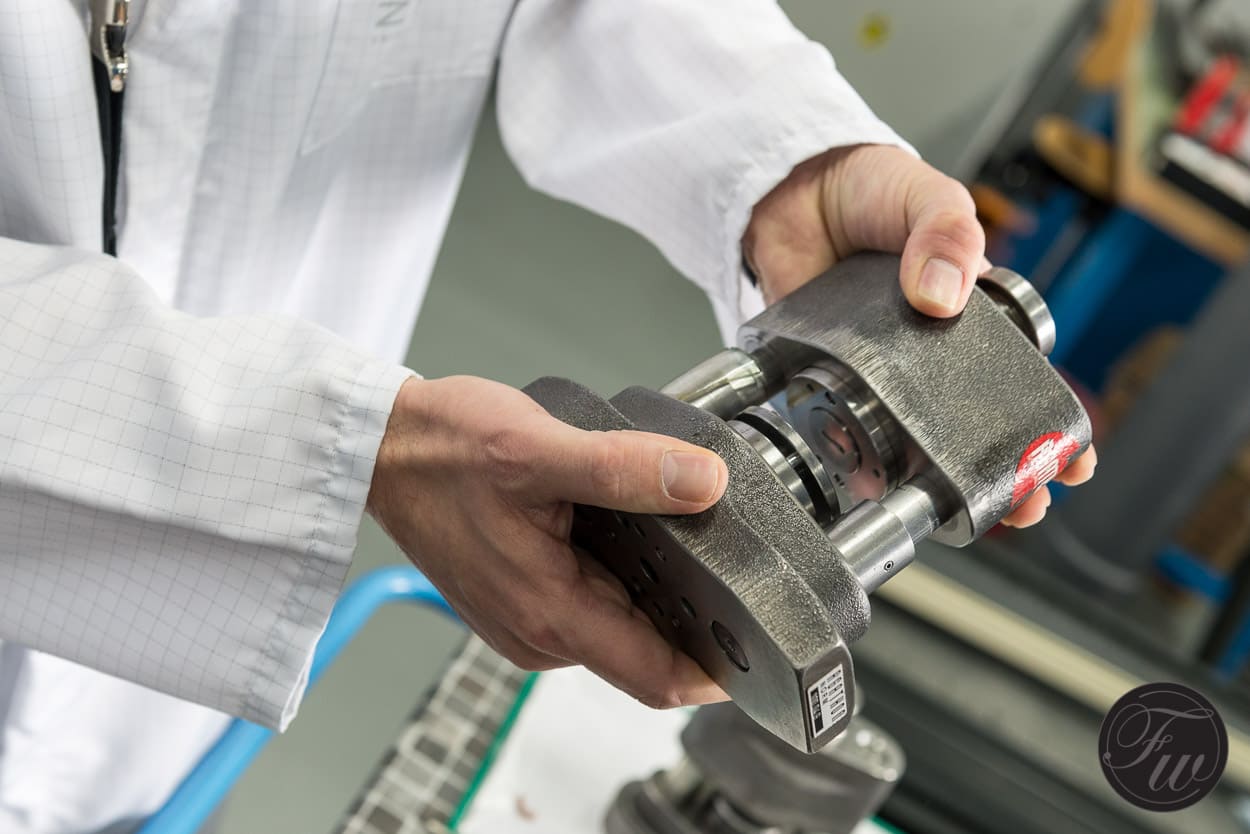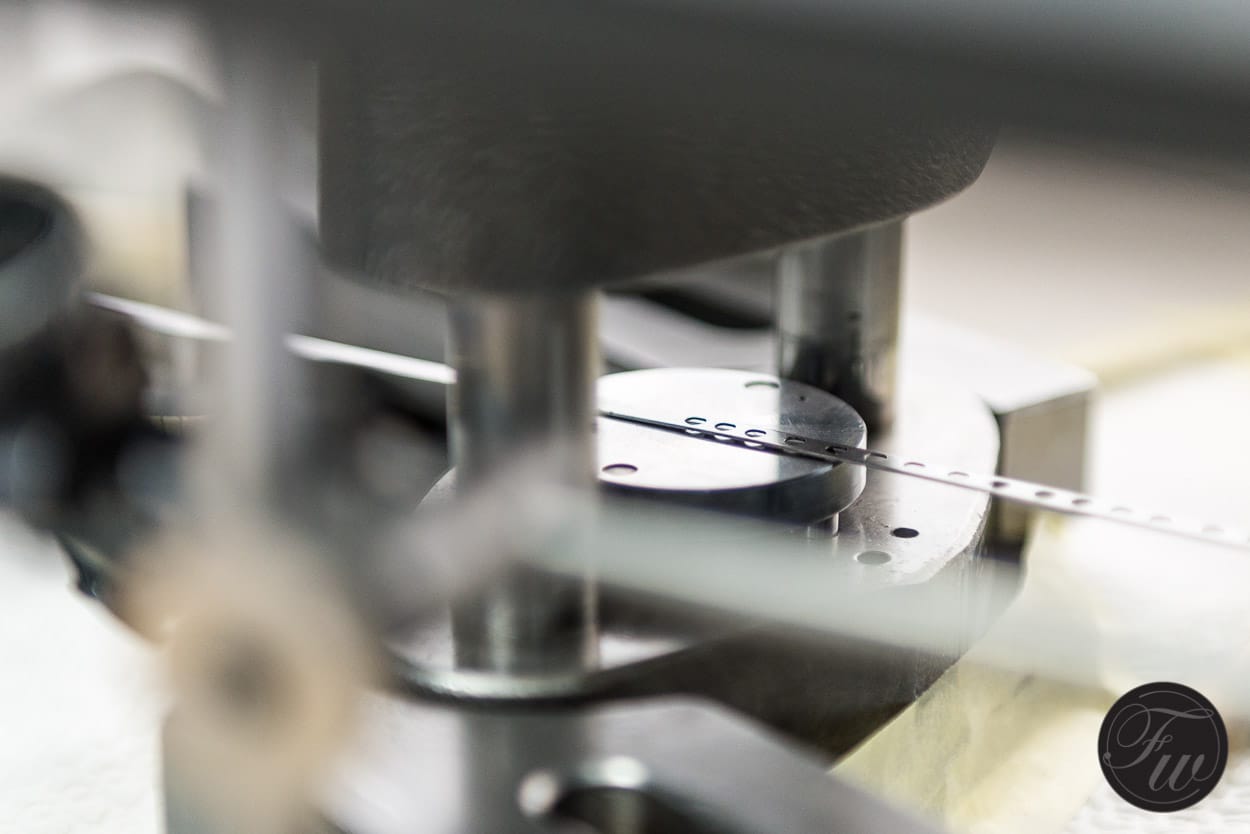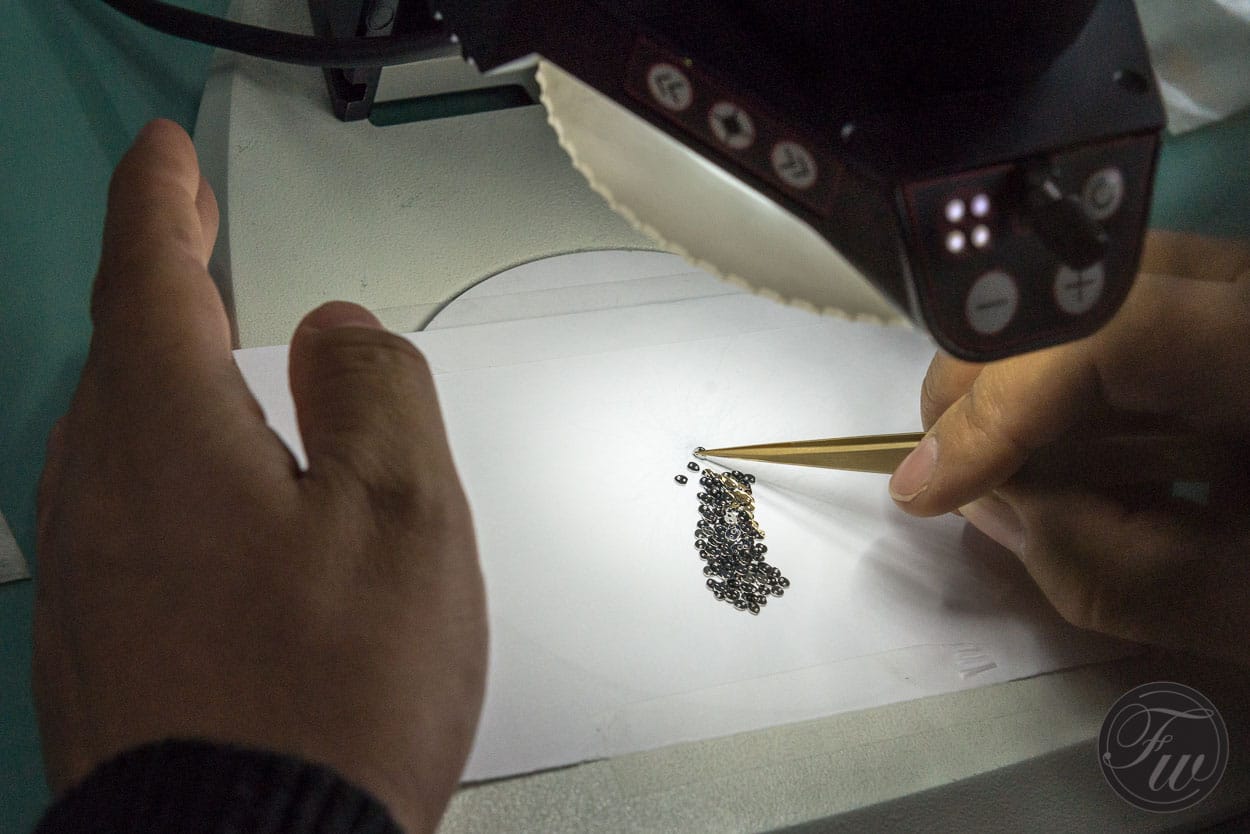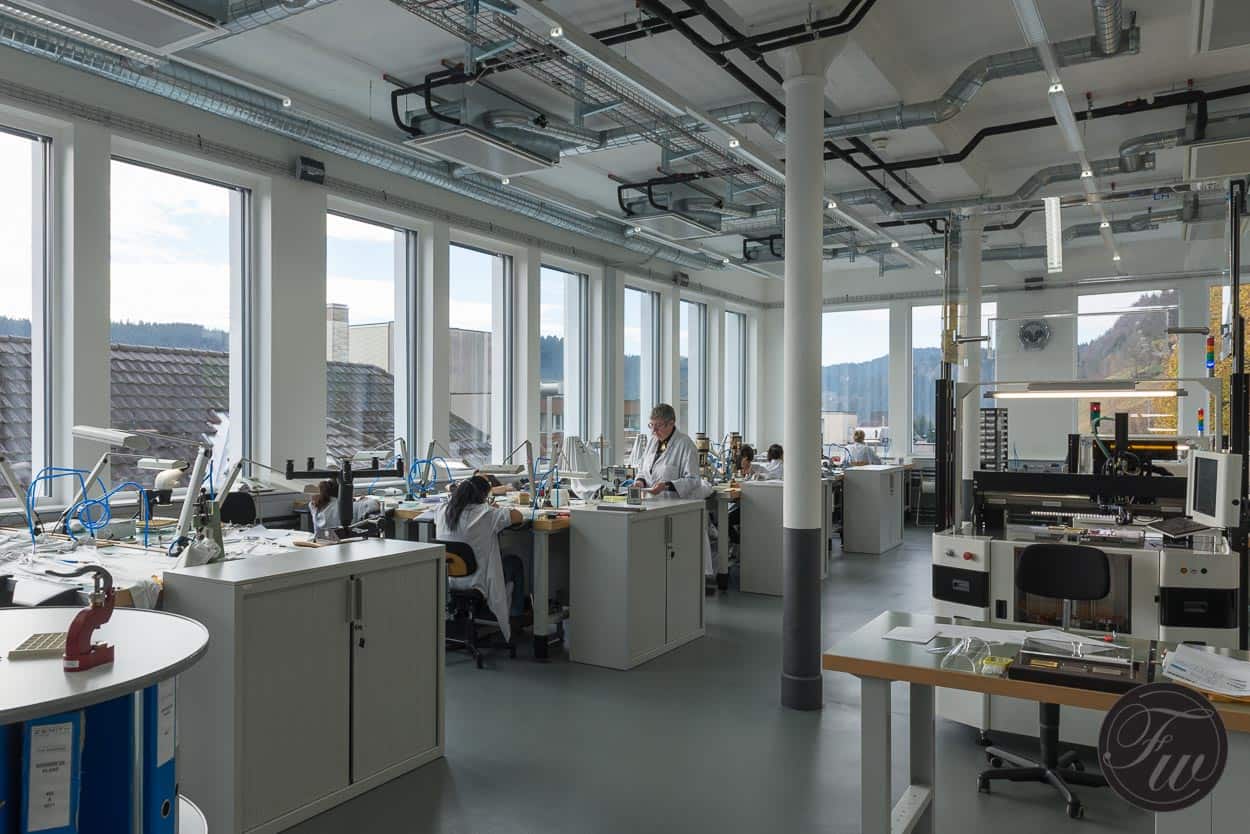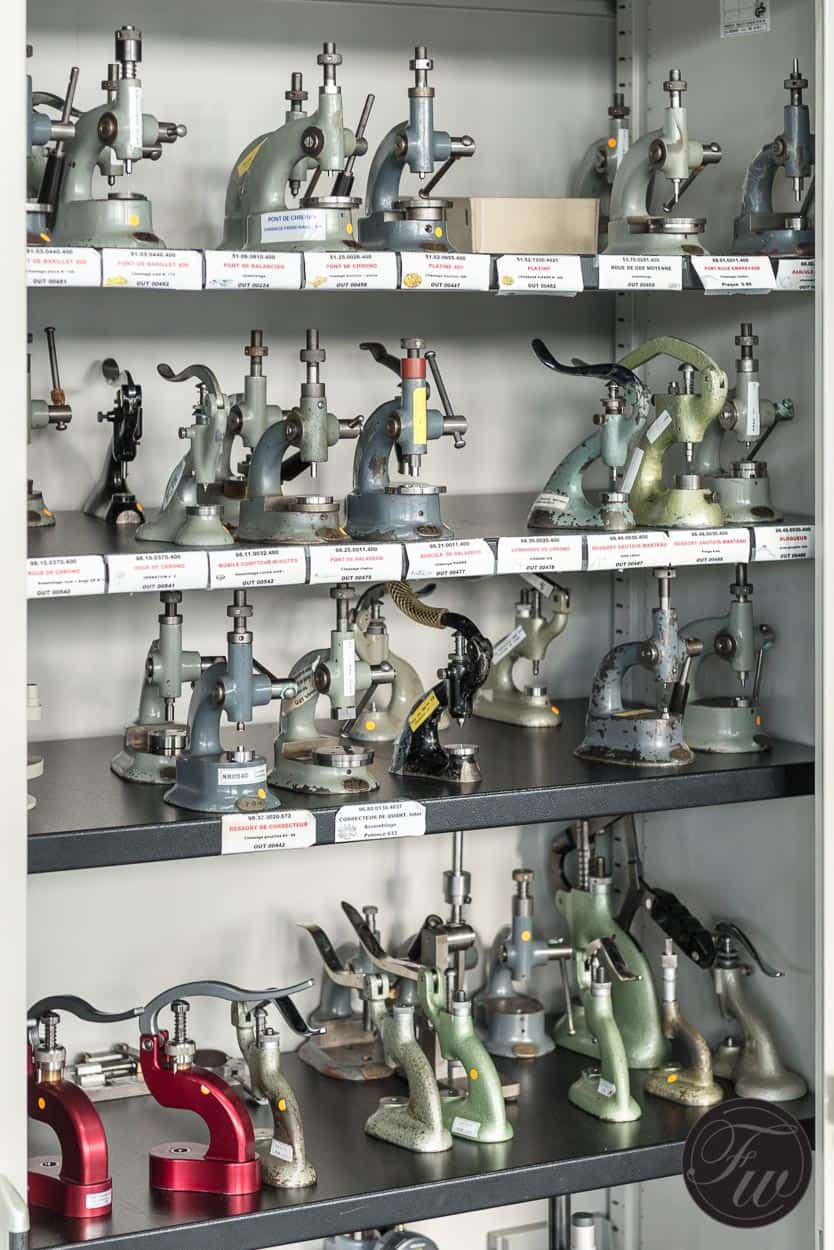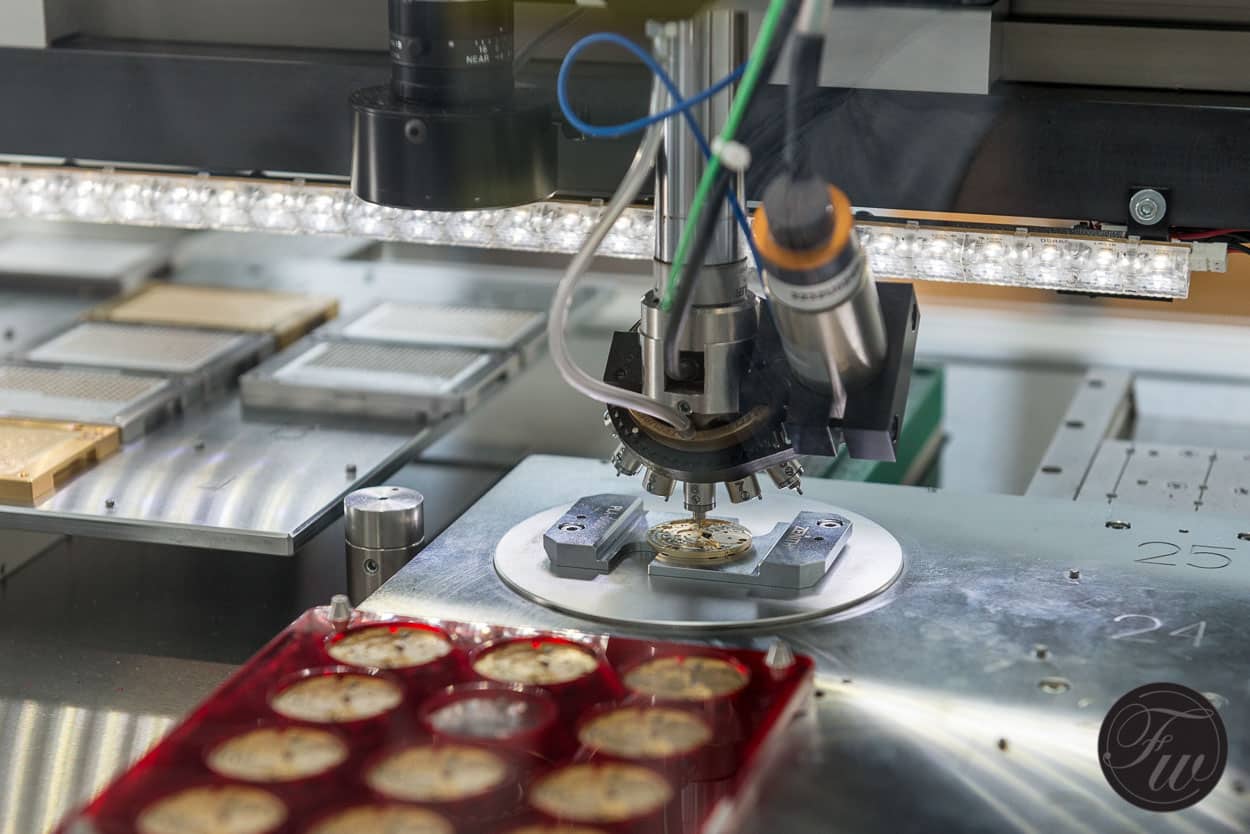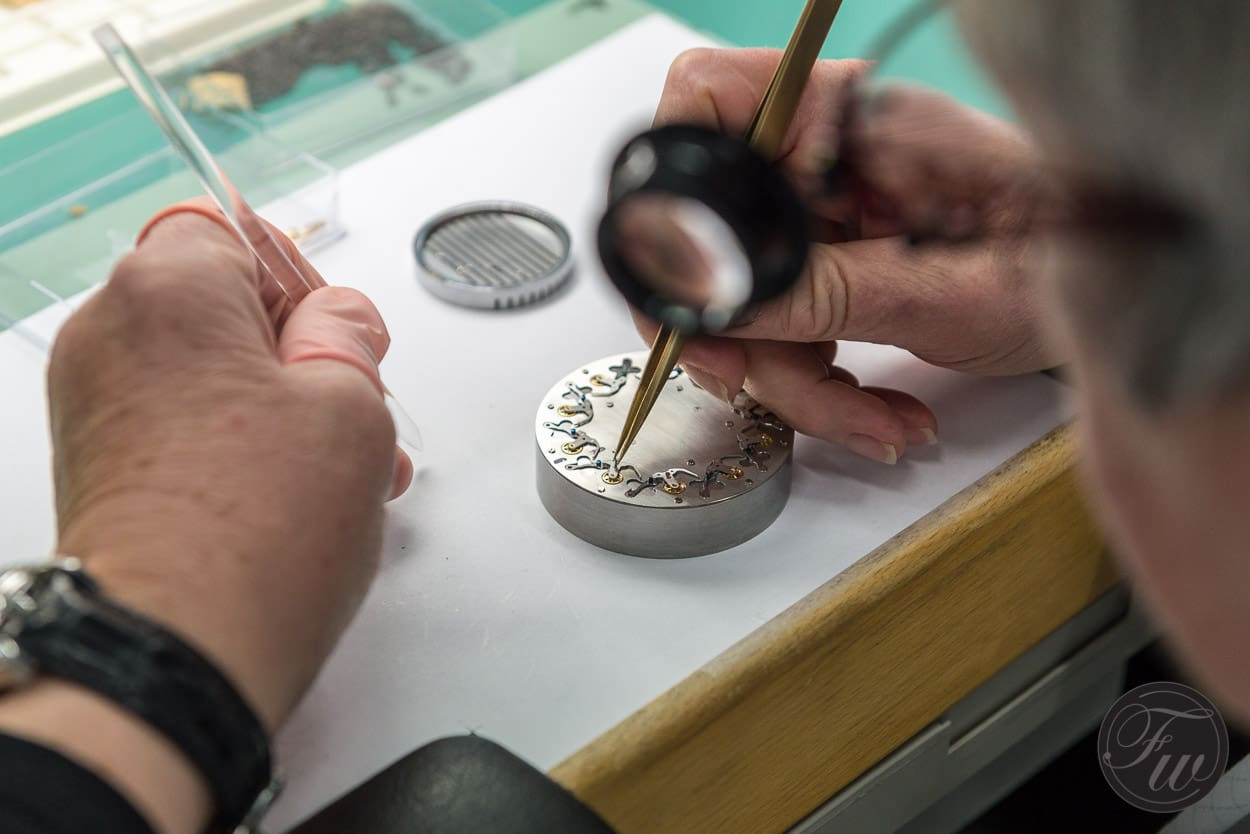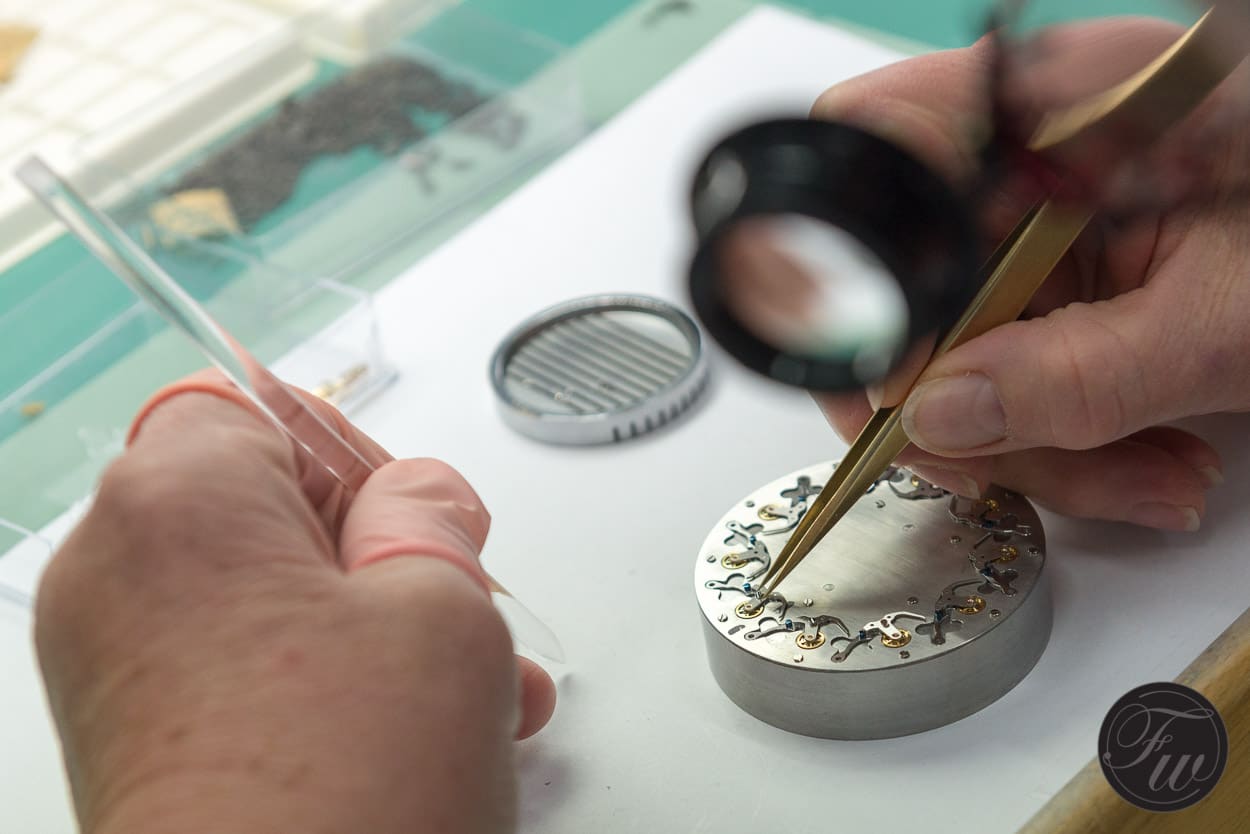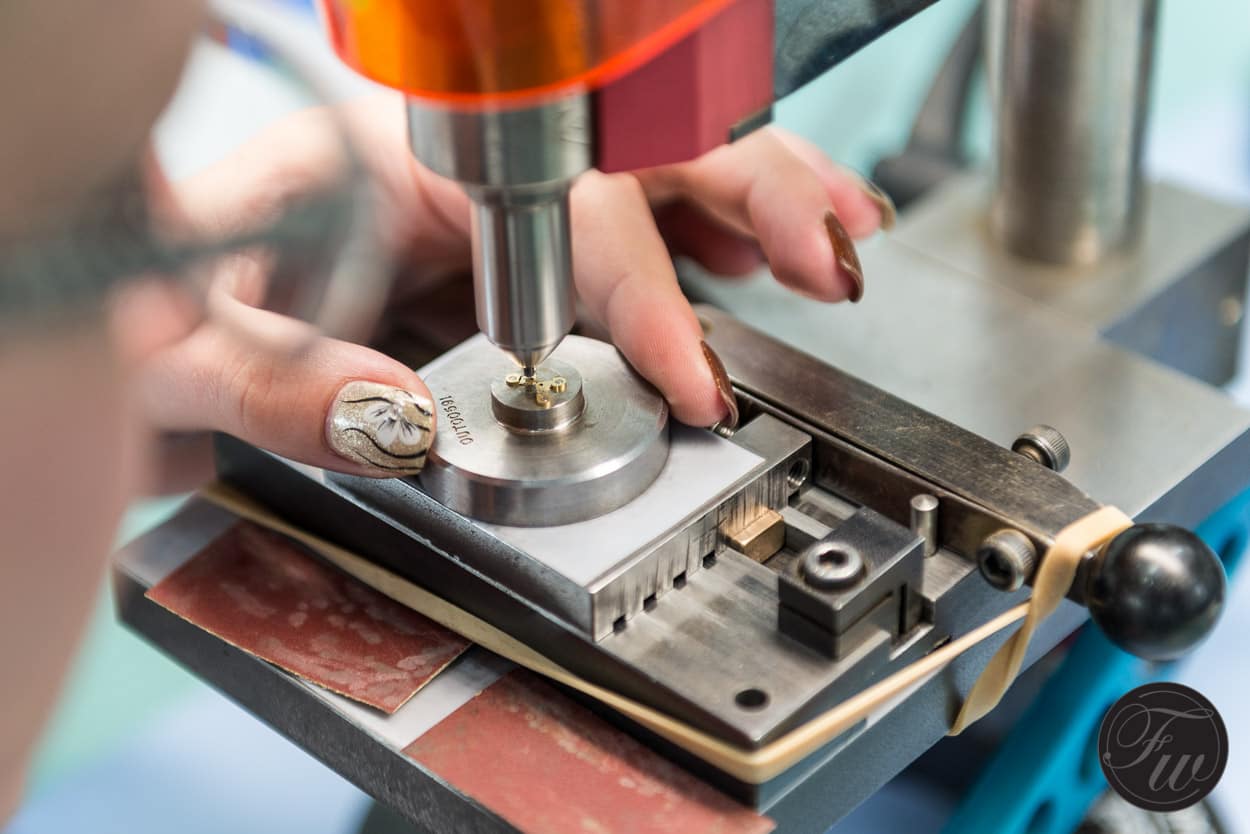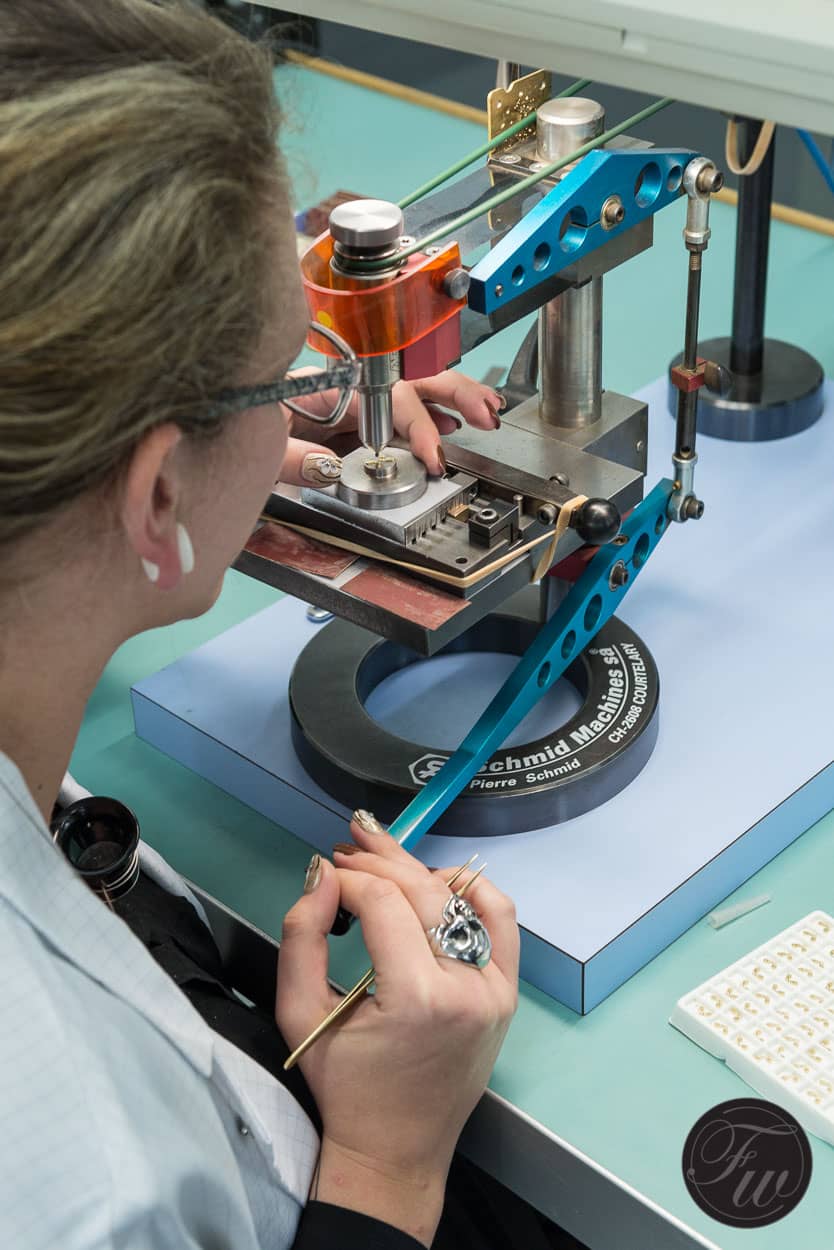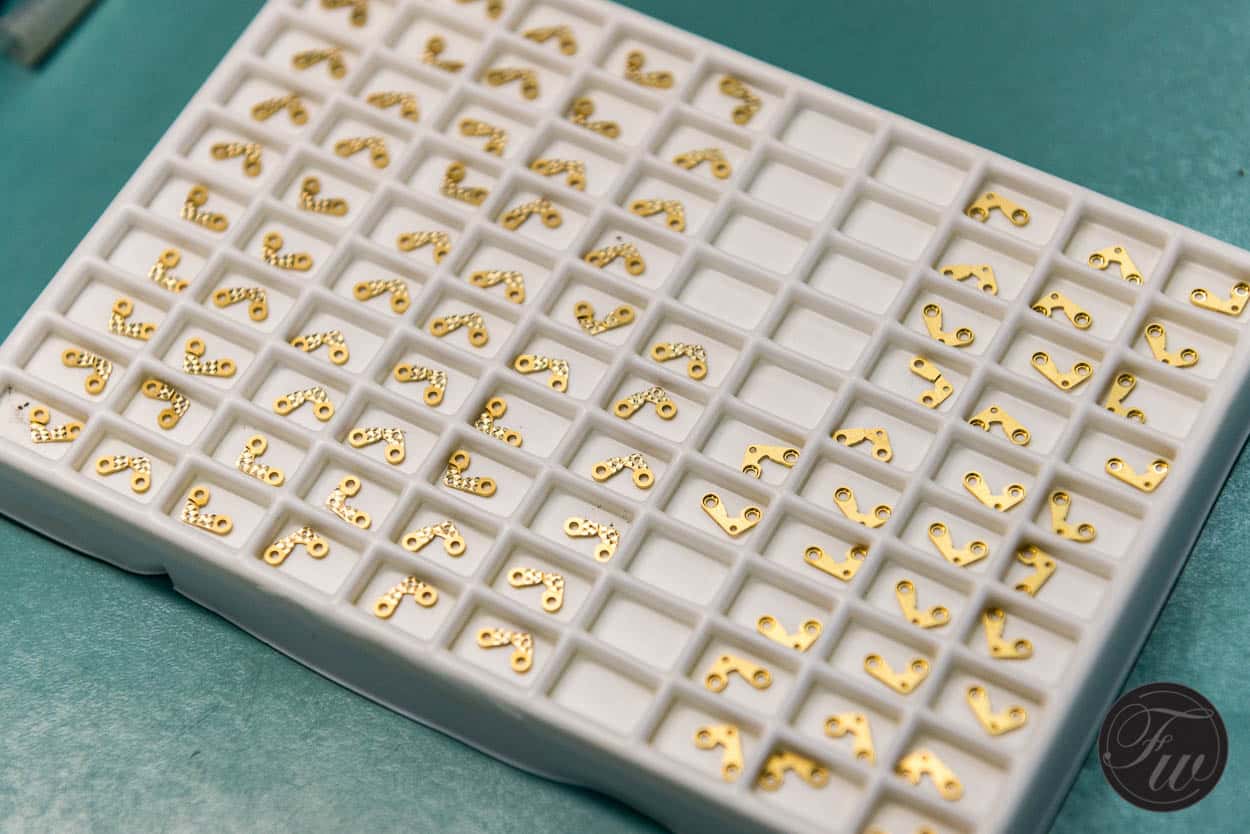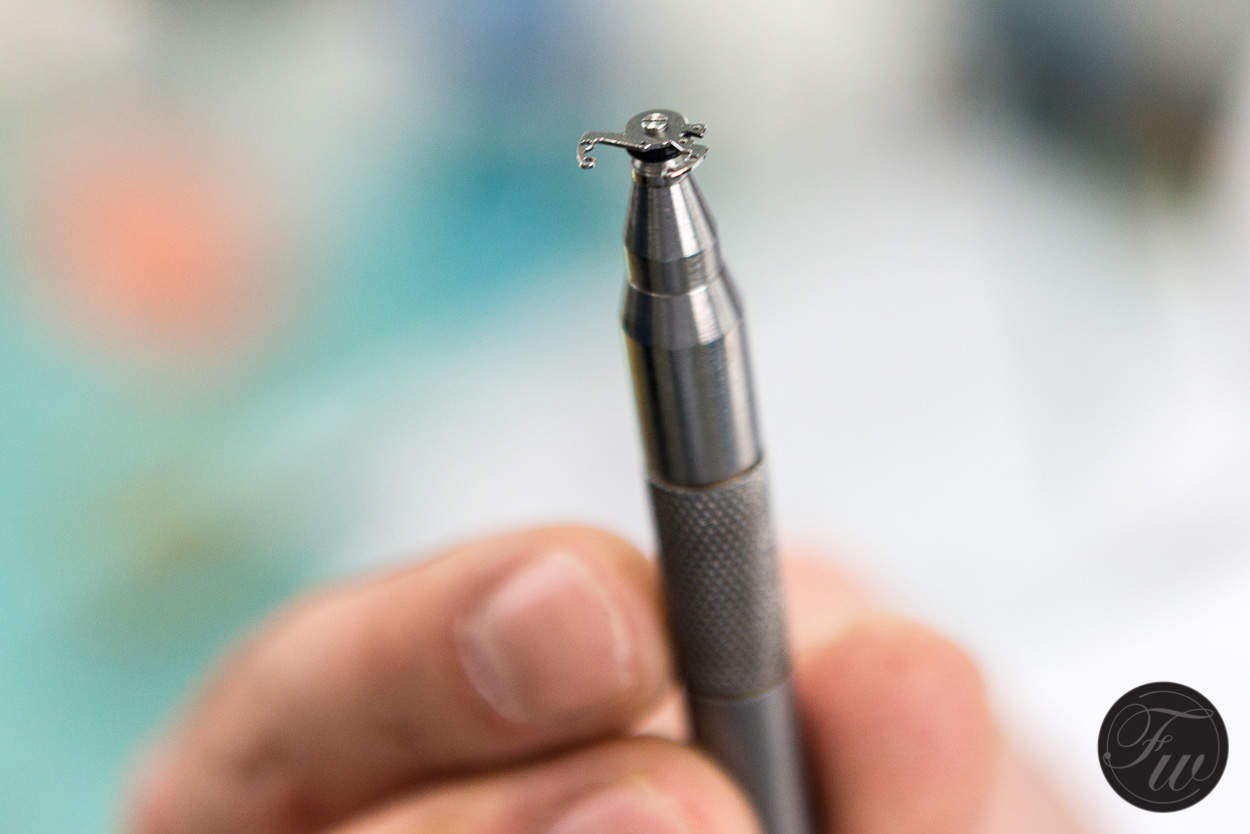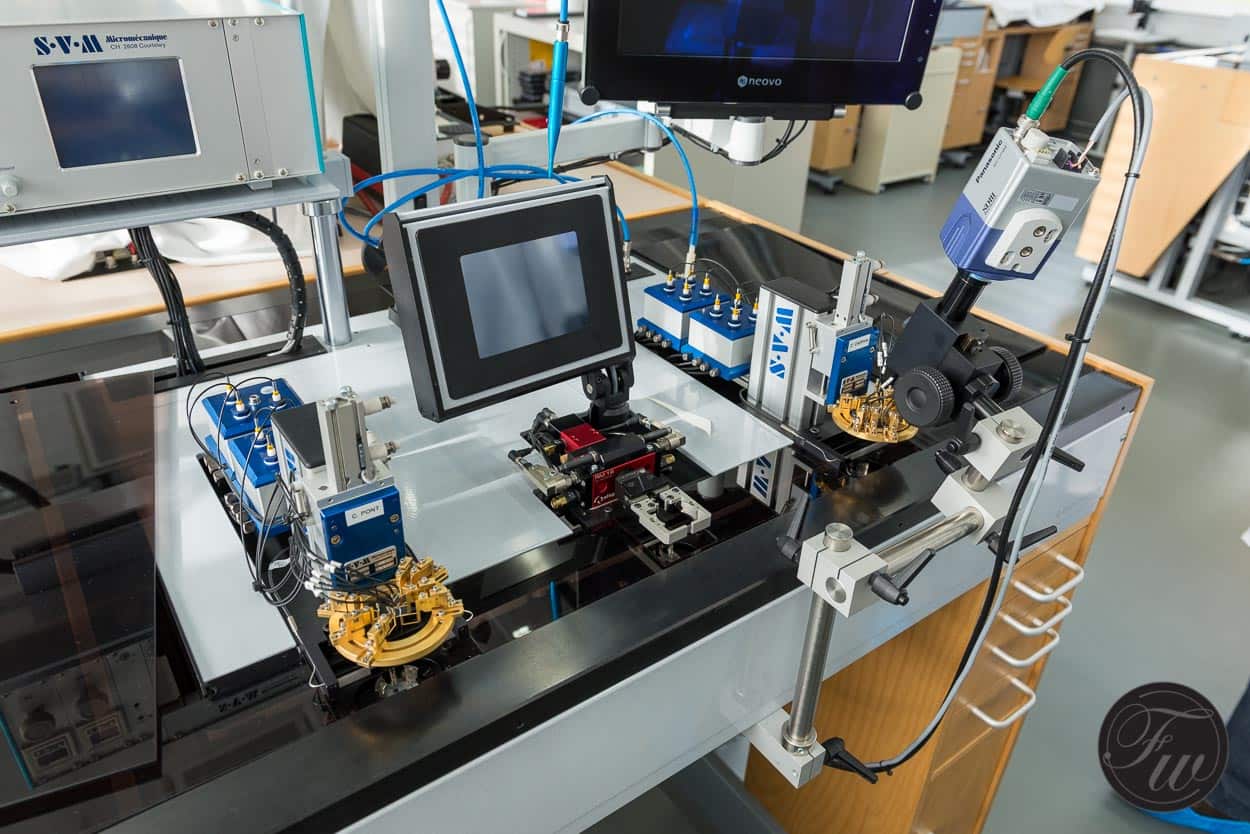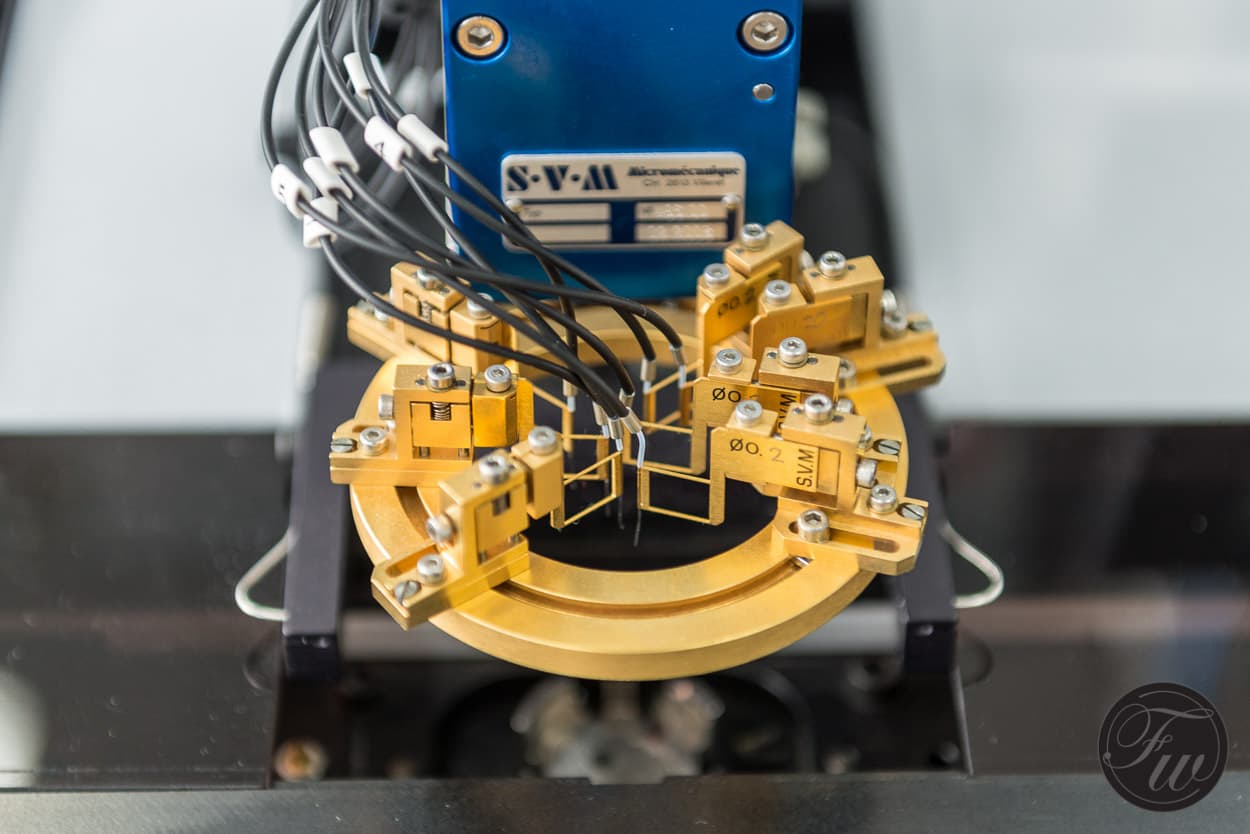 Hands are being shaped by hand some times, to make sure they follow the curve of the dial and the crystal and do not touch the other hands. Applying hands to the dial is partly done by Zenith but also by external companies that the Zenith Manufacture works with. The same goes for the casing of the movements.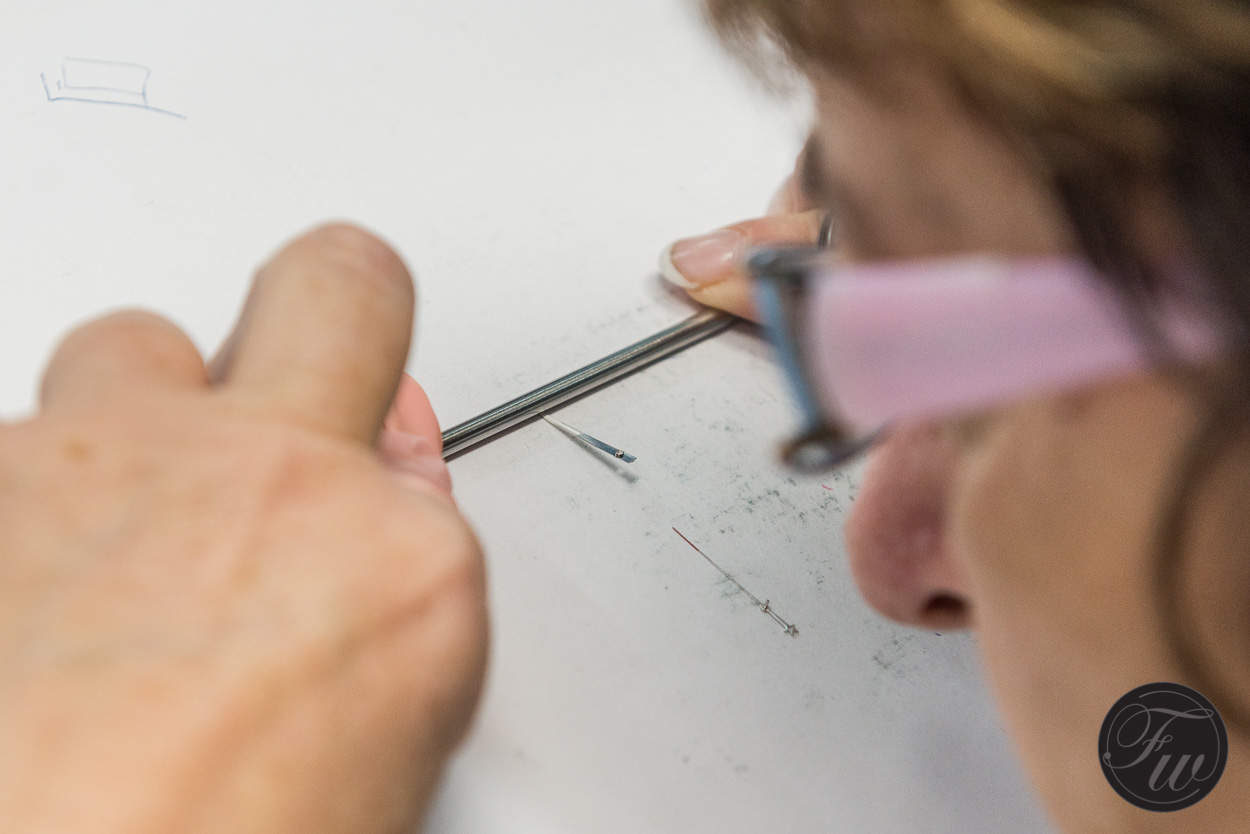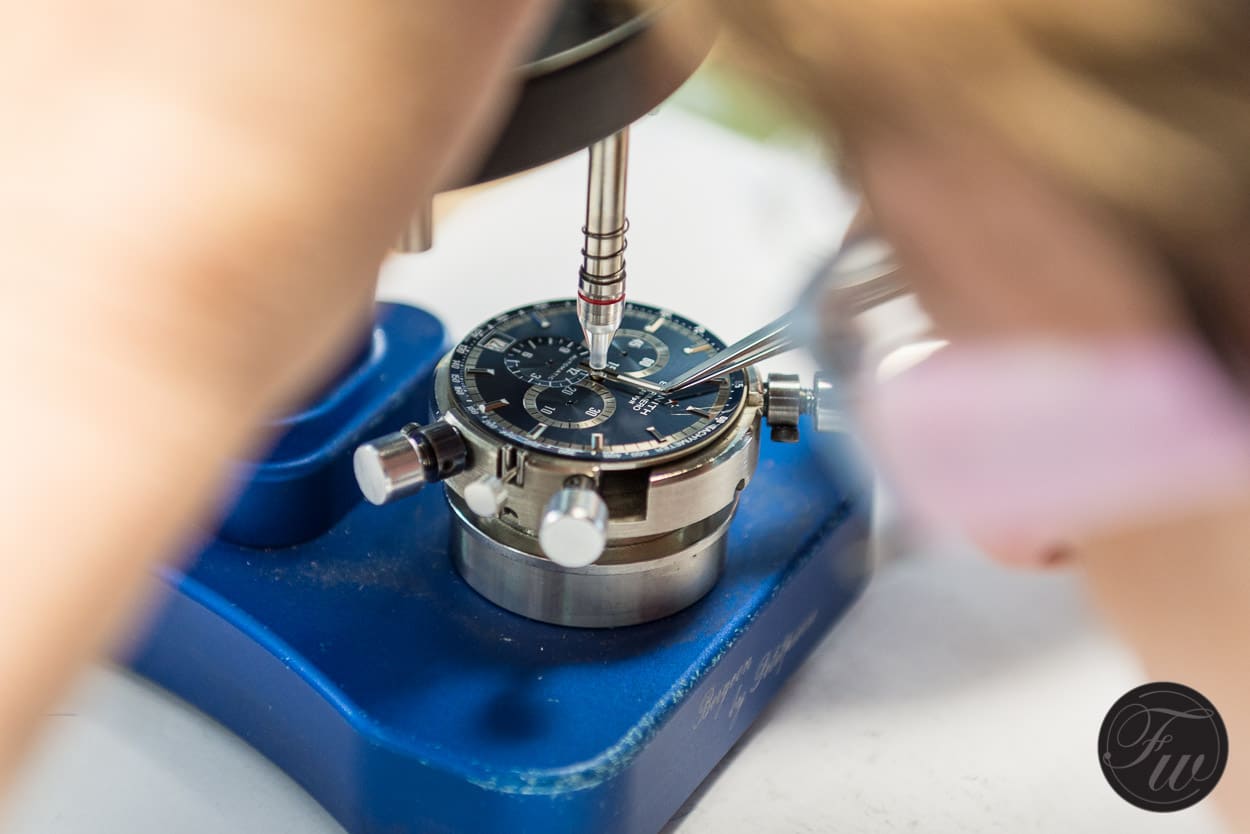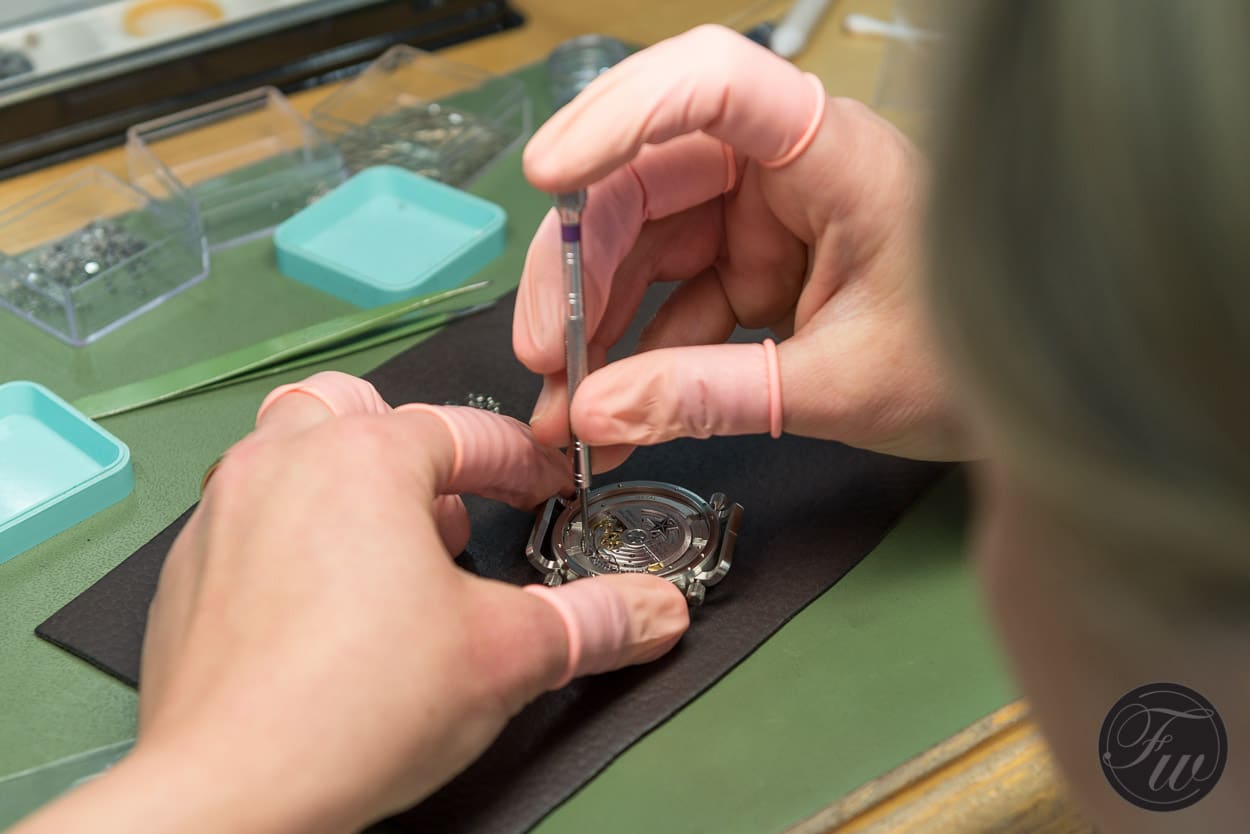 One of the departments we entered is where the Zenith Manufacture haute horlogerie – or fine watchmaking – timepiece are being produced and assembled. In this department, a small number of watchmakers work on the complicated movements from Zenith like the minute repeater movements and tourbillon movements.
Below you will see the Zenith Manufacture minute repeater movement as well as the partly finished Zenith Academy Christophe Colomb Tribute to Felix Baumgartner movement and dial (not completed yet).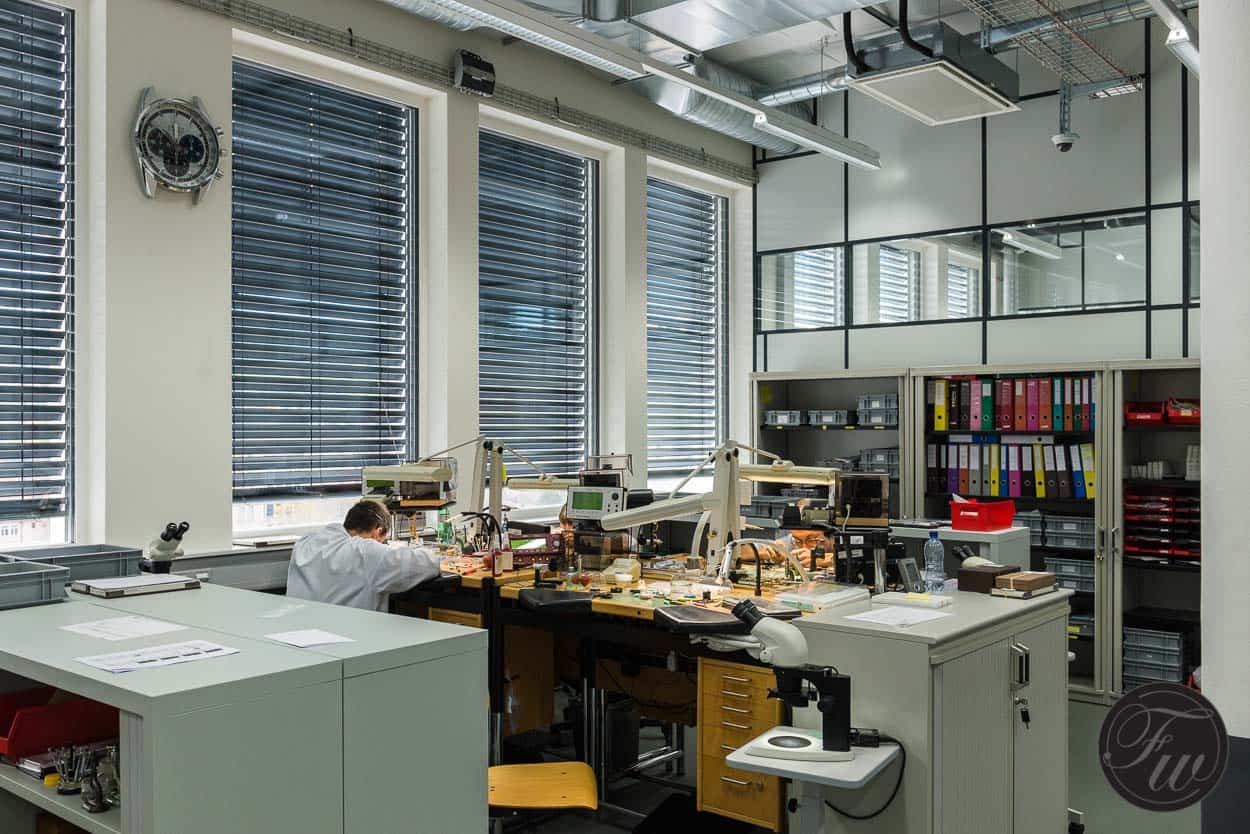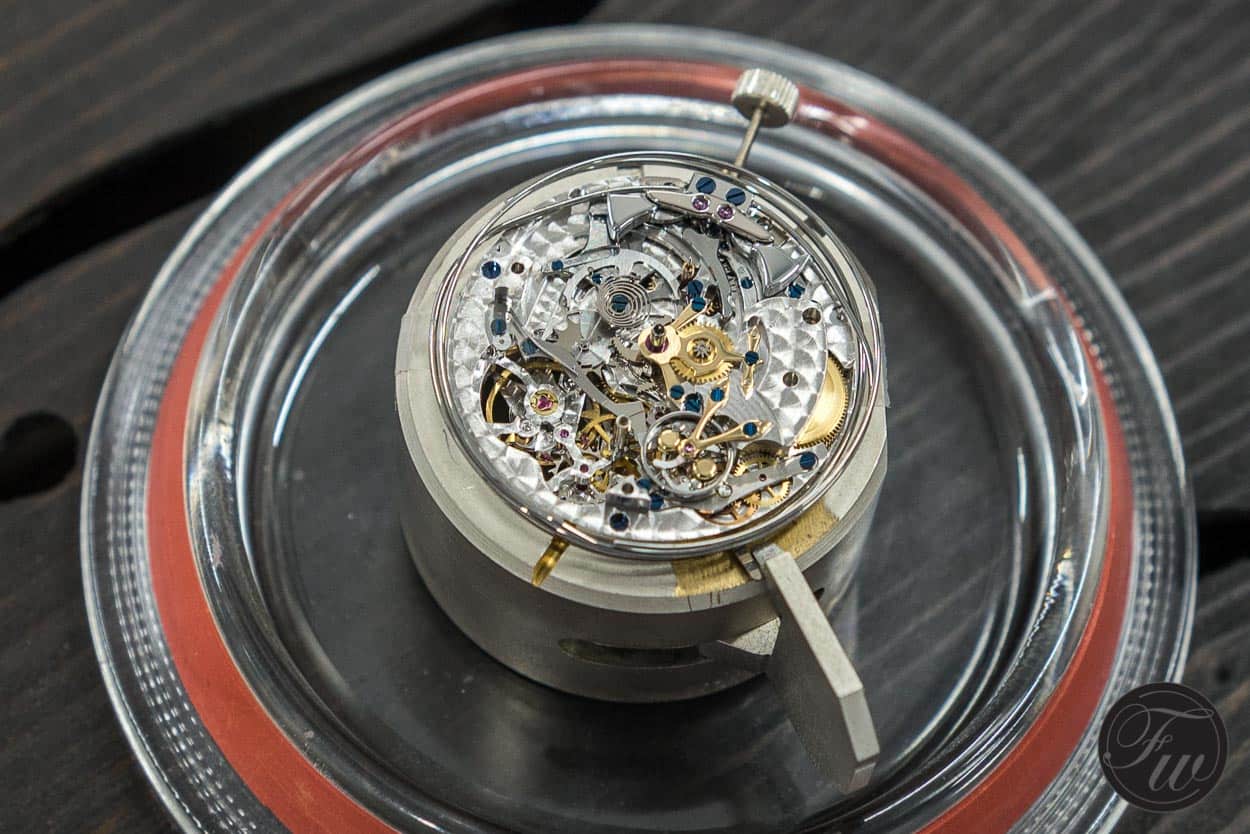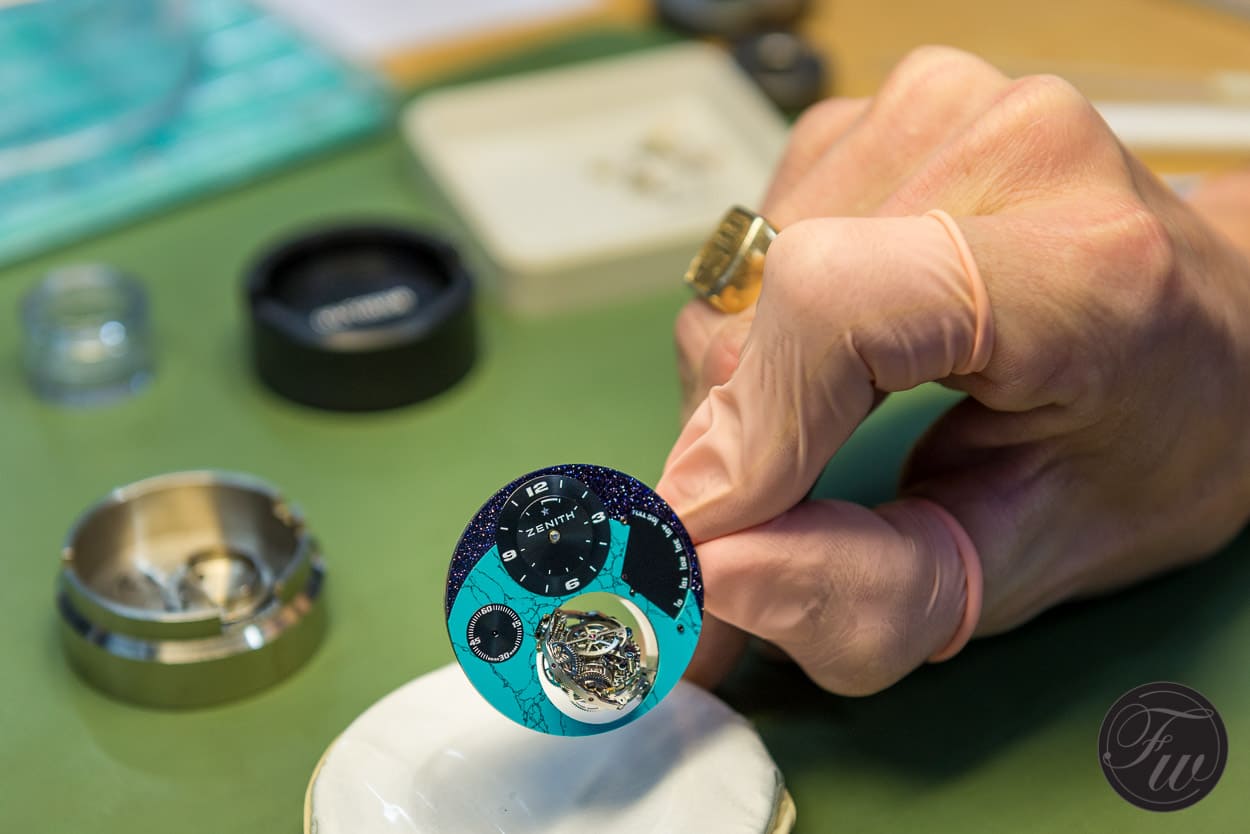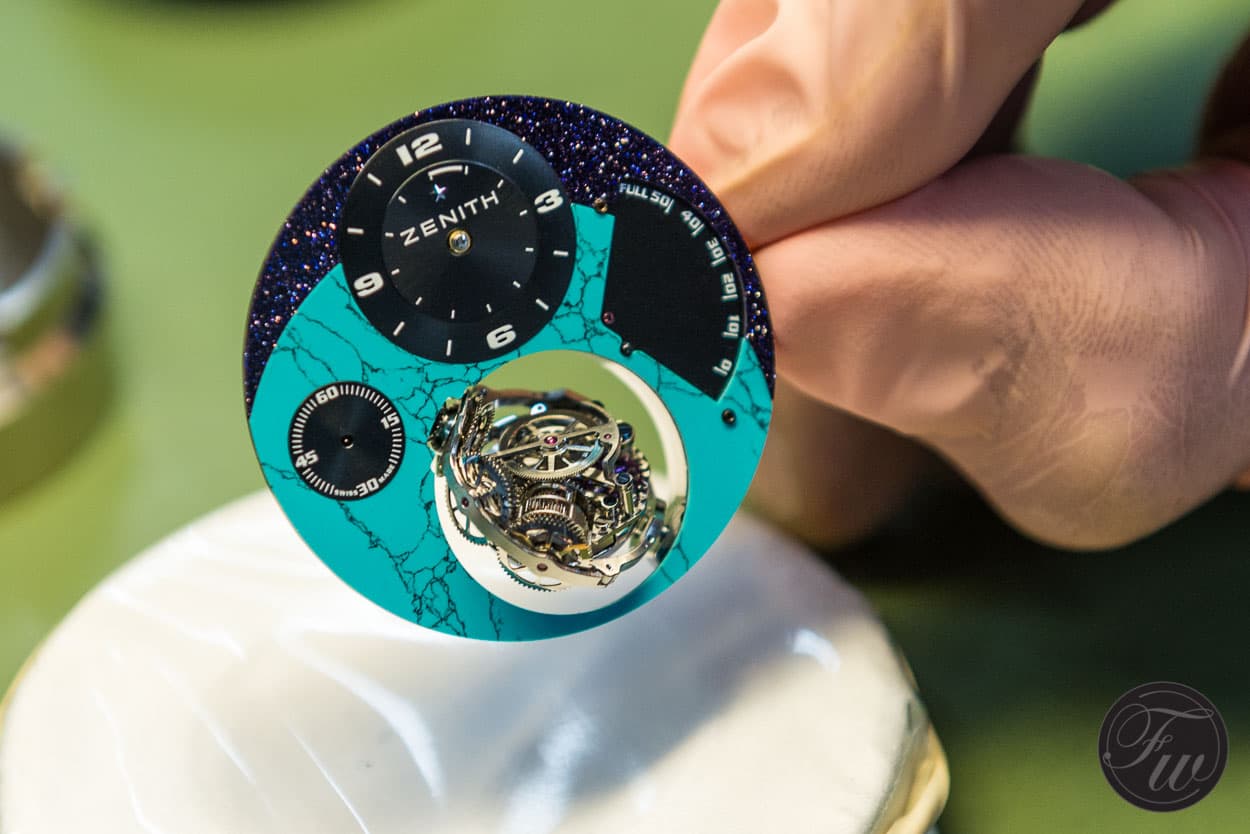 We ended the tour with a visit to the department where all the watches are being attached to their bracelets or straps, boxed and stored into the stock room waiting to get shipped.
After the tour we had lunch and had a look at a couple of the Zenith pieces from the current collection. More on those will be published on Fratello Watches later on.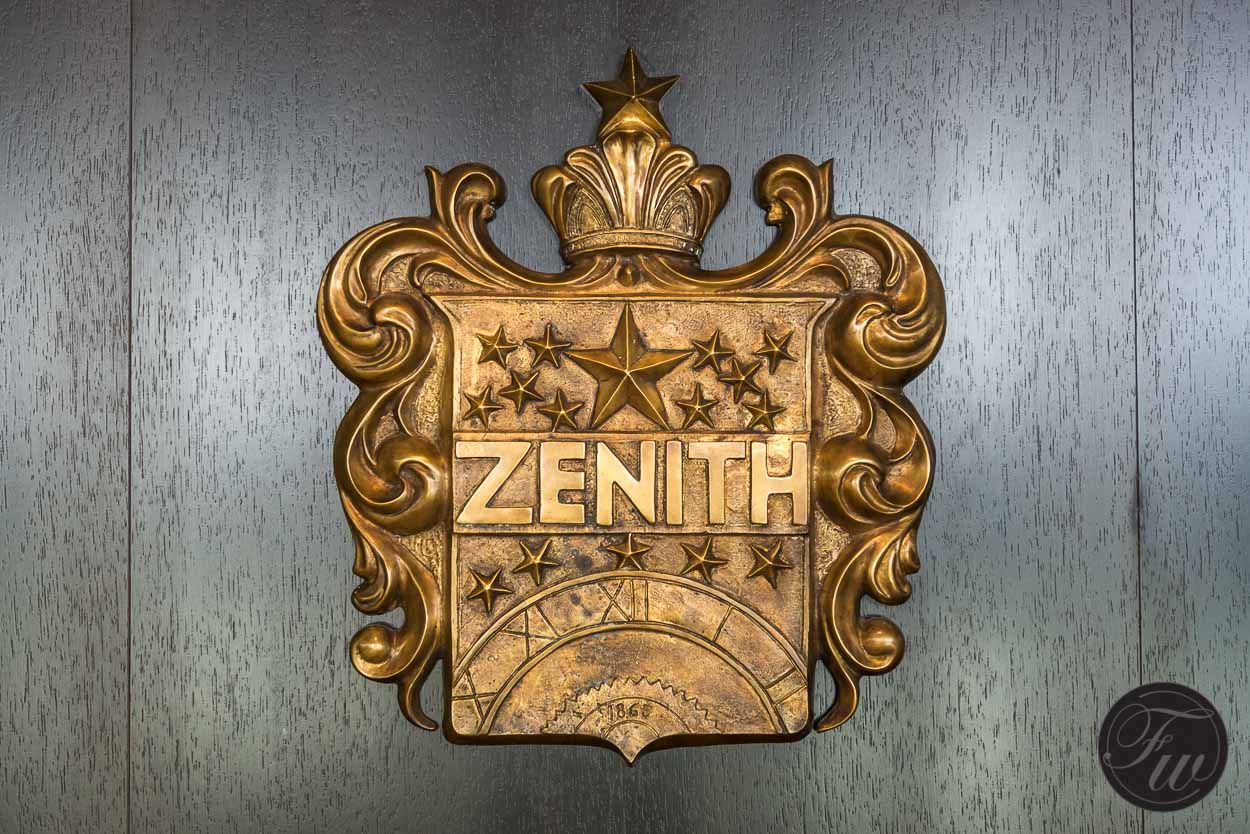 If there is one thing that kept being repeated in my head it was that everything I saw at the Zenith Manufacture was done with the utmost care, love for the watches and thus pride. Whether it is for a watch from the Captain collection to the high-end pieces from the Academy collection, they are all treated with the same care and love.
It was one of those visits that makes you want to buy one of their watches. For me personally, that would be definitely a El Primero 36,000VPH chronograph or a El Primero 410. Or even to buy the El Primero Rainbow Fly-Back from 15-16 years ago, that I wanted so badly when I was still in university (and didn't have any money).
Although we are still talking a fair amount of money here, for about € 7000,- Euro (~ $8,500.- USD) list price you will buy a watch with a fully in-house made chronograph movement (and one with great history as well). If you look at some of the other big brands owned by LVMH, Swatch Group or Richemont, it is not that expensive and you will surely get a very interesting watch in return. On top, the service costs for these watches are relatively low as mentioned in the article above.
Most of the time when time passes by after a visit, that feeling will slowly go away after a while. However, my visit to the Zenith Manufacture and great talk with their CEO still makes me want to have one. Let's see what 2015 brings.