10 Wrist-Worthy Pilot's Watches For Professional Aviators, Travel Buffs, And Dyed-In-The-Wool Pilot Watch Collectors.
"Let's kick the tires and light the fires" on these top ten picks…
If I said to you, "Men are strong and do all the hard work" would you agree? What about "Girls are not as good at sport as men"? Or "Men are messy and unclean"?  We'd like to think stereotyping has no place in today's society, right? So why, when we strike up a conversation with someone about watches, do we suddenly fall into a bad habit? "You're wearing a pilot's watch, so you must be a qualified pilot?" There's one! If we think about it long enough, the statement feels about as substantial as saying "all divers need a dive watch".
Of course, it's not a true statement. Professional divers have access to a whole host of computerized equipment to help them navigate the big blue. In the same vein, a pilot's control panel is within arm's reach of him when he needs to access critical air-bound calculations. In all honesty, a pilot's watch is less about functionality these days and more about style. And that's a fact. Not a stereotype.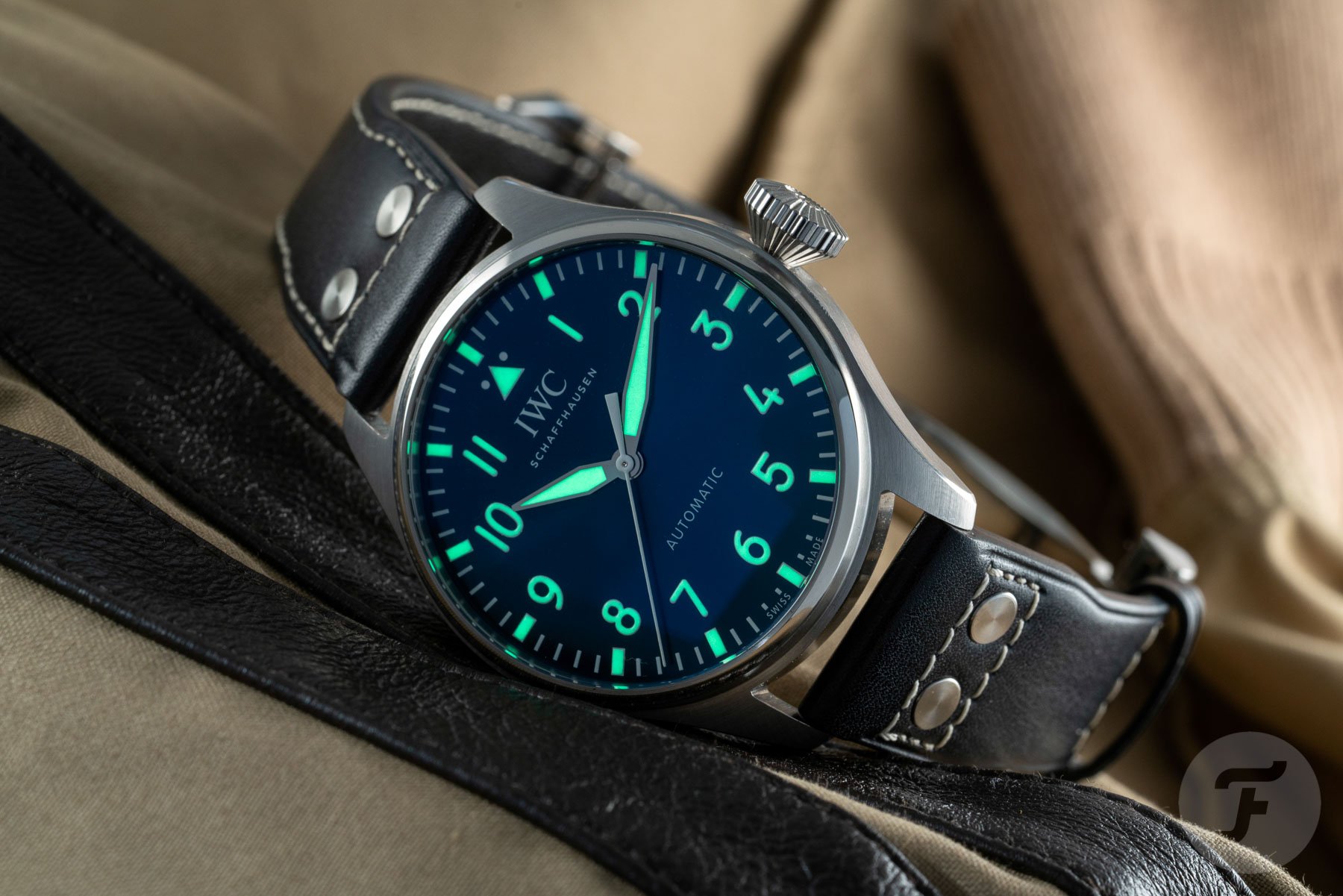 Essential tools
There was a time, however, when equipment in the cockpit couldn't be taken for granted. Watches for pilots were a much-needed thing. The industry required a legible, easy-to-grip, accessible, reliable, and comfortable tool. It just so happens that pilot's watches had a remarkably distinct look that never lost their appeal over time. Large Arabic numeral hour tracks, prominent crowns, and lume-coated hands all tip their hat to the golden age of air travel. And it's no coincidence that their utilitarian aesthetics are among the many benefits of owning one.
It doesn't matter if you're gliding thousands of feet above sea level or if you prefer your feet firmly on solid ground – your wrist may gravitate towards a pilot's watch for many reasons. Whether considered classics or latecomers to the game, these top ten pilot's watches have made it to this Fratello list for a reason. Maybe they impress with their ability to keep up with the breakneck pace of changeable factors in the cockpit? Maybe they make us nostalgic? Or perhaps they just make us want to soar high above the clouds.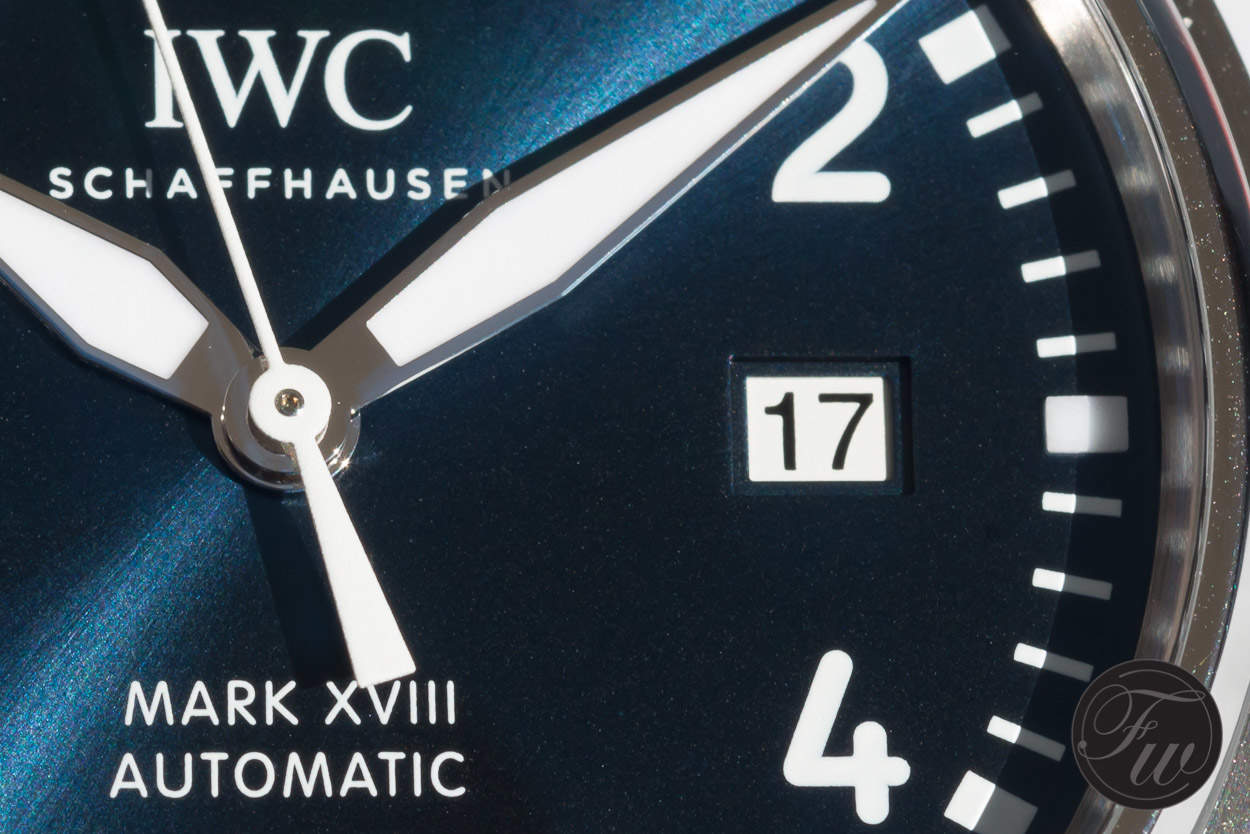 IWC Pilot's Watch Mark XVIII
Initially, it's quite difficult to wrap your head around the fact that a specialist watch like the Mark XVIII can be considered a non-pilot's favorite watch. But that it certainly is. The evolution of the Mark series has a rich and storied history and has always centered around clarity, precision, and simplicity. Considered a sports watch by many, its sharp legibility broadly appeals to many a pilot watch collector. IWC fans will already be aware that the watchmaker partnered with Jaeger-LeCoultre during the 1940s and incorporated an anti-magnetic soft-iron inner cage into the Mk11 watch – a technology still used by the manufacturer today.
At 11mm thick, it has substance.
The IWC Mark XVIII has a compact 40mm steel case that is easy to wear on the wrist every day. At 11mm thick, it has substance. A heavy-duty calfskin strap made by Santoni adds to the character of the Mark XVIII, and despite its simple dial design and an ETA-based caliber — the altimeter style date window at 3 o'clock keeps the watch feeling a touch sporty. The upright triangular index at 12 o'clock, accompanied by two dots, is a B-Uhr-inspired element, borrowed from some of the manufacturer's most famous pilot's watches of the past.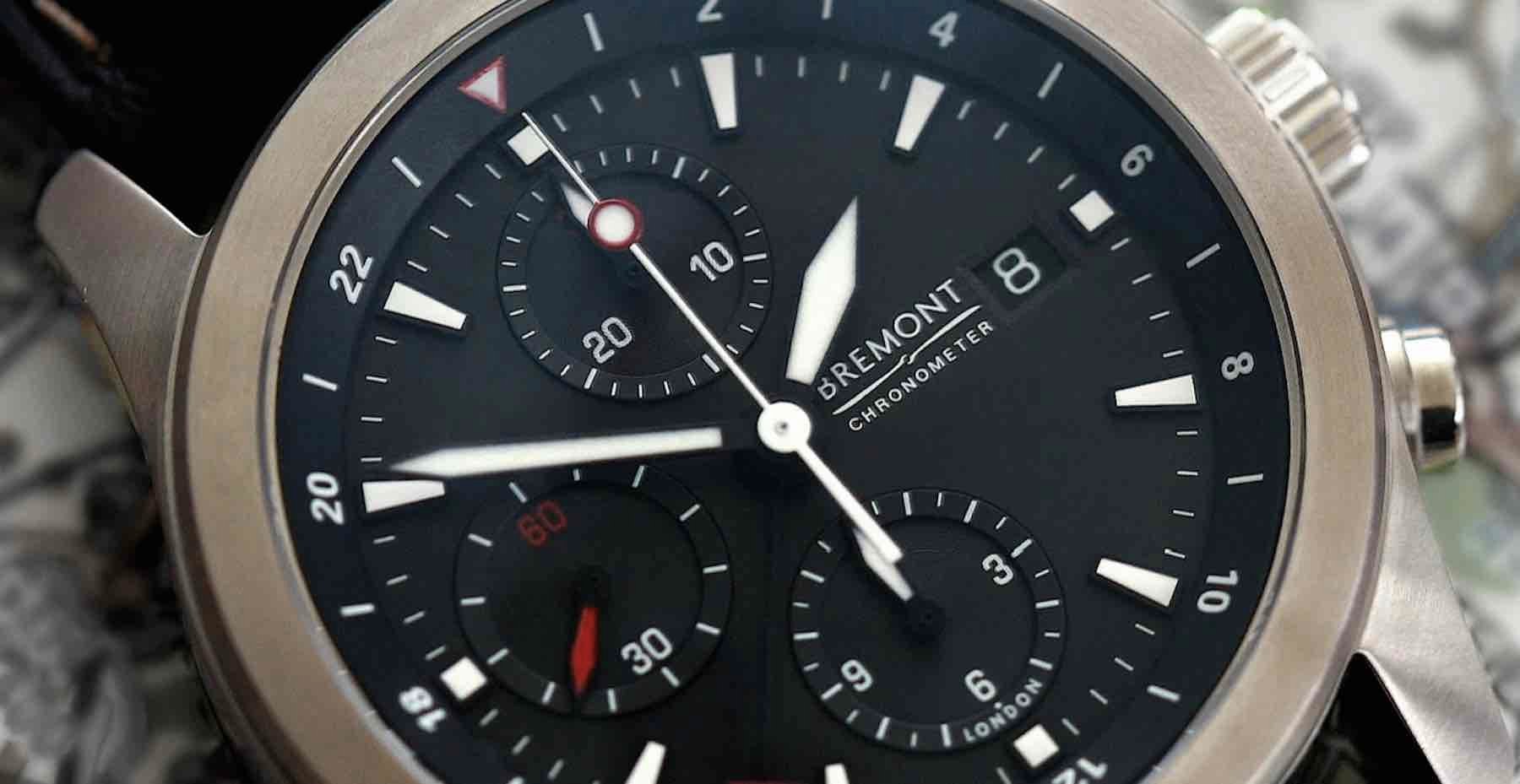 Bremont "Zulu" ALT1-Z
Collaborating with ejection seat manufacturer, Martin Baker and forming connections with British-born car manufacturer, Jaguar are not the only achievements Bremont can lay claim to. In fact, the watchmaker specializes in developing aviator instruments inspired by some of history's most legendary aircraft. Enabling the wearer to display the local time simultaneously with UTC, GMT, or Zulu time — the 43mm Bremont 'Zulu' ALT1-Z is utilized throughout both military and aviation circles. Whilst far from cumbersome, the watch is certainly present and bold on the wrist. Its case, crafted from hardened stainless steel, features a black aluminum middle barrel and its rich blue glowing hands and indexes are torch-bright during the night.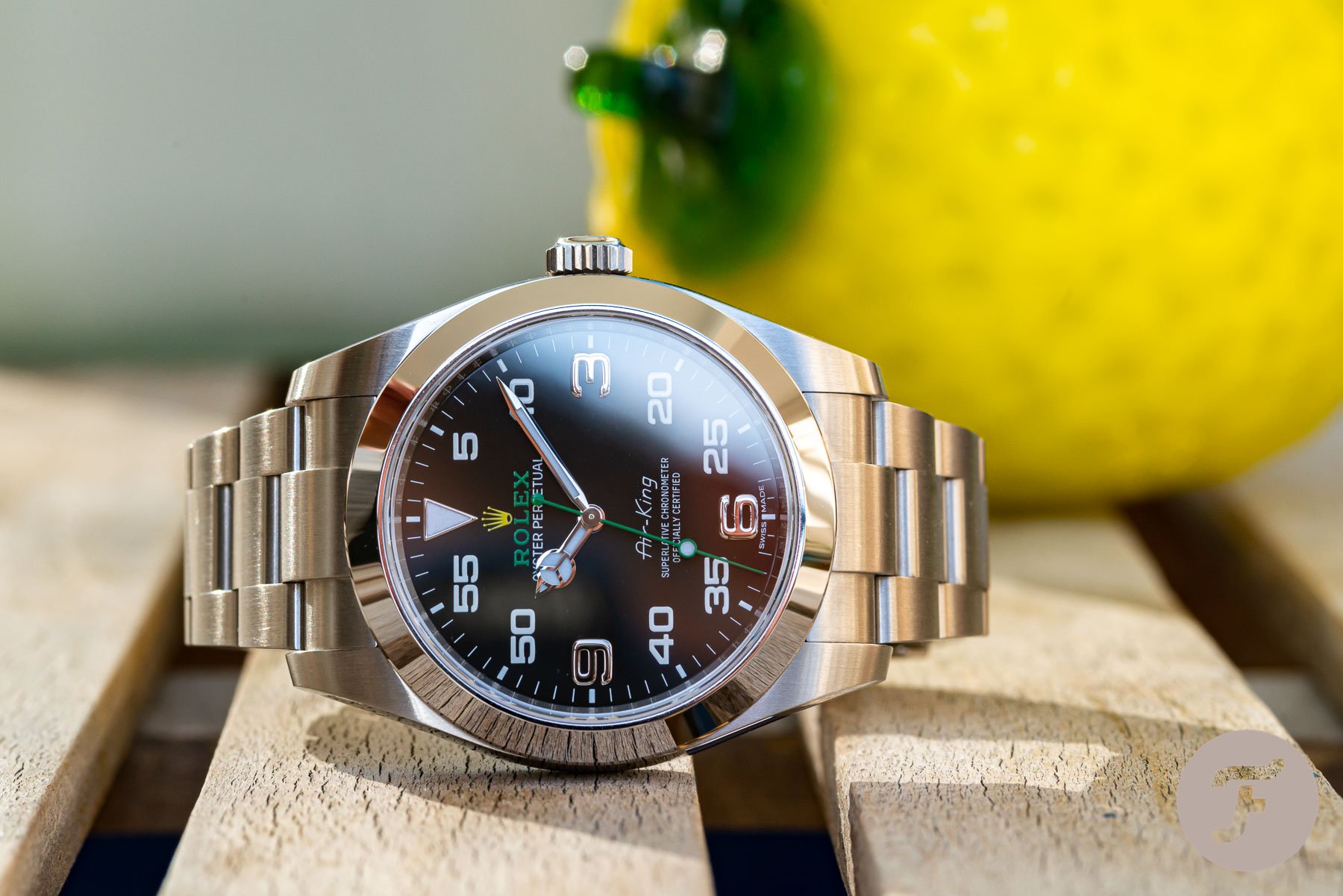 Rolex Air-King
The end of the Second World War brought with it a rather indispensable tool for air travel — the Rolex Air-King. Arguably one of the most popular pilot's watches since the 1940s, the Rolex Air-King was in line with a casual dress watch style. Initially, a compact 40mm size and powered by a hand-wound movement, the pilot's watch featured the brand's famous Mercedes-style hands and the Oyster case. Hans Wilsdorf developed the watch, equipping it with an internal anti-magnetic shield for improved mechanical performance. He also designed it in tribute to British Royal Air Force pilots. Its smooth bezel no doubt, resonated with classic dress watch collectors, and despite changing dramatically throughout its history, remains in production today.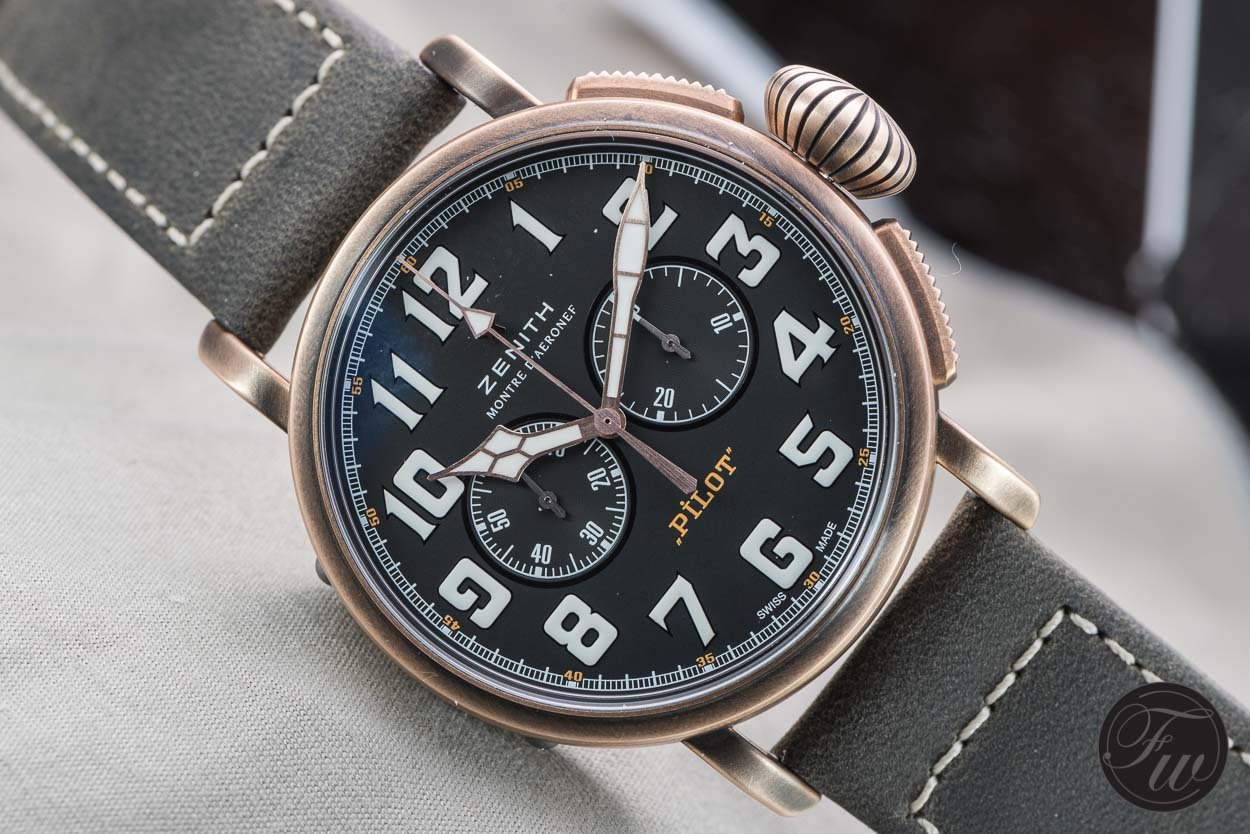 Zenith Pilot Type 20 Flyback Chronograph
Zenith knows a thing or two about crafting pilot's watches. The Type 20 collection is home to many instruments characterized by their oversized onion-shaped crowns. The 43mm Pilot Cronometro CP-2 Flyback Bronze watch, for example, is a pilot's watch with a bucketload of character. The bronze material itself, tells its own story as it develops a patina over time, making each model completely unique to its owner. On top of that, the vintage-inspired Arabic numeral hour markers are both legible and luminous.
…Zenith remains a solid contender in the pilot's watch field.
A pair of lume-filled central hands are propelled by the tried and tested Zenith El Primero 405B caliber, and the watch imparts a retro styling with its brown oily nubuck leather strap. When the flyback button is activated, it sends the second hand back to zero to begin starting again. Suffice to say, with a 100-year heritage in developing pilot's watches for military and aviation use — Zenith remains a solid contender in the pilot's watch field.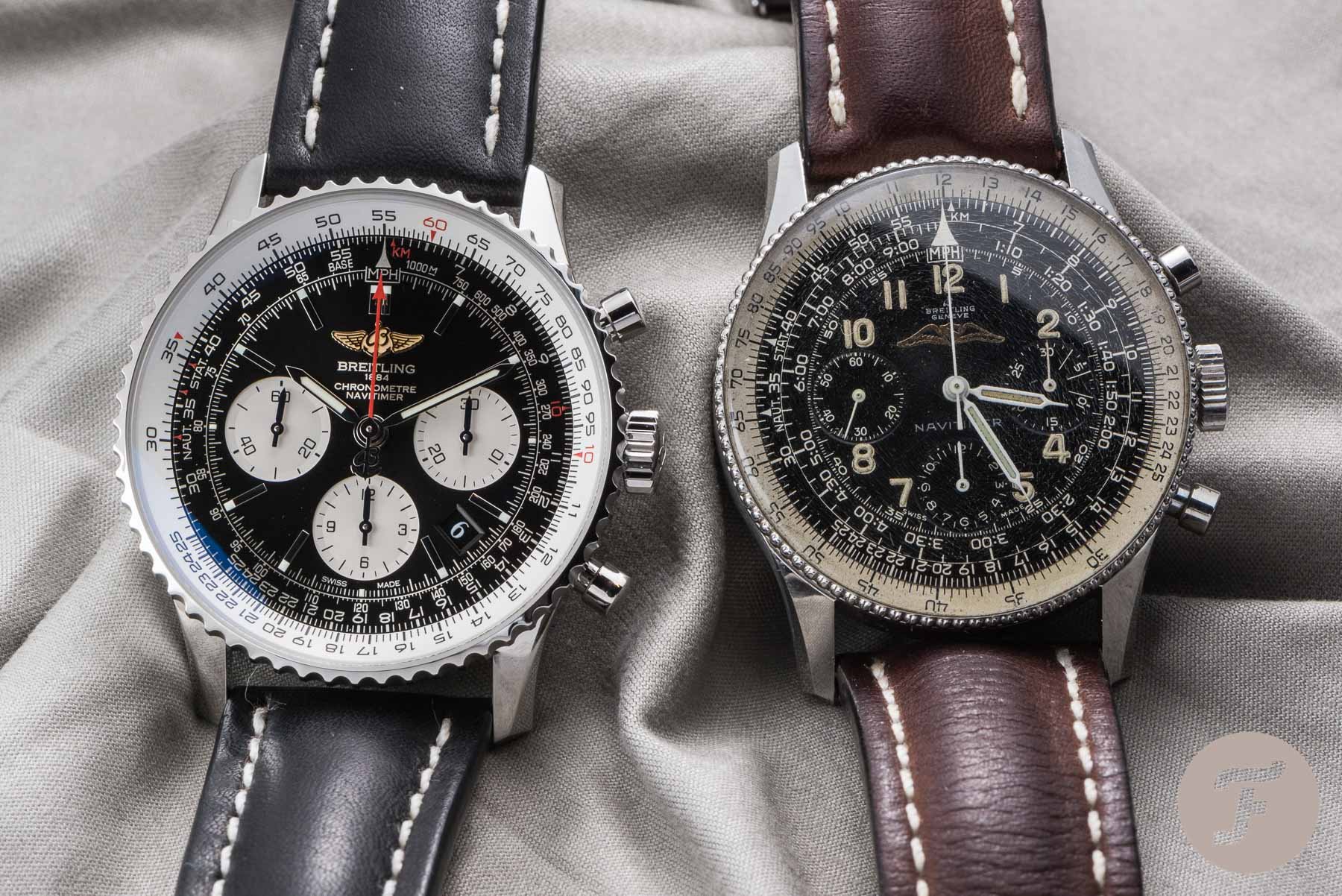 Breitling Navitimer
One feature that the Breitling Navitimer watch is vastly recognized for is its slide rule bezel — an analog computer invented for the brand's Chronomat range. Allowing for all kinds of inflight calculations, the slide rule bezel has an undeniable pre-digital-age charm. Based on a fixed scale on the dial but a moveable scale on the bezel, calculations like distance, flight time, fuel consumption, speed, and unit conversions can all be carried out under the fingertips using this logarithmic scale.
The generously-sized 46mm Navitimer is also a pilot's watch loved for its smooth chronograph operation and impressive 70-hour power reserve. So trusted by professional pilots was this model, that it became the official watch of the Aircraft Owners and Pilots Association (AOPA) and is still part of the standard kit used by Air Forces around the world.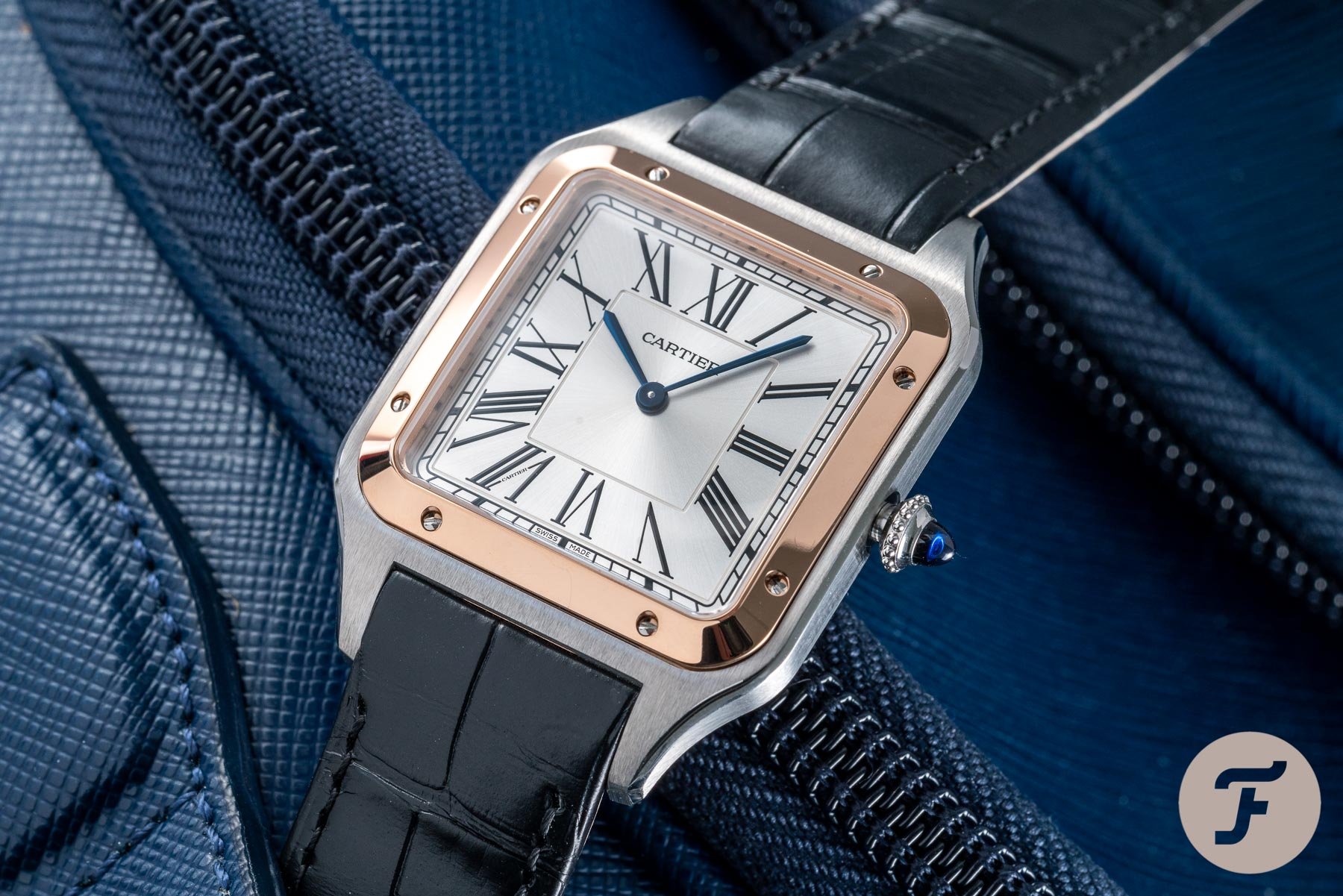 Cartier Santos
Pioneering aviator, Alberto Santos Dumont was a lucky guy indeed. Not only was he a loyal friend of famous fashion designer, Louis Cartier, but he just so happened to be the watchmaker's chosen guinea pig to trial the world's very first wristwatch for pilots. The Cartier Santos was purpose-built to serve the needs of the Brazillian Aviator. He went on to achieve a personal flight record in 1906 with the watch strapped firmly to his wrist.
…some of Cartier's most recognizable hallmarks.
The Cartier Santos boasted a very simple dial design focusing predominantly on legibility. Super-LumiNova hands now promise clarity during the night, combined with some of Cartier's most recognizable hallmarks. A few examples include the stretched Roman numeral hour markers, cabochon-adorned crown, and innovative use of precious metals for the Santos' square-shaped case.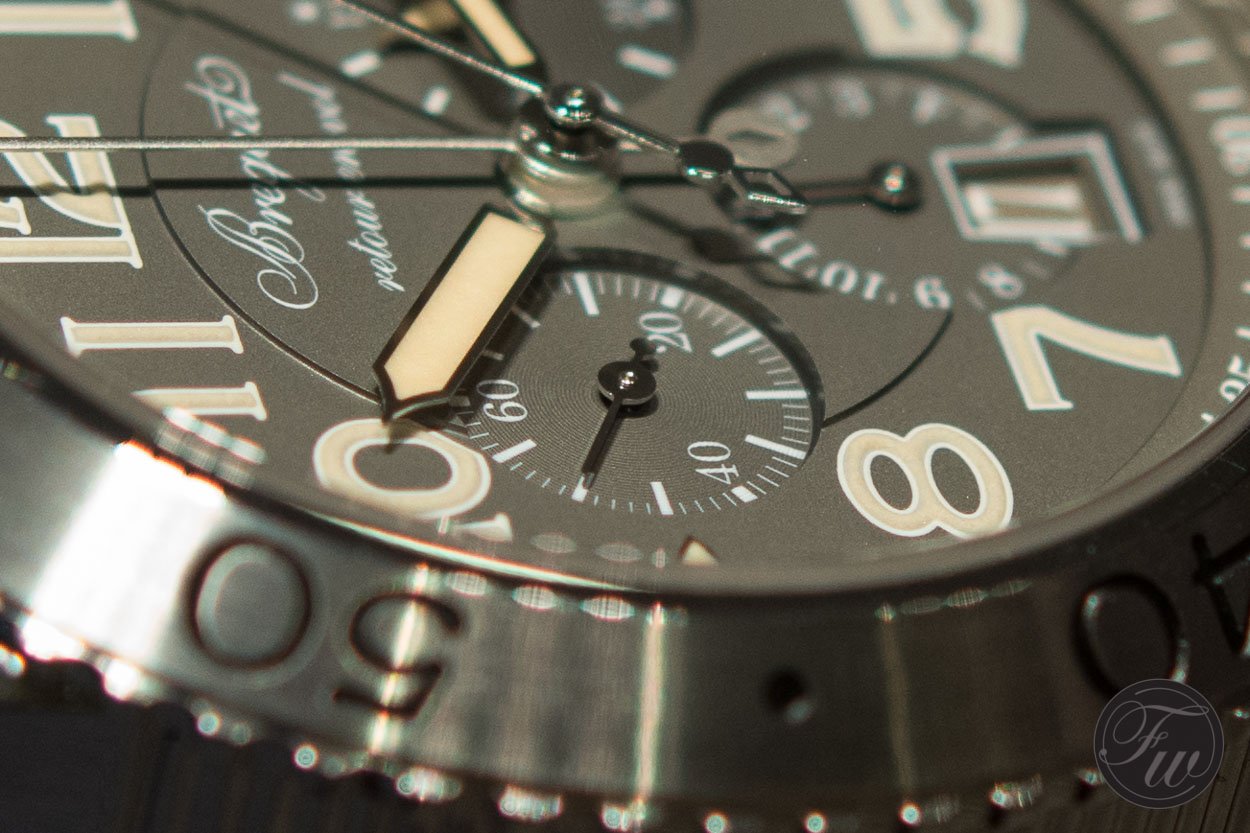 Breguet Type XX 
Breguet has continued to produce different variations of the Type XX (AKA the Type 20) watch since the first range launched in the 1950s. You could say these have evolved more for the modern-day pilot watch collector over the years, with functions that now include day and night indicators and flyback chronograph functions. The French Aéronavale Naval Air Force first commissioned Breguet to create 500 pieces of the Type 20 watch. Each one was engraved with "Breguet Marine Nationale Aeronautique Navale" on the case back. The civilized versions of the Type XX models in Breguet's current catalog are fitted with self-winding movements and complete their vintage, "old-world" look on classic calfskin leather straps.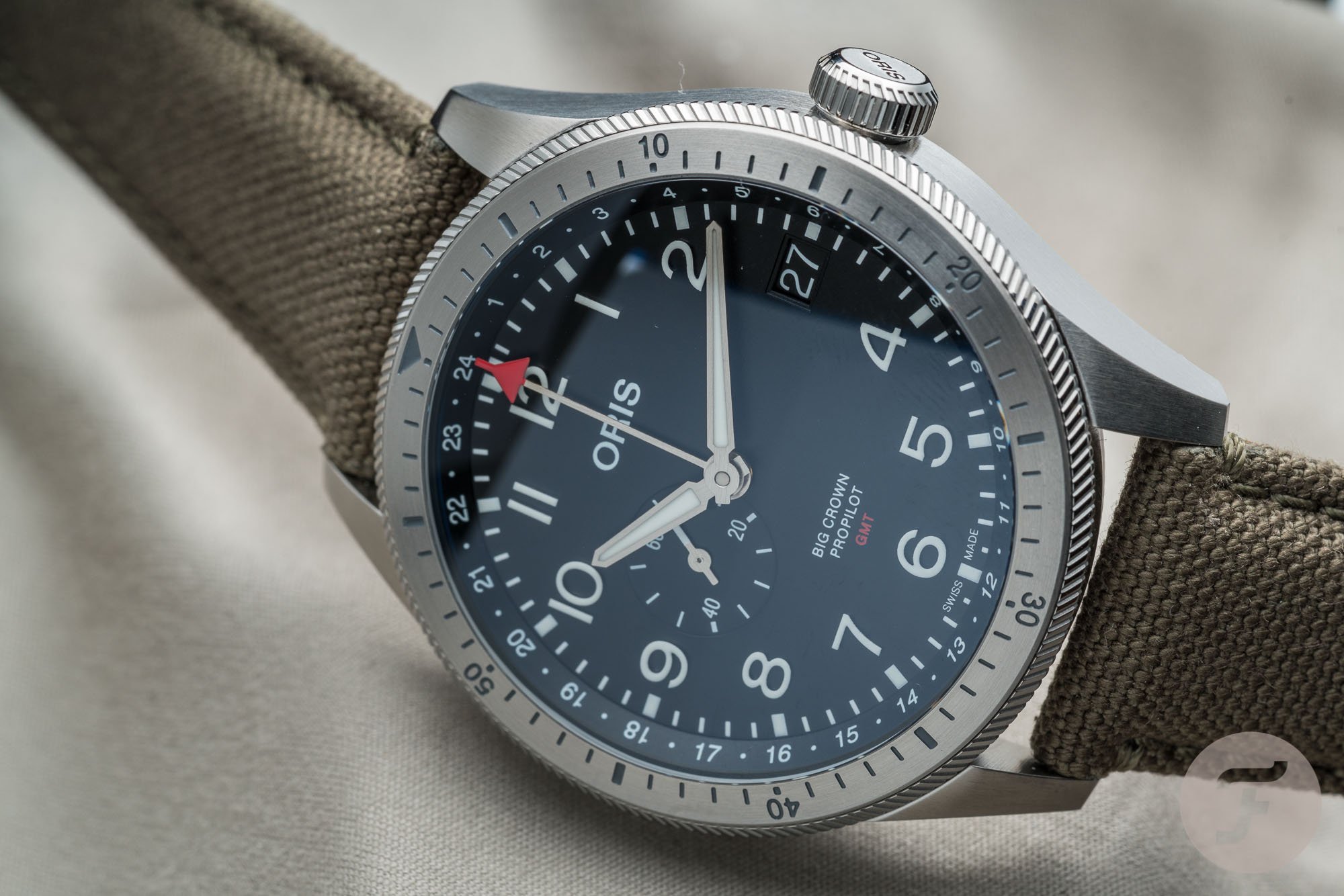 Oris Big Crown ProPilot GMT Automatic
Punching above its price range, Oris offers an exemplary range of affordable pilot's watches, namely the Big Crown ProPilot – known for its superlative functionality. The Big Crown ProPilot GMT has certainly seen some sunrise take-offs. It also oozes plenty of fighter pilot charm. Equipped for international travel, its large Arabic numerals are treated with Super-LumiNova, as are the hands. The small second counter is positioned at 9 o'clock, while the pointer hand easily guides the wearer around a second time-zone function. The 24-hour scale around the periphery of the dial is easy to read. It interacts well with the propeller-style hands, the legible date window, and a hefty 45mm steel case. "Big" means big as well — the 45mm kind of big.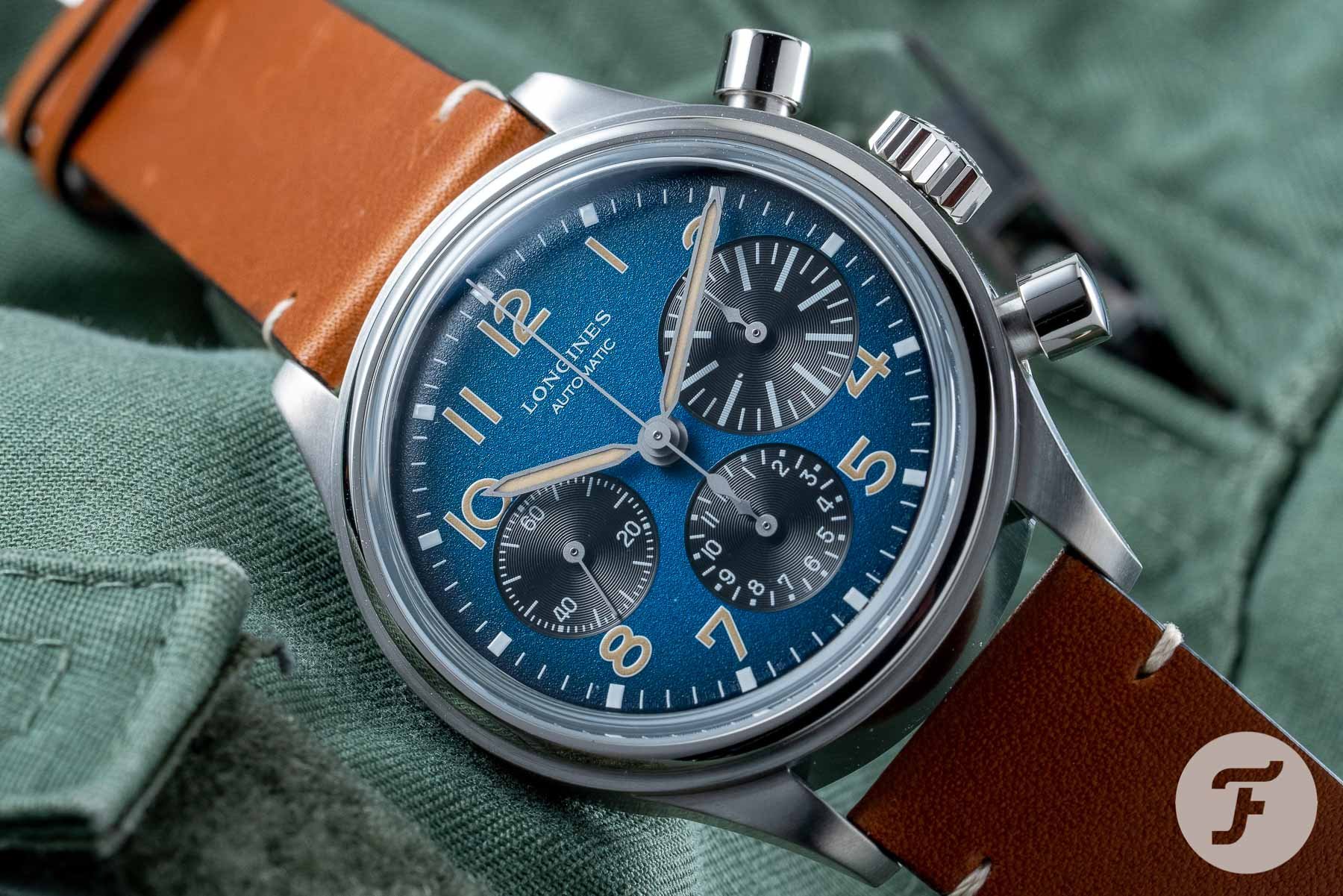 Longines Avigation BigEye
The basic design of the Avigation BigEye is based on one of Longines' pilot chronographs from the 1930s, but its background is a little hazy. The watch was missing from the company's archives until someone showed it to the Longines Museum! It's still unclear whether the watch was a prototype, therefore, did it ever really exist?
…this iteration, playfully teases between a modern pilot's companion and a vintage aviator pre-WWII tool.
Nevertheless, an unquantified watch doesn't mean one that shouldn't simply be celebrated for what it is — a truly beautiful tri-counter chronograph, shrouded in mystery. Some of its offerings include a trio of black-filled counters against a stunning blue degradé dial and unusual brown-colored lume indexes and hands. The 41mm titanium BigEye Avigation watch follows an earlier steel version created in 2017, yet this iteration, with its boxed sapphire crystal glass and smooth brown leather strap, playfully teases between a modern pilot's companion and a vintage aviator pre-WWII tool.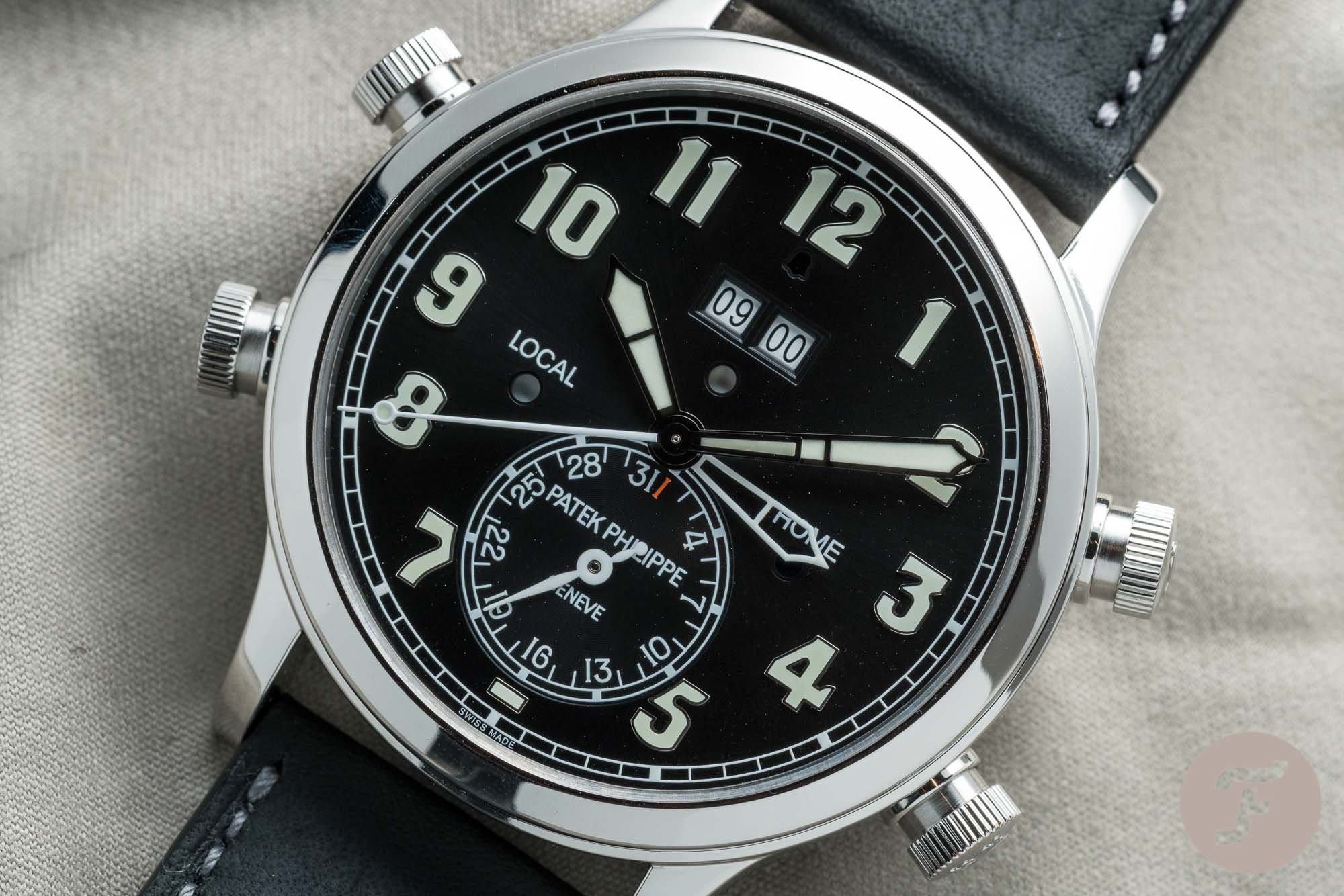 Patek Philippe Calatrava Pilot Travel Time
Lastly, a Patek Philippe pilot's watch. One could argue that Patek Philippe has forged no strong bonds between itself and the aviation industry, but does it really matter? Especially since some are loved and worn by those who have barely traveled on a plane, never mind sat in the cockpit! That said, after Longines perfected the hour angle function alongside Charles A. Lindbergh and Philip van Horn Weems in the 1930s — Patek Philippe jumped onboard this innovative concept.
…a patented safety lock system…
The hour angle helped distinguish a geographical position by synchronizing with minute beeps emitted by a radio time signal. After that, Patek Philippe didn't really revisit pilot-style watches again until it launched the 37.5mm Calatrava Pilot Travel Time. A stepped-down bezel, thinly curved lugs, and a patented safety lock system integrated into its push-pieces made for an attractive timepiece indeed. The analog date ring at 6 o'clock displays the date in three-day increments, while local and home windows are positioned at 9 and 3 o'clock respectively.
So, what do you think? Do these ten pilot's watches get your approval? We'd love to know if they do, or if not — why? Drop your comments below and let us know.