100 Years of Rolex for iPhone
About a year ago, I wrote about Mondani's book '100 years of Rolex', which is a must have if you are a (serious) Rolex passionate. Now, especially for the iPhone user, Mondani Editore created an iPhone app (Apple users like to use this shortcut for 'application') that contains 182MB of information about Rolex wristwatches. Since Rolex, and especially vintage Rolex, is booming – this might be a well-aimed shot from the creators of this iPhone [killer] app.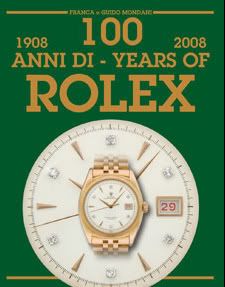 For a fraction of the price of the book (which is around 299 Euro), you will buy your own electronic copy of 100 years of Rolex, which contains over 500 high quality pictures, updated prices and enables you to search Rolex models on model, production year, reference and value. This iPhone app costs 9,99 Euro and is available through Apple's AppStore.
The application has categories on Years, Model, References, Movies and the aforementioned search option. Let me show you a few examples of what this application does, using some screendumps I just made with my iPhone.
First of all, you can flip to the most important years of Rolex's history, starting in 1908 ofcourse, when Hans Wilsdorf registered Rolex.
However, being a Rolex enthusiast for years and owning several nice publications on the subject, I quickly skipped to the Models section. This Explorer section for example, period and reference numbers show the various models made. Clicking the latest 114270 model shows the following: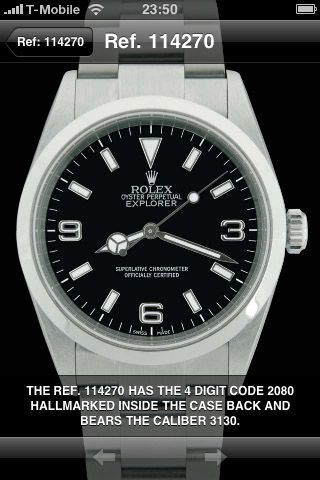 A nice close-up photograph of the ref.114270 Rolex Explorer and some additional model information.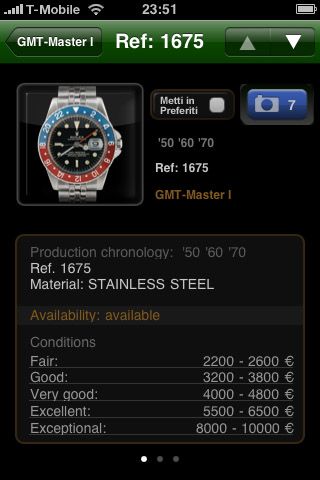 Interested in the vintage Rolex GMT-Master ref.1675? Currently quite popular amongst collectors (sold mine too quickly for too little money).. When clicking the blue icon (telling us it has 7 pictures inside), you will see the following:
A nice close-up of the Rolex GMT-Master ref.1675 on a Jubil?ɬ© bracelet. As you are used from Apple's iPhone, using your fingers to either zoom-in or zoom-out, also perfectly works with this '100 years of Rolex' app.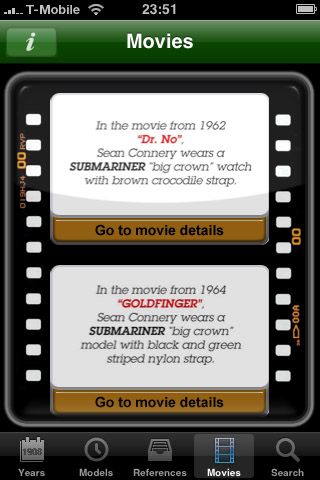 The Movies category shows you in which movies you can see a Rolex wristwatch. I think Ed Heliosz started this hype – of listing watches used in movies – in 1998, and it became the sub-hobby of many of us watch nuts (including Jake's 🙂).
I think Guide Mondani Editore did a very nice job on this 100 years of Rolex app for iPhone. Yet another great iPhone app for many watch enthusiasts, since the Uhren Katalog and Jaeger-LeCoultre iPhone applications. World Watch Report (IC-Agency) did some research on iPhone applications and the world of sheer Luxury, which you can find here.
The 9,99 Euro can make people a bit hesitant to buy this app, but you have my recommendation (for what it's worth). A true killer app (for Rolex fans)!!