5 Cool New Watches Under 4000 Euro
Featuring new watches from Breitling, Nomos, Oris, Sinn and Tudor
You want to purchase a new watch, perhaps even your first serious one, but there's so much out there. It would be impossible for us to tell you what to buy, but let's have a look at 5 watches that have a retail price under 4000 Euro and could make you very happy.
I picked 5 different brands, well-known brands. Of course, I am aware there's many more out there, including a number of microbrands, but for a first serious watch, I'd stick to something familiar. When I started myself with mechanical watches, the landscape was a bit different and below 4000 Euro you could easily buy a Submariner or GMT-Master (at retail!). Times changed and so did the retail prices of good watches. I wanted to include Seiko as well, but the model I had in mind (the SLA033) was just above 4000 Euro. Same applies for Grand Seiko, their SBGW231 is priced at 4300 Euro.
This is not a definitive list of course and knowing myself, it could look different tomorrow or next week. I just picked 5 watches from different brands. All watches are recently introduced and started to become available in stores. Except for the Nomos, the watches are relatively sporty – or versatile – which I think is a nice requirement for a first serious watch.
The overview is in alphabetical order, not necessarily sorted by my own preferences (or any preference).
Breitling Superocean Automatic 44
Perhaps the best-known brand of the bunch. If that's important to you, then you can't do much wrong with Breitling. Solid sporty watches with a long history and of good quality. The Superocean Automatic is a no-nonsense diver's watch that might become your companion for life. Even if you decide to buy more watches afterwards, perhaps even with much higher price tags, the Superocean will still find your wrist once in a while. During holidays for example. It is the perfect go-to watch that also works perfectly at the beach in the south of France as it does when you're out riding your mountain bike in the weekends. This watch is available in both 44mm and 46mm. The latter is actually quite big, and I would definitely urge you to try it before you buy it. 44mm is a safe size for a watch like this though. The Superocean Automatic 44 comes also on a rubber strap (3350 Euro), but a steel bracelet is also an option. Up to you. I prefer the stainless steel bracelet, especially for daily use.
Inside is Breitling's caliber 17, which is based on the ETA2824-2. A solid performer with 38 hours of power reserve.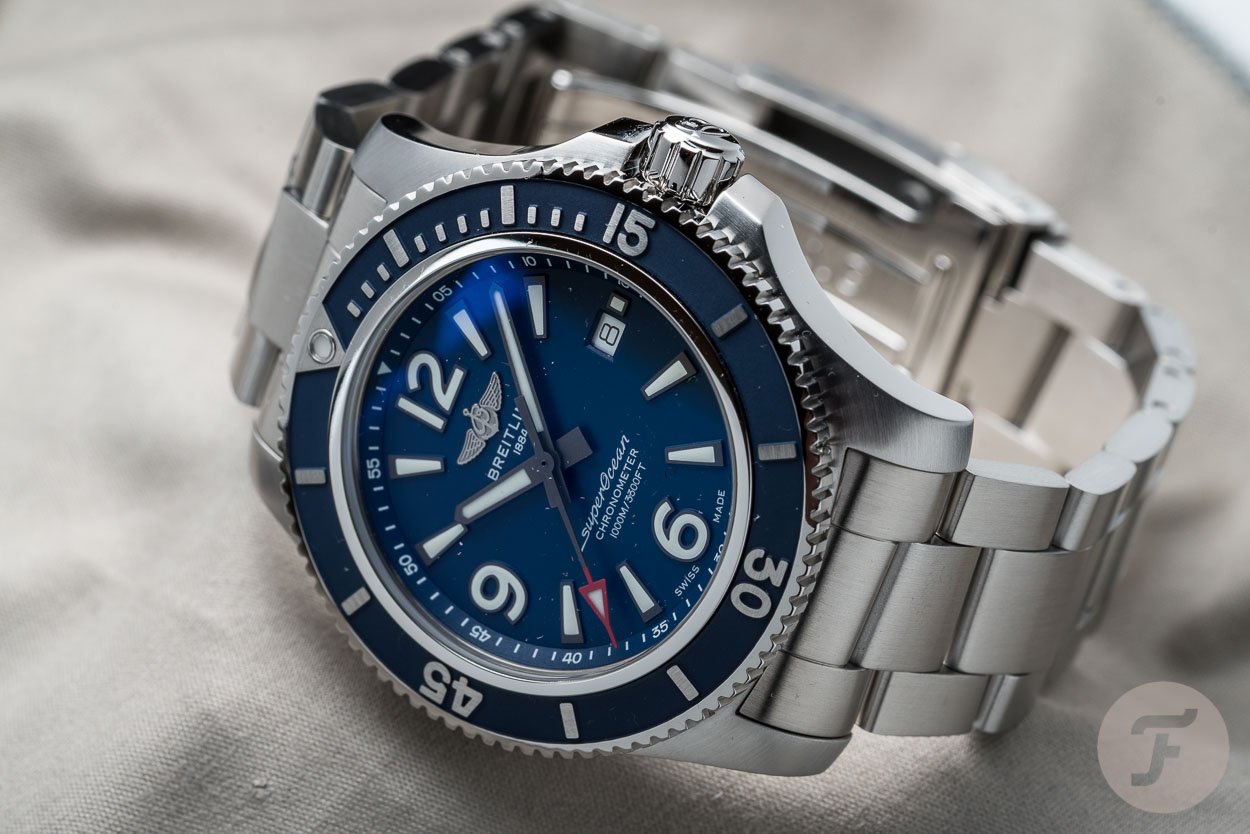 The retail price of the Breitling Superocean Automatic 44 on stainless steel bracelet is 3800 Euro.
More information via Breitling online.
NOMOS Tangente Sport neomatik 42 Date
The least sporty watch in this line-up, but nevertheless worth considering if you like to have your first watch to have an in-house movement. Only Tudor and Nomos in this list have in-house developed movements. Of course, Breitling has their in-house chronograph caliber B01 movement, but the starting prices of those are far above our budget of 4000 Euro. Besides the in-house caliber DUW6101 movement, the Nomos has an interesting design. Although the watch doesn't look extremely sporty, its water resistant (300 meters) is higher than the Superocean above. It shows how looks and names can be deceiving. The Tangente Sport neomatic 42 Date comes in two dial variations: black and white. I would prefer the white dial myself, but the black dial underlines its sporty character a bit more perhaps. The Nomos Tangente Sport neomatik 42 Date is a cool watch, with a 42mm diameter and only 10.9mm thick (or thin). The Tangente has become an iconic watch in my opinion, and this new version stays true to the original design. Now with a very comfortable steel bracelet. More information about this Nomos can be found in our hands-on review we published earlier.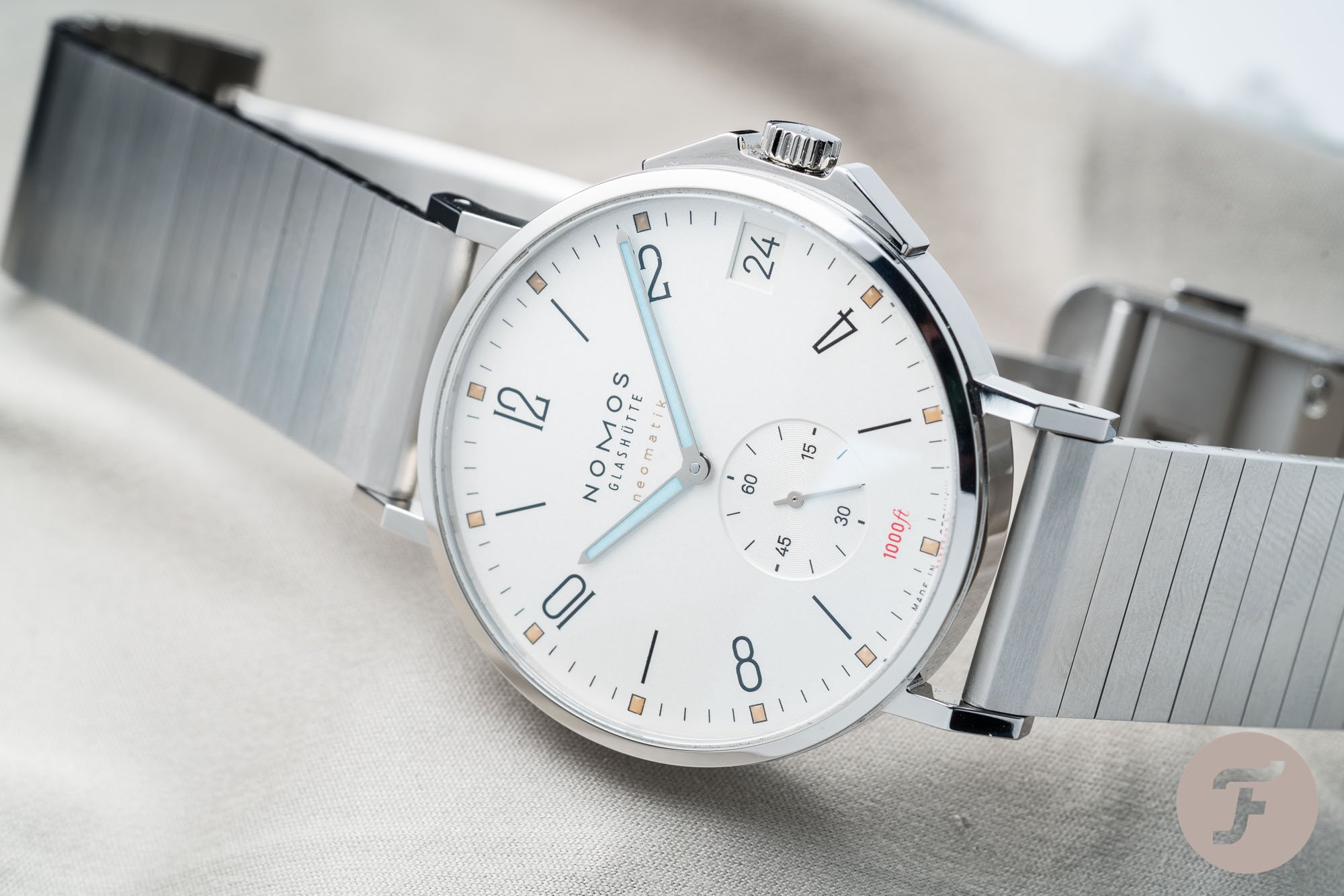 The retail price on this Nomos Tangente Sport neomatik 42 Date is 3980 Euro.
More information via Nomos online.
Oris Aquis GMT Date Steel Bracelet
Oris has a strong game with their Aquis collection (or simply any collection) and it represents quite a bit of value for money. It is the least expensive watch in this overview and yet it offers a cool GMT complication. Very useful if you have family, friends or business in a different timezone. It doesn't work the same as the Rolex GMT-Master II for example, where you can set the hour hand to the local timezone. With the Oris Aquis GMT Date, you need to set the GMT hour hand to a second timezone. One of the things that makes this watch really attractive to me, is the blue sunray finish dial. Especially in the sunlight, it is difficult to take your eyes off it. This watch measures 43.5mm, just a tad bit smaller than the Breitling Superocean. With the stainless steel bracelet, it has a tough looking appearance. If you like a bit more subtlety, try the version with a rubber strap or leather strap (200 Euro cheaper as well). This watch is, just like the Nomos, water resistant to 300 meters. Inside you'll find the Oris caliber 798, which basically is a modified Sellita SW300-1 movement with a power reserve of 42 hours.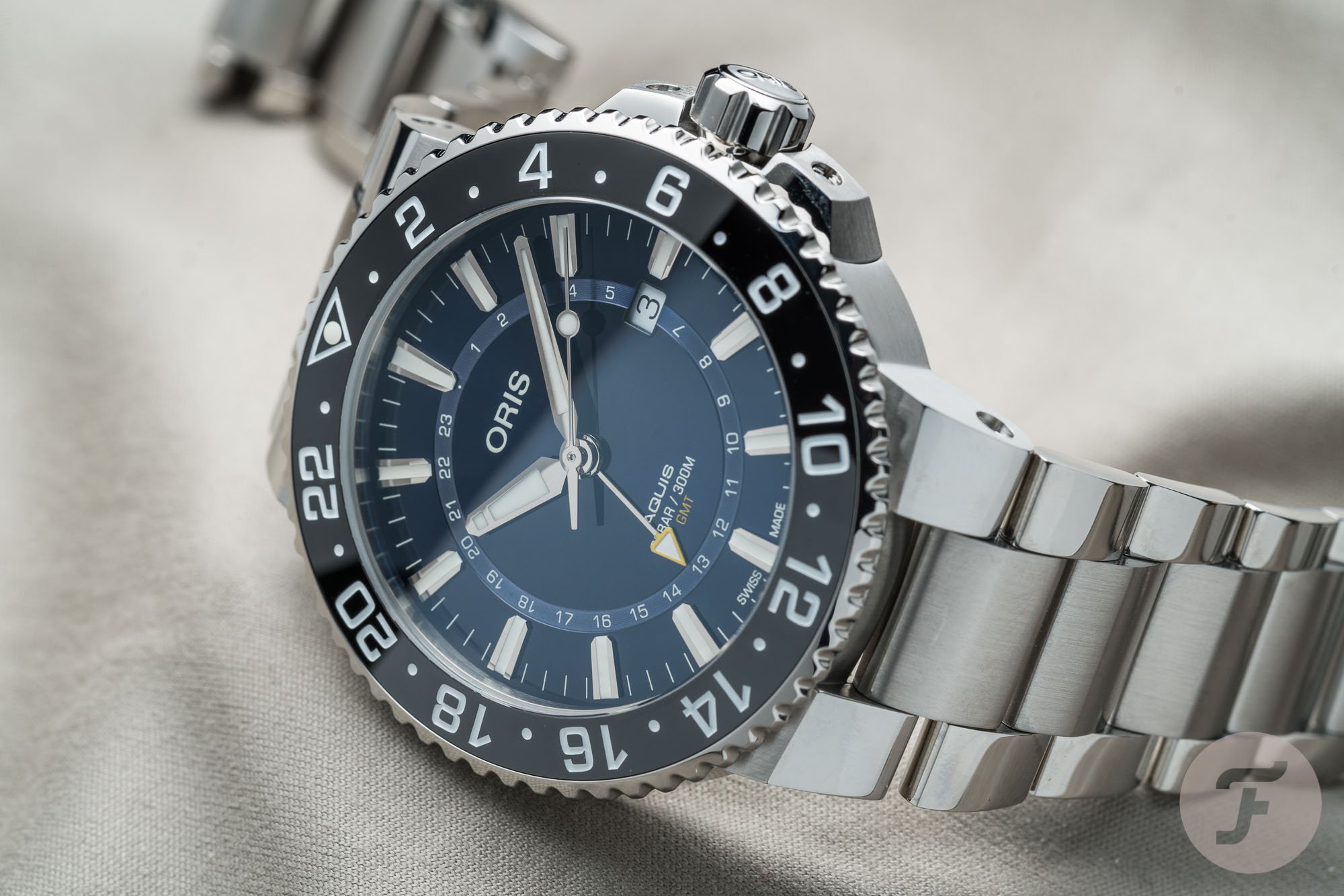 The retail price of the Oris Aquis GMT Date with a steel bracelet is 2500 Euro. This watch also leaves you some room in your budget for other things. Like an additional rubber strap, or actually, an Oris Big Crown with the red dial for 1500 Euro. Or a dressy Seiko Presage, for example. And then, you suddenly are a watch collector.
More information via Oris online.
Sinn 206 St Ar
I have a weak spot for Sinn. They make super functional watches, and rather focus on embedding solutions for real problems than developing their own mechanical movements. The 43mm diameter Sinn 206 St Ar I included in this list has this Ar-Dehumidifying Technology which will prevent the watch from fogging up. The watch is also pressure resistant to 30 bar (300 meters) and has been certified according to a number of DIN (German) and EN (European) standards for divers watches. Another technical enhancement is its captive bezel. Even when the watch is exposed to extreme shocks or knocks, the bezel will never be departed from the watch case. The bezel is key for divers, so it better stays in place. Then, there's the chronograph complication of course. In my opinion, one of the most useful complications a watch can have for daily use. I use mine to time a journey, a pizza in the oven or sometimes even an automated task. The Sinn 206 uses the ETA/Valjoux 7750 movement and therefore also has a day and date indicator. The Sinn 206 is one of their most popular references since ever.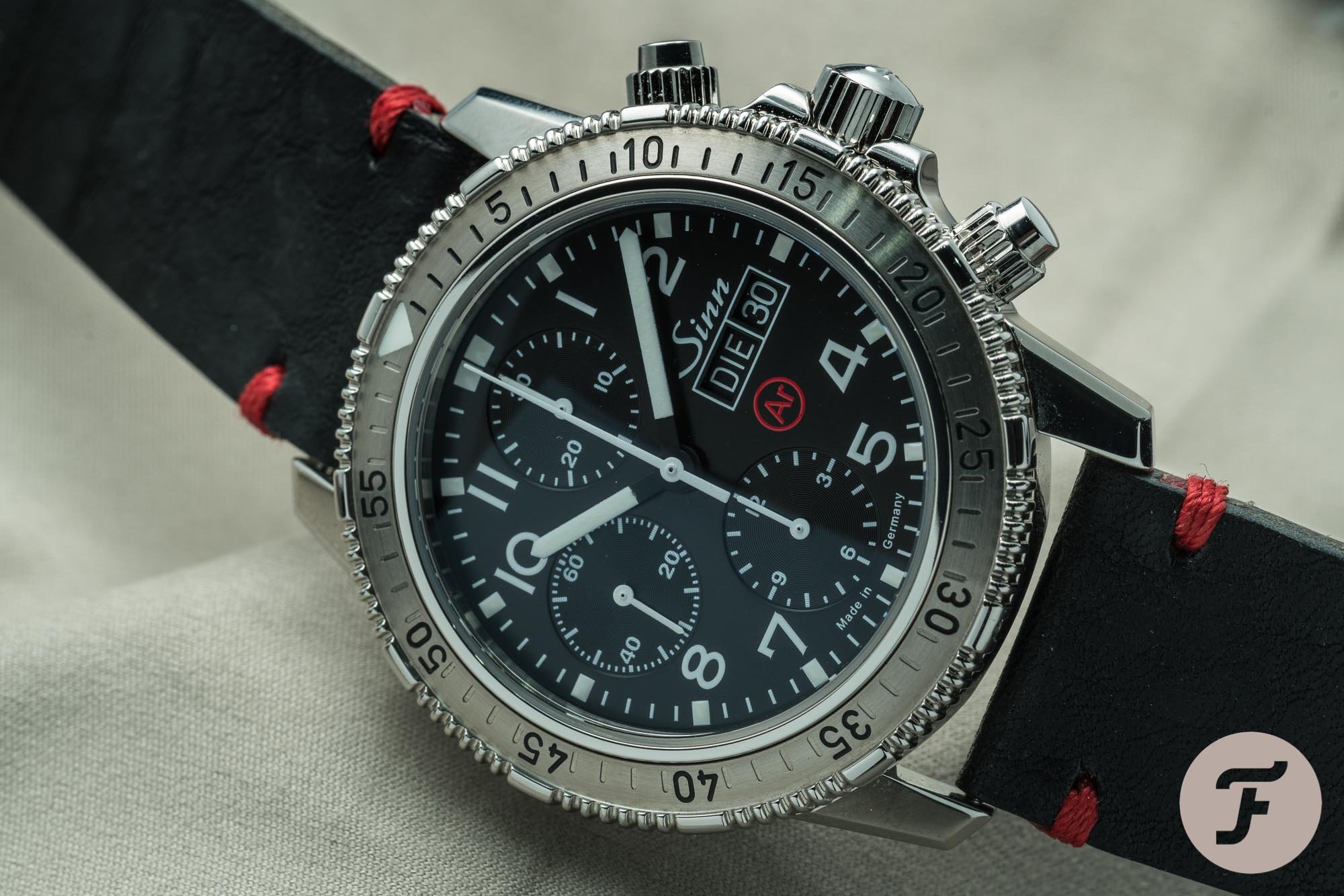 The retail price of the Sinn 206 St Ar is 3240 Euro on a leather strap and 3410 Euro if you want to wear it on the stainless steel bracelet.
More information via Sinn online.
Tudor Black Bay Bronze
The only watch in this list with a bit of an exotic material is the Tudor Black Bay in bronze with slate grey dial. Although Oris also has a few watches in bronze, the Aquis is not (it also wouldn't fit the design). Tudor is a strong name these days, being part of the Rolex family and since a few years using in-house developed movements. The design of this Black Bay Bronze is very attractive and if you add the use of bronze (which will receive a nice patina very quickly after you start wearing it), it is just a winning combination. Every bronze watch will have its own unique patina, as the material responds differently on each skin. With a diameter of 43mm and a thickness of 14mm, it is not a small watch, but it suits the design. The in-house caliber MT5601 has a power reserve of 70 hours and just like the Breitling Superocean, has been chronometer certified. Being a true divers watch, it has a water resistance of 200 meters. I am just not sure if you should dive with a watch on a leather strap. But you can also get the optional fabric strap of course.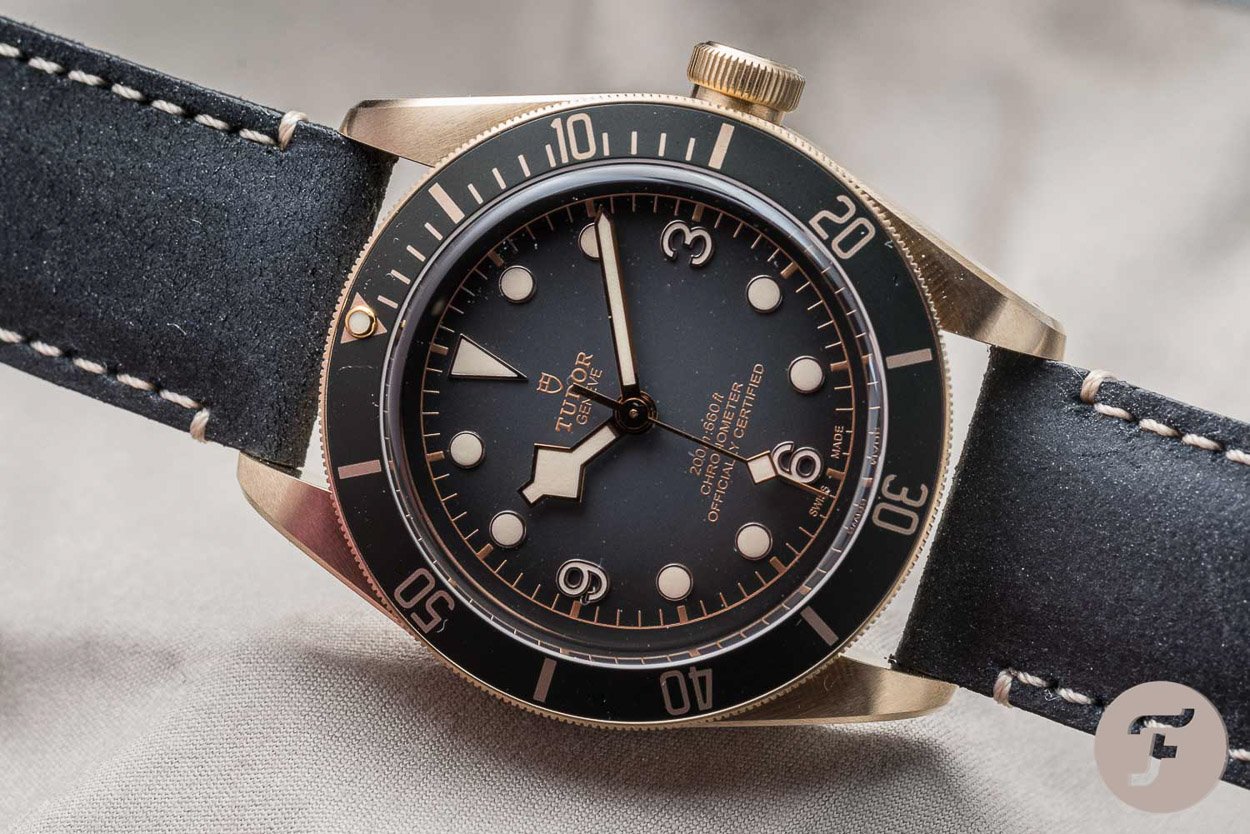 The retail price of the Tudor Black Bay in bronze with slate grey dial is 3770 Euro.
More information via Tudor online.