80th Anniversary Lebois & Co – Resurrection Of An Old Brand
On the 14th of December 1934, exactly 80 years ago today, watch manufacturer Lebois & Co was founded by Raymond Dodane. This French entrepreneur and watch manufacturer was the third generation of the famous Dodane family, who are best known for their watches using the family name on the dial.
Although Lebois & Co was sold to an Italian import company in 1947, the watches were still being produced and sold (mainly to Italy). The watches were made in the Dodane factory as well as a number of Swiss watch manufacturers.
In 1972 Lebois & Co ceased the production and distribution of watches and the name disappeared from the watch industry landscape for a long time. Some collectors of vintage watches might recognize the Lebois & Co name and come across them on auctions and trade shows though.
Lebois & Co watches used movements like the famous and well respected Valjoux 22 and the more common Landeron calibers.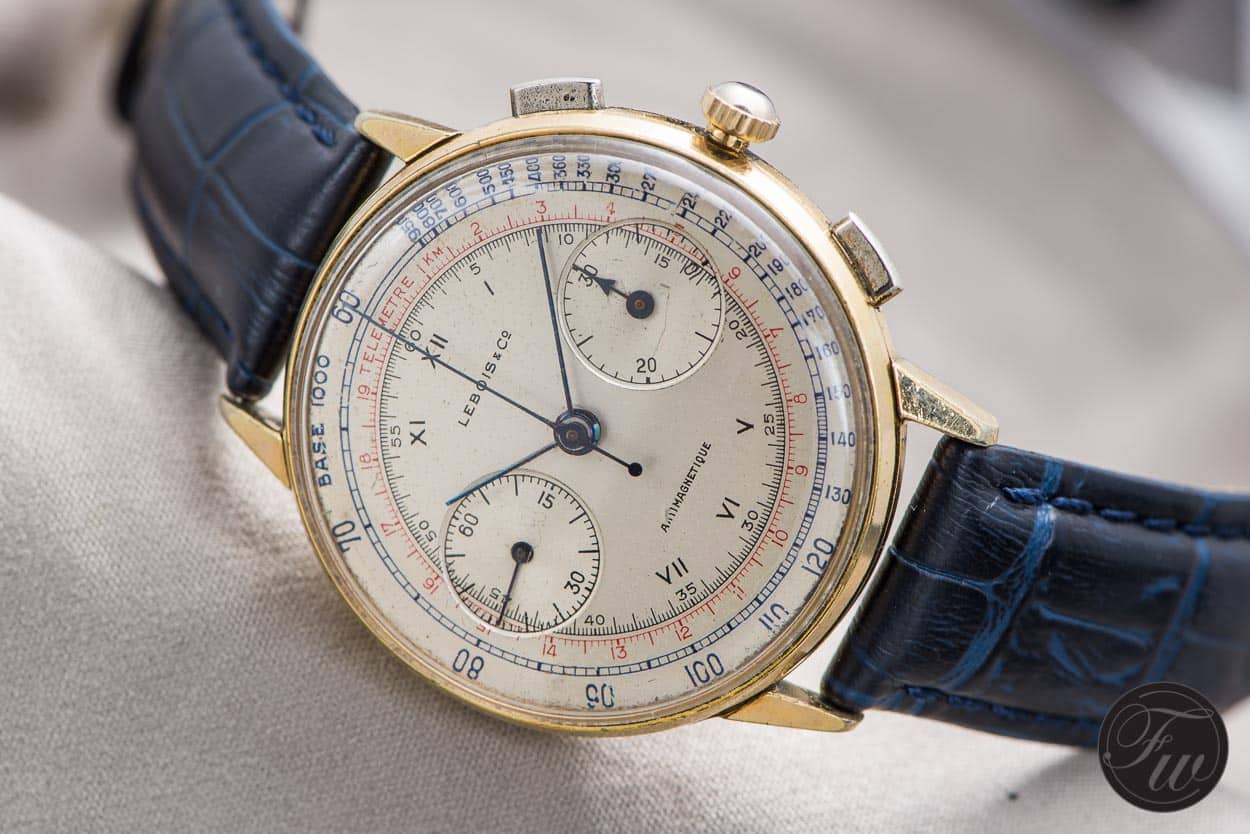 Lebois & Co

Dutch entrepreneur and watch enthusiast Tom van Wijlick decided to resurrect Lebois & Co after having an encounter with one of their vintage watches. Being occupied with watches for quite a while, Tom's dream was to start his own brand one day but he didn't exactly had a clear picture in his mind what type of watch he wanted to create. This changed when a vintage Lebois & Co chronograph crossed his path. He printed the photo of this watch and stuck it to the fridge. A few times per day he – and his girlfriend Eveline – were confronted with this beautiful timepiece. This lead to some research to Lebois & Co and their former owners.
Without much luck, as there was little that survived the 1970s and 1980s at most of these old manufacturers. Nevertheless, the photo on the fridge was the watch that give him the inspiration to go forward and to decide to register the brand name Lebois & Co again. Because funding is needed for starting a new watch brand – almost from scratch – Tom decided to crowdfunding to realize his dream of a newborn Lebois & Co.
In the meanwhile, Tom is preparing the crowdfunding to start early 2015 to be able to realize the first Lebois & Co model, the Avantgarde. Inspired by former Lebois & Co collections and using some of the esthetics from that era, it will be a modern 40mm timepiece in stainless steel and a Swiss mechanical automatic movement. The dial will have a luxurious finish as we've seen on some of those beautiful 1950s and 1960s watches, also from Lebois & Co but also other brands are known to use that stunning sun burst finish and applied polished hour indices.
Targeting the young but self-confident watch enthusiast that probably already has his Omega, Longines or IWC and wants or dares to be different from the crowd. The Lebois & Co Avantgarde will be a sensible priced wristwatch and the first models will have a special signature for the founders (crowdfunders) of the 80 year old company.
In the meanwhile, Tom is already thinking about a second model already as well as he wants to show that the new Lebois & Co is here to stay.
The ultimate Lebois & Co timepiece for Tom would be something similar to the chronograph we are showing here in this article, the two-register Landeron caliber 39 timepiece with striking dial. We hope to see a successful launch of the crowd funding project in Q1 2015 and – not long after – the production of the Lebois & Co Avantgarde.
For more information about the new 80-years old Lebois & Co brand, visit www.leboisandco.com.
More images of vintage Lebois & Co watches can be found in the photo gallery below.