A Blancpain × Swatch Collab — Will The Watch Industry Be Disrupted Once More?
The new collaboration drops on September 9th
Whether you love or hate the MoonSwatch, it worked miracles for the Swatch company! Since March 26th, 2022, Swatch has been back on everyone's mind again. I had never seen queues in front of a shop for a watch before. I'd also never seen so much coverage about watches on television, in newspapers, and other non-watch media. The "no online sales" approach infuriated many people, especially those who weren't exactly near one of the "just" 110 Swatch Boutiques worldwide. Now, with a new Blancpain × Swatch collaboration debuting in a few days, will we see it happen all over again? Or will the partnering brands, strategies, and public reception mean it's entirely different this time around?
People are still lining up for a MoonSwatch (at times)
Despite the frustration and anger that the MoonSwatch sparked, by early 2023, over a million MoonSwatch watches had been sold, and the queues were still a reality. Even last weekend, when I visited Crans-Montana for the Omega European Masters golf competition, there was a queue in front of the door of the local Swatch Boutique.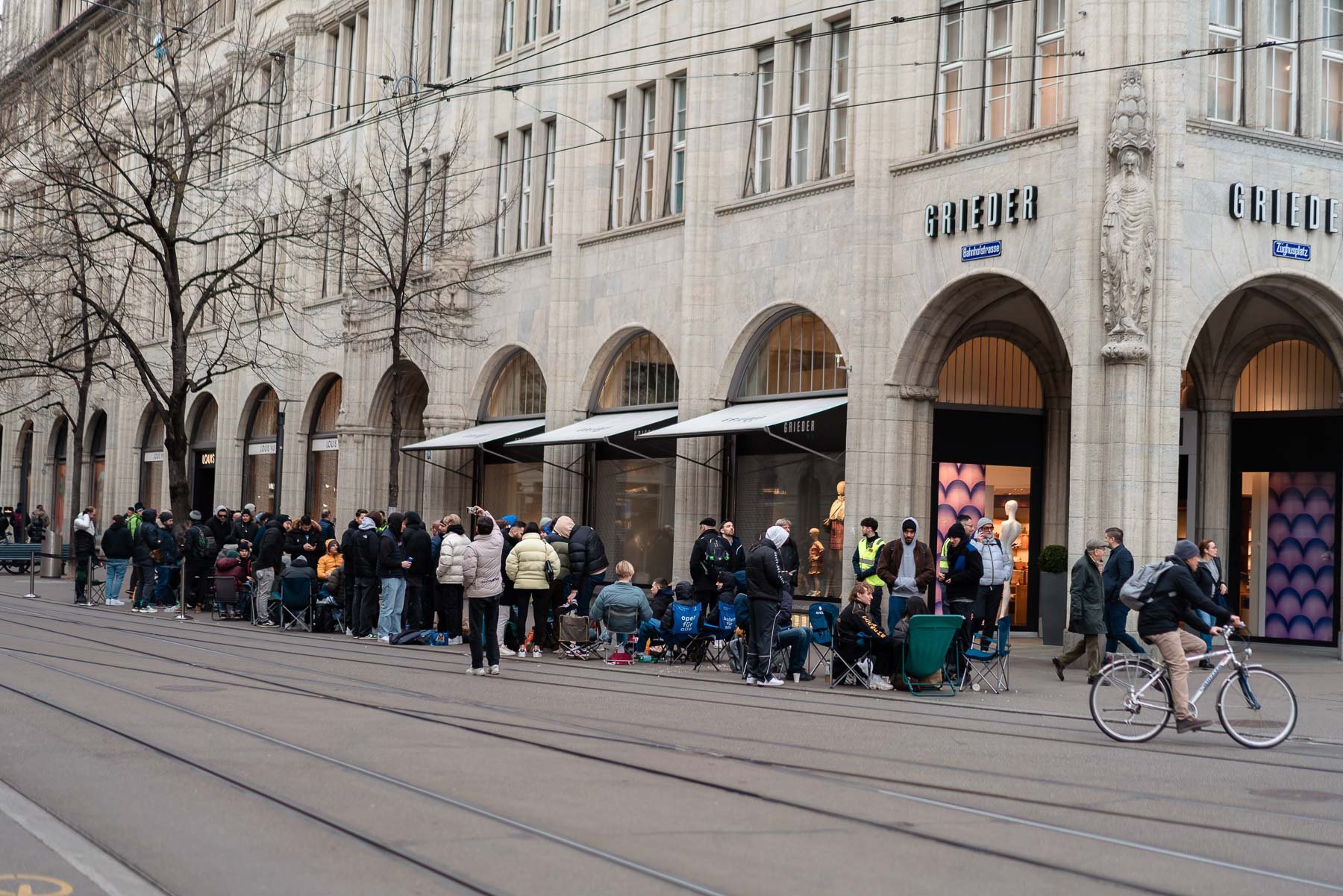 No business plans involved
According to Swatch Group CEO Nick Hayek Jr. in the 2022 annual report, "This launch was a win-win to the power of ten for Swatch, for Omega, for Swatch Group, for the company's production apparatus, for Swiss watchmaking as a whole, for luxury, for entry-level watches in particular, for watchmaking volumes and, last but not least, for the reputation and desirability of Swiss-made watches, especially among the younger generation. The formula? It was quite simple: everything had to be disruptive, from start to finish. From products to marketing, distribution, and advertising. And we can tell you a secret. The success of this project was not based on business plans, market studies, or any other concept that is taught in institutions of higher learning. All the most important decisions that led to the Bioceramic MoonSwatch phenomenon were guided in equal part by the heart and by the head. Passion and joie de vivre were key. Emotion at the service of rationality. Instinct that threw away the rulebook."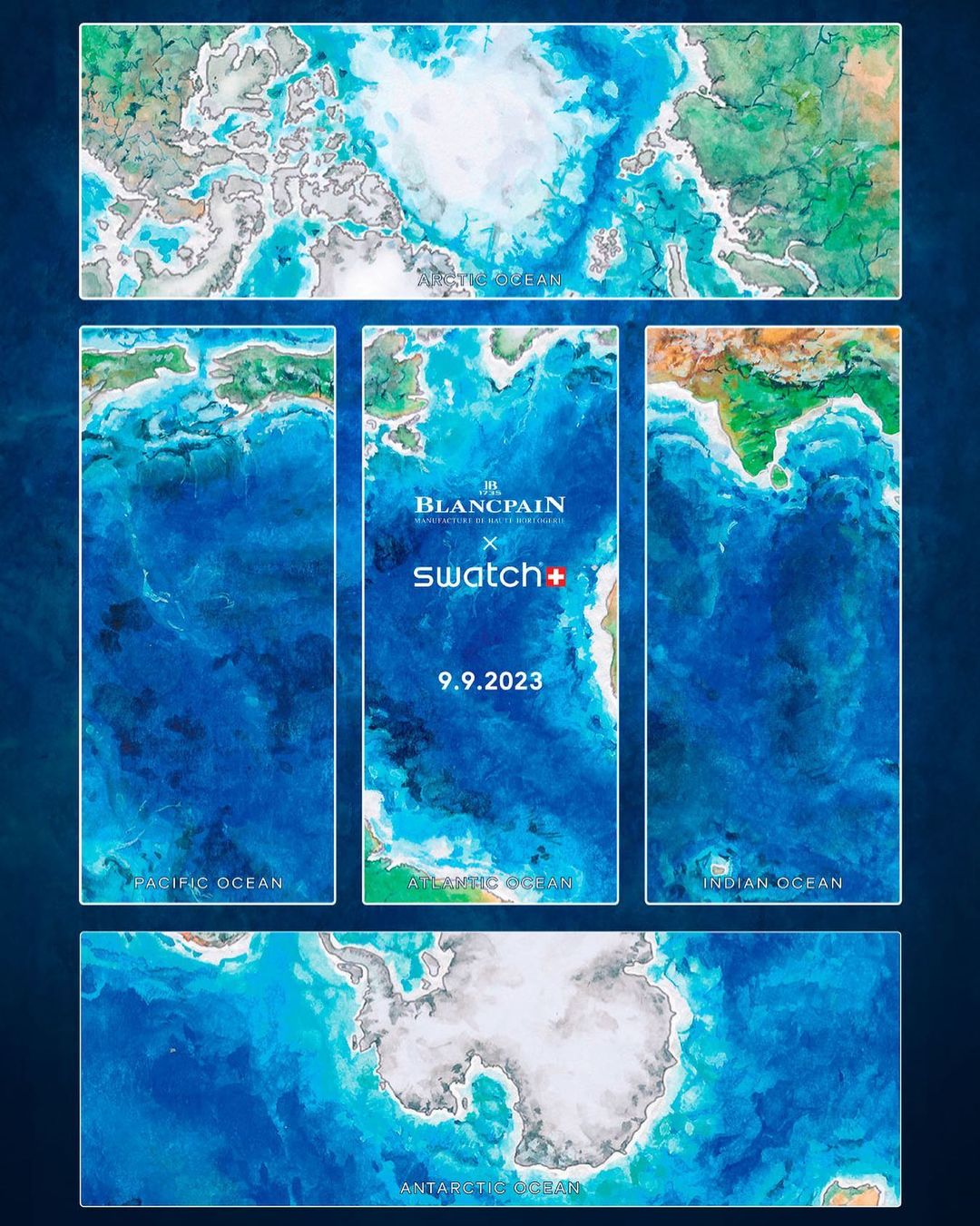 Five Oceans — Blancpain × Swatch collab
Unlike last time, we've received no information about the upcoming Blancpain × Swatch collaboration, so everything in this article consists of speculation and guesstimates. However, when I had the opportunity to talk to Mr. Hayek in 2022 during the introduction of the MoonSwatch, I asked about possible future collaborations. He was open to anything, he said, as long as it were an iconic watch. I asked about the Breguet Type XX, but that was off the table. In a later interview I had with him, he showed me Swatch prototypes, including one from the brand that is involved in the collab this time.
Based on the Blancpain Fifty Fathoms
Judging from Swatch's teasers on social media, I don't think it's the watch I saw on his desk last year. The shape of the crown shown in the teaser is a clear giveaway that it is based on a regular Blancpain Fifty Fathoms, not a Bathyscaphe.
In the Fratello office, we've had lively discussions on the possibilities for this new Blancpain × Swatch collaboration. Lex already fantasized about its movement and nicknamed it the "Sistem51 Fathoms," which makes me hope that an automatic movement will power this watch. That way, the partnering brands will also stay true to Blancpain's 1980 slogan, "Since 1735, there has never been a quartz Blancpain watch. And there never will be."
Five colors
One of the teasers also included a world map divided into five parts. Perhaps this means there will be a Blancpain × Swatch watch for each ocean. My colleague Dave created some mockups of what might be coming this Saturday, September 9th. We expect that there will be a different color for every ocean, so there will be five Blancpain × Swatch color variations. Dave used blue for the Atlantic, green for the Pacific, gray for the Antarctic, white for the Arctic, and sand/yellow for the Indian Ocean.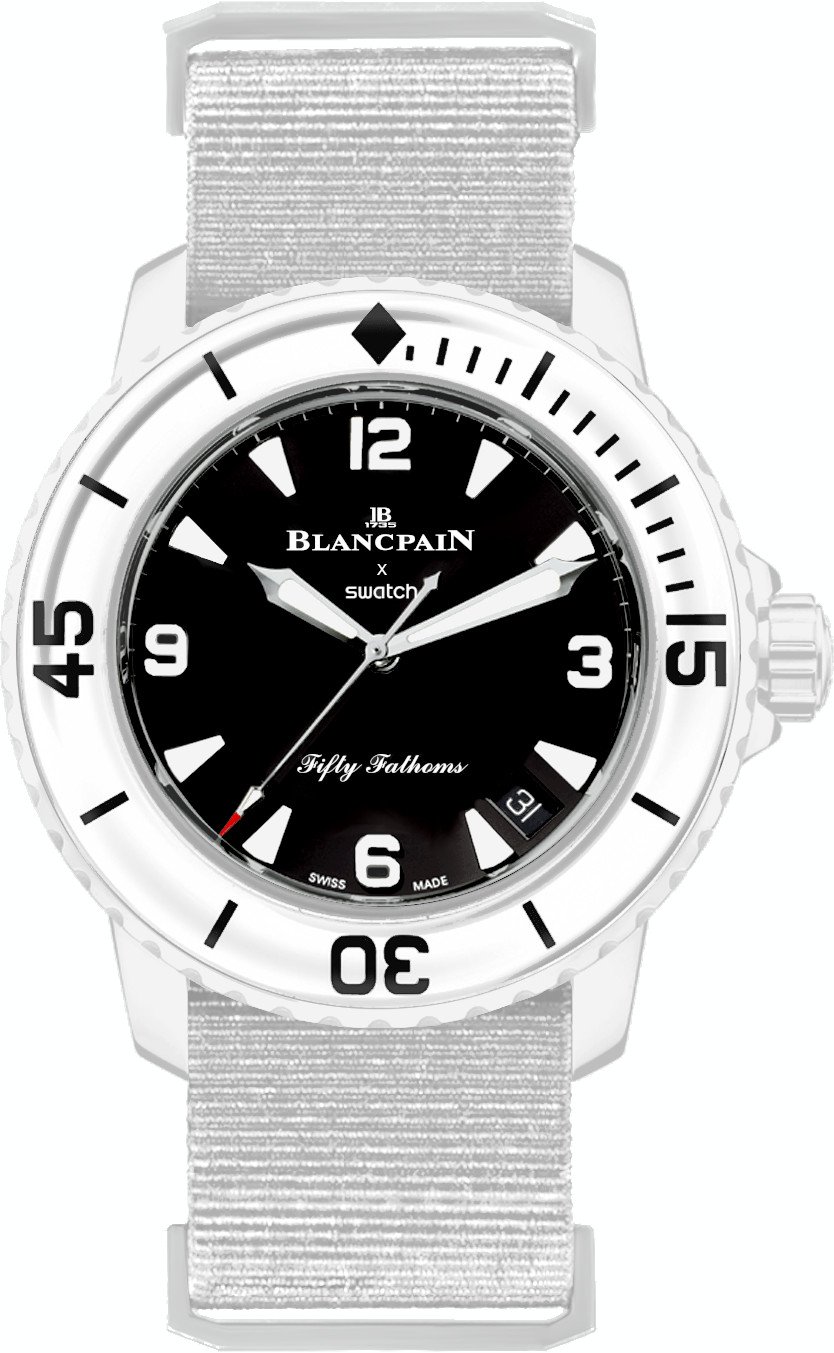 Will it be as disruptive as the MoonSwatch?
Now, there's no denying that the MoonSwatch introduction disrupted the watch industry. It was the most talked-about watch during the biggest show in Geneva (Watches and Wonders 2022), and Swatch Group brands didn't even participate there. It increased sales of the original Omega Speedmaster Professional Moonwatch, but the most significant effect was on Swatch itself. Swatch was the king of the wrist in the 1980s and early 1990s, then it slowly vanished from the streets. With the MoonSwatch introduction, Swatch made a comeback so hard that it should make LL Cool J revise his "Mama Said Know You Out" lyrics.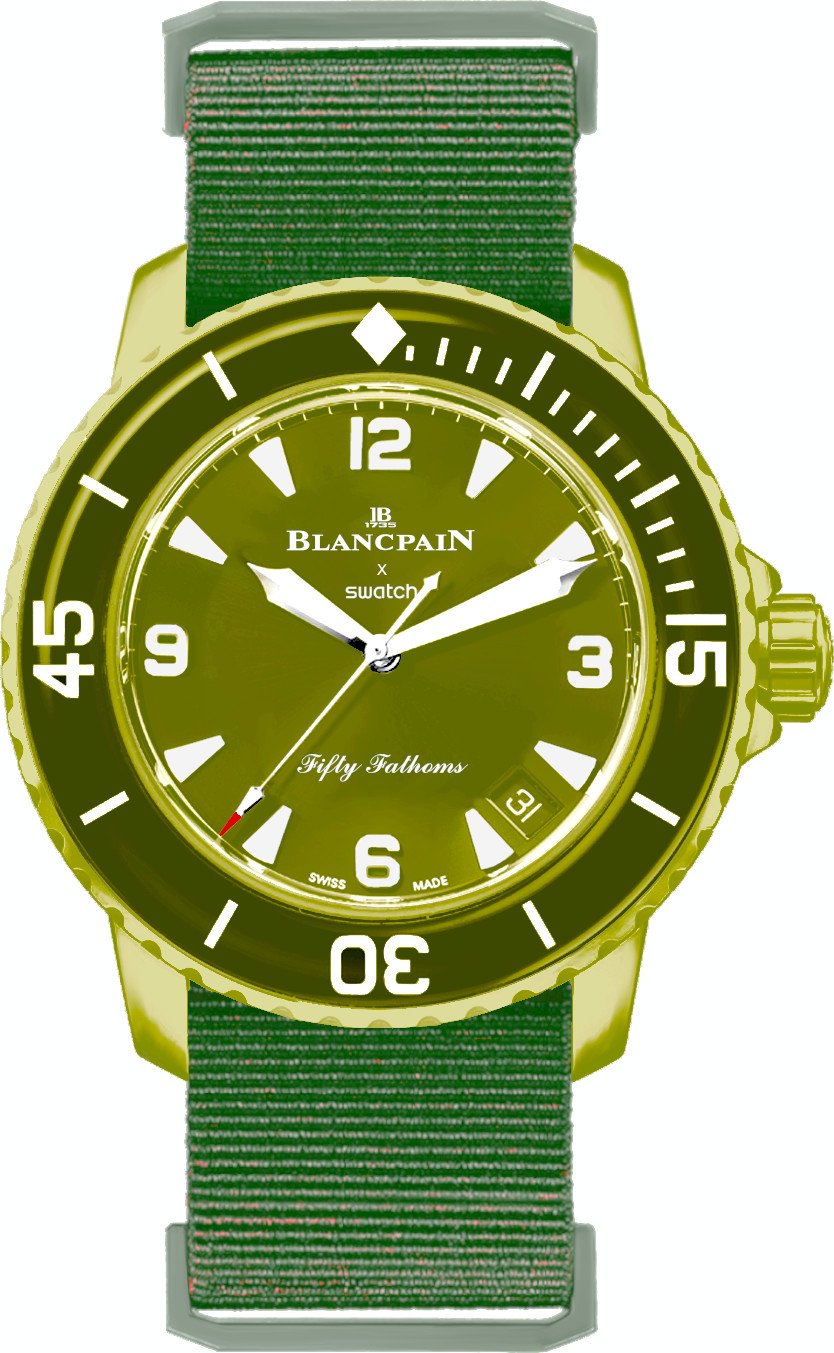 Will it speak to those outside the watch communities?
Will the new Blancpain × Swatch Sistem51 Fathoms (or a similar design) be as disruptive for the watch industry? First, we have to look at the world outside watch-loving circles. The MoonSwatch was not only a hit with Speedmaster collectors but also with those who did not have a watch. The Moonwatch is such an iconic watch, though, and Omega is such a well-known brand that it was incredibly successful outside the typical watch-buying audience. On top of that, it did very well with those who are into watches. Selling over a million MoonSwatches in less than a year is quite an achievement. Additionally, Swatch did very well selling other models since the brand was suddenly on people's radar again.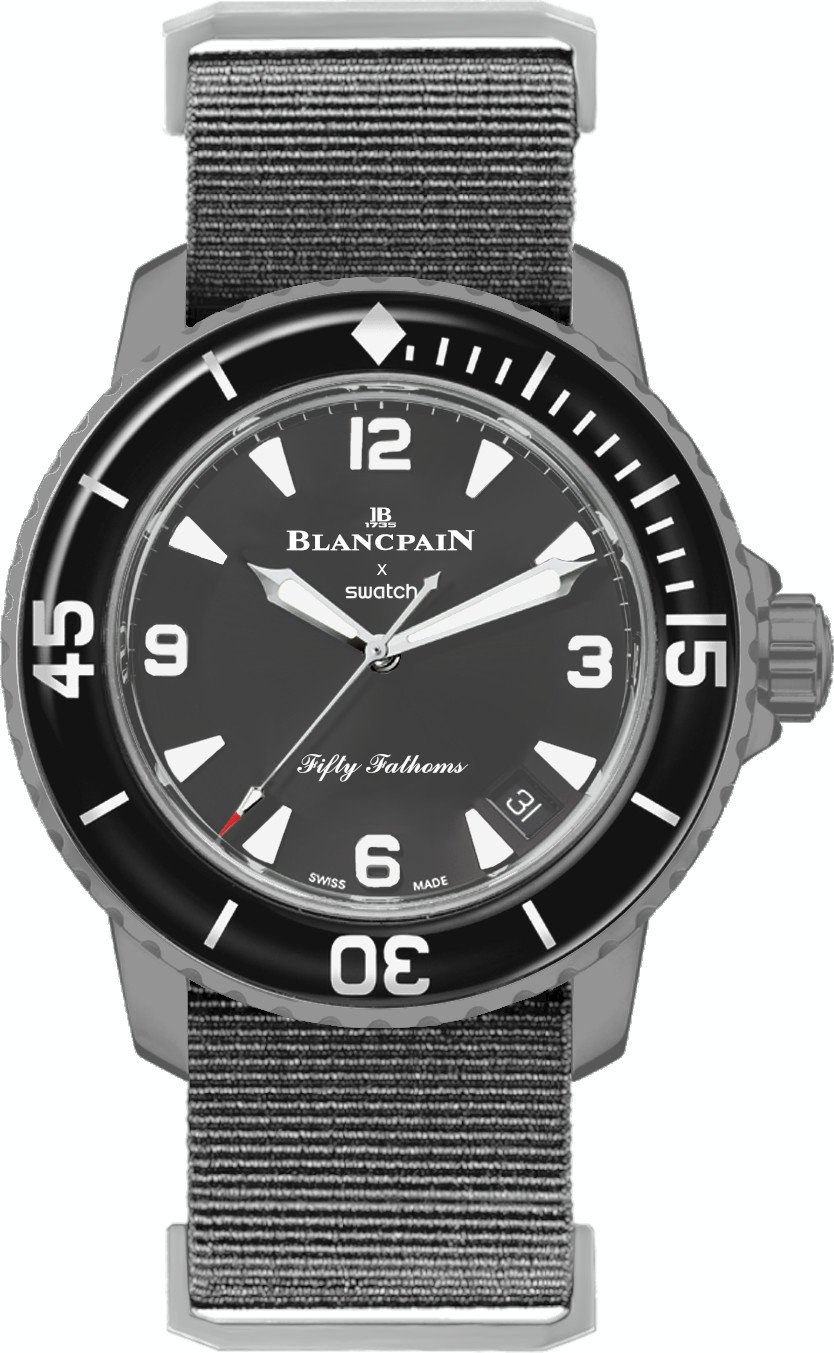 Omega is a household name, but does Blancpain ring a bell?
I believe the Blancpain × Swatch collaboration will do well with consumers who are already into watches. But aside from them, you must realize that Blancpain is not even remotely close to the Omega household name. On top of that, the Fifty Fathoms models changed so often that Blancpain doesn't have a specific icon in its collection that has remained virtually unchanged. A quick round in our office leaves me undecided, though… Half of our team thinks that the new Blancpain × Swatch collab will do nothing but cause a one-day stir. The others, however, believe it might do well because the MoonSwatch paved the way, and hype-sensitive people — and there are many — will jump on it.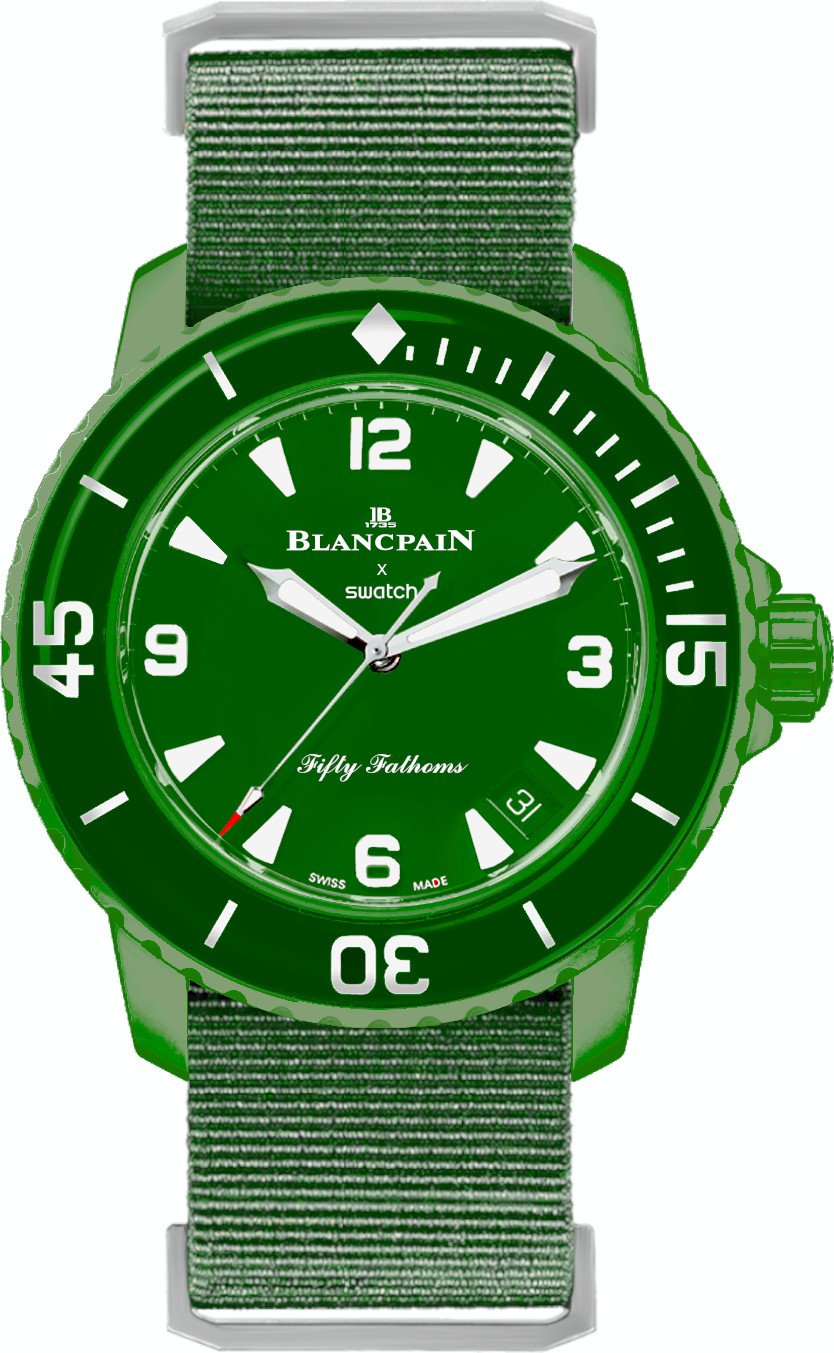 It could be a good sequel, but will it be Godfather II good?
I am not convinced it will be as disruptive as the MoonSwatch. This is for two reasons. First, Blancpain's Fifty Fathoms does not have the same standing in the market as Omega's Moonwatch. Second, and perhaps more importantly, this collaboration isn't a new concept. Hayek stated in the Swatch Group annual report that the first MoonSwatch project was not based on business plans, market studies, or what have you but just by doing it and executing a plan that was daring. But not being disruptive doesn't mean it won't be a good sequel. I also believe it will be better received than the MoonSwatch with Moonshine Gold-plated hand we've seen in the past few months.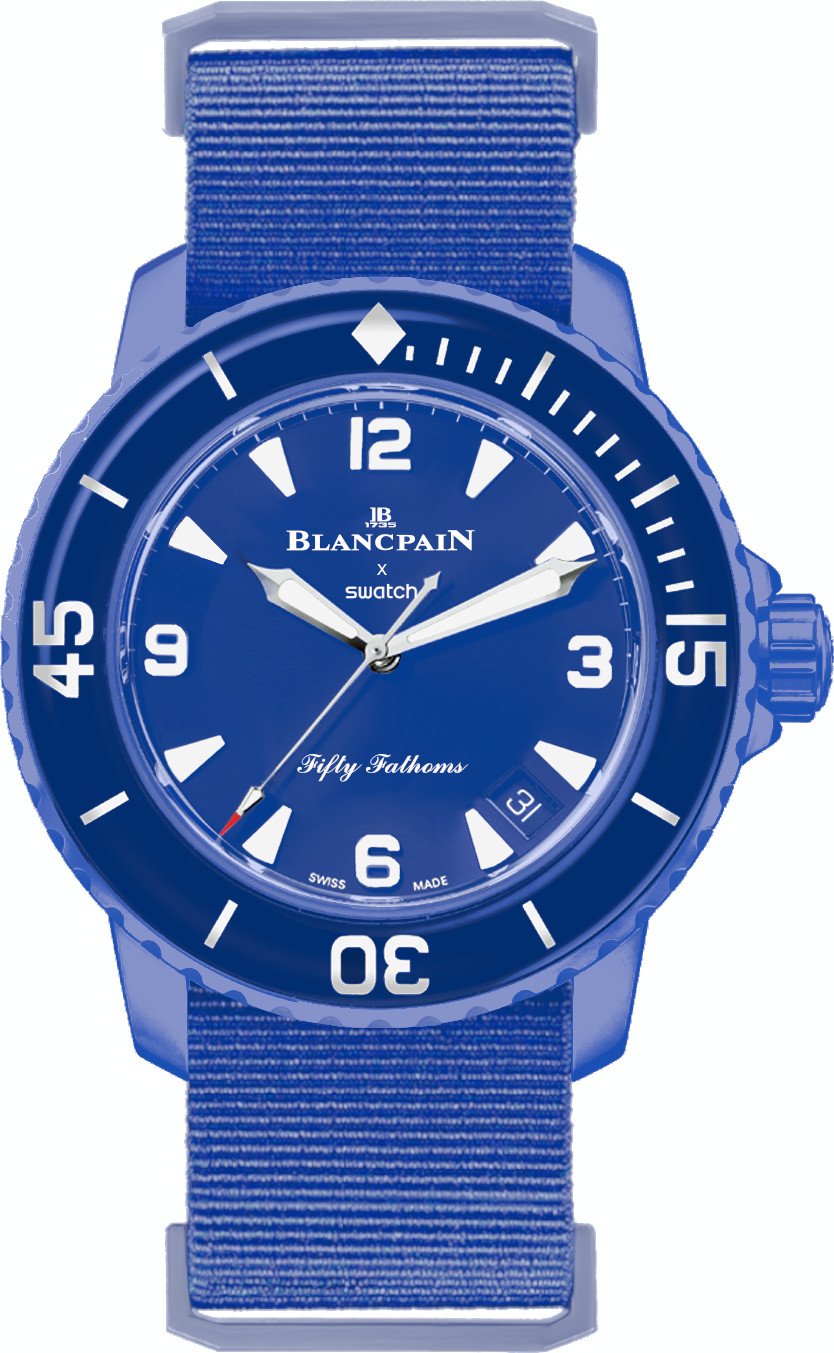 It's the next chapter, and I want one… How about you?
It will be different this time than the first MoonSwatch introduction, though. It is more calculated, and there's no surprise factor. I'm not saying it won't be a well-executed plan or design, but it is simply the next chapter of an already excellent book.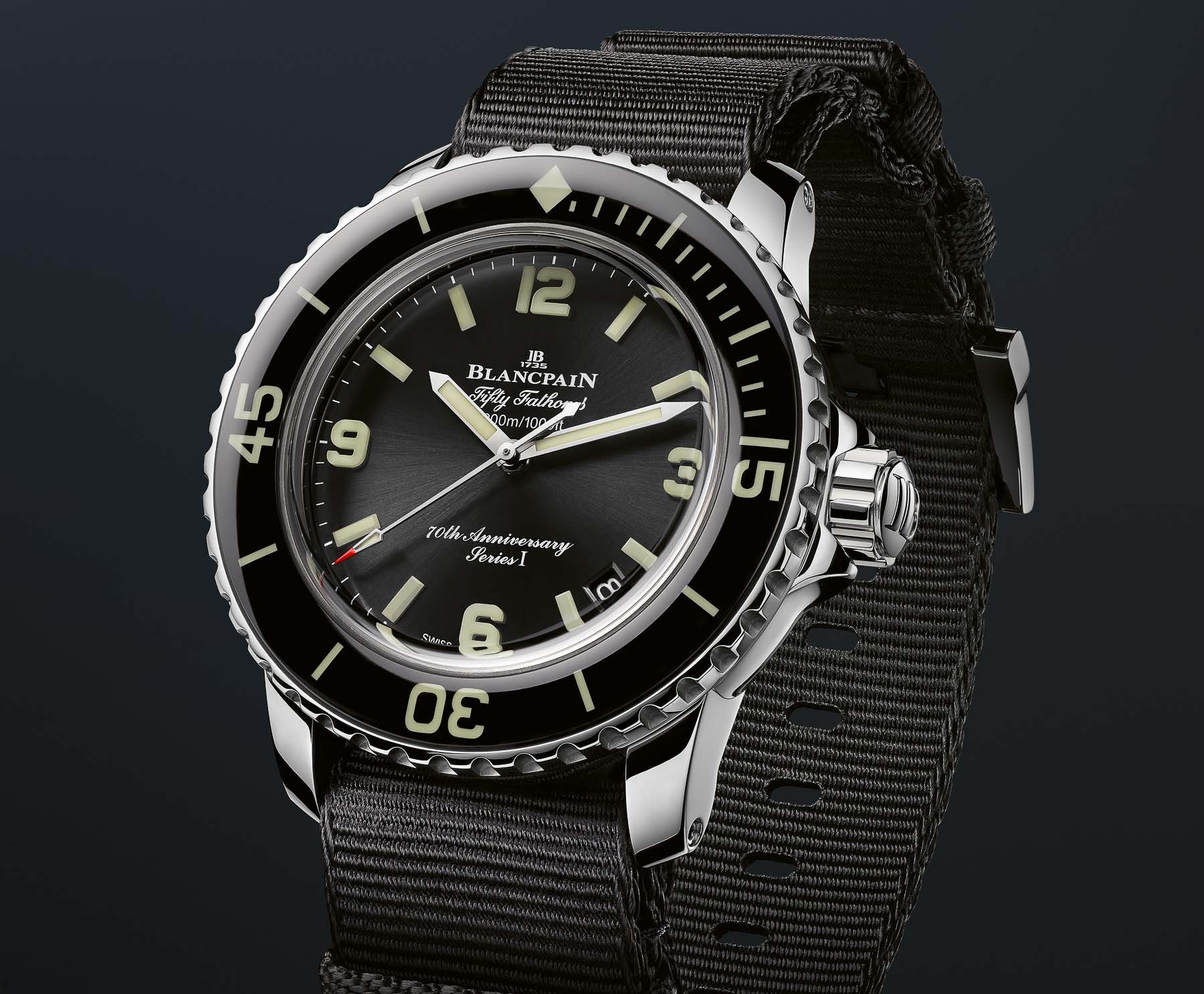 Another thing I wonder about is what effect this will have on Blancpain. Omega saw an increase in sales of the classic steel Moonwatch, but that's not just going by what Omega claims. We also measured it with data from Chrono24 and saw its positive effect on the Omega Speedmaster sales. Will the Blancpain × Swatch collab result in more Blancpain sales? A few extra Blancpain watches might get sold, but with prices starting at around €15,000 for the Fifty Fathoms, the brand is in a different league than Omega with the Speedmaster Professional.
At the very least, it will create more awareness of the Blancpain brand for a broader audience. Blancpain is indeed an underrated brand, but this collaboration and, crucially, putting more effort into the current Fifty Fathoms designs could put it back on watch enthusiasts' radars.
What are your thoughts on the Blancpain × Swatch collab? Let me know in the comments what you think it will look like and what effect it will have on the watch industry.
Update: The Blancpain x Swatch collab is out today (September 7, 2023), read all about it here.