And Here It Is! — The New Blancpain × Swatch Bioceramic Scuba Fifty Fathoms Collection
Swatch reimagines Blancpain's icon with five eye-catching and unlimited models
Surprise, surprise: the much-anticipated Blancpain × Swatch collaboration gets its big reveal a few days early! And here we thought we'd all have to wait until September 9th to get the official word on these watches. Well, the joke's on us! Meet the highly anticipated Blancpain × Swatch Bioceramic Scuba Fifty Fathoms collection. With these five new models, partners Swatch and Blancpain bring a vibrant and accessible twist to a legendary dive watch. Let's "sea" if they can "slug" it out of the park!
Now, don't let the homophone, misplaced baseball metaphor, and eye-roll-inducing pun confuse you. These watches are all about paying tribute to Earth's oceans, the divers and watches that brave them, and the fascinating creatures within them. Each variant takes its name from one of our five oceans and uses the famous Fifty Fathoms as a canvas for characterful colorways. And where do these colorways come from? From nudibranchs — or, for many of us laypeople, "sea slugs." With that in mind, let's get a quick rundown of all five, what they have in common, and their differences too.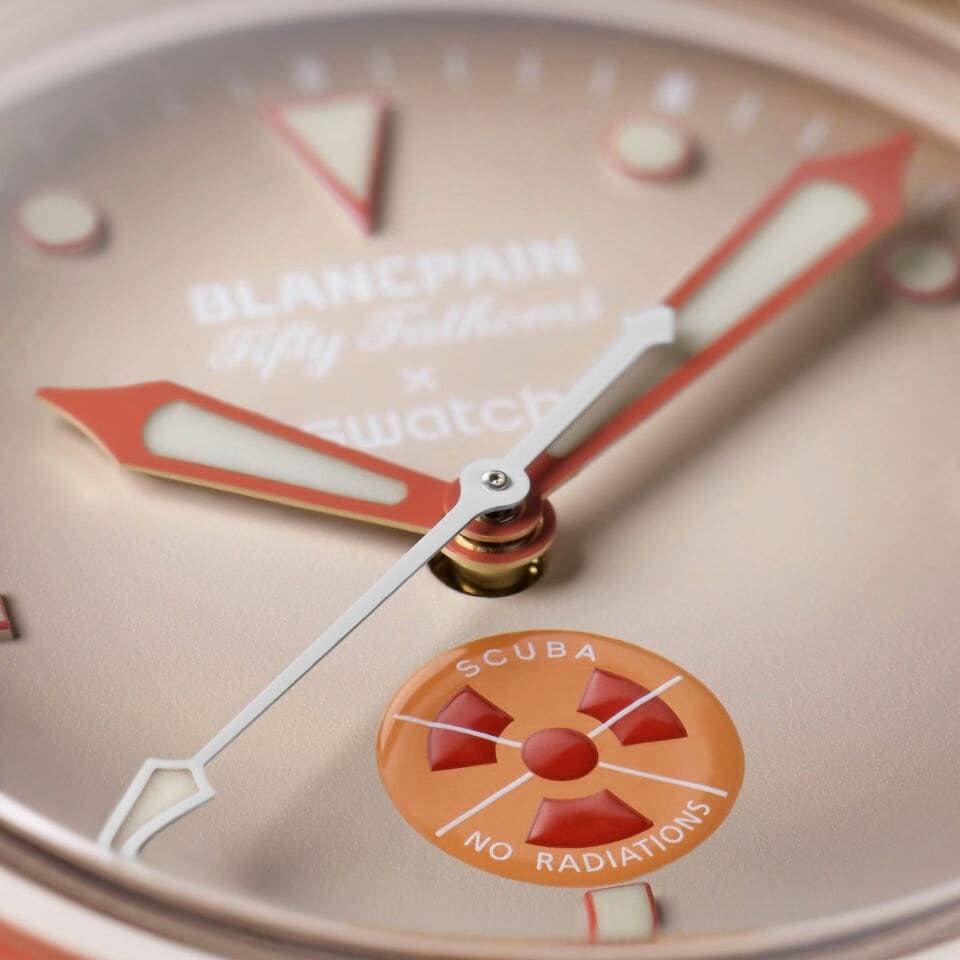 Blancpain × Swatch Bioceramic Scuba Fifty Fathoms
All of the Blancpain × Swatch Bioceramic Scuba Fifty Fathoms models feature a 42.3mm case with a 48mm lug-to-lug, 14.4mm thickness, and a 21.2mm lug spacing. Size-wise, that's between the standard 45mm Fifty Fathoms and several popular 40mm limited editions. In January, Blancpain also introduced a 42.3mm model to celebrate the Fifty Fathoms' 70th anniversary. It's nice that Swatch chose this previously exclusive case size as it very well may be the sweet spot. As the series name indicates, these cases are made of Swatch's Bioceramic material. Consisting of two-thirds ceramic and another third castor-oil-based material, it's the same matte-finished medium we saw with the MoonSwatch. Notably, though, the cases this time are water resistant to 91 meters — fifty fathoms — and have the Swatch logo emblazoned on the side. How very Blancpain-esque!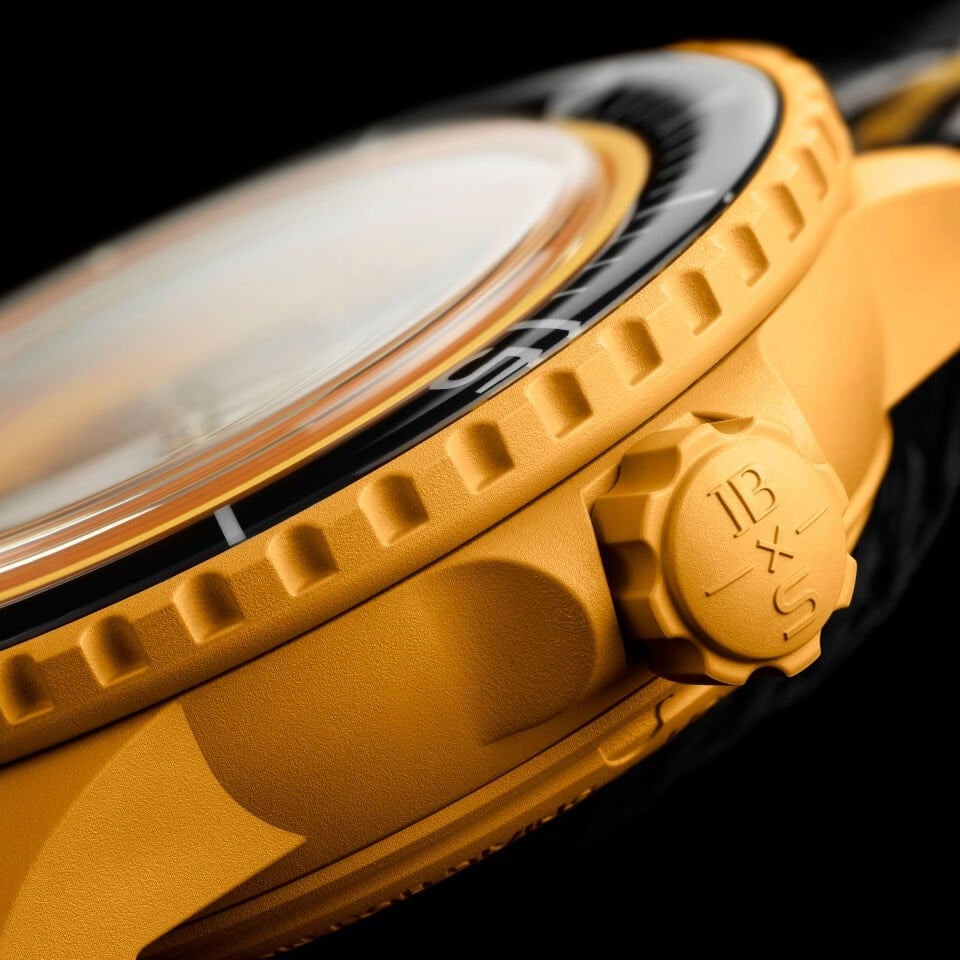 Topping the case is a unidirectional dive bezel with a similar glossy, bulbous look as that of the standard Fifty Fathoms. The insert has Grade A Super-LumiNova markings and is made of "biosourced" glass with a scratch-resistant coating. The case's front and rear crystals are both in the same material, so, while we don't have sapphire, at least the ultra-scratch-prone plastic crystal from the MoonSwatch stayed home. Inside the case, all variants house a vignette dial, lumed indices and hands, and Swatch's automatic Sistem51 movement.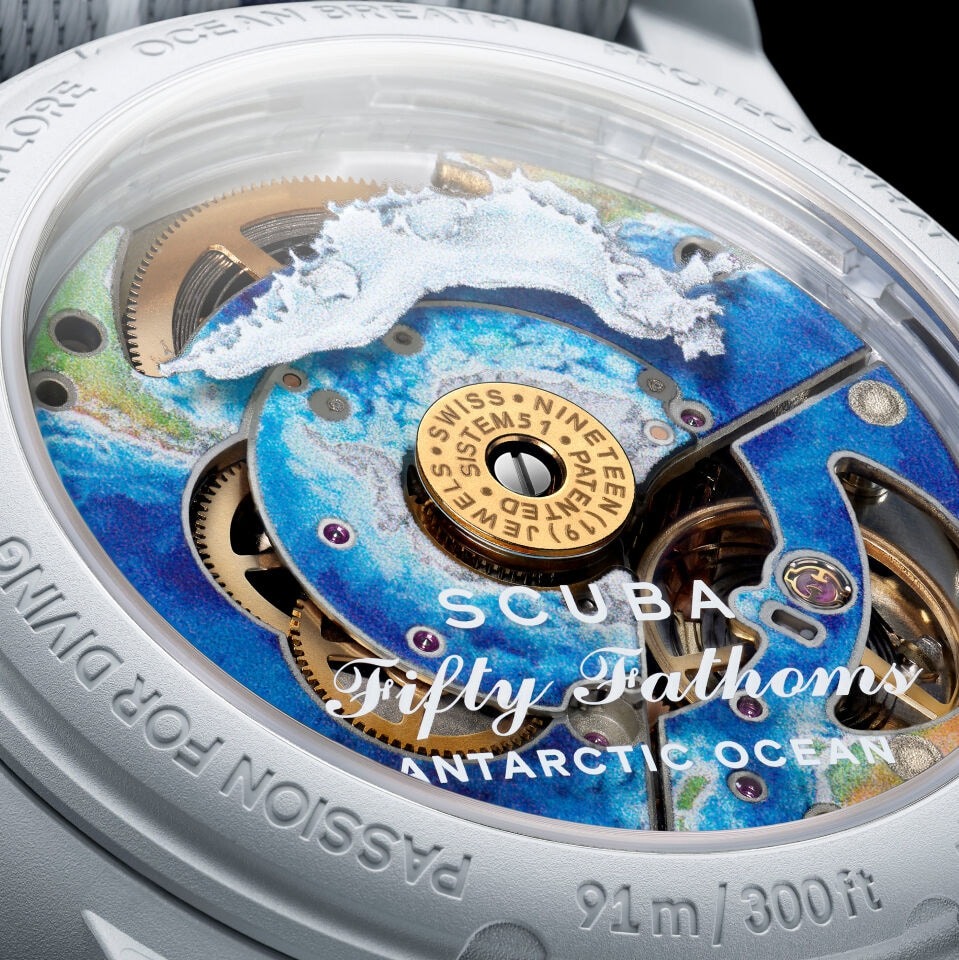 Including a lone central screw, this 19-jewel caliber consists of just 51 parts, all assembled by machines. In addition, it beats at 21,600vph and offers a 90-hour power reserve and colorful decoration. On the plates, we have a printed depiction of an ocean and nearby land masses from above. Then, on the transparent full rotor, we see "Scuba Fifty Fathoms" along with each variant's ocean designation and respective spirit animal. As mentioned, the latter inspires each model's colorway, including the case, dial, bezel, hands, and NATO strap.
Points of difference
There are several differences within the Scuba Fifty Fathoms lineup too. Instantly, we notice two main dial layouts. One has the look of today's standard Fifty Fathoms, featuring eight triangular indices, Arabic 3, 6, 9, and 12 numerals, and a four-thirty date window. The other layout is a more "typical" one, you could say, with a combo of round and rectangular indices, an inverted triangle at 12 o'clock, and no date. Notably, however, this latter style has different text placement, the older Blancpain wordmark, and some vintage throwbacks above 6 o'clock. Now, let's check out each Scuba Fifty Fathoms model in more detail, starting with the "contemporary-dial" variants.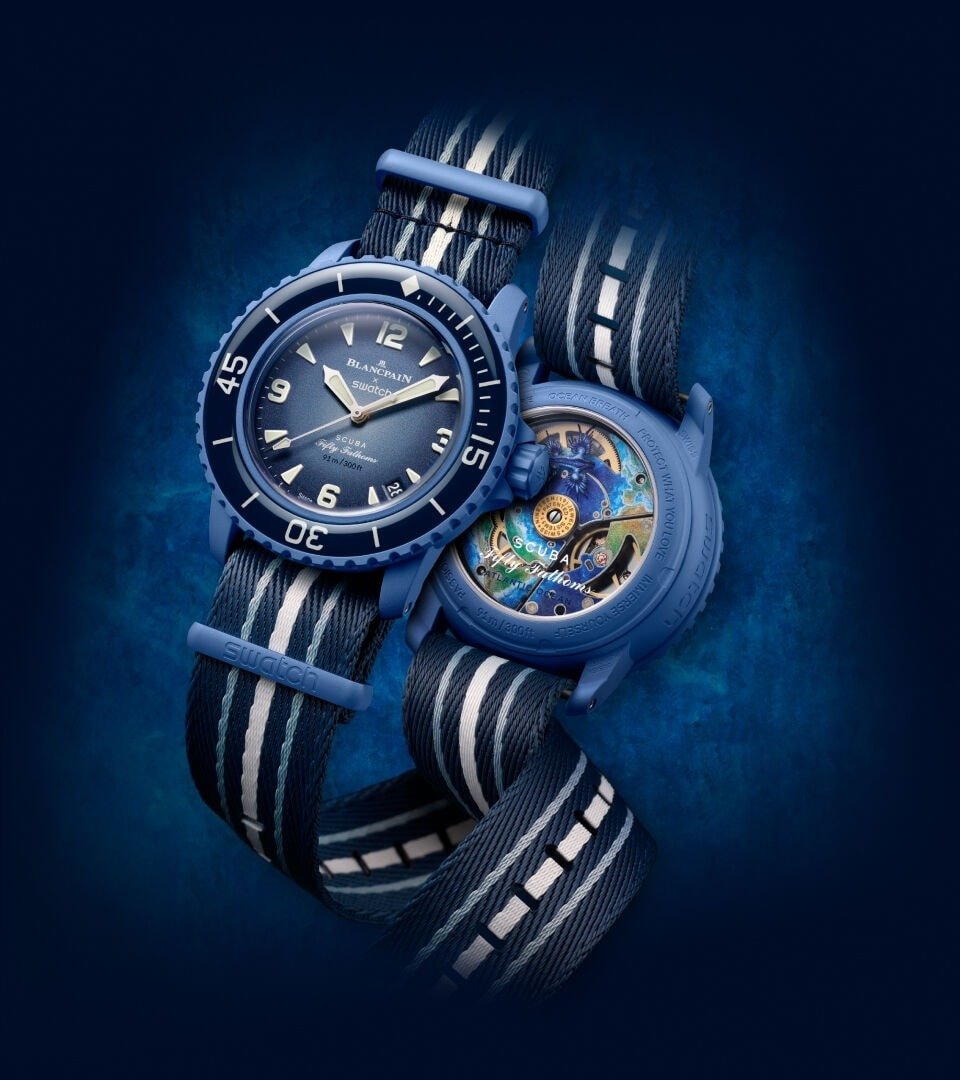 Blancpain × Swatch Scuba Fifty Fathoms Atlantic Ocean
First up is the Scuba Fifty Fathoms Atlantic Ocean, featuring a very blue (da ba dee, da ba dye) color scheme. With its royal blue case, navy dial, and even deeper blue NATO strap, it might seem reminiscent of the MoonSwatch Mission to Neptune. Swatch, however, says these colors mimic the Glaucus atlanticus, quite a majestic-looking sea slug if there ever were one. Like all of the chosen nudibranchs for this series, the "blue dragon" is native to this ocean, where it floats upside down on the surface. The Atlantic Ocean model has a nicely versatile look thanks to the clean white accenting all the blue. I imagine that this one will be quite a hit.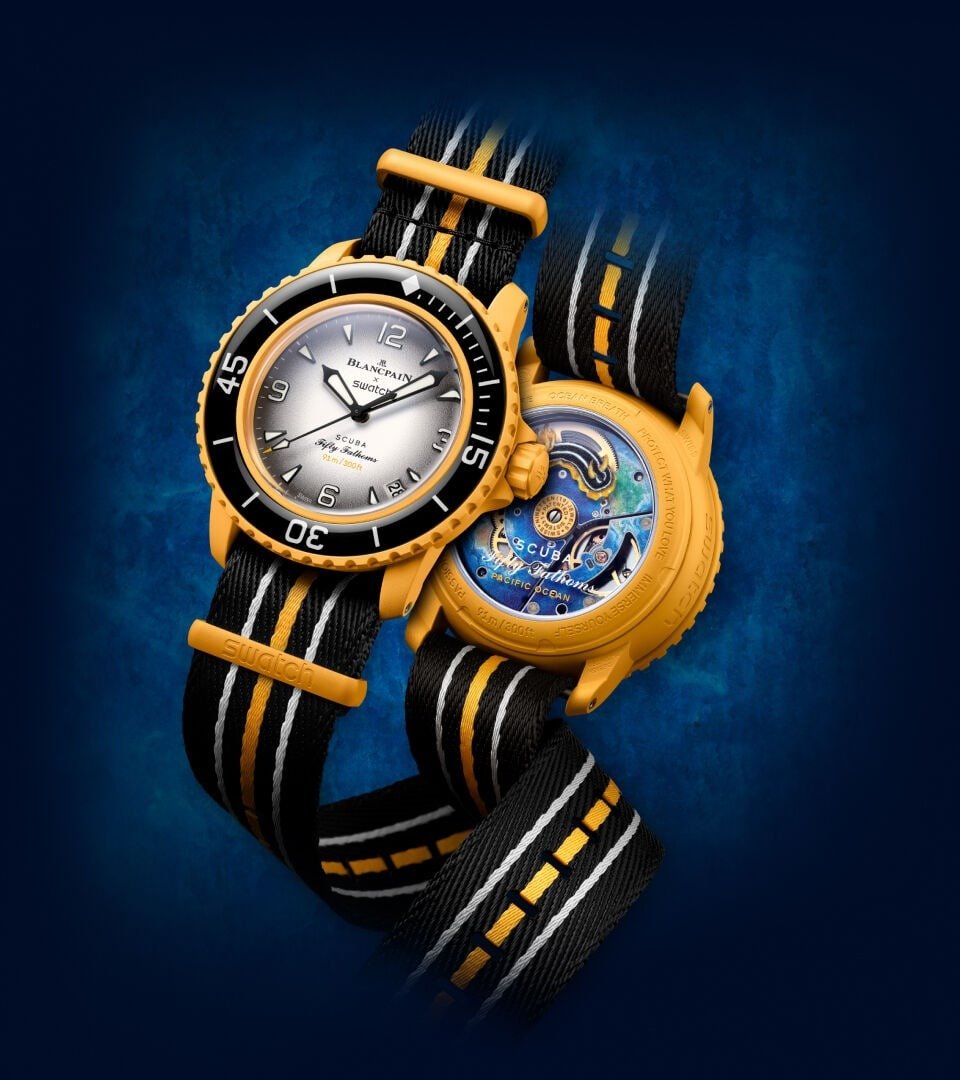 Pacific Ocean
Hopping over to the Pacific, this Scuba Fifty Fathoms model's color palette comes courtesy of the Chromodoris kuiteri. I must say, Swatch really nailed it with one. It features an orange-yellow case that mimics this nudibranch's "border" and a black bezel and strap with white accents that reflect its mantle. Furthermore, the orange-yellow stripe on the strap reminds me of its horn-like rhinophores. Finally, the white-to-black gradient dial, black hands and indices, and white lume bring everything together.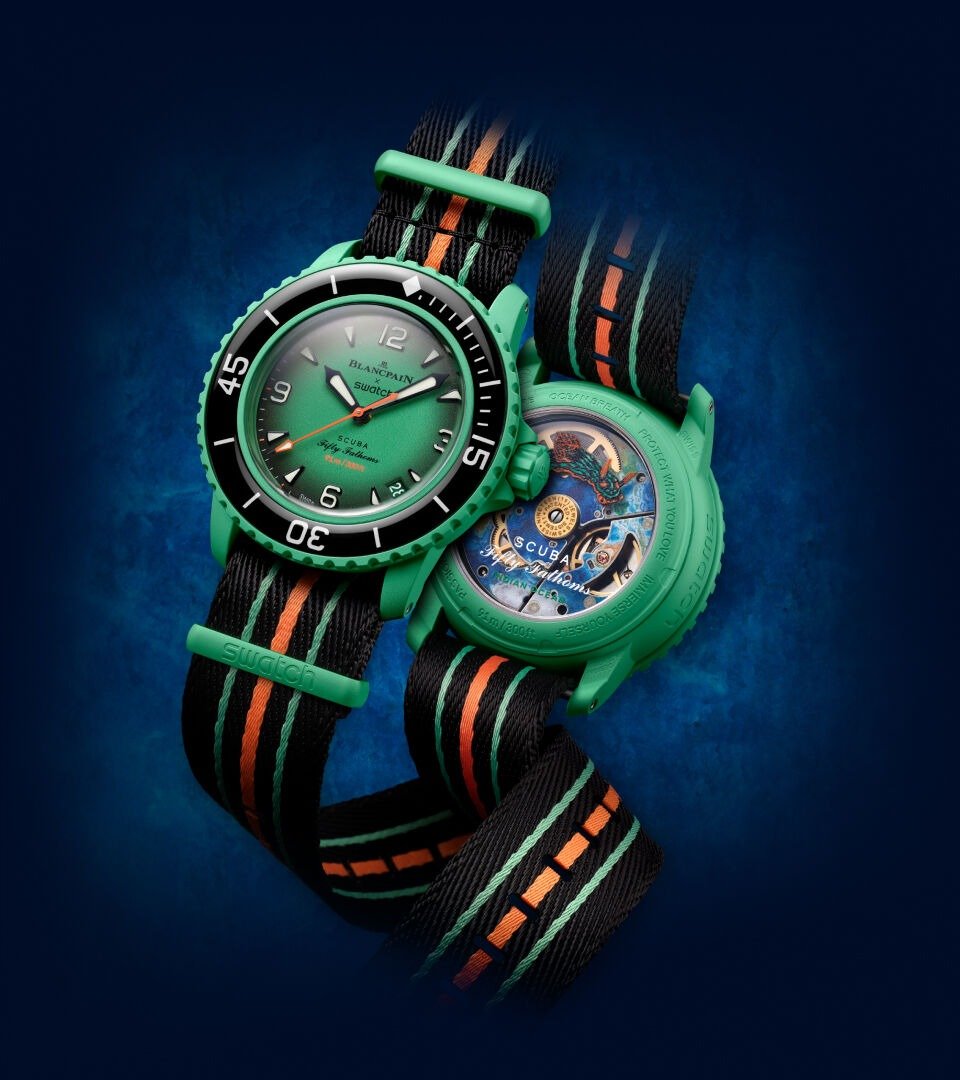 Indian Ocean
To round out the "contemporary-dial" models, we have the Scuba Fifty Fathoms Indian Ocean edition. This version takes its colors from the Nembrotha kubaryana, resulting in a medium-green dial and case with a green-and-orange-striped black NATO strap. As on the Atlantic Ocean edition, the seconds hand mirrors the central stripe on the strap. Uniquely, though, it matches the printed depth rating as well. The date wheel here is green to blend in with the dial, and it's nice that the other two models have matching discs too.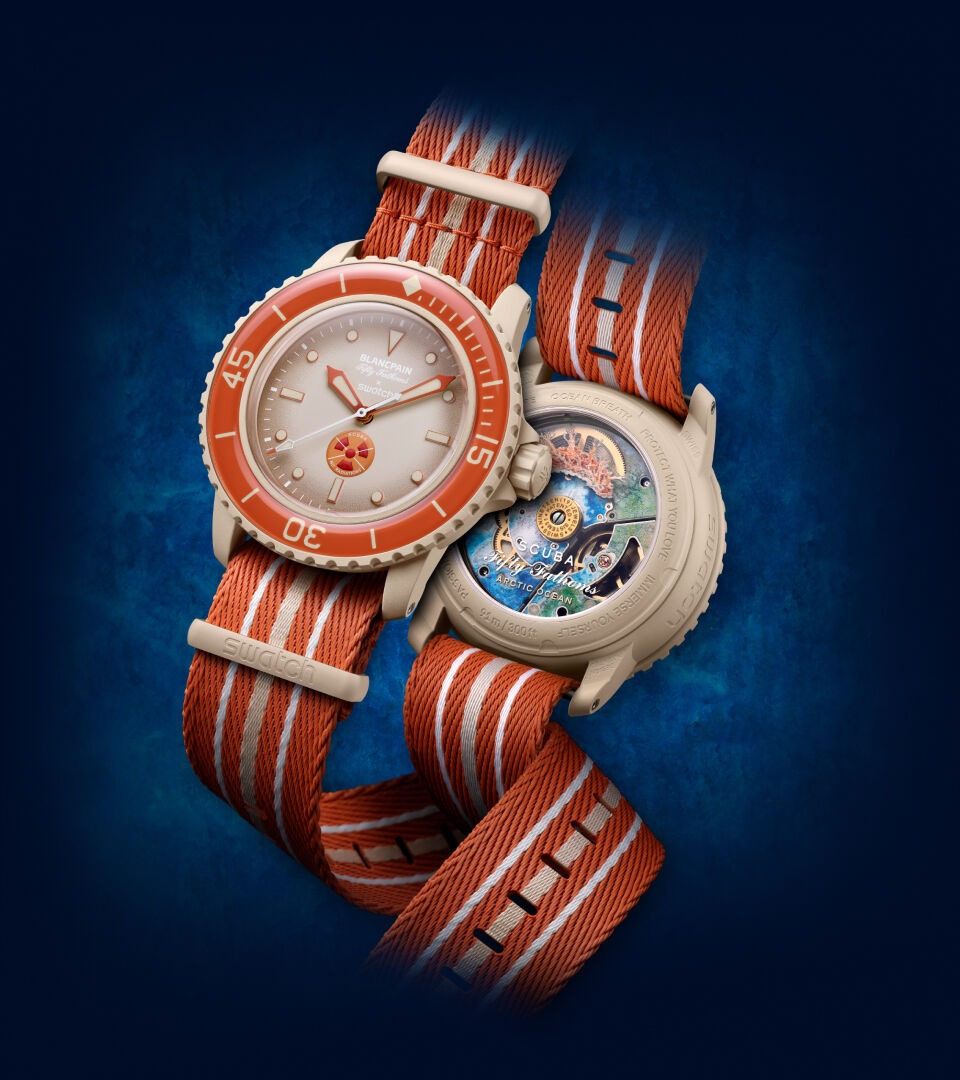 Blancpain × Swatch Scuba Fifty Fathoms Arctic Ocean
Moving on to the more "vintage-looking" dails, we come to my favorite of all five models, the Arctic Ocean version. This one takes inspiration from the Dendronotus frondosus, resulting in a beige and orange colorway. Admittedly, the colors look more saturated here than on the nudibranch itself. Nevertheless, to my eye, this is such a natural-looking and aesthetically pleasing combination. Not to mention, the "No Radiations" logo above the 6 o'clock marker is a phenomenal nod to 1960s Fifty Fathoms models. In those days, Blancpain began moving away from harmful radium lume and used this logo to indicate that. We've also seen it on one of the most popular Fifty Fathoms limited editions of recent years, the 40.3mm No Rad. Notably, the lume on this Scuba Fifty Fathoms Arctic Ocean is a nicely subtle shade of beige rather than bright white.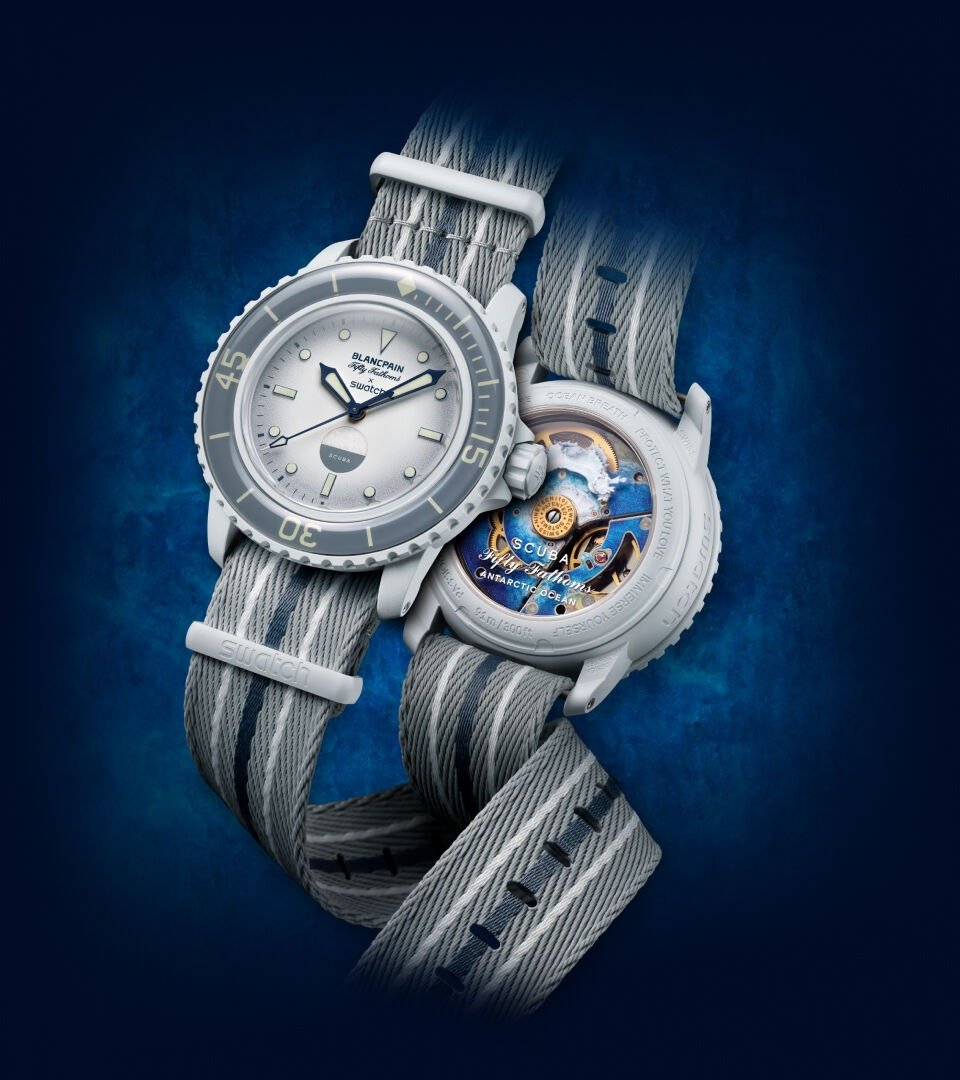 Antarctic Ocean
The last of the five models in this release is the Scuba Fifty Fathoms Antarctic Ocean. This one features an ice-white case inspired by the Tritoniella belli. As this nudibranch is the least colorful of the five, going with gray for the bezel insert and main strap color seems logical. As on the Arctic Ocean model, the lume here is light beige. However, the hands, text, and index surrounds are all in a complementary blue. Though this color is more of an artistic choice than anything else, it suits the aesthetic to a tee. If nothing else, it could represent the blue of the ocean, right? Finally, a noteworthy addition to this dial comes in the form of a moisture indicator that can detect the presence of water inside the case. Once more, this is a nod to historical Fifty Fathoms models, specifically, mil-spec versions.
Pricing, availability, and final thoughts
There we have it, Fratelli — the new Blancpain × Swatch Bioceramic Scuba Fifty Fathoms collection. Now, though the official reveal came a few days in advance, these watches will not go on sale until September 9th. They will be available exclusively at selected brick-and-mortar Swatch stores for a price of €390 / £340 / US$400. Additionally, while these are not limited editions, Swatch has indicated a limit of one watch per person, per day. Whether or not you'll be able to buy one any more easily than a MoonSwatch at launch, however, remains to be seen.
Potential hype aside, as soon as word broke about these Scuba Fifty Fathoms models, various opinions emerged about the use of the Sistem51 movement. Some applauded that Swatch didn't go the battery-powered route, in keeping Blancpain's "no quartz" policy. Others, however, lamented that their Sistem51-powered watches were lying broken and unfixable due to the movement's construction. At this price, what do you think? Are these watches tempting, or would you have preferred less expensive quartz options? And what do you think about the inspiration and colors? As always, we'll be looking forward to your comments below!
For more information, visit the official Swatch website.