Hands-On With The New Blancpain Tribute to Fifty Fathoms No Rad
Limited to 500 pieces, probably gone in a flash
The Blancpain Fifty-Fathoms from 1953 is the first modern dive watch. There were dive watches before but the introduction of the Fifty-Fathoms in 1953, set a new standard.
Blancpain's "Fifty Fathoms" watch was originally designed for the French navy. French officers Bob Maloubier and Claude Riffaud started to work together on requirements in 1952 for a watch to be used during under-water missions. Diving watches at the time were essential tools, upon which men depended. In those days, they could make the difference between life and death.
After testing some watches, they were quite disappointed with the results. That was until they met Jean-Jacques Fiechter, CEO of Blancpain from 1950 till 1980 and a passionate diver himself. He understood the need for a serious dive watch. Even before Rolex came up with its iconic Submariner (1954) and Omega with its Seamaster 300 (1957), Blancpain managed to introduce a watch up to the task. The French Navy duly agreed.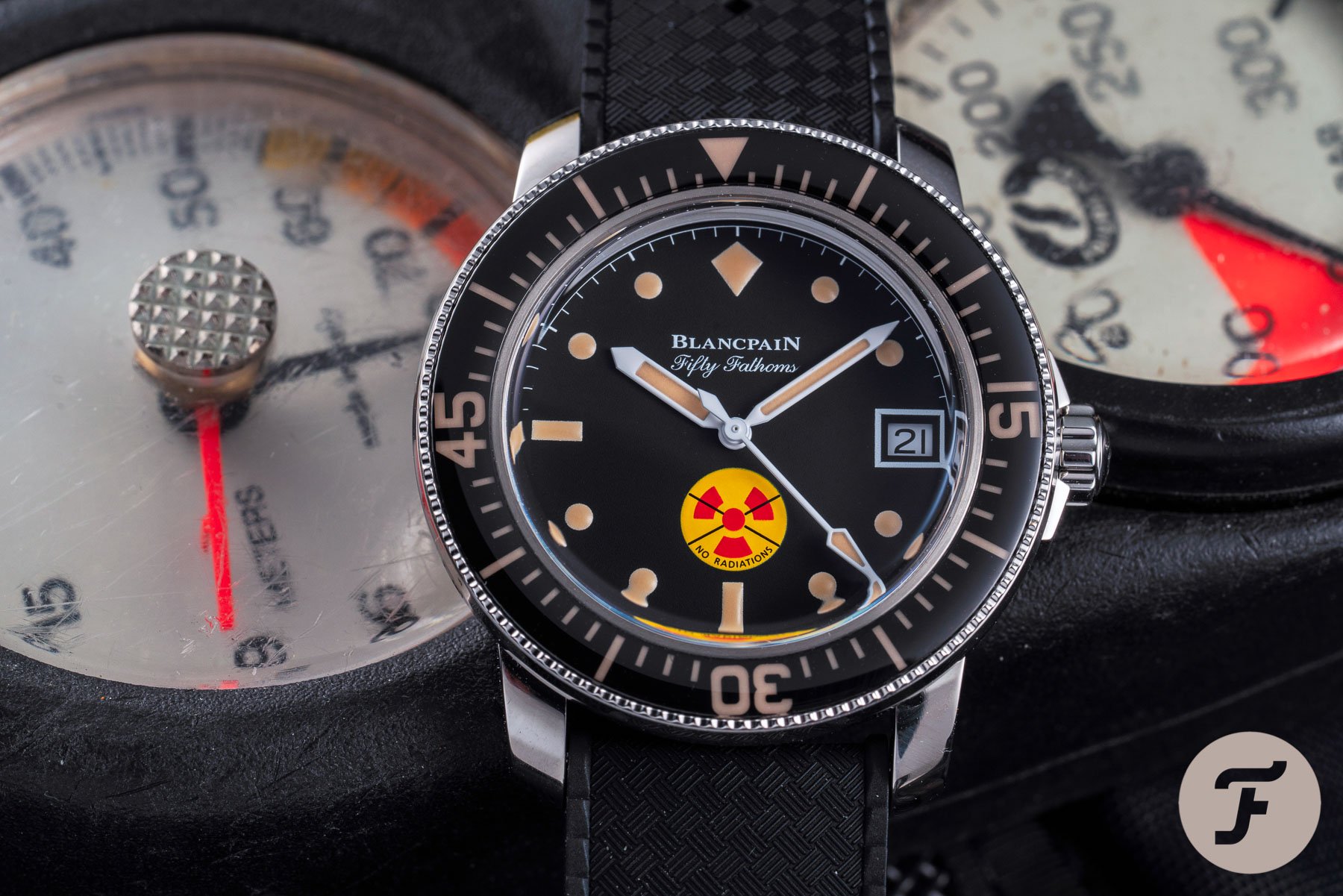 Blancpain Tribute to Fifty Fathoms No Rad
Collectors all over the world admire the Fifty-Fathoms, modern and vintage. It has become something of a cult watch — a serious dive tool and, yet, as much a collectible in its own right. That's thanks in part to its intriguing history of subtle variations. Thanks to today's release, that history is embellished further.
Today, Blancpain introduces its Tribute to Fifty Fathoms No Rad. It is a limited-edition of only 500 pieces created for those who appreciate a little nod to history.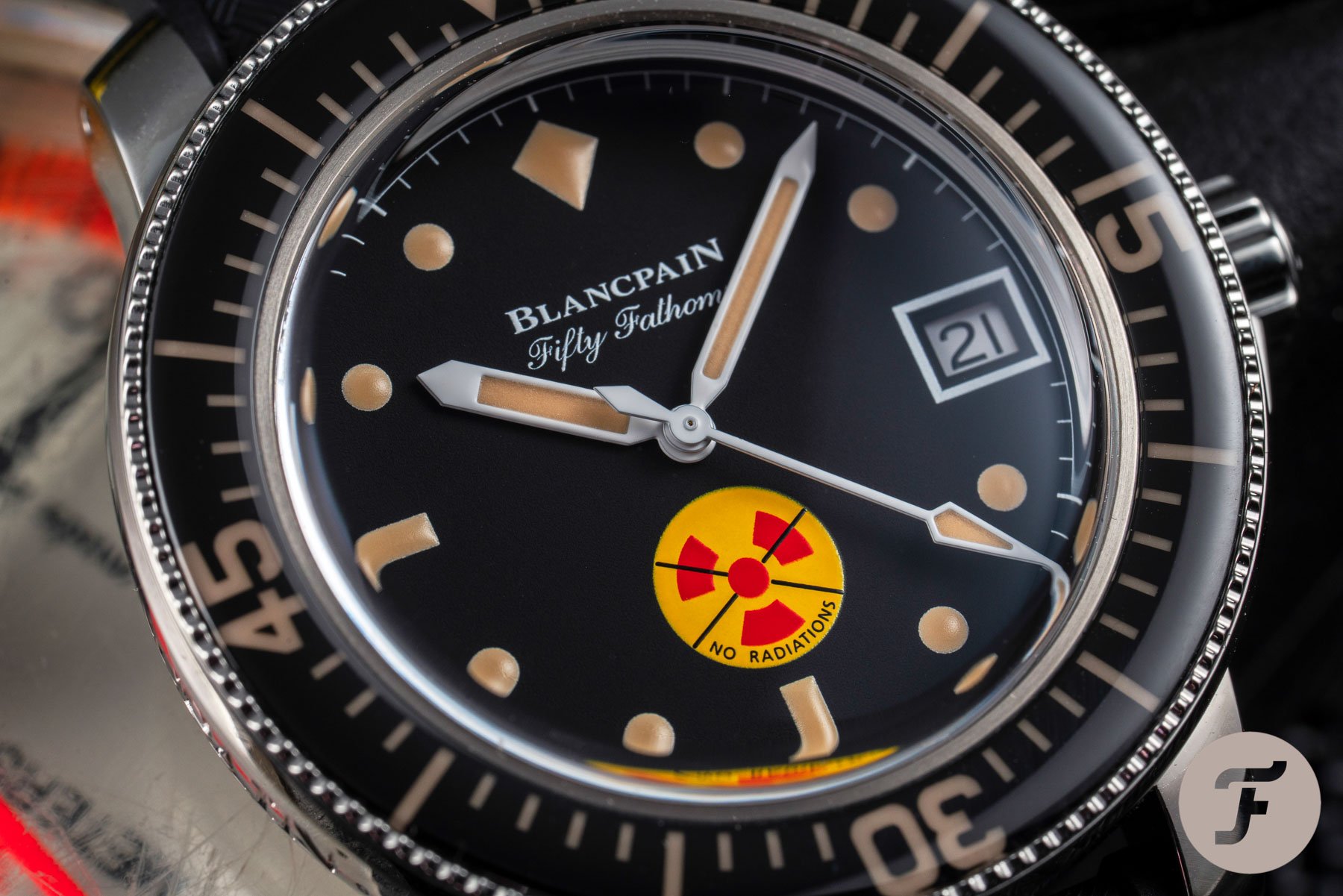 In the 1960s, the Fifty Fathoms dive watch could also be found on the wrist of the German Navy's Combat Swimmers (Kampfschwimmer).
It had this stamp on the dial, indicating that radium was not used for its luminescence.  At that time, people were aware of the danger of radioactive material like radium and the risk it posed to people's health. A special symbol, consisting of three red segments on a yellow background with a black cross, accompanied by the words "no radiations" ensured the German Kampfschwimmers didn't have to fear the effects of the luminescent material.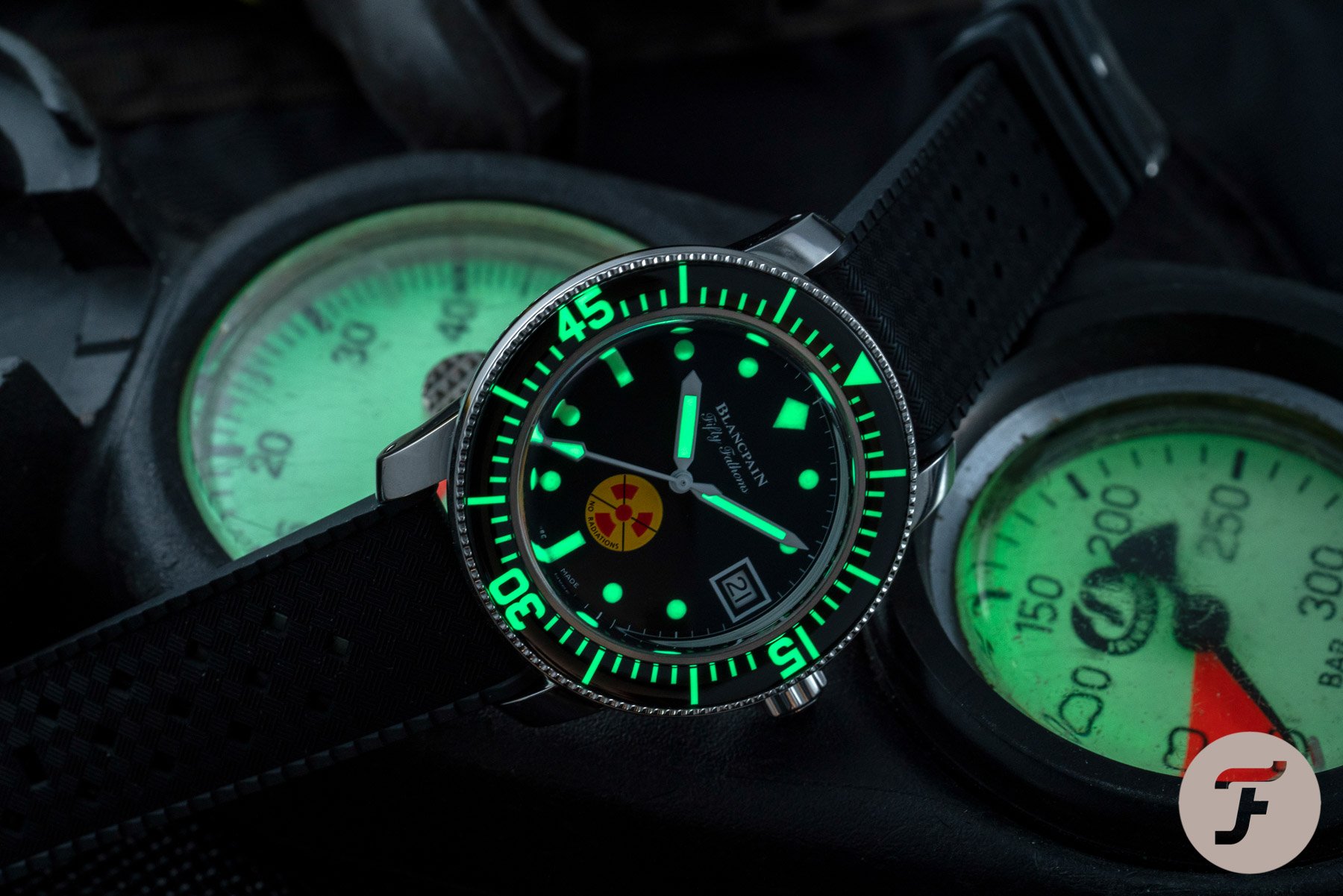 Fifty-Fathoms No Rad
Already in 2010, Blancpain introduced a Fifty-Fathoms with this "No Rad" or actually "BUND No Rad" insignia. "Bund" referring to "Bundeswehr", the German armed forces. It was also limited to 500 pieces, but certainly a bit different from what we have here today. This 40.3mm diameter Blancpain Tribute to Fifty Fathoms No Rad has a matt deep black dial, with beige-colored Super-LumiNova applied hour markers. In the same style as the original "No Rad". Also, the lume of the hands and bezel scale have the same beige color. It gives the Blancpain Tribute to Fifty Fathoms a vintage look, which will surely be divisive, but I think works nicely in this context. The highlight is of course the "no radiations" logo at 6 o'clock, which makes this watch stand out.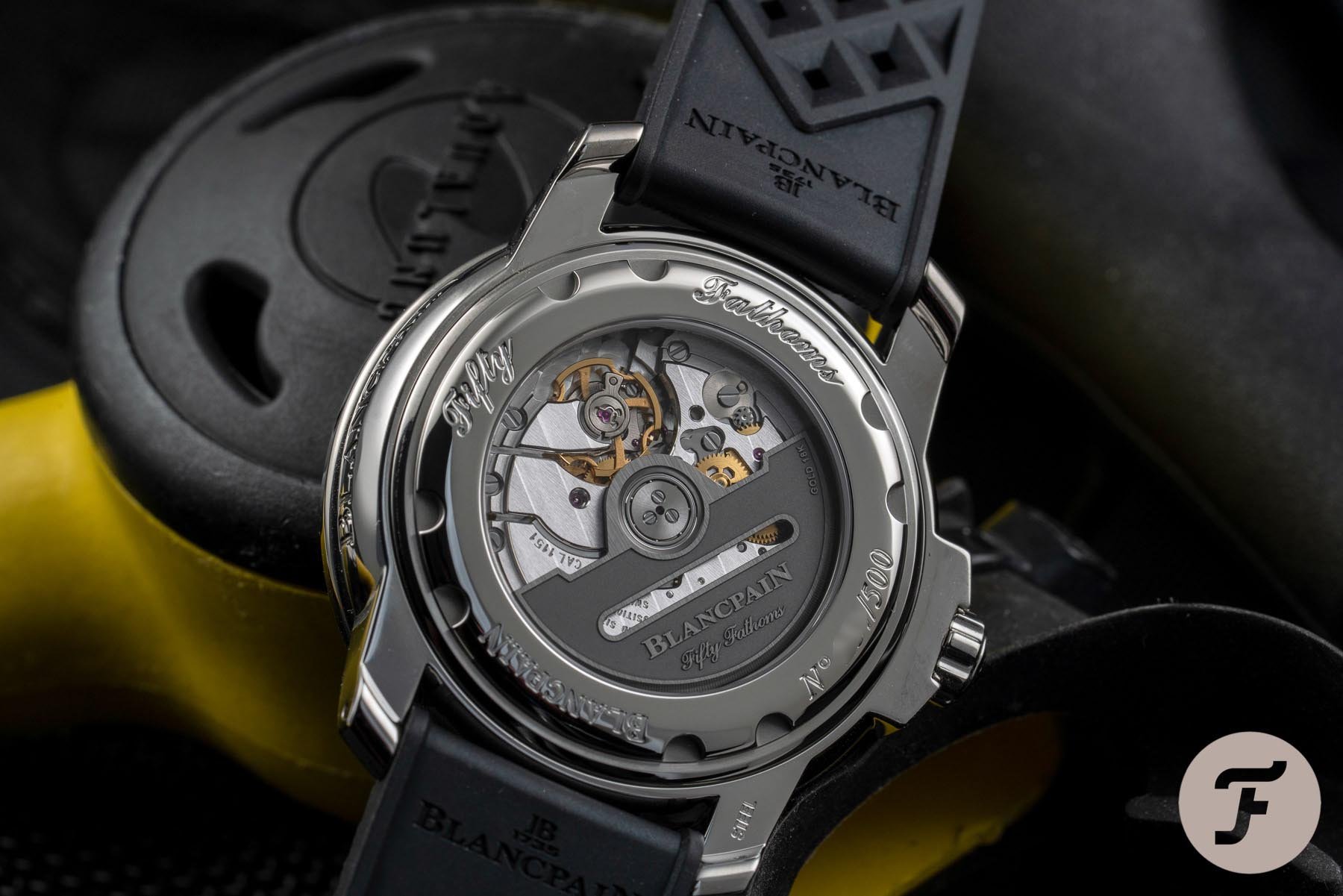 Caliber 1151
Inside the Blancpain Tribute to Fifty Fathoms No Rad is their caliber 1151 movement. It can be admired through the transparent case back of the watch. This self-winding caliber 1151 has a silicon balance spring and provides a four-day power reserve. The rotor has a cartouche-shaped aperture. This is also a little reference to the very first Fifty Fathoms watches. As you can see in the picture above, the decoration is very attractive. Côtes de Genève, beveled angles, perlage, and an 18ct gold rotor are all employed. The rotor is coated with a specific platinum alloy to obtain a darker color.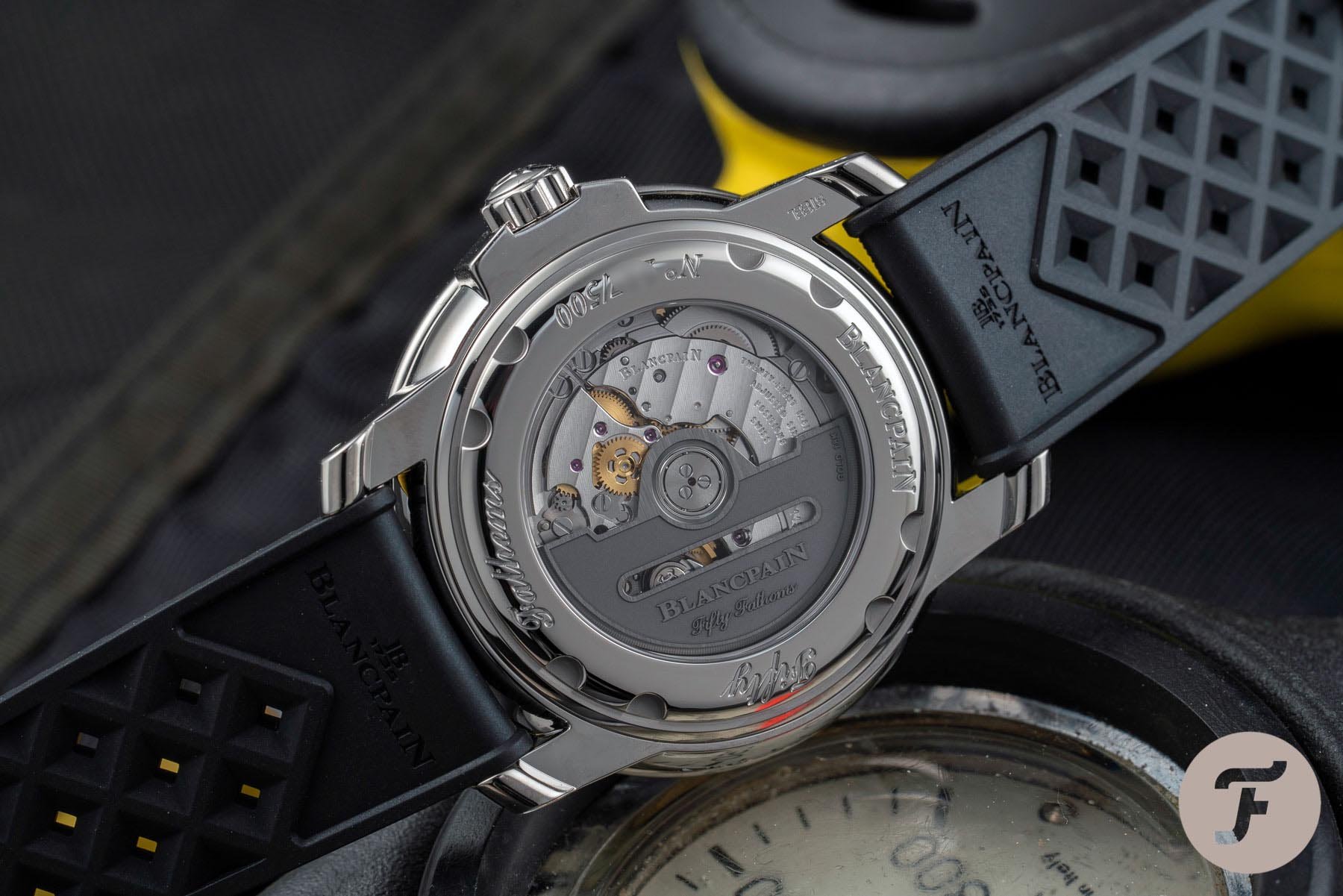 Blancpain's caliber 1151 consists of 210 parts. Interesting to know is that movement manufacturer F. Piguet developed movements for Blancpain, but recently everything is under one roof in Villeret, Switzerland. The name F. Piguet isn't used anymore and everything is now "Blancpain". However, at Blancpain in Villeret, there's still movement production for other brands, including Breguet and Audemars Piguet, for example.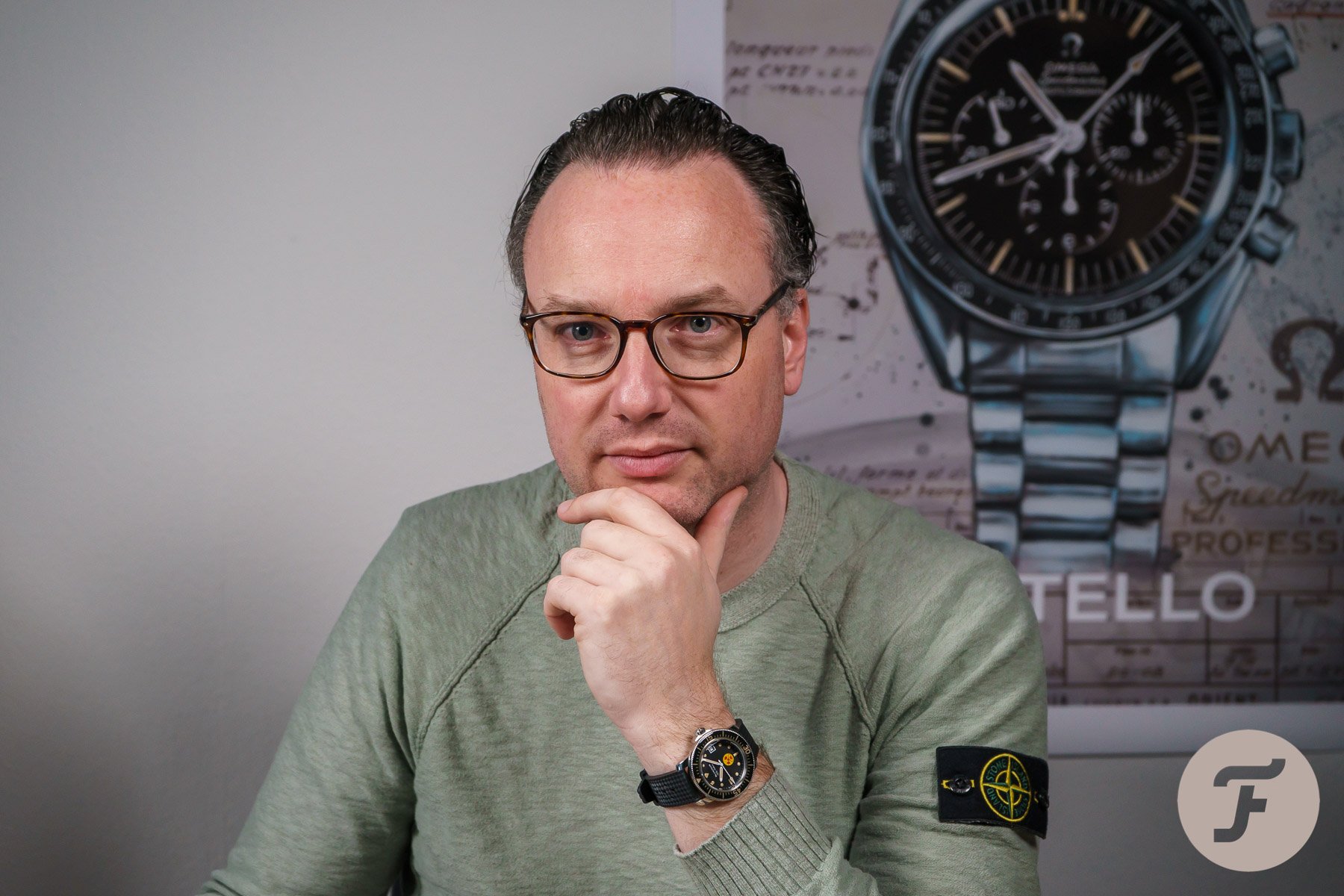 The Tribute to Fifty Fathoms No Rad on the wrist
Blancpain sent us the Tribute to Fifty Fathoms No Rad for review and, honestly, I couldn't wait for it to arrive in our office. The Fifty Fathoms remains to be something special, even when you've been collecting for over two decades. It is an amazing watch with a great presence. After the unboxing, I found myself staring at it for a few moments. It is hard to believe the design is nearly 70 years old.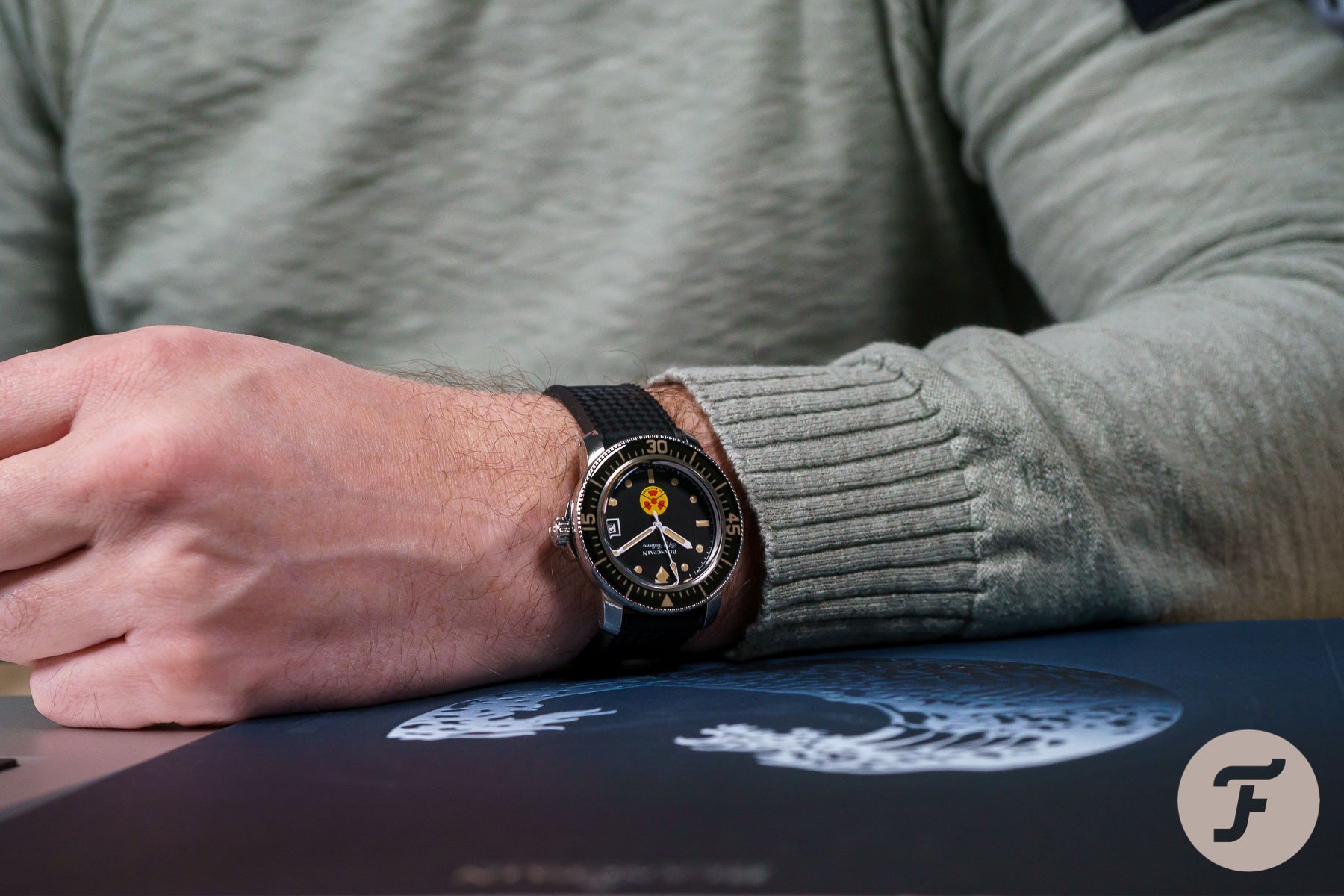 Modest size
One thing that differentiates the Blancpain Tribute to Fifty Fathoms No Rad from most modern divers watches, is its eminent wearability. The diameter of the stainless steel case is 40.3mm and it measures 13.23mm in height. After putting the Blancpain on the wrist, I was amazed by how well it fits. A 40.3mm diameter is pretty modest for a diver's watch, compared to some of the competition out there.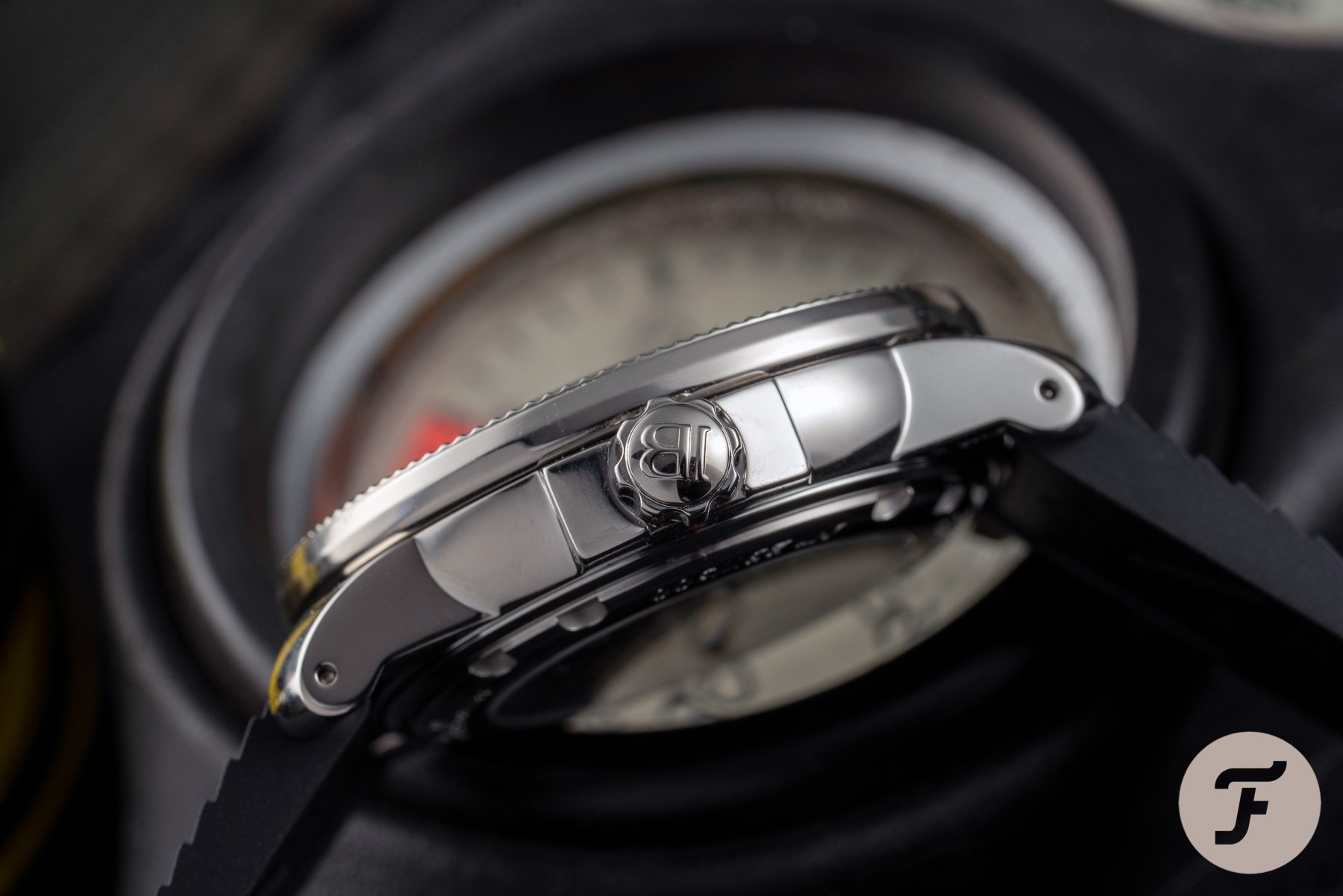 A 45mm case diameter is not uncommon for divers watches, and even Blancpain has those in its collection. But not the Tribute to Fifty Fathoms No Rad. This watch seems to have the classic proportions, that we also find on other classic-looking Fifty Fathoms editions, including the one they did with Hodinkee.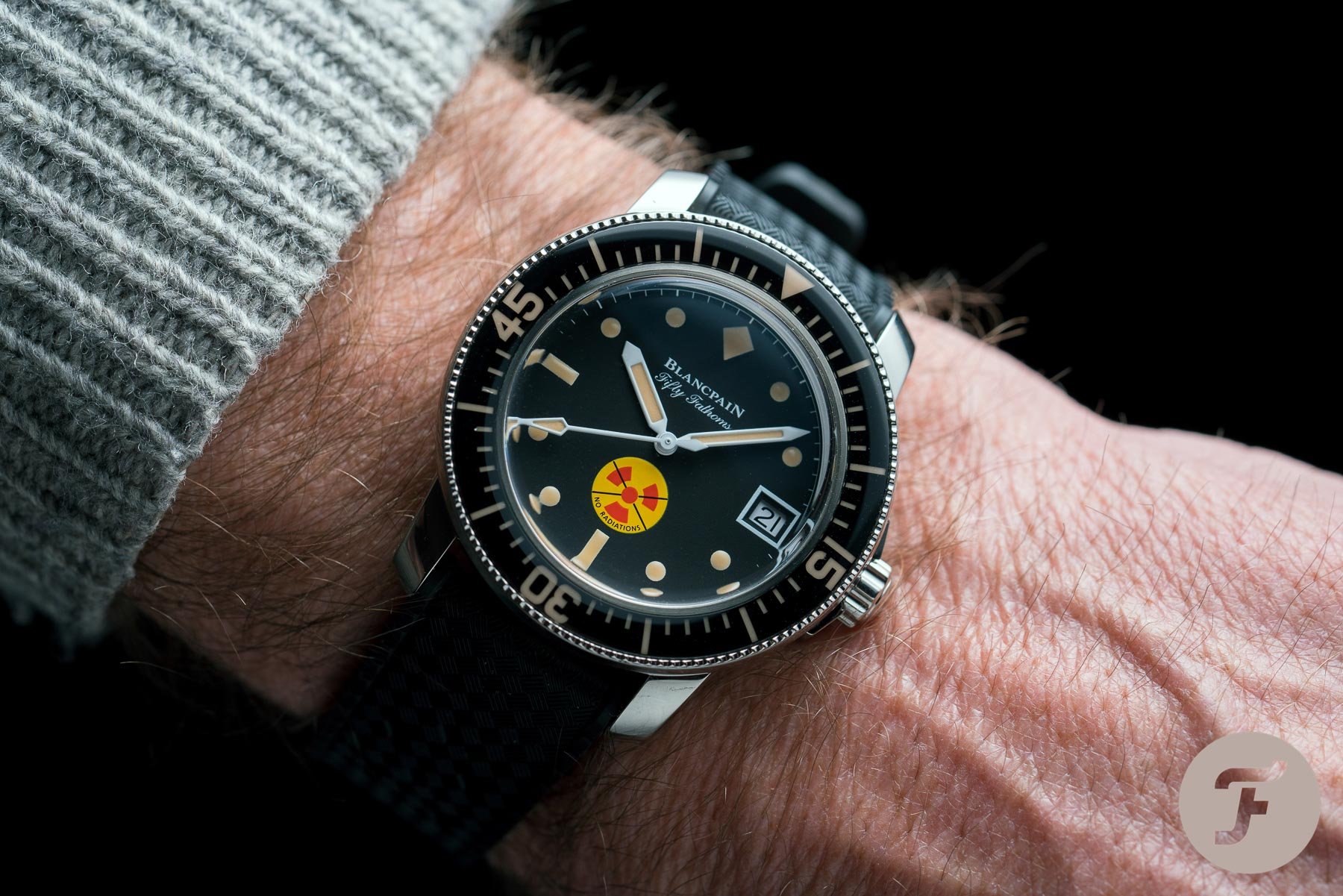 Faux patina and white hands
As mentioned above, the dial and hands have beige-colored Super-LumiNova applied. The same goes for the diving scale bezel. In one of the pictures above, you can see how it appears in the dark when charged. Some people will probably dislike the beige color, also "faux patina", but I happen to like it. It suits the watch well. The three hands are in white, which gives quite a bit of contrast with the beige.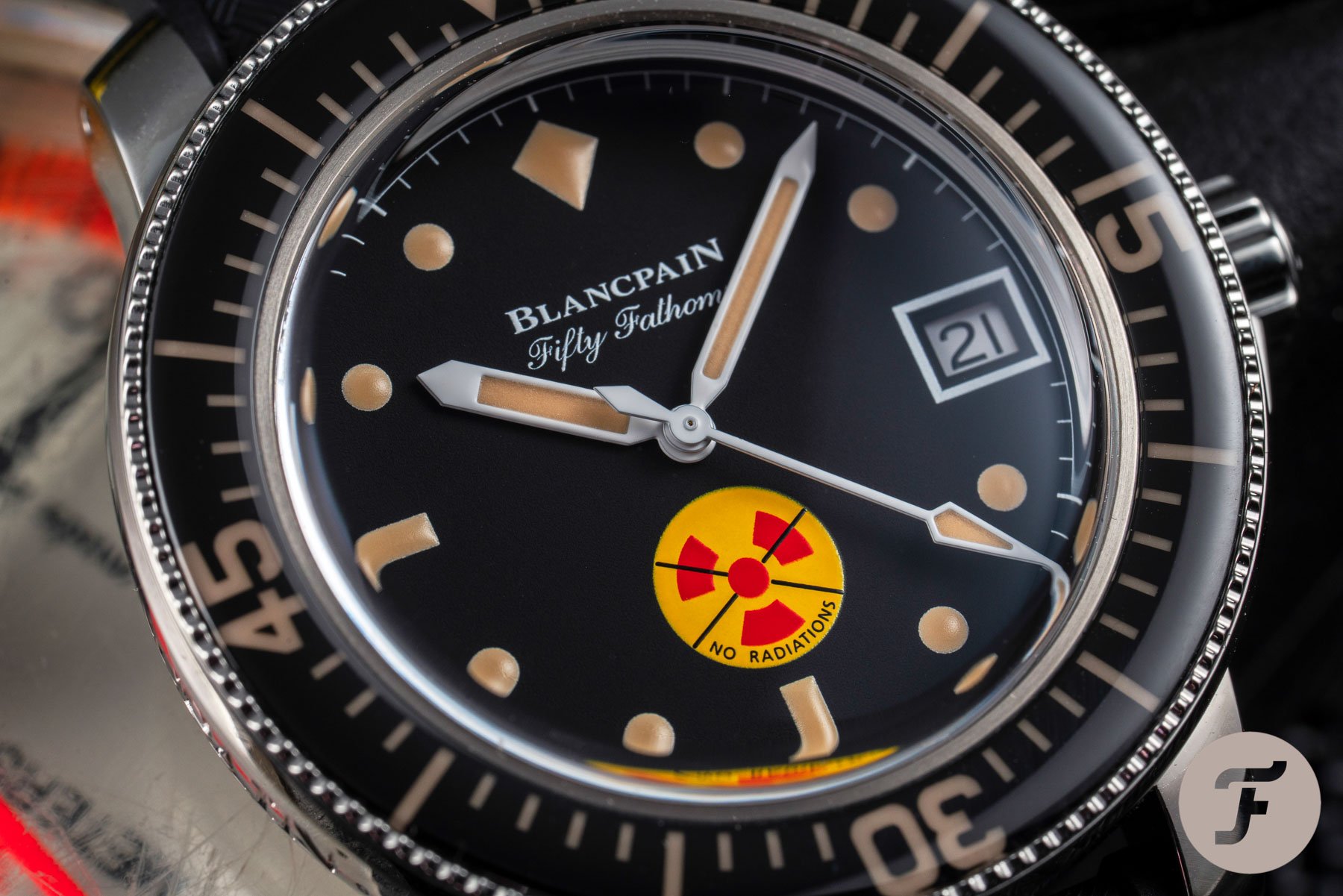 The border around the date window at 3 o'clock is also in white, just like the printing of Blancpain and Fifty Fathoms. The "No Radiations" emblem at 6 o'clock brings some color to the entire ensemble, and I like it better than the water-resistant indicator on some of the other models.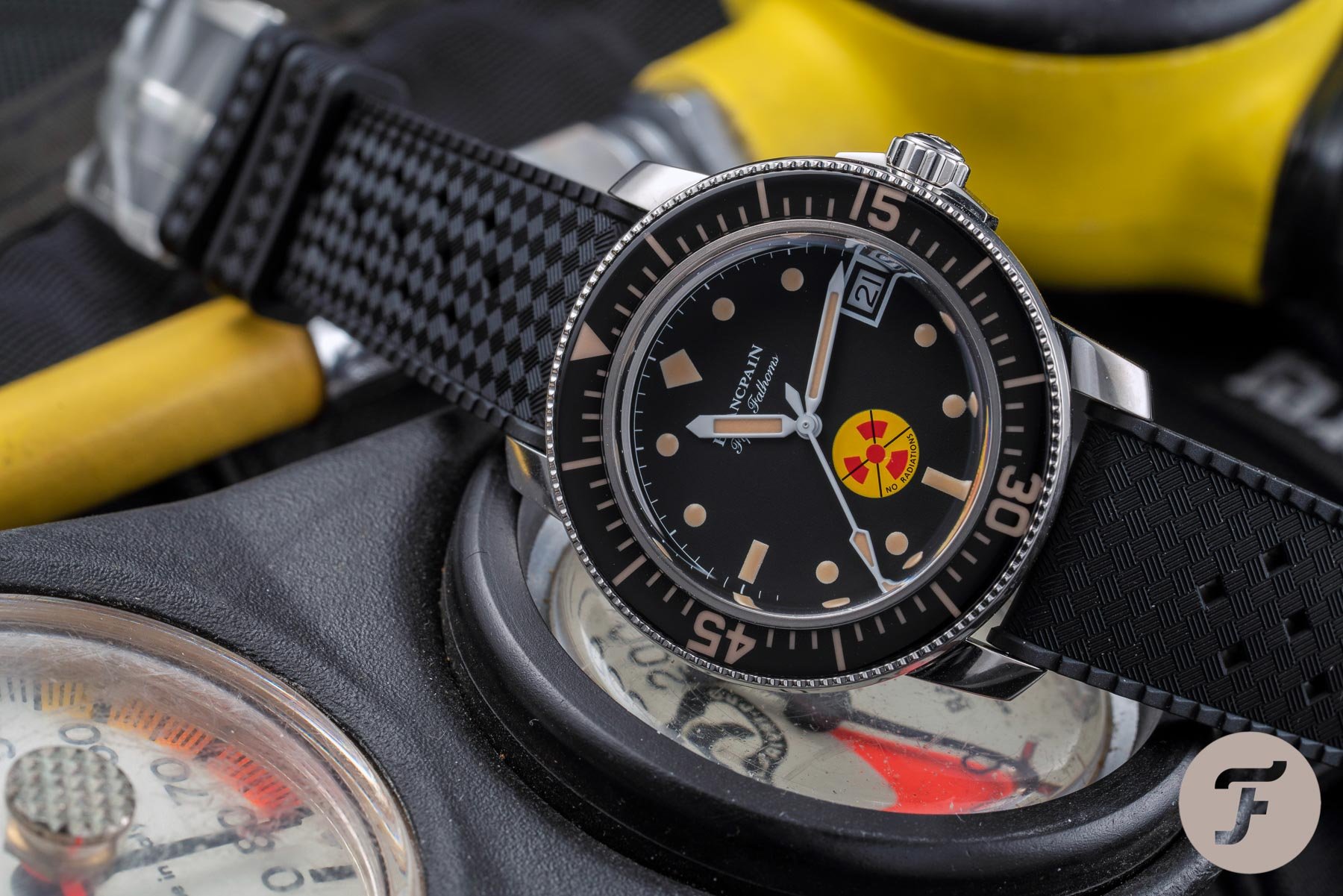 Tropic strap
It probably wouldn't be my preferred pick, but I have to admit that the tropic-style strap on the Blancpain Tribute to Fifty Fathoms No Rad is very comfortable. It is very pliable and perfectly capable to be used as an everyday strap. The Tribute to Fifty Fathoms lug width is 20mm, so it would be easy to find an appropriate leather or NATO strap as well.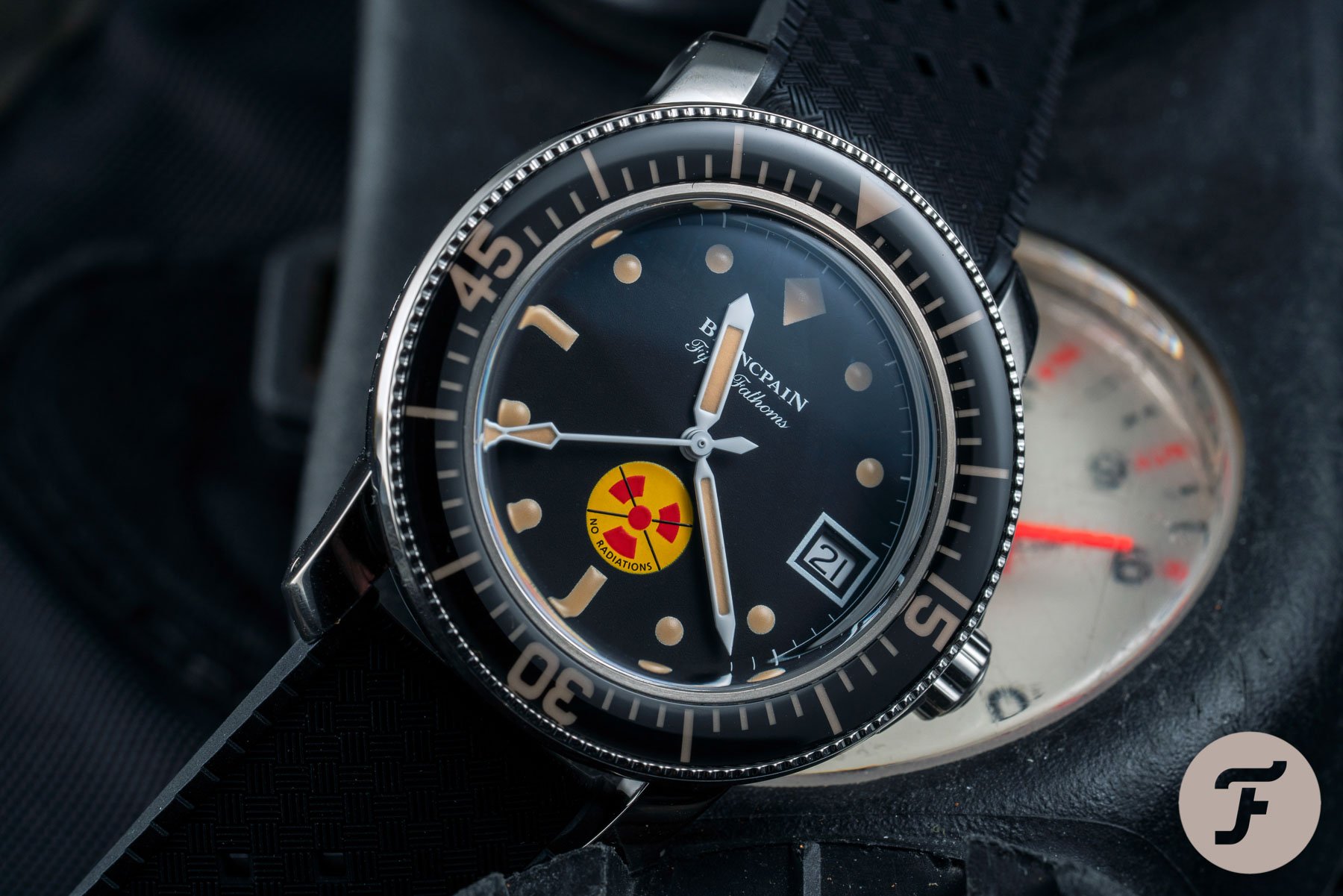 Some thoughts, availability, and price
Blancpain is a little bit under-the-radar, unfortunately. Or fortunately, perhaps, for those who collect them. That said, some of the special models and releases do seem to fly out rather quickly. Therefore, I can't really grasp why Blancpain decided to only produce 500 of this Tribute to Fifty Fathoms No Rad watch. Unexpectedly, I must admit that I am pretty much swept away by it. Is there something I don't like about it? Well, I am not particularly a fan of the Blancpain engraving in the case band. I know all of these models feature that, but it is just something I regard as a bit "too much". But, on the other hand, I could happily live with it and it certainly is no deal-breaker. This Blancpain Fifty Fathoms reference 5008D-1130-B64A stands out to me, quickly followed by the brand's Fifty Fathoms Automatique.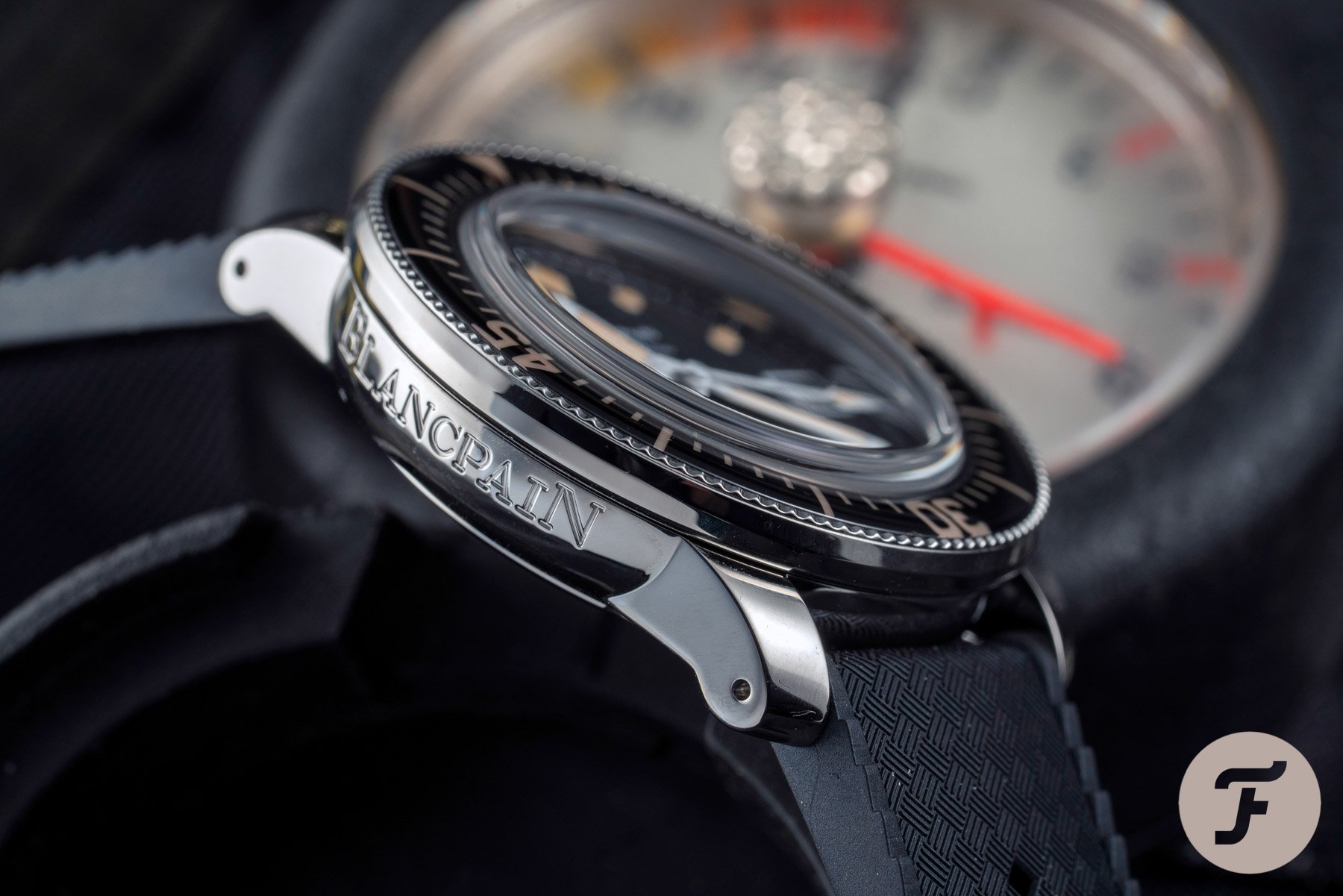 The Blancpain website is a bit of a mess, but, with a bit of perseverance, you will find the models you're after. With only 500 of these, I expect them to be gone rather quickly. If you're after one, contact your nearest boutique or authorized dealer. The retail price of this watch is €13,290. More information via Blancpain online. Also check-out our video on this Blancpain Tribute to Fifty Fathoms.
Watch specifications
Model
Tribute to Fifty Fathoms No Rad
Reference
5008D-1130-B64A
Case Material
Stainless steel
Case Dimensions
Diameter: 40.3mm, Thickness: 13.23mm, Lug-width: 20mm
Movement
Caliber 1151, self-winding manufacture movement, power reserve: 100 hours, ticking speed: 21,600vph, jewels: 28
Water Resistance
300 meters
Strap
tropic style rubber strap
Functions
Time, Date, Diving scale bezel
Special Note(s)
Limited to 500 pieces only