Hot Take: Blancpain Fifty Fathoms 70th Anniversary Series I
In an exclusive case size!
This year marks the 70th anniversary of the first modern diver's watch in the world, the Blancpain Fifty Fathoms. We did a run-down of its history just recently (click here), so we will examine this new anniversary limited edition in this article without further ado.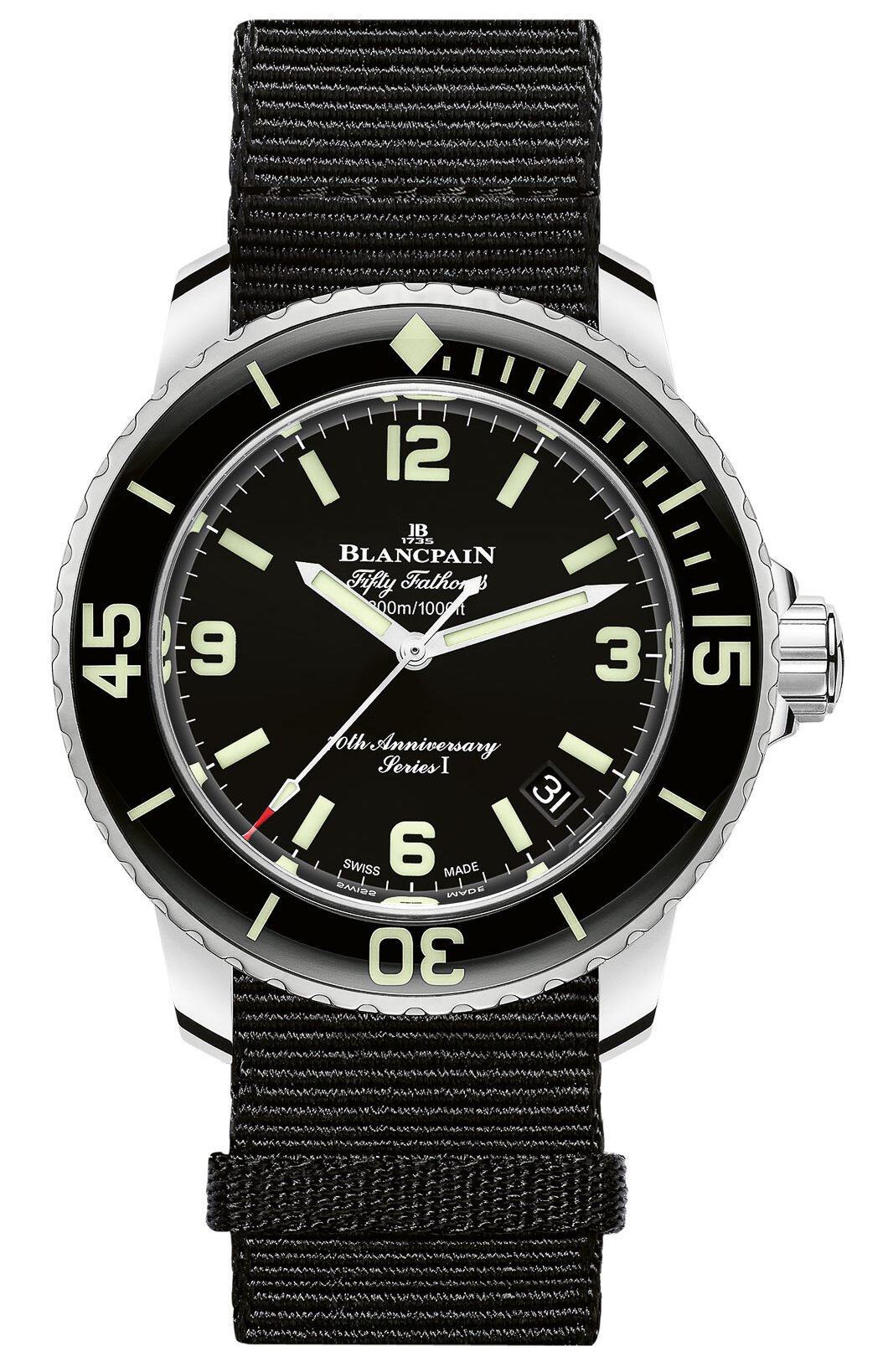 Blancpain Fifty Fathoms Series I
As Blancpain did in 2003 for the 50th anniversary of the Fifty Fathoms, the brand is now introducing a model commemorating its 70th anniversary. This new version will be available for three separate markets in three series of 70 watches each. Series I will be for the EMEA market, while the others will be for the Asian-Pacific market and the Americas. The new Blancpain Fifty Fathoms Series I is a nod to the version from 2003 and the very first Fifty Fathoms in 1953.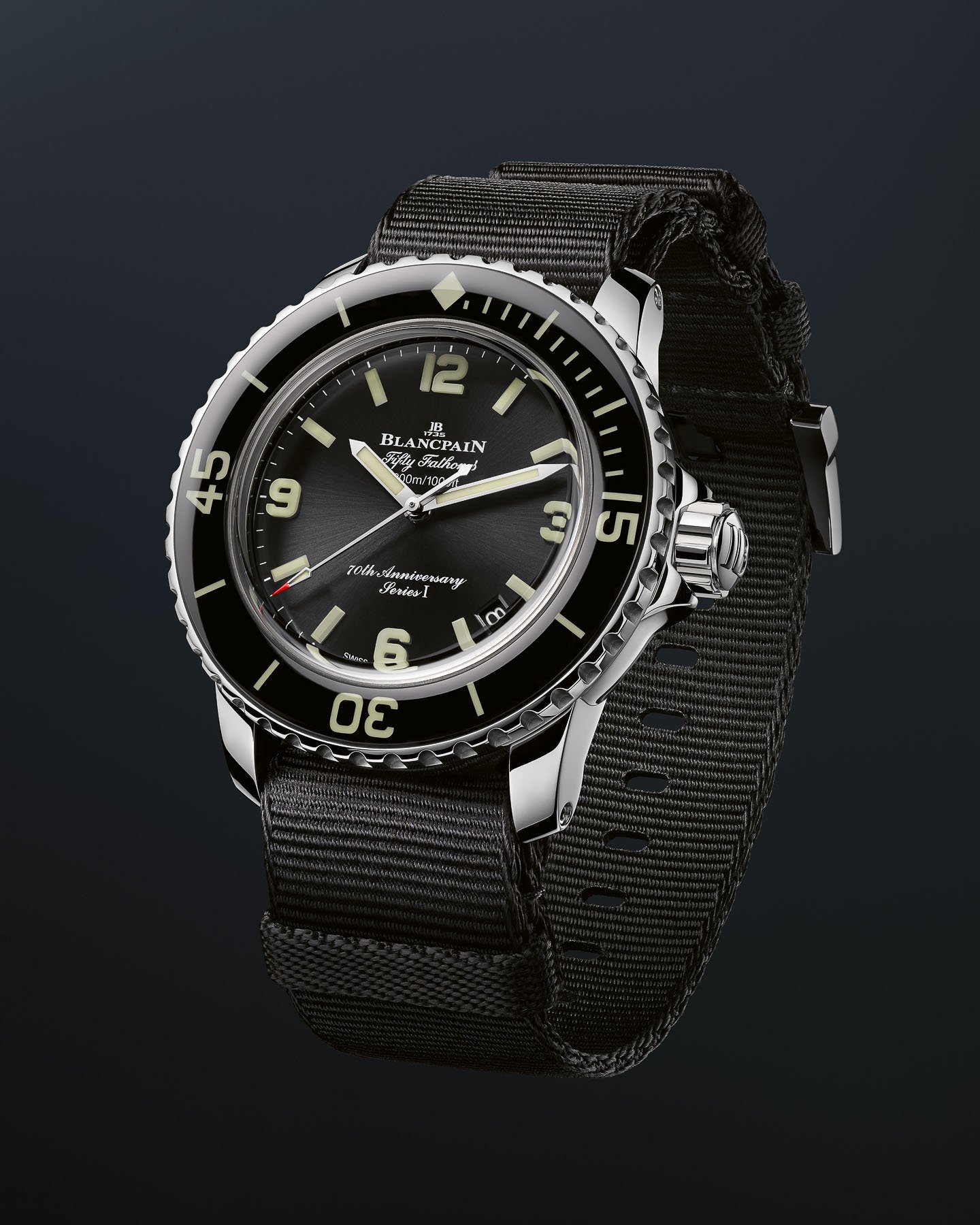 An exclusive 42mm diameter
The regular Blancpain Fifty Fathoms comes with a 45mm case, and some of the limited models with a 40mm case. Blancpain, however, thought it would be a good idea to produce this 70th-anniversary model in a 42mm format. This was also a popular request from many Fifty Fathom enthusiasts as it is close to the original 1953 model. According to the technical sheet that Blancpain sent us, this Fifty Fathoms measures 42.3mm in diameter and 14.3mm thick. The lug spacing measures an odd 21.5mm, probably ensuring enough wiggle room to connect that 21mm strap. And talking about the strap, Blancpain delivers the Fifty Fathoms 70th-anniversary watch (ref. 5010A/B/C-1130-NABA) on a black NATO strap.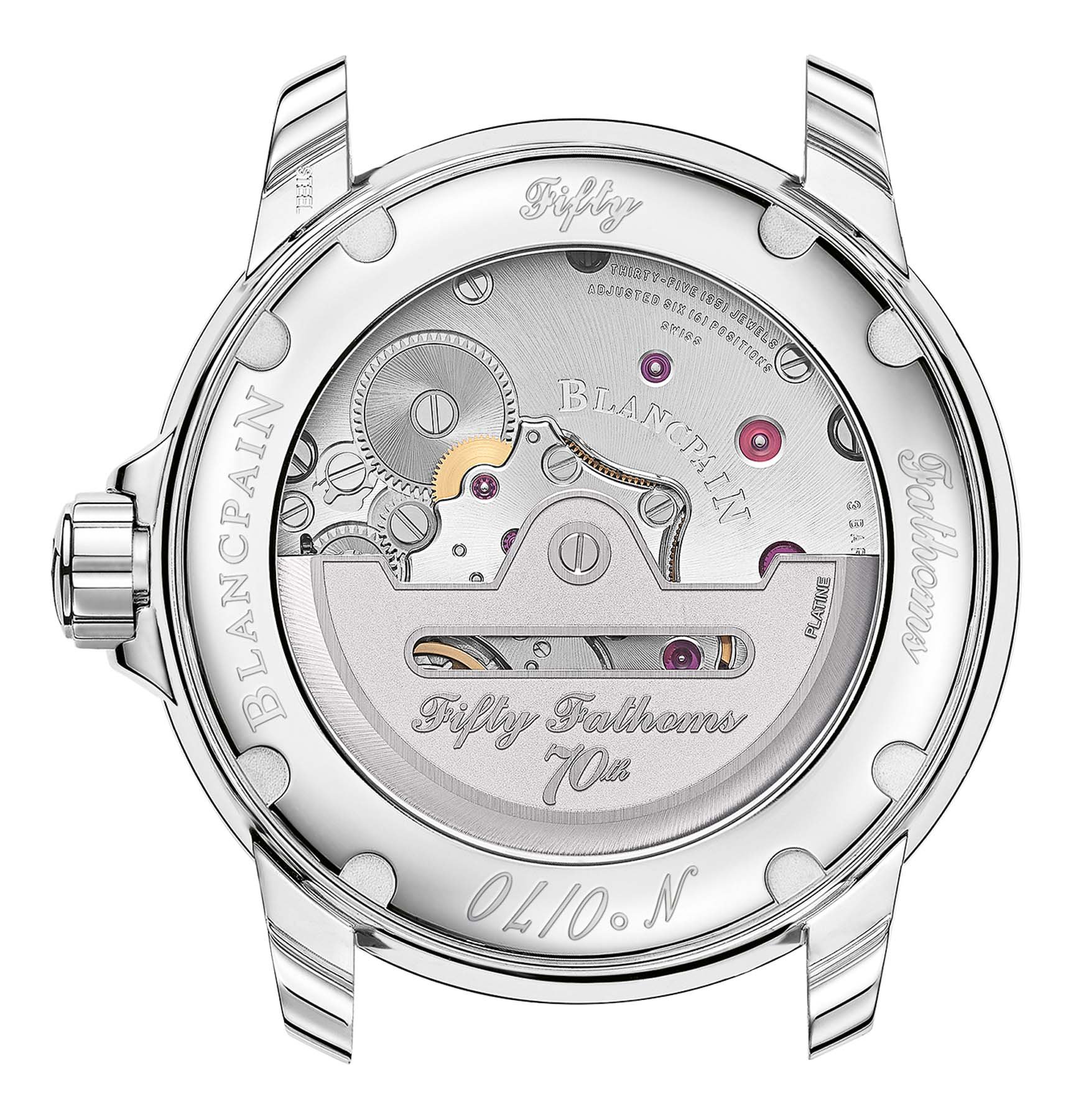 Caliber 1315
Inside is Blancpain's caliber 1315, which has been in production since 2007. It offers an antimagnetic silicon balance spring and a five-day power reserve thanks to three barrels. This 35-jewel caliber winds automatically via a commemorative platinum rotor with sandblasted and vertical brushed finishes. Below the rotor, the bridges feature a swooping, grained finish and several highly polished bevels.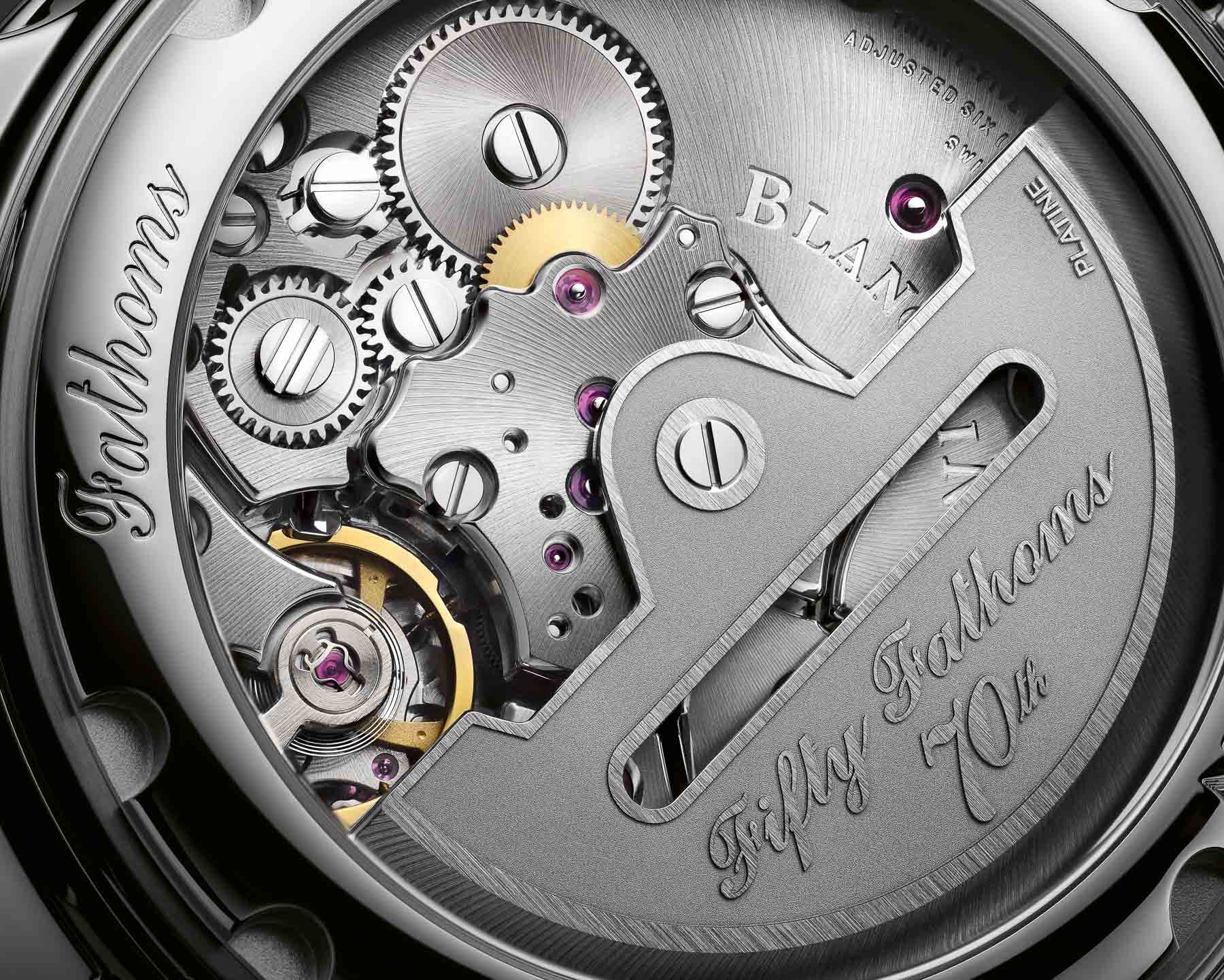 Hot take on the Blancpain Fifty Fathoms 5010A/B/C-1130-NABA
Many expected that Blancpain would release a new Fifty Fathoms for its 70th anniversary. The brand refers to this new release as "Act 1," meaning that there will be more releases celebrating the 70th birthday of the first modern dive watch. It surprises me that Blancpain released this watch as a limited series of 70 pieces (210 in total for the three markets mentioned). This new Blancpain Fifty Fathoms Series will be available for pre-order this month for all three markets.
The Fifty Fathoms is my favorite model from Blancpain, but I often prefer the smaller limited-edition variants. The standard 45mm size is a bit too big for me, even though I have large wrists. I feel that 45mm is perhaps useful if you put this diver's watch to use, but I don't. For me, it's more about the style of the watch than going into the water with it. A diameter of 42mm for a diver's watch is good for me, but I also enjoyed wearing the 40mm versions we've seen previously (like the No-Rad model). It all depends on how the watch sits on the wrist; it is simply impossible to please everyone here. It seems that Blancpain decided to use a 42mm case for this model based on client feedback, which is a good reason.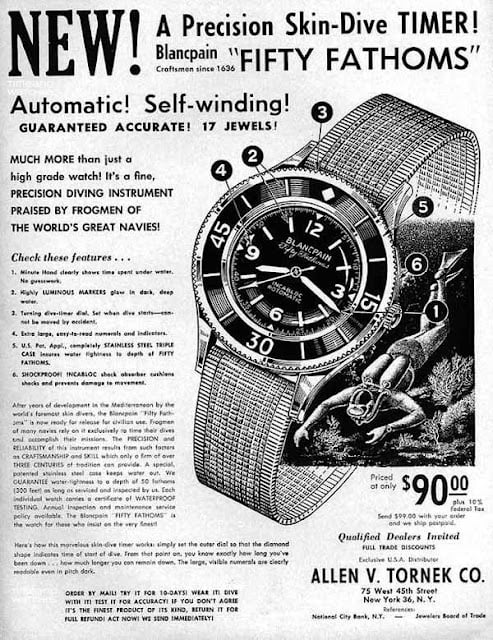 On the movement, there's the rotor made of platinum, underlining the 70th anniversary of the Fifty Fathoms through its material and engravings. The case size of 42mm also allowed Blancpain to use this caliber 1315 and take advantage of its properties, such as a five-day power reserve. Apparently, this movement would not have fit inside the 40mm case that Blancpain used for some of its limited-edition Fifty Fathoms models.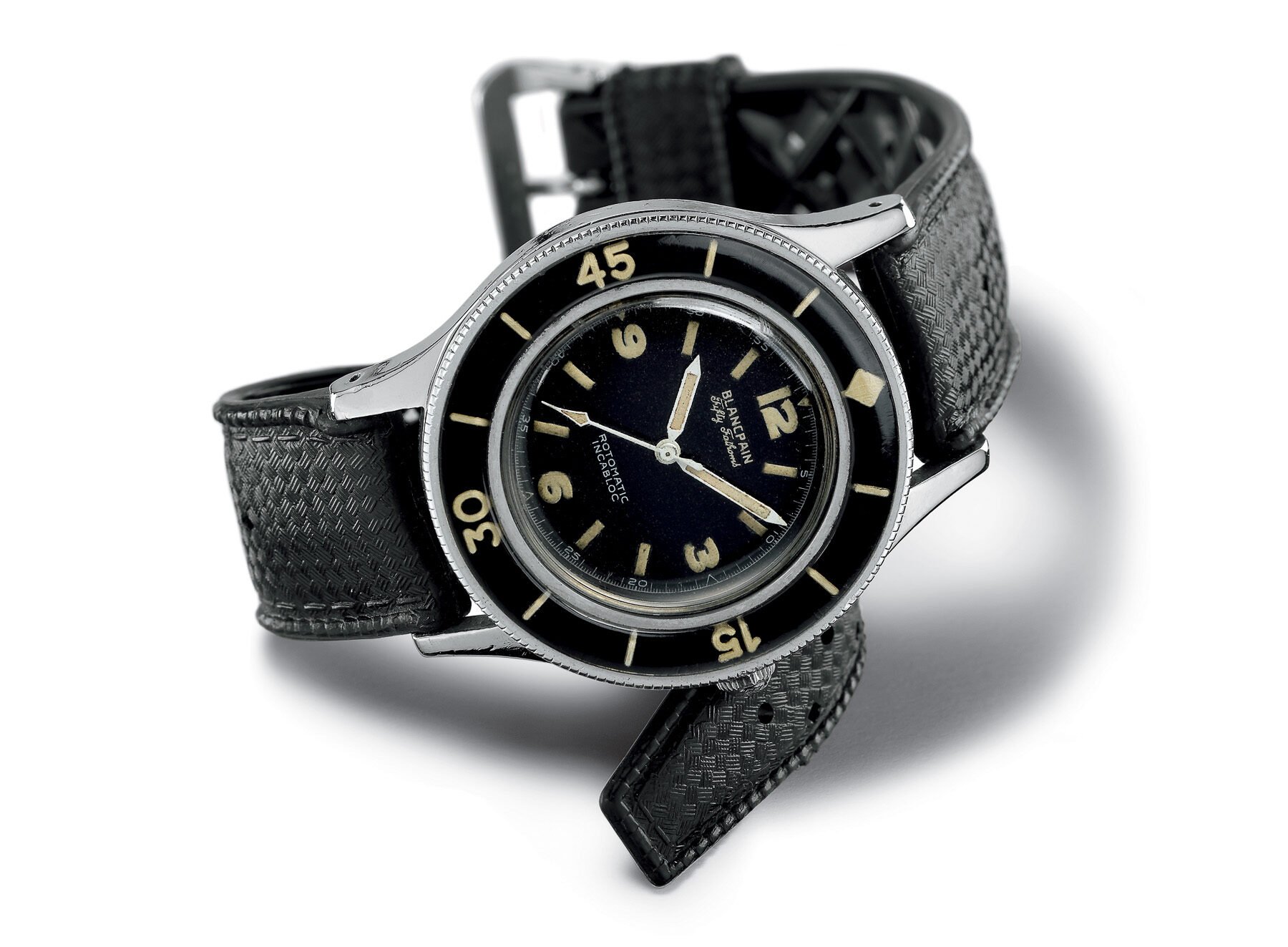 Although I have yet to see it in the flesh, I think Blancpain did a very nice job on this watch. It pays tribute to the first Fifty Fathoms, one of then-CEO Jean-Jacques Fiechter's personal projects back in the early 1950s. The price is yet to be confirmed, but I assume it will be somewhere around €17,000, given that it has a platinum rotor.
With the Blancpain Fifty Fathoms, be it this 70th-anniversary limited edition or one of the other models, you buy into the heritage of the first modern diver's watch. Having visited Blancpain on several occasions and witnessed the movement's production and assembly, I can say that the Fifty Fathoms is an Haute Horlogerie piece in contrast to many of the mass-produced diver's watches. And that comes at a certain price, of course. I like many aspects of the watch, from the sapphire bezel and the large numerals to the indices on the dial and the case shape. The only criticism I can think of is the date window. If it had been a feature on the original model from 1953, I wouldn't have minded it, but in this case, it was added later. That said, it surely wouldn't be a dealbreaker for me because it's a stunning watch regardless.
You can find information on the 70th anniversary of the Blancpain Fifty Fathoms here.