A Breeze Of Côte D'Azur – Corniche Heritage 40
When there is a new watch brand around the corner, we are always interested to have a look at it. Although we all feel the market is flooded by the number of watch brands, in some segments there is room for new brands. Except for a couple of vintage watches, a new Seiko and a few others, what is really available under €500 Euro these days?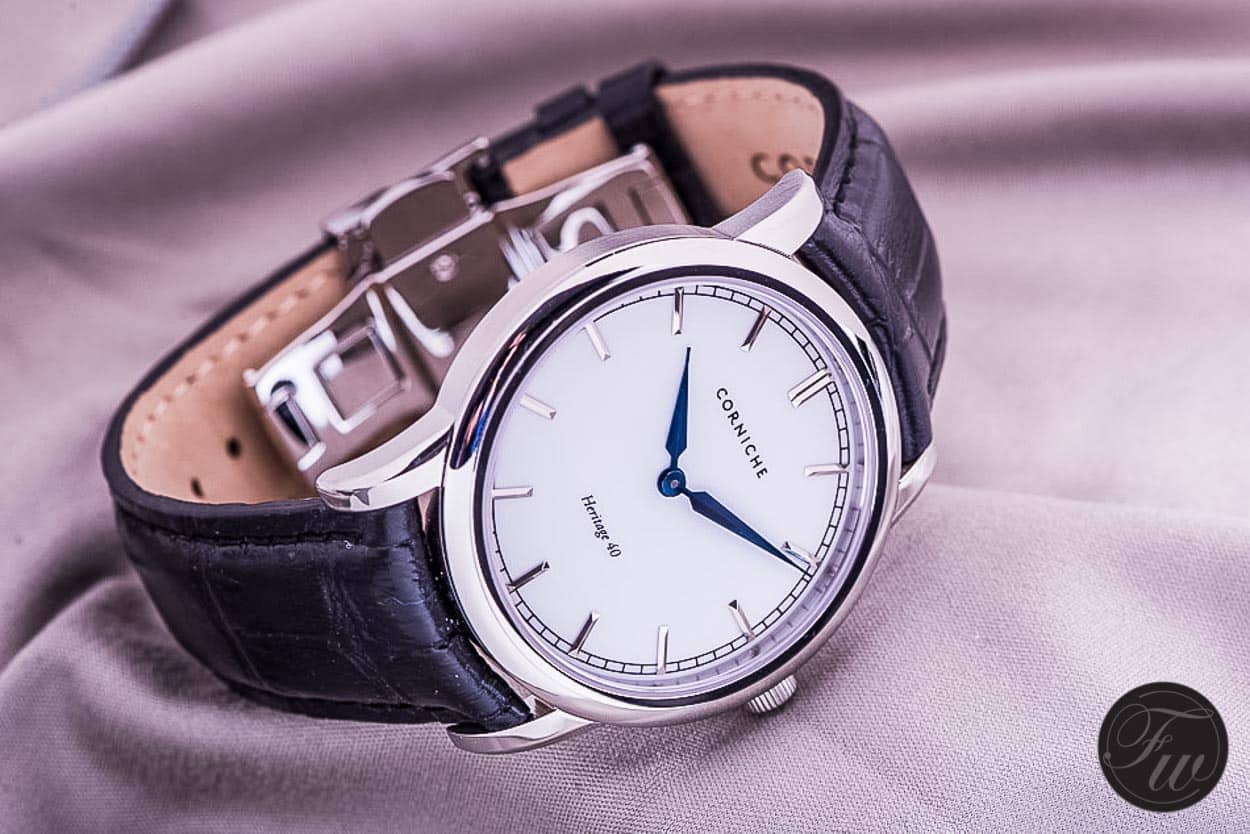 Our Scandinavian friends from Corniche must have thought the same thing, and decided to come up with something fresh. On their website, I read that the owners spend their childhood summers on the French Riviera, to which I can relate (until I was 10 or so and my father decided to go Great Britain as his interests shifted a bit), and wanted to design and create a watch that breathes Côte D'Azur.
Now, for the last couple of years my holiday destination was also in that area. Especially with a young child, the duration of the travel is acceptable for us and there is a lot to do for little children. Also for Mrs Fratello and me, there is enough to do and to see on the French Riviera. One of my little pleasures is spotting watches on other visitors of Saint Tropez, Nice, Cannes and so on. Sure, it is mainly Rolex, Cartier and the occasional Royal Oak Offshore from Audemars Piguet, but some times you'll also see the locals wearing a classy Jaeger-LeCoultre or vintage Patek Philippe. They don't need to scream out loud to others that they reside at the Côte D'Azur, they've probably lived their forever.
The Corniche Heritage 40 model wouldn't look bad on either the wrist of a local or a tourist of the Côte. The watch will blend in perfectly in its environment of little boutiques, small market places with local fruits, sandy beaches, pine trees and the rocky coast line. I have the stainless steel version right here in this article, but Corniche also made a rose gold plated model which might look even better in those surroundings.
Anyway, Bert took some shots of the stainless steel version, which is a pretty nice allrounder as well. Not only for a holiday at the Côte.
The guys over at Corniche did a very nice job designing a very clean looking watch, but with some classic elements in there so it did not result in the xxth Bauhaus style watch. There are other brands who've mastered that.
The Heritage 40 is – as the name suggests – sized at 40mm, a perfect size for almost all men out there. There is also a Heritage 36 addressed at women, but if you really can't handle the 40 that might be an option as well.
Ceramic has been used for the dial and it is applied with polished markers in the same tone as the case itself. Beautiful blue leaf shaped hands indicate only hours and minutes. The brand name and model name is on the dial, but to be honest, they could have dropped the '40' from Heritage 40 on the dial. I know it is the official model name, but I'd prefer without.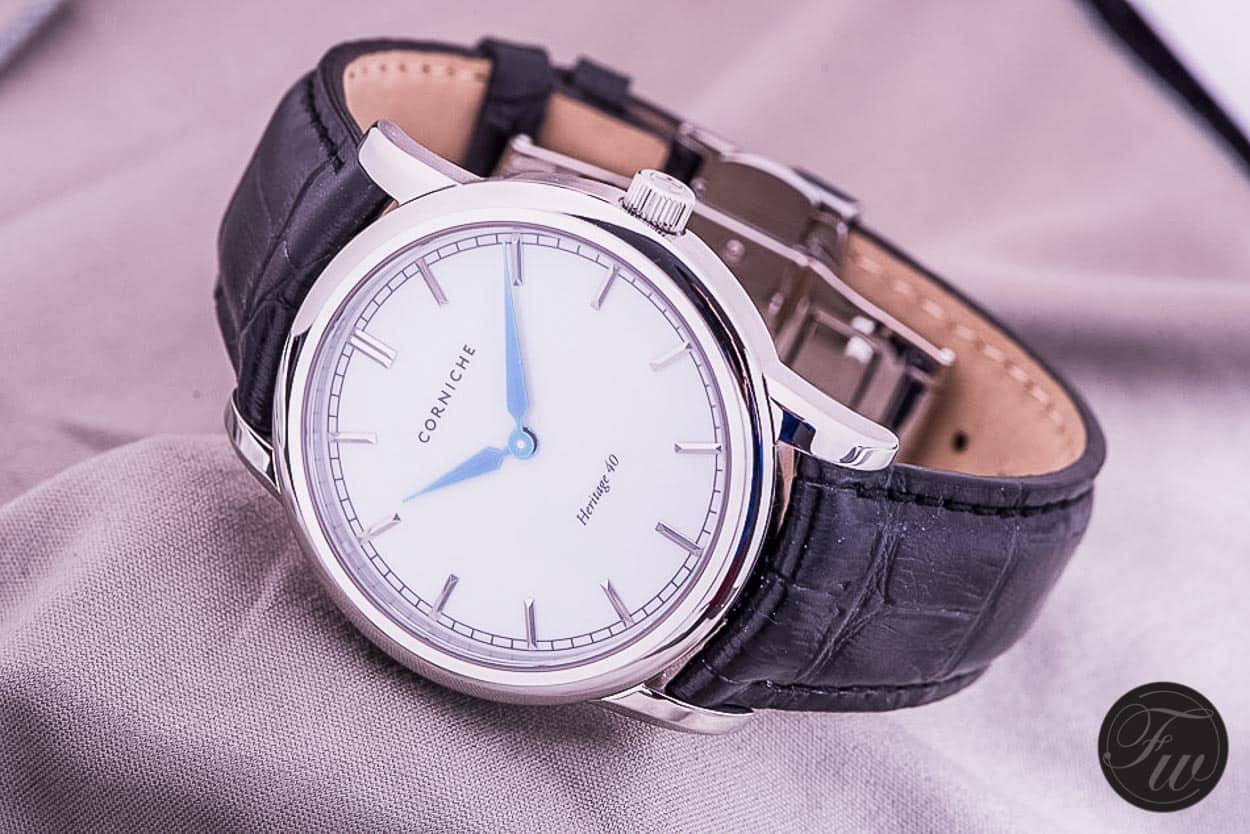 Of course, the Heritage has a sapphire crystal to protect the dial. I rarely see mineral crystals being used these days anymore, even on cheaper watches. Some companies have their own material, but mineral crystals are getting scarce. The Heritage comes on a calf leather strap, with croco grain and is attached to a butterfly-style clasp.
Inside the watch, there is a Miyota 2025 quartz movement. That is – for a lot of readers – probably also the downside of the watch. However, for €325 Euro it is hard to deliver a watch with this quality and a mechanical movement. I rarely wear quartz watches myself, as I am a mechanical watch guy. But on the occasions I do, they either have a lot of special functions (like my Speedmaster X-33 watches) or have a special or high-quality quartz movement, like the Rolex OsyterQuartz or a Grand Seiko with 9F quartz movement. So this Corniche Heritage 40 is not for me, for now.
If Corniche is able to keep the price interesting and have it powered by a mechanical movement (Miyota, ETA or whatever), you might be interested, don't you? An affordable dress watch with automatic movement doesn't hurt anyone's collection.
More information via Corniche on-line.