A Hands-On Introduction To The New Isotope Old Radium Bronze Pilot
The brand's first model in the maritime material of choice
If you've kept up with Fratello over the past several months, you'll almost certainly be familiar with Isotope watches. The brand's bold and colorful designs never fail to make a splash. Now, Isotope's latest release tones things down. The new Old Radium Bronze Pilot model takes a pinch of imagination and poses the question, what if Isotope had been around in the 1940s? And what if it had been asked to produce a watch for the Ministry of Defense? The answer to these questions is being released today in three different colorways and in the brand's first bronze case. Vintage charm meets Isotope's unique design language, and the result (I think you'll agree) is a great one.
There's always a certain degree of mental dissonance in a pilot's watch made of bronze. After all, the alloy tends to be associated with the maritime, yet somehow, bronze pilot watches seem to work beautifully. Plus, at 40mm, you could even think of this as an oversized field watch (Hamilton Khaki Field Bronze, anyone?). Either way, this latest release from Isotope is sure to appeal to fans of the brand, but perhaps also to a broader audience. The rather unusual case designs used by Isotope thus far have certainly set it apart. However, they may also have made the brand less approachable to those looking for something a little more vanilla. Now, with the Old Radium Bronze Pilot, a basic form meets a not-so-basic design and material. The result is a brilliant addition to the Isotope catalog that should speak to longtime fans and new ones alike.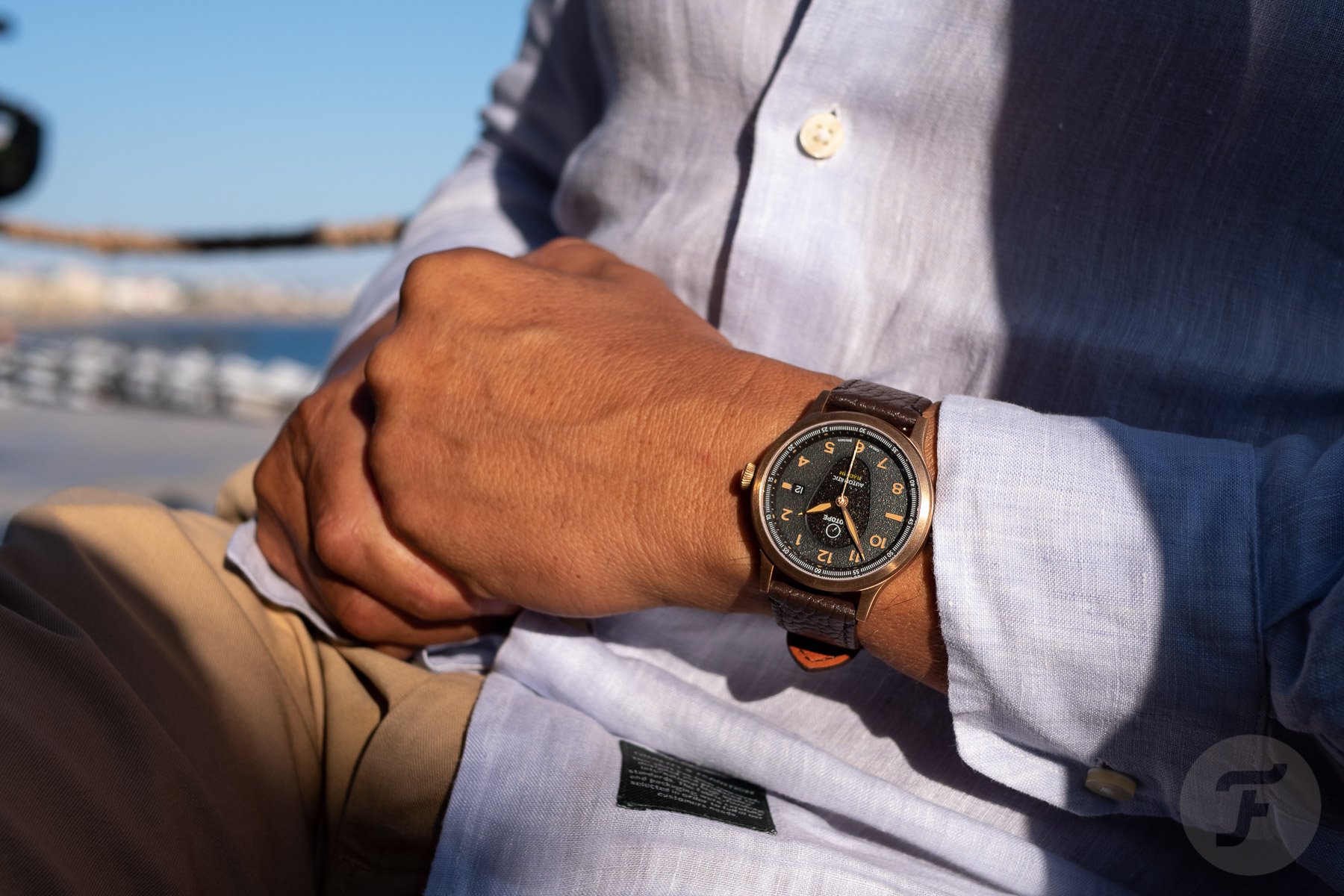 The new Isotope Old Radium Bronze Pilot
As I mentioned, the new Isotope Old Radium Bronze Pilot will be available in three different dial colors — Ash Grey, Olive Green, and Ox Blood Red. The color change affects the dial partially, as all three models share the brand's signature "Lacrima" pattern in black in the center. The rehaut is also black in all three models. These dials have a granulated texture, which makes them matte and nicely legible. The AR-coated sapphire crystal further enhances this feature. The contrasting brushed bronze hands and "old radium" colored lume work nicely with all three colorways. The watches come on a slim, supple, pebbled brown calfskin strap with a bespoke bronze buckle.
The 40 × 47mm (lug-to-lug) bronze case has a titanium exhibition case back, which screws down (like the crown) and provides 100 meters of water resistance. The watch is only 10.1mm tall and wears extremely well. Isotope uses a high-quality bronze alloy known as CuSn8. The alloy comprises 92% copper, 7.5-8% tin, and around 0.30% phosphorus, meaning that it will age and develop patina slower than lesser bronze alloys. The wearer can opt to let the patina develop or simply clean it away with a cloth to maintain a fresh appearance. But let's face it, the charm of bronze watches is lost without the unique patina that each develops with time and wear. Inside the watch, an automatic Swiss Landeron movement with 40 hours of power reserve makes for easy wearing.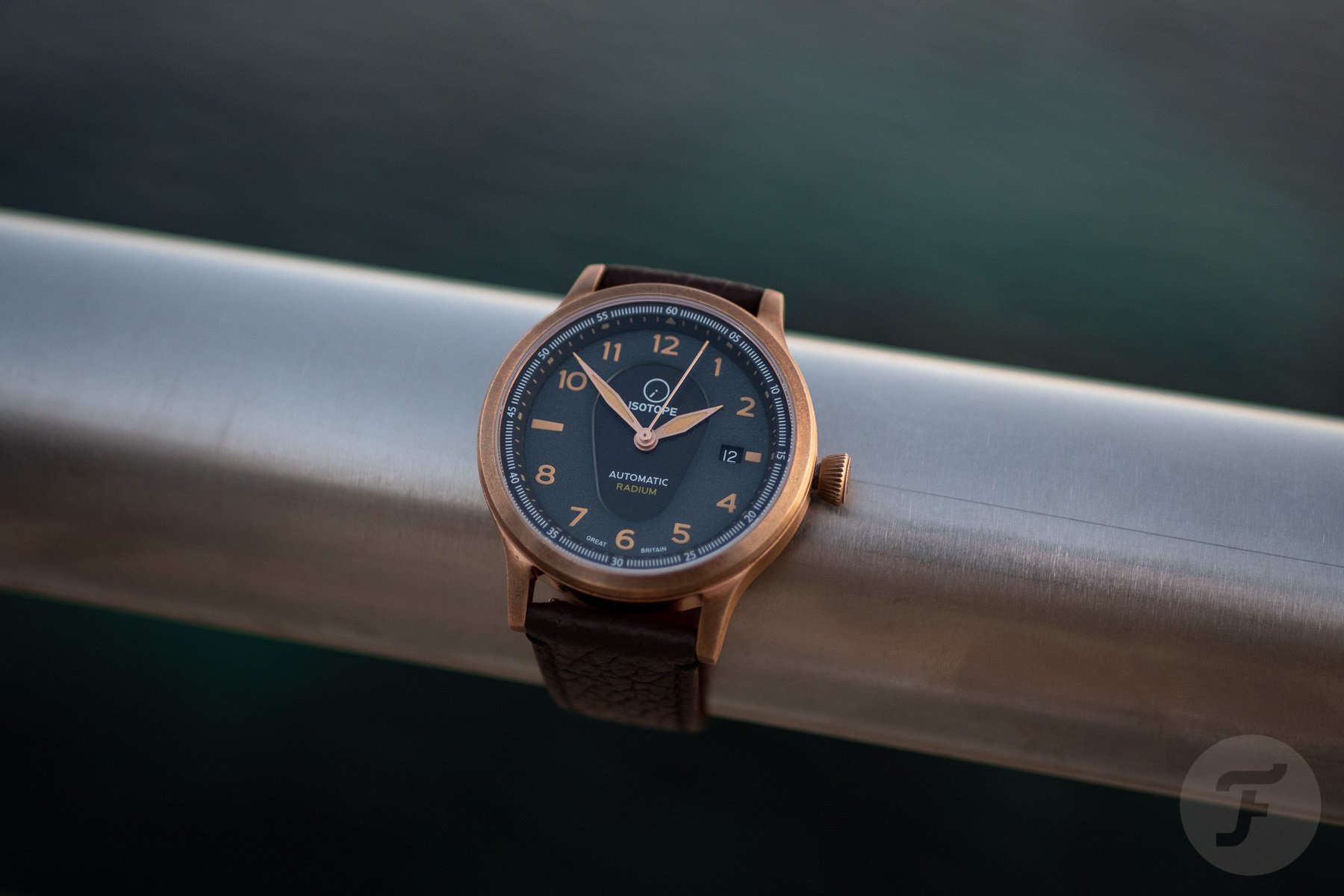 Final thoughts
The Isotope Old Radium Bronze Pilot watches will be available in a limited run of 300 pieces per dial color. The first batch, which will be available starting today (August 23rd, 2022) on the Isotope website, will only consist of 10 pieces of each dial color. These will be available for £800 ex. VAT (approximately €945 before local taxes). For that, you get a watch in the color of your choice and free worldwide express shipping. The second batch will follow later on this year in October/November but will see a 10% price increase. Having had a chance to get a hands-on look at the watch earlier this year, I have to say that it's great value for an excellent product and a brilliant design from the mind of José Miranda.
What do you think of the latest offering from Isotope? Does the Old Radium Bronze Pilot tickle your fancy? Which would be your color of choice? I think mine would have to be the Ash Grey. As always, let me know your thoughts in the comments below.