The Platinum A. Lange & Söhne Datograph Up/Down Is Like A Pair Of Slippers
Hands-on with a Haute Horlogerie creation from Glashütte that's ridiculously easy to wear
Some Haute Horlogerie creations can have a deterring effect. Sometimes it's the price, sometimes it's the style, sometimes it's the materials used, and most often, it's a combination of the three. Yes, watches can be very intimidating creations. So what happened when the A. Lange & Söhne Datograph Up/Down in platinum appeared at Fratello HQ?  Everybody looked at the €102,200 watch in awe and with the utmost respect. That included me, and once I put it on my wrist, my respect grew to even higher levels. But I also felt an unexpected, extremely high level of comfort. And whaddayaknow? The platinum reference wears like a pair of slippers!
The Datograph Up/Down is a member of the Saxonia family and has been in the A. Lange & Söhne collection since 2012. Ten years after its birth, the watch is still as impressive as when it debuted. The platinum version with its black-and-silver dial — ref. 405.035 — is intensely noble in a most understated way. Does that sound confusing? Well, at first, the Datograph Up/Down is a bit confusing. Its appearance is sober. Black and a cool metallic silver dominate. Of course, I knew the watch that came directly from Glashütte in Saxony was done in platinum, but that's not a metal that shouts it's very precious. At a glance, the case could just as well be steel or white gold. Only when you pick up the 41 × 13.1mm watch does it reveal its exclusive building material. Stating the watch is heavier than it looks might sound crude, but it's also kind of true.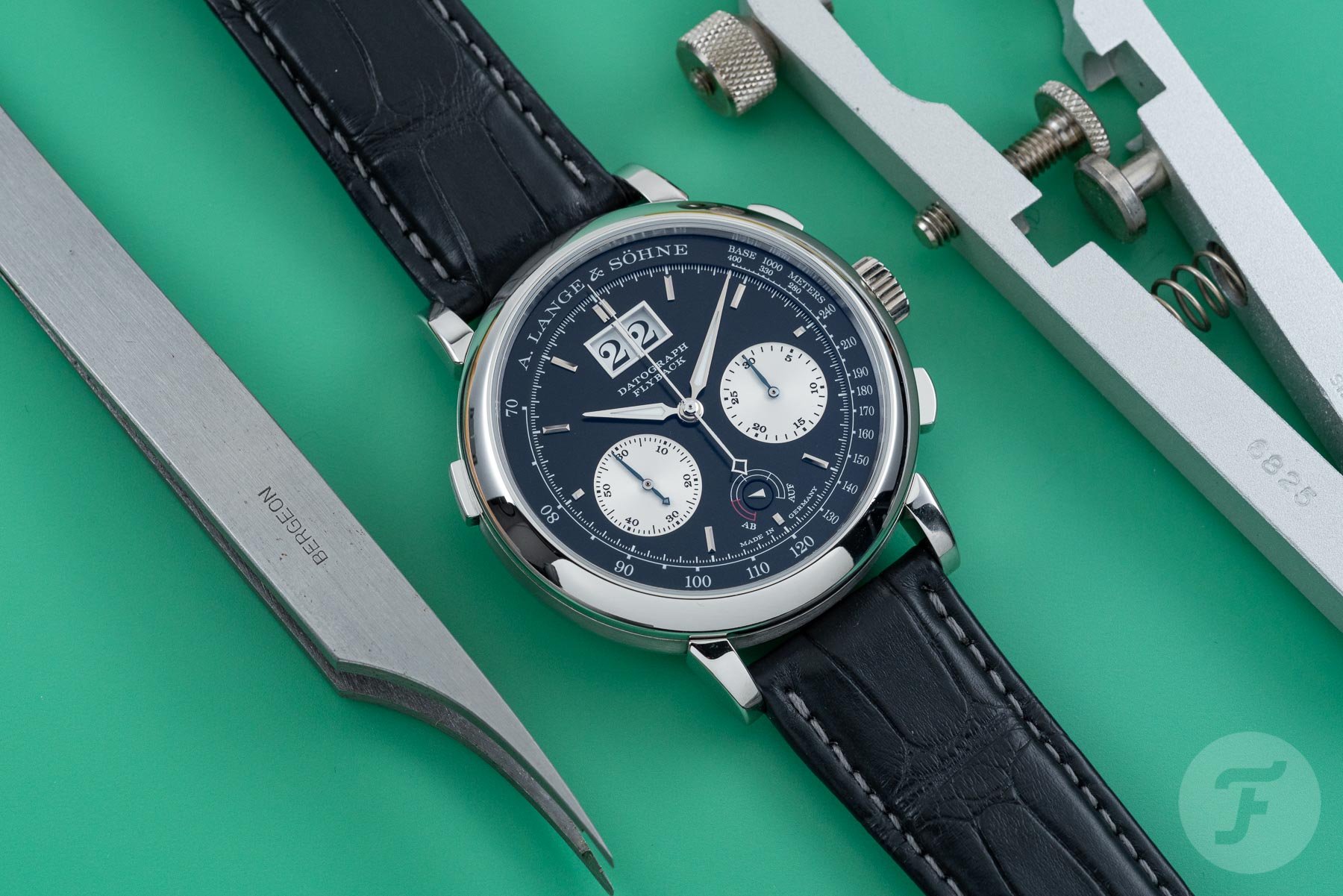 The platinum A. Lange & Söhne Datograph Up/Down is my kind of heavy-metal watch
But the way you feel weight in your hands is completely different from the way that you experience a watch's weight on the wrist. An extremely light watch can still feel really uncomfortable, for instance. The size, the shape, and the strap or bracelet are also very important — do you know the story about the strap with the holes that are just not in the right position? It's probably not just mine, but also your story. The weight and shape of the 41 × 13.1mm Datograph Up/Down are in perfect harmony with my wrist. The watch weighs 155 grams. That's precisely what it takes to activate the nerves in my wrist just enough to make my brain tell me I'm wearing something made of a precious metal.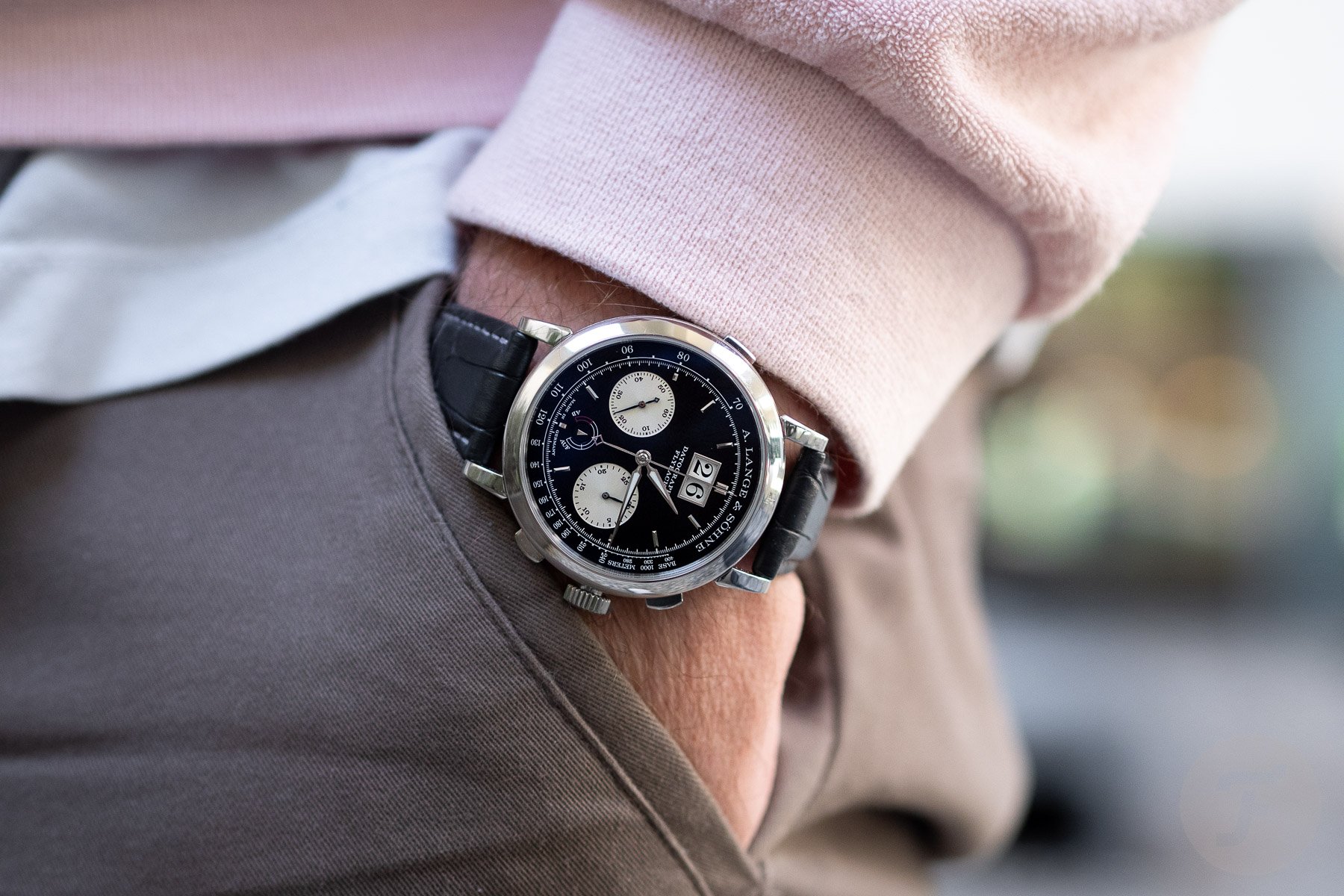 Moderate shapes, excessive comfort
Those 155 grams of platinum are traditionally shaped and therefore don't cause any surprises. A watch from the Saxonia collection is made to create a stately and harmonious presence on the wrist, and this Datograph Up/Down certainly does just that. Wearing this Lange really can only be described as wearing on a pair of tailor-made slippers. And every now and again, when you move your arm, for instance, your nervous system tells you (and only you, since that is the private pleasure only platinum can give) that you're wearing something very precious. Something very precious indeed, as the Datograph Up/Down in platinum sells for a very stately amount of €102,200 at the authorized Lange dealer.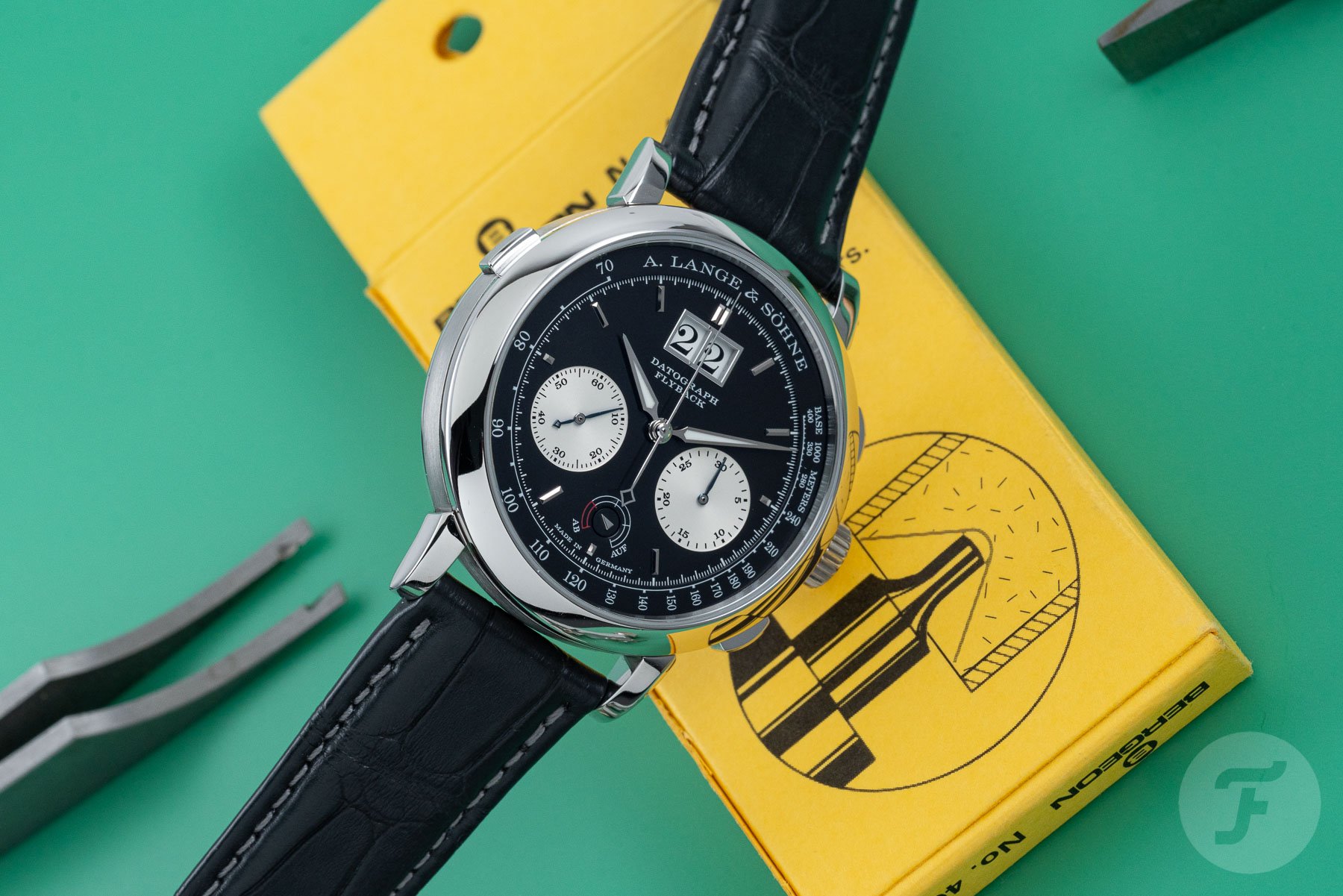 Easy on the eye
The heavy-weight Datograph Up/Down not only provides plenty of tactile pleasure, but it also ensures heaps of visual stimuli. Not in a Richard Mille or Hublot kind of style, but rather, in true German fashion — soberly, well-executed, and thoroughly. The dial itself is crafted from solid silver and graced with solid-gold appliqués and hour markers. I prefer the Up/Down version of the Datograph over the first-ever version that debuted in 1999 —  more on that watch a bit later — because this version with a power reserve display has stick markers instead of Roman numerals. I always felt that those numerals drew too much attention. They felt too ornamental for an otherwise muted, almost instrumental dial.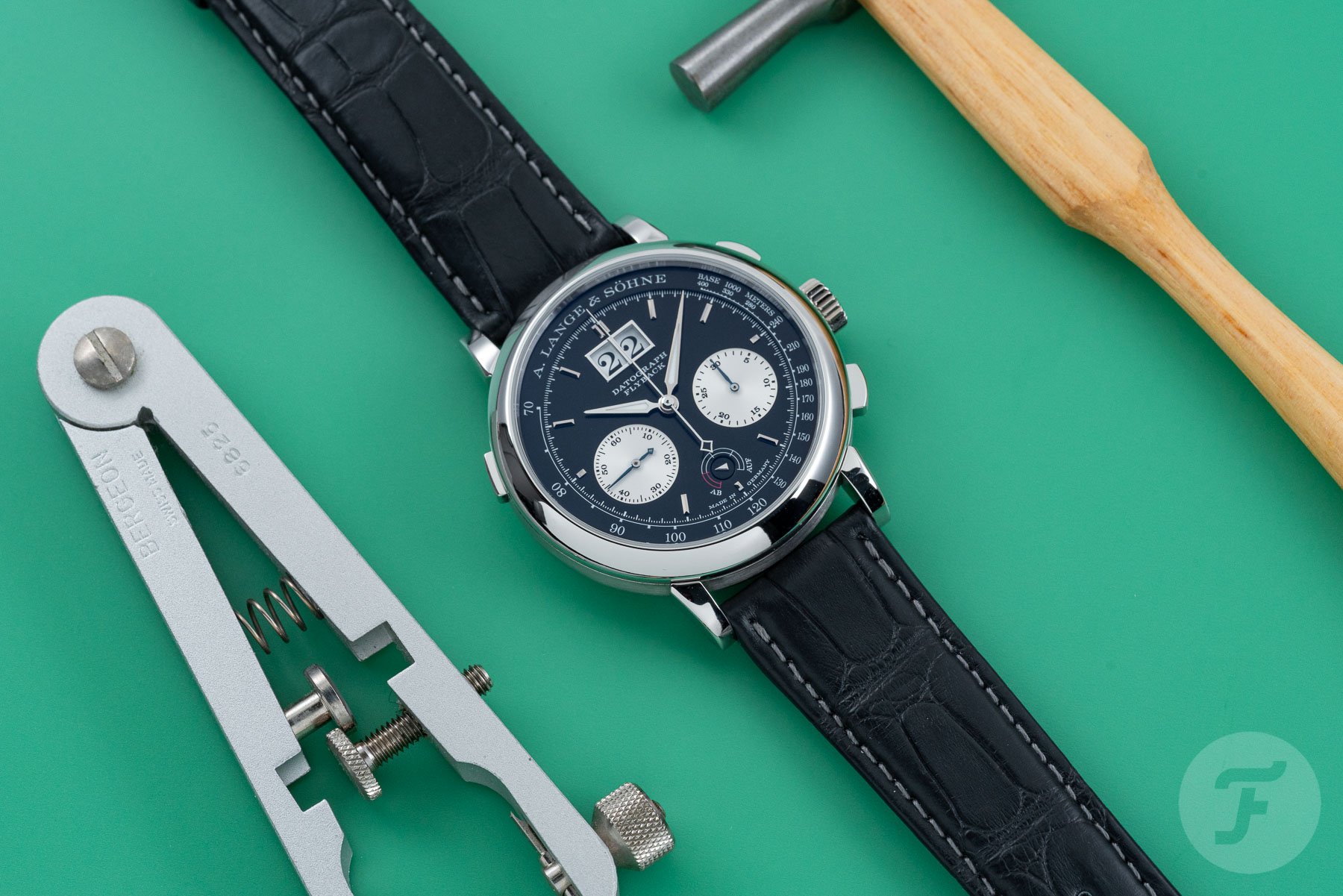 Up and down , ab und auf
And speaking of the power reserve, the disc with the triangle showing the power inside the movement is as subtle as it is intriguing. The fact that it's a disc instead of a hand makes all the difference. Though it's also seen in other Lange models, on this particular watch, the disc visually connects to the sub-dials in a geometric fashion. Another nice detail is the fact that while the watch may be called "Up/Down", on the dial, it actually says "AB" and "AUF". That adds character because it hints at the watch's Saxonian origin story. And the tiny red zone of the power reserve display is both functional and ornamental. It's not there to create a sporty vibe — the Datograph is still a chronograph, of course — but it does catch your eye ever so slightly.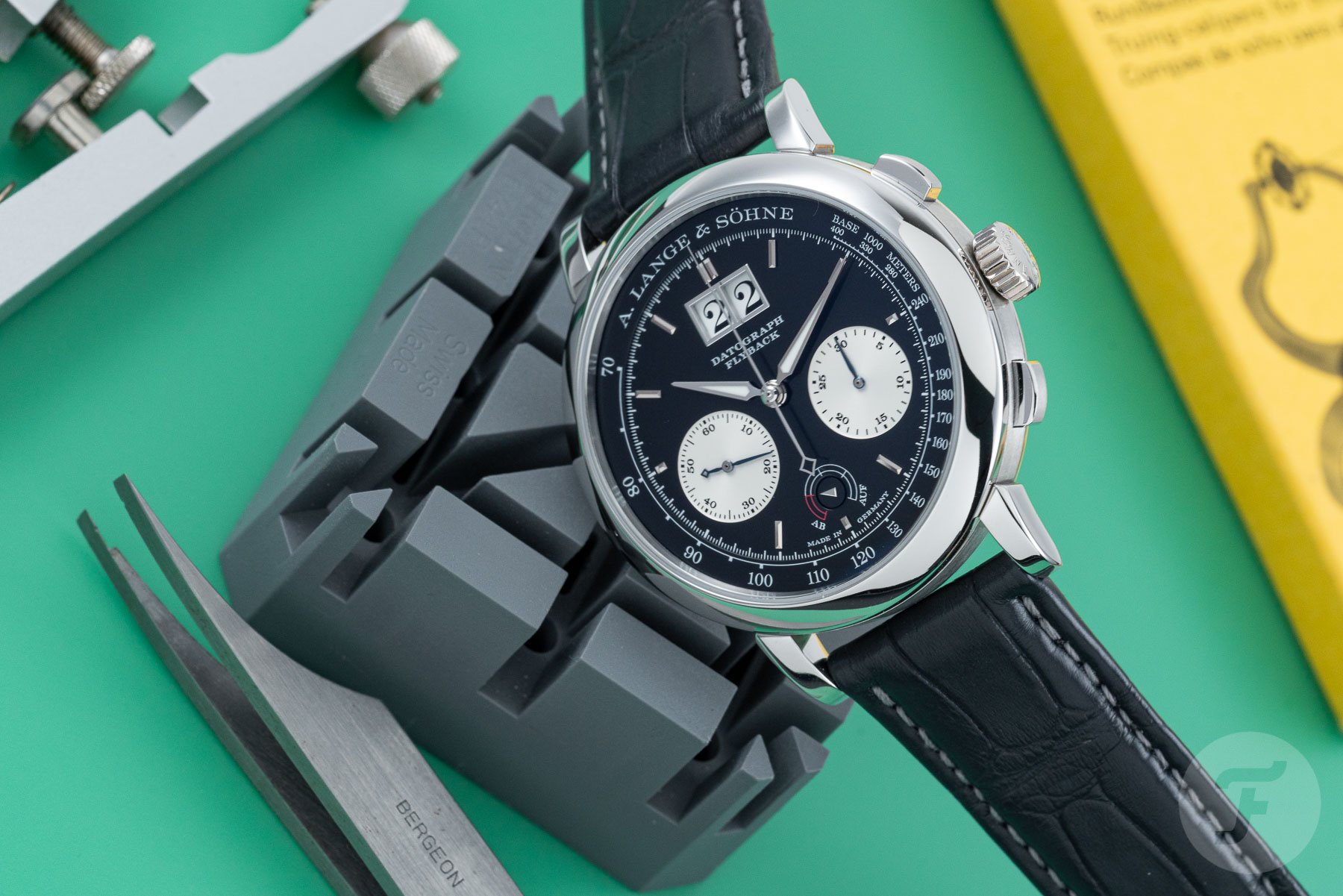 Another thing that obviously catches your eye is the prominent big date at 12 o'clock. The outsize date is a Lange signature complication that uses more than 60 components. For its design, the brand from Glashütte turned its attention to the Semper Opera House's five-minute digital clock in nearby Dresden, and for good reason. Installed in the opera house on April 13, 1841, the clock was made by Johann Christian Friedrich Gutkaes, but there was also a Lange involved. At the time, Gutkaes had an apprentice named Ferdinand Adolph Lange, the man who later founded A. Lange & Söhne.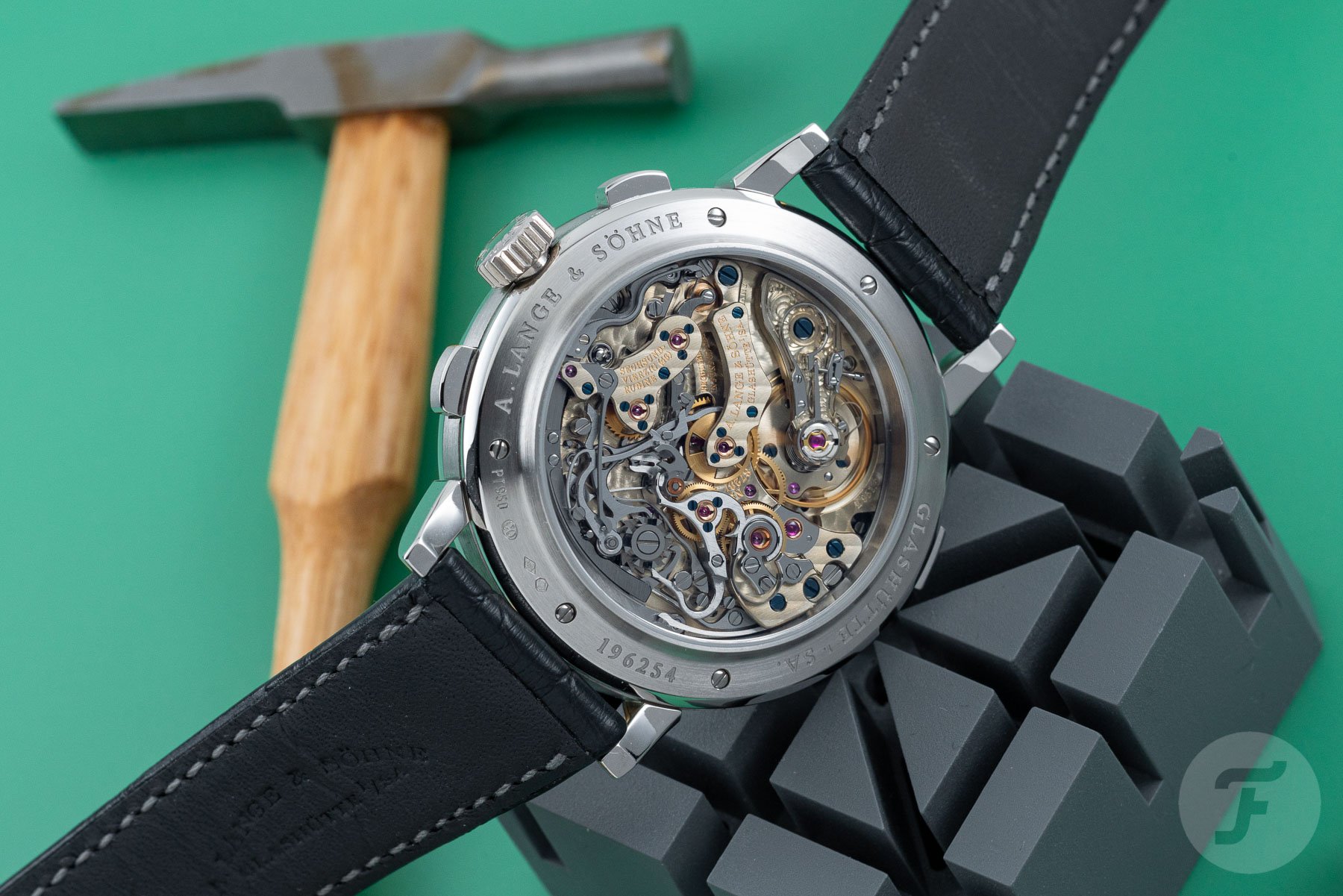 A household name with an in-house movement
You may be wondering why I haven't mentioned the name Datograph that mixes and matches "date" and "chronograph". I haven't because — just like with Breitling's Navitimer — after a while, if the watch is impressive enough, a made-up word becomes a household name. The Datograph, a flyback chronograph with a big date complication, is a very important watch for A. Lange & Söhne. Yes, the Lange 1 is the company's flagship, but the Datograph that debuted in 1999 was the first demonstration of the brand's ability to produce complicated watches. The caliber L951.1 inside that watch was a manufacture chronograph movement that stunned the watch world and especially the leading Swiss Haute Horlogerie brands. In fact, the German-made in-house movement appeared when Patek Philippe was still using a third-party movement. Until 2009, the Patek Ref. 5070 chronograph was powered by the hand-wound caliber CH27-70 derived from a Lemania 2310 ébauche.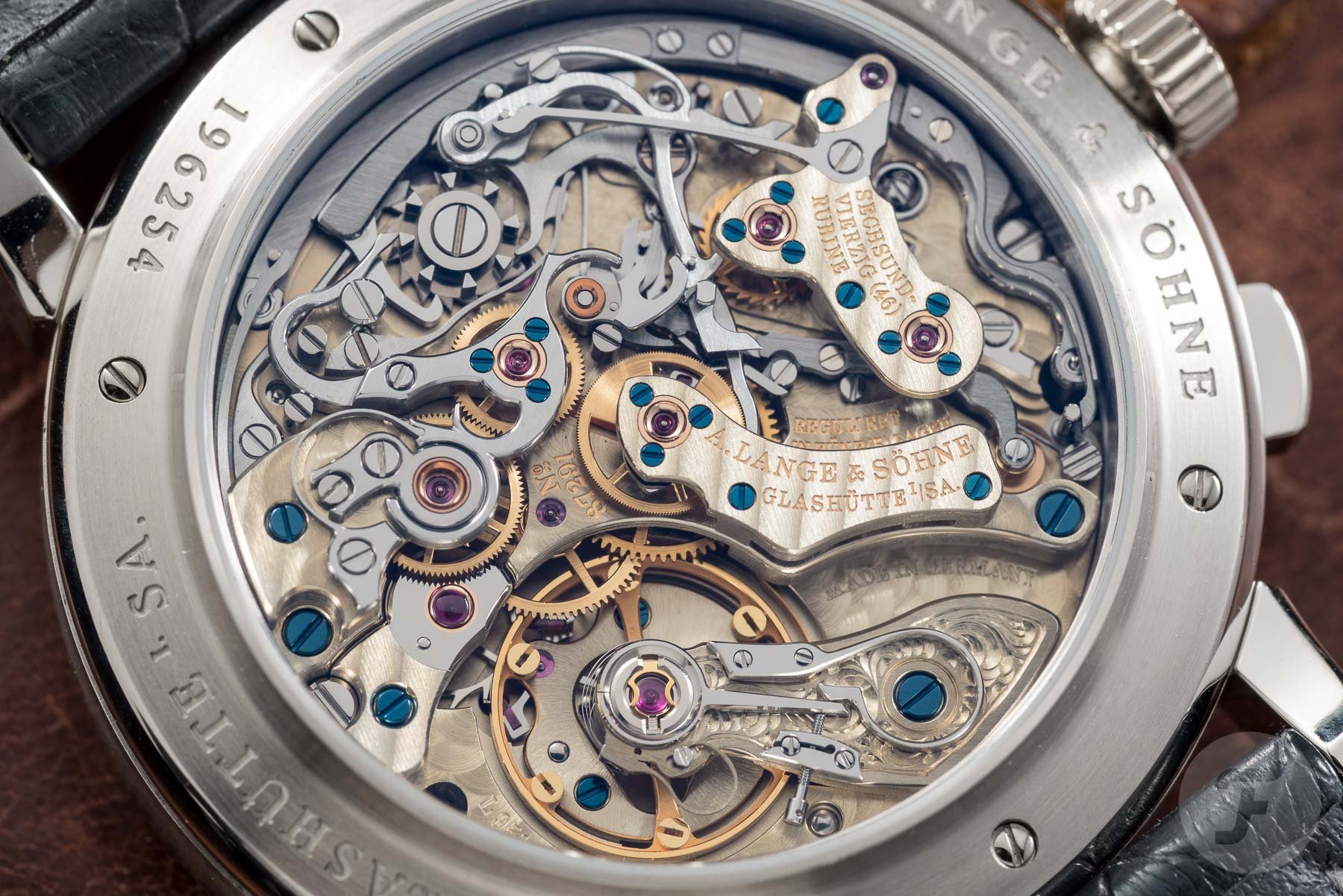 Inside the Datograph Up/Down
The caliber L951.1 is the OG, and the L951.6 is an evolved version with the added power reserve display. Caliber L951.6 consists of 451 components. And would you like some more numbers? While they don't paint the full picture, numbers do give an indication of what this beautifully crafted, expertly finished movement is. So, there are 46 rubies and four screwed gold chatons, and the caliber measures 30.6 × 7.9mm. Fully wound, the movement will run for 60 hours. And if you are sensitive to horological hypnosis, don't stare at the slow 18,000vph oscillator for too long because the swinging screw balance will hypnotize you. I couldn't keep myself from taking off the watch every now and again to look at the beautifully constructed and finished movement through a loupe. It did hypnotize me, but in a most zen kind of way; you could call it a kind of "watch mindfulness".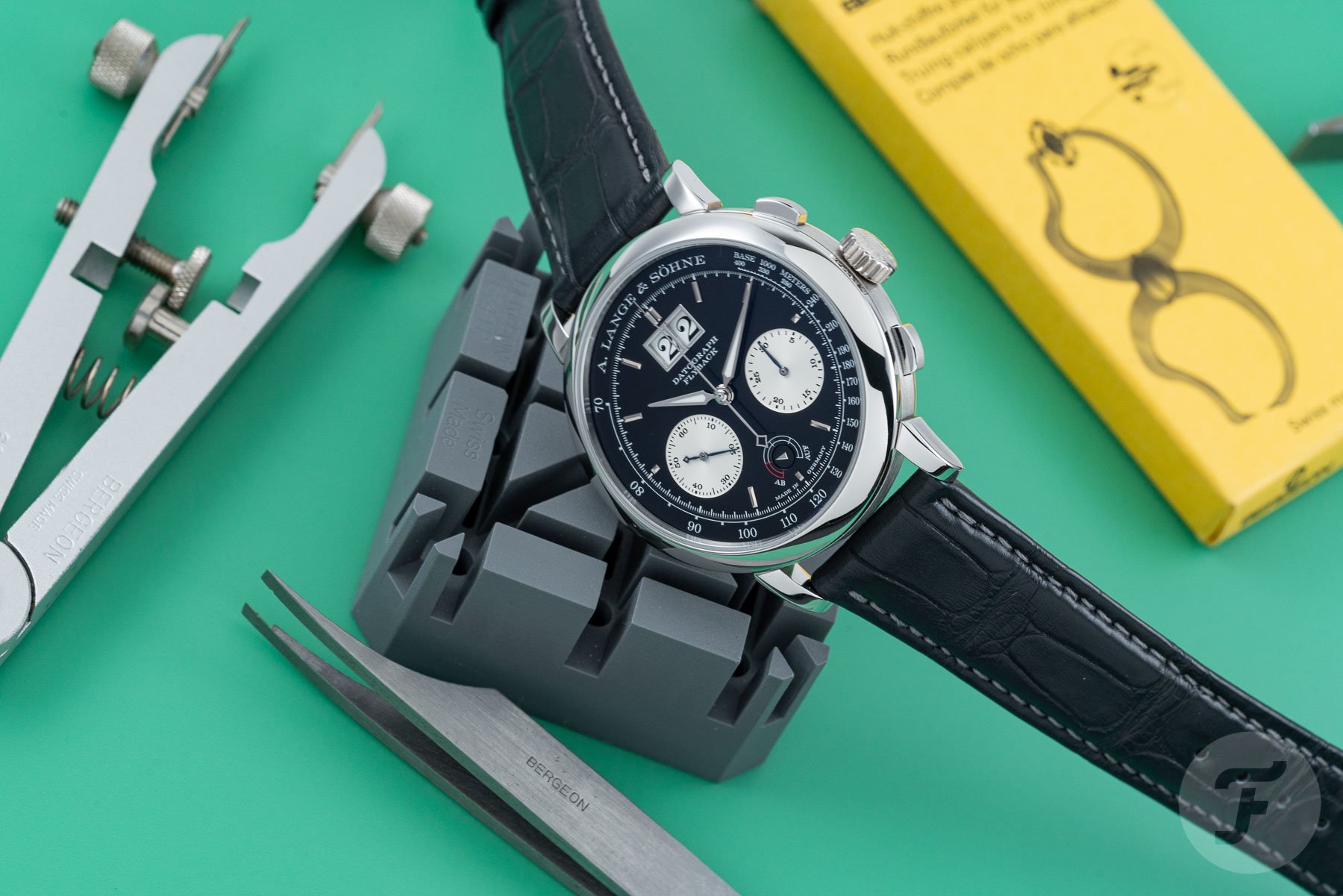 What's the secret to the A. Lange & Söhne Datograph Up/Down?
The secret to the Datograph Up/Down might well be its perfect size, the use of perfect platinum and the weight it brings to the wrist, and the perfectly balanced dial. About that dial, the fact that the sub-dials are at 4 and 8 o'clock instead of the traditional 6 and 9 positions kept catching me off guard. In the most positive of ways, though, I have to admit. It just kept reminding me this Datograph is something special. This is even more apparent when you operate the chronograph. The buttery smooth way that it starts, stops, and resets is such a joy. You don't actually have to see the movement to understand it's something special. Rather, you can feel it in your fingertips.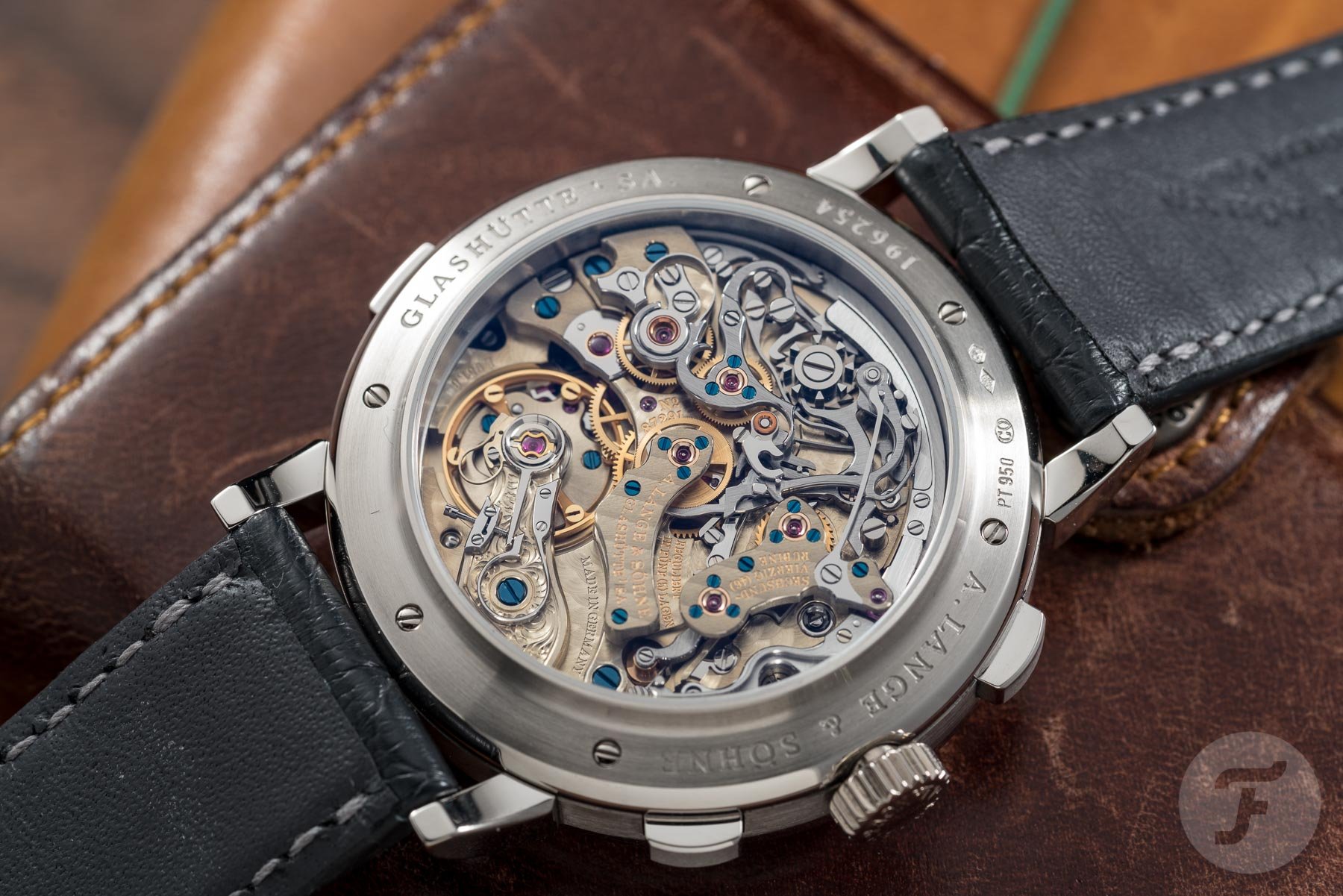 And if the chronograph part of the Datograph doesn't convince you of how special this watch is, the big date certainly does. It's a spectacular feature that defines all Datograph iterations, and one that will reveal your watch-fan status to like-minded people… as if the fact you're wearing a Lange didn't do so already.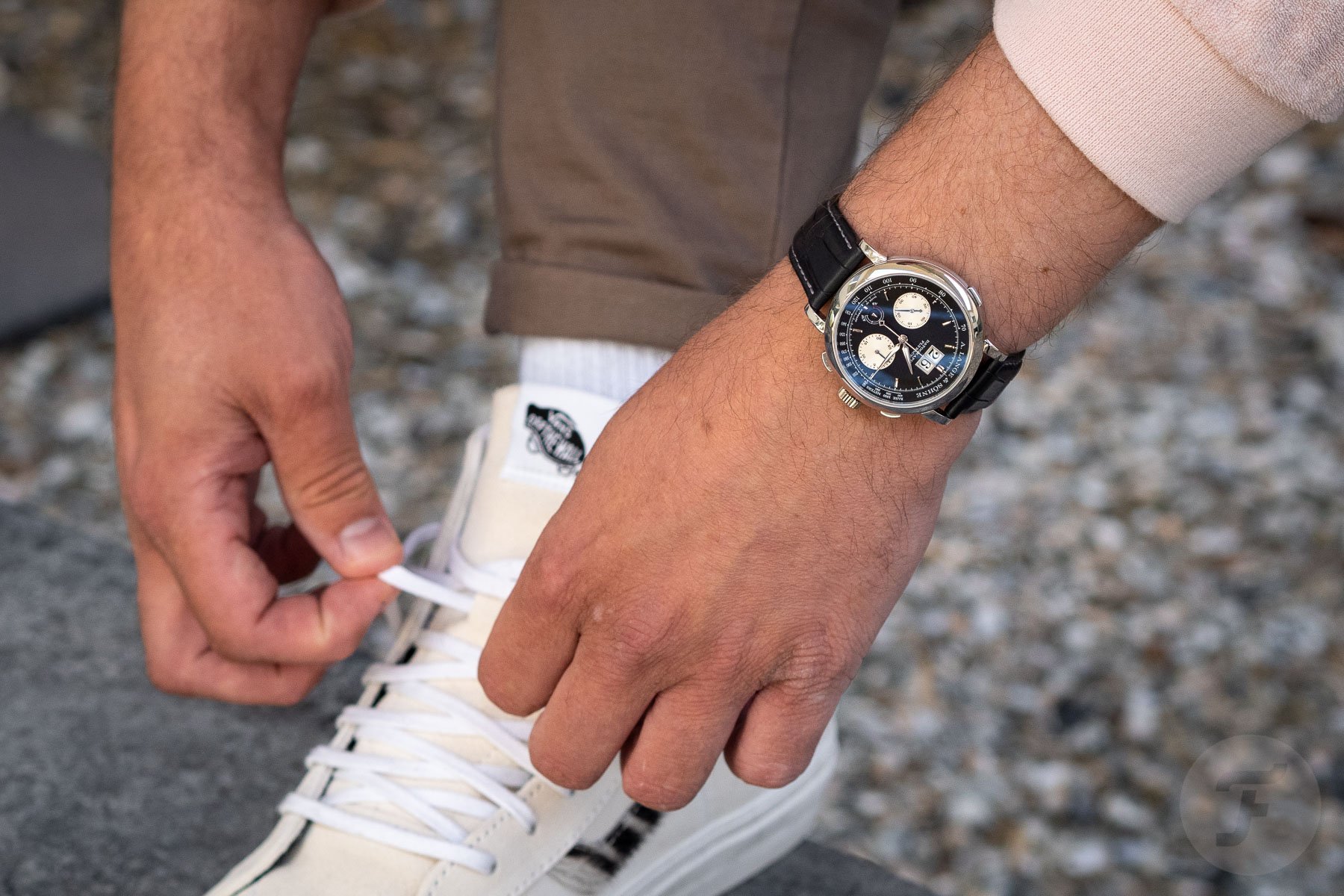 Like a pair of comfy slippers
For me, the platinum A. Lange & Söhne Datograph Up/Down is like a pair of comfy slippers that I never want to take off. And when I had the Datograph at my disposal, I didn't want to take it off. It could have been a completely different experience — one that resembled wearing a pair of wooden clogs a size too small, for instance. Upfront, you never really know what to expect, but to me, this Datograph all felt tailor-made. Now let me ask, what do you think the Datograph Up/Down would be to you — slippers or clogs?
Visit the A. Lange & Söhne website for more information on the Datograph Up/Down.
Please find and follow me at Lex Stolk • Instagram