Hands-On With The A. Lange & Söhne Odysseus
The new sporty Lange in stainless steel
We usually don't find an NDA document in our mailbox. I can't remember having to sign a nondisclosure agreement before any event. So when you receive one from A. Lange & Söhne, you know something big is about to happen.
A. Lange & Söhne invited us to Dresden last week, to meet up with Anthony De Haas (Director of Product Development). He talked us through the latest family member of the Glashütte company that re-established in 1990: the A. Lange & Söhne Odysseus. According to A. Lange & Söhne, there was demand from their existing clientele for a sportier watch in steel. They listened and designed an A. Lange & Söhne in stainless steel. Without further ado.

A. Lange & Söhne Odysseus
A Lange watch and steel is an odd combination. In the past, only very few pieces from A. Lange & Söhne in steel have left the manufacture. Apart from some truly unique pieces. Yet, their desire to add something sporty to the collection, alongside demand from clients, results in a new model line, in stainless steel. In all honesty, when I saw this watch for the first time, it took me a brief moment to get used to it. You instantly see the typical A. Lange & Söhne DNA due to the large day and date display, which are placed on the outside of the dial.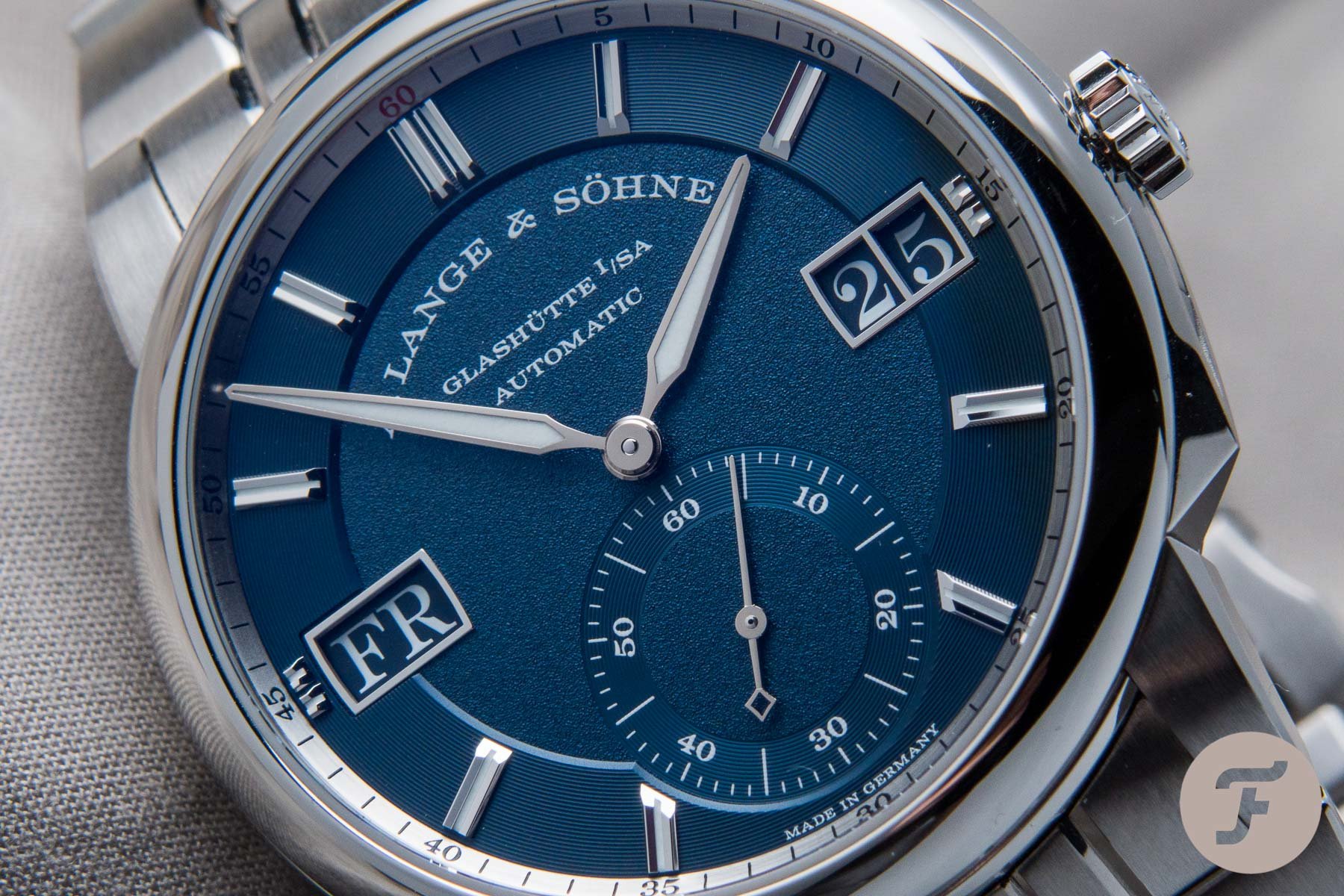 Another first for A. Lange & Söhne is the integrated steel bracelet. While talking to Anthony de Haas, I learn that each link of the bracelet has polished surfaces on all edges. Apart from the great aesthetics, this also prevents your hair from being pulled. Luckily my arms don't suffer from excessive hair growth, so this wouldn't be an issue for me anyway. In short, the bracelet looks very well made, and it has no screws at all. Looking at the links from the back, you notice small circles. When you press these with a special tool, you can pull the outer link away. So it's possible to shorten or lengthen the bracelet without too much effort. The necessary tools to do so are supplied with the watch itself.
What makes a great feature in the clasp is the micro-adjustment. By operating the hidden pusher (the A. Lange & Söhne logo on the clasp), the bracelet can extend up to 7 mm in total. And it can be easily pushed back inwards to shorten the bracelet again in small increments. This gives you all the flexibility you need to wear the Odysseus comfortably on the wrist.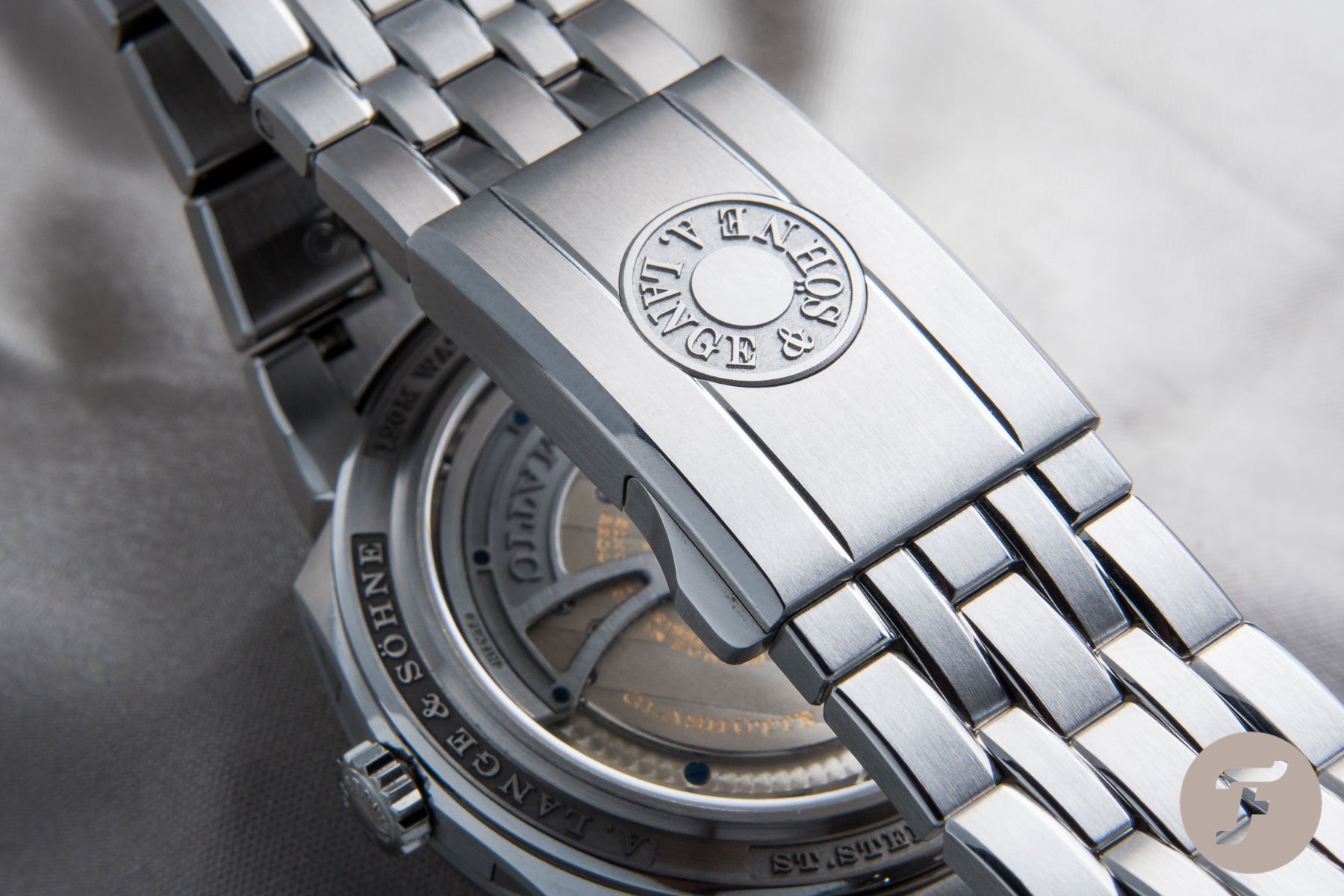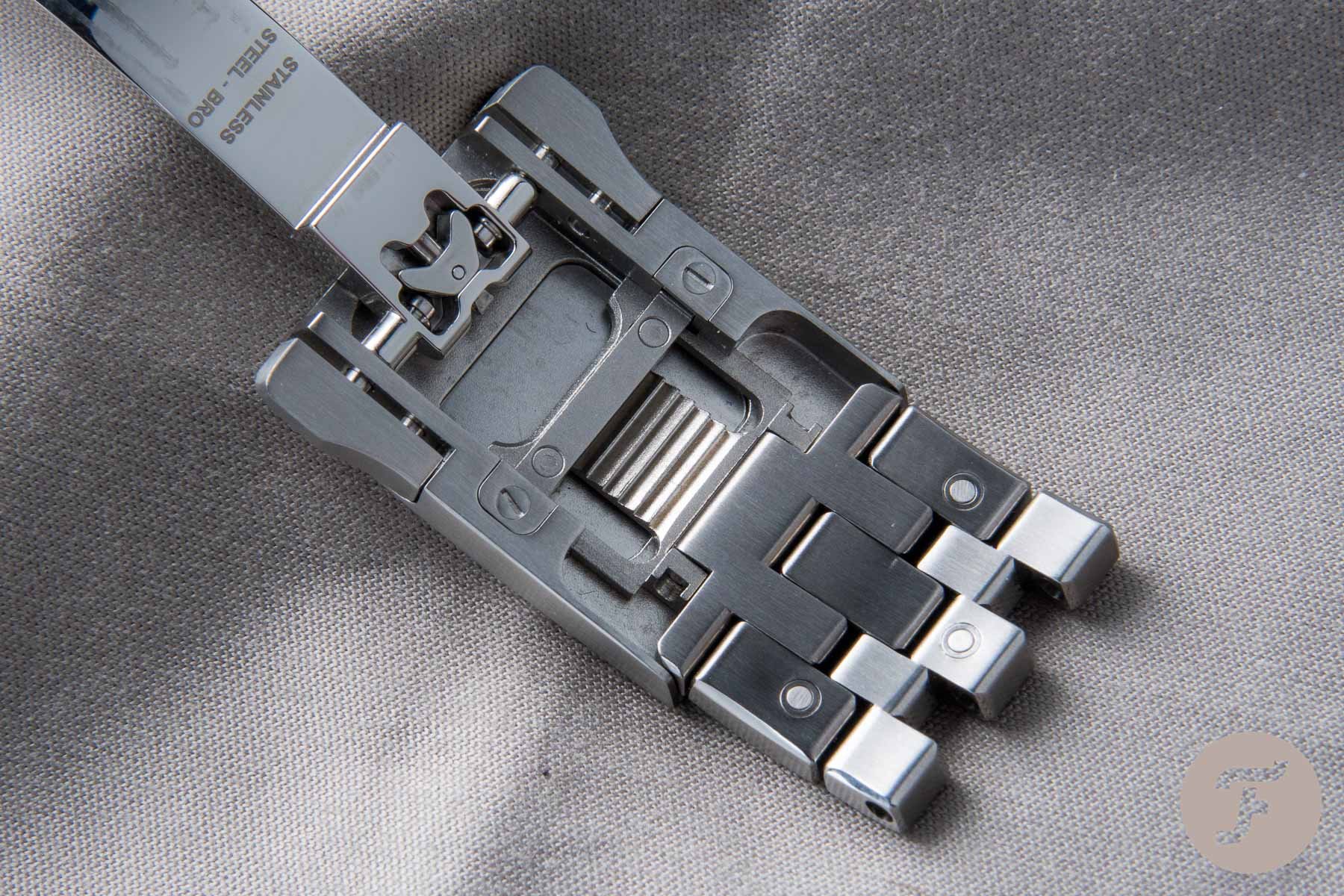 No compromises made
When talking about the movement, we learn that it is on par with any other A. Lange & Söhne movement that leaves their workshops. In total, there are 32 different movements produced at Lange. For the Lange Odysseus, a new automatic movement is developed that comes with the name L155.1. Made from 312 components, and this movement comes with a power reserve of 50 hours. An interesting detail we learned is that the blued screws used by Lange come in six slightly different tones of blue. After blueing, they are sorted by hand to make sure that all screws in the movement have an identical tone.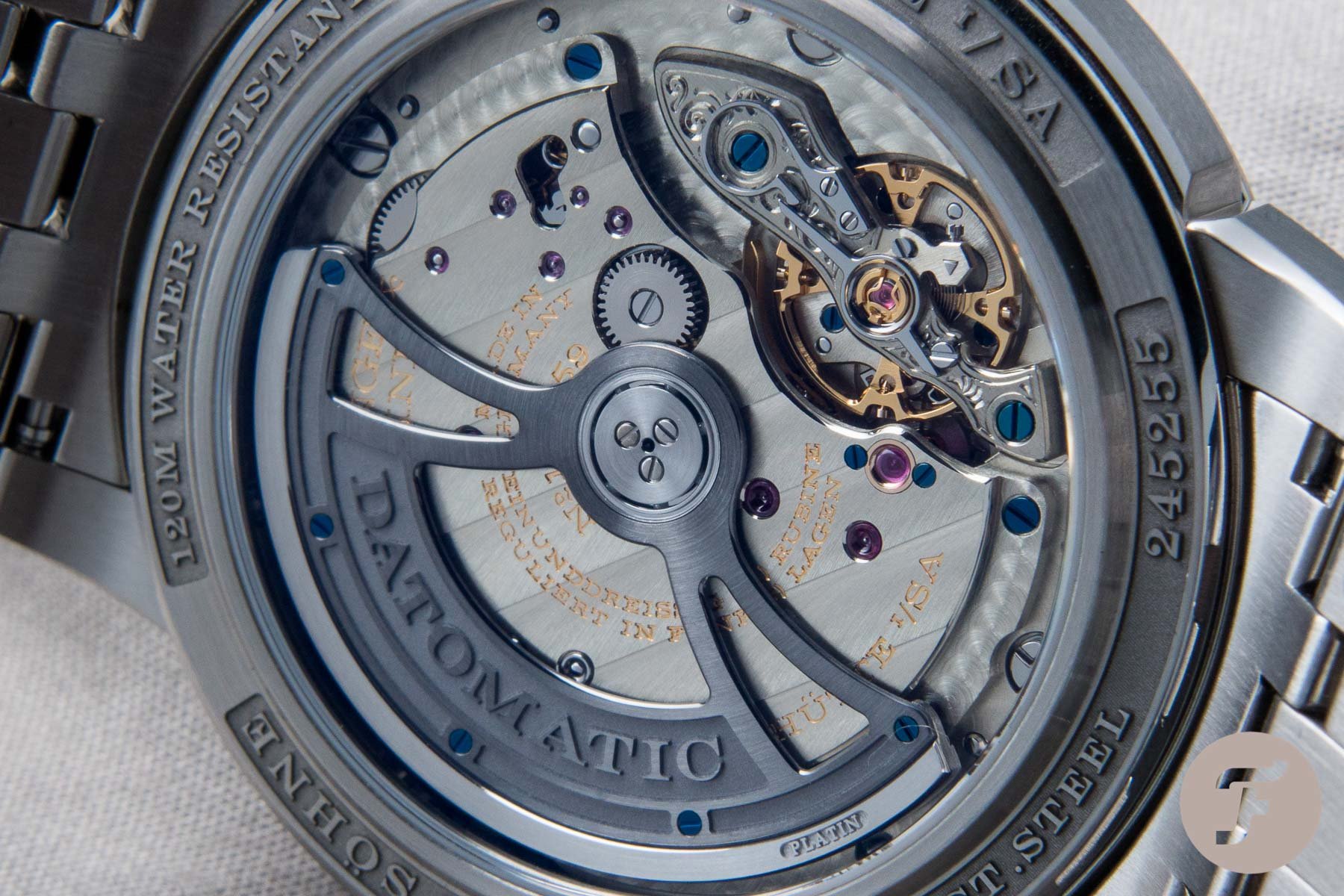 The rotor is made from Arcap, which is an alloy that has a very high tensile strength and corrosion consistency. With its extra flexibility, it makes an excellent choice for a sporty watch. An extra platinum mass has been added for better centrifugal forces, which helps smooth winding. The rotor is both signed with 'Platin' for the platinum weight, and "DATOMATIC" because of the automatic date function of the movement. Other than that, no matter how close you look at the movement, it's finished to perfection, as you can expect from Lange.
Sporty by details
One of the differences with their other movements is that you will find a balance wheel bridge which is fixed on both sides. Like any other Lange movement, this part is hand-engraved. The balance wheel itself has a new design as well. It has four countersunk screws that are flush with the outer line of the balance wheel. With 28.800 oscillations per hour, it operates at a slightly higher frequency than their other movements.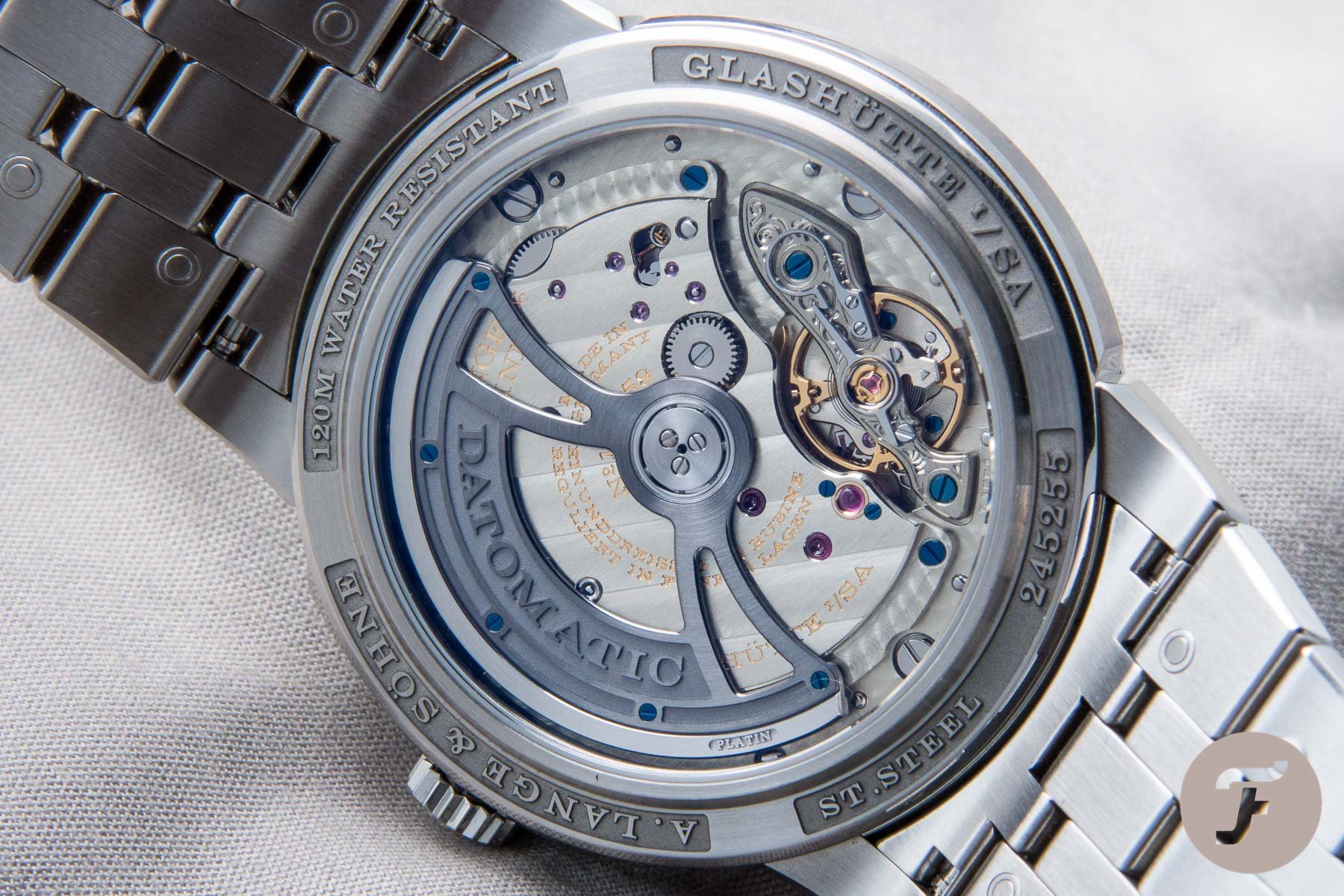 There are so many new details on the A. Lange & Söhne Odysseus; we would almost forget the small pushers on the right side of the case. Located on both sides of the screw-down winding crown, are the quickset buttons for the day and date. With a soft press, the day or date increases. Something you probably won't use a lot, but for sure, it makes adjusting as simple as it can be. With a case that is waterproof up to 120 meters, you can wear this watch during pretty much any occasion. No need to worry about getting your watch wet or ruining the leather strap.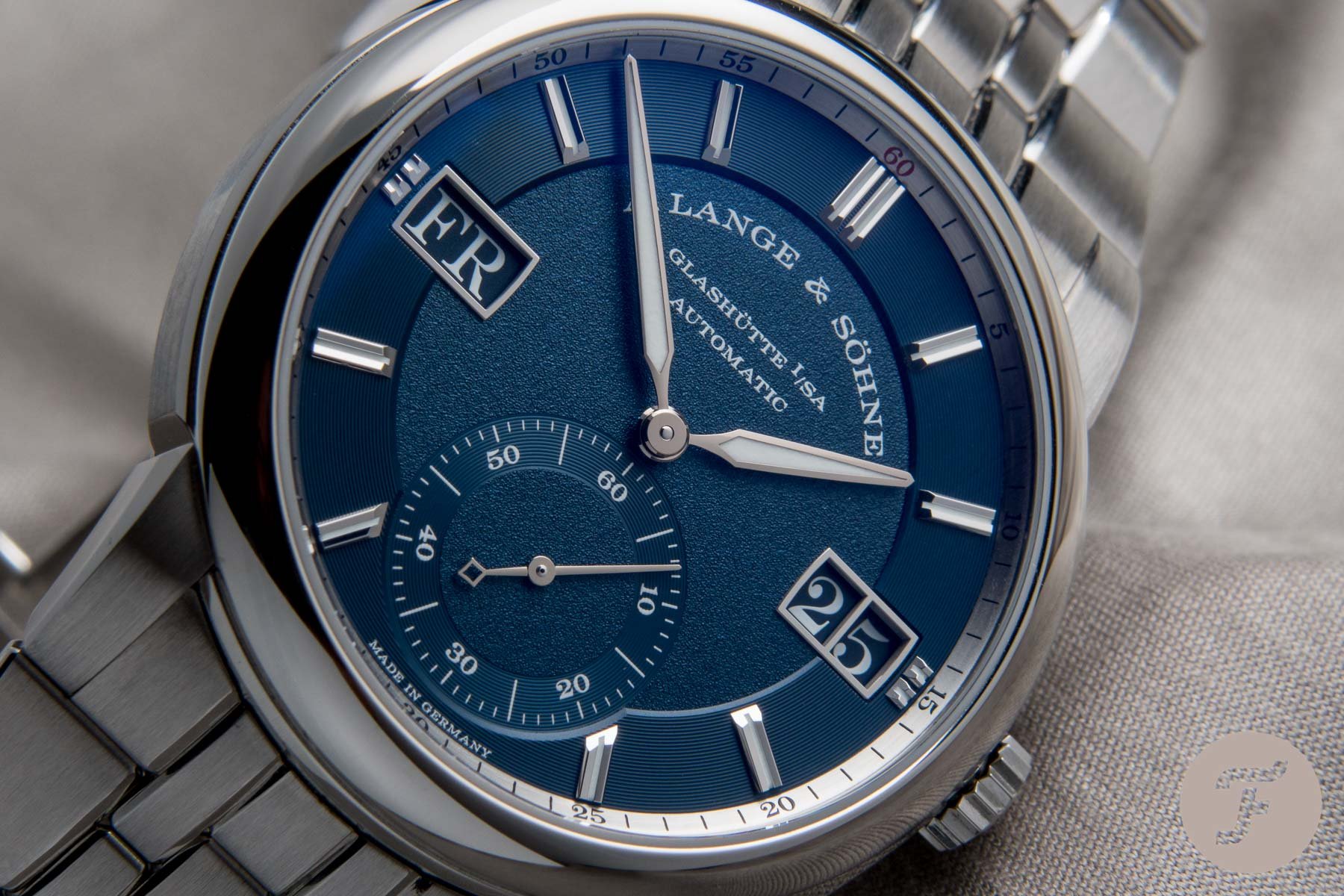 As you can see above, the dial of the A. Lange & Söhne Odysseus looks stunning, especially (or better said, even) during a close-up shot. It is made from brass, and it comes in several finishes and levels. The combination of concentric lines and the grained surface gives a great effect and plays with the light constantly. Applied silver hour markers add more depth and are have luminous material just like the brand-typical lancet-shaped hands. Framing the edge of the dial is a beveled ring with a minute track. Each 5-second increments are printed in numbers, and the number 60 is printed in red as a colorful accent.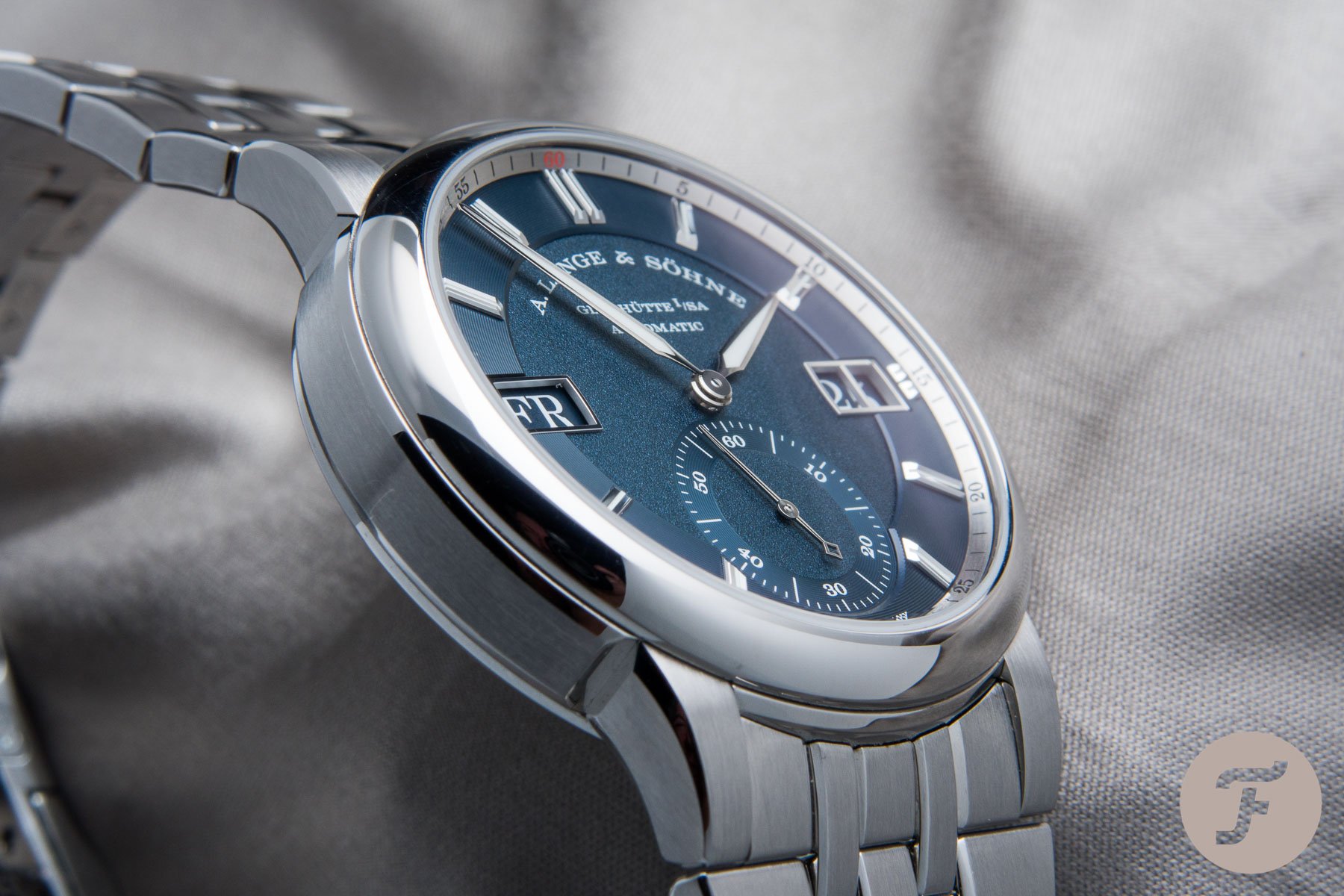 Final thoughts on the A. Lange & Söhne Odysseus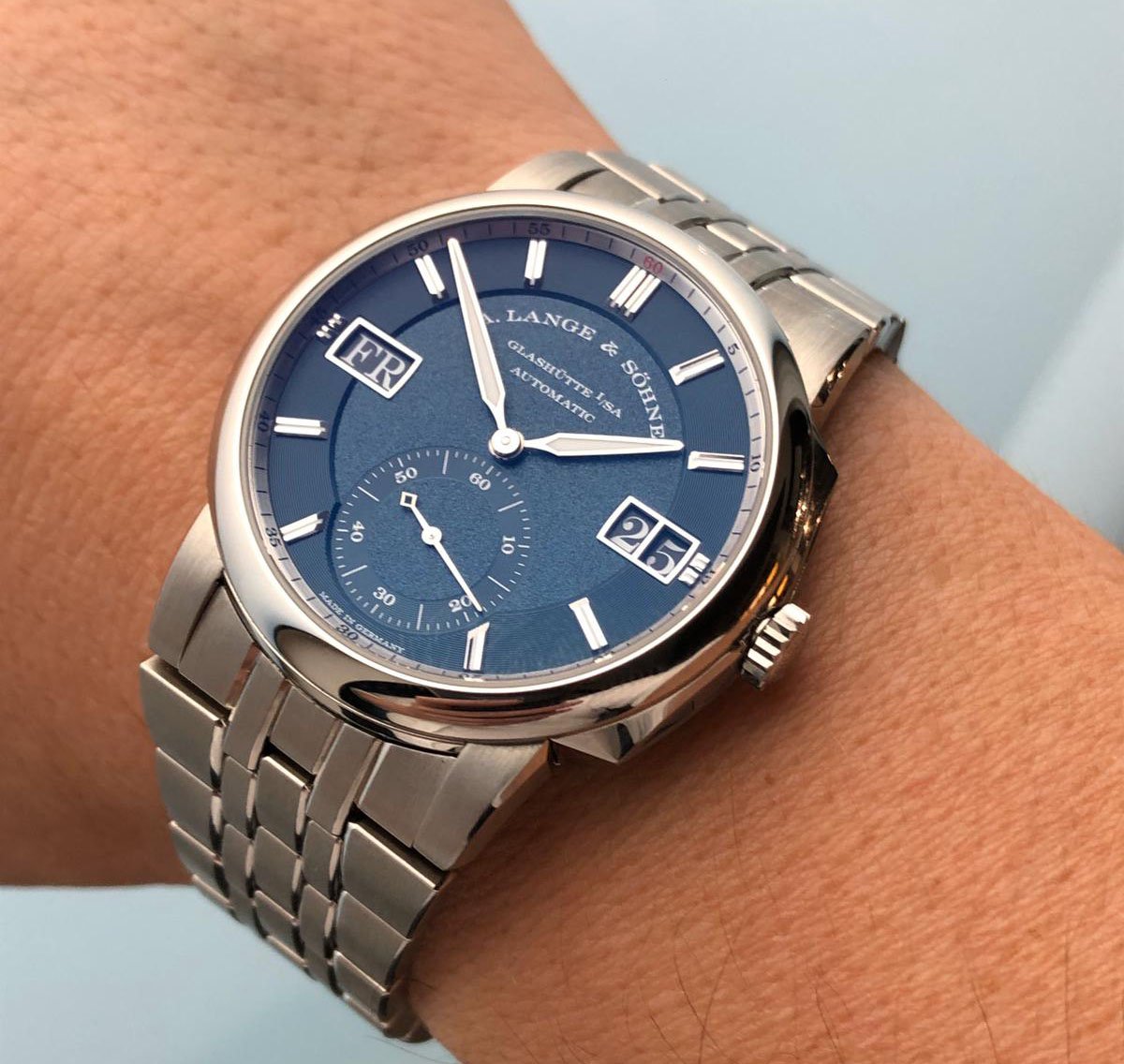 On the one hand, the Odysseus is breathing A. Lange & Söhne. On the other hand, it is something entirely different for the German watchmaker. It took me some time to get used to the Odysseus. But it definitely as that same characteristic other Lange watches have: the longer it is on your wrist, the harder it is to take it off. The A. Lange & Söhne Odysseus is just stunning and on top, extremely comfortable. One thing, you have to see this one in the metal yourself. It should be available from next month, so make sure to check it out and see it for yourself. See our specification sheet below for all the details.
More information can be found via the A. Lange & Söhne website.
Watch specifications
Dial
Dark blue brass dial
Case Material
Stainless steel
Case Dimensions
40,5 mm in diameter, 11,1 mm in height
Case Back
Sapphire crystal
Movement
Lange Manufacture calibre L155.1 DATOMATIC
Water Resistance
120 Meter
Strap
Stainless steel with precision adjustment
Functions
Time, day and date
Special Note(s)
First steel production watch made by A. Lange & Söhne