A Long Time Coming: The New Breitling SuperOcean Completes The Lineup
Breitling finally has the diver to compete
The new Breitling SuperOcean is here, and it marks the culmination of a "rebirth" for the brand. The SuperOcean was amongst the last in the lineup to receive a complete remodel, but I think it's fantastic. Let's dive in!
Yes, since the arrival of Georges Kern, Breitling has undergone a complete revamp. Essentially, everything that we knew from five years ago has been redone, resized, and, frankly, made better. Plus, we vintage nerds have even been treated to some epic reissues along the way, including some real enthusiast-driven beauties such as the hand-wound Premier. There was one notable omission from the makeover process, though, and that was the everyday dive watch. Now, though, a new SuperOcean is finally here.
The Breitling SuperOcean
Perhaps there's a reason that Breitling saved the SuperOcean for last. If I'm being honest, the brand isn't really known for its dive watches. Breitling is famous for its pilot's watches and, more specifically, chronographs. Don't get me wrong, the SuperOcean isn't a new name. In one form or another, it has been around since 1957. However, versus something like the Rolex Submariner, its styling has changed drastically. The outgoing SuperOcean (seen above) was a "nice" watch, but it wasn't overly notable. It looked like a diver, but I don't think that it really looked like a Breitling. So, what to do?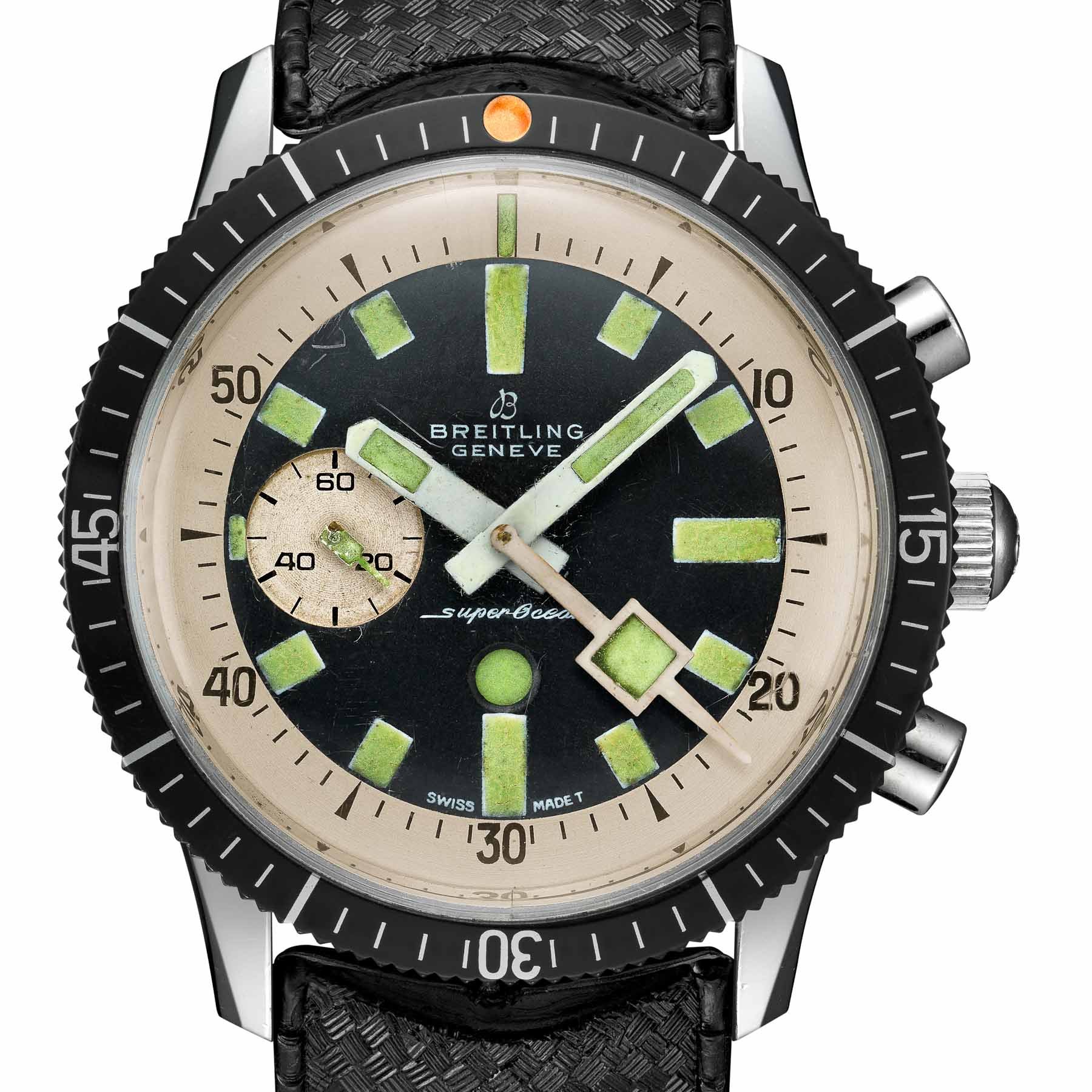 Finding inspiration in the past
One can imagine the challenge in creating the new Breitling SuperOcean. Making something "Breitling" without getting too close to, say, the Submariner or Seamaster 300M is a real challenge. High-legibility hands, a strong case, and an external bezel make it hard to come up with something recognizable yet fresh. In order to achieve this, Breitling reached way back to the 1970 and chose the reference 2005 Mk2 SuperOcean for inspiration. This watch was one of several vintage SuperOcean models that used a central hand to count slowly up to 60 minutes via a chronograph pusher system. In the case of the Mk2, it used a highly distinctive hand to count the elapsed time. And voilà, a unique hand was found for the new SuperOcean.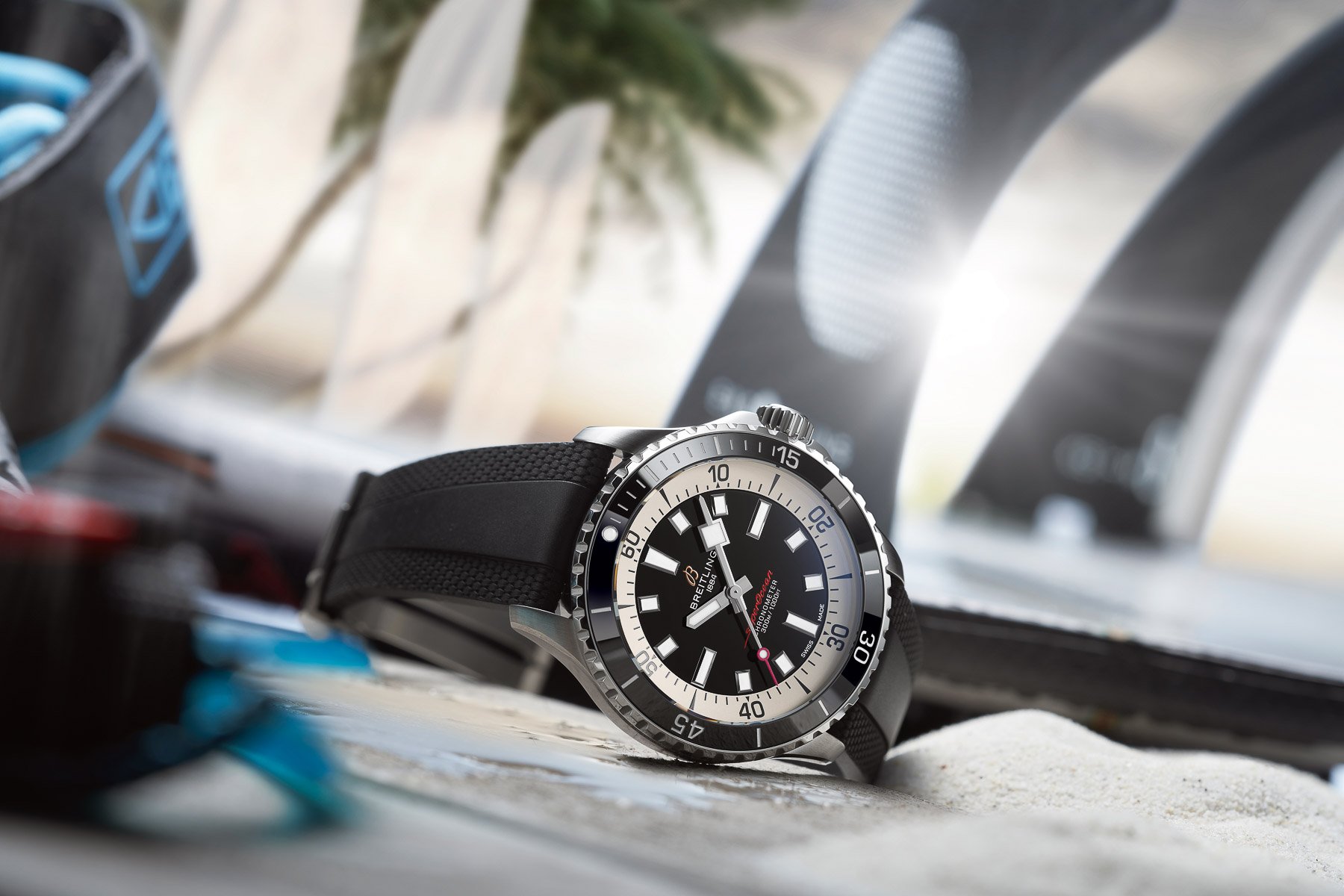 The new watch is very Breitling…
The result of deciding on a handset helped inspire a number of other details. Like on the original reference 2005, we see an internal white bezel that acts as a bold minute track. The original design also gave rise to the bezel on the new SuperOcean. It's simple yet seriously clean. The outer bezel also happens to be made of ceramic, which is a classy upgrade versus the prior model. The bold indices also take their cue from the historical reference but are white here instead of green.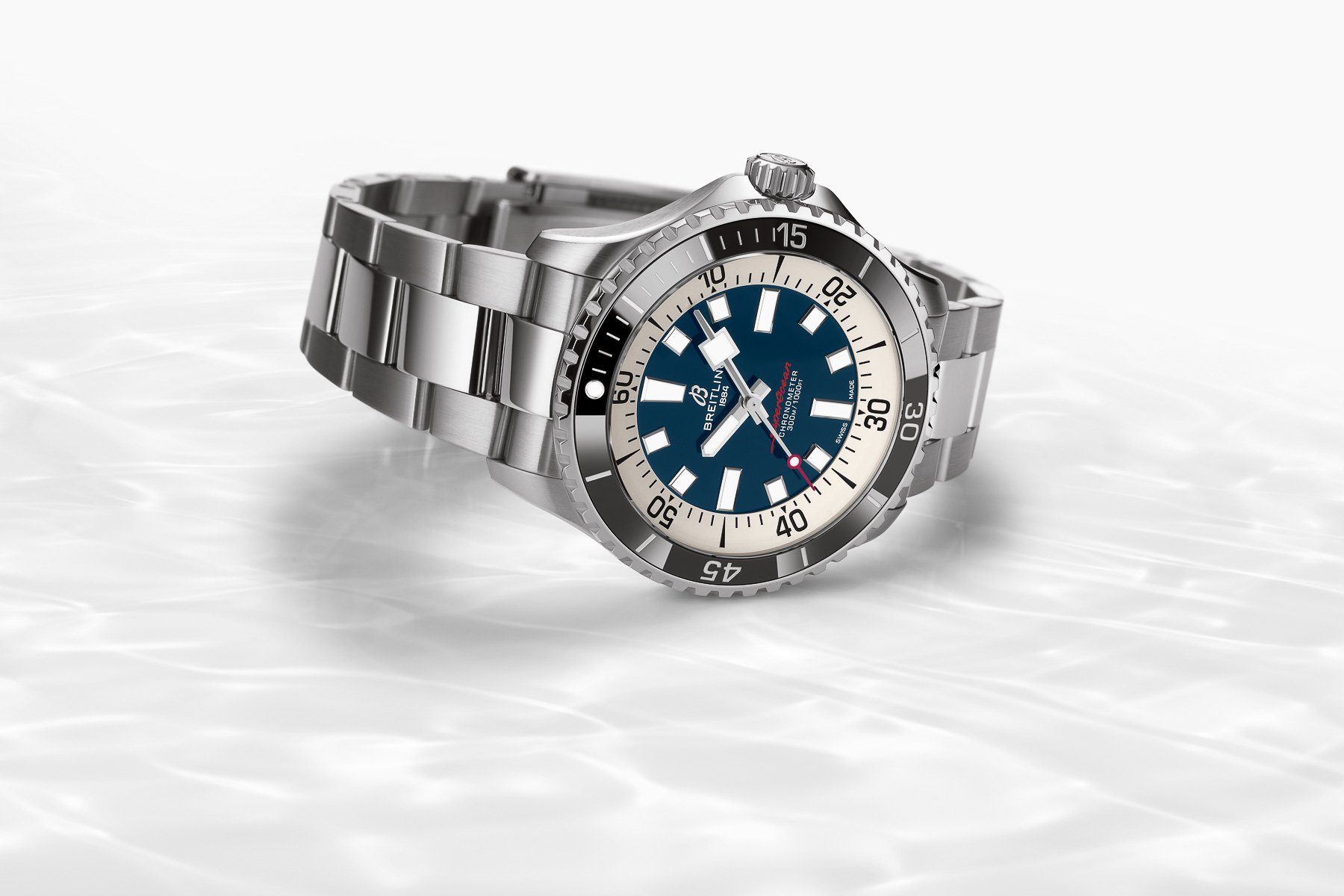 Of course, the new SuperOcean is no "slow counter" dive watch. It's a traditional diver, and I think that's a really good thing. It has 300 meters of water resistance, a unidirectional external bezel, and a screw-down crown. Also, whereas the original 2005 came in one color and a 42mm case, the new watch offers a serious (read: borderline ridiculous) amount of variation.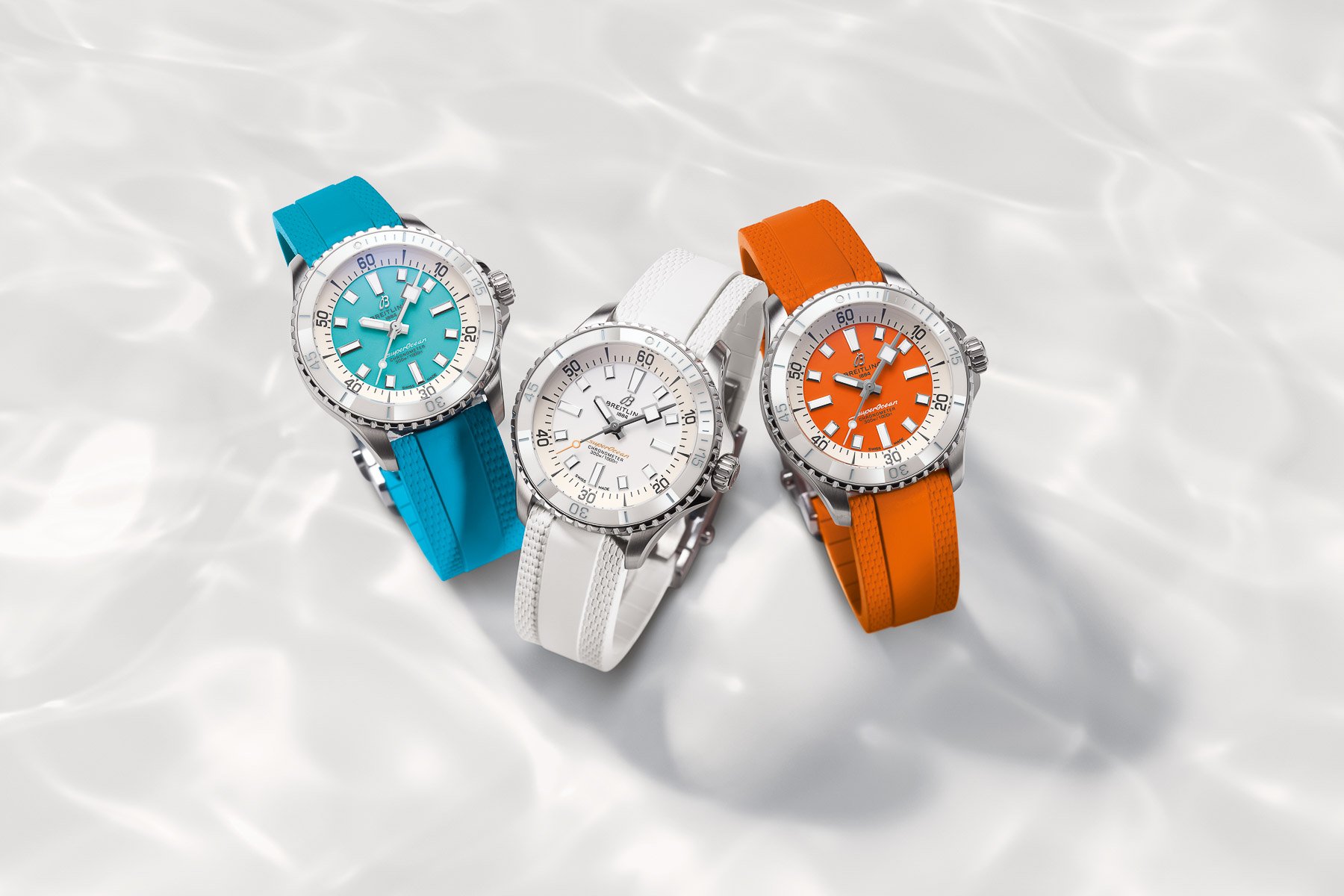 There's likely a Breitling SuperOcean for you
The Breitling SuperOcean comes in 36, 42, 44, and 46mm options. There's a bracelet as well as a rubber strap option for many models with each sporting a push-button deployant clasp. Materials? How about stainless steel, bicolor steel/18K gold, and even some bronze models.
For the 36mm models, white, turquoise, or orange dials are available and are 42.41mm from lug to lug with a thickness of 12.21mm. Similarly colored 18mm straps are available along with a bracelet. The watches will retail for CHF 4,450 on rubber and CHF 4,650 on the bracelet.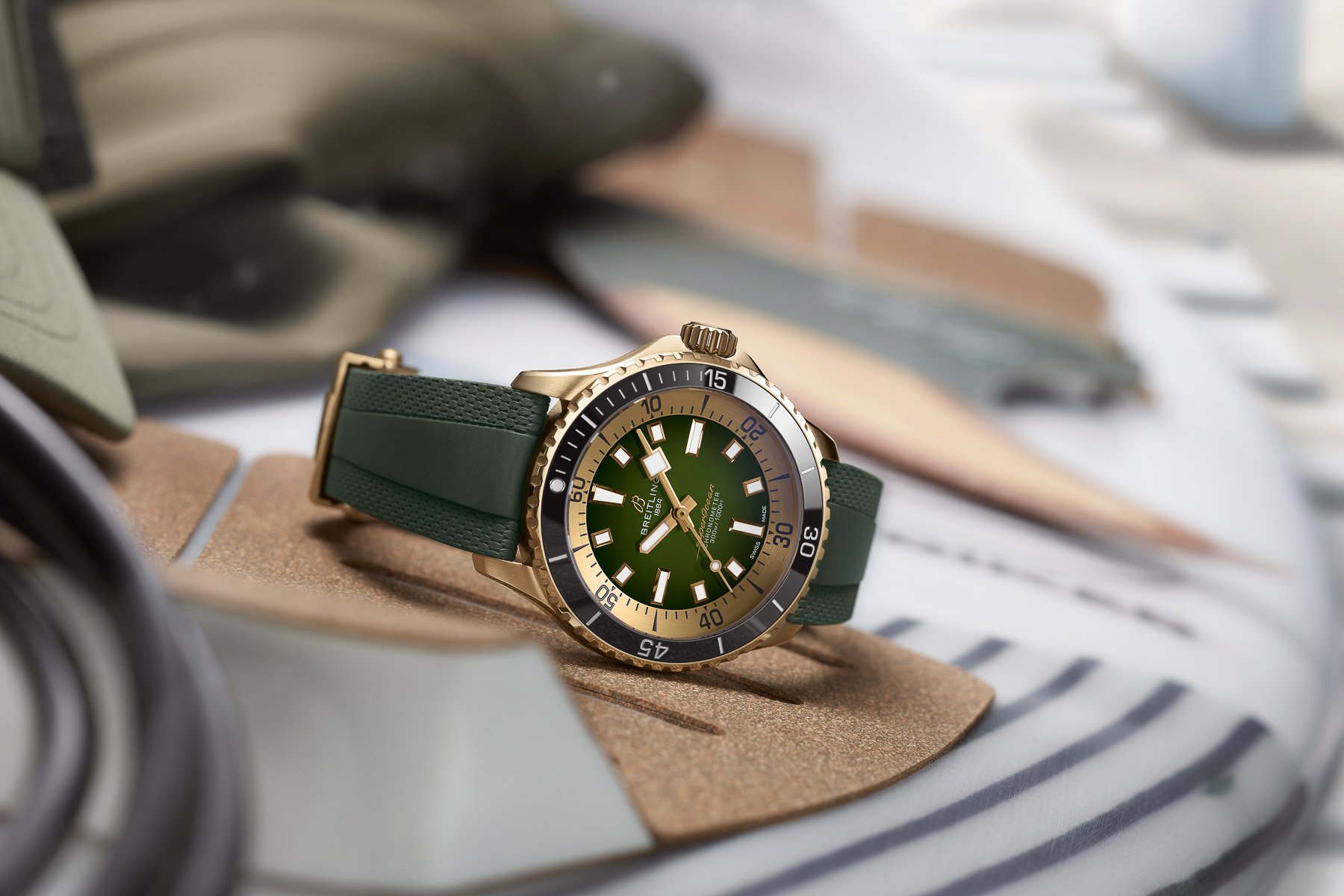 For the 42mm models, an orange L.E. (1,000 pieces) "Kelly Slater" model is available with a black bezel and 22mm dark green rubber strap for CHF 4,500. A bronze model with a dark green dial, black bezel, and a green strap is on sale for CHF 5,350. The lone bi-color model comes with an 18K rose gold bezel, black dial, black bezel, and black strap for CHF 6,500. For the "normal" steel models, there are black dial/black bezel, dark blue dial/dark blue bezel, and silver dial/dark blue bezel versions for CHF 4,500 on rubber and CHF 4,700 on steel. These models feature a truly wearable case with a 47.76mm lug-to-lug and just 12.56mm of thickness.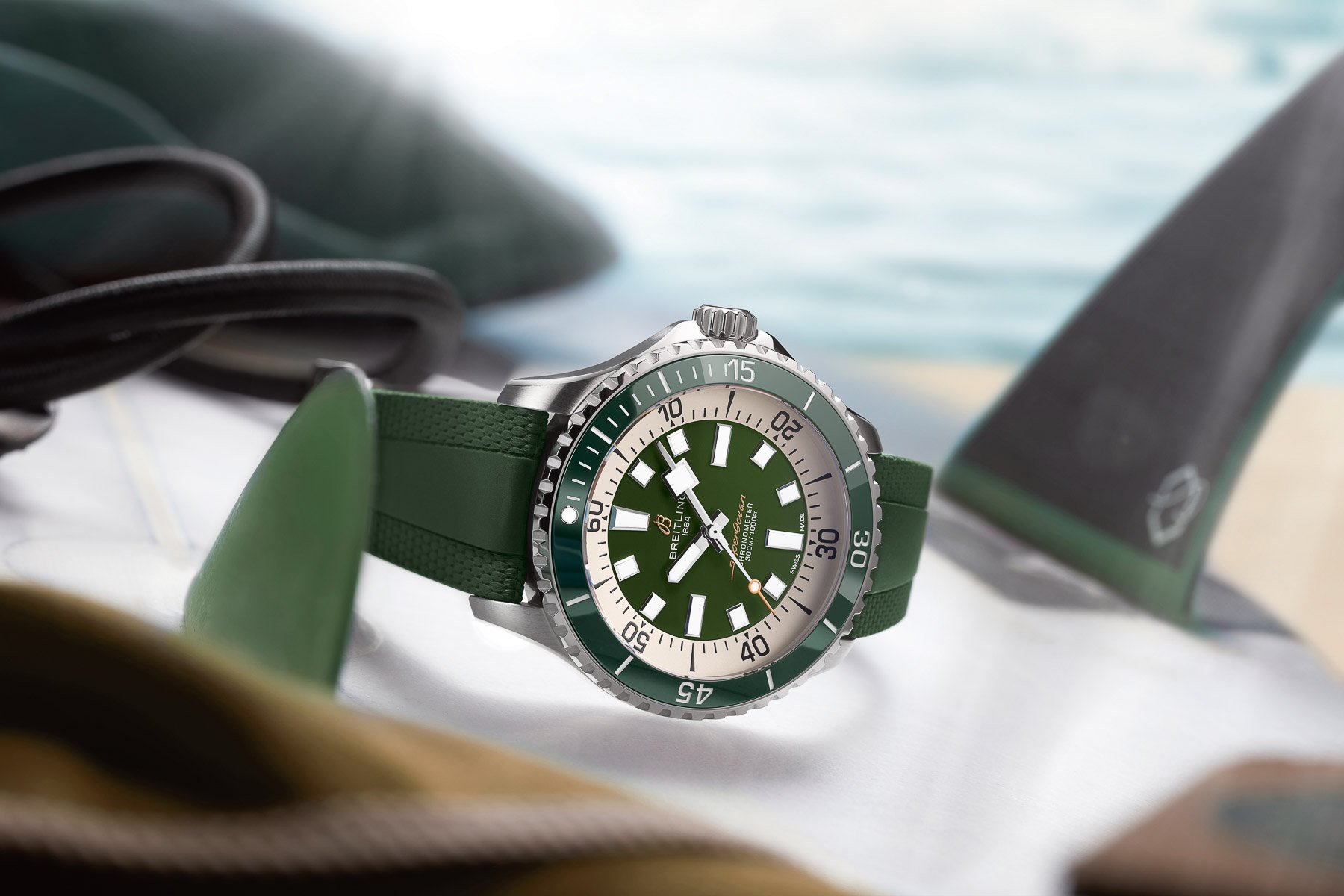 The 44mm models also bring a dizzying array of choices. A bronze edition is available with a dark brown dial, bezel, and rubber strap for CHF 5,450. In steel, there are black dial/black bezel, dark blue dial/black bezel, turquoise dial/black bezel, and dark green dial/dark green bezel variants for CHF 4,550 on a 22mm rubber strap or CHF 4,750 on a bracelet. These watches have a lug-to-lug of 50.54mm and a thickness of 12.62mm.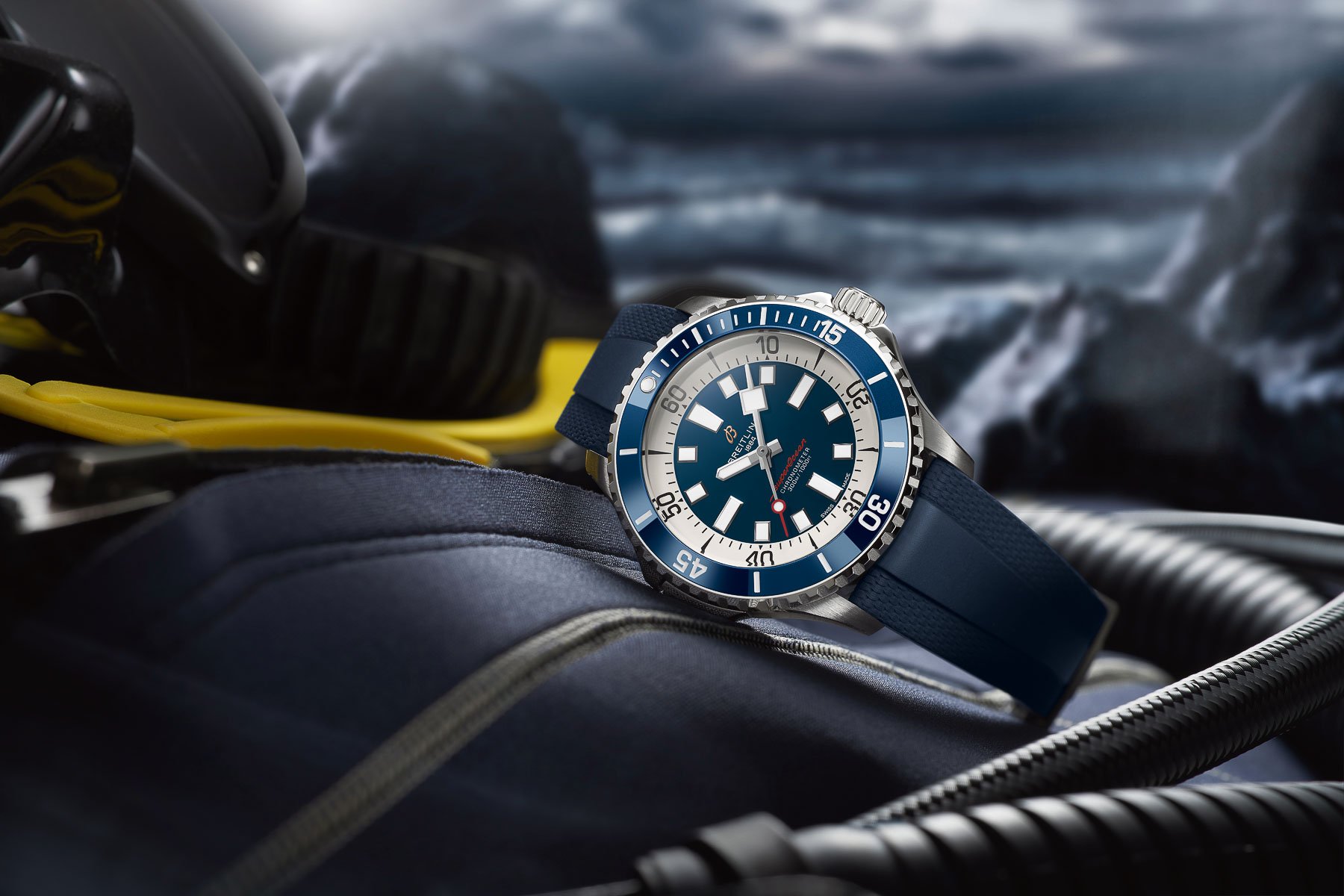 Finally, for those with "Schwarzenegger-ian" wrists, there are the 46mm models with a 52.29mm lug-to-lug and 13.22mm thickness. These models even feature a sliding clasp. Two options exist and include a black dial/black bezel version along with a dark blue dial/dark blue bezel option. These will retail for CHF 4,600 on a 24mm rubber strap and CHF 4,800 on a bracelet.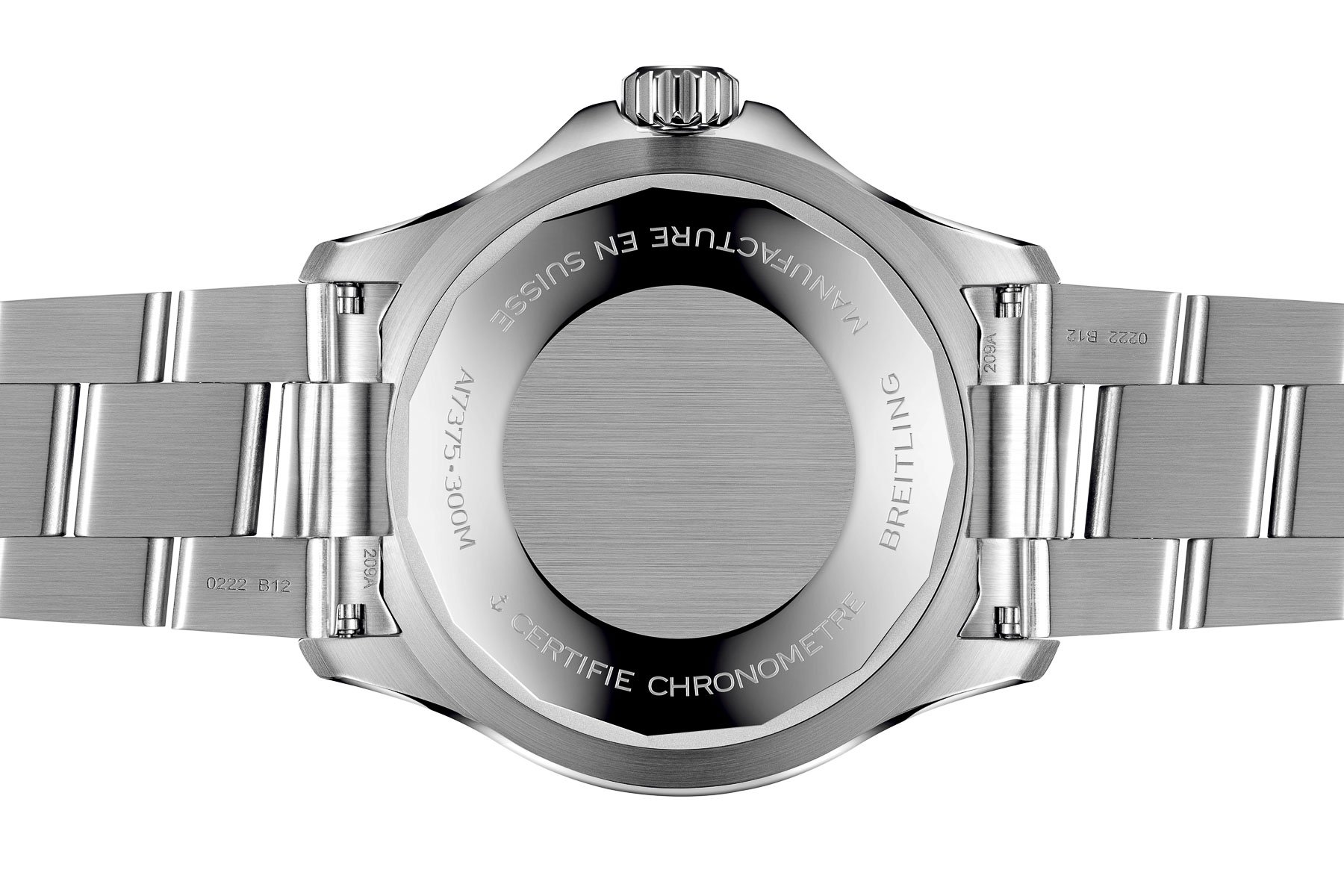 Other details on the Breitling SuperOcean
No matter which SuperOcean fits your wrist or your tastes, the watches are equipped with the Breitling Caliber 17. This is a Sellita movement that has received a COSC (Chronometer) certification. Fans of utile watches will notice two other key details. Firstly, Breitling went with a solid, screw-in case back. Personally, I like this decision for a straightforward diver. Second, there's NO DATE function. Rejoice! Perhaps we will get one at some point, but I'm personally so pleased that the design is uninterrupted.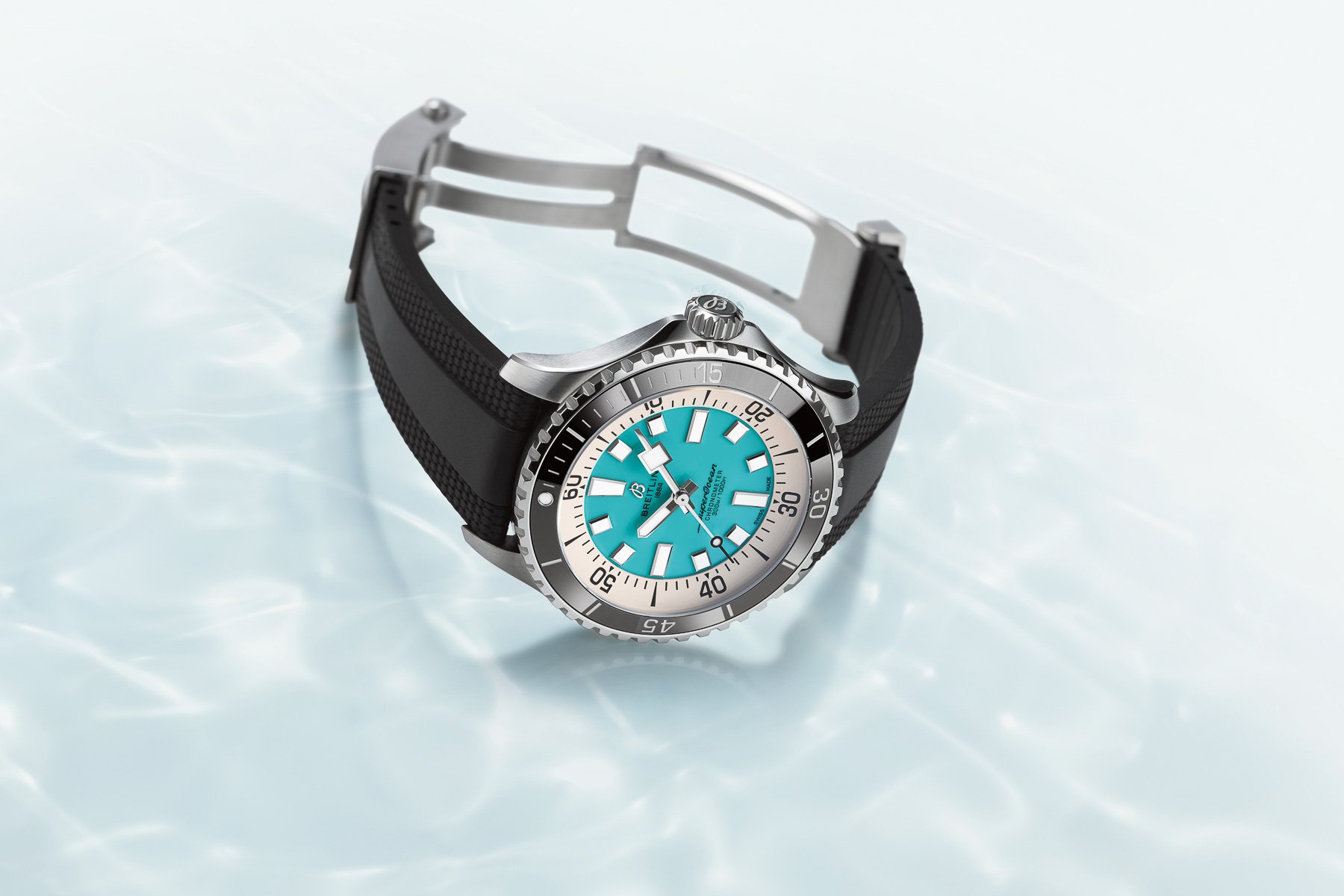 Enough with the details. What do I think?
Can I let you in on something? I've had little hints along the way about how this watch was developing. There were times (they were a long time ago, by the way) when I felt truly concerned with the direction of the new Breitling SuperOcean. However, Sylvain Berneron, Breitling's head of design, is one to be trusted. Things changed drastically during the lengthy development period, but at some point, I knew the watch would turn into something fantastic. And folks, I do think that Breitling finally has a great everyday dive watch on its hands that can go toe to toe with the big brands.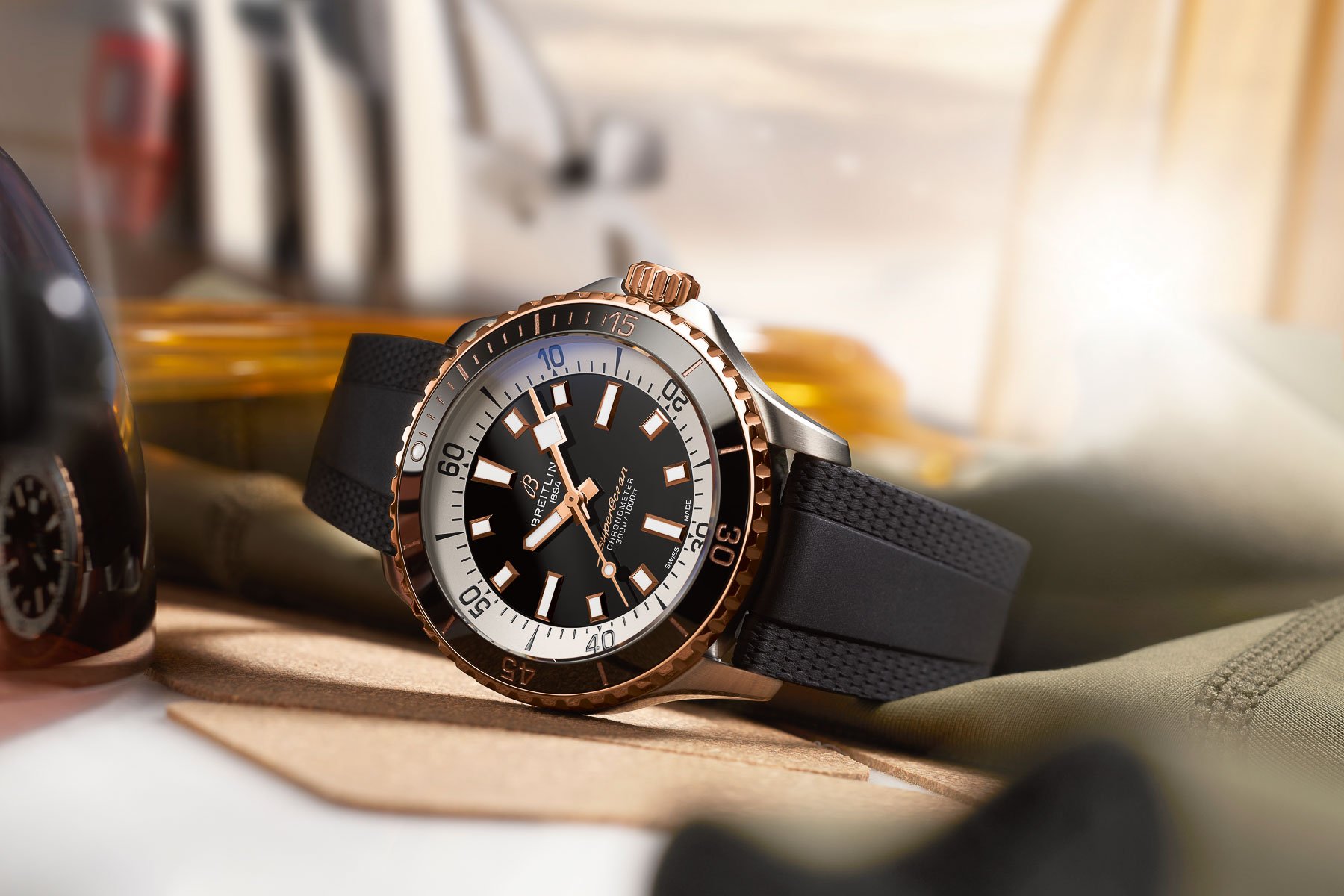 Detractors will immediately jump on the movement while banging away at their keyboards after shaking their pitchforks. Yes, the watch contains a Sellita, and that's probably the only bone to pick, but at least it's reliable and easy to service one day. Thankfully, though, the watch is also less expensive than, say, the Seamaster 300M. Most of all, though, this just looks like a watch that I'd enjoy wearing. It's thin, the finishing is top-notch, and, depending on the colorway, it can be seriously classy or incredibly fun. Honestly, I need another dive watch like a hole in the head, but I am battling between the Kelly Slater edition or either the black or blue 42mm models. The bi-color version?  Classy and clean!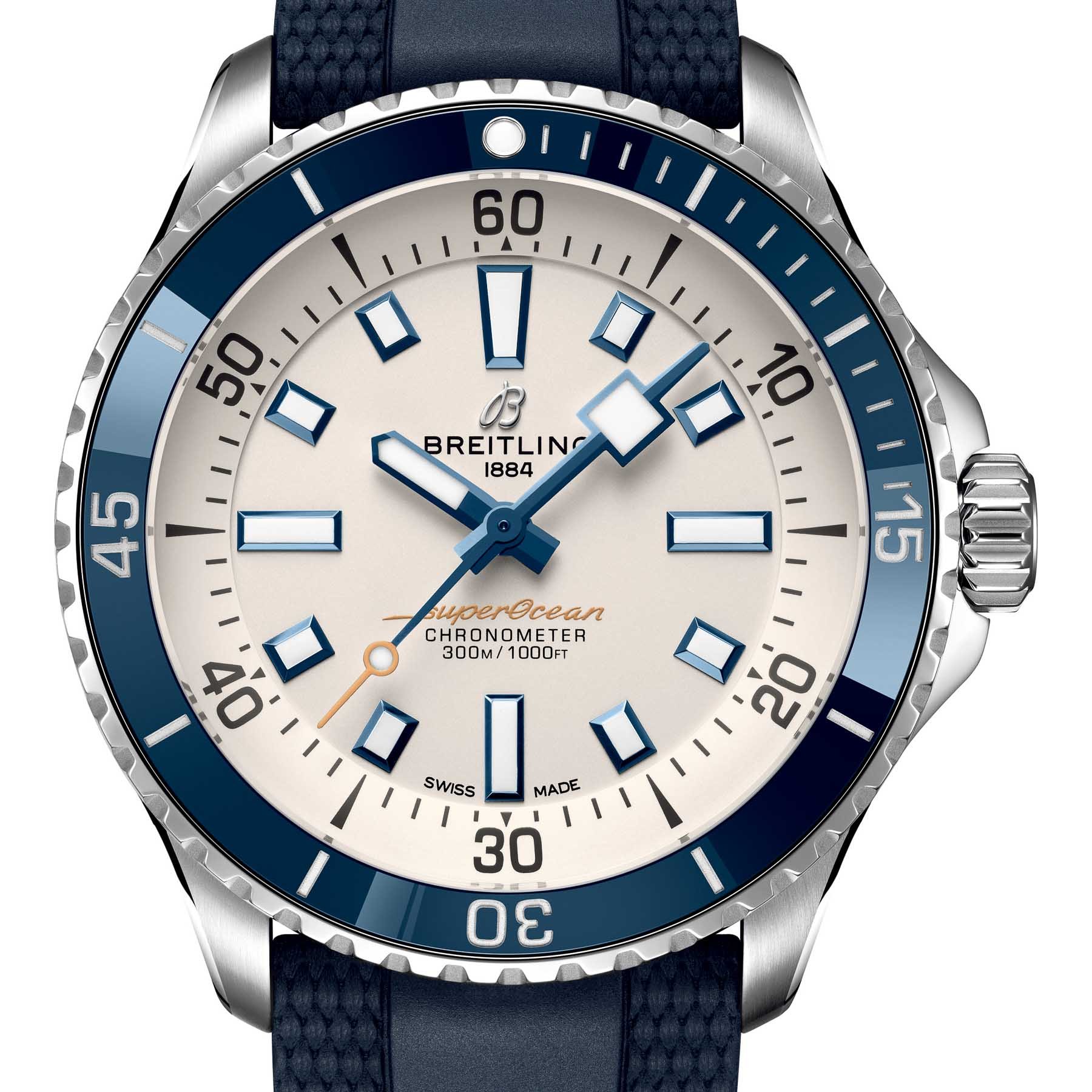 Aside from the models that I'd consider personally, I think that the new Breitling SuperOcean works best with either dark or brightly colored dials. Essentially, the only models that I don't love are the silver-dialed versions, but I think it's wise to offer divers in this tone. Some may chide the bronze offerings, but I think they're cool and help underscore Breitling's desire to have a bit of fun. Also, it will be cool to see how these age in people's wrist shots on Instagram.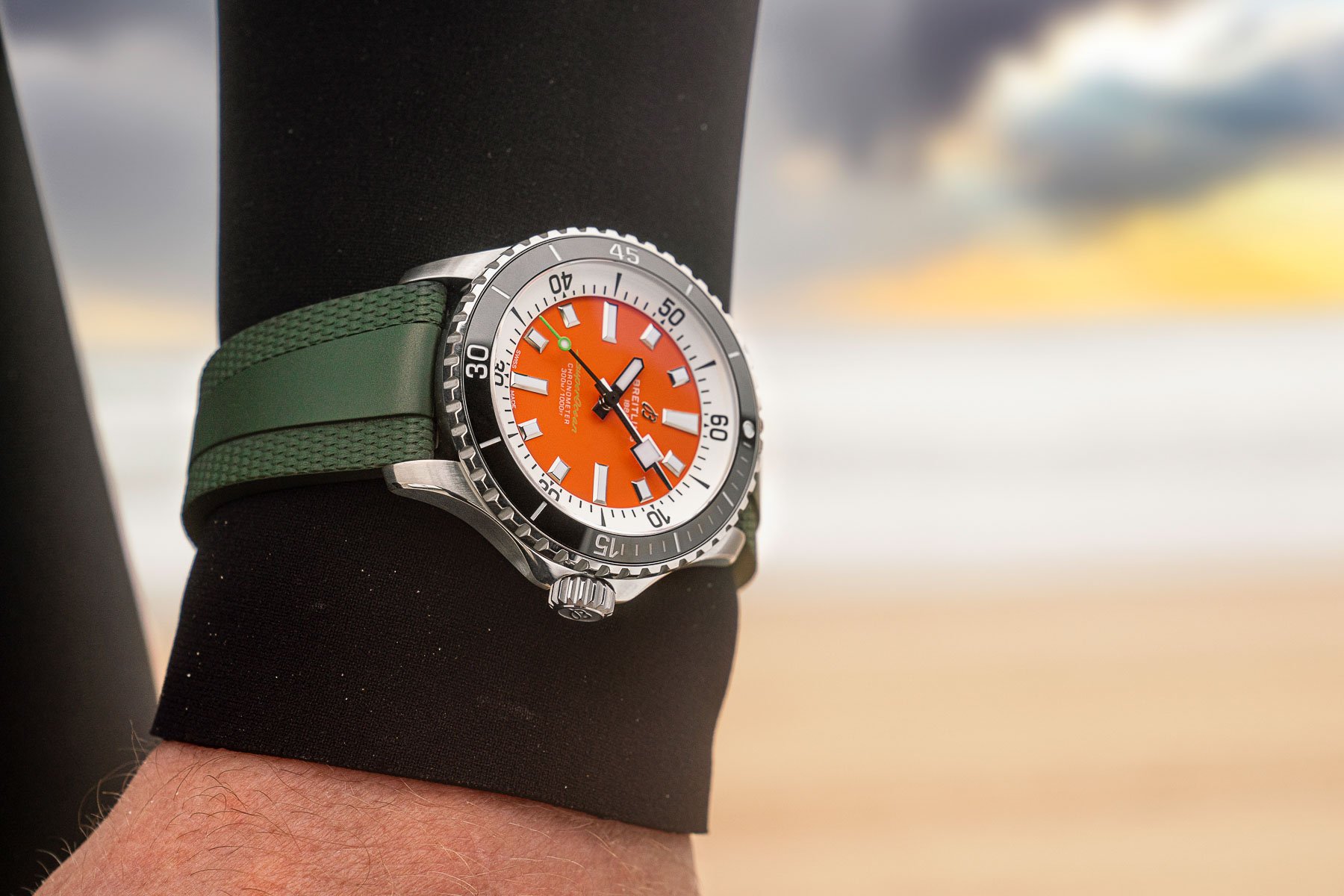 In my opinion, a job seriously well done
As you can tell, I really like the new Breitling SuperOcean models. At the end of the day, while I own a lot of different types of watches, dive pieces are hands-down my favorite. They simply work with my day-to-day needs better than anything else despite the fact that I don't dive. They're a go-to for casual to semi-casual dress while being rugged. I think these watches will do well, especially when people see them in the metal. Breitling is really good now, and with this watch, the brand's lineup is incredibly well-rounded.
Visit the official Breitling site for more information.