A Quick Hands-On With The All-New Rolex Yacht-Master 42 In RLX Titanium
The new material finally turns the Yacht-Master into an actual sports watch, but that comes at quite a cost
Together with the all-new Perpetual 1908 and the yellow gold and steel GMT-Master II, the Yacht-Master 42 in titanium is one of my favorite Rolex releases this year. So when we received an invitation to the Rolex booth last week at Watches and Wonders, I couldn't wait to get my hands on it. But I actually had to fight for it because Nacho and Dave also couldn't wait to try it on. Because we were so excited, we figured some of you might be as well, so we decided to do a quick hands-on with the all-new Rolex Yacht-Master 42 in Grade 5 RLX titanium.
Mike already mentioned in his introduction article that he always considered the Yacht-Master rather odd for a sports watch. The same is true for me. For some reason, the combination of very sporty looks and precious metals has never convinced me. It was just a little too fancy for my taste. But the fact that it now comes in so-called RLX titanium with a Cerachrom (ceramic) bezel insert totally changes my view of the Yacht-Master.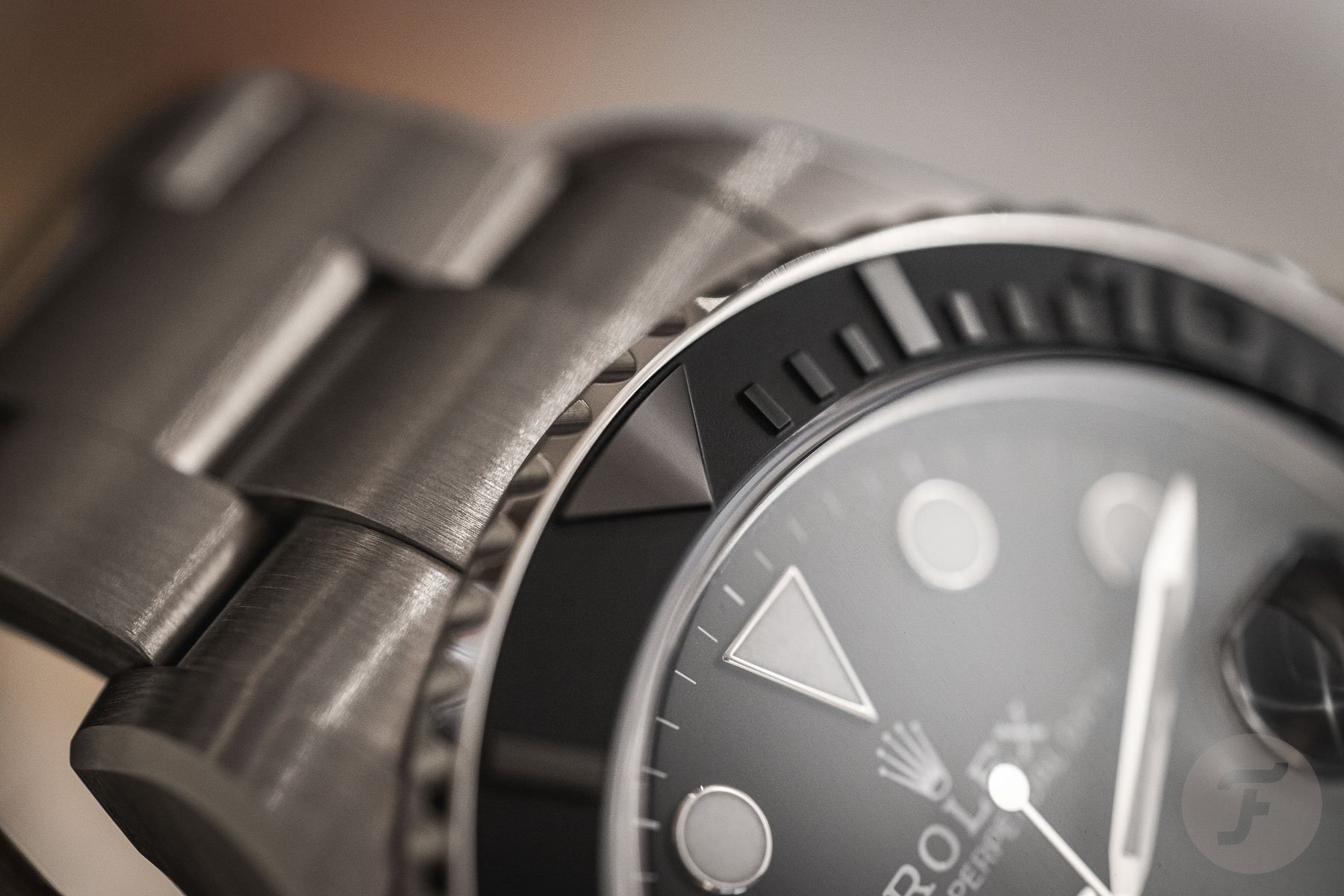 Hopes were high!
I know it's not the first titanium watch from Rolex, but it definitely is the most wearable one. Let's face it, very few people will wear that humungous Deepsea Challenge to go desk diving with, even though it's made out of titanium. And to be completely honest with you, I already expected the 42mm Yacht-Master to be a little too big for my wrist. But still, the fact that the watch is made of a lightweight material did make me get my hopes up. So yes, I was incredibly excited to get into that room with the rest of the Fratello team and the Rolex representatives.
Unfortunately, though, this wasn't the only watch released this year. In fact, it was just one among many! Watch after watch was passed along the table, and many wrist shots were taken. Morgan, our photographer, also took the chance to perform a little photo shoot with each of the new references. The tension was building. Finally, about halfway through the meeting, there it was — the dark gray and black Yacht-Master 42. And man, does it look good in the metal!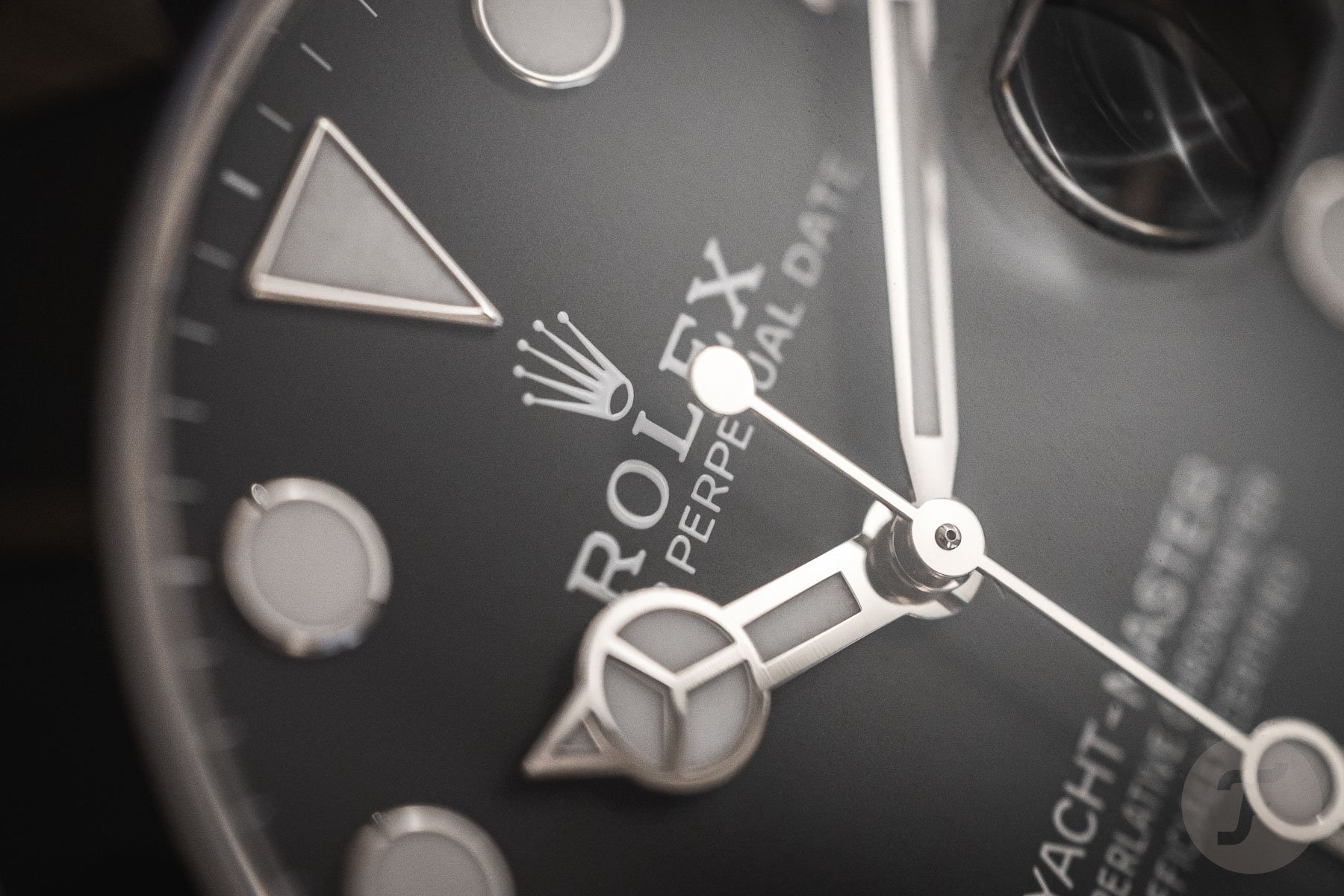 Stealth mode
Compared to the other Yacht-Masters out there, this one looks like a proper tool watch. Apart from the bevels on top of the lugs and the crown guards, the case is entirely brushed. This gives it a more informal, sportier feel. The dark gray tones of the Grade 5 titanium case, the mainly matte bezel insert, and the black dial make it look like the Yacht-Master has gone into stealth mode. Maybe that's why the bright white indices on the dial actually look like they've gotten the "Maxi" treatment. I don't know if they're bigger than the indices on the other Yacht-Master 42 references, but it does feel like they're a bit oversized.
It might, of course, be that I'm just not used to a watch of this size, and besides, the indices still look great. They match perfectly with the big "Mercedes" hour hand and the lollipop on the seconds hand. If someone asked me to name a super legible watch, this one would definitely be high up on the list (well, apart from the unlumed all-black bezel). I'm sure you could already feel this coming, but I really like the monotone looks of the titanium Yacht-Master. A touch of red on the dial, like on the Tudor Pelagos 39, would not have been out of place. However, the fact that it isn't there makes this a very stealthy and clean-looking watch to behold.
On the wrist
After that first impression, it was time to put the watch on my 17cm (6.7″) wrist. Of course, it wasn't sized specifically for me, and I only had limited time to try it on. But still, it felt intriguingly good. Sure, at 42mm wide and 50.3mm from lug to lug, it's a big watch, especially compared to what I usually wear. So yes, I did feel like it was a bit too big for my wrist. However, because the RLX titanium is so light, the bigger size is less of a bother. And for our colleague Dave, whose wrist is even slightly smaller than mine, the size wasn't a problem at all. He has a slightly flatter wrist, though, and he's used to wearing the 42mm Explorer II reference 226570.
I also think the dark gray tones make it stand out a bit less than the usual stainless steel. That helps to make it "blend in" more with your wrist. But still, I hope that Rolex will also introduce a 40mm Yacht-Master in titanium or maybe even a 37mm version at some point. I think these would be great for people with a wrist size similar to mine. Sure, I can pull off this 42mm version, but that smaller size would make the titanium Yacht-Master fit even better.
Weight loss at a premium
For now, I won't add the titanium Yacht-Master to my wish list, but that's not because of its fantastic looks. Honestly, it just feels a bit too big for my wrist. And maybe I should be happy about that because, with a list price of €14,000, this certainly isn't an affordable watch. It also means you're paying a €4,000 premium for the fact that the watch is made out of titanium. That's almost a 40% increase when you compare it to the price of the slightly similar Submariner Date in stainless steel.
When you look at Tudor, for example, the premium for a titanium watch is a lot lower. The 39mm Black Bay 58 in stainless steel costs almost €4,000, and the titanium Pelagos 39 costs almost €4,600. That's a premium of about 15%. And I'm not even sure if there should be a premium for a titanium watch at all, but if there must be, Tudor's seems a lot more reasonable than Rolex's.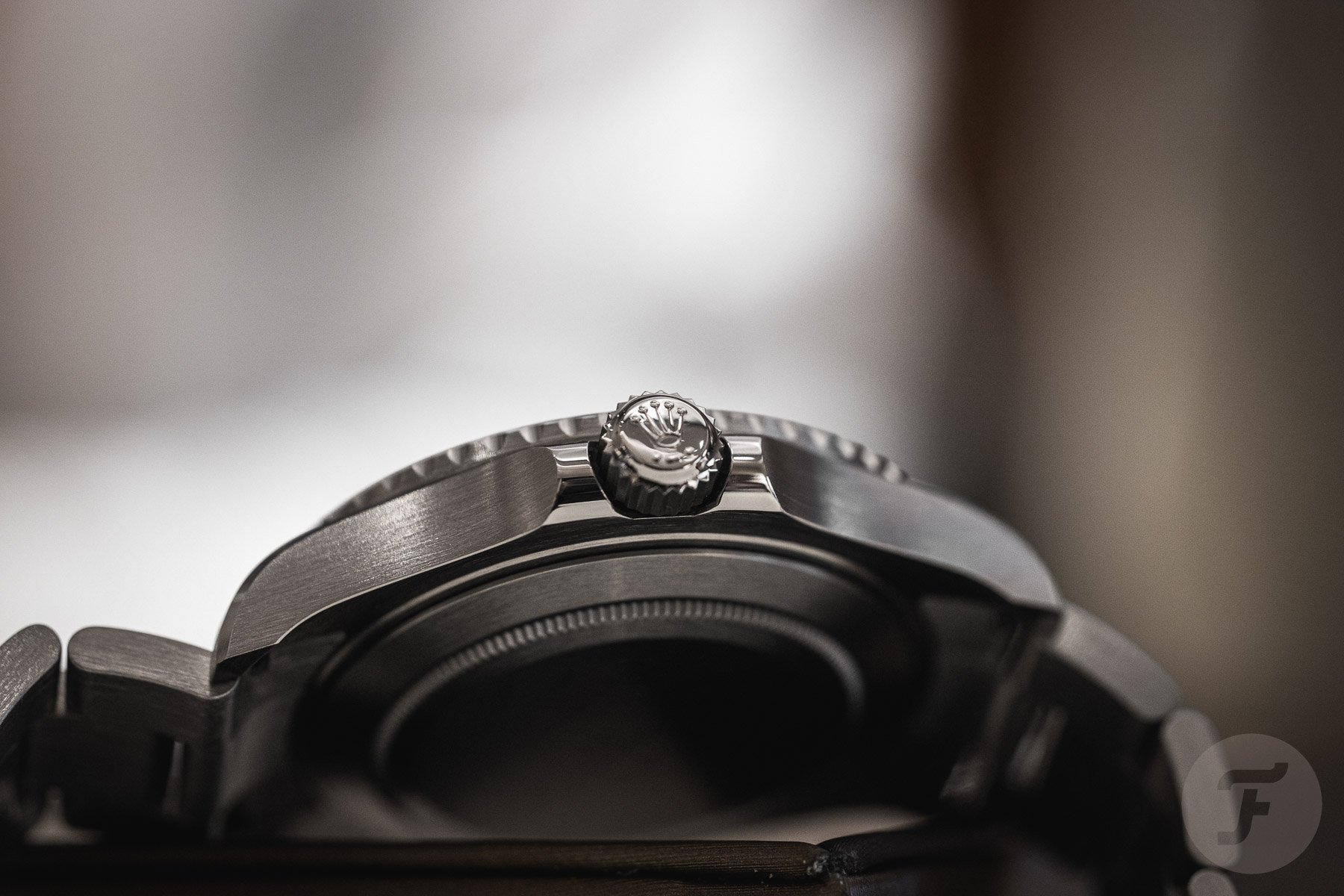 Final words
Price and size aside, though, the Rolex Yacht-Master 42 in RLX titanium is still an incredibly nice watch. What else did you expect from the brand with the crown? And I'm sure it will attract a whole new audience that wasn't interested in the previous versions of the Yacht-Master.
I'm curious to hear what you think of this new offering from Rolex. Let us know in the comments below.
You can also find and follow me on Instagram: @fliptheparrot