A Tongue-In-Cheek View On The Calm Hours Of The Day: A Perfectly Useless Afternoon Mechanical By Mr Jones Watches
Atruly relaxing watch that taught me to appreciate the useless things in life
The London-based brand Mr Jones Watches offers an impressive variety of genuinely creative timepieces, often presented in a lighthearted manner. This differentiates the brand from many others that try hard to lend themselves a rather serious image. Very few Mr Jones watches possess traditional hands to indicate the time. Some of the designs make you wonder if it really is a watch you're looking at. One of Mr Jones's best-selling models is called "A perfectly useless afternoon," and this one recently received a sibling.
Ever since Tomas presented the original version of Mr Jones's "A perfectly useless afternoon," the watch remained in the back of my mind. However, that watch posed two problems to me. First, it is a quartz watch. Quartz watches surely have their right to exist, and I don't want to start a debate on the principles of quartz versus mechanical here; I simply prefer mechanical ones. Second, the original is a bit smaller. It is great that the market has rediscovered smaller case diameters so everyone can find a watch in their preferred size. But I have a 19cm wrist and don't like the look of a small watch on it.
As if Mr Jones Watches had read my mind, the brand came up with a solution for both of my problems — the new "A perfectly useless afternoon mechanical" is mechanical (you guessed that, didn't you?), and it is a bit bigger than its quartz sibling. Therefore, when I received the news about this watch, I immediately bought it. I found out that this extraordinary watch provokes thoughts and feelings in me that stretch far beyond the typical emotions a watch normally causes and even a fundamental insight. This probably sounds like pretty profound stuff, but don't worry; I'll present it the easy way.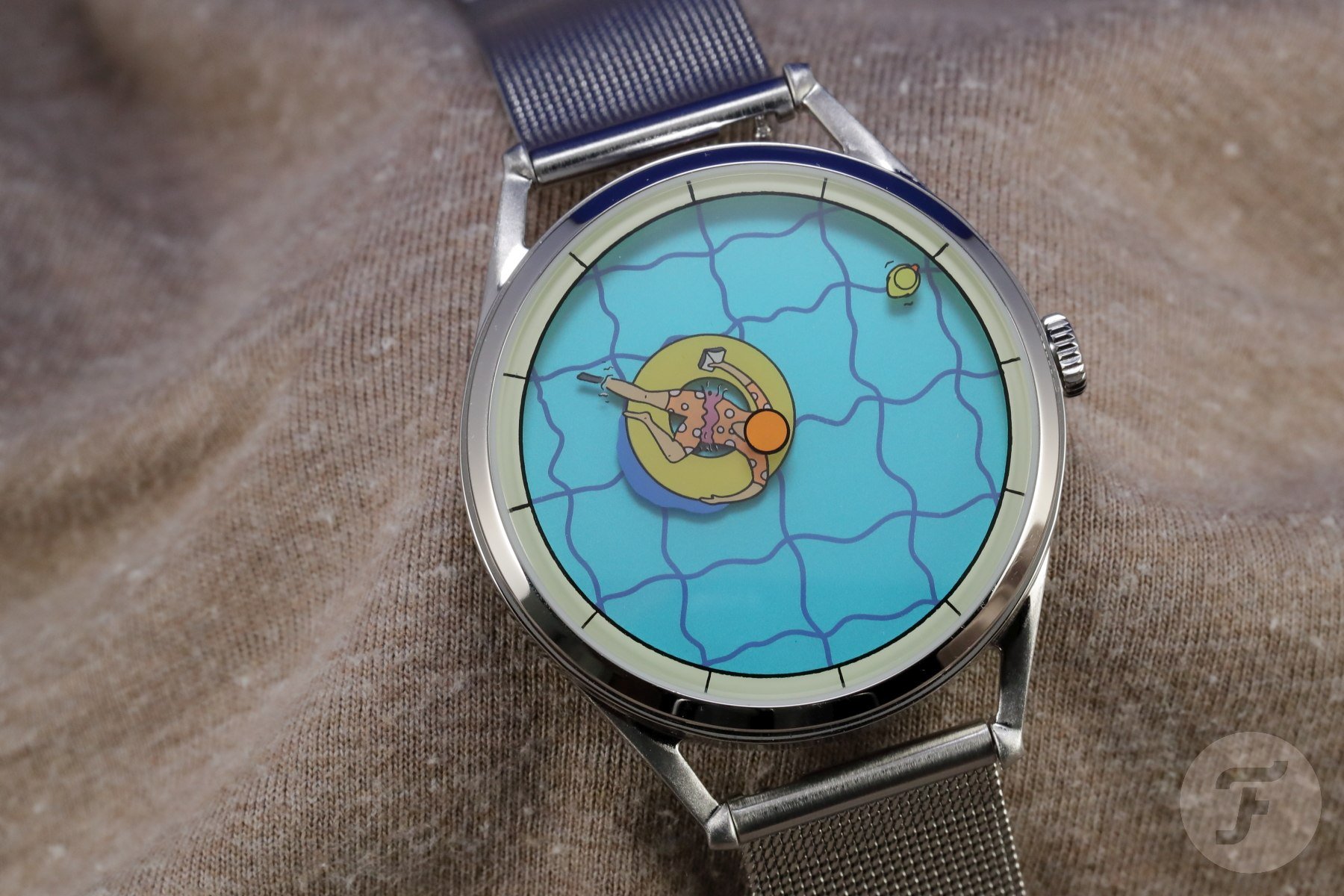 A pool for the wrist
The first look at "A perfectly useless afternoon mechanical" conveys that someone is drifting in a pool. The illustration of this situation works instantly, which we should not take for granted. As you look at this watch, you see that the outstretched leg probably indicates the time. As the leg doesn't touch the pool's edge, it supposedly acts as the hour hand. The fact that the rubber duck floating along the pool's edge indicates the minutes only becomes apparent upon closer inspection. There is no seconds hand, no restlessness. The pool's edge is in a typical pool's edge color (well, you could also call it beige) and is separated into five-minute segments to aid in reading the time. So whenever you look at this watch, you can almost perfectly read the time, but you can also watch a perfectly relaxing scene of someone drifting in a pool. I will return to this aspect later.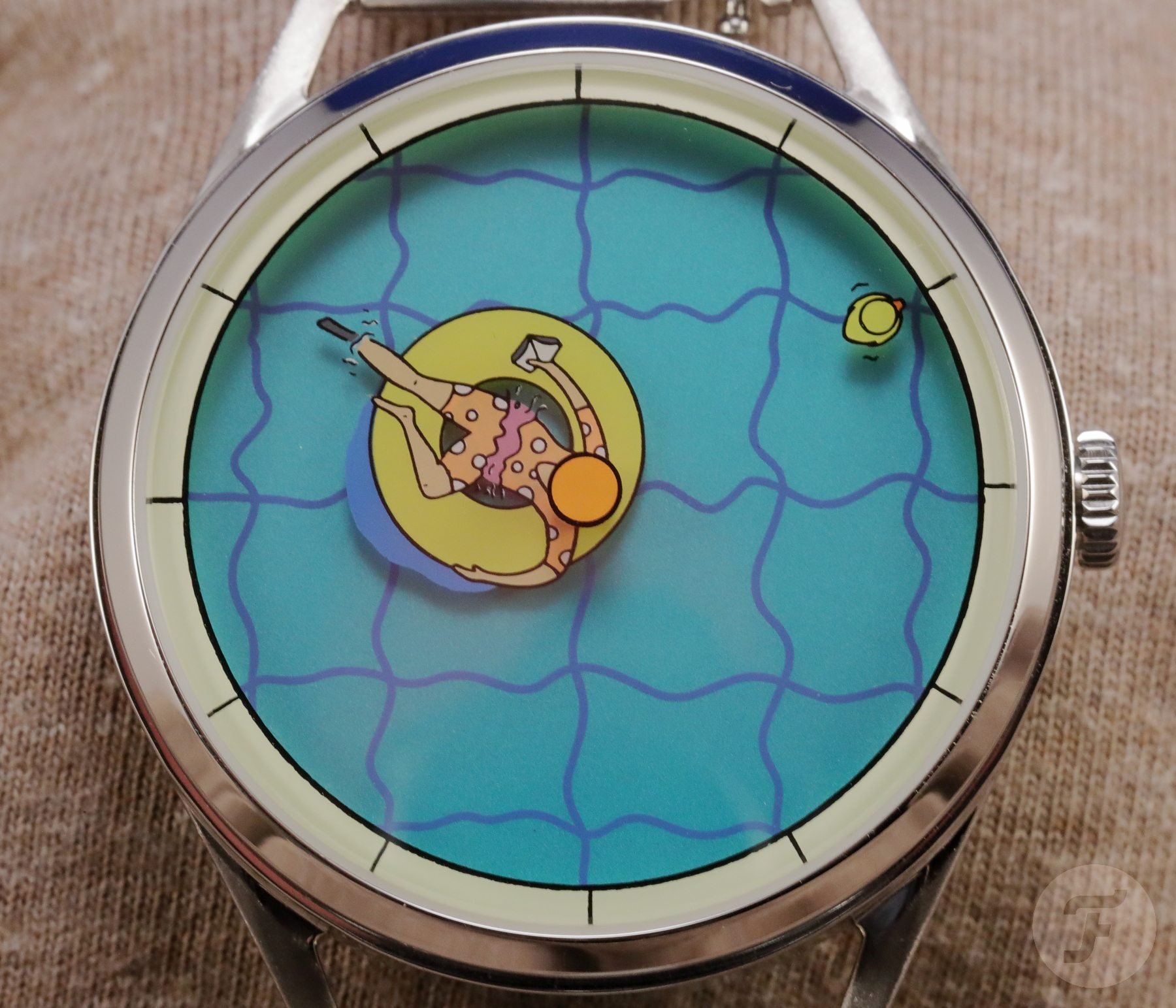 The bather and the rubber duck are printed on transparent rotating discs. This construction creates a striking depth of the dial. Moreover, these two transparent layers above the pool floor achieve the slight optical distortion that water causes in a real pool. As a result, the bather and the duck truly seem to float in the pool. Even though all the elements on the dial are depicted in a comic-like style, the illusion of a pool filled with water is very effective. The wavy lines on the pool floor add their part, and so does the floor's metallic sheen. The reflecting surface of the pool floor lets the dial appear quite differently depending on the angle from which light falls on it. I find it clever that you cannot distinguish the gender of the bather, so anyone could potentially identify with this person.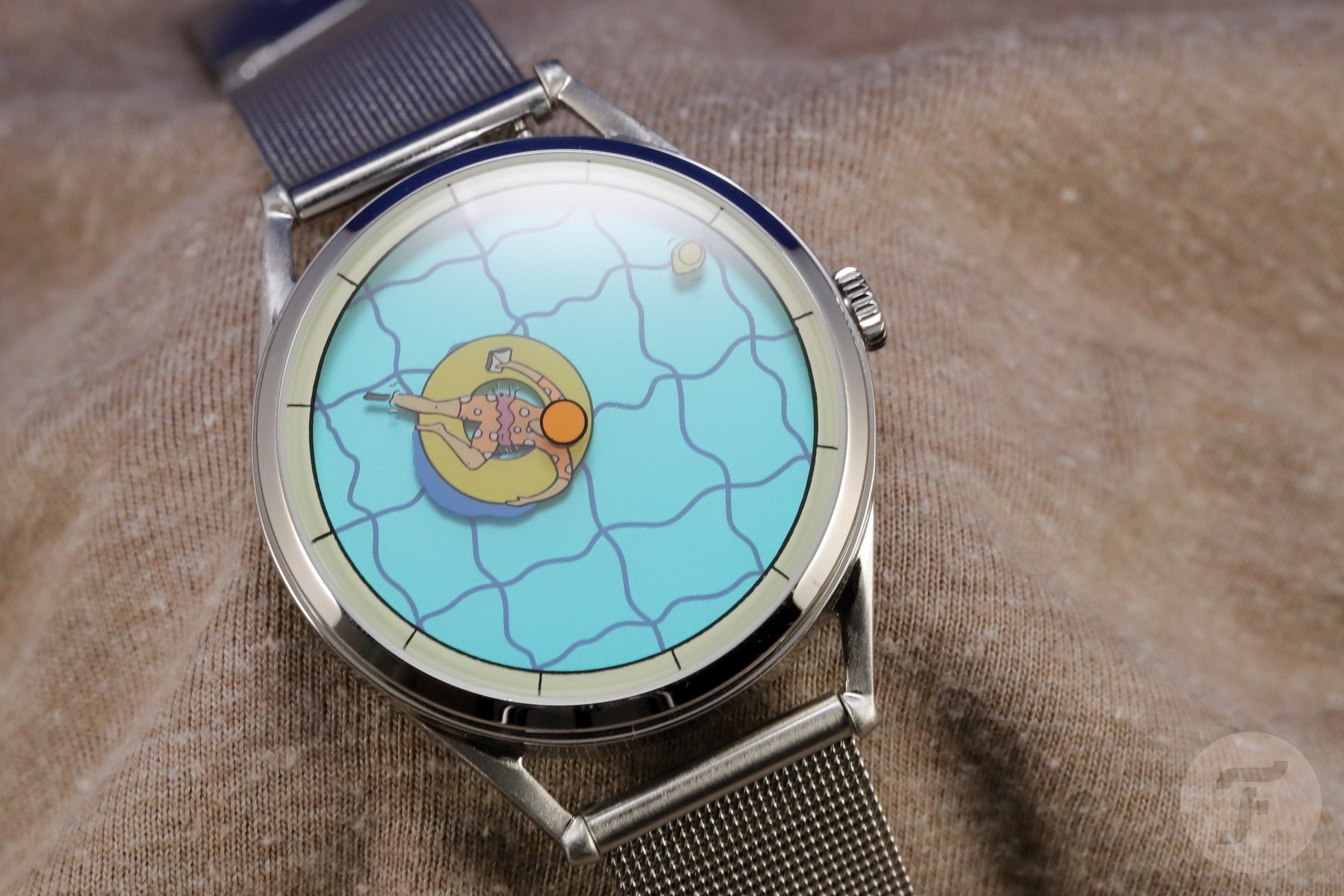 Around and inside
The case is fully polished and measures 40mm wide, 50mm long, and 11mm thick. The bezel has a slightly smaller diameter to create some visual finesse. These lugs are vanguard, but an unusual watch may have uncommon lugs. They look a bit delicate but have proven to be robust enough to hold the bracelet during various activities like hiking or riding a motor scooter on uneven ground. The lugs have a medium length and slightly face downward to improve the watch's fit on the wrist. Seen from above, these lugs continue the shape of the case in a remarkably elegant form.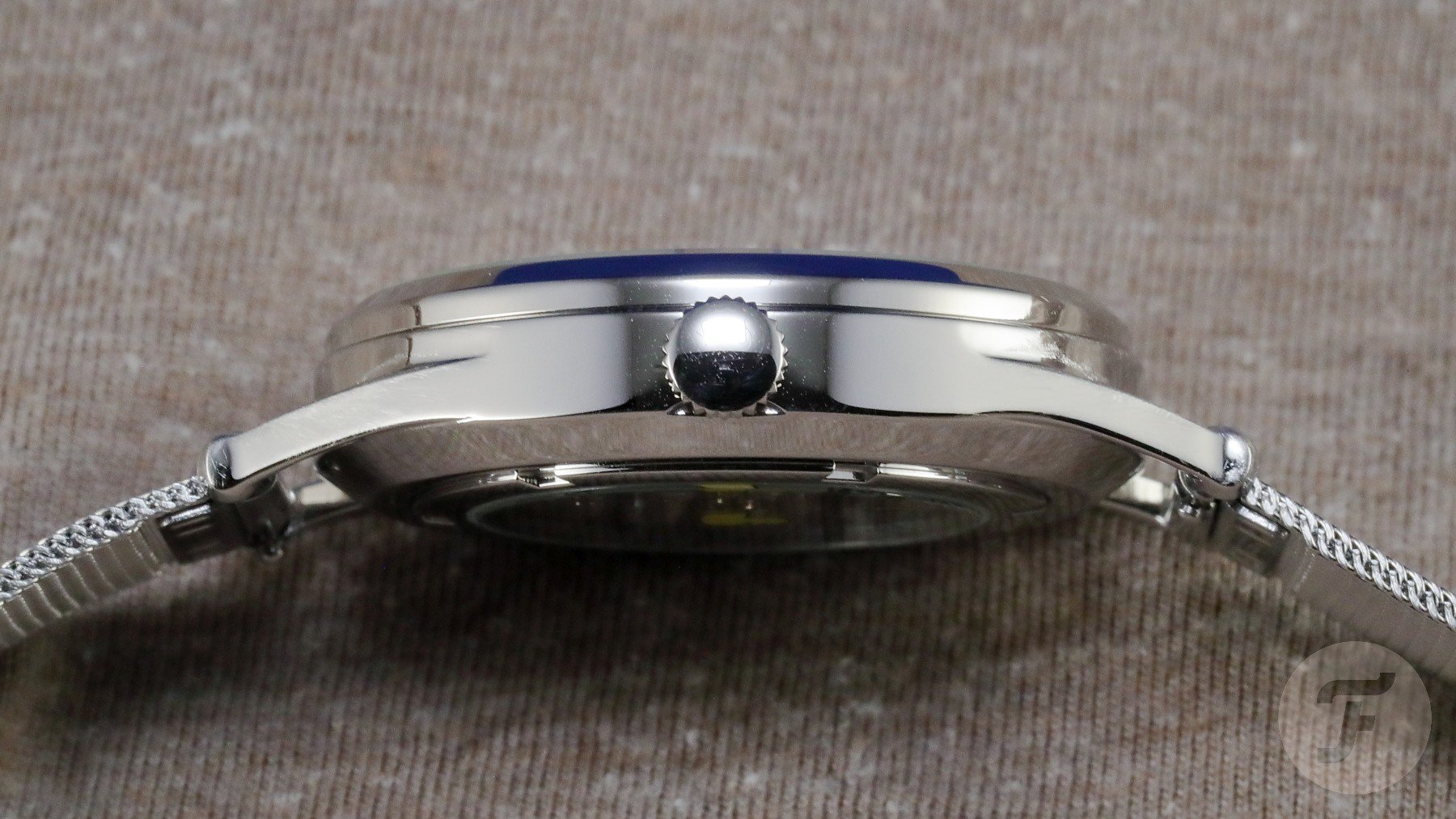 A transparent case back reveals the movement inside. The case back is screwed in and ensures a water resistance rating of 50 meters. While the front crystal is sapphire, the one on the back is made of mineral glass. The names of the watch and its designer are printed on that rear crystal to give some useful information that wouldn't fit on the dial. The image of a rubber duck in the middle makes you smile even if you look at this watch from the rear.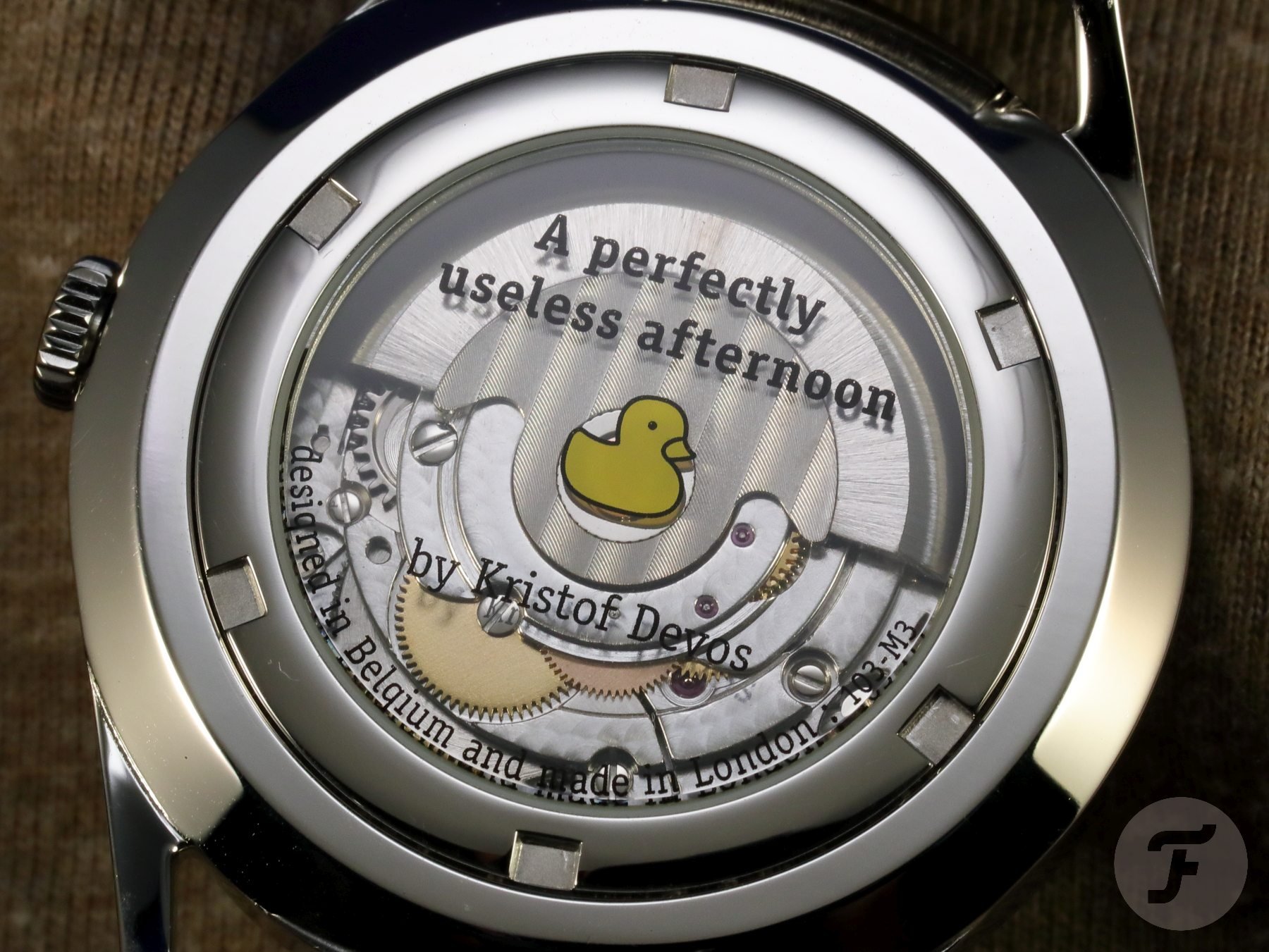 The movement driving "A perfectly useless afternoon mechanical" is a Swiss-made STP1-11. That is an ETA 2824 clone from Swiss Technology Production SA (Fossil Group) with a power reserve extended to 44 hours. To my surprise, this movement generated more than acceptable accuracy. The finishing here is industrial. There is a coarse radial grinding on the oscillating weight, and the center of the rotor carries a stamped wave pattern. The bridges show a subtle perlage, and their edges are roughly polished. It's not Haute Horlogerie, but obviously, the manufacturer invested some effort to make this movement look pleasing from a distance.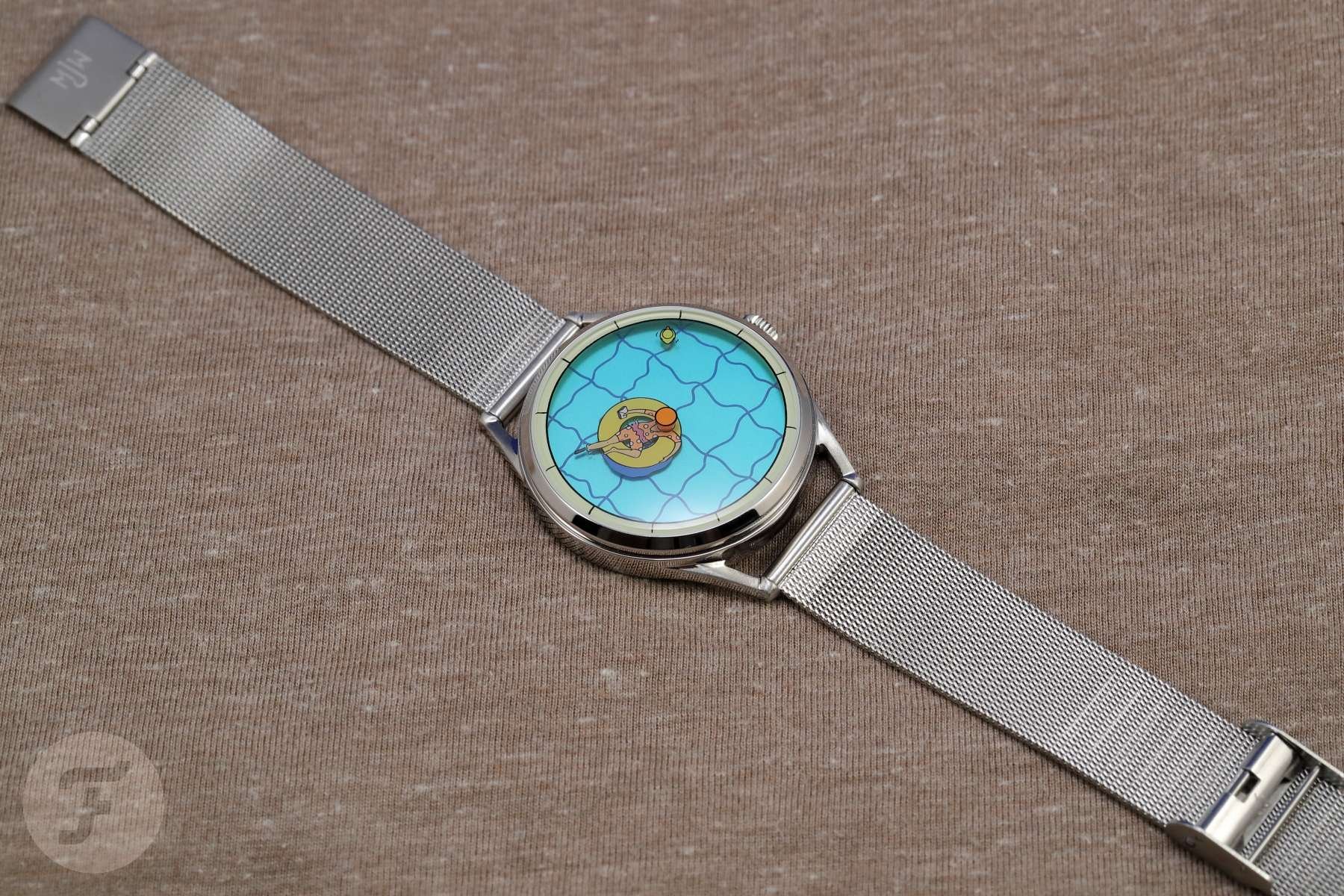 Strap options
Mr Jones Watches offers several different straps to choose from when ordering the watch. The proposed option is a steel Milanese bracelet. I chose this one, but one of the silicone straps in various colors would fit this watch equally well. Should you prefer leather, that is also available.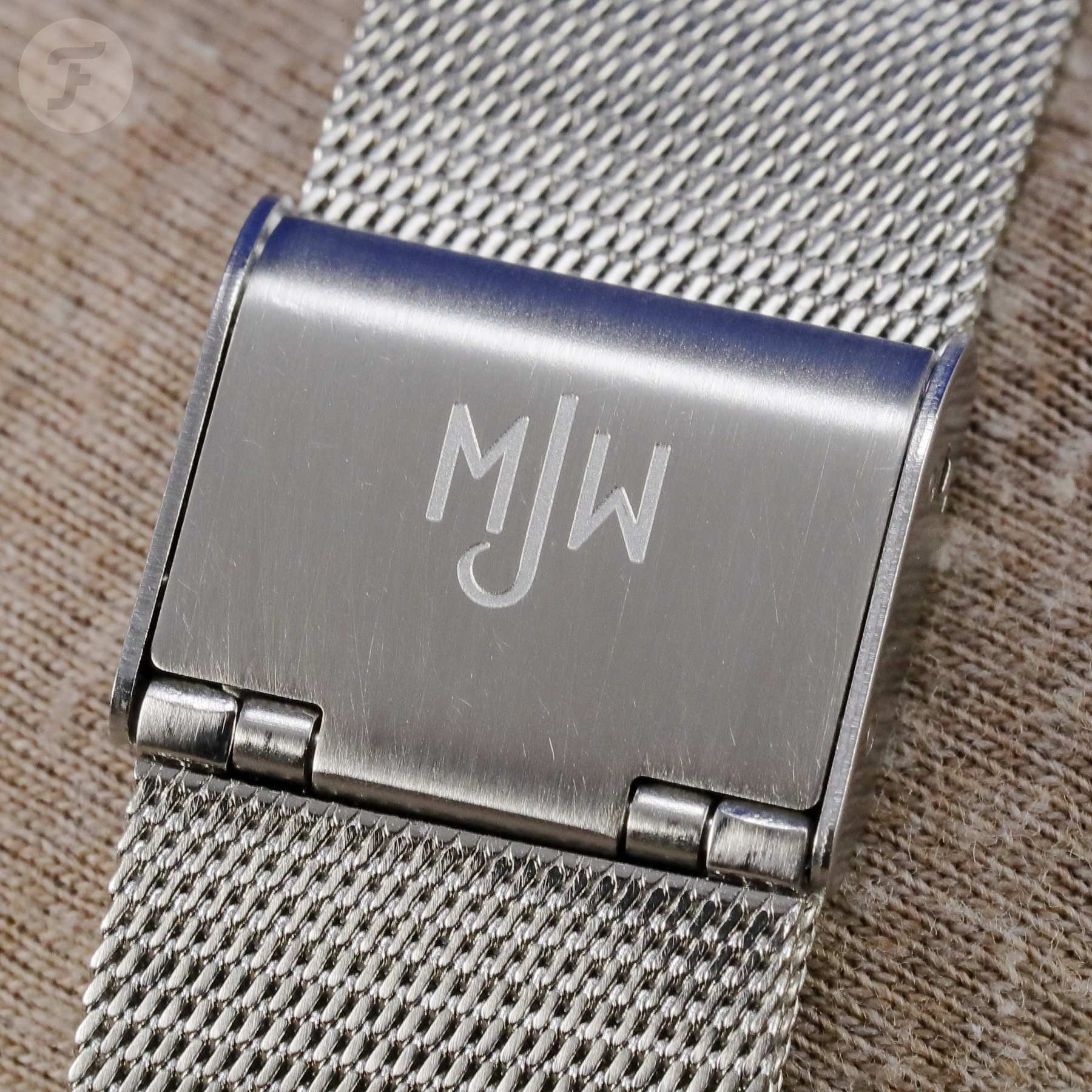 The metal bracelet comes with quick-release spring bars and a simple but functional and aesthetic branded sliding buckle, which makes adjusting the length an effortless task. Before you complain about the finishing of this clasp, that is not the work of Mr Jones Watches. That was me. The metal bracelet is quite comfortable, but it is very shiny. The small elements forming the band sparkle in sunlight like pavé-set gemstones. That was a bit too much for me. I took a scourer sponge and brushed the bracelet, the clasp, and while I was at it, the top side of the lugs. When you look at it without magnification, it looks good. Sorry, Mr Jones, for first ruining your watch and then presenting close-ups of it.
The people behind this watch
Mr Jones Watches pays a lot of attention to the designers of its watches. For each piece, the brand briefly introduces the person who designed it on its website. I am happily joining in: "A perfectly useless afternoon" was designed by Kristof Devos. He lives in Belgium and is an illustrator. Apart from designing watches, his main activity is the creation of picture books for children, for which he has received numerous awards. Fun fact: he works barefoot, wearing a winter hat. Do you want to know why? Check his website!
Mr Jones Watches even introduces every member of its team (including the dogs!). Prove me wrong, but I think this is unique among watch brands that consist of more than two individuals. All too often, the people creating our beloved ticking treasures in a painstaking and lengthy process stay unknown. Here, you'll find photos of all members of the team, descriptions of their tasks, and a hint at each person's background. On Mr Jones's webpage, the staff receives almost as much room as the products. That's what I call appreciation!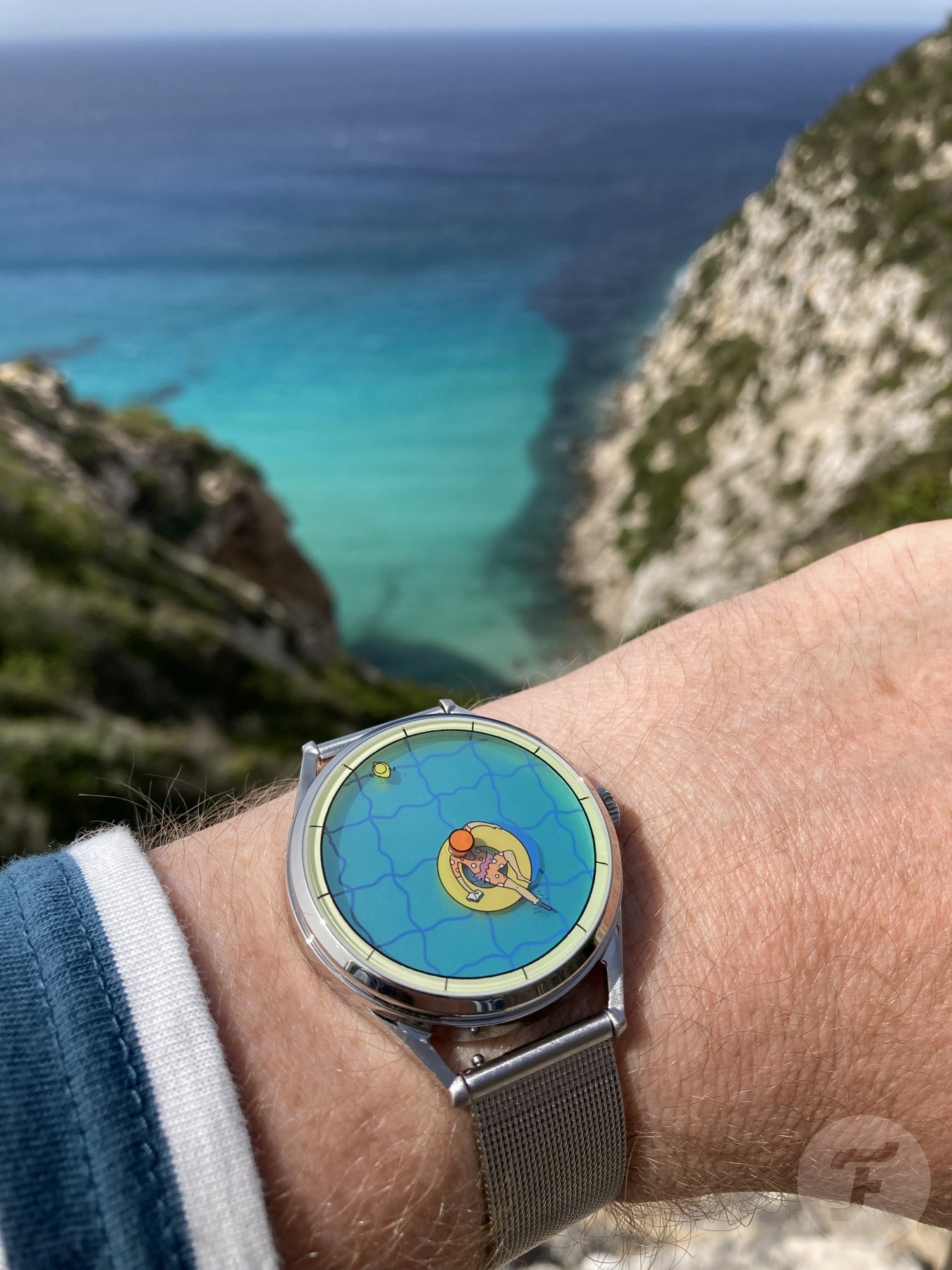 How it feels to wear "A perfectly useless afternoon mechanical"
When I saw this watch for the first time, I knew I needed to own it eventually. It's funny, it's cute, and at the same time, it's not too playful. It is not obvious at a glance that it is telling the time. And you can easily look at the bather and the duck without reading the time. It is comfortable to wear, and the main color of the dial puts an interesting color accent on your wrist. But there is a lot more that this watch provokes if you are willing to engage.
This spring, I had a little accident that completely thwarted me. No worries; I'm almost fully recovered. But because of this, I had many perfectly useless afternoons. Putting this wonderful watch on my wrist gave my enforced idle lifestyle some sense. Instead of being angry or frustrated about my situation, I was just relaxed and thought, "Look, that bather does the same. It's okay!"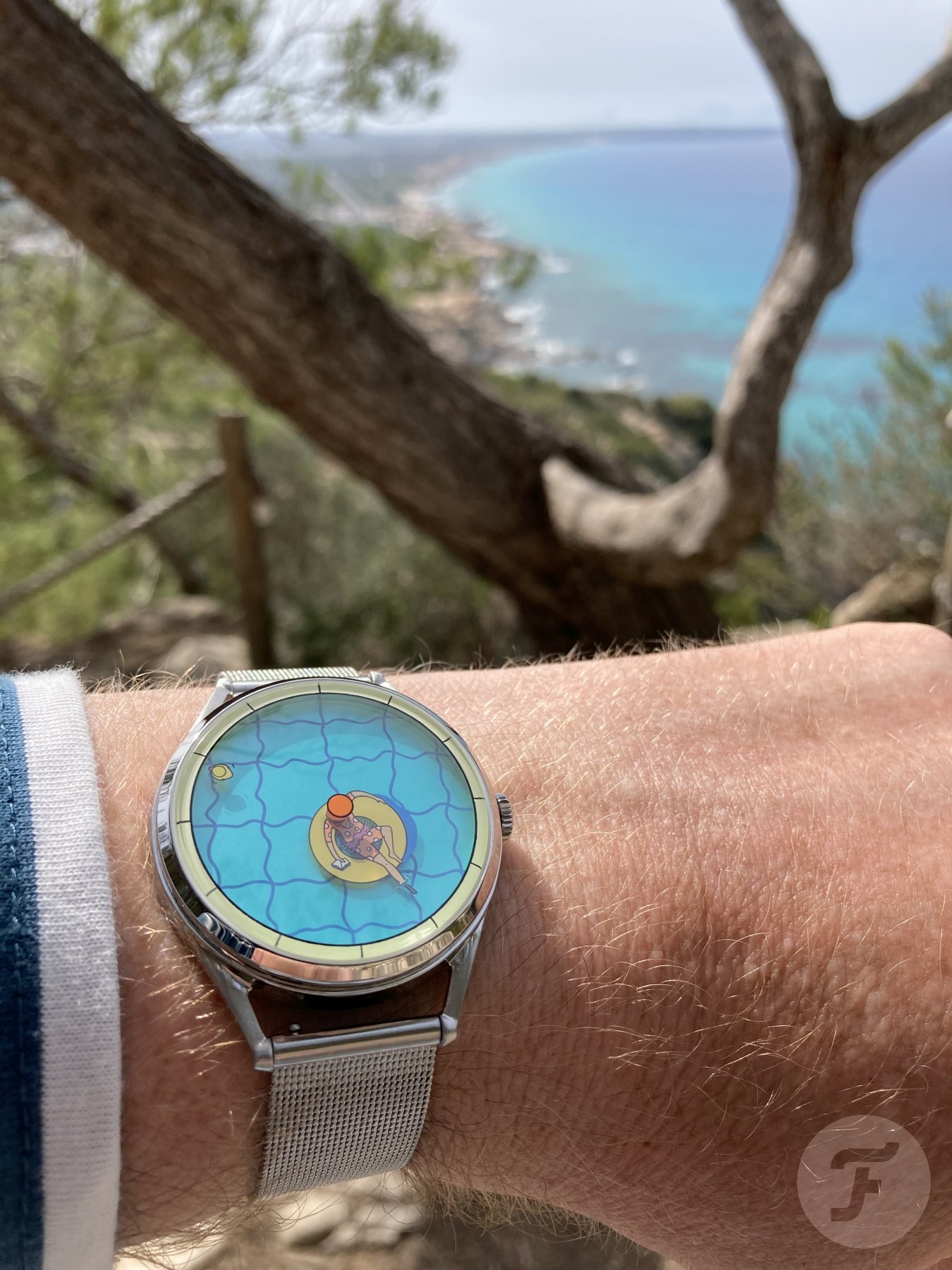 And I learned to associate this watch with a relaxed mood. Believe it or not, when I put this watch on, it instantly calms me down and positively eases me. Kristof Devos taught me that doing something useless now and then is no waste of time but an essential compensation for all the strain that permanently surrounds us. When someone notices this watch on your wrist, that person won't think, "Wow, that guy's wearing a watch of that famous brand!" But maybe, this person will think, "Yes, that guy has learned something about life."
Don't forget to visit Mr Jones Watches's homepage to explore all of the brand's fascinating designs! And how about you? Can you imagine wearing a watch that does not symbolize status or characterize you as an exceedingly sporty or elegant person? Tell us in the comments section!
Watch specifications
Model
A perfectly useless afternoon mechanical
Dial
Turquoise, rotating printed discs instead of hands
Case Material
Stainless steel
Case Dimensions
40mm (diameter) × 50mm (lug-to-lug) × 11mm (thickness)
Crystal
Sapphire on the front, mineral glass on the bottom
Case Back
Stainless steel, screw-in, with exhibition window printed with names of the watch and its designer and image of a rubber duck
Movement
STP1-11 — Swiss made, automatic winding, 28,800vph (4Hz) frequency, 44-hour power reserve, 26 jewels
Water Resistance
5 bar (50m)
Functions
Steel Milanese bracelet (18mm width) with branded sliding buckle (other straps can be chosen during the order process)
Price
£545 / €595 / US$595