Ain't No Meathead: A Fan's Take On The New Zenith Defy Extreme
Zenith's new release is an ideal balance of brains and brawn
Ask any watch enthusiast who has known me for more than a day, and they will tell you of my love for Zenith. It's true. My favorite watch in my humble collection is the 2010 El Primero Striking 10th, and I am an unabashed fan of the brand. Now, I wouldn't exactly say I'm a fanboy. Not every release makes my heart palpitate, and there have been some in the last decade that were just plain hideous (48mm Tribute to Rolling Stones Pilot, anyone?).
These days, however, I do greatly appreciate the overall direction in which the brand is heading. From Elite to Chronomaster and Pilot to Defy, Zenith's current offerings cater to a wide range of classical, sporty, romantic, and futuristic tastes, all while sharing uncompromising quality, character, and horological substance.
…nearly every edge of the 45mm case is boldly faceted.
There's no doubt about it: the new Defy Extreme collection is not for the faint of heart or dainty of wrist. With this new release, Zenith has taken its heretofore boldest watch — the Defy El Primero 21 — and cranked up the styling to 25. Available in micro-blasted titanium, brushed titanium, or a two-tone combination of micro-blasted titanium and rose gold, nearly every edge of the 45mm case is boldly faceted. The standard Defy's circular bezel is now complemented by a contrasting dodecahedral ring underneath, matching the new, bolder protective surrounds of the chronograph pushers.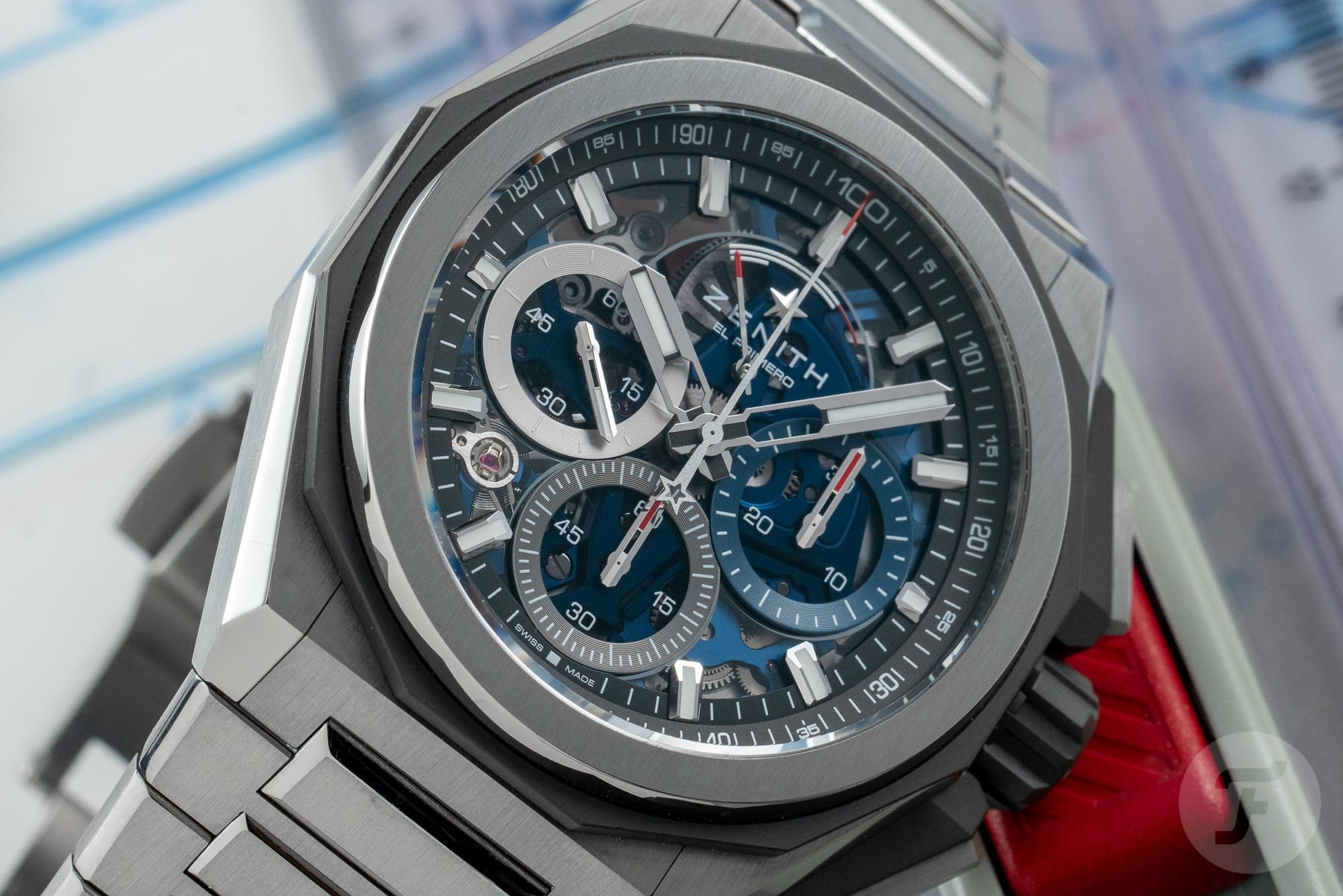 Improvements all around
The faceted, Super-LumiNova-filled hands on this new model have also been enlarged for improved legibility. They sit atop a sapphire glass dial adorned with complementary hour markers, three contrasting chronograph register rings, and a chronograph power reserve indicator. The enlarged crown features deeper, more pronounced knurling than that of the Defy 21, and it also screws down, aiding in the watch's improved 200m of water resistance. This new release comes on a marvelously angular titanium bracelet with a butterfly clasp, but thanks to a brand new single-button quick release system, it can be easily swapped for uniquely designed and included rubber or Velcro straps.
Two Separate Escapements
Yet, although bolder, beefier, and more macho than its predecessor, this watch is by no means "s*** for brains." On the contrary, the movement — Zenith's manufacture caliber 9004 — is where the brand's true mastery really shines. Featuring two separate escapements with dedicated barrels, one for standard timekeeping and one for the chronograph, the caliber also runs at two different frequencies. As expected of all El Primero calibers, hours, minutes, and seconds are tracked at a frequency of 36,000vph. But when the chronograph is engaged, an insane 360,000vph frequency is utilized to measure elapsed time to 1/100th of a second accurately.
…the hand lands its target with the power and accuracy of a one-inch punch from the fist of Bruce Lee himself…
The central chronograph hand sweeps in ultra-smooth, foudroyant-like fashion around the dial once per second. Although it appears as though nothing could squash its momentum, the hand lands its target with the power and accuracy of a one-inch punch from the fist of Bruce Lee himself the precise moment the chronograph stop pusher is engaged.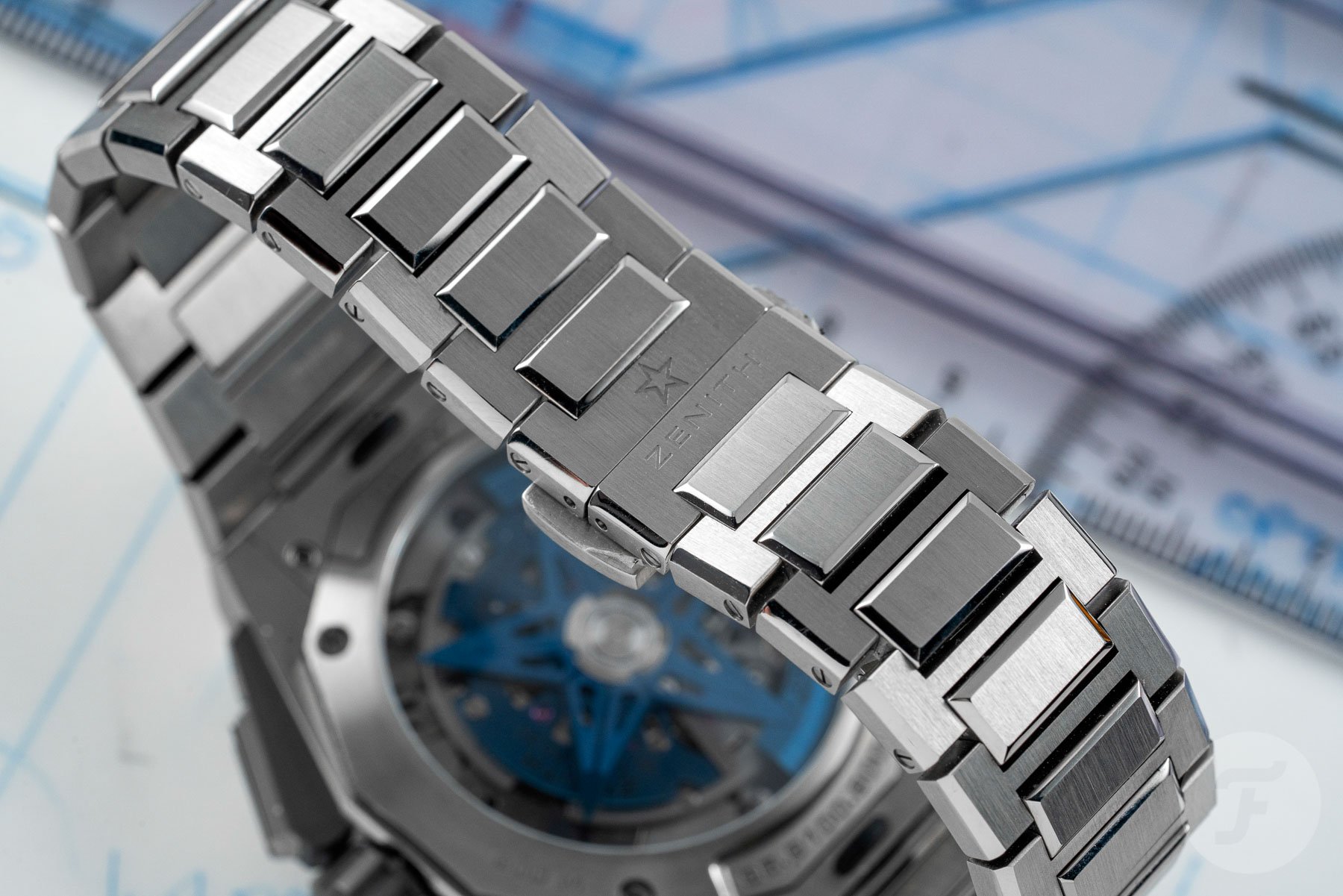 The exact fraction of a second can be easily read from the graduated ring surrounding the outermost area of the dial. Though some might argue that this functionality is overkill, in my opinion, ultra-enhanced accuracy is the exact type of overkill you want in a watch like this. This is where I feel that Zenith has exercised discretion in an incredibly tasteful way.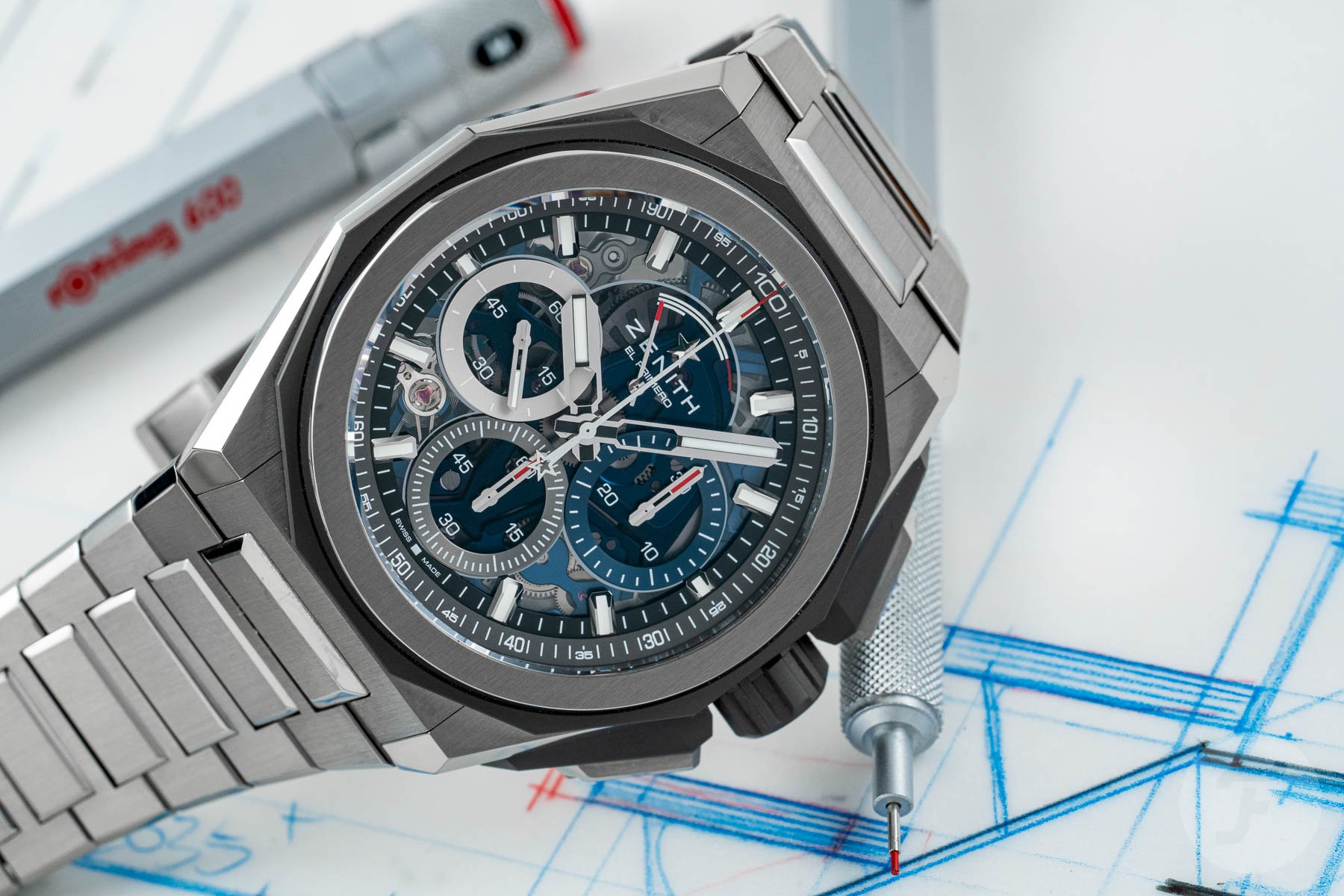 The boldest watch possible
When designing a macho watch for manly men, it would be so easy to bump the case size up to 48, 49, or 50mm. It might even seem like first instinct to use the weightiest and strongest materials, like tungsten, so that no measly mortal could deny the quality when attempting to pick up the piece. Dare I say, even less than ten years ago, many watch manufacturers, Zenith included, may have gone overboard while attempting to produce such a bold watch. Here, we see a maturity and restraint that should be applauded.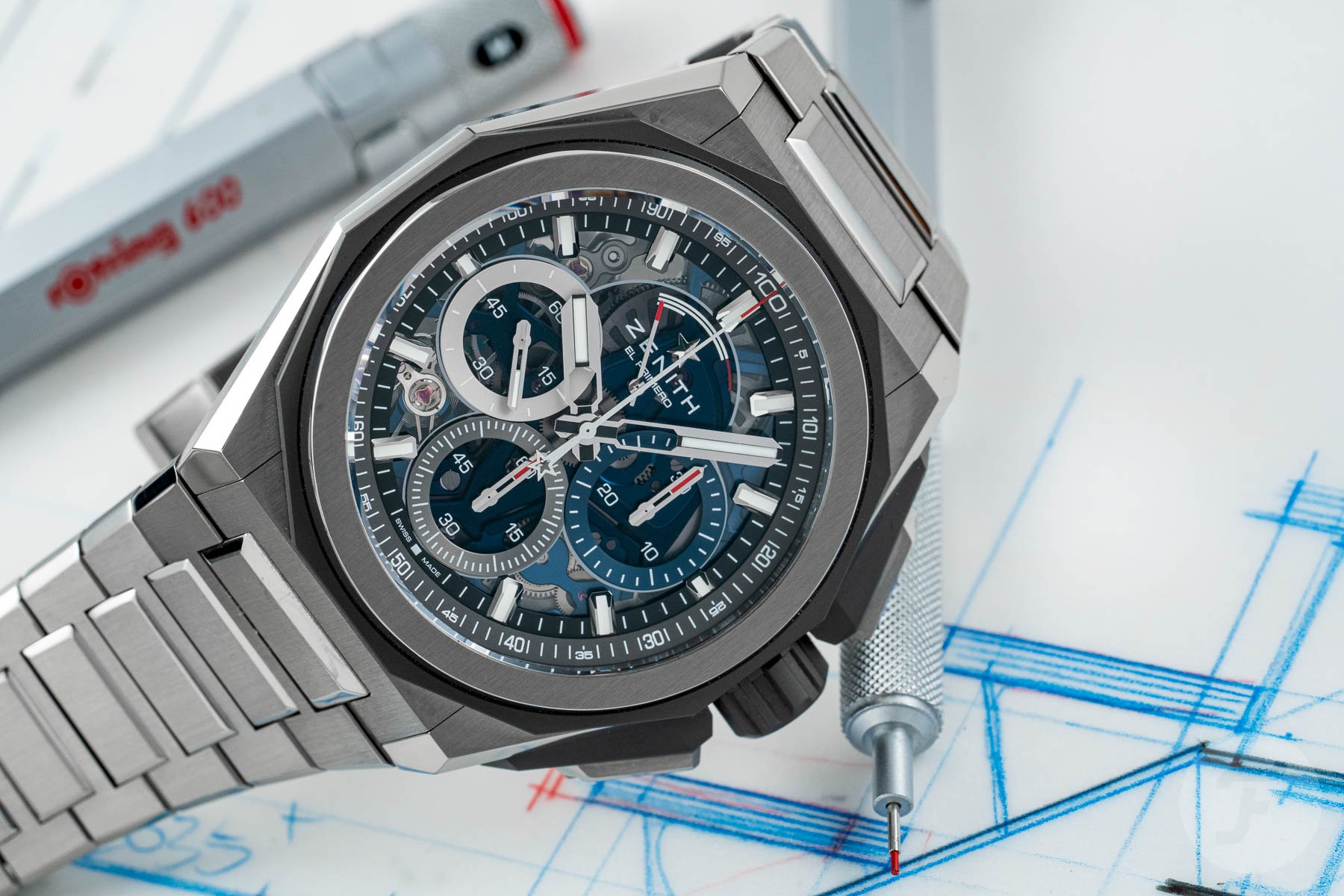 Titanium rather than steel makes even a 45mm watch easier to wear than most would expect. While no one really needs insane water-resistance of 1,000m or more, increasing the rating from 100m on the Defy 21 to 200m on the Defy Extreme is a logical improvement. It's also no more than necessary, allowing the thickness of the watch to be kept somewhat reasonable. Yes, the Defy Extreme is vertically chunkier than the Defy 21 by 0.9mm, coming in at 15.4mm thick.
Although this may be thicker than ideal for many people, it's certainly not uncharted territory for a chronograph Other notable and similarly-sized manufacture chronographs, such as the Breitling Navitimer Rattrapante and the Omega Speedmaster Dark Side of the Moon, exceed it in thickness at 15.7mm and 16.5mm, respectively.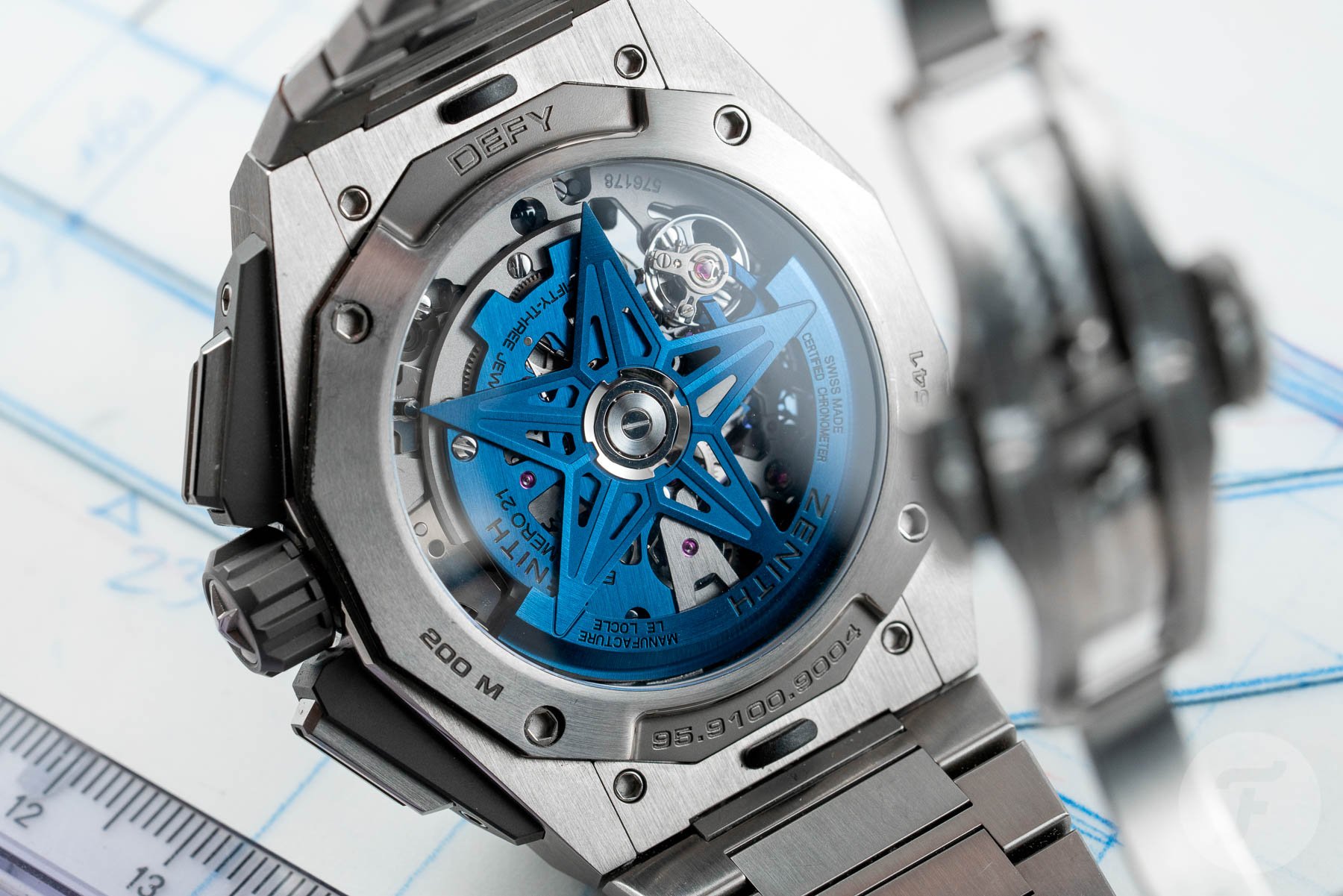 Caliber 9004
I commend Zenith on bringing this bolder design to market without falling into the traps of excess, and for equipping it with the highest-tech movement they currently offer. I find it really easy to geek out on the specs and capabilities of the caliber 9004. Before this movement was introduced, 1/100th-of-a-second mechanical chronographs were only available for several times the price in the limited edition TAG Heuer Mikrograph, Montblanc TimeWalker Chronograph 100, or F.P. Journe Centigraph.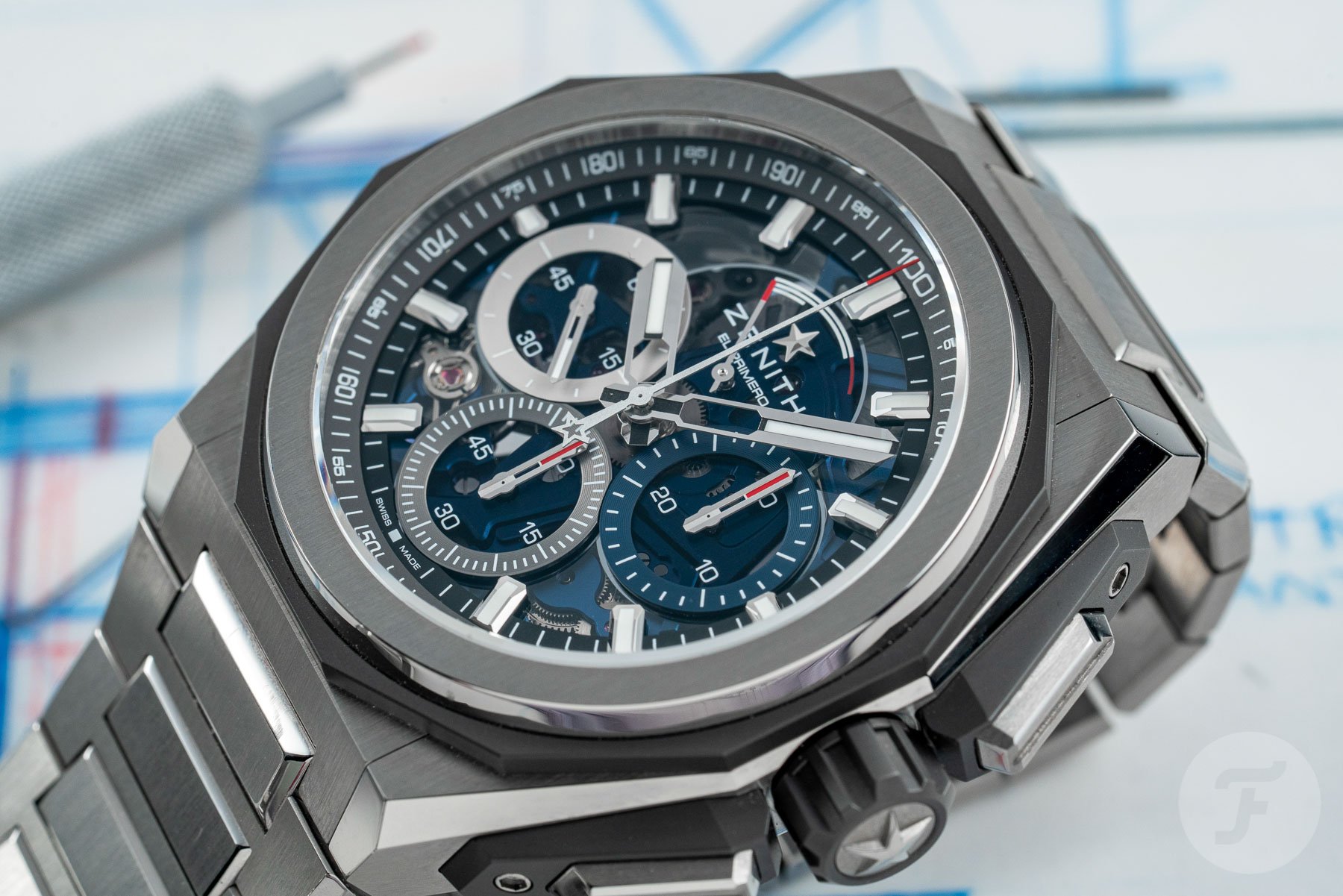 But Zenith has flexed its horological muscles and found a way to bring a jaw-dropping complication to a larger group of watch enthusiasts at a (relatively) more accessible price. While still not chump change for many of us, the titanium versions of this latest release retail at CHF 17,900, with the two-tone version priced at CHF 21,900.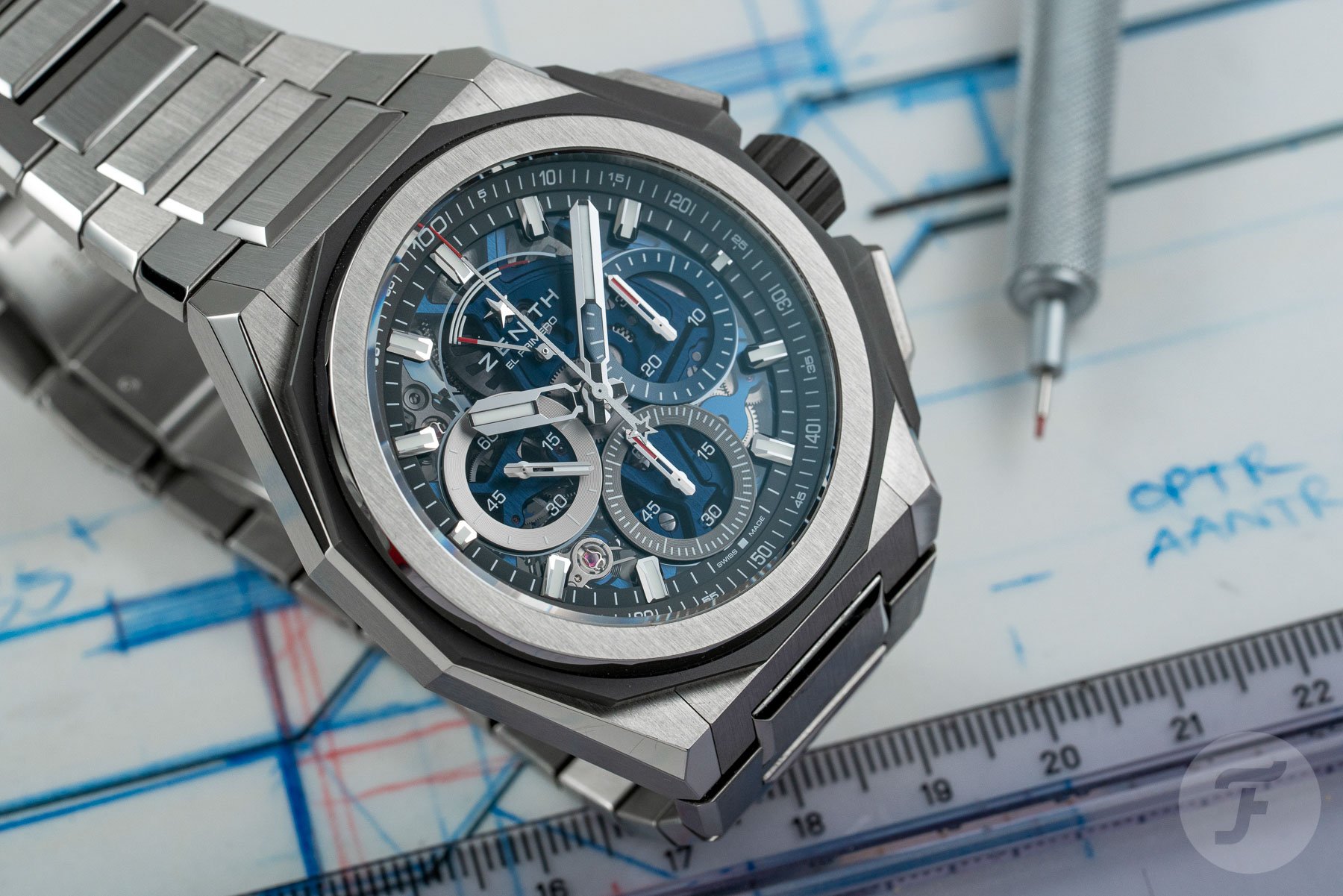 Is it for me?
So, will I be buying this watch? Well, actually, I won't. Why? I tend only to collect one watch per brand, and I already have the perfect Zenith for me in the Striking 10th. However, I believe that the Defy Extreme is a worthy addition to the well-balanced Zenith catalog. For some, it's the elegance of Elite Moonphase or the vintage-inspired simplicity of the Pilot Type 20 Extra Special that floats their boat. For others, it's the timeless look of the Chronomaster Revival A3817 or the ultra-modern design of the Defy Extreme that gets their hearts racing, and I feel that there's a Zenith watch for every type of enthusiast.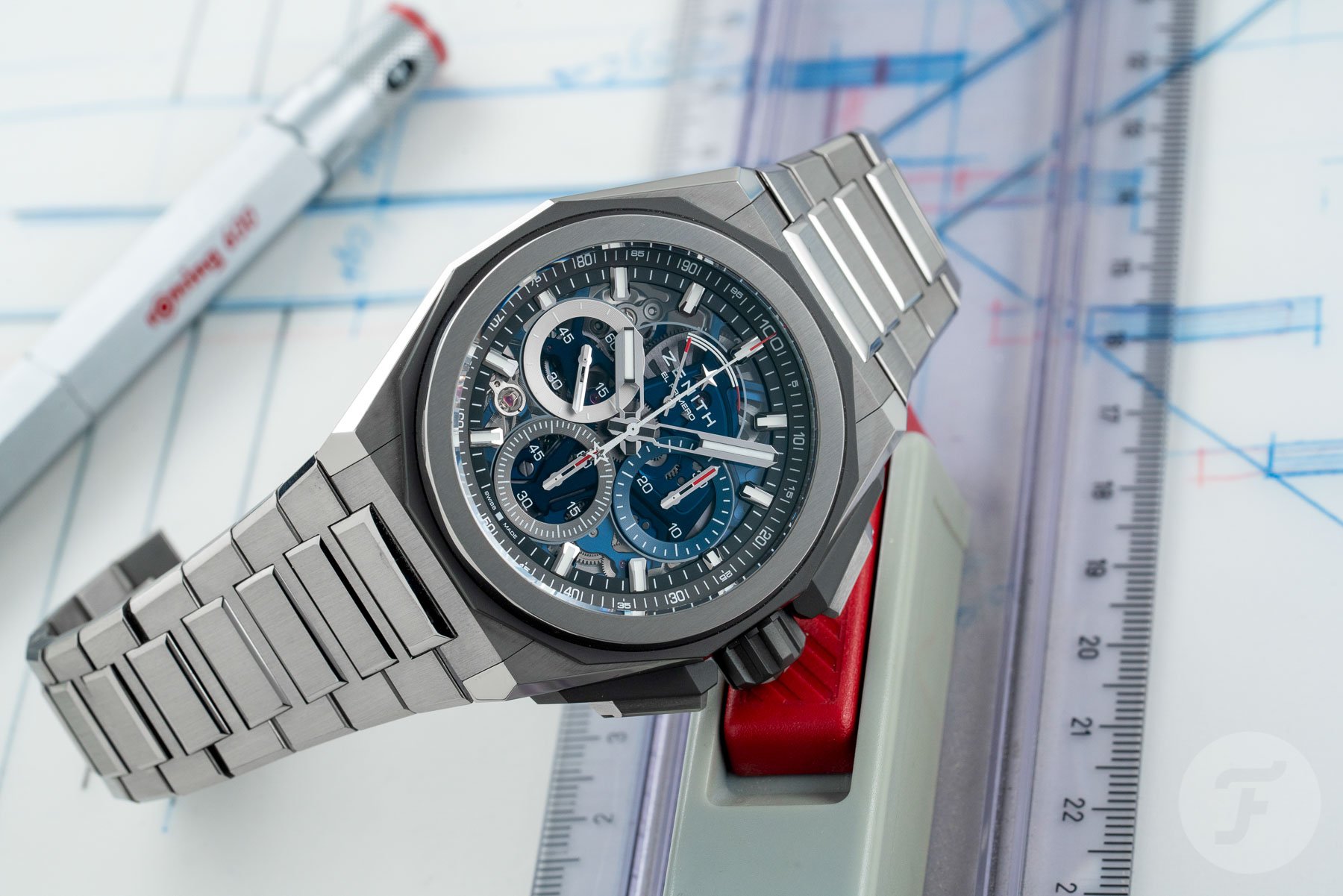 Furthermore, regardless of what design or model one chooses, Zenith's commitment to its in-house calibers never fails to deliver true horological value for the money. I honestly look forward to watching Zenith's future development with excitement and intrigue, and can't wait to see the next innovation the manufacturer has up its sleeve.
Still not a fanboy, though…