New Release: The Limited Edition Airain Type 20 Vert Militaire Flyback Chronograph
A small batch of Type 20 watches for those with a taste for green that isn't your typical fashion-green
The Airain Type 20 Vert Militaire adds a subtle dash of color to this classical military pilot's watch. The regular-production black dial and limited-edition brown dial are both sold out. So if you want to get your hands on a Type 20, you will have to grab one of the 134 green ones. Alternatively, you can wait for the black to come back. But why would you, if the green is as good-looking as this is?
Airain re-founder Tom van Wijlick shows his great eye for color in this release. I have had the pleasure of seeing the watch in real life. I am happy to report that it is absolutely beautiful. You can find more about the Type 20 in our earlier article. For now, let's have a closer look at this limited edition.
A subtle shade of green for the Airain Type 20 Vert Militaire
Sure, green is all the rage lately. It seems we are writing release articles for green dials on a weekly basis. Some, however, stand out among the crowd. To me, this is such a case. In fact, I would not classify the Airain Type 20 Vert Militaire (ref. 421.481) as fashionably green. This green feels very authentic to me, as if the original Type 20s already looked like this. They did not, of course. But they very well could have.
The green is dark and grayish in tone. In fact, when I handled this watch at a get-together in a dimly lit bar recently, I mistook it for a titanium gray. The color reminds me of the flat green of WWII-era military equipment. In my eyes, the name 'Vert Militaire' really is spot on.
The NATO strap that comes with the watch matches the dial perfectly. It has the same gray-green tone. The strap features a cream-colored stripe that matches the lumed numerals perfectly. In fact, I would try to order a bunch of backup straps because you will not find a better match.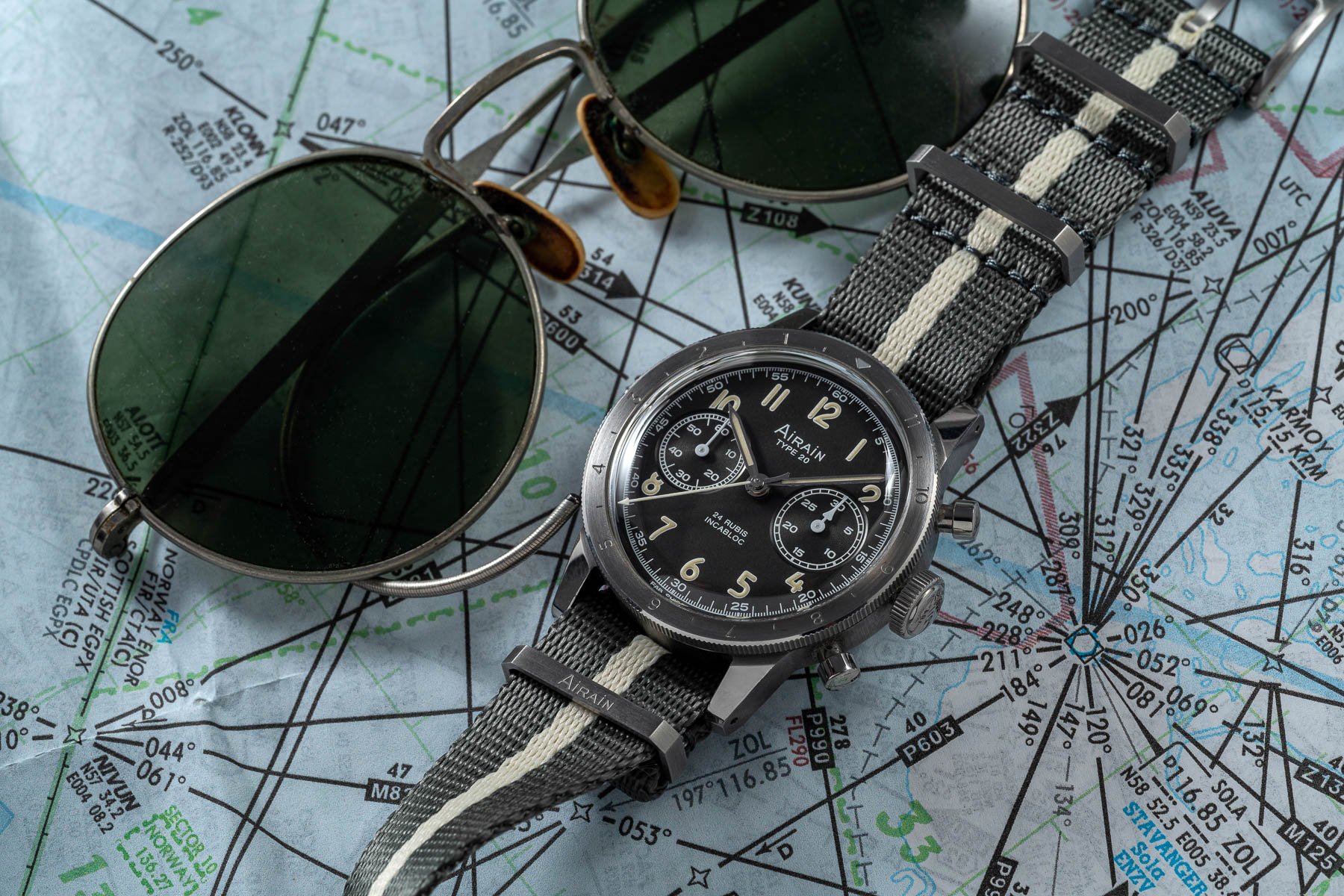 Limited edition
The Airain Type 20 Vert Militaire will not go into regular production. It is a one-time run of 134 pieces. The number is inspired by the year 1934 when Airain was originally founded. I do not expect Van Wijlick will have a hard time selling out such a small number. In fact, I would not be surprised if they are snapped up very quickly.
The previous brown-dial limited edition was also gone quite rapidly. To be honest, I think this version is even a bit more special, but that is just my personal opinion, of course.
The case back of the Type 20 Vert Militaire is engraved "Limited edition No. xxx/134".
Closing thoughts on the Airain Type 20 Vert Militaire
I have to admit, I am a fan of Airain. I fell in love with an original Dodane-branded Type 20 a couple of years ago when we had one at Amsterdam Watch Company. These are such beautiful two-register chronographs with a storied history. I was, at that time, not yet aware of the fact that a compatriot was busy reviving Airain.
I am so glad to see Tom van Wijlick keeping the spirit of the originals alive. Sure, he boosted the size a bit. I would have preferred the original size, but the current 39.5mm is surely more of a crowd-pleaser. The fact that he fitted a manually-wound flyback chronograph caliber by La Joux-Perret and kept the case under 11mm thick is awesome.
I usually would have opted for the "original" color. This green, however, looks stunning to me. I think Tom might have actually improved the original here. I know that might be blasphemy to the purists, but I really do think the tone is that good.
Pricing and availability
The Airain Type 20 Vert Militaire is priced at €2,800. The 134 pieces will go on sale at 16:00 CEST today on Airain's product page. The watches will go out for delivery at the end of August.