Preview of Geneva May 2018 Auctions: Antiquorum Geneva
I had the opportunity to stop by Antiquorum Geneva and check out the watches in their upcoming May sale. Watch auctions are interesting for me to see things that I either haven't seen in person or am not familiar with. I enjoy doing research or checking details to see if I discover something I hadn't noticed before. Clearly, today vintage aficionados are more educated and the free flow of information on the internet allows for more critical buying. A lot of tomatoes are flying around the internet, but that shouldn't take away from the good research and hunting that still awaits us.
A personal visit allows me to dig a little further and ask the team more about the watches that interest me. They have sometimes met the original owners and these watches may have interesting stories behind them. I do also tend to give my criticisms directly if I feel something may not be described properly or I see a mistake.
We find that Antiquorum tends to assemble an eclectic variety of watches and always has a few surprises in the haystack.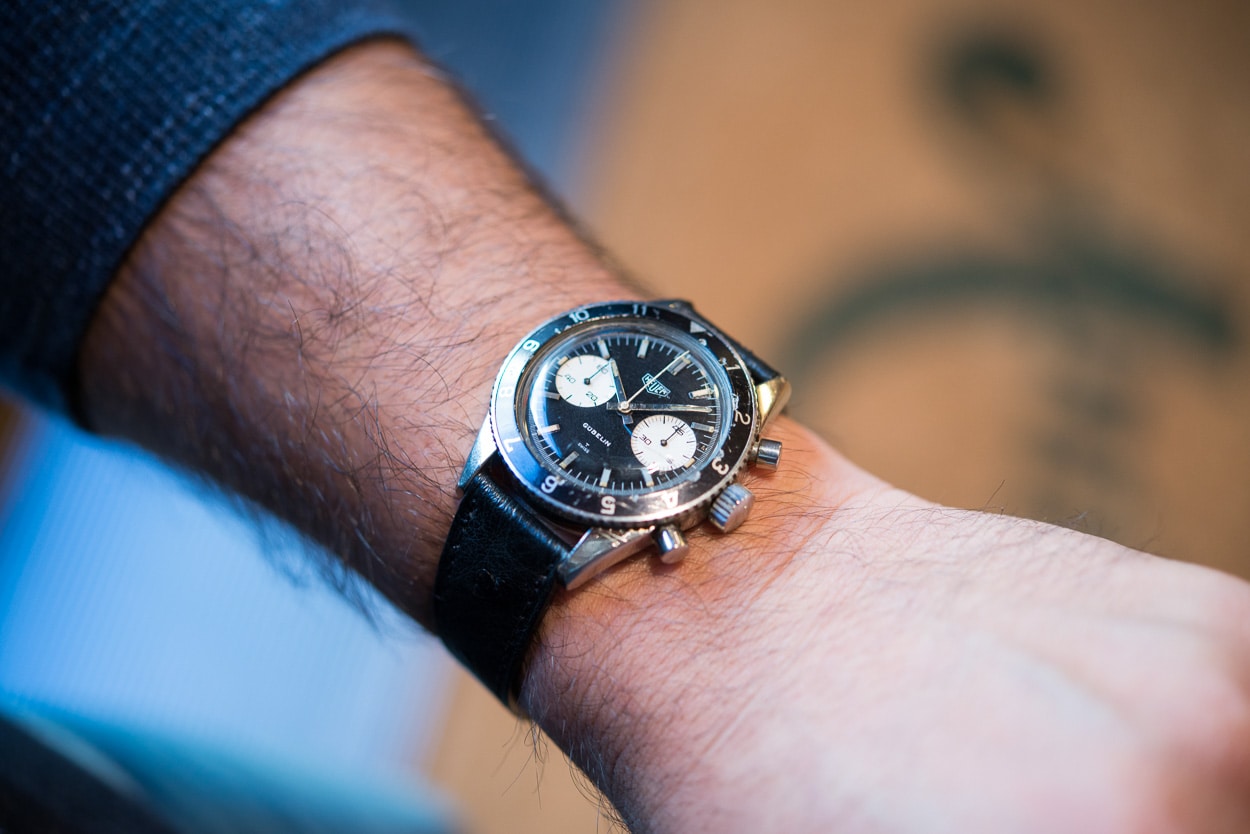 Antiquorum May 2018 Auctions
To take a look at the Antiquorum Geneva online catalogue, you can click directly here.
This Antiquorum watch auction, which takes place on Sunday, May 14th in Geneva, is comprised of 620+ lots (more than the previous two sales). There is a wide variety of vintage and a mix of modern and some horological objects.
Important Modern & Vintage Timepieces
With my preference for sports wristwatches dating from 40's-70's, this narrows it down and I chose 8 watches that peaked my interest, maybe not all sports, and were worth mentioning.
So, these are the 8 vintage watches I chose:
LOT #16 – Universal Geneve Tri-Compax, Ref. 881 101/02 "Evil Clapton"
Universal Geneve, also known as UG, chronographs have seen an unbelievable surge in demand (and prices of course) the past 5 years. Recently, we have seen a trend towards steel complications, including this Tri-Compax fitted with the Caliber 281, chronograph triple-date moonphase. The Caliber 281 is a Martel movement that was shared with Zenith and in 1932, when it was launched, was the first chronograph wristwatch movement with calendar function. UG also bought from high-end suppliers including Huguenin Freres for their lyre lug cases and high-quality Singer dials.
The Tri-Compax with white dial and black registers was nicknamed "Eric Clapton" for the famous guitarist who wore this model while touring in 1968 with Cream, his band at the time. The black dial version is nicknamed "Evil Clapton" due to its red hand on black dial configuration.
True story: As with many sports models from Universal Geneve in the 1960's, the reference and serial number were engraved shallowly on the case back and over time, due to wear or polish, many are almost completely gone or impossible to read. I saw in Antiquorum's description that the number and reference were missing as they were worn off on the back of this watch, but I enjoy a good puzzle… So, I sat there for close to 30 minutes with my loupe and a light going angle by angle to finally find the reference 881 101/02. Then, one by one, double checking each time managed to find (mostly) the serial number: 2,55X,323. Since we couldn't be 100% sure and agree on the 4th digit (I think it's a 6 or a 5), the catalogue will mention only the numbers found and agreed upon. I would suggest the future owner of this watch to cover the back with a sticker and to all current owners of similar UG watches to buy stickers for theirs. Otherwise, it is in very nice condition and is on its Gay Freres bracelet dated 1-68.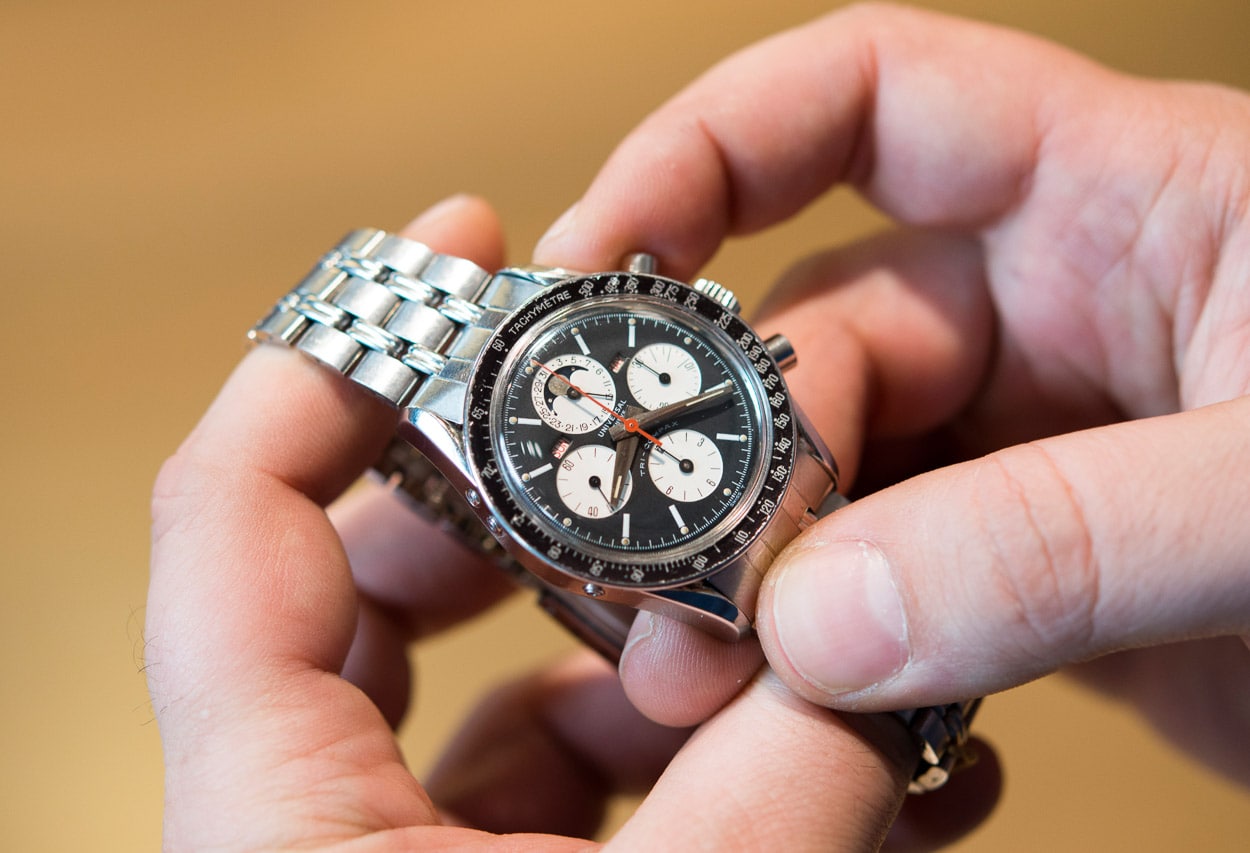 For more information, click here.
Estimate CHF 10,000 – 20,000
LOT #25 – Breitling Ref. 2110 Chrono-Matic
You may be asking yourself what is so special about this one? Well, frankly, it is a personal attachment my brother and I have to this reference. We transitioned from collectors and started selling watches professionally online back in 2013. The first watch we ever listed and sold almost immediately was the same Breitling Chrono-Matic 2110 with a serial number similar to this one. It was also in mint condition, had originally belonged to my brother for close to a decade. We sold it to a nice gentleman in Zurich, but it was the first little sting of selling a watch that we had never experienced before. You miss it already, but that was something we had to learn. This model will always hold a dear place in our hearts… you never forget your first. And, yes, we vintage watch nuts tend to be sentimental.
On a lighter note, when I see one of these, I think they remain a great value, perfect 40mm size with an automatic Caliber 12 and a wonderful watch to wear. So if you're looking for a vintage Breitling still within budget, this is a great choice.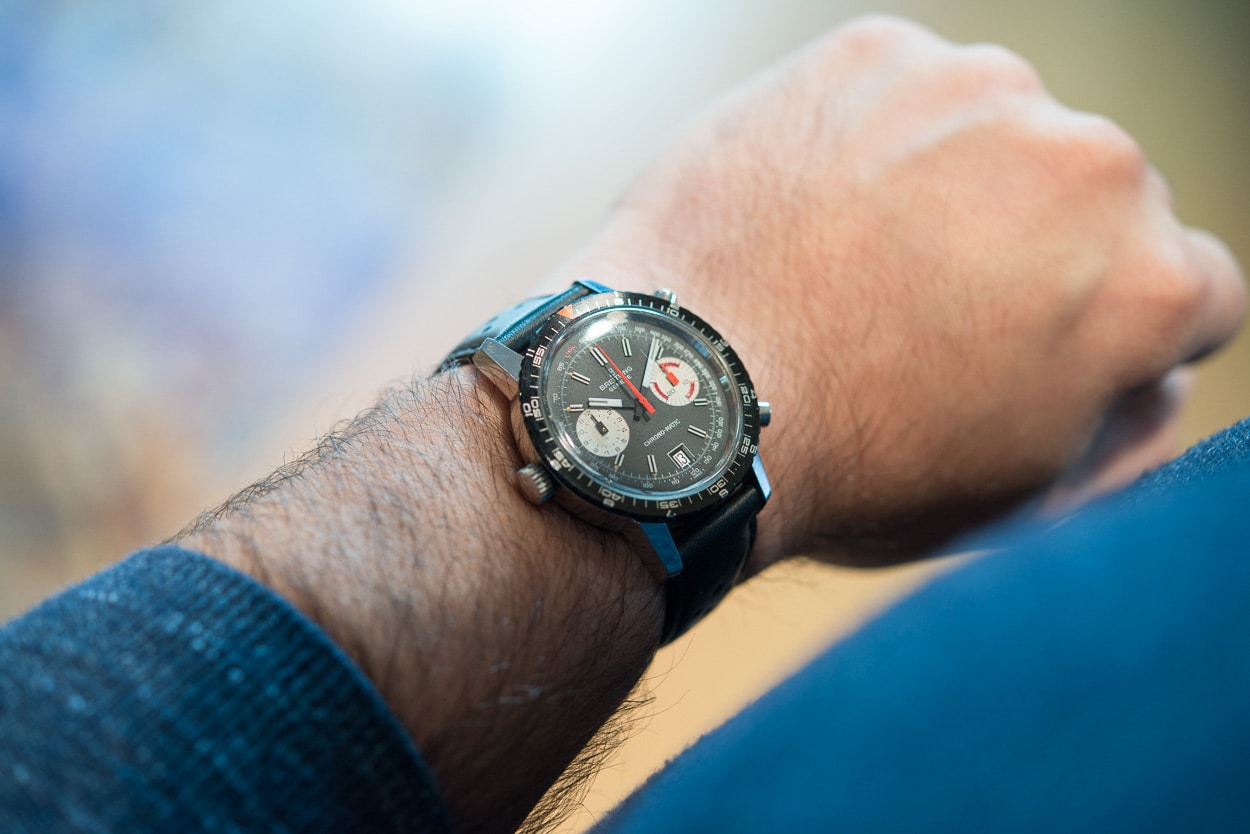 Should you need more information about this lot, click here.
Estimate CHF 2,000 – 3,000
LOT #39 – Heuer Autavia 3646 "No Autavia Transitional Gübelin"
I have to admit, I wasn't sure what to call this one. The Heuer Autavia 3646 in its third execution is commonly nicknamed the Heuer Mario Andretti. This is something different. This is a "Transitional" 3646 produced shortly between the second and third executions and therefore not a "Mario Andretti". The serial number 82739 (typically 828xx-83xxx) and the lugs without the large bevels are what identify transitional models. It also marks the transition between thin and thick bezels, although both the previous and following configurations have the large bevels on the lugs. They were only produced in very small numbers in 1965 and I don't know if I have personally seen a 3646 transitional before. It is most likely rarer than the 2446 transitional.
Digging deeper, we are familiar with retailer signed dials, among which Swiss retailer Gübelin is seen on other Heuer watches from the 1960's and also Patek Phillipe dials carry this signature too. What is absolutely unique and curious, is that this 3646 does not have Autavia on the dial. Other Autavias in 2 or 3-register configurations with the Gübelin signature have Autavia on the dial. The position of Gübelin would simply be on top of the dial on 3-register dials and at the bottom for 2-register dials. The same goes for Heuer Carrera dials. Since its introduction in 1962, the Autavia was the first Heuer to carry the model name on the dial and the Carrera followed suit in 1963 and onwards. This was something Jack Heuer had purposely done and felt was important, so it is a mystery why a dial would leave the factory without it.
According to my study of the dial, printing etc. This watch dial is original and has not been altered. The watch came to the auction from the original Swiss owner and the condition would reflect that this is what we have come to call "barn find" condition with all its original grit. The bottom tip of the seconds chrono hand is broken off, but the hand itself is original. The bezel is worn with some small cracks visible. There are service marks on the inside of the cashback (HF stamped). The Valjoux 92 movement is signed and is authentic.
We also found it curious, that the serial number (82739) is visible between the lugs, but we could not find the reference on the opposite side. It doesn't appear to have been removed (the surface is intact), but rather never engraved. We conclude this is a 3646 from its configuration, but it is not indicated on this one.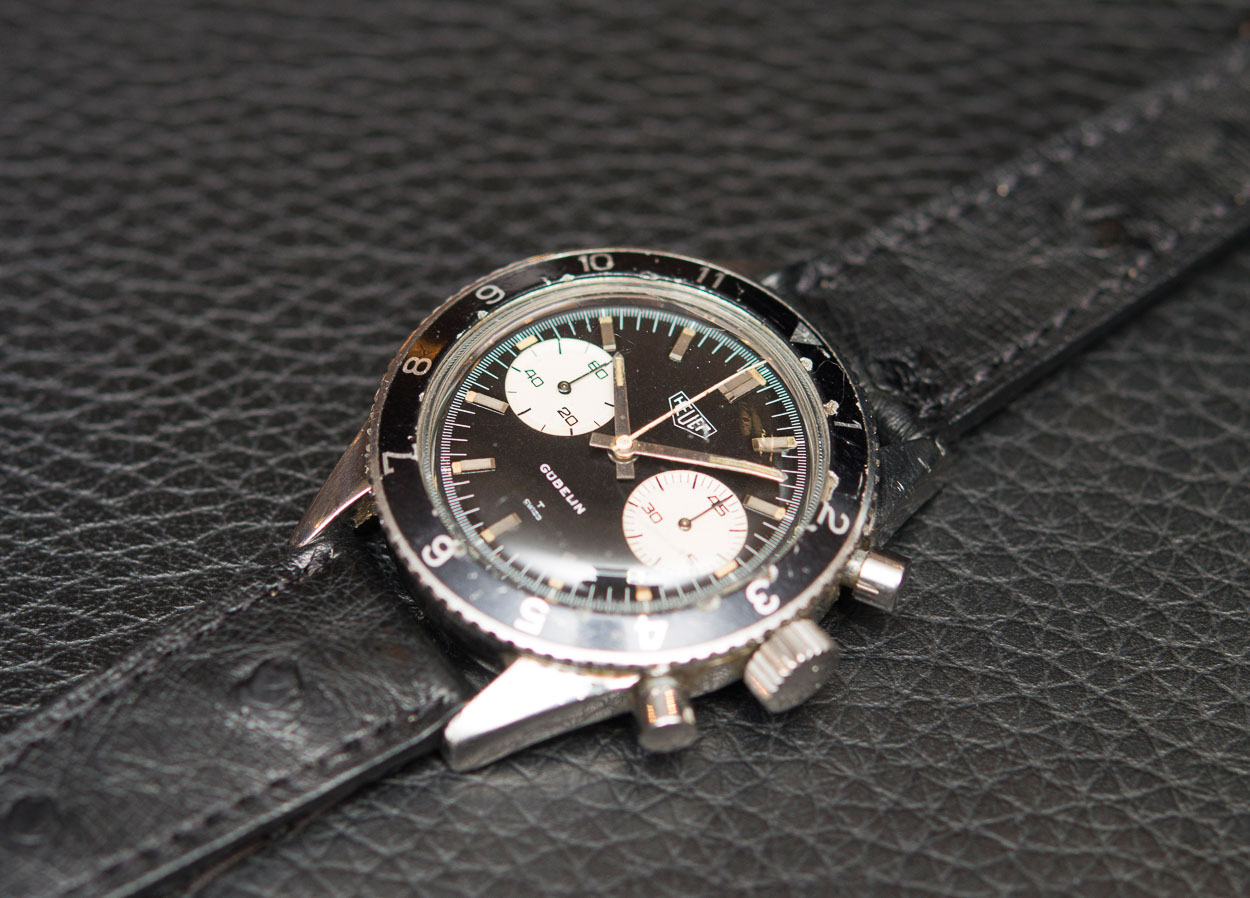 As usual, regardless of speculation here, the estimate of this lot is quite conservative and for more information please click here.
Estimate CHF 5,000 – 8,000
LOT #254 – Longines 13ZN12 signed Cuervo y Sobrinos, 18K Pink Gold
While we're on the subject of retailer signed dials, one of the rarer retailer signatures is Cuervo y Sobrinos; a Cuban retailer founded in Havana in 1882 by Don Ramon Cuervo and run by his nephews in the early 1900's. The word sobrinos means nephews in Spanish.
During the first half of the 1900's this retailer saw great success producing its own watches and selling prestigious Swiss watch brands as well. By the 1940's, Havana was a cultural center visited by many famous artists, actors, intellectuals and businessmen. Some of their well-known clients included Winston Churchill, Earnest Hemingway and Clark Gable.
However, in 1959, Cuervo y Sobrinos closed its doors following the political revolution in Cuba.
This particular Longines 13ZN 12 chronograph, reference 5161, has a central-minutes chronograph hand often mistaken to look like a split-seconds hand. We are more accustomed to seeing this caliber in the screw back stainless steel 5699 (Case ref 23086) which have gone up in price leaving these as a relative bargain in 18K gold. Antiquorum also has that stainless-steel chronograph in the sale (Lot 258). That one is a 1948 USA delivered example with a radium dial and the same caliber.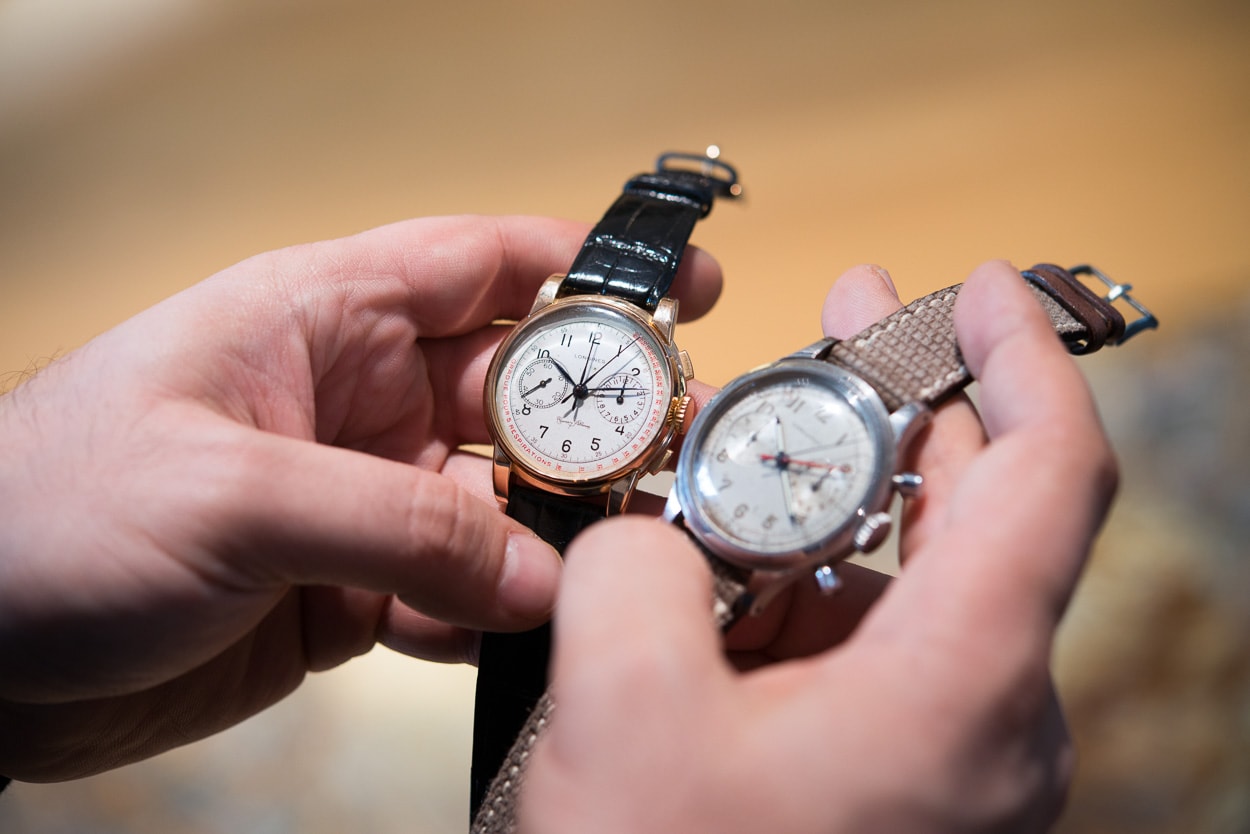 The condition of this pink gold watch is splendid including a crisp 38.5mm size case and clean looking dial (although the dial does seem to be partially restored/reprinted) with pulsometer scale. The Longines Museum archives confirm delivery of this pink gold 5161 in 1947 to Cuba. The last nice example of a Longines 5161 at auction, that I could find, was in yellow gold and sold at Christie's in 2014 for CHF 30,000. This pink gold case with an interesting double signed dial will be one that I am curious to see the result, click here to see this lot.
Estimate CHF 10,000 – 15,000
LOT #284 – Zenith El Primero Luna Lux
Much like the rare 18-carat gold Omega Flightmaster, there is a category of 70's elusive big gold watches that we rarely get to talk about. We haven't seen one of these Zenith Luna Lux, and in such excellent condition, in a while. Actually, the last time one of these rare birds was auctioned at Antiquorum was in 2011 and sold for CHF 26,250. Right smack in the middle of the current estimate.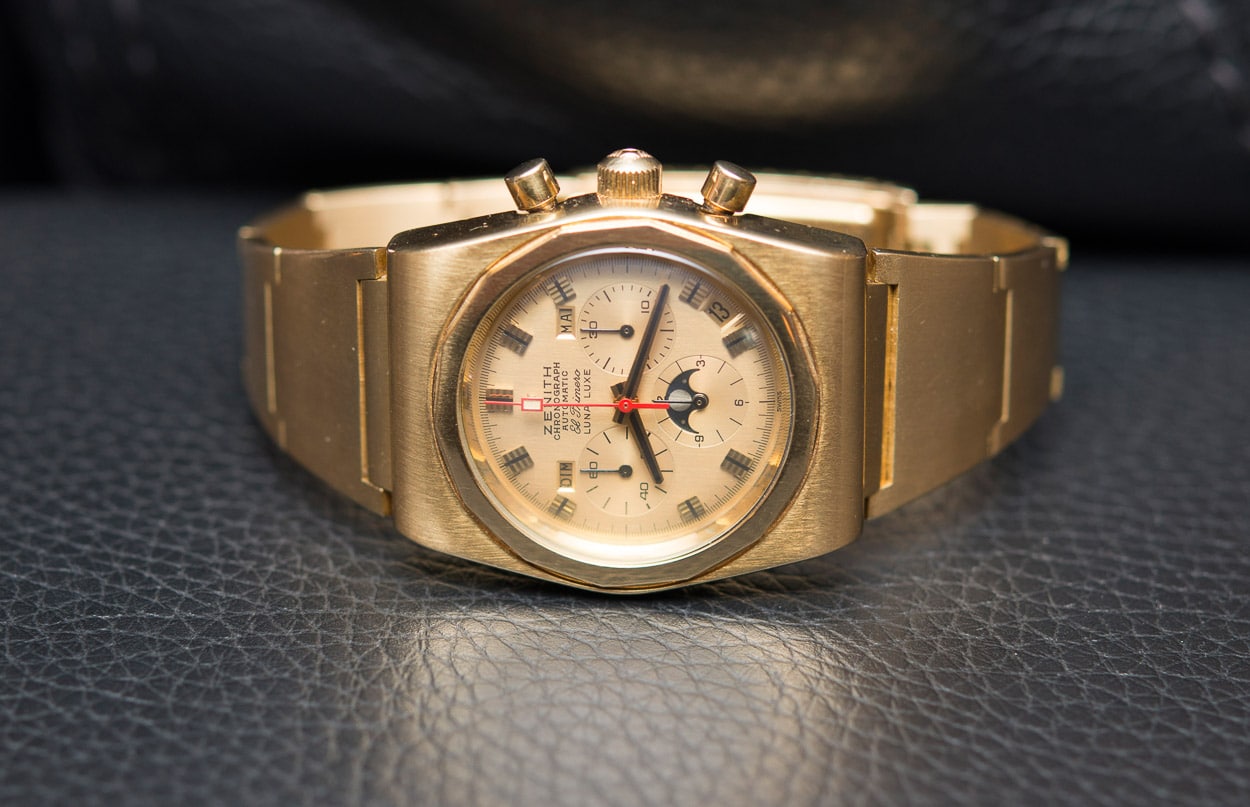 So, only 111pcs of this 18K gold version were made in 1971 by Zenith and it had a retail of CHF 6,500 at the time. This was a huge price tag back then, but when you put this 210gr watch on the wrist, it feels like money.
The Zenith Luna Lux is the 18K yellow gold equivalent of the steel Espada, just with a different name.
This model is fitted with the high beat El Primero 3019 PHF movement featuring an automatic chronograph, triple calendar and moonphase. The triple calendar display is shown using window display including date window versus more common triple calendars with a date hand. The moonphase window is integrated into the hour register at 6 o'clock.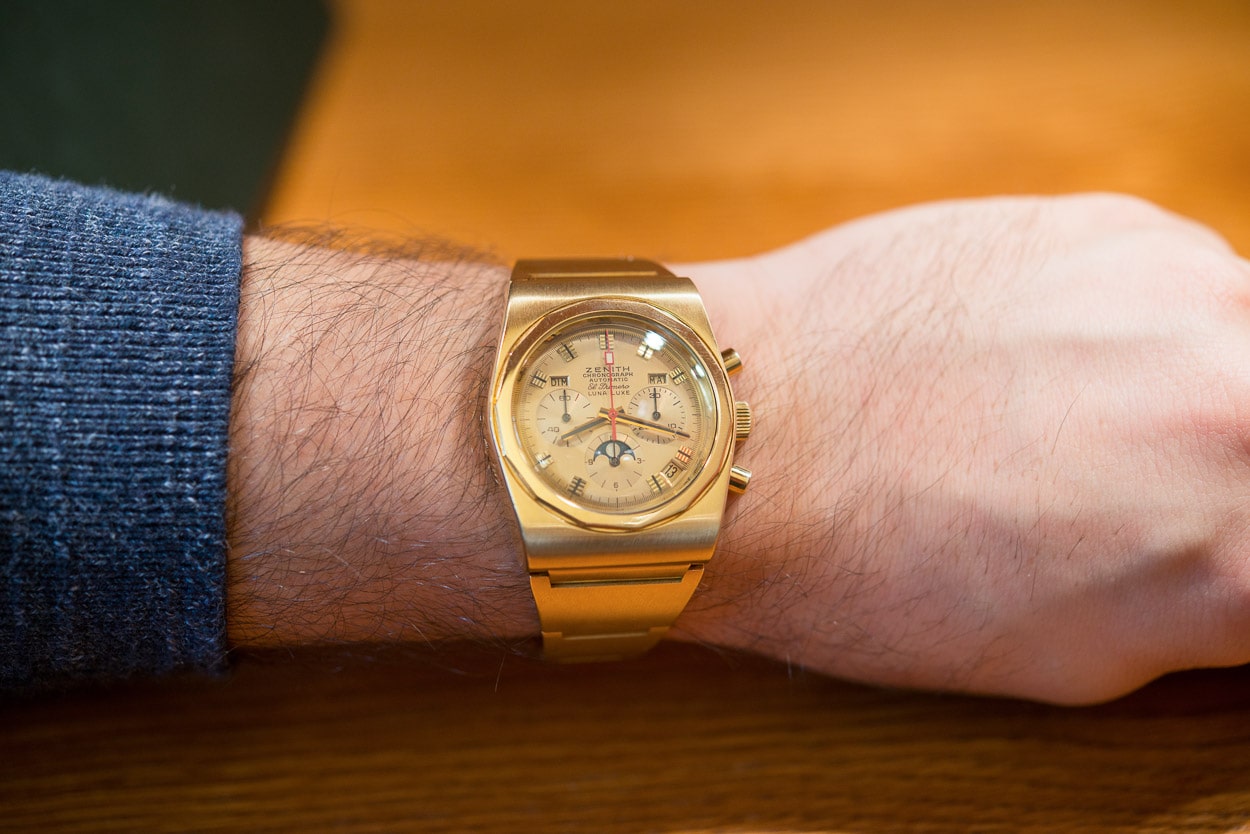 Overall, this is a bit of an odd watch and had the movie Goldfinger been produced 10 years later, this would have been an ideal watch for the villain. You can find out more about this big gold beauty directly on the listing here.
Estimate CHF 20,000 – 30,000
LOT #288 – Omega Seamaster 145.006 'Exotic Dial'
The lesser-known Omega caliber 321 chronograph is the Seamaster 145.006 (or 145.006-66) and it has several interesting configurations. One of these dials (black with silver registers) served as part of the inspiration for the design of the 2016 SpeedyTuesday limited edition. Most commonly seen with silver, black or black with silver registers dials, they usually have 'radial' style numbers in the registers. It also comes in an 18K gold version with a gold dial.
However, the rarest is this red and black 'exotic dial' and this one is only the third I have ever seen. One of these was recently acquired by our buddy @kovpics (thank you for sharing your information as well).
Looking closely at the dial and hands we noted some interesting details:
1) The hours, minutes and running seconds hands are red. This is something we are familiar with on the Speedmaster "Racing" dials.
2) There are red accents at hour markers, but the tritium luminous material is not present at 12, 3, 6, 9 o'clock.
3) There is no tachymeter present like on the other four dials for this model.
4) No T's next to SWISS MADE
Since there is no correlation between serial numbers or delivery countries, I don't think these were regular production models. It's also possible this dial configuration was in the demo or protoype stage and never released. Those dials never went into batch production and the few samples were simply encased and sold off individually. It would also explain why there are no T's at the bottom of the dial. Tritium is clearly present on the dial and hands and all the other variants of the same reference all have the T SWISS MADE T at the bottom of the dial.
This is the same phenomenon seen on certain Speedmasters with exotic dials (Non-Pro Racing and some Grey metallic) delivered in 1967 and 1968 (end of Caliber 321).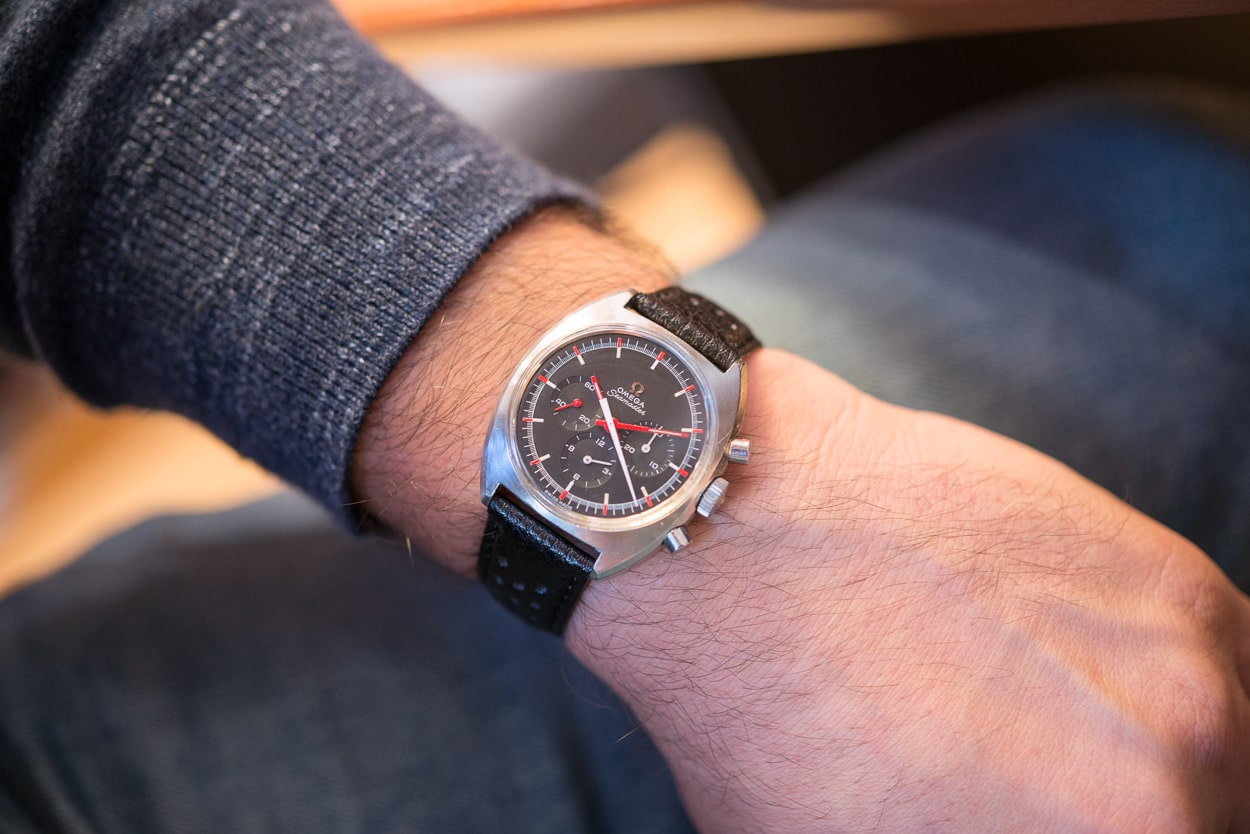 It is possible, and this is totally a theory, that the 'demo' dials didn't have the T's on them from the factory as they were not intended for resale and later on, with the end of the caliber 321 nearing, the few sample dials were assembled and sold. This is of course just conjecture based on my personal observations thus far and Omega's records are unclear on the subject. We do like to avoid using the word 'prototype' for watches that were made and sold, so we are happy to call these 'Exotic dial' and enjoy the discussions that continue on these mysterious models. To take a closer look at the online catalogue, you can see this particular watch here.
Estimate CHF3,000 – 5,000
LOT #493 – Tudor 7031/0 Black Homeplate Dial
I've always been a bit curious (skeptical) about these Tudor 'Black Homeplate' dials as we have never really seen one from an original owner on the block before. Since the old Tudor catalogues didn't show the black dials and that only one of them had ever come up for auction (before now). There has been speculation on many theories including that these are all loose dials and were found recently and added to existing watches or that these were, in fact, special orders back in the 1970's. This present watch coming from the owner and including the original papers and receipt as well as a service receipt does reinforce the argument that although several loose dials may have been found later on, a few of these were originally fitted in the 70's. These dials are found in both case variants: the black tachymeter bakelite bezel ref. 7031 or the metal tachymeter bezel ref. 7032.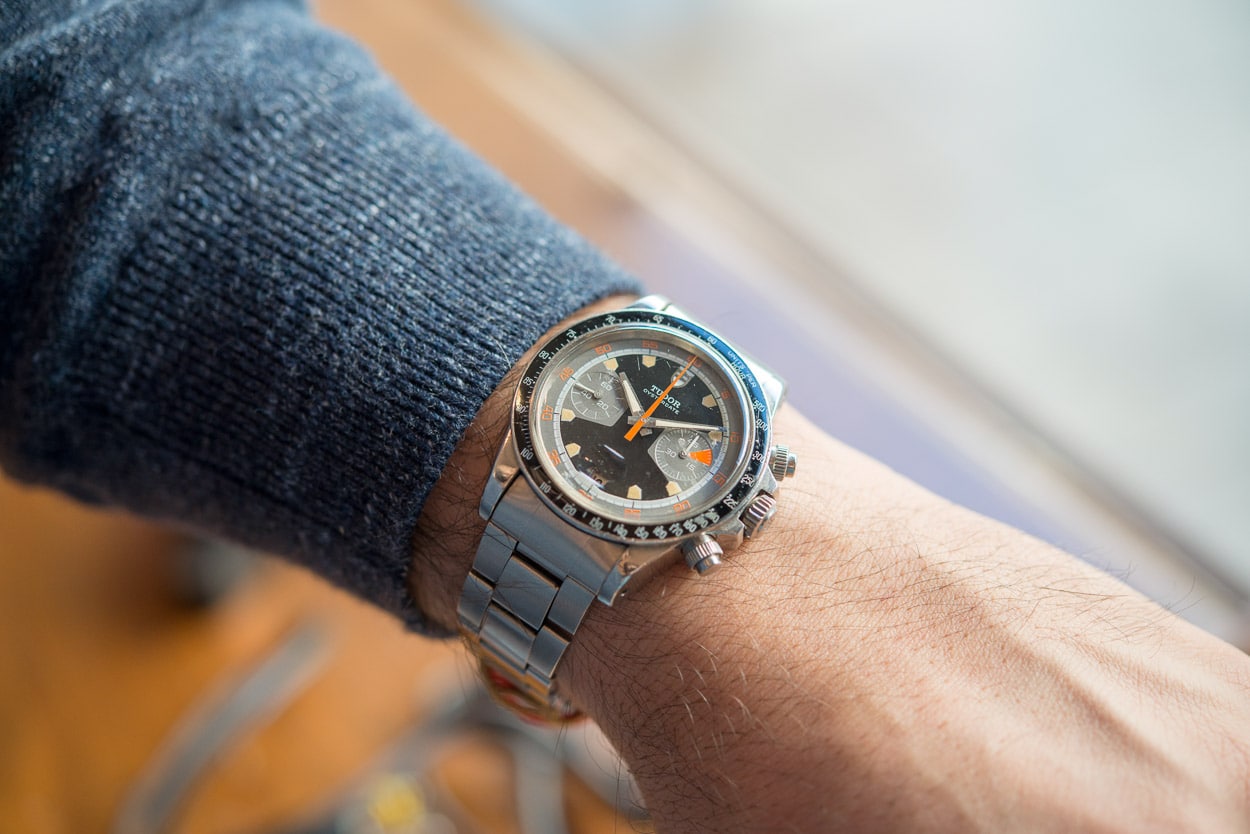 These references were released in 1970-1971 and included the same style pushers found on early screw-down Rolex Daytonas (6240 or 6263/6265) from the same period. Along with its Rolex counterparts, the screw down pushers evolved over several versions over the years as well. The very first series pushers are called 'millerighe' (In Italian, literally means 'thousand lines) as found on the present watch.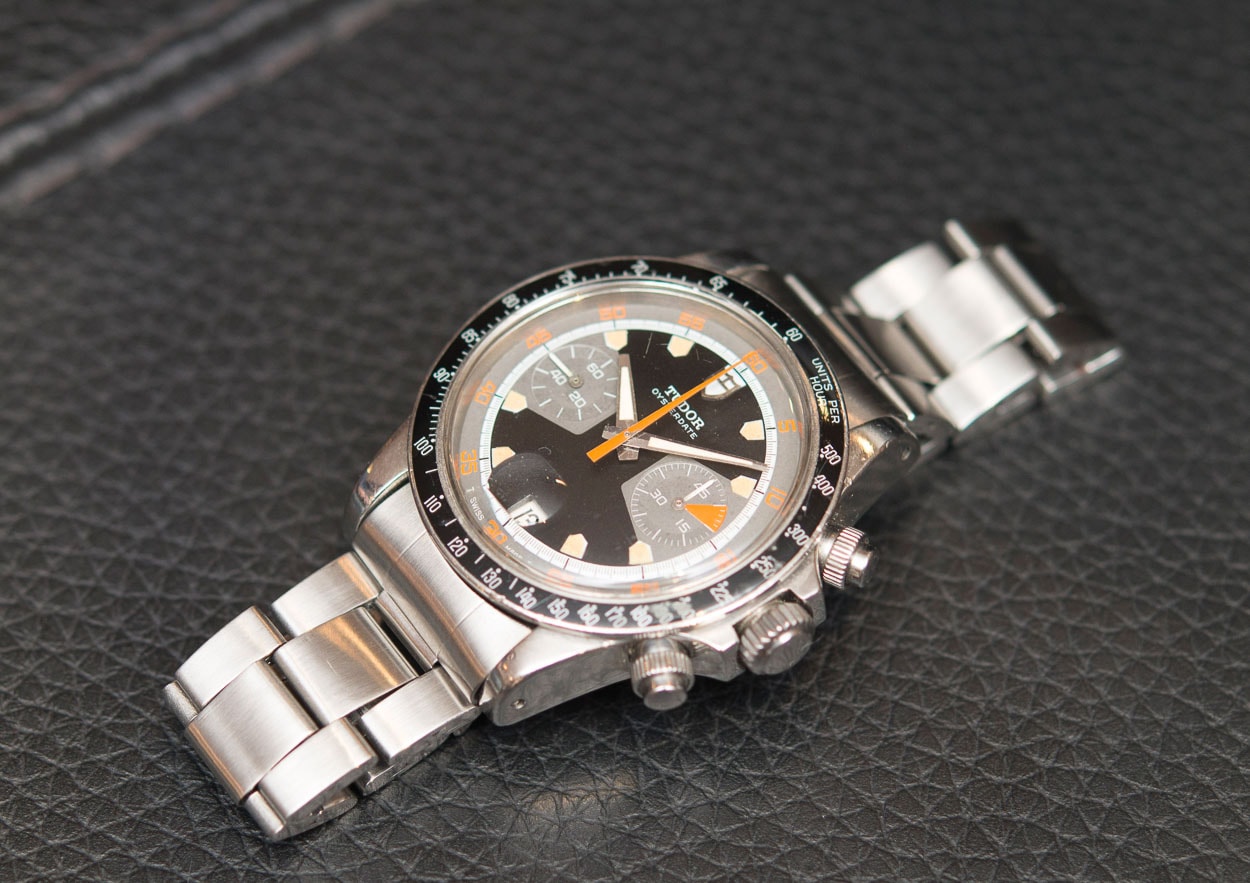 For more information on this and its accessories, please click here.
Estimate CHF 60,000 – 80,000
LOT #607 – Rolex 6542 GMT Master 18K Yellow Gold
Last but not least, the watch that really surprised me the most was this spectacular 18K yellow gold Rolex GMT Master 6542. The first GMT Master reference 6542 in steel from the mid-1950's is a grail among collectors. The obscure yellow gold version seldom comes up for sale and I've never seen one in such excellent condition and directly from the original owner to boot. Now, when I realize that the dial and hands are a possibly unique configuration and it has a wonderful story in its history, what more can we ask for?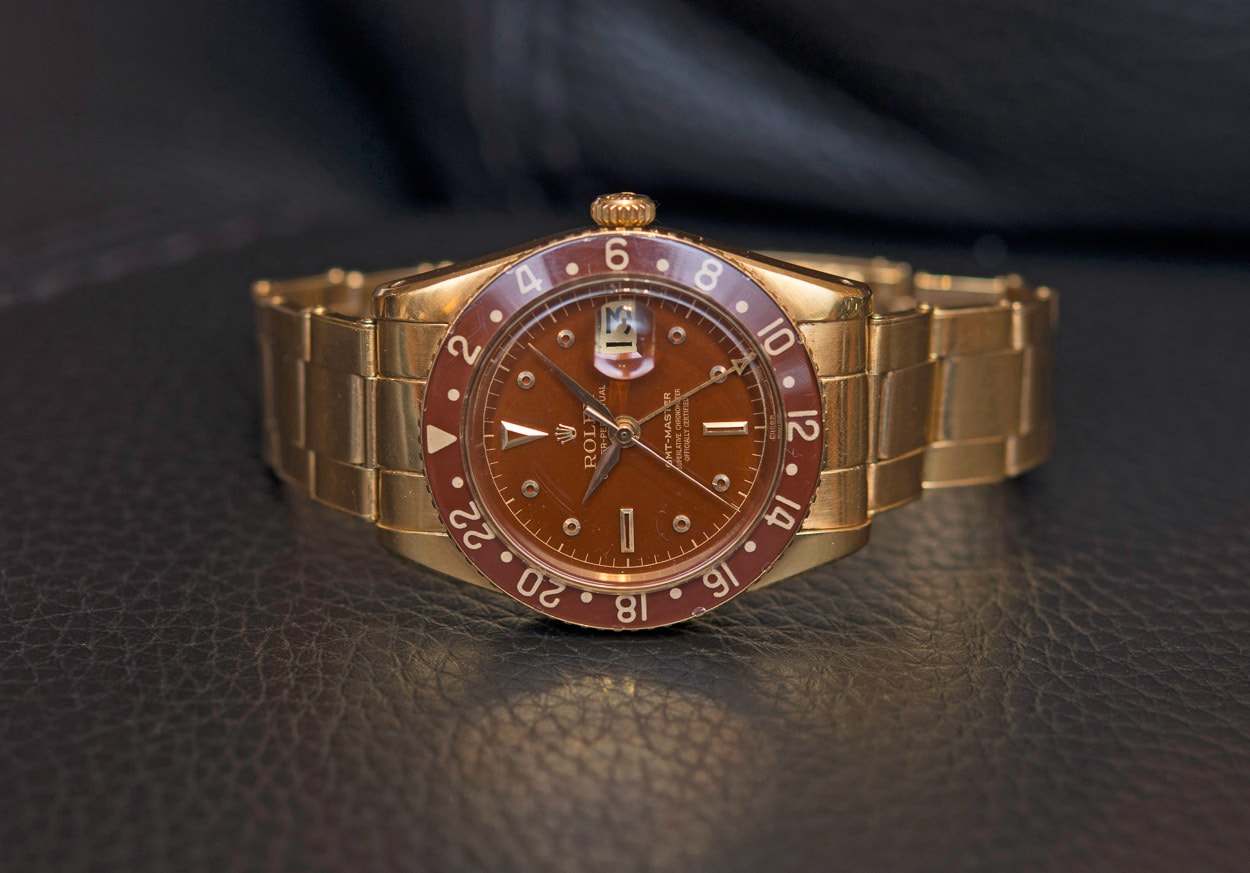 Antiquorum is calling this one "THE LIFESAVER'S ROLEX 6542 GMT" because the owner of the watch received it as a gift in 1960 after saving a child from drowning in Geneva. He was part of the lifeguard association of the Lake of Geneva (SISL – societe internationale du sauvetage du leman). The watch itself has been kept in wonderful condition. The bezel, which is usually degraded and damaged on these, remains totally intact. The Geiger counter was ticking like crazy for an original radium Bakelite bezel. Meanwhile, the GMT hand and nipple dial markers were totally void of any radium material. Not that it had been removed, but rather with a closer look using a loupe and UV light as well showing no trace that radium or any luminous material had ever been there. Also, the hours and minutes dauphine hands do not have the opening in the center to carry luminous material at all. These full hands are further proof that this watch never had a luminous dial. The result is a possibly unique watch. The lack of radium, which usually ages a dial, has kept the dial surface of this watch in absolutely fresh condition.
The case was beautifully kept as well as the original rivet elastic gold bracelet with big logo (dated 1.60).
I was blown away by this one as I have never seen an example of this reference quite like this one.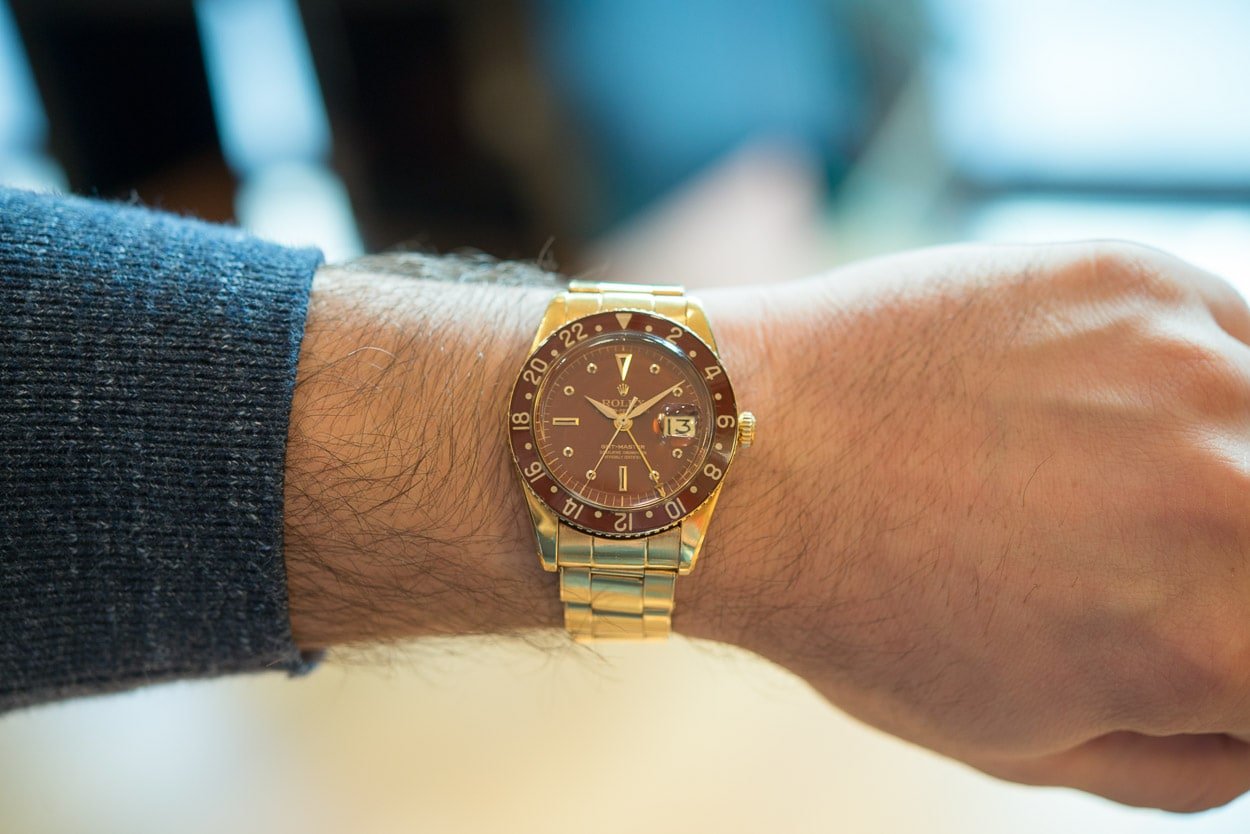 For more information on this watch and the story, please click here.
Estimate CHF 100,000 – 150,000