Apollo 11 Astronaut Michael Collins's Speedmaster Up For Auction
An incredible, seldom-worn example of the first gold Speedmaster
Astronaut Michael Collins, one of the three men on the Apollo 11 mission in 1969, passed away just over a year ago at the age of 90. When I was in Italy for the Speedy Tuesday event in Milan in 2019, I spoke at length with our special guest astronaut Nicole Stott about Collins. She knew him quite well, and according to her, Collins was one of the nicest guys from the Apollo program, as well as a talented painter.
Michael Collins, Apollo 11 astronaut
In fact, Collins was responsible for the design of the Apollo 11 patch, and he orbited the Moon thirty times in the Command Module during the Apollo 11 mission. During these orbits, which took 48 minutes each, he was out of radio contact with Earth while he was on the far side of the Moon. Collins stated in his book Carrying the Fire: An Astronaut's Journeys that he didn't feel fear or loneliness. Rather, he felt "awareness, anticipation, satisfaction, confidence, almost exultation". On his wrist was the Omega Speedmaster Professional 145.012-68, as I described in this article.
The gold Speedmaster "Tribute to Astronauts"
After the successful Moon landing mission in July of 1969, all of the then-active astronauts were invited to a banquet dinner in Houston, Texas on November 25th of the same year. During this dinner, the President, Vice President, and astronauts were each offered a gold commemorative Omega Speedmaster Professional watch with reference BA145.022-69.
The first 18K gold Omega Speedmaster Professional
In short, the Omega Speedmaster Professional BA145.022-69 is a full-gold version of the steel Moonwatch 145.022. It features an 18K gold case with the same design cues and dimensions as the regular steel Speedmaster Professional. The gold bezel has a burgundy red aluminum inlay with the famous "dot over ninety". One of the things that makes this BA145.022-69 reference so special is, of course, the solid gold dial. This is indicated by the "OM" next to "Swiss Made", which means Or Massif, or "solid gold." The hour markers are made of onyx, have two facets each, and are set in gold frames. The hands are black with gold centers and give wonderful contrast to the solid gold dial.
In total, Omega produced 1014 of these gold Speedmaster watches. Besides the ones that went to astronauts (34 allocations are known) and other VIPs of that time, they were made available for the market with a slightly different engraved case back. You can find an in-depth article on the gold Omega Speedmaster Professional "Tribute to Astronauts" watch on this page. The article includes an overview of all the known allocations of this watch.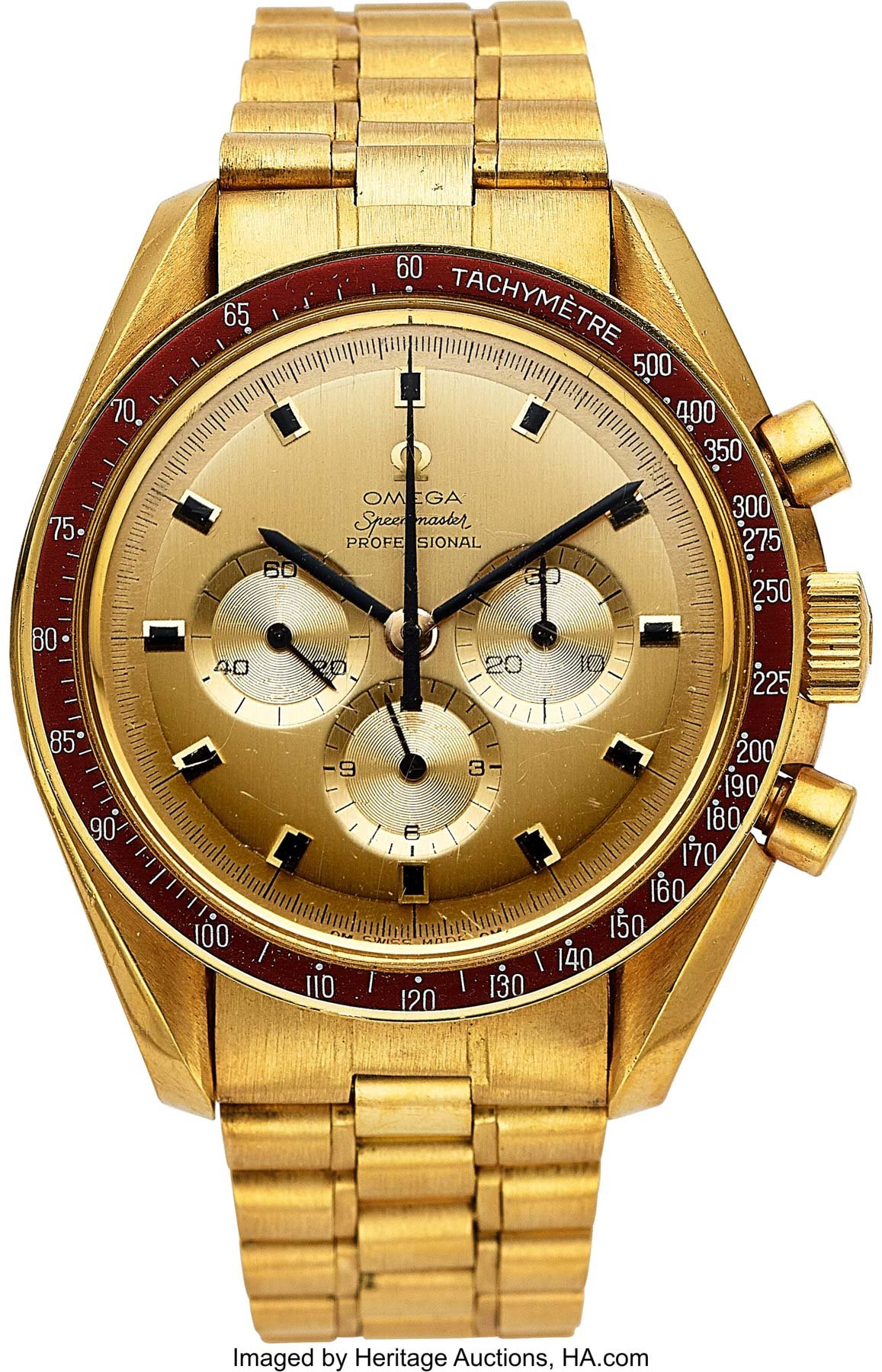 Michael Collins's Speedmaster No.19
For the Apollo 11 crew, Neil Armstrong received number 17, Edwin "Buzz" Aldrin has number 21, and Michael Collins received number 19. And it is this number 19 that will be up for auction on Wednesday, June 1st, 2022. Auction house Heritage Auctions was able to secure this gold Speedmaster that belonged to one of three Apollo 11 astronauts.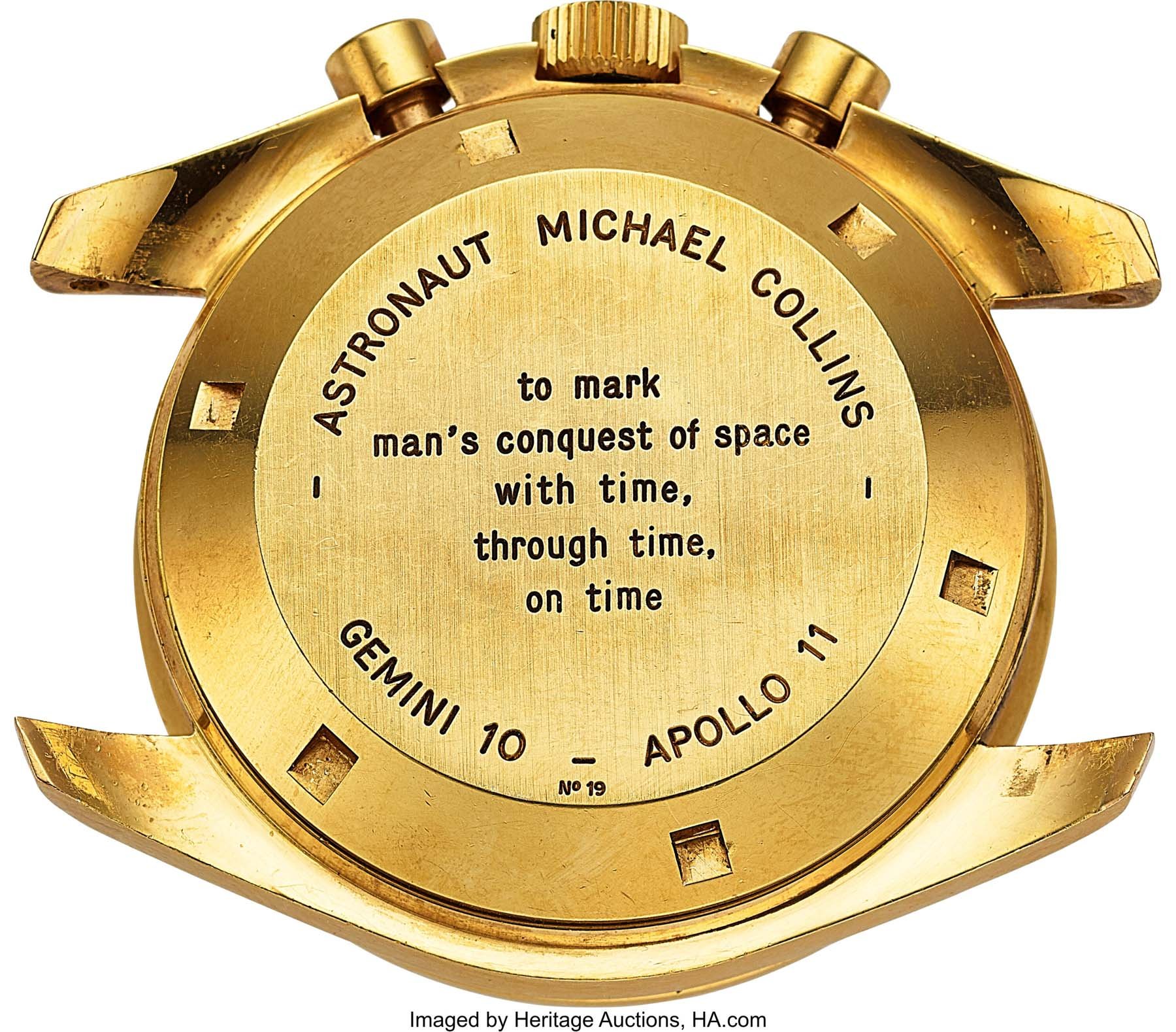 It's hardly necessary to get provenance with this watch, as it has his name and the number 19 engraved. It does, however, come with a small note stating: "This Omega watch was given to me shortly after the flight of Apollo XI, and has been in my personal possession ever since. I wore it seldom if ever, but I have wound it every decade or so, and I believe it is in perfect operating condition. Michael Collins, Apollo XI CMP."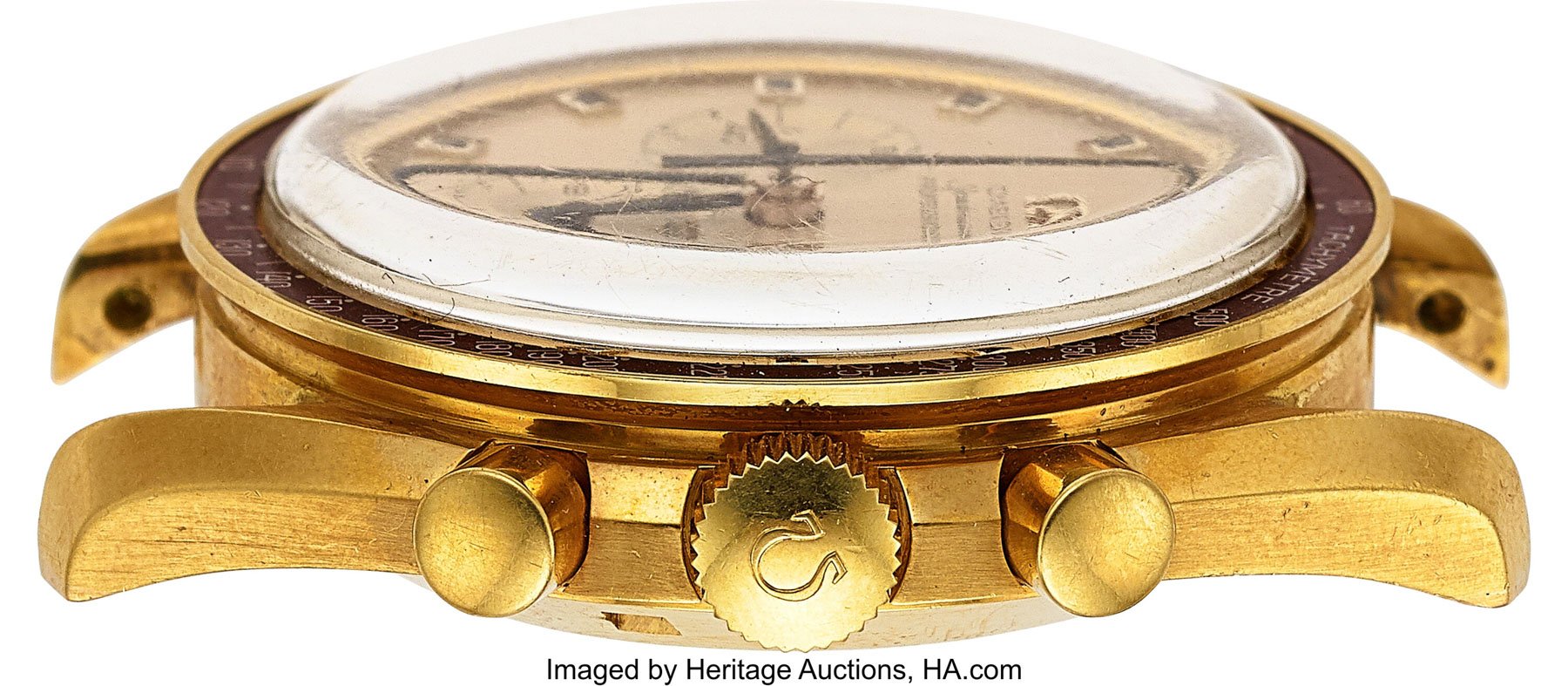 Not Michael Collins's first watch on the auction block
It's interesting he didn't wear it, or at least not often. Other Apollo astronauts can be spotted in old images wearing theirs. Apparently, he also had a Rolex Day-Date reference 1803 in his collection. That watch was auctioned in 2004, fetching $37,500. That was a different time for watches (and their value) though, and a regular 1803 wouldn't have even fetched $10K back then. The Day-Date was engraved "M.C." and had an accompanying letter stating that Michael Collins owned it for approximately 34 years. According to the same letter, he sold it because he decided he liked black watches better. And indeed, in some images, you can see him wearing black watches. In the image below, you see Armstrong and Aldrin wearing their gold Speedmaster Professional BA145.022 watches.
Oval O dial
On this early Omega Speedmaster Professional BA145.022-69, you'll find the oval "O" in the Omega logo. Then, there's the gold bezel with burgundy red aluminum inlay. The bezel looks amazingly crisp. A lot of the vintage BA145.022-69s have scratched and dented bezels, and unfortunately, they can't be replaced. Omega doesn't make any replacement parts for it. Sometimes, you will find black bezel inlays fitted to these watches, which come from the 1980 Speedmaster in gold (BA345.0802). This example comes with the standard gold bracelet, reference 1116/575, which tapers from 20mm to 14mm. Inside is the Lémania-based caliber 861, which Omega used from 1968 till 1996. The later versions have a rhodium-plated finish, but the older ones have this nice copper-color finish.
To mark man's conquest of space with time, through time, on time
The really cool thing about this watch, of course, is the engraved case back. It reads, "Astronaut Michael Collins, Gemini 10 — Apollo 11, No. 19, to mark man's conquest of space with time, through time, on time".
The current bid is at $51,250 including the buyer's premium, but that's about the going price for a gold Speedmaster 145.022-69 on Chrono24 at the moment. Given that this watch belonged to Apollo 11 astronaut Michael Collins, the price will surely go much higher than this. I wonder what the fate of this watch will be… Will it end up on a wrist, in a museum, or as the plaything for investors?
You can find Michael Collins's Speedmaster for auction here at Heritage Auctions. If you want to know all about the Speedmaster Professional BA145.022-69 watches, click here for our ultimate guide on them.