Hands-On With The Arken Instrumentum 1020 — A Tough Titanium Tool Watch That's Like Nothing Else Out There Today
Integrating British design with reliable functionality
I've made no secret of my love for the microbrand world. At times, it can be challenging to navigate, so the old adage goes "buy the owner, not the brand". Usually, you can get a feel for a genuine microbrand pretty quickly. They'll be active on social media and in the microbrand Facebook groups. Chances are you'll have conversed with them at some point, as that's usually the way it goes from my experience. You'll also start to see more and more discussions about the brand and watch. When I first came across a new British microbrand, Arken Watches, it was indeed by way of the power of social media.
Online appearances are one thing, but meeting face to face is a whole different story. Meeting someone in person tells so much more about them, their experience, and their intentions. Sadly, it can be pretty tricky to do this, especially with COVID still lingering around like a bad smell. Fortunately, Arken Watches brand owner, Kenneth Lam, messaged me asking if I wanted to meet up to see his upcoming Instrumentum 1020. I jumped at the chance as I was pretty intrigued by a watch that seemed to garner a lot of positive reception online despite very few people having seen it in the metal. Would it live up to the hype?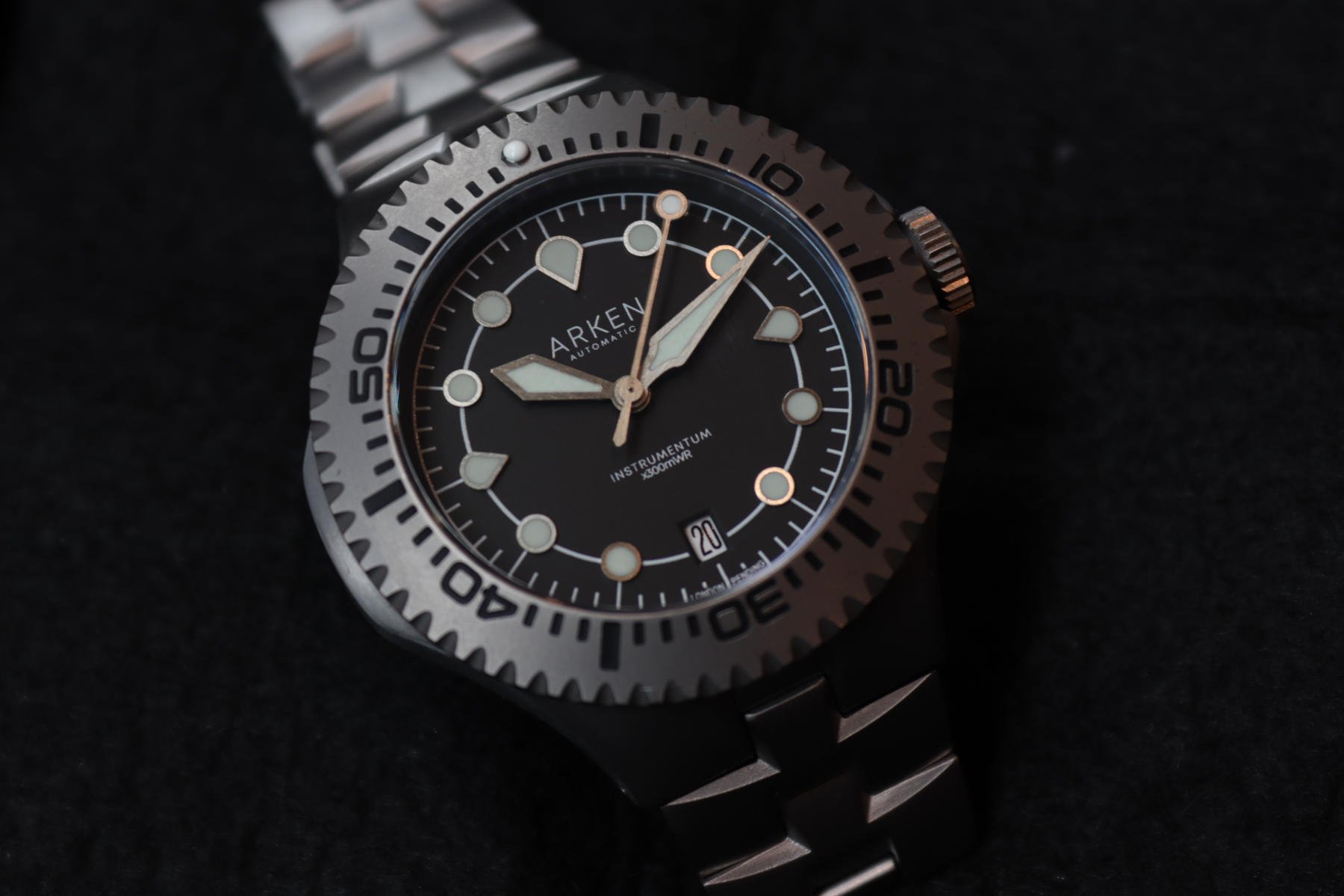 The man maketh the brand
I met with Kenneth in sunny Manchester in mid-August. It feels odd using a word like "sunny" with Manchester as we seem to suffer from a perpetual cycle of autumn to winter and back to autumn. Thankfully we have the odd day of good weather thrown in to keep us on our feet.
As I said, it's incredibly rare to get a chance to meet with microbrand owners. Still, I was remarkably taken by Kenneth's personality, which was evident from the moment we met. He's a friendly and likable guy with an evident passion for this project. It's not just a side-hustle to try and make a bit of extra bank to ride out the pandemic. Kenneth actually quit his full-time job to solely focus on Arken Watches. I don't know about you, but I take that as a sign that this guy means business. It's a considerable risk to drop a stable income and focus on a brand new project, but here we are. Obviously, Kenneth has a firm belief in himself and the watch, which are vital for success in this industry!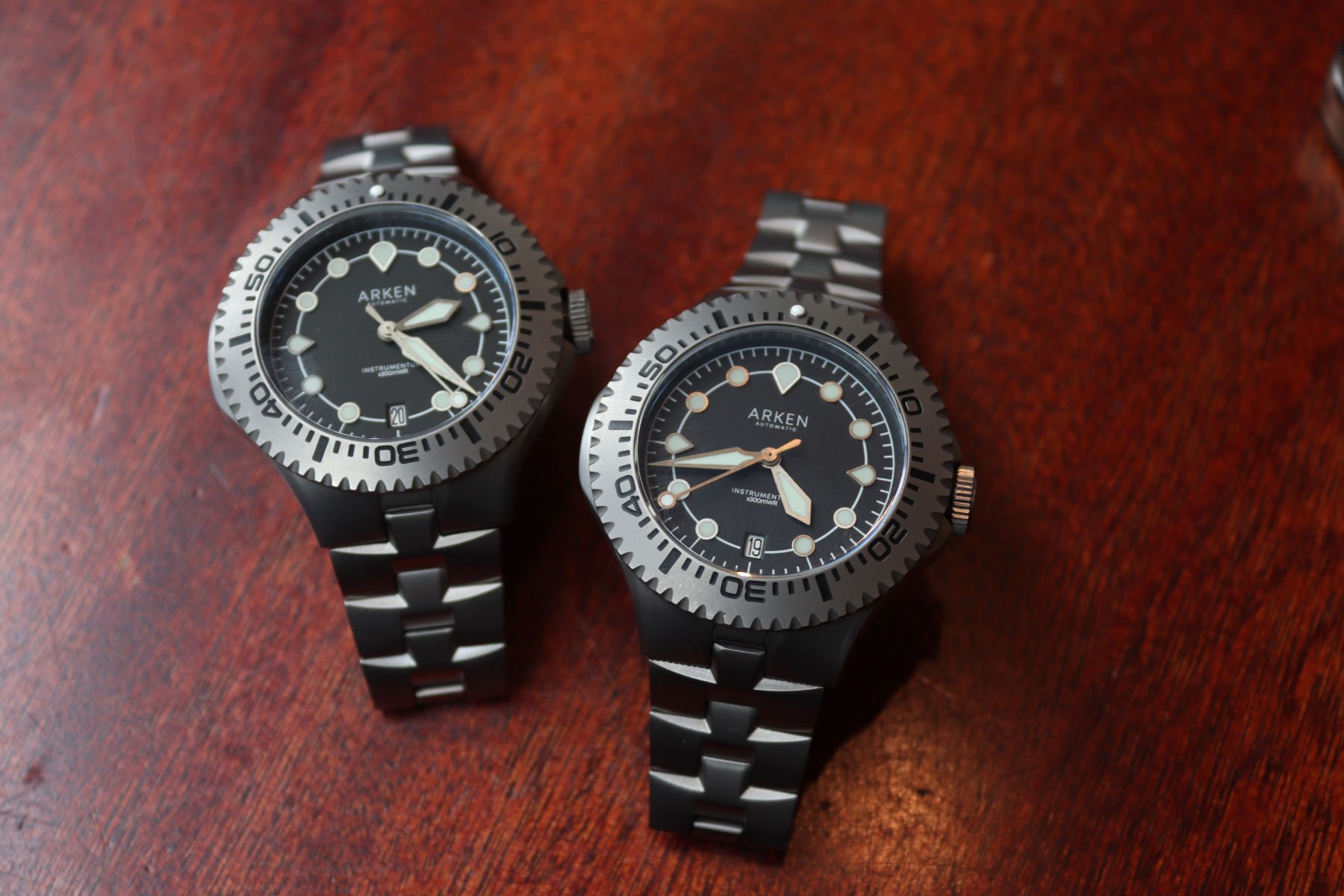 Not one, but two Arken prototypes
We moved along to a coffee shop, and out came the watches. Interestingly I saw two prototypes. These two watches were not identical but were iterative versions, featuring improvements from the first version. Again, this might not immediately stand out to you as much but think of it this way. Kenneth got his first prototype and identified a few points that needed fixing before the watch was ready for production. At this point, most microbrands will feed this back to the manufacturer, who will start production and fix the issues unseen.
Instead, Kenneth paid for a new, updated prototype to see the issues fixed upfront. Now, when you remember that prototyping is not cheap, it's promising to see the brand wanting confirmation of the highest possible quality, before production, rather than just trusting the manufacturer to fix things. This might seem like the obvious course of action to take. Still, in reality, it's incredibly rare to see multiple prototyping rounds in microbrands.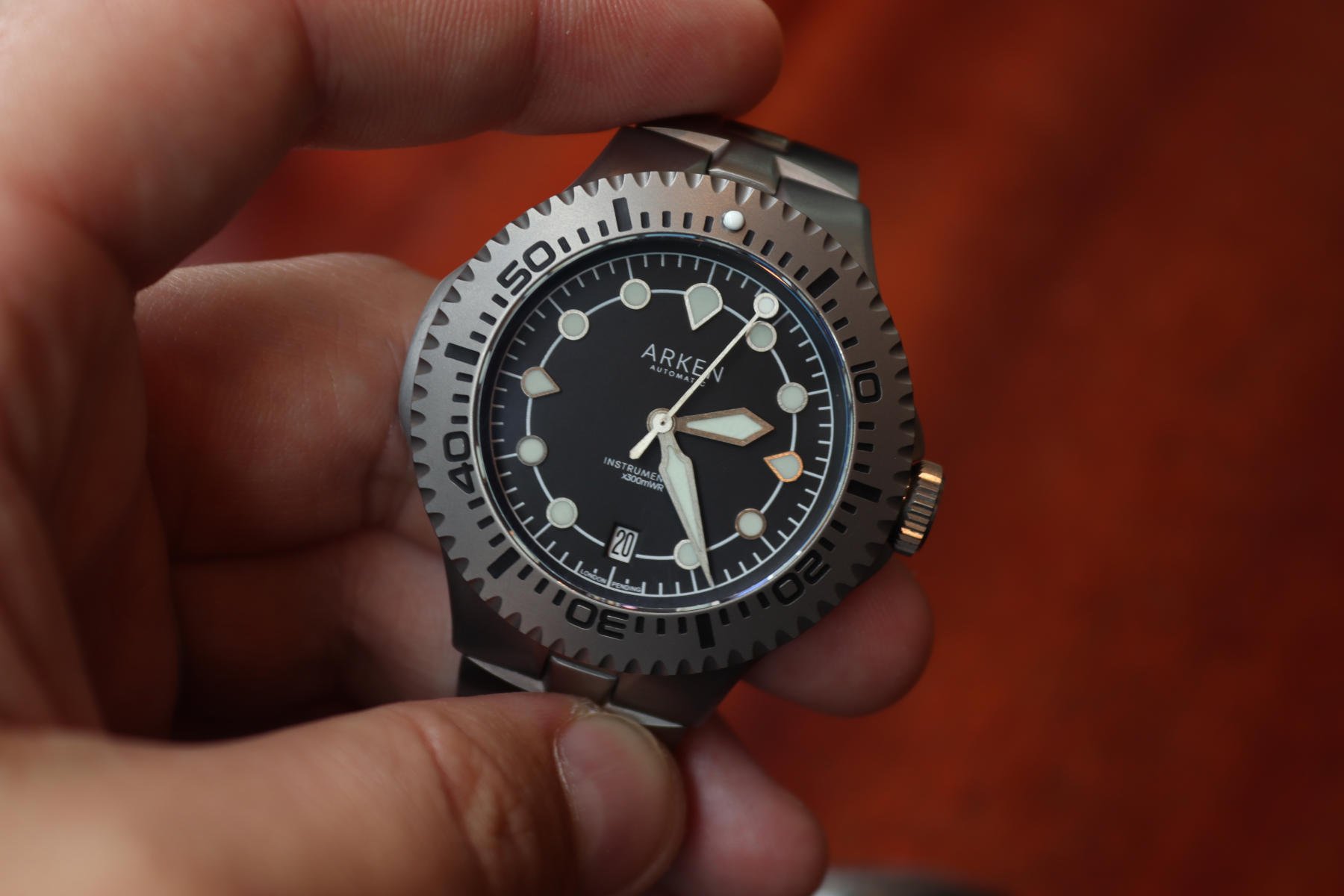 This case means business
So what about the watch? Well, the Arken Instrumentum 1020 is a rugged and no-nonsense tool watch. That much is evident from the very first glance, but thankfully the watch is equipped to do more than just look resilient. The smooth blasted 40mm titanium case is very nicely proportioned. A short 46mm lug-to-lug measurement allows the integrated bracelet to attach without extending the length of the watch and creating an ugly overhang. Additionally, at just 11.5mm thick, the Instrumentum 1020 is rather slim by the standard of microbrand divers.
The one-piece bezel is also something I feel is worth mentioning here. Bezels and inserts work fine when using different colors and different materials. Still, when the bezel and insert are the same material and color, a one-piece bezel is more cohesive and visually appealing; at least to me, it is.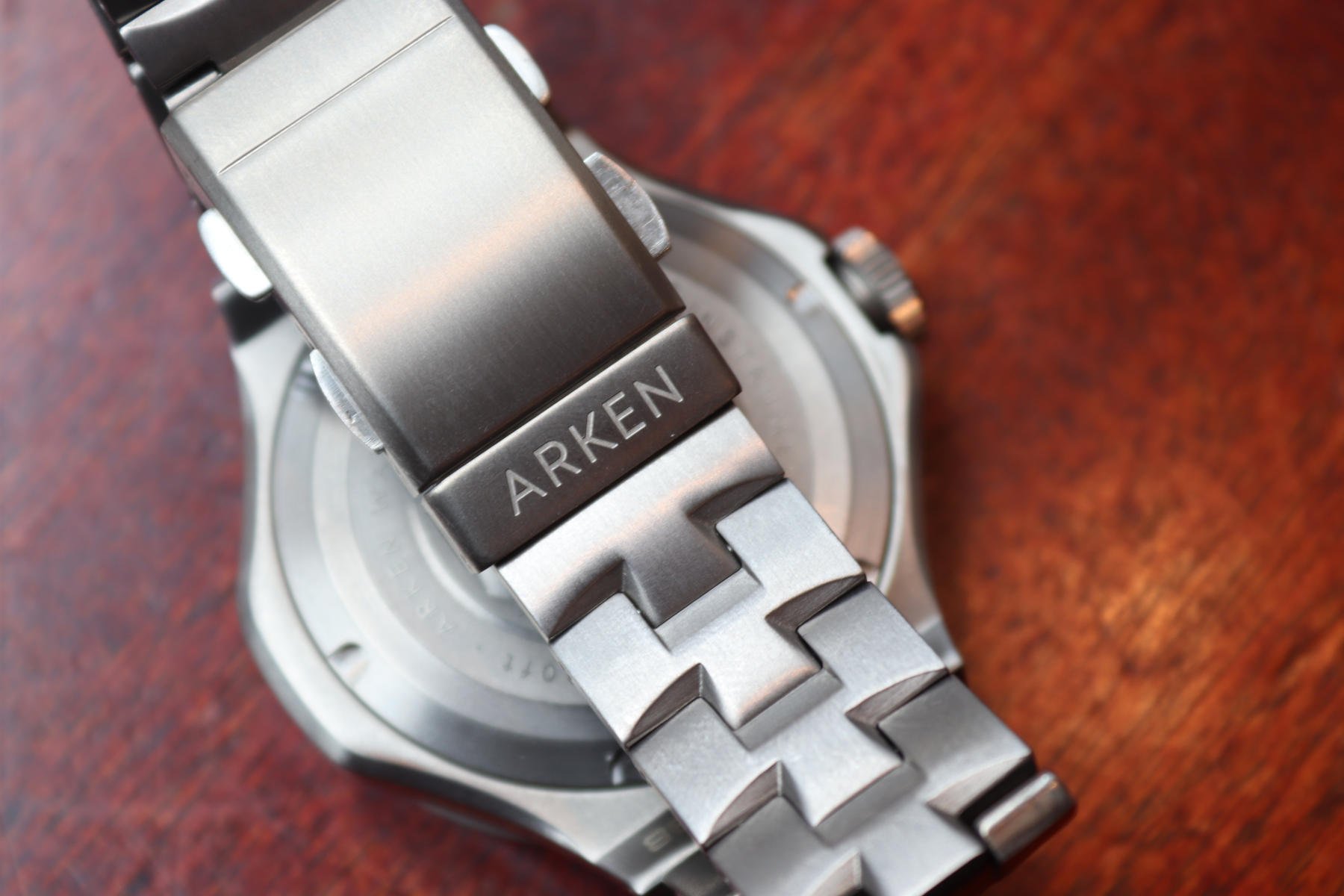 The Instrumentum 1020 bracelet may seem familiar…
OK, so you may be getting a hint of déjà vu with the bracelet. Does it look familiar? If it does, then you're not going mad. There are some definite Vacheron Constantin Overseas vibes right here. Before we cry "heresy" and grab our pitchforks, think about this for a second. When did we last see a truly unique and new bracelet design? Off of the top of my head, I can only think of the Moser Streamliner? Most bracelets we see in the tool/dive watch space are iterations of existing bracelets, and that's not just in the microbrand sphere either.
I think that if Arken Watches was going to take inspiration from somewhere, then I'm glad it wasn't from one of the usual suspects. The watch itself bears no resemblance to the Overseas, so, personally, I have no issue here. I'm keen to hear your thoughts, though, so let me know in the comments!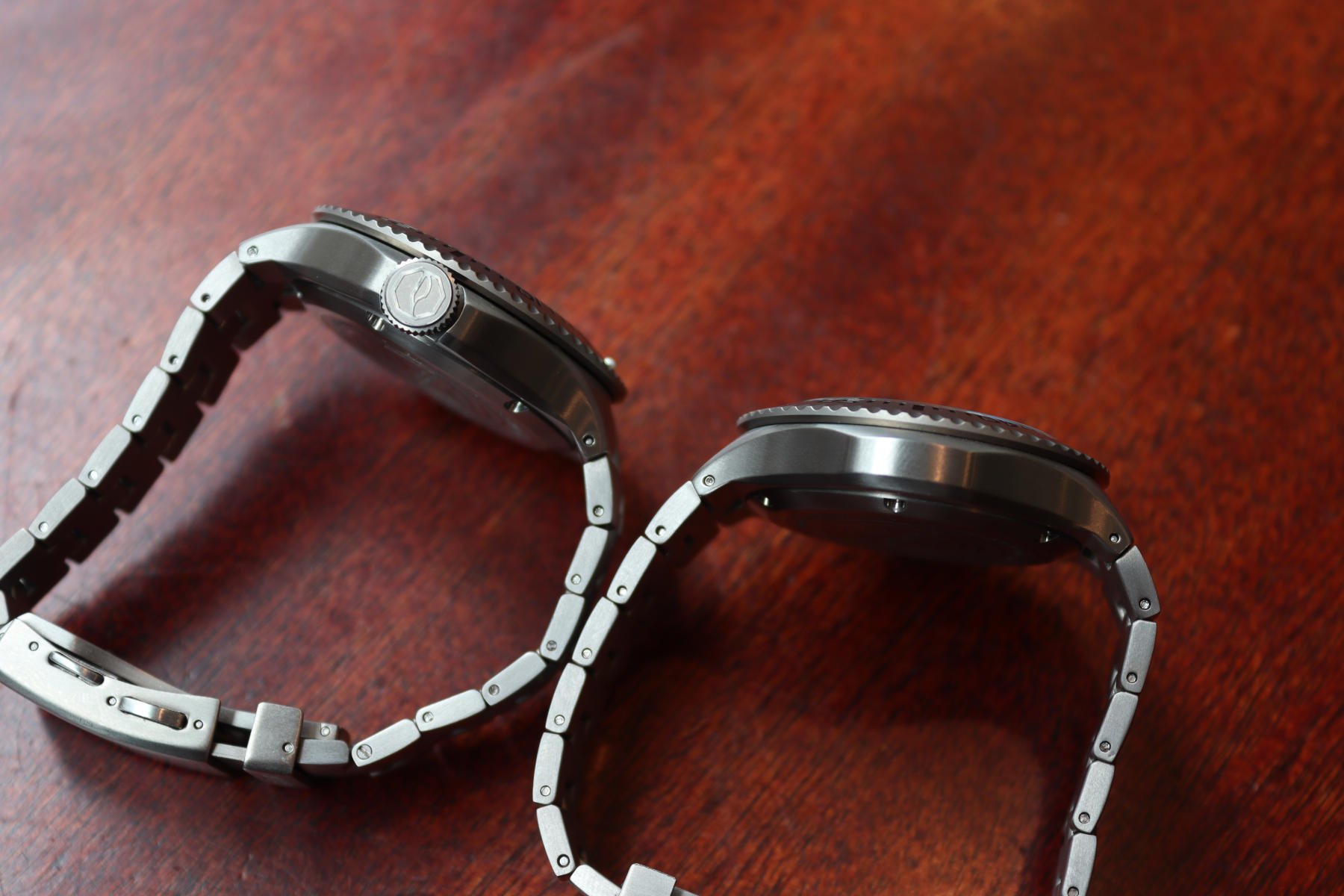 …But it's well made
The titanium bracelet itself is well machined. There was a bit of rough finishing on the inside of the end link on one of the prototypes, but Kenneth showed me that it had been identified and fixed on the follow-up piece. I can be a little hot/cold on titanium bracelets as the nature of the metal can leave them feeling a little rattly and peculiar, especially when you're used to the heft of stainless steel. The Instrumentum's bracelet cannot entirely escape the bittersweet curse of titanium. Still, it was more substantial in hands than similar bracelets at higher price points.
The only potential issue with the watch was the clasp. Let me caveat that there's nothing wrong with the clasp; in fact, it's actually quite lovely. There were no sharp edges, and it operated flawlessly. Often these diver-style clasps can be unnecessarily oversized, but that's not the case with the Instrumentum 1020. In fact, the clasp was nice and compact with a more-than-adequate ratcheting extension. That is where some people may experience a slight issue. Once the bracelet was resized for my wrist, I had to use the extension to increase the size to get it on my wrist. It's the trade-off that you have to think about as a designer — size vs. wearability. There's nothing inherently bad about this, but some people may not be used to having to constantly use the extension to fit the watch on the wrist.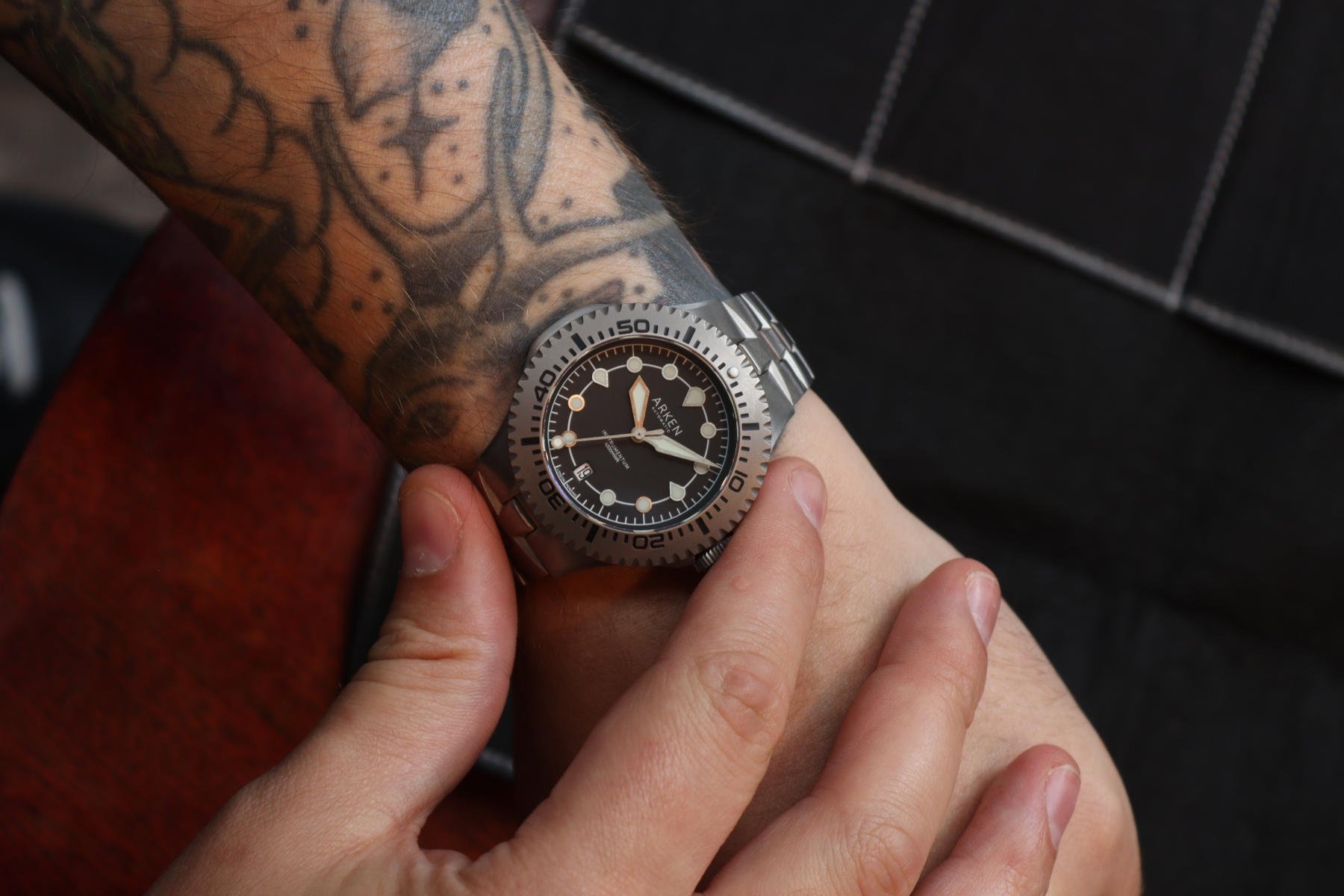 Arken's clear and concise approach to dial design
The dial is clean and straightforward. Legibility is critical with any dive watch, so distracting text is kept to a minimum. The BGW9-filled applied hour markers are nice and large. At the 6 o'clock position, you'll find a cutout for the date window. Of late, I've become a fan of the symmetry that this position affords.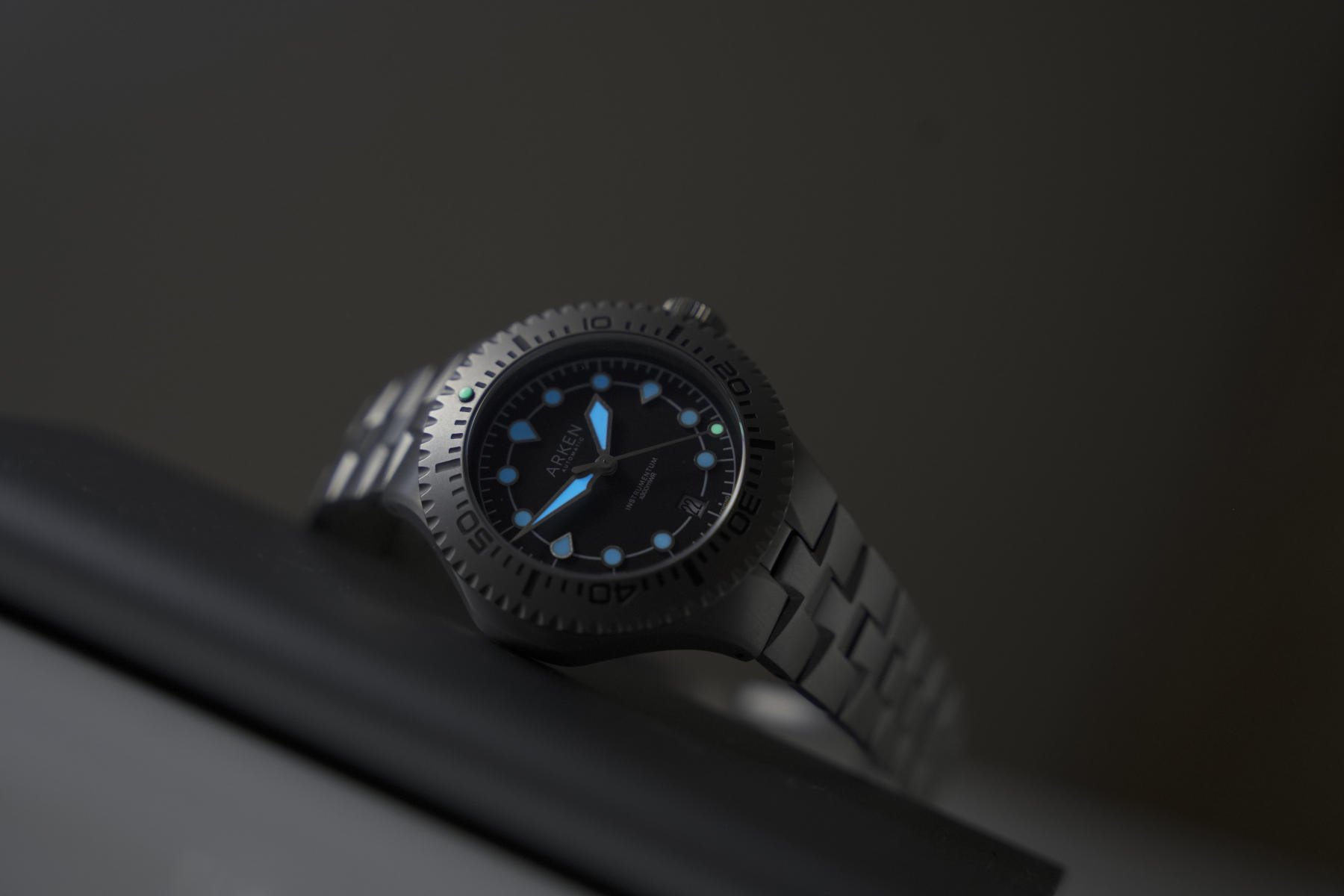 I couldn't test the lume out to its fullest as I only had the watch on my wrist for a few hours in the day, but the lume shot Arken provided looks excellent. Personally, I liked the thin white line connecting the hour markers. It's subtle, but the effect is excellent. If you're a fan of bold, bright colors, then the Instrumentum is probably not the watch for you. The Arken Instrumentum comes in a single monochromatic color option. Finally, the hands feature sharp, angular shapes that contrast and complement the dial and hour markers wonderfully. For me, the central second hand, with its C3 lumed lollipop tip, is pure joy.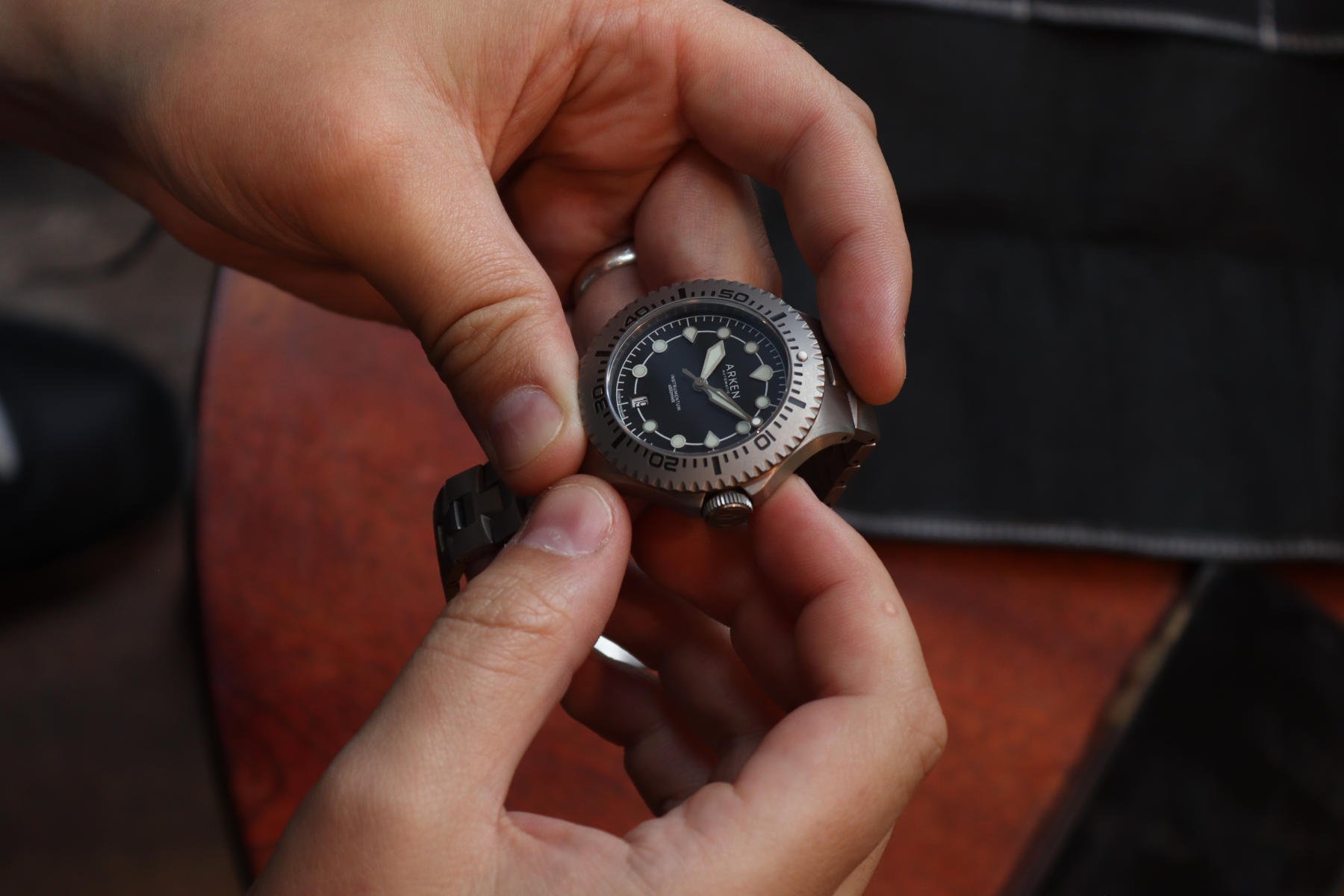 What did I think of the Arken Instrumentum 1020?
Other features of the watch include a Miyota 9015 movement, an AR-coated sapphire Crystal and 300m of water resistance. I said it before during my initial reaction to the watch in my Independent Insights article. Still, I will repeat it: I really find it incredible that this is Arken's first watch design. There's a mature and restrained character to the watch that can take many other brands several releases to nail down.
I have to say that I was pleasantly surprised with the watch in hand too. This is not just a watch that looks good; it holds up to its promise upon closer inspection. If you're on the fence, I'd say the Arken Instrumentum 1020 is definitely worth taking a closer look at. You can pre-order your own Arken Instrumentum 1020 from the Arken website right here. For the price of £429.99, you're getting a solid dive watch and supporting a small British business that I believe we will be seeing plenty more of in the coming years!
Follow me on Instagram: @davesergeant