Indie Insights: Featuring Konstantin Chaykin, Arken, Minase, Marloe, And Straum
Bringing you the coolest news from the industry's indies!
Well, it has certainly been a while since the last installment of Indie Insights. But, thankfully, I am back with what I believe to be some exciting watches indeed. Take a look for yourself and let me know what you think in the comments. I hope you'll agree, there's some serious hotness on display today!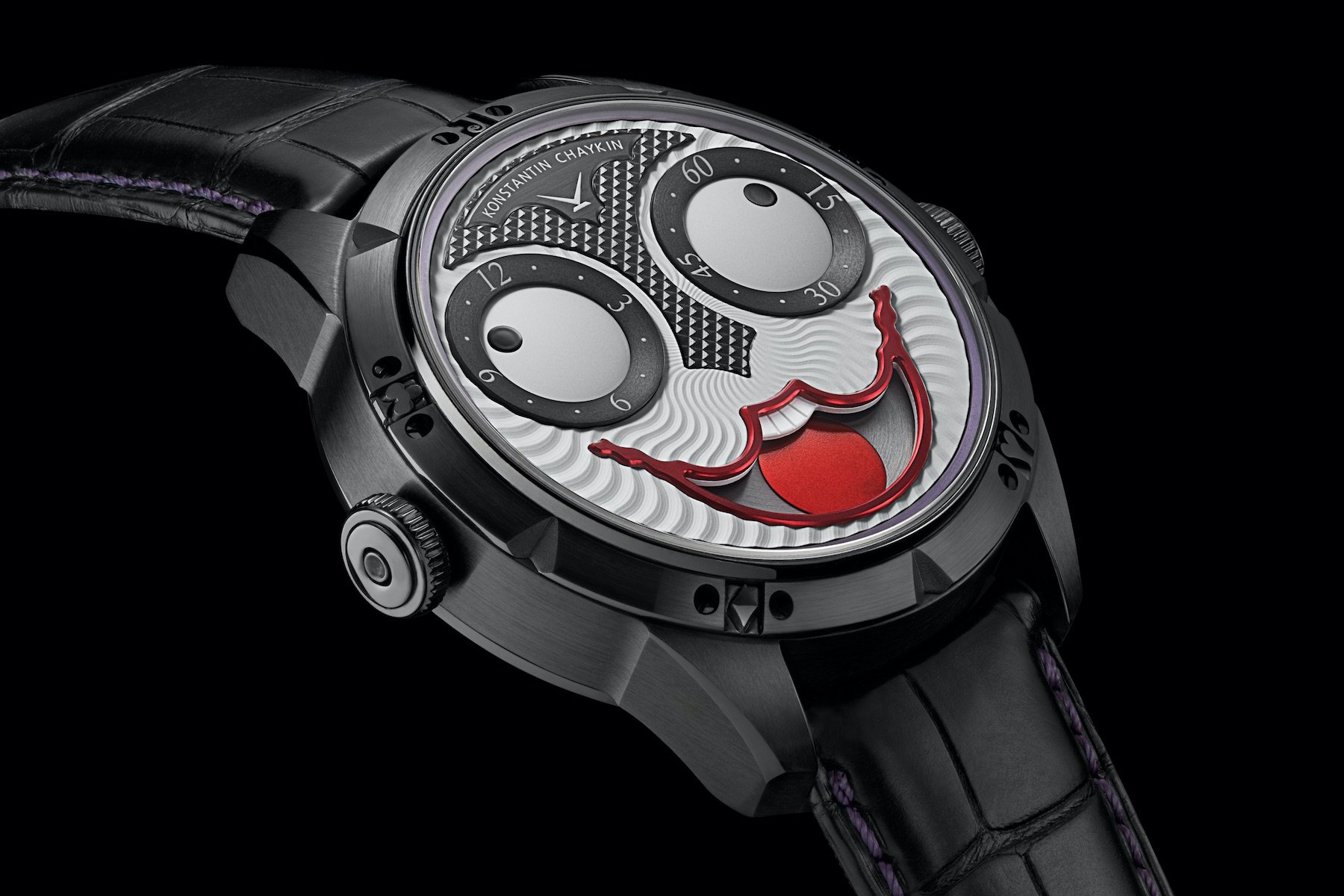 Konstantin Chaykin – the Joker goes all-in on black
When you think of the word "Russia" and "roulette", your mind will likely go to the deadly game of Russian roulette. Thankfully, celebrated Russian watchmaker Konstantin Chaykin went down a far more literal route. Staying away from gun-related activities with his latest creation, the Joker Black Bet. A new model paying tribute to the roulette tables of the world!
The Joker Black Bet has received a makeover while preparing for its big night out at the casino tables. For anyone familiar with the bright lights, glitz, and glamour of the world's gambling hotspots, you may recall your eyes lighting up when you saw it all for the first time. Well, the Joker is no different. In a first for Konstantin Chaykin's Joker watches, the whole surface of the hour and minute discs are coated with a luminescent coating. This gives a unique expression to the face-like dial of the watch. Not only when there is a low level of light — when the cold green glow of the Joker's big, round eyes are sure to be the center of attention — but in full daylight too. The off-white, green-tinted eyeballs nicely complement the black and emerald-green finish of the dial.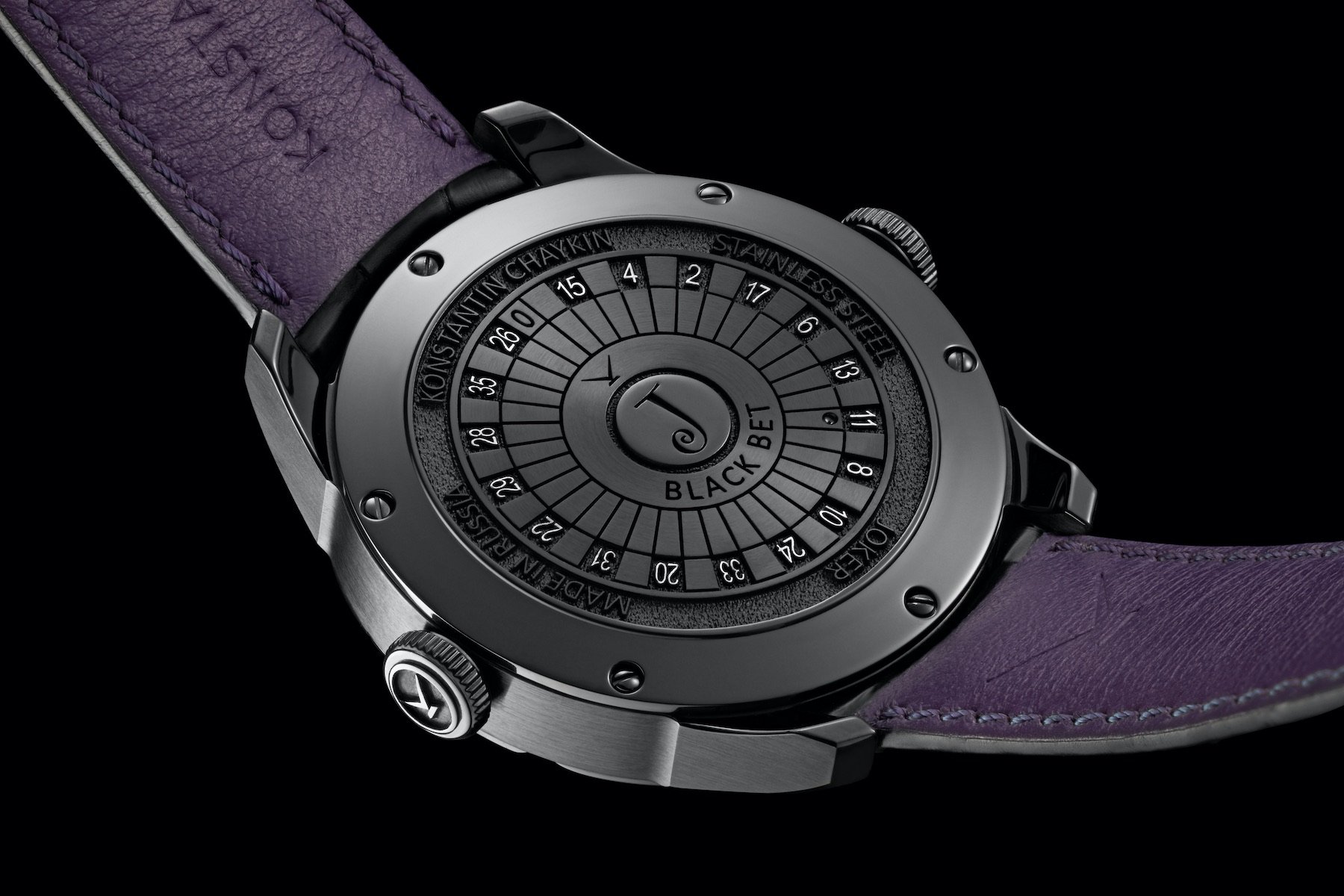 Place your bets!
Konstantin Chaykin will produce the Joker Black Bet in a limited edition of 18 pieces, each labeled with a unique number. Rather than your usual 1 through 18 numberings, here we see another dash of Chakykin's creative madness. The unique numbers all follow a particular sequence of the numbers 15-4-2-17-6-13-11-8-10-24-33-20-31-22-29-28-35-26. Have you figured it out yet? Yep, that is the order of all the black numbers on a roulette wheel. On the case back of the Joker Black Bet, you will find an engraved relief image of a roulette wheel with numbered black sectors. Each piece in the limited-edition series is marked with an engraved "ball" located in the corresponding sector, meaning each watch can be considered a unique piece.
Despite the whimsical nature of the design inspiration, the Joker Black Bet is a piece of art and technical know-how, just like all of Chaykin's creations. The dial is treated to a collection of guilloché patterns, ruthenium coating, and a multi-layered lacquer coating. Any owner of one of Konstantin Chaykin's watches will happily tell you that the watch is no gimmick. These are serious watches with a playful edge. As with his previous releases, they tend to be snapped up by collectors reasonably quickly, so, without further ado… Ladies and gentlemen, place your bets! You can find out more about the Konstantin Chaykin Joker Black Bet here.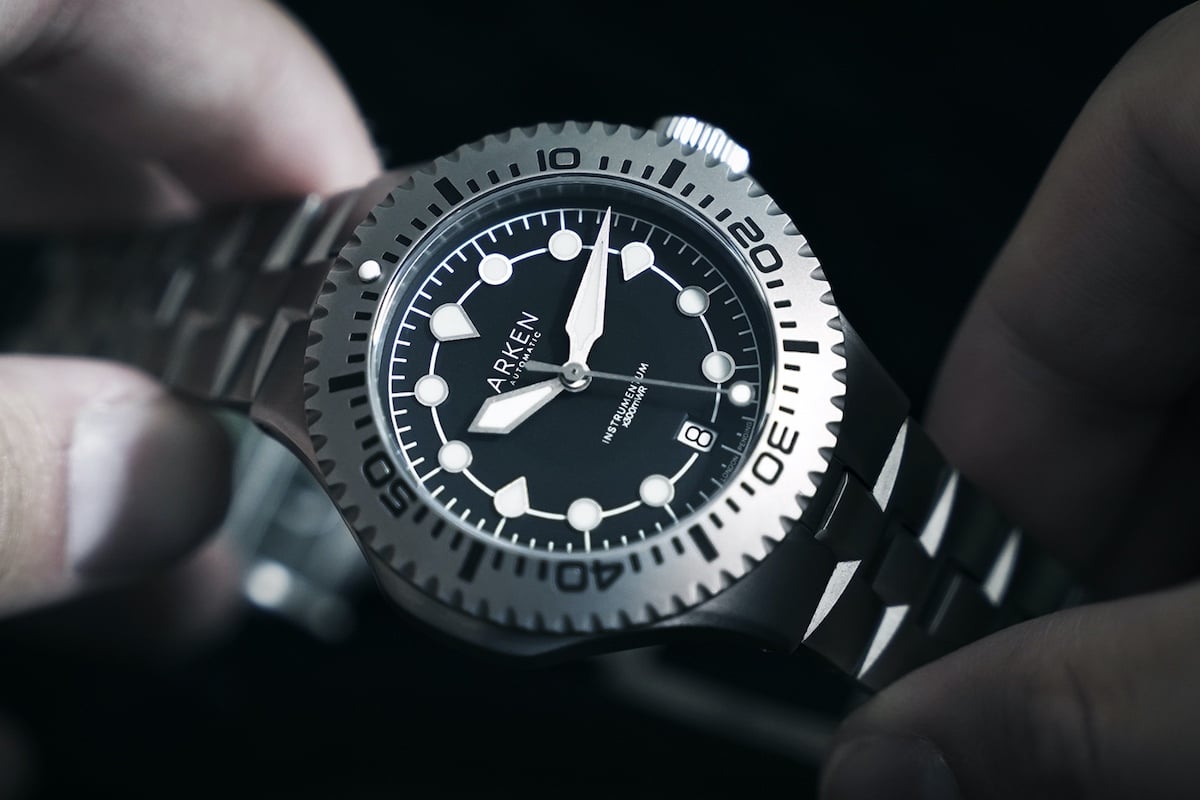 Arken Instrumentum — a titanium tool watch with a true integrated bracelet
As I am sure you are aware, I like microbrands. That said, these days, they are a dime a dozen. It bothers me when all it takes is one unscrupulous "brand" just a few minutes to undermine the genuine passion and creativity we see in this industry. That is why I was heartened to see the genuine passion coming from the new British microbrand, Arken. The brand has built up quite a fast following on Instagram thanks to some clever and sensible marketing. With more than a subtle nod to Rolex's campaigns from the 60s and 70s, it was refreshing to see Arken employing inclusive marketing with a 21st-century twist. The brand wanted people to be clear that this watch was for everyone, despite its traditionally masculine design.
Now let's take a closer look at the watch itself. It is a 40mm titanium case with a solid one-piece bezel. Lately, I've been enjoying titanium watches. It took me a fair while to join this speeding train, but after a few positive experiences, I'm firmly on board! My most recent acquisition is a titanium watch, and it's been a near-constant presence on my wrist. The one-piece bezel is also something I feel is worth making a fuss about. I think this is a massive tick in the plus column. Bezels and inserts work fine when using different colors and different materials, but when the bezel and insert are the same material and color, a one-piece bezel is more cohesive and visually appealing; at least to me, it is. It also better fits the tool watch aesthetic as it is a more solid option.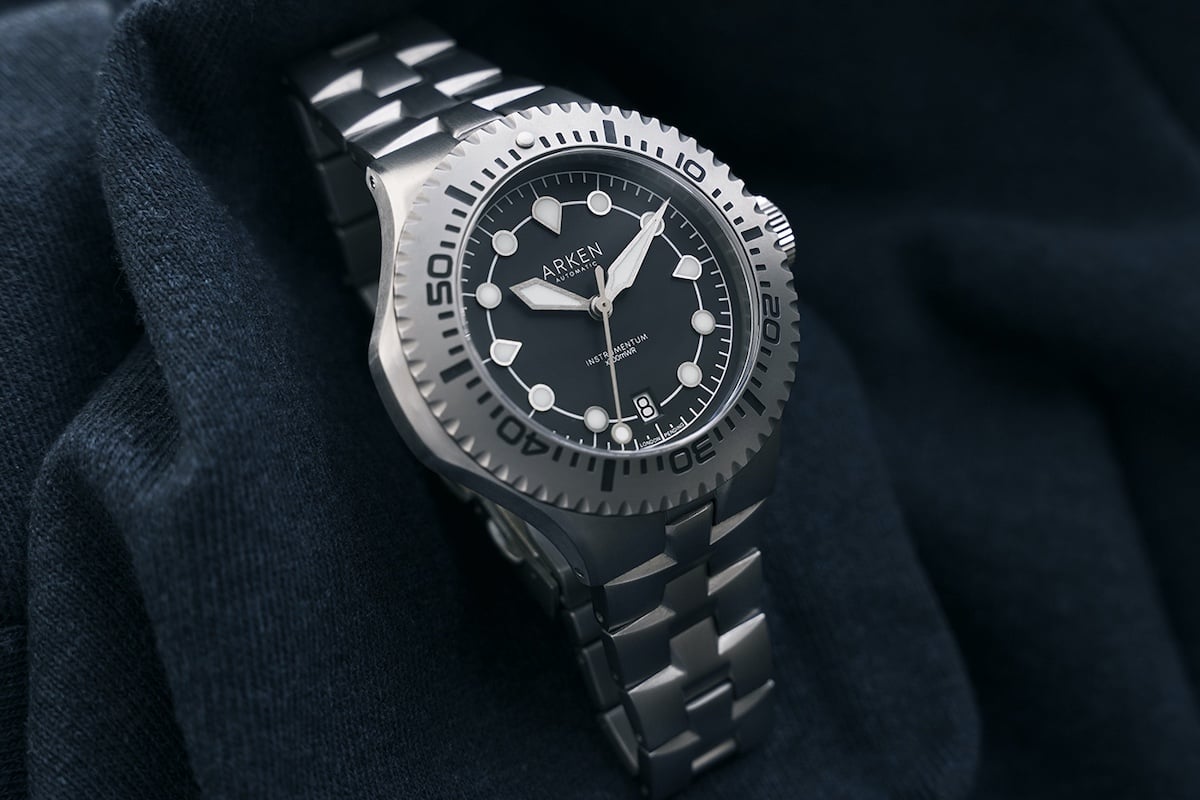 A solid tool watch formula
Other features of the watch include a Miyota 9015 movement, an AR-coated sapphire Crystal, 300m of water resistance, and Swiss SuperLumiNova on the dial and hands. Securing the watch to your wrist is achieved with a brilliantly integrated titanium bracelet and matching titanium ratcheting diver's clasp. The bracelet looks incredibly nice. It's good to see a brand invest in its own bracelet design rather than another "off the shelf "design. This one fits the rest of the watch design rather well, creating an attractive and cohesive design. I find it incredible that this is the first model from the British brand. This kind of thoughtfulness in design is not regularly found, even among brands that have produced several watches already. I'm watching this one with some interest and anticipation.
The Arken Instrumentum is slated for launch on the Arken website in late August/early September. Pre-order pricing starts at $500, and delivery should begin in early 2022. You can sign up for the Arken mailing list on the brand's website right here.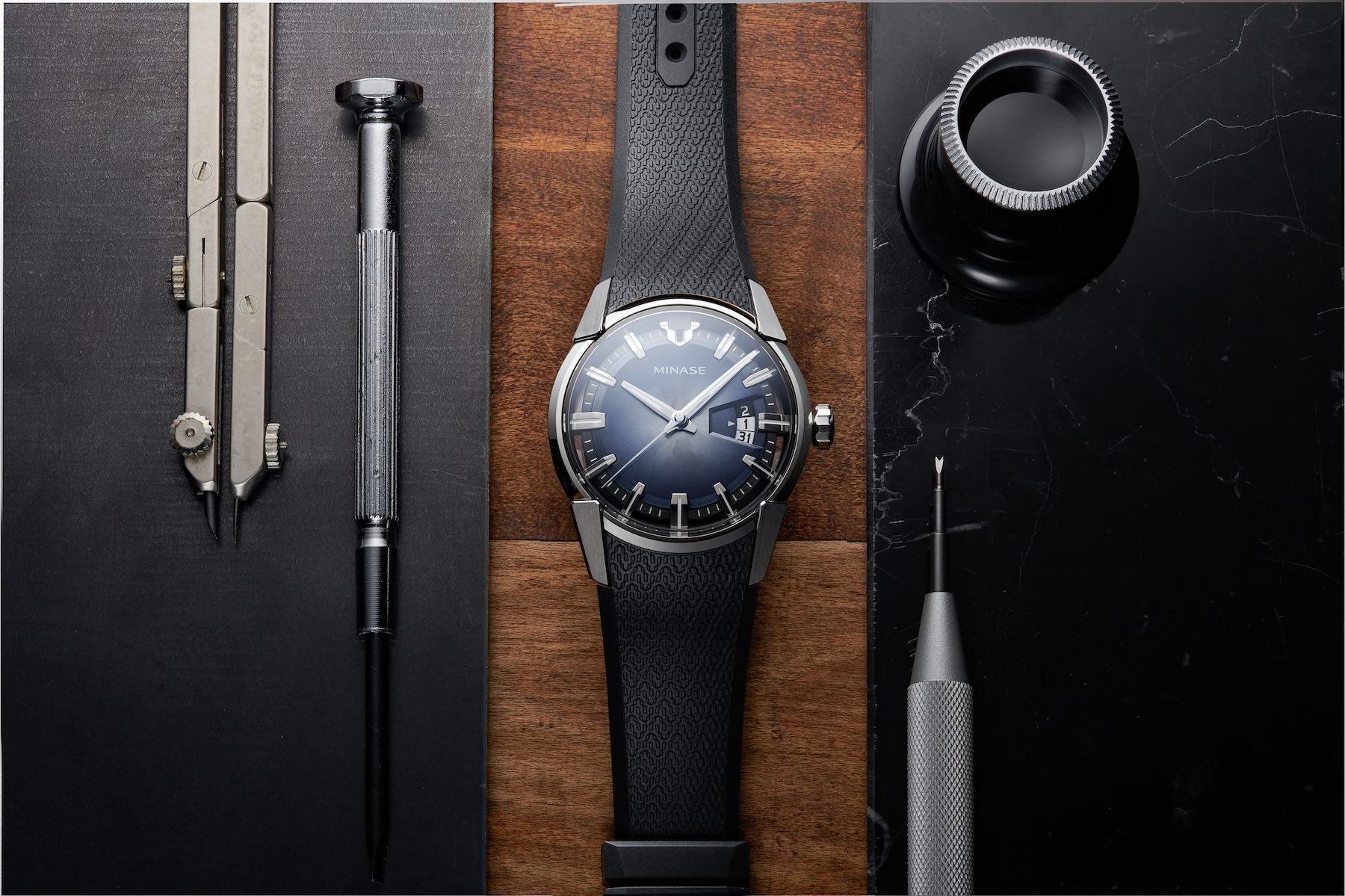 The Minase Divido 2.0 — the update we've all been waiting for
It's fair to say that the team here at Fratello is more than a little sweet on Minase. Of course, you may recall the gorgeous blue Divido Limited Edition we released back in March of this year, which sold out in less than two hours. Manufactured in Japan, the stunning Divido captured our imaginations from the first time we saw it, and we've been raving about it ever since. Every single watch benefits from over 20 hours of one-on-one attention from Minase's highly skilled craftspeople, and that's just on the polishing alone. It takes time and skill to achieve the perfect, mirror-like polished surfaces using the Sallaz polishing machines. So what's actually new about this much-loved model and the only round-cased watch in Minase's collection?
Well, the Divido 2.0 is now a little slimmer and is also fitted with a totally new caliber inside. Previously, Minase kitted the Divido family with ETA 2824 or Sellita SW200 movements. Both are solid Swiss movements that all know and love dearly. They're bonafide workhorses doing an excellent job, but they've never been the most aesthetically pleasing options, especially when viewed through the display case back. With the Fratello edition, we took some positive action to improve this view with the new movement ring and upgraded rotor weight.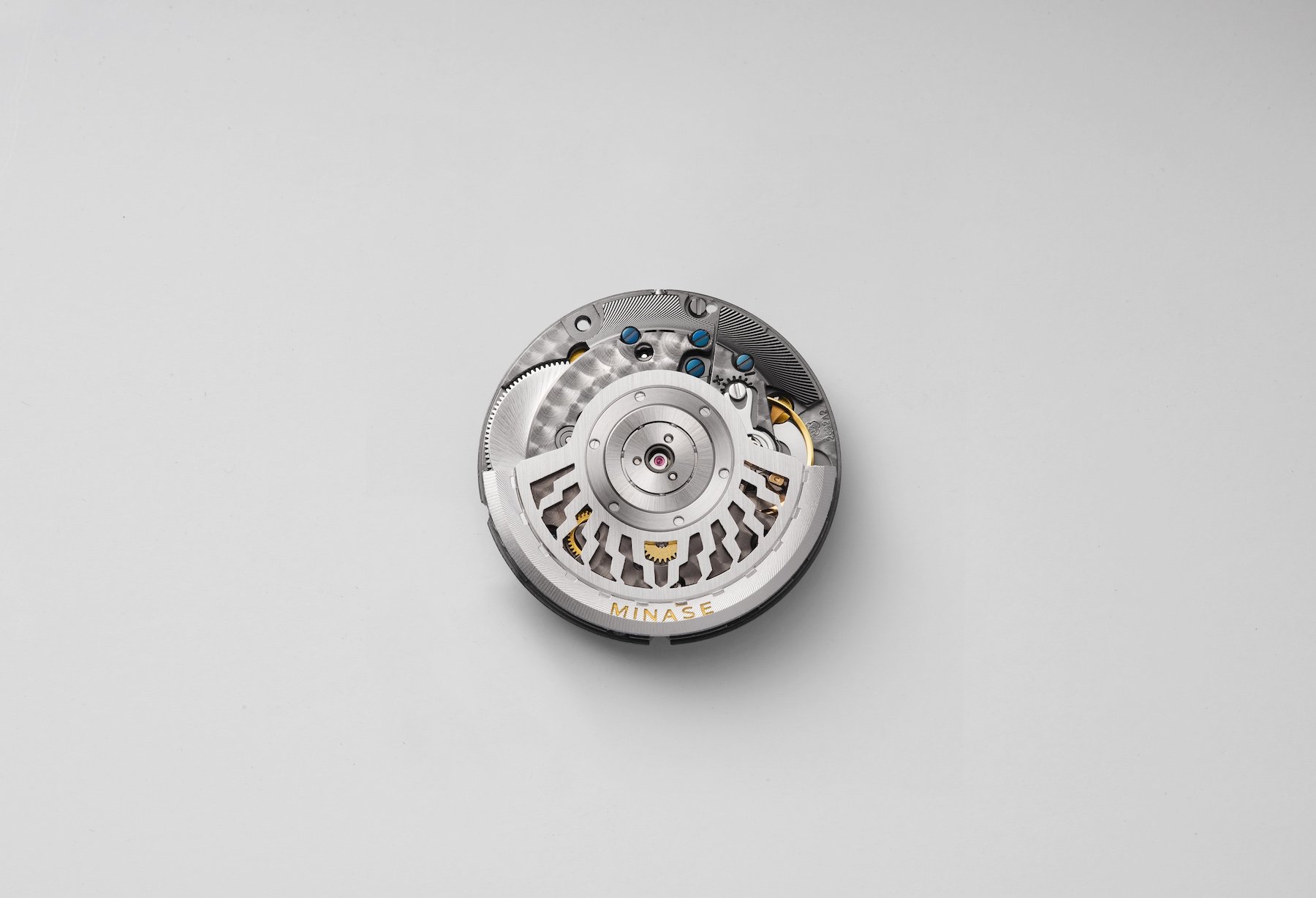 A new custom movement
Now, Minase equips the new Divido 2.0 models with a new Swiss-made movement. Based on an ETA 2892-A2 ébauche, it is entirely customized for Minase. The new KT7002 features high-end execution. Hand-finished surfaces display perlage, blue screws, and polished bevels. With 50 hours of power reserve, the KT7002 offers an extra half-day of running time than its predecessor. Finally, an upgraded movement demands an upgraded rotor, and Minase has delivered on that front. The new rotor displays the brand's drill head logo, while partial skeletonization reveals the movement beneath it.
The plain look of the movements used was usually the only minor gripe that we saw aimed at Minase for its watches. Visually they were not the most attractive, but the new KT7002 is very lovely indeed. It's good to see a brand that listens to its customers and makes every effort to improve. If you've been sitting on the fence about acquiring a Divido of your very own, now may be the time to strike! Minase's watches tend to sell out very quickly, and while all models are currently still in stock on the brand's website, stock numbers are very low on some models. Take a look at Minase's webshop — prices start at CHF 4,300.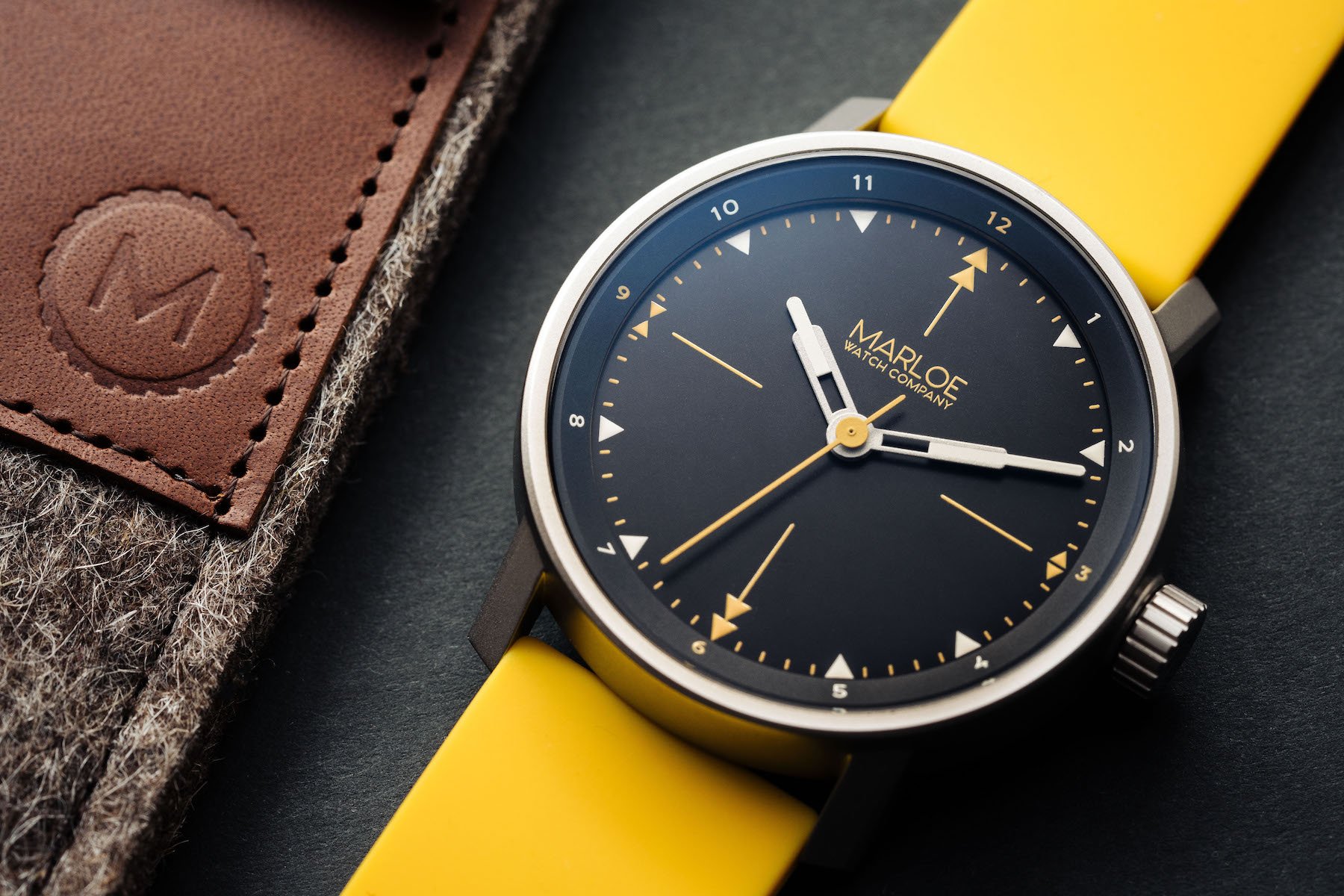 Marloe Watch Company debuts new watch collection inspired by the 'shoestring sailor'
British indie brand Marloe Watch Company has announced its latest mechanical timepiece collection, the Solent. The Solent is a nautical-themed watch that takes inspiration from the story of Sir Alec Rose, aka 'the shoestring sailor'. Rose, an unassuming fruit merchant from Southsea, became one of the first people to sail around the world single-handedly. Achieving his life's ambition, he set off from Portsmouth in 1967, sailing down the Solent strait (hence the watch's name), out into the English Channel and onward around the world. It's a story of sheer ambition and dogged determination.
The dial designs of the Solent Cardinal and Solent Windward echo the sturdiness of the case, with uncompromising color and subtle flair. Each model represents an important area of seafaring — the navigational buoys marking sub-surface hazards and the power of the wind. The Cardinal takes inspiration from the navigational buoys of the same name, designed to keep mariners safe from sub-surface hazards. To achieve this, they display the direction you must take to safely pass the buoy, either North, East, South, or West. The dial has these markings at the main cardinal points of 12, 3, 6, and 9, while the black, legible, and subtly textured dial makes time-telling particularly easy. The slightly recessed signature color ring brings an element of complexity, with the chamfered upper ring adding depth, dynamics, and drama to the design as a whole.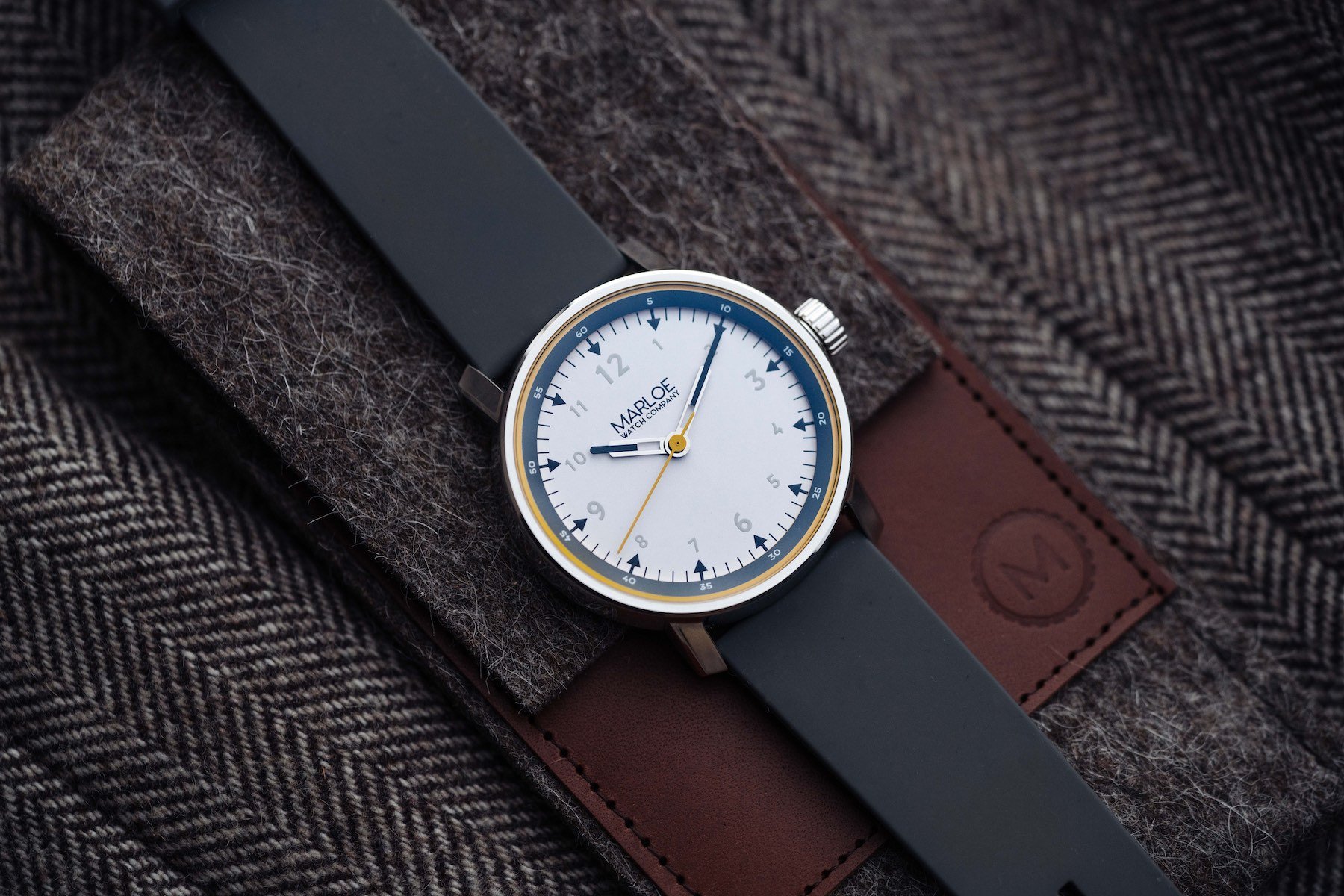 My love lies with the wind
The Windward is probably my favorite of the two models. It takes its cues from wind-direction instruments and vector field diagrams showing wind patterns used for nautical navigation. The wind is one of the most important forces at your disposal in the open ocean. It can work for you, but it can just as easily work against you. This model pays homage to the tools that help navigators read and utilize the power of the wind. A color scheme of greys, whites, and the Solent's signature shade of yellow, forms the Windward's classic yet contemporary aesthetic.
The two models complement each other nicely, providing some colorful contrast. Powering them both is the Miyota 9039, so if you like the designs, then you're getting some good value for the price. Both the Solent Cardinal and Solent Windward are now available from the Marloe website for £349.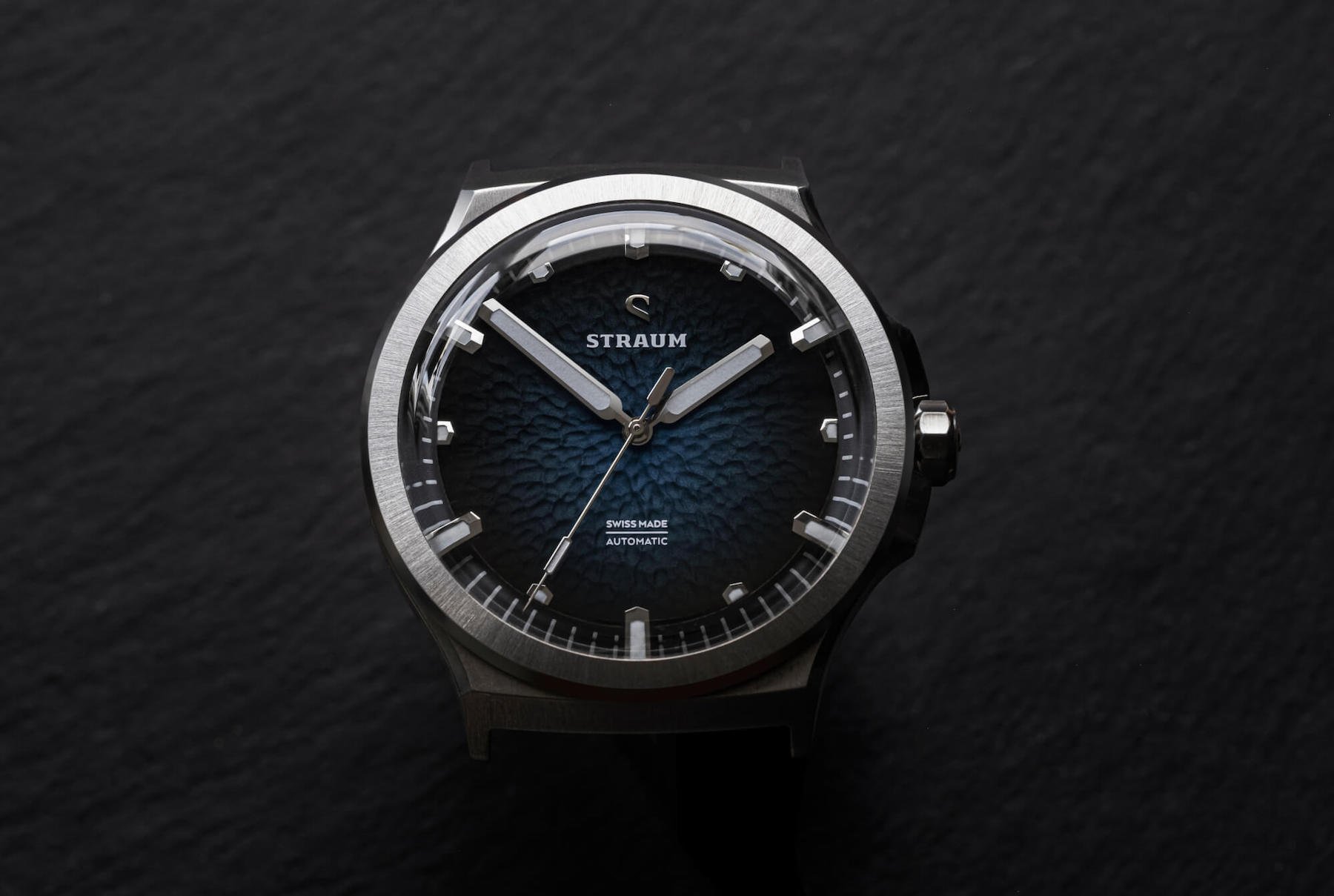 Straum Opphav — the new Nordic beauty
Ahh, there's nothing like a last-minute addition that comes in at the last minute when you're writing. You think you're finished and ready to call it quits, and then something else pops up on your radar that you simply have to include. Well, now I have to say a begrudging thank-you to Norwegian newcomer Straum as its debut model, the Opphav, has extended my work time. It's OK, as even a cursory glance at the images will show why forgiveness is willingly granted.
For a brand's very first model, there is an incredible amount of design maturity and understanding on show here. The case is well-refined with a beautiful combination of straight lines and curves. There was something almost "familiar" about it when I first saw images of the watch. It drew my mind to the gorgeous lugs of the Laventure watches, of which my colleague, Rob, is a big fan. When I spoke to him about the watch, he mentioned almost Czapek Antarctique-Esque vibes to the case. Quite different yet overlapping observations, which we both found quite fascinating.
The case aside, it is clear that the focus of this watch is the dial. Stratum has made five iterations of its debut model. Four are regular production models, with steel cases and stunning "ripple" dials in different colors. These are the models I will focus on today, but there is also a special edition model called the Rastarkalv with a Damascus steel case and a dial made of 3,300-year-old petrified wood. It's pretty special, so do take a quick look at it here.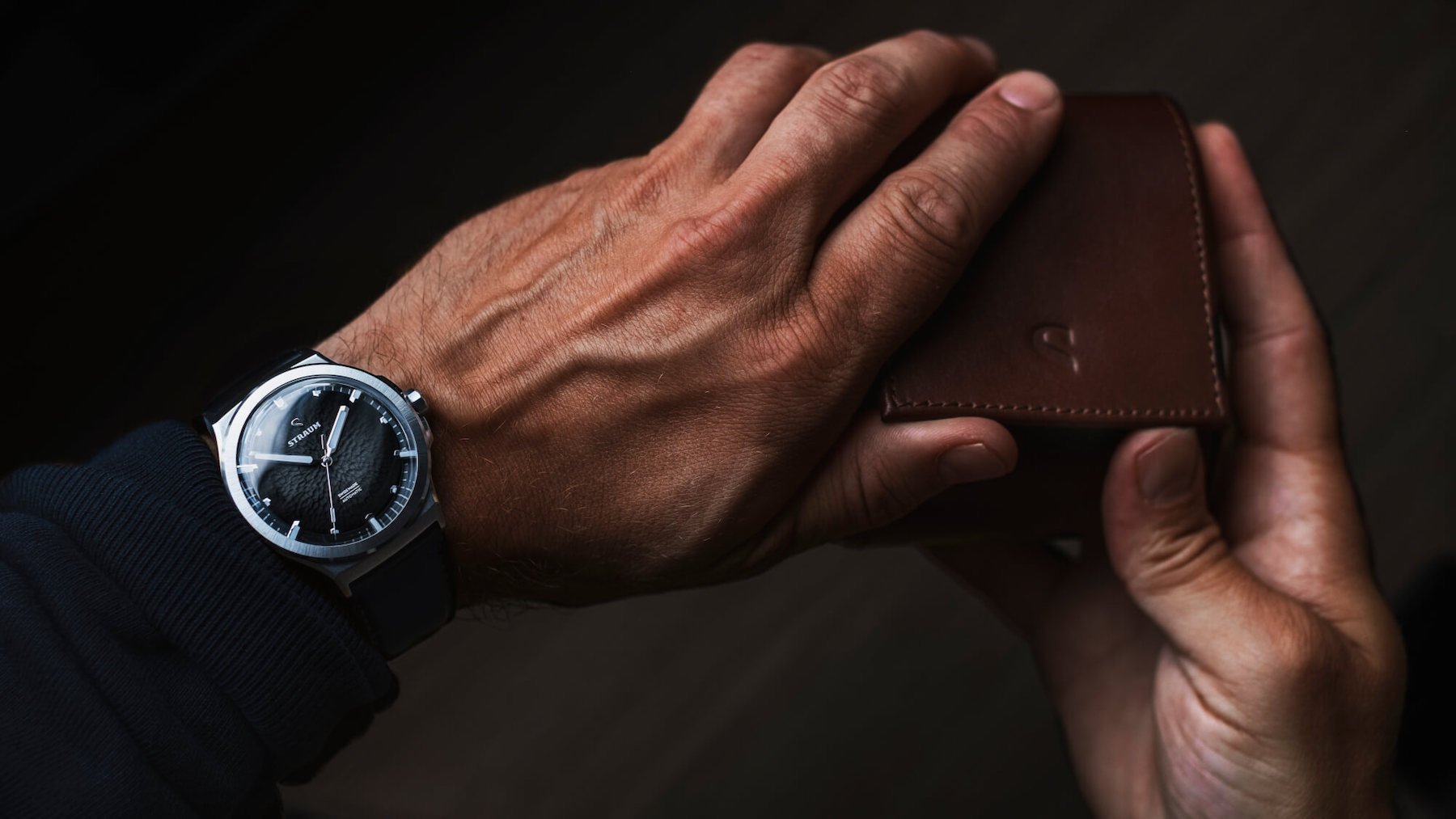 Texture like water
The dials of the regular models are my favorite. Straum gives you the option of black, green, white, or blue. Of the four, the green takes the biscuit as my favorite. It's a vibrant, forest-like shade of green. The texture is even more remarkable than the colors here, though. As a self-professed lover of fine dial texture, it was inevitable that I would love the Opphav dial. Designed to capture the look of ripples on water (which I believe it does very well), the steel dials are first stamped to achieve the raw pattern. Afterward, the surface is carefully treated with multiple layers of lacquer to achieve visual depth. In some lights, the dials appear dark and nearly black, but then, when the light catches them just right, the dials explode into life with bright and vibrant colors — incredible stuff.
The Straum Opphav is available to pre-order right now, with delivery expected to commence in December. With prices starting at €829, there's an awful lot to like about this watch. Take a look at the Straum website here.
Follow me on Instagram: @davesergeant