Armin Strom Dual Time Resonance – SIHH 2019
Armin Strom strikes again. The Haute Horlogerie manufacture from Bienne has prepared something outstanding for SIHH 2019. A little bit old but also very new. Let me explain: The DNA of the brand (an expression watch brands often use) lies in skeletonizing timepieces. Models Both from their own and other brands 'collections. This was the time when Mr. Armin Strom himself owned the company. Among other watches, Speedy fans might know that already, Mr. Strom did a platinum skeleton Speedmaster in 1994. Ten years ago, he retired and left the company in new hands. The core of Armin Strom is still skeleton watches but eventually, they went beyond that. They developed a Mirrored Force Resonance movement. This formed the base of this year's SIHH novelty; the Armin Strom Dual Time Resonance in a sapphire case. Same idea (Resonance movement) in a brand-new execution with an extra feature.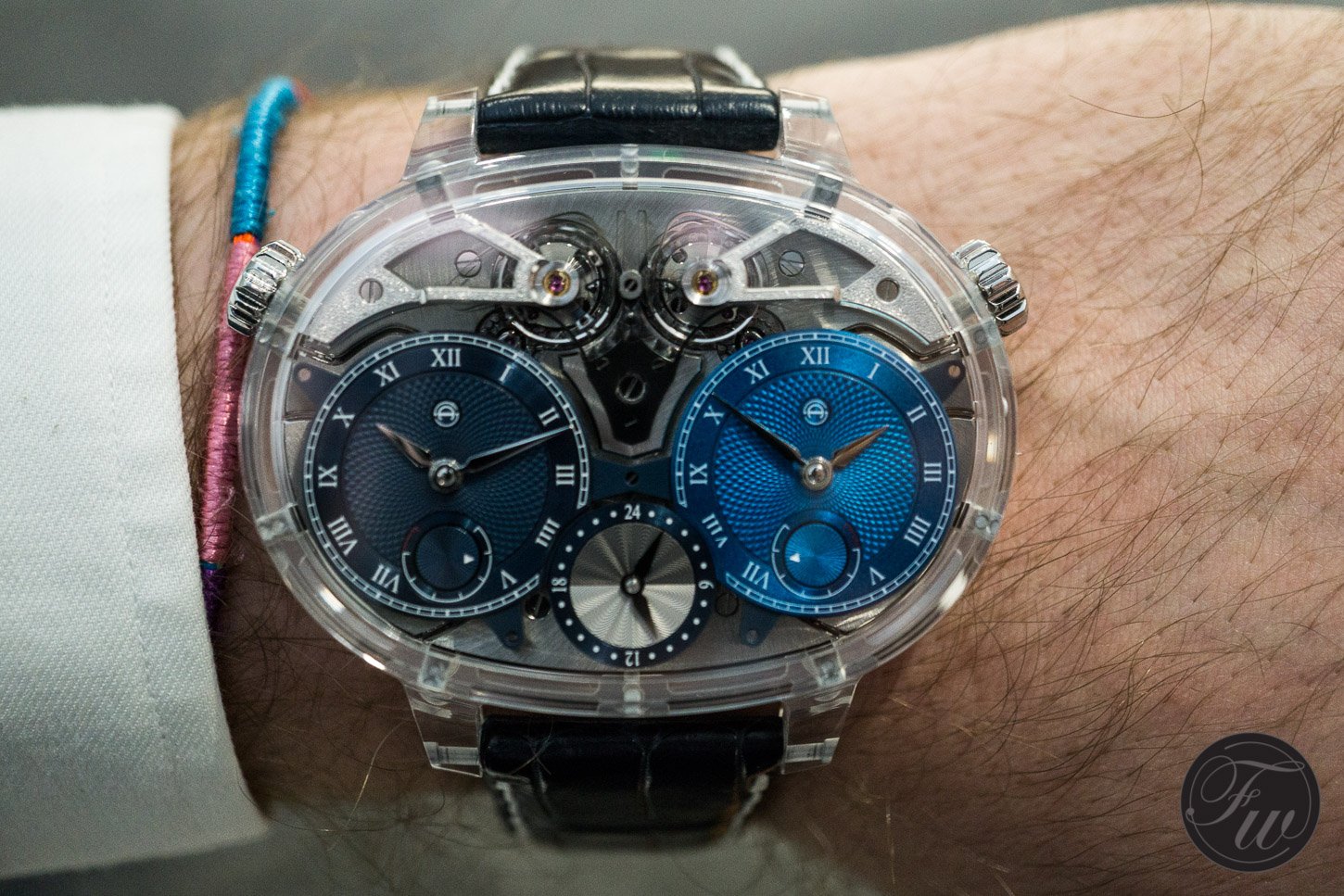 Dual Time Resonance
Resonance is a concept that goes back hundreds of years but in modern watchmaking, the only company, other than Armin Strom, who created such a timepiece was F.P. Journe. However, Armin Strom is the first one to have a Resonance skeleton watch. In that concept the watch has 2 completely independent movements working together They are connected with the Armin Strom's patented Resonance Clutch Spring that uses the 2 movements and synchronizes them. This synchronized, 20% more accurate, time appears on the dial. In their Dual Time Resonance, they use a very similar system, but with 2 dials. This time the 2 movements do not display one time but 2, making the watch a dual time. Hence the case is much larger with one dial at 3 o'clock and the other at 9 o'clock. This is Armin Strom's interpretation of a GMT watch.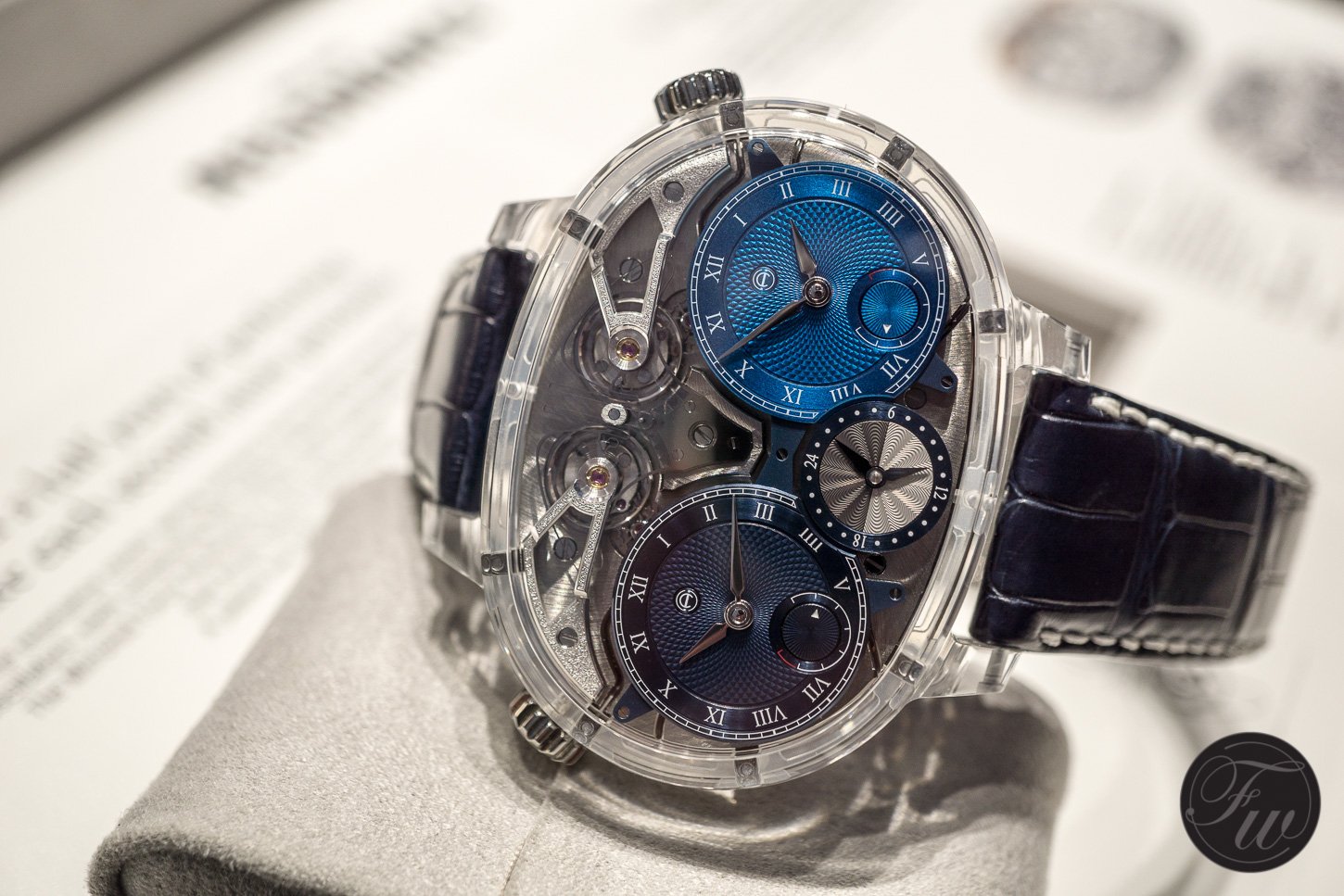 Design
The Armin Strom Dual Time Resonance, due to the fact that it has 2 separate movements, is a very large watch. Well, each to its own taste, but it's 59mm (from 3 to 9) by 43.4mm (from 12 to 6), the height is 15.9mm. The 2 crowns are at 10 and 2. The left one sets the left dial and winds up the manual movement's 4 (!) barrels, 2 per each movement. By the way, every barrel works together so when winding the movement, you wind all barrels at the same time, thanks to an interconnecting gear in the middle. That's the one with the AS logo. The right crown sets the time on the right dial. At 6 o'clock on each dial, you can find the power reserve indicator. While in between the dials at 6, is an AM/PM indicator with separate hands for the 2 movements.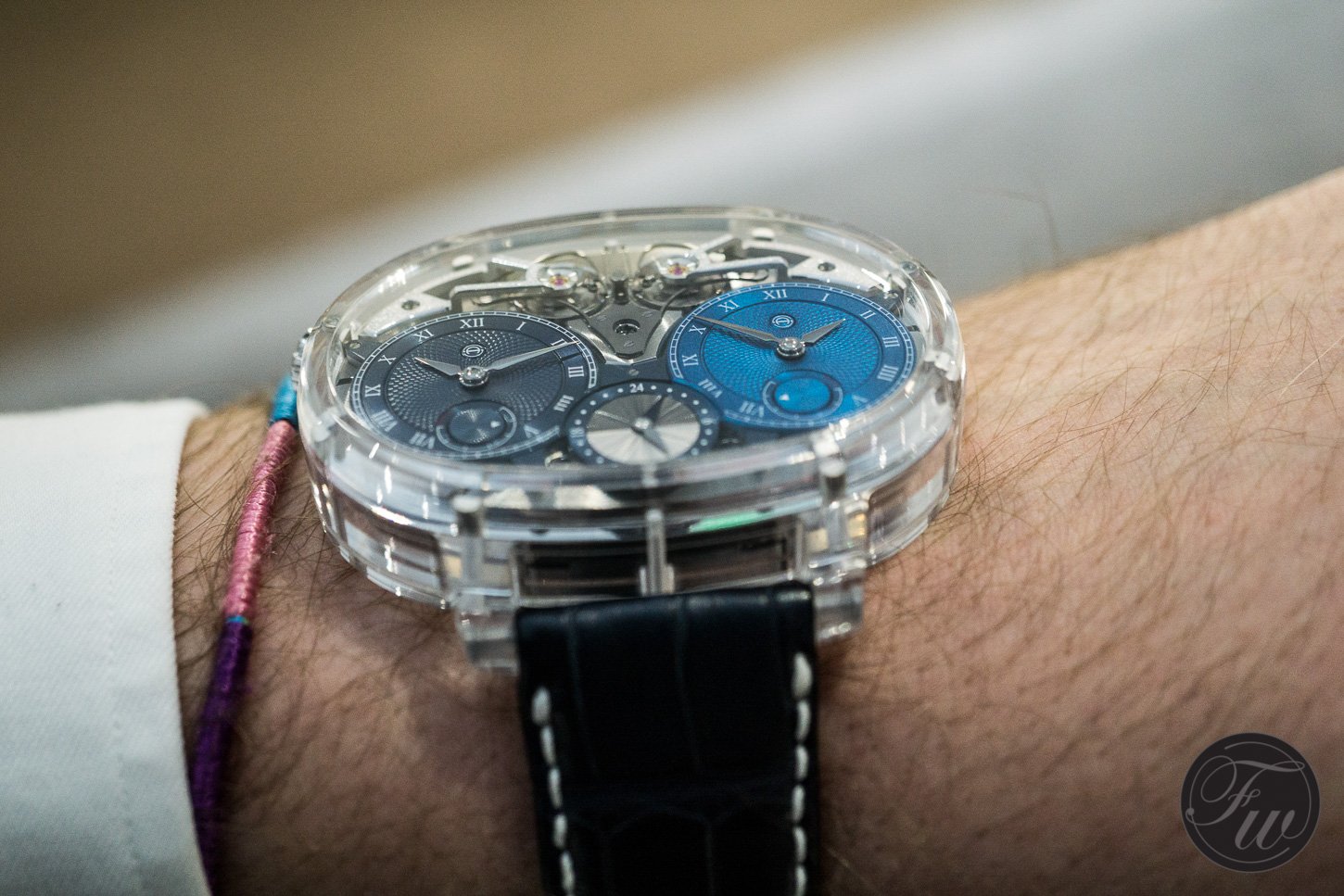 4 colors
Armin Strom's 2019 SIHH novelty is the Dual Time Resonance in a sapphire case. This has to be my pick from all 4 of them. I just love to see each and every angle of the movement. It also shrinks the timepiece visually a bit. Of course, you can choose any of the other 3 materials; titanium, white gold or 18-carat rose gold. As far as prices, the starting price is 180,000 CHF and up. The sapphire model is a bit above 200,000 CHF which is not cheap but that's fine. Fine, as in, what you are getting is no ordinary timepiece. Armin Strom strives for complete independence and they do as much as they can in-house which is around 95% of the whole watch. So the Armin Strom Dual Time Resonance is not only a true Haute Horlogerie piece but one with crazy technicality from a true manufacture.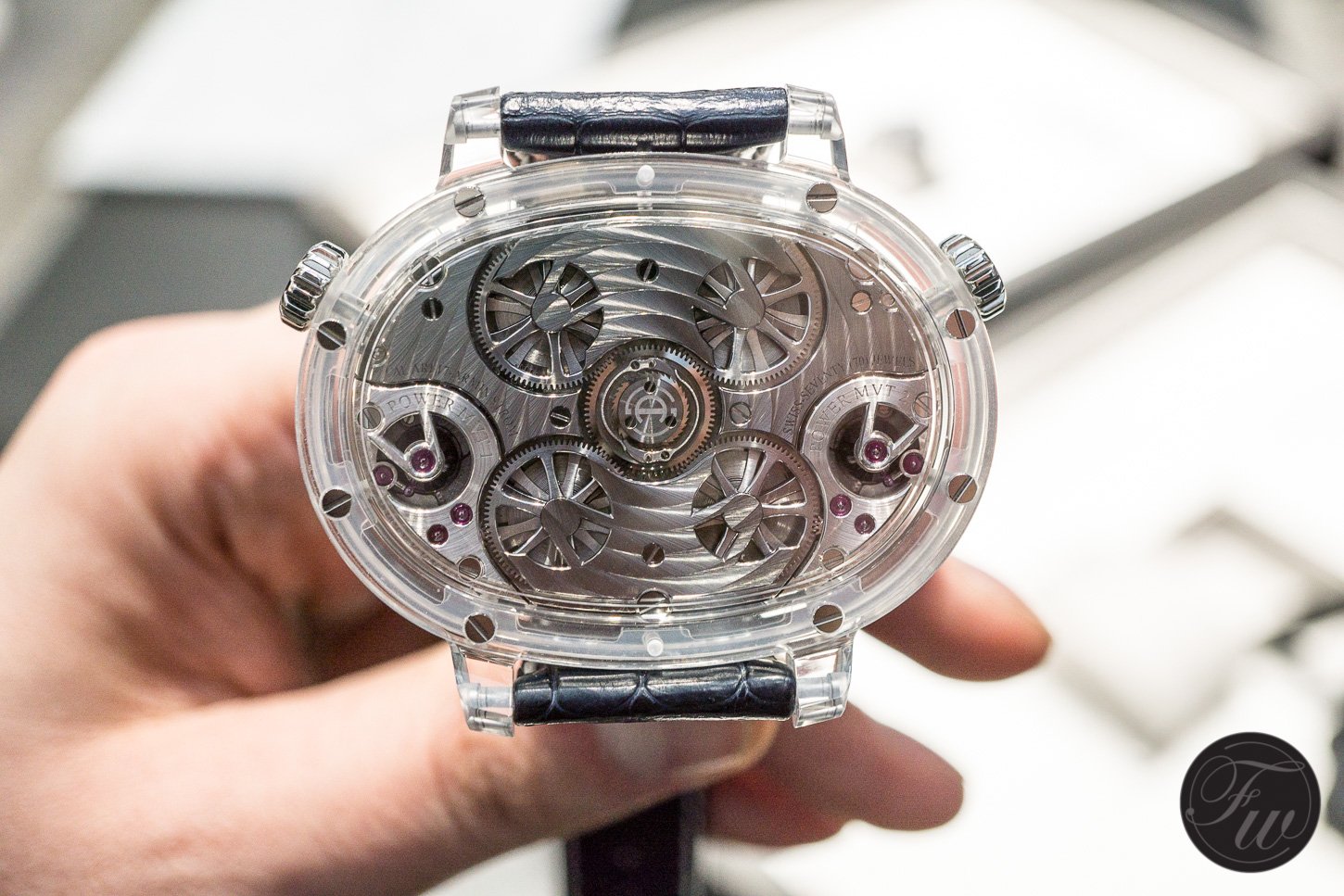 If you wish to visit the Armin Strom website, please click here.