Army Style Camouflage Accessories By G.L.C. Straps
Watches are the main focus of Fratello Watches. However with our monthly Strap Review articles and many similar articles we try to bring you some interesting stuff from the world of accessories. We have already introduced G.L.C. Straps for you guys not too long ago. Owner Massimiliano and his team are known all over the world. They attend watch shows such as the Munich and Miami fairs. If you are at one of these events chances are high you will meet them. If you do so, make sure you check out the following items.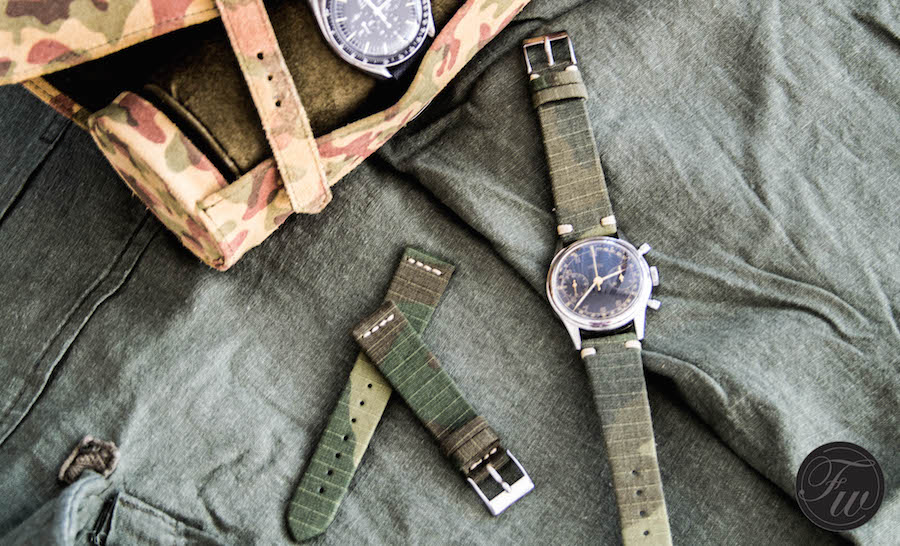 Camouflage
If you want something special for your timepiece but afraid that with the camouflage pattern it looks too military even if the watch is not, don't be afraid. Camouflage is getting back to fashion. It was always around as one of the most common patterns for cargo pants. Nowadays ties, pocket squares even sports blazers or shirts are made using camo. Having one of these straps on your watch can be a fashion statement today.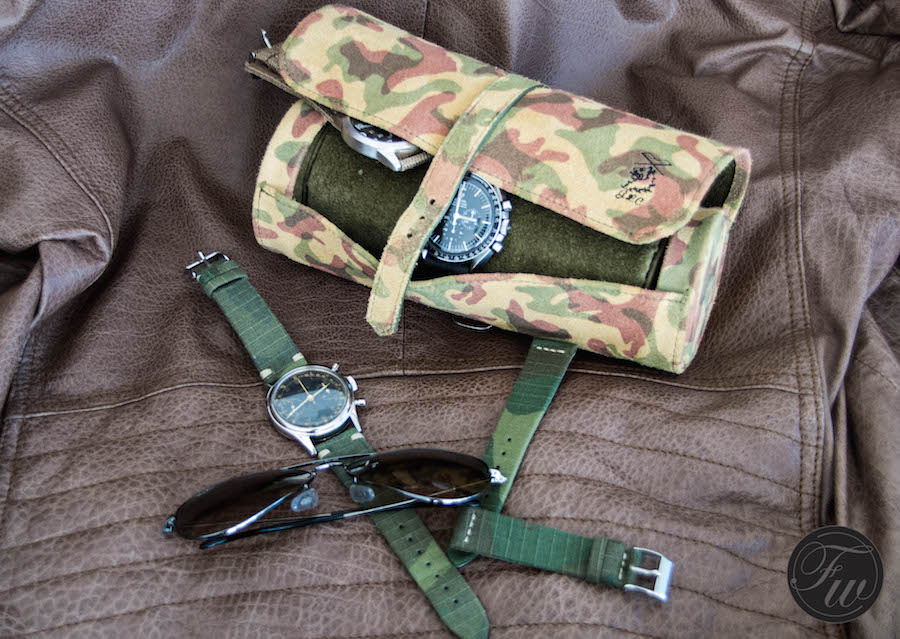 On the other hand owning a true military (-influenced) piece means every once in a while you have to go army all the way. While military watches look cool on a plain leather strap offsetting the given rugged look, other times putting the watch on a military strap can even enhance its characteristic. You can find many camouflage straps on the market; from leather to nylon (NATO) the options are endless.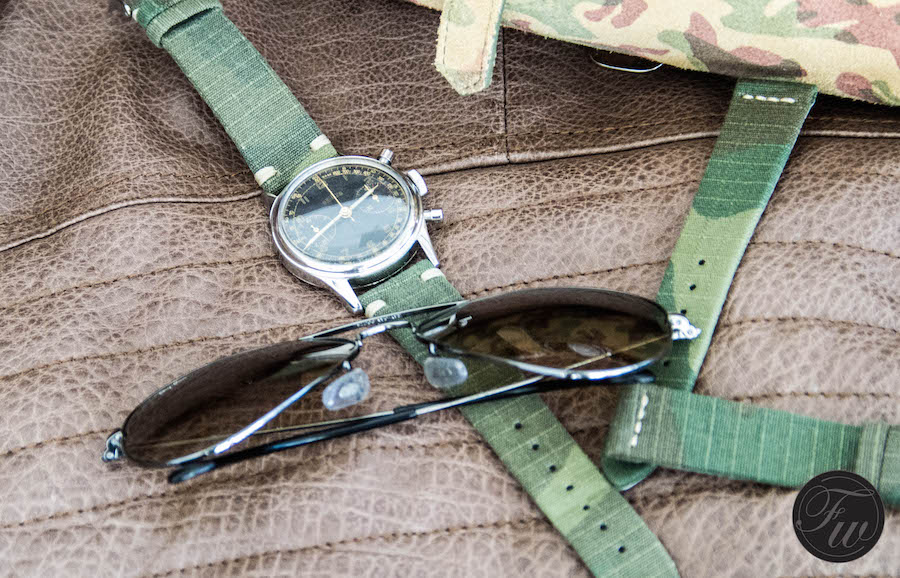 Ripstop
The strap perfectly matching the above criteria is called Vintage Ripstop 1.There are a number of different styles to chose from, namely the M1, M3 and M5 in two different color patterns – mine being the M1. Interesting thing about this strap is that the fabric used to produce it is a 1970's dead stock, Vietnam era army material. Stock is very limited; they can only produce about 30-40 straps in different sizes and models per stock. Good news though is that the second limited run is hopefully starting this September. Ripstop is a woven fabric used for yacht sails, hot air balloons, parachutes or army uniform, just to name a few. The strap , as with all the straps by G.L.C. Straps, is completely hand made in Rome. The inner side of the strap has a leather cover however due to the nature of the fabric the strap is not waterproof. It can stand time underwater but definitely not suggested using in water for a long time. It is 2.5mm thick; the length of it is 7.5cm on the buckle side and 12cm on the long side, so pretty much standard size and thickness. It comes in 4 different sizes from 18 to 20 and 22mm. Price-wise you are looking at a very friendly €65 which I think for a limited run, hand made, Italian strap is a very competitive price.
Continuing the camouflage theme we have something for the frequent traveler. There are many options when you want to take more than one watch on a trip. Most obvious out of all of this is a watch roll. To be fair I think it is a great option. Watch rolls can be found for a very cheap price they are literary everywhere. There are a few problems with the though, namely that for instance watches with inflexible bracelet or leather strap with a deployant are hard to store flat. Some people also like to keep their lather strap curve as flattening it could result in wrinkling the leather. For these guys G.L.C. Straps – among many other makers – came up with a nice alternative; a watch tube. The one in question are made of mostly suede leather – with the exception of a blue and a black leather. They are also hand made from start to finish. Among the usual colors of beige, brown or blue there are two camouflage version. One features the classic green style the other more of a desserts camo with different shades of green, brown and sand color. The shell is soft aside of the two round ends; they are strengthened to keep the shape of the tube. It has space for 3 watches (4 if you want to store ladies or smaller timepieces,) or many bracelets if you use it for jewelry. The watch holder inside the tube is a smaller long round pillow, so it is not separated like some other designs. The tube is about 21cm long its diameter is about 8cm. Once closed there is a stainless steel buckle with a leather strap to keep it closed. It features the G.L.C. Straps logo on the right side of the cover but you can also have yours customized with your initials. These tubes are €160 for the suede version and for the black or blue deer leather they are charging you €190. They come complete in a camouflage outer bag, similar to a dust bag, which protects the suede, which could be susceptible.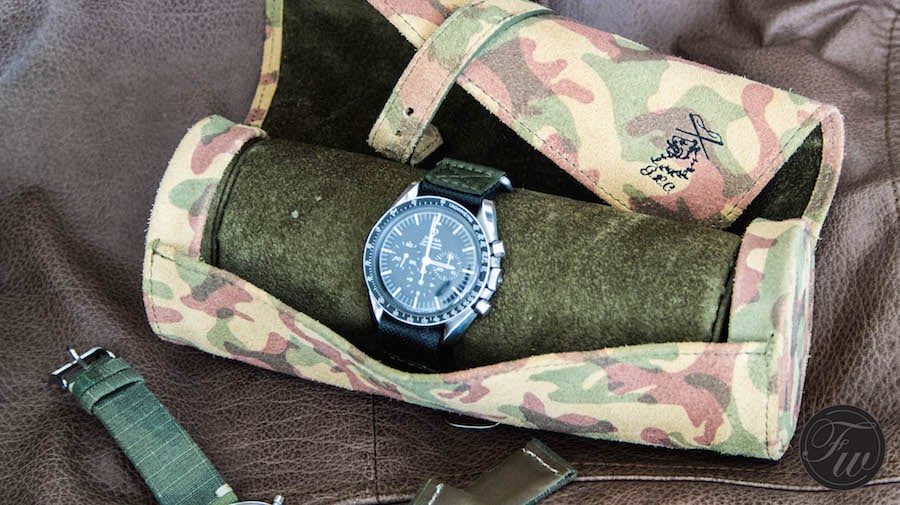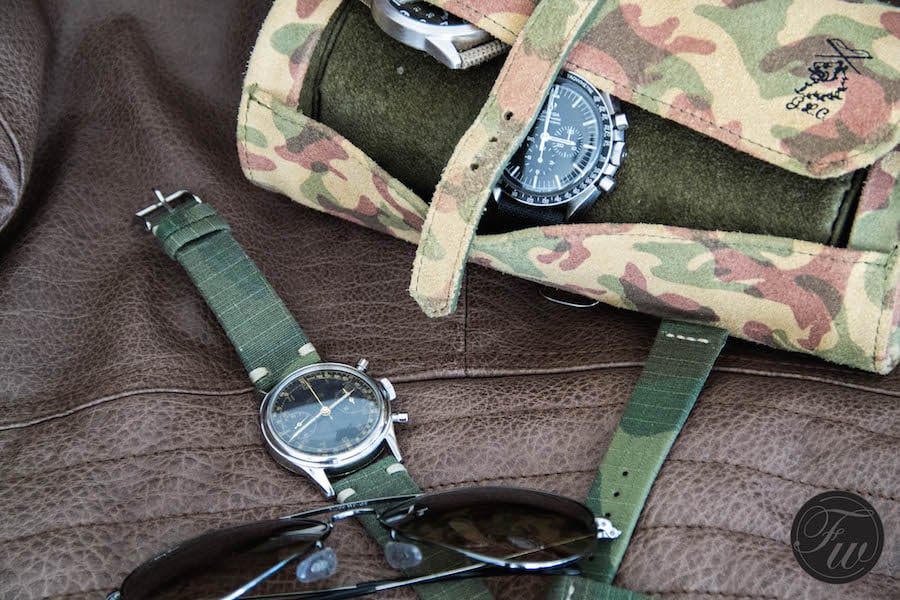 There is still time to grab a strap or two and accompany it with a tube in camo. While the variety of colors they offer is quite wide stock can be limited and G.L.C. Straps is always busy so make sure you order one if you can. If you have a true military watch and get one of these cool Ripstop straps for the piece don't forget to send us a photo and we might feature it on our IG account.