Audric SeaBorne 500 M Dive Watch Prototype Review
A task that raised some interesting questions...
Working as a watch journalist is obviously a massive privilege. It's something I am reminded of in myriad ways on a daily basis. Probably the clearest example of this privilege is being privy to new releases before they hit the market. In many cases, this means having the chance to see, wear, and review groundbreaking releases from some of the most prestigious brands in the world. At the other end of the scale, however, is the opportunity to see fledgling brands come to life. We are frequently sent watches for review from makers hoping to catapult their efforts into the limelight. Recently, I spent a few days with the new Audric SeaBorne 500 M. The model I received for review, however, was a prototype, which made for an interesting (and methodologically illuminating) experience.
I've toyed with starting my own brand ever since I became obsessed with watchmaking 17 years ago. You might think I've been sitting on my hands ever since then, but I haven't. Throughout my time working in retail and training to become a watchmaker, I spent every free waking moment scribbling designs in what has grown into a mountain of notebooks.
…how do you make anyone else care about your dream?
More than that, though, I have spent an inordinate amount of time mulling over brand theory. How does one start a brand? How does one communicate a passion that seems obvious to oneself to the masses? Perhaps most importantly, how do you make anyone else care about your dream? Examining a prototype from a brand that hopes to do just that actually answered some of those questions.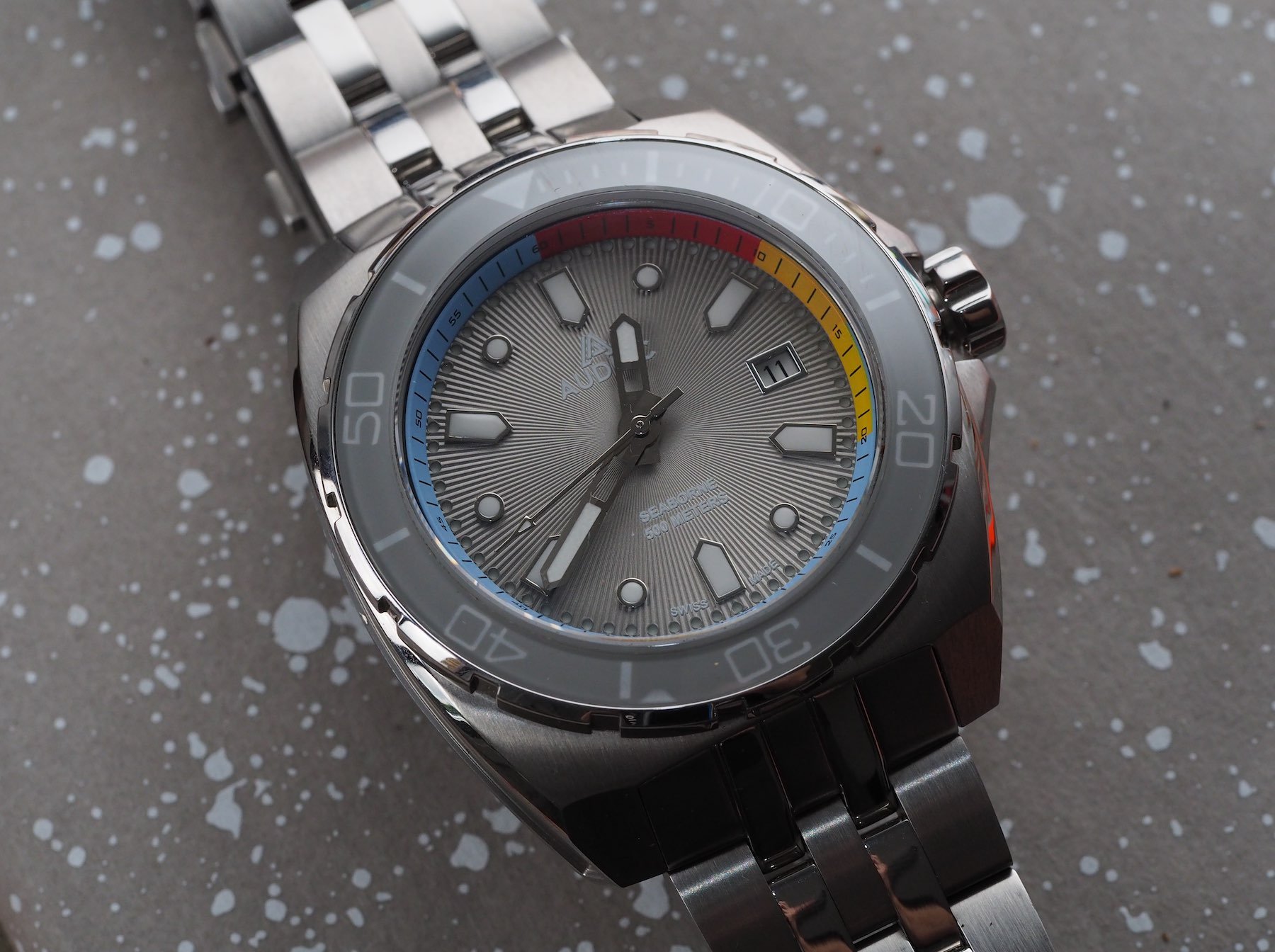 A challenging task
The prototype I received was, admittedly, far away from the finished product. I actually vacillated on whether or not to write this review at all because of that fact. I was unsure of how to approach the task. Analyzing the Audric prototype I was sent in the typical blow-for-blow manner we might normally employ seemed unfair. I ran the criticisms I had of the build quality and design past the founder only to be told that most everything I had mentioned would be changed when it came to the final production run.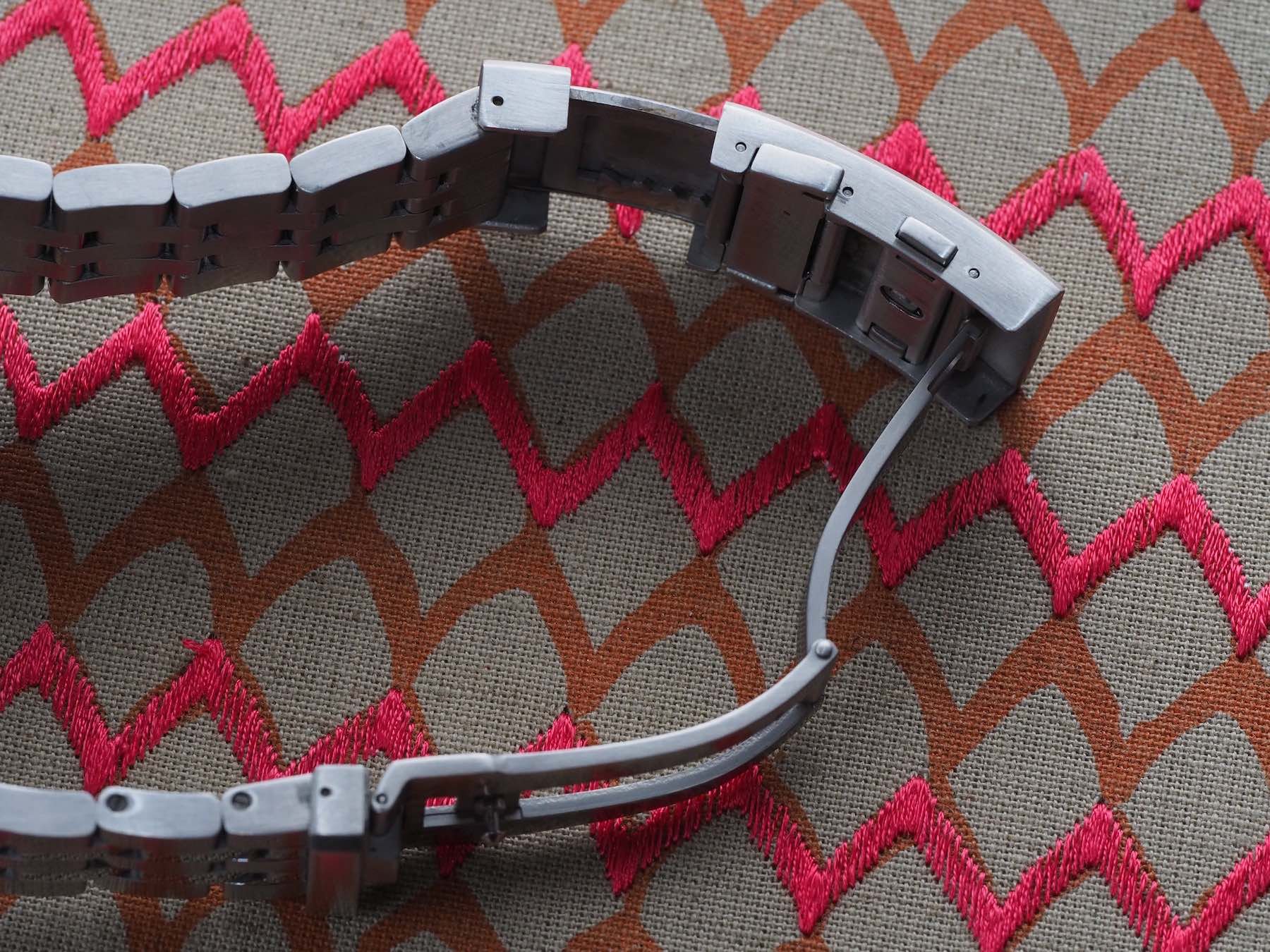 First impressions count
This left me in a bit of an awkward position. What was I reviewing? A product or an idea? Was it fair to be overly critical of a product that was (supposedly) in no way representative of the final offering? Similarly, however, would it be fair to the watch community that relies on the unbiased, no-nonsense approach we take to new releases here on Fratello if I glossed over a product's deficiencies just because I'd been assured these problems would be fixed when it came to it?
…a wider discussion of brand building…
I expressed my concerns to Akshay Solomon, the man behind Audric. He was very understanding of my position and supported me in writing whatever I wanted to write. As a compromise, I told him I would give a fair analysis of the product I had in my hands and draw attention to the aspects that would be updated in the production run. But also, I expressed a desire to use this project as a starting point in a wider discussion of brand building and highlight a couple of "dos and don'ts" as I see it.
And so what you're reading here is one part review and one part personal opinion on how brands should go about promoting their wares. I would truly love to hear your thoughts in the comments section below as I feel they would be interesting and of great use to anyone hoping to start a successful brand.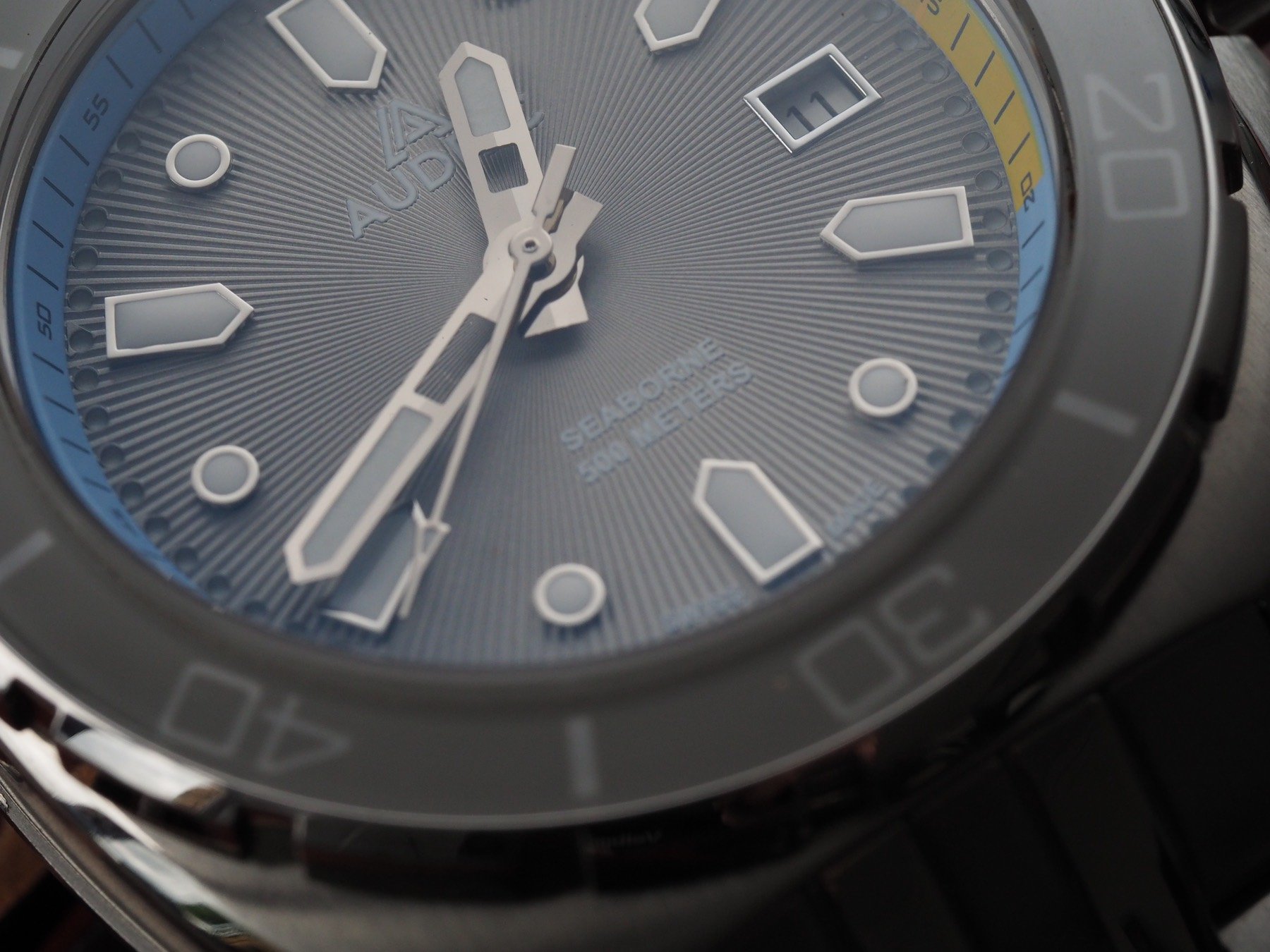 The review
The Audric SeaBorne 500 M is an absolute beast. That much will remain as true tomorrow as it is today. It is a generous 43mm wide and an uncompromising 15.4mm thick. It has a surprisingly stout lug-to-lug measurement of 51mm (thanks to the blockish cushion case and stubby lugs). That lug-to-lug measurement actually saves this piece. It means it is at least wearable. But it is undeniable a weighty piece of 316L stainless steel on the wrist.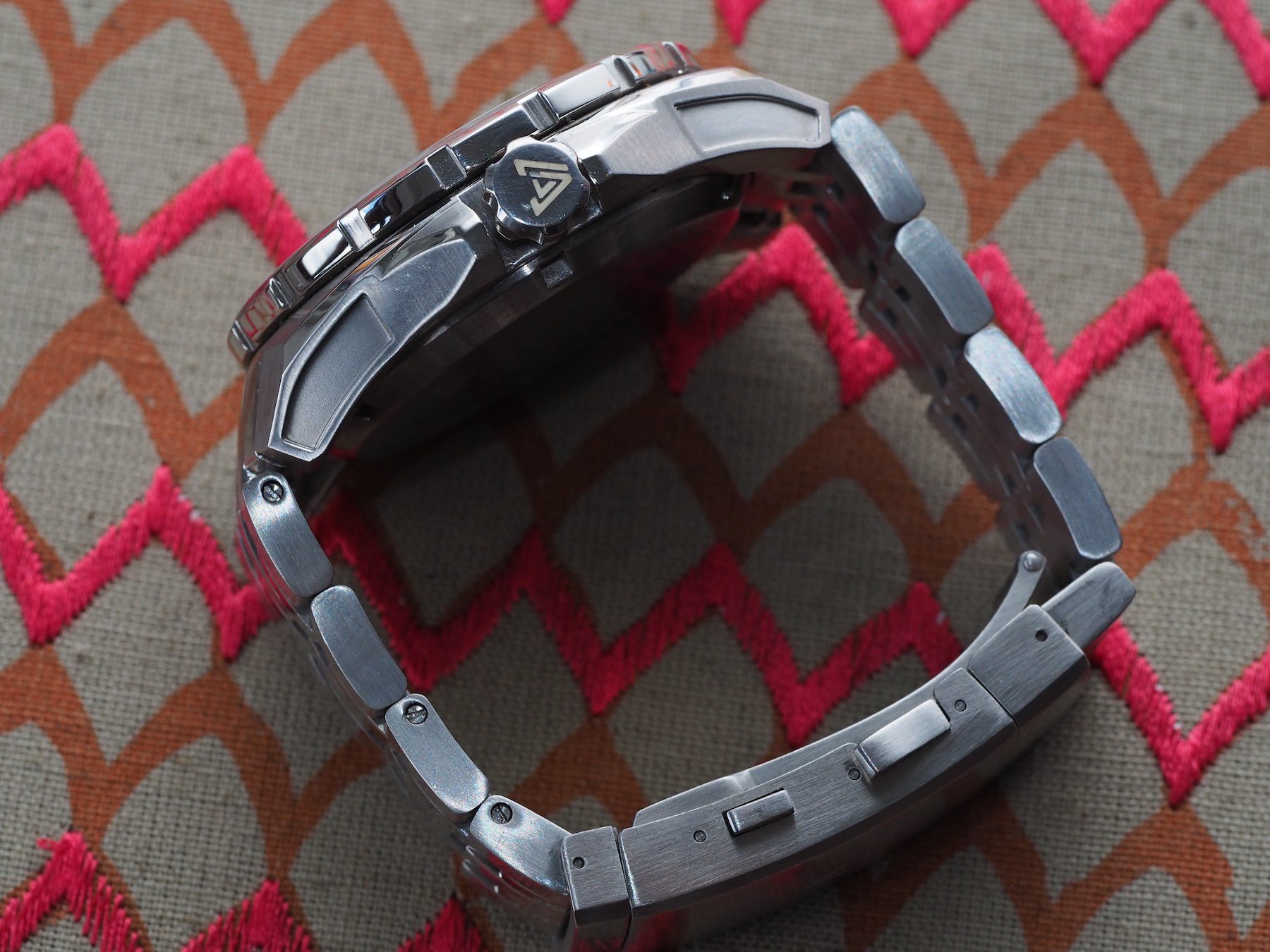 However, an equally robust bracelet means it is quite well balanced. The head does not rock about as you might expect given its proportions. Visually, the watch looks smaller than it is because of the height and wide bezel. I'm currently working on an equation that I've dubbed the "Visual Impact Index", which I hope will be useful for determining how a watch appears when all of its dimensions are factored in.
It isn't properly refined yet (as soon as it is, I will share it in a dedicated article), but I plugged the figures into my test equation and it came out on the smaller side. Bear in mind, however, this is not a wearability index. That is a far more nuanced issue into which you must factor your own wrist size and shape, along with the rest of your build, and personal preferences to assess how much that watch will "suit" you.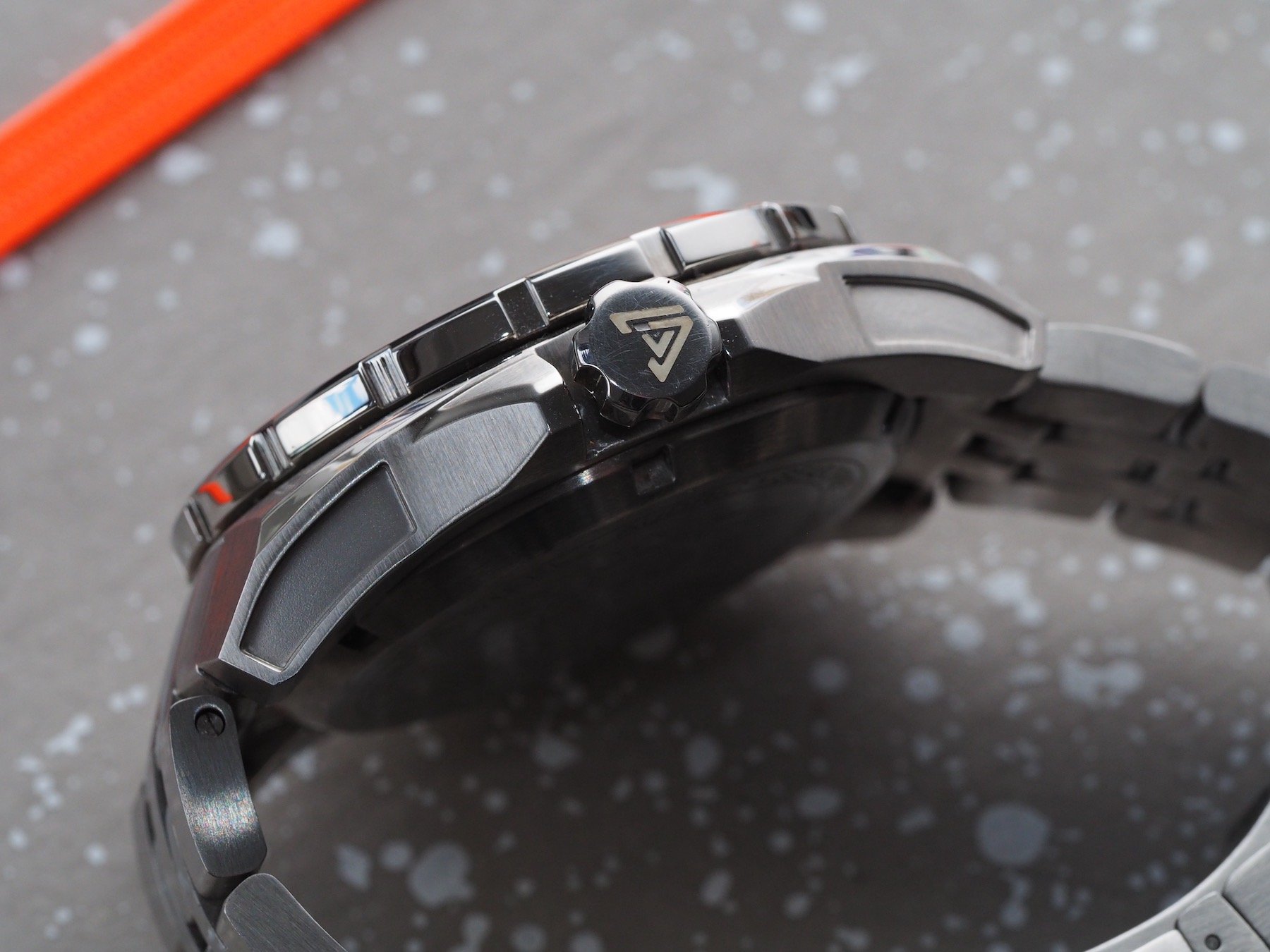 A mathematical aside…
Just to give you a rough idea of what I'm talking about here, the end result of my equation (which aims to show "perfect" proportions) should be 1.6. Below this and the watch appears smaller in comparison to an "ideally proportioned watch" of the same diameter; a score of above 1.6 means the watch appears larger than it actually is. The Audric had a base score (without modification for the bezel) of 1.39. To give you an example of a watch that typically wears larger, I could reference the NOMOS Orion 38 on my wrist right now. With a width of 38mm and a thickness of 7.9mm, the NOMOS scores 2.4. That means it wears like a dinner plate and anyone used to wearing a 42mm Breitling Chronograph that complains a 38mm NOMOS is "too small" should really think twice about what they actually mean by that.
Don't worry, I will follow this up with a detailed explanation of the index with additional factors explaining the effect bezel width and dial layout can have on visual impact. But rest assured, the Audric, for all its literal heft, does not look as gargantuan as you might imagine.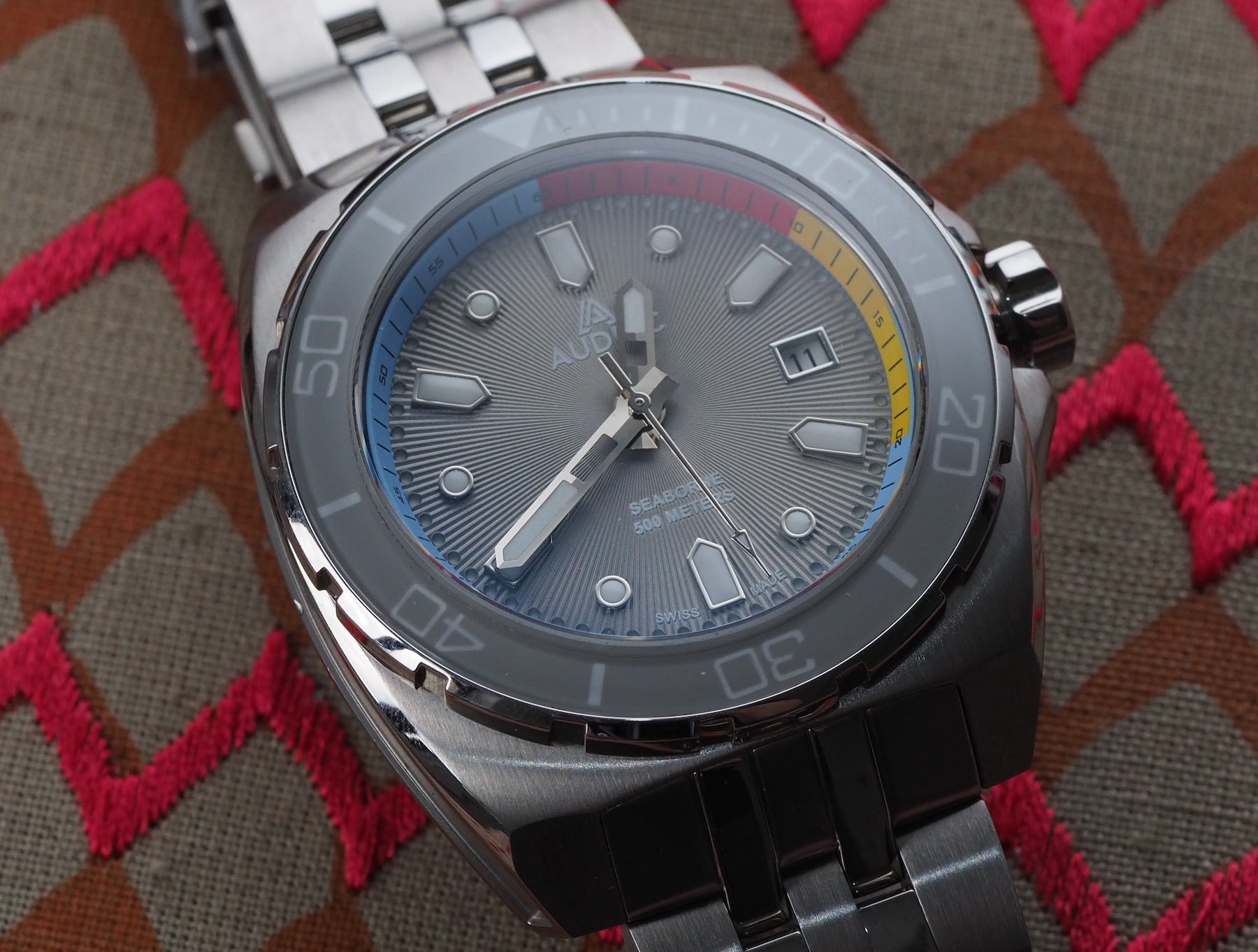 My old, withered wrists
Once again, I must mention my tiny 16.5cm wrists. Sigh. Normally, they don't present much of a problem, even with watches of this size, but, honestly, I struggled with the weight of this thing. It was probably the second heaviest watch I've ever worn after the Delma Blue Shark III. I'm not even sure the Omega PloProf (the steel one) could tip the scales in its favor against this one.
As such, I really couldn't adjust to wearing it for long periods of time. On the plus side, however, that meant I got to interact with the surprisingly excellent buckle system.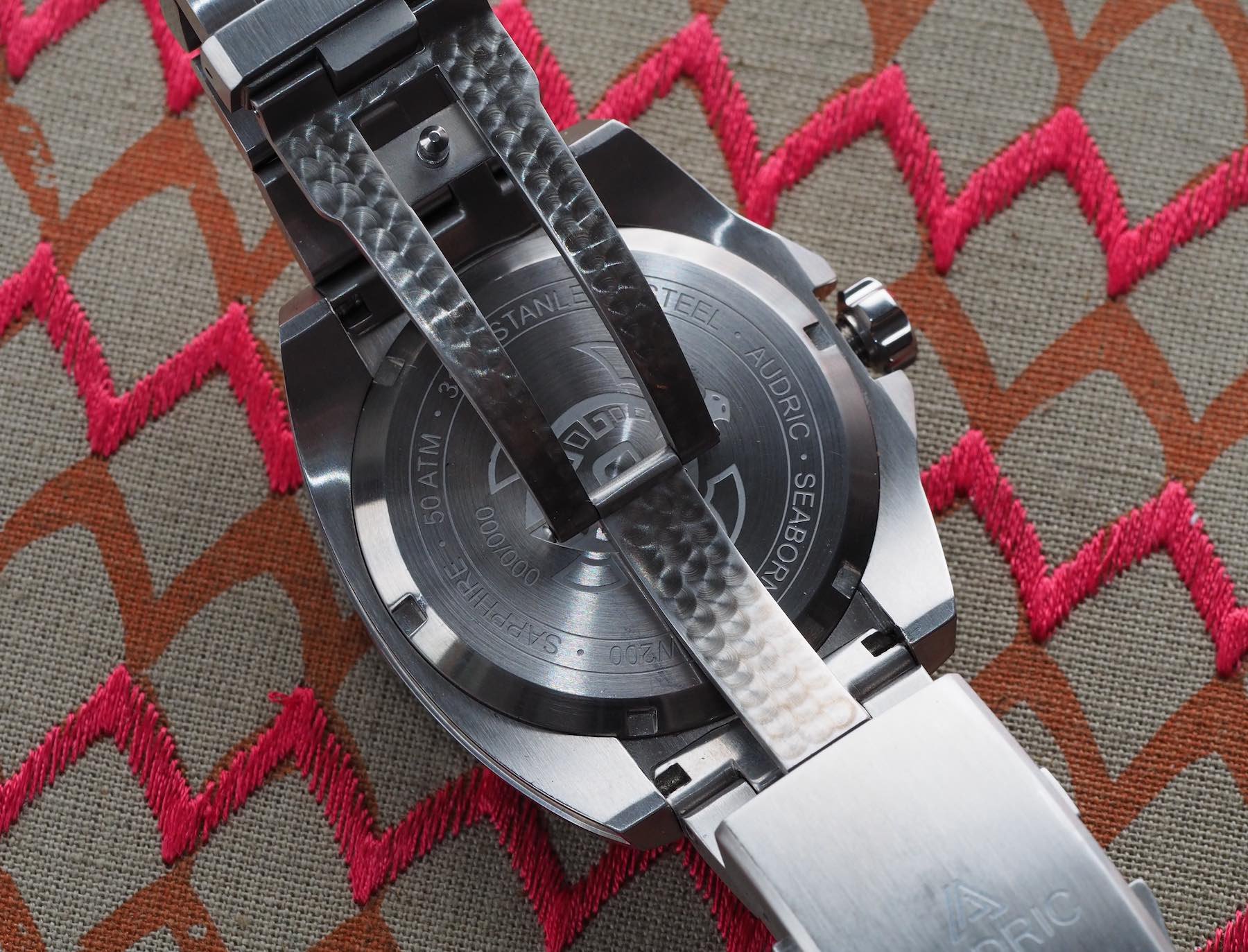 This was an element that really worked. The extension piece was unattractive but entirely functional and felt very reliable. The rest of the buckle was well finished and operated smoothly. It was a high point of a bracelet I found a bit loud and a bit too bombastic for my taste, but I showed it off to a few fellow watch lovers and half of them thought I was crazy. Feel free to agree with them, especially if you are more used to wearing lethal weapons on your normal-sized human wrists.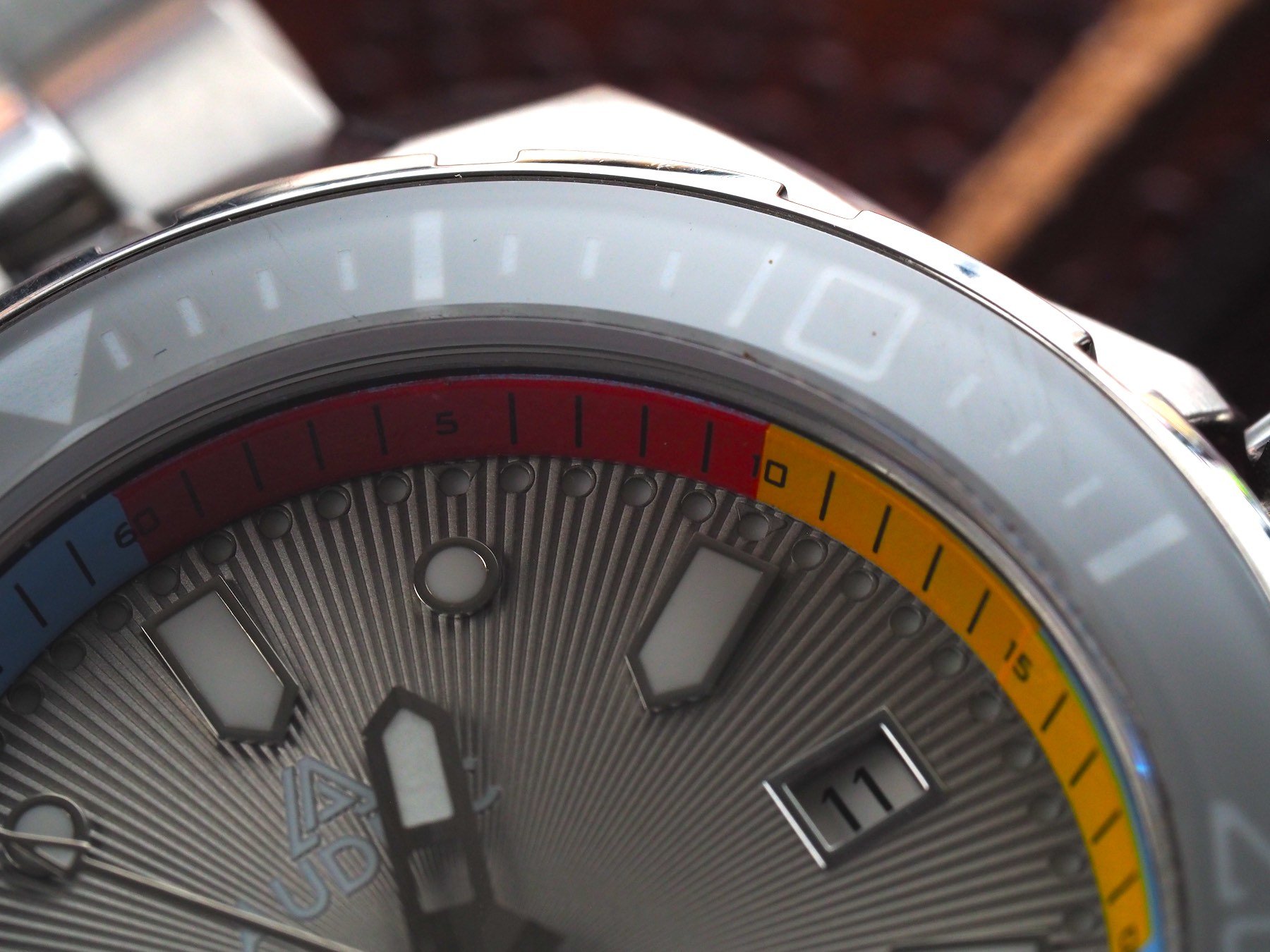 The rollercoaster dial
Oh, the dial. Well, where to start. The dial will receive a ton of changes before the product lands in customers' hands. Not even the ridged "sunburst" pattern that defines the whole ensemble is guaranteed to make it through to the final draft. Honestly? I wouldn't miss it. It looked cheap to me. While you may balk at that and accuse me of being unfair for a watch that is currently outperforming its target on Kickstarter priced at $600, the build budget is not to blame for this element. This is a design choice.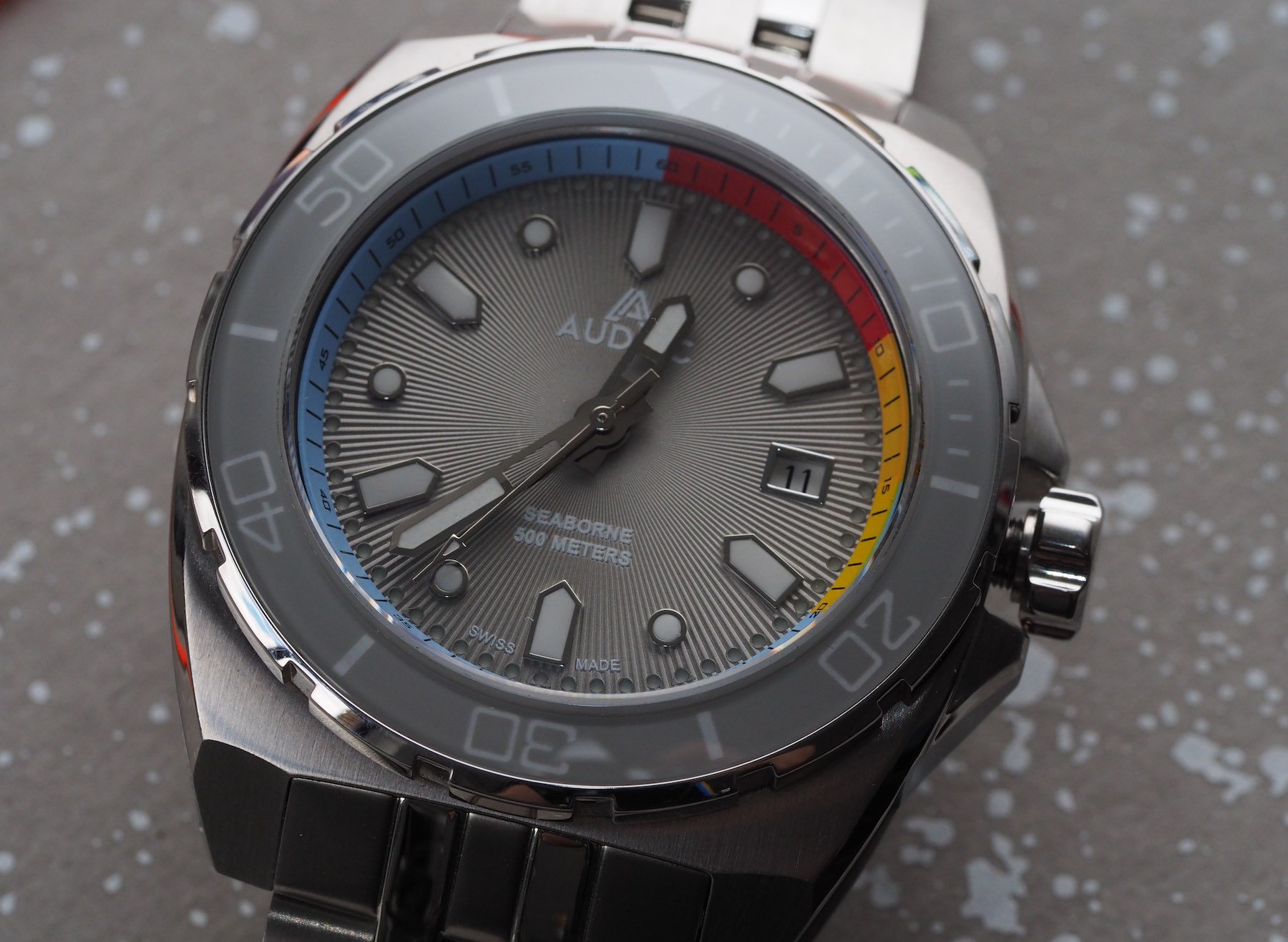 A classic?
Now, with more money to spend on the dial perhaps it could be done so sharply that I would pivot 180 and profess my love for it. But, look, that isn't the case here. Akshay assured me he'd been let down by a shoddy supplier that had been unceremoniously canned in favor of a new, super-duper manufacturer that would breathe new life into the dial execution. I look forward to seeing it. Because honestly, if it were done well, this Audric dial could be pretty neat. The colored rehaut ring is goofy. But goofy touches on sports watches sometimes result in a classic! Do I like the execution of this prototype? No. It is atrocious. BUT, if the paint is evenly applied and the breaks between the colors are crisp with no bleed whatsoever, I could see this being a pretty interesting design.
The best bit about the dial is the many little perforations for the minutes. I thought this would look a bit busy when the lights got low, but it actually looks pretty decent. The worst thing? Lume homogeny! You probably know by now that I frequently lose my temper when brands do not blow the budget ensuring every luminous element glows with the same strength, but for once I am willing to overlook the fact the hour markers are way below the standard of the minute dots and the hands simply because, alongside the equally dull bezel, there is a kind of nighttime balance to it all. Could it be better? Yes. Is it bad for $600? No, it isn't really bad at all. And the best thing is certainly the fact the brand tried something a little different.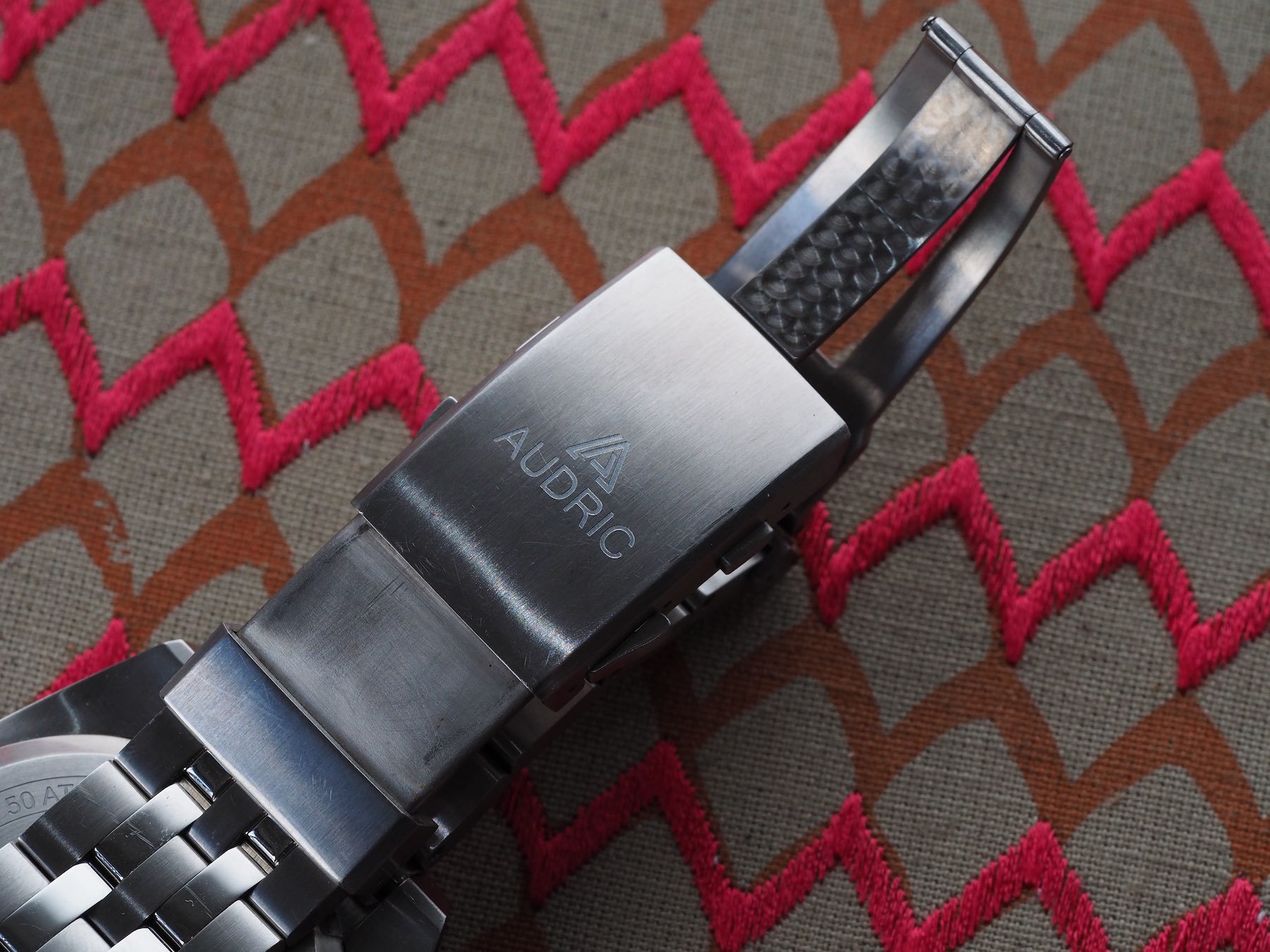 The movement and case
One big plus for the Audric SeaBorne 500 M is the movement. A Sellita SW200-1 Elaboré was a good choice for this kind of money. If the brand had charged €200 less and run with a Seiko NH35 (or NE15) that would have been fine for me, but the Swiss movement does give it a little bit of a boost. Especially if those sorts of things matter to you. To me, the micro world should be about design first and foremost. I don't come down to this level looking for horological innovation. I look for designers with a cool vision. And I think Audric is trying to walk the line between the two. The caliber selection was a good choice to that end.
The prototype I received had been battered to high heaven. Honestly, I don't know what some reviewers do to the watches they are sent, but it looked like it had been put through its paces by a maniac that liked polishing things with bricks. On the plus side, the case was still structurally sound and the watch was performing remarkably well. The crown screws down and was nice to operate, but on the other side of the case was a helium valve that looked in pretty poor shape.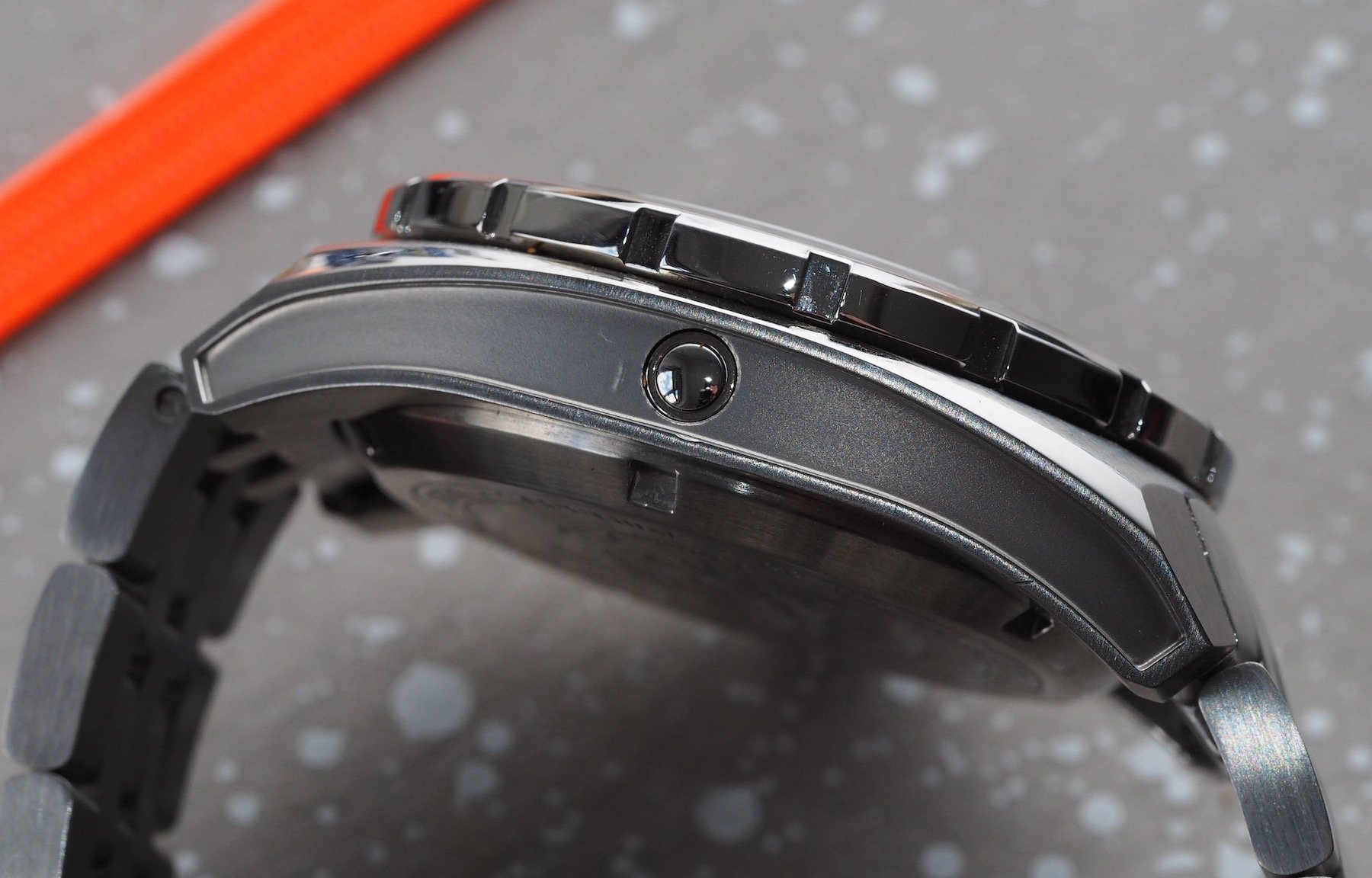 So the H-valve on the Audric SeaBorne 500 M is sunk into the milled case flank. On paper, it is a neat and unobtrusive design. The execution of this prototype was not good, but Akshay assures me the helium valve will be properly finished and installed on the production model.
The case back, I must say, was good. It is closed (thank the heavens) and laser engraved to a better-than-average depth with a tribal turtle design. Unimaginative, maybe, but wholly inoffensive and nicely done both thematically and practically.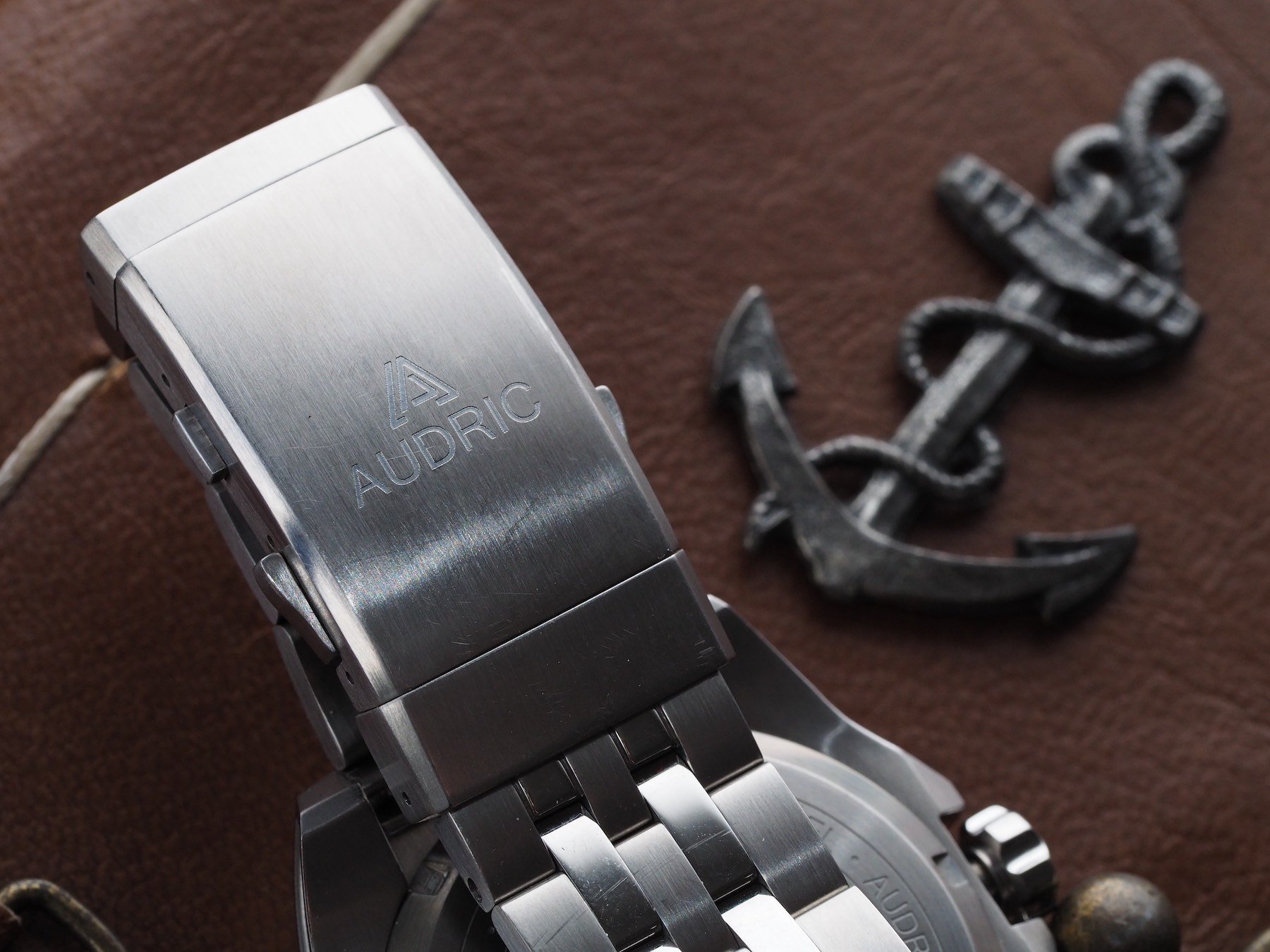 My takeaways beyond the watch
I know I can be hard on brand owners. I'm certainly not in the business of upsetting anyone unnecessarily and only want the best for every brand that comes to Fratello asking to be on the site, but sometimes I can be…let's say blunt (in case my mother is reading this — hi, mum). Akshay took my uncensored criticism in his stride and remained effusive positive throughout. I'll tell you something: that bodes well for customer service.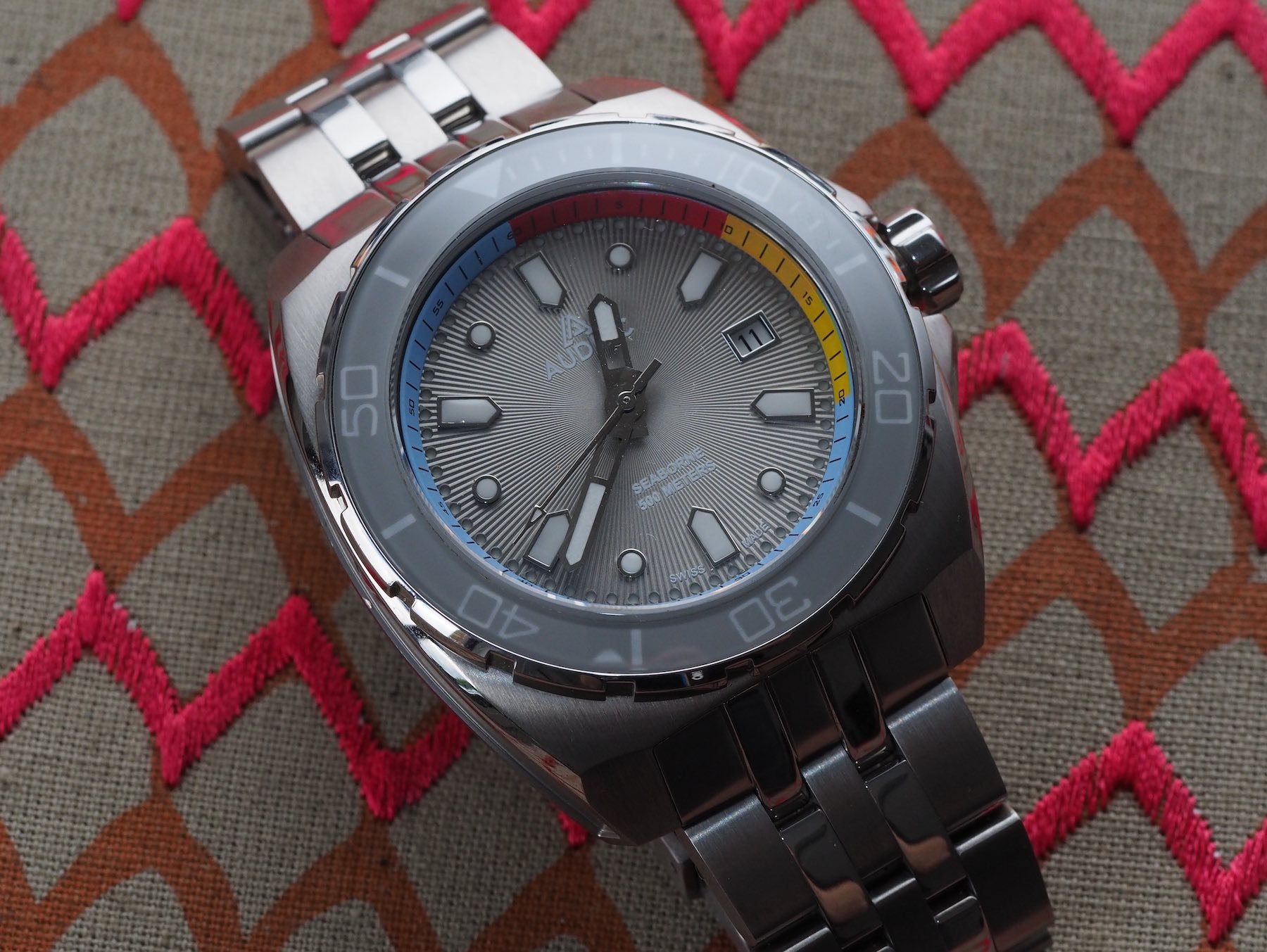 Aftersales
Having worked in aftersales for years, I know how important a good aftersales department is for a brand's reputation. Having the right people facing the buying public is essential for this. Nobody likes paying to have their watch serviced, but if you could see the number of hands and processes a watch needs to go through to get back to you in pristine condition, it probably wouldn't surprise you to know that many brands run their aftersales departments at a "break-even" line. Managing customer expectations and remaining the most unflappable brand ambassador in the face of fury and frustration is not something they teach in school. On that front, I'm confident Audric is in good hands.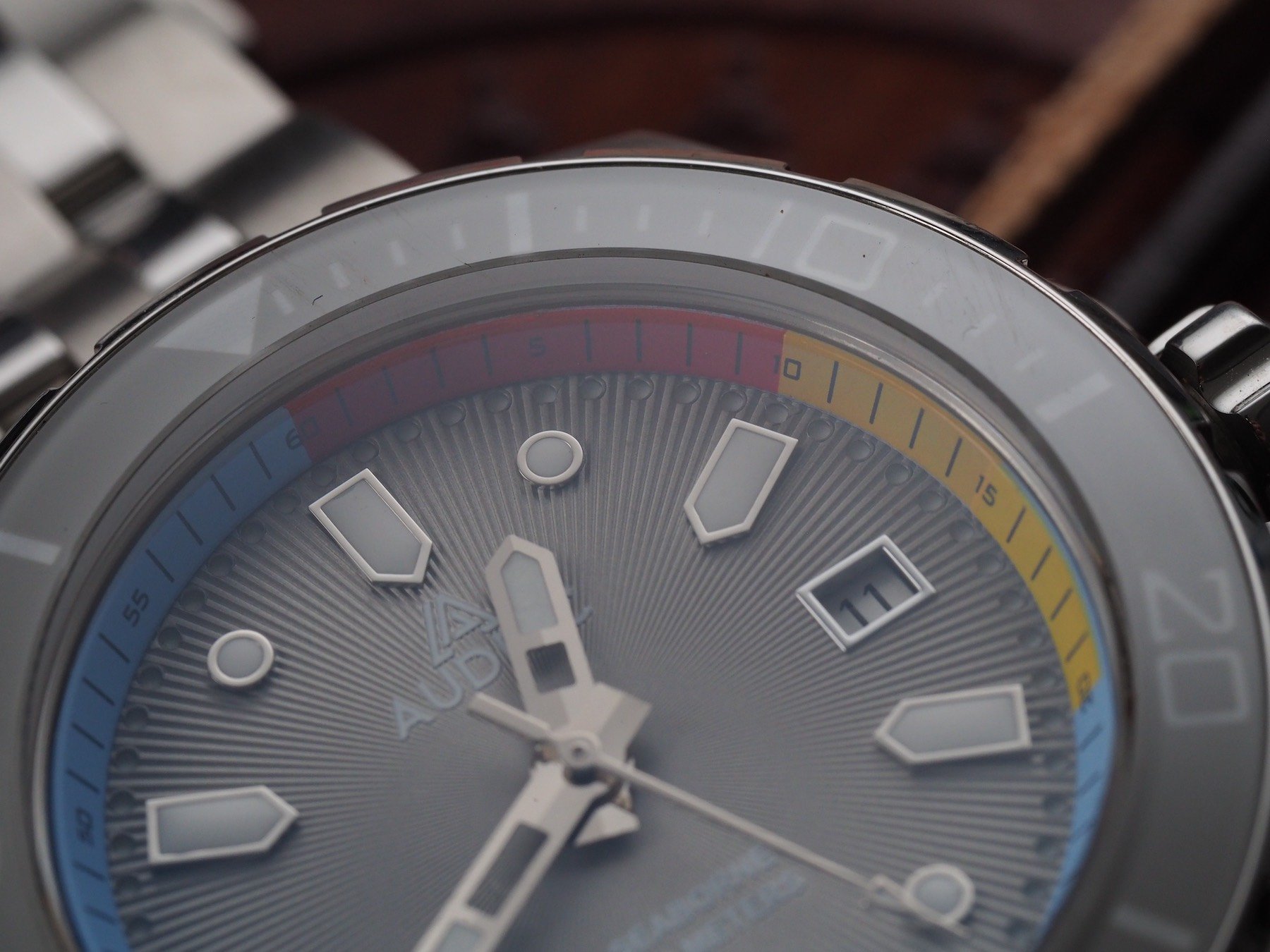 Patience
If I were to critique my own character, I would say I am perhaps too patient at times. But that almost certainly comes from my perfectionism. As a watchmaker that trait can be useful. As a brand creator, however, it can result in many missed opportunities. There is likely a reason I have mulled over how to build a brand for 17 years and not actually done it, while other brands, pop up with a simple notion and have a product in customers' hands in a fraction of that time.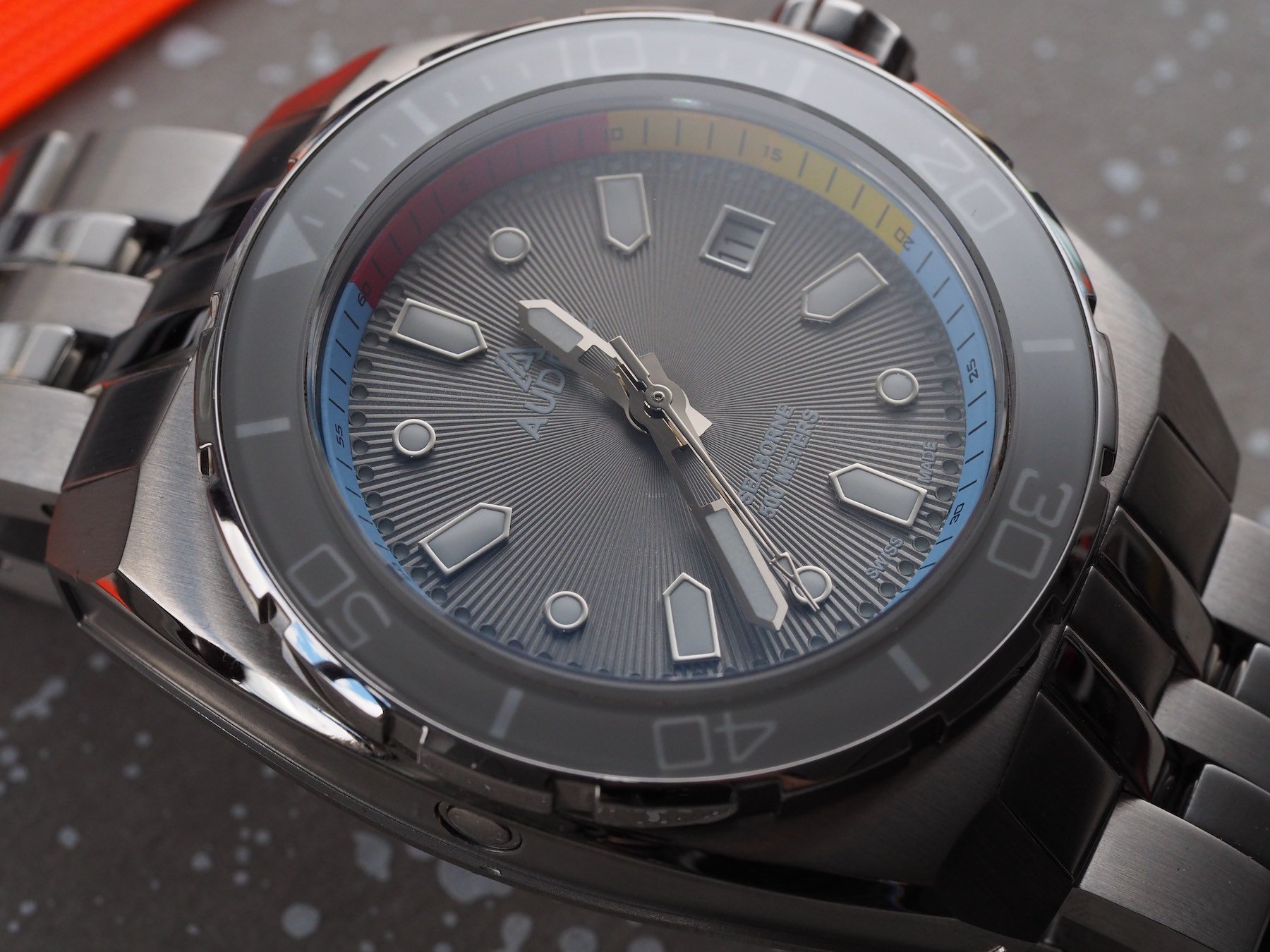 There is certainly something to be said for "just getting it done". And while I don't want to encourage swathes of "have-a-go-heroes" to charge into brand creation, hoping to turn the watch industry on its head, those who take the plunge in full acceptance of the fact that things are rarely perfect first time around should be applauded for their courage.
…I would be keen to see a production model side-by-side with this prototype…
This Audric prototype was a work in progress. Please do not judge it too harshly from the photos. The concerns I raised in this write-up were fully communicated to Akshay and his team. They will be addressed. In what way or to what standard, I cannot possibly attest, but I would be keen to see a production model side-by-side with this prototype to compare the difference when the time comes.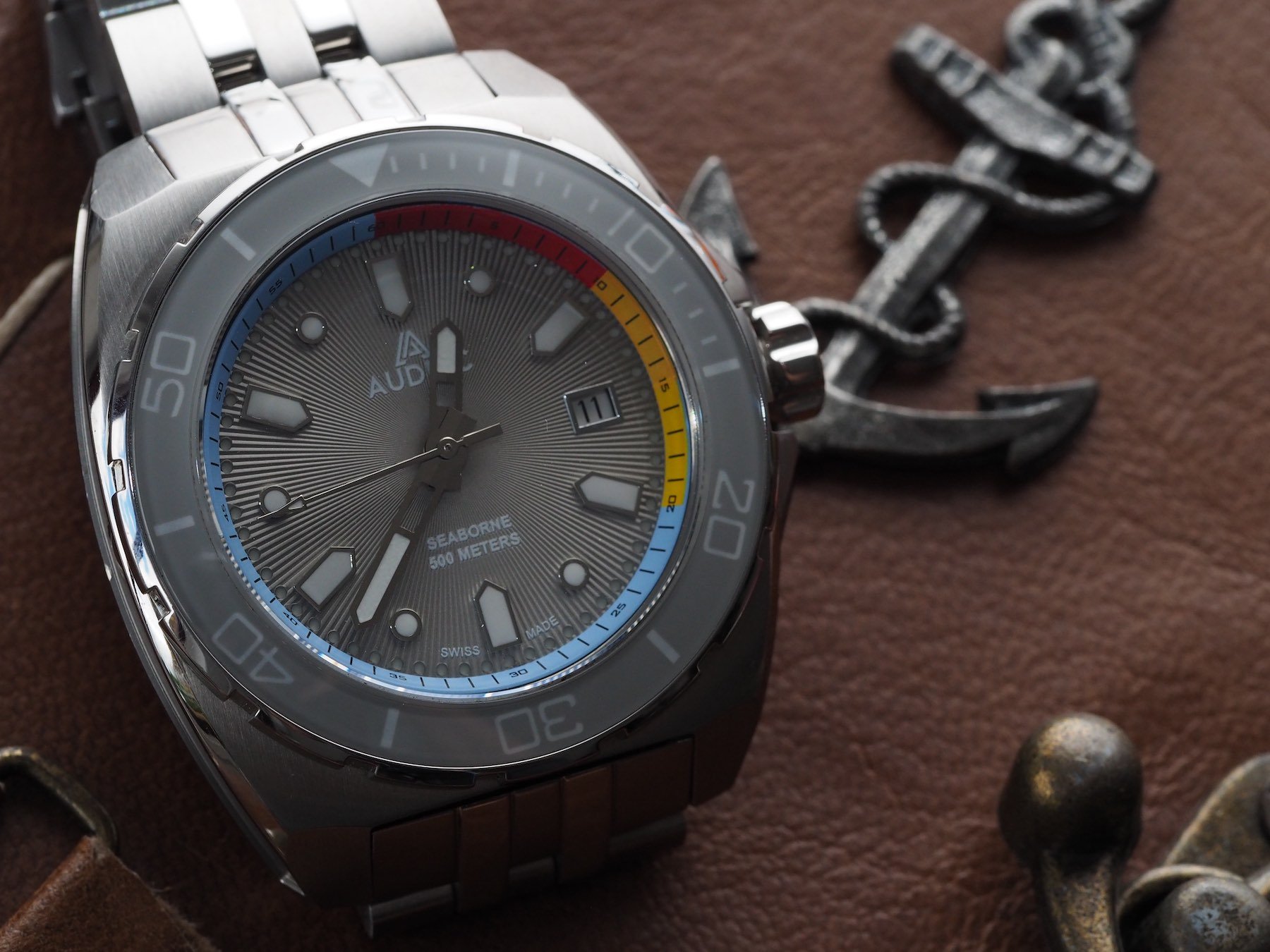 The future
My advice to brands in the future would be to strike a balance between patience and immediate action. Your product needn't be exactly as the final product will (prototypes are often a long way away from the finished article), but be mindful of what that product says about your brand. In the early days, the product is the brand. It is the ambassador. It is the company's history. Most importantly, it holds the company's future in its metaphorical hands. To learn more about the Audric SeaBorne 500 M, check out the Kickstarter page here.