The Best Deep Blue Dials Of 2023 Under €10,000 — Our Picks From TAG Heuer, IWC, Omega, Longines And Grand Seiko
Dive into the most enigmatic blue dials of the year, from tool watch fit to dress-tastic
For fans of the classic allure of a matte black dial and clean tool watch design, a blue alternative might be the first dip into the enticing waters of colorful dials. A deep blue dial works exceedingly well at accentuating polished details on a steel case and can turn a rugged sports watch into an elegant wrist companion when a more formal occasion calls for it. In the world of dive watches, the blue depths of the ocean are often echoed in the dial. Who knows? The dark abyss might even spark a real sense of adventure for an otherwise deeply rooted desk diver like myself.
Yes, this is a very subjective (and slightly rule-bending) roundup, but for me, these watches feature some of the best deep blue dials of 2023. I think you'll agree with at least a couple of my picks. Plus, in the spirit of keeping things varied, I've included anything and everything from brawny divers to integrated bracelet-chic watches. Will one of these be your stepping stone into the bold world of colorful watches? Read on at your own risk!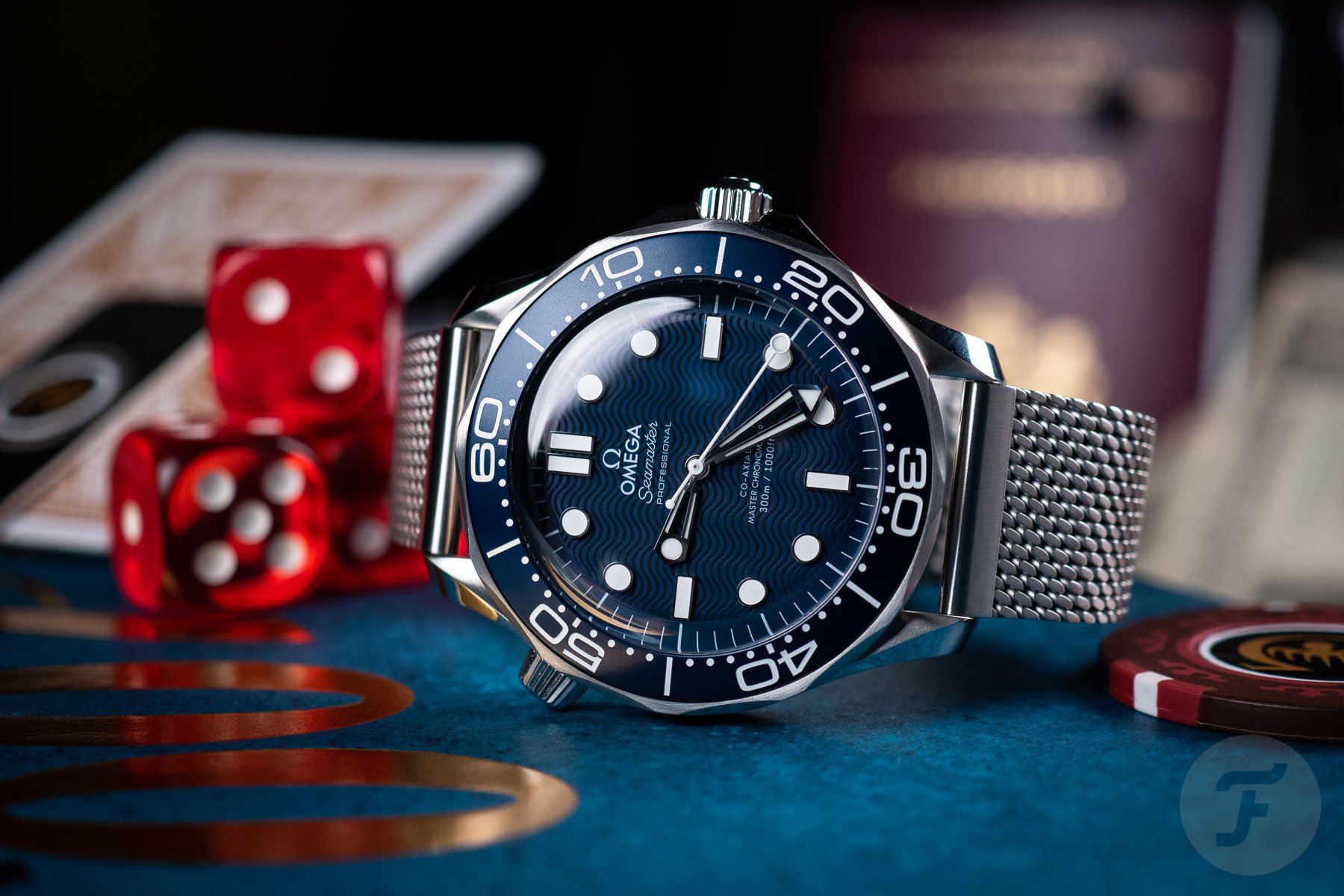 Omega Seamaster 300M 60th Anniversary James Bond
I'll dive right in with this Omega Seamaster Diver 300M, and get off to a cheating start. The watch came out before Christmas of 2022. But to me, it remains one of the best deep-blue-dialed Omega watches in 2023. Yes, I've had a long crush on it and loved the titanium version, but I felt it was a tad too vintage-baiting. This, however, is resolutely modern. The sixties touch of a mesh bracelet is still there. In my mind, it's one of the best in the biz. But the Bond connection is subtle, seen only in the case back animation, which covers the Co-Axial delights. The only other 007 easter egg is on the bezel. The ceramic bezel is fully lumed, with a glowing green "60" (representing Bond's silver screen anniversary) where the triangle would normally be, matching the Super-Luminova of the minute hand. For once, a Bond connection kept nicely understated and suave, just like Mr.Bond himself. This watch can still be yours for €8,900.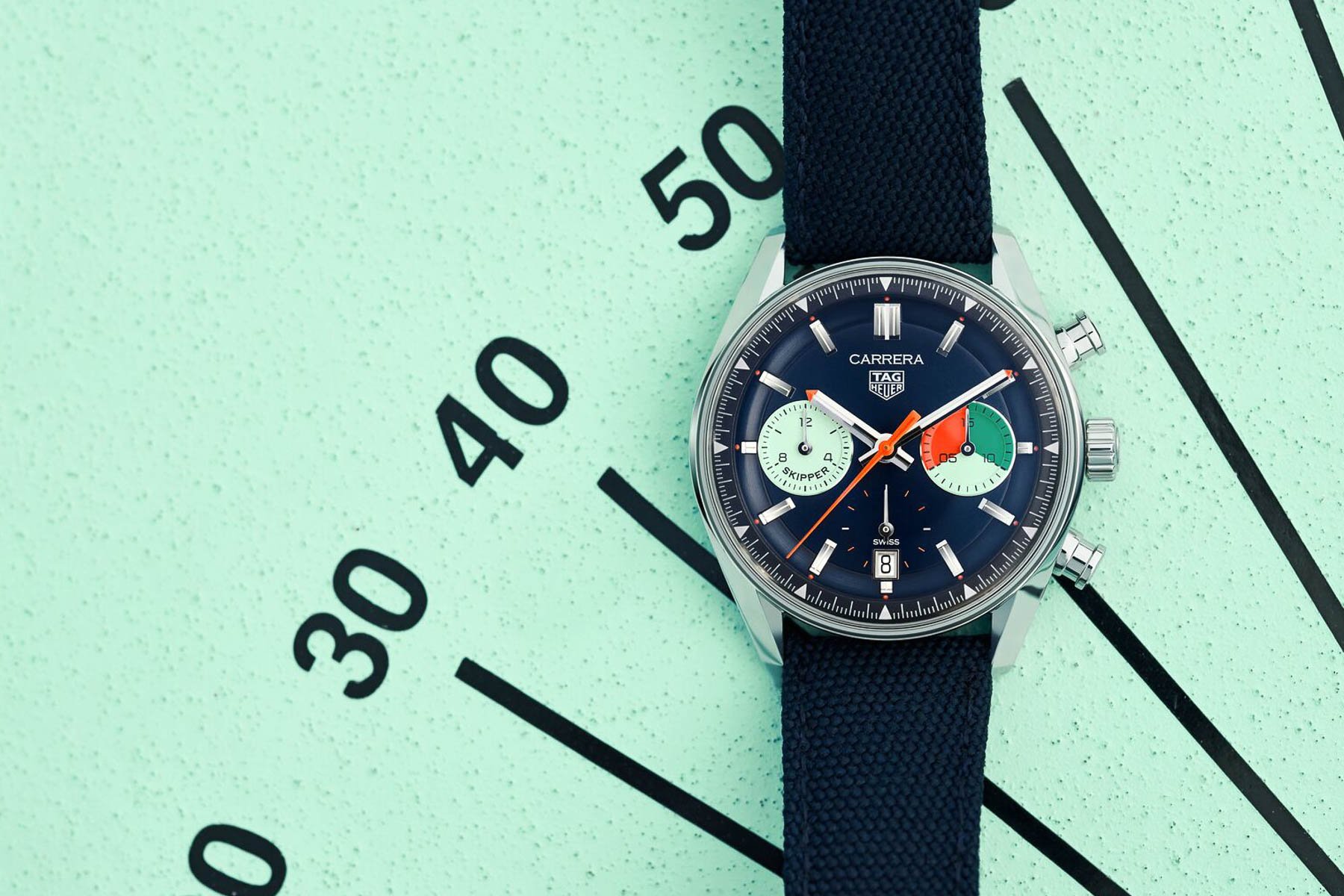 TAG Heuer Carrera Skipper
The TAG Heuer Skipper is a sharp reissue of a colorful retro reference. Vintage hardliners might begrudge the 39mm case as too big, but I get it. The execution of the dramatic lug angles and the round case keeps it close to the original, while 39mm might suit modern tastes better than the old-school 36mm. But here, the dial is the superstar within the wearable 46mm (lug to lug) long case. The overused (yet still fine by me) term "pop of color" seems almost too understated to use here. The new TAG glass box design features small orange-red lume dots outside each index, matched to the new sword hands' tips. It creates a proper party on the dial, especially in the presence of the seafoam green 9 o'clock register and iconic tri-color 15-minute regatta counter. Do I mind the 6 o'clock date window? Its frame sharply cuts into the 6 o'clock seconds making it as charming as the rest of the busy dial. The price for this one is set at CHF 6,600.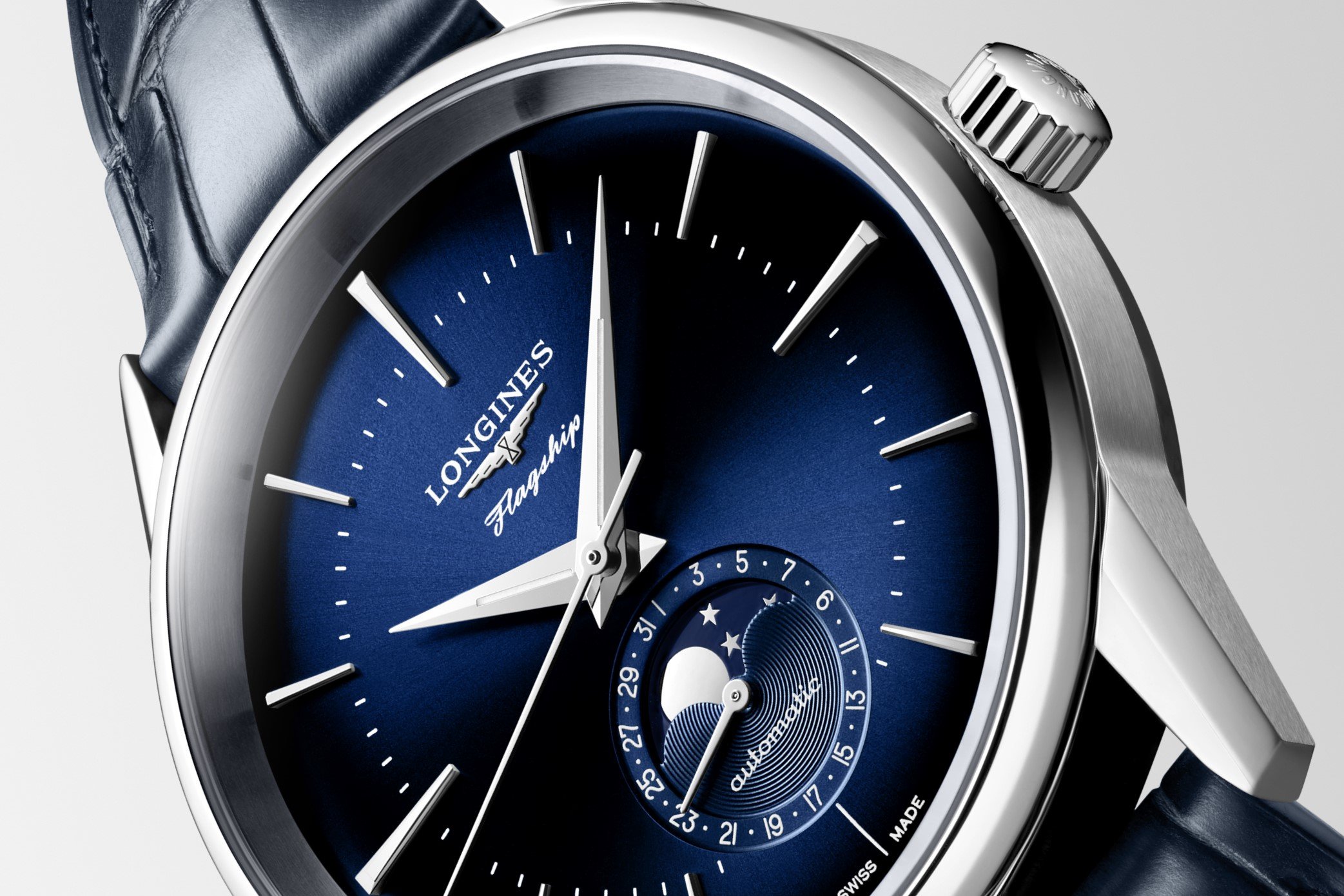 Longines Heritage Flagship Moonphase
The moon phase window at 6 o'clock is a delightfully irrelevant but still fascinating complication. Chances are you will never need it, but it brings a certain charm. In the mid-century design of this Flagship model, it fits right in. This time we have a reduction from the slightly larger 1832 model at 40mm to a sweet-spot 38.5mm with the addition of a new dark blue dial. Lex called it a classic gentleman in his story on the elegant silver-dialed version, and I do agree. But I love this monochromatic blue vibe, where the associations to a night sky works even better with a sprinkling of silver stars and a crescent moon. A clean case design with angular Carrrera-style lugs works well with the Longines-only caliber L889.5. Well enough to make for a tempting proposal, even if it's relatively chunky at 12.4mm. Tall as it may be, the price remains reasonable, at €3,300.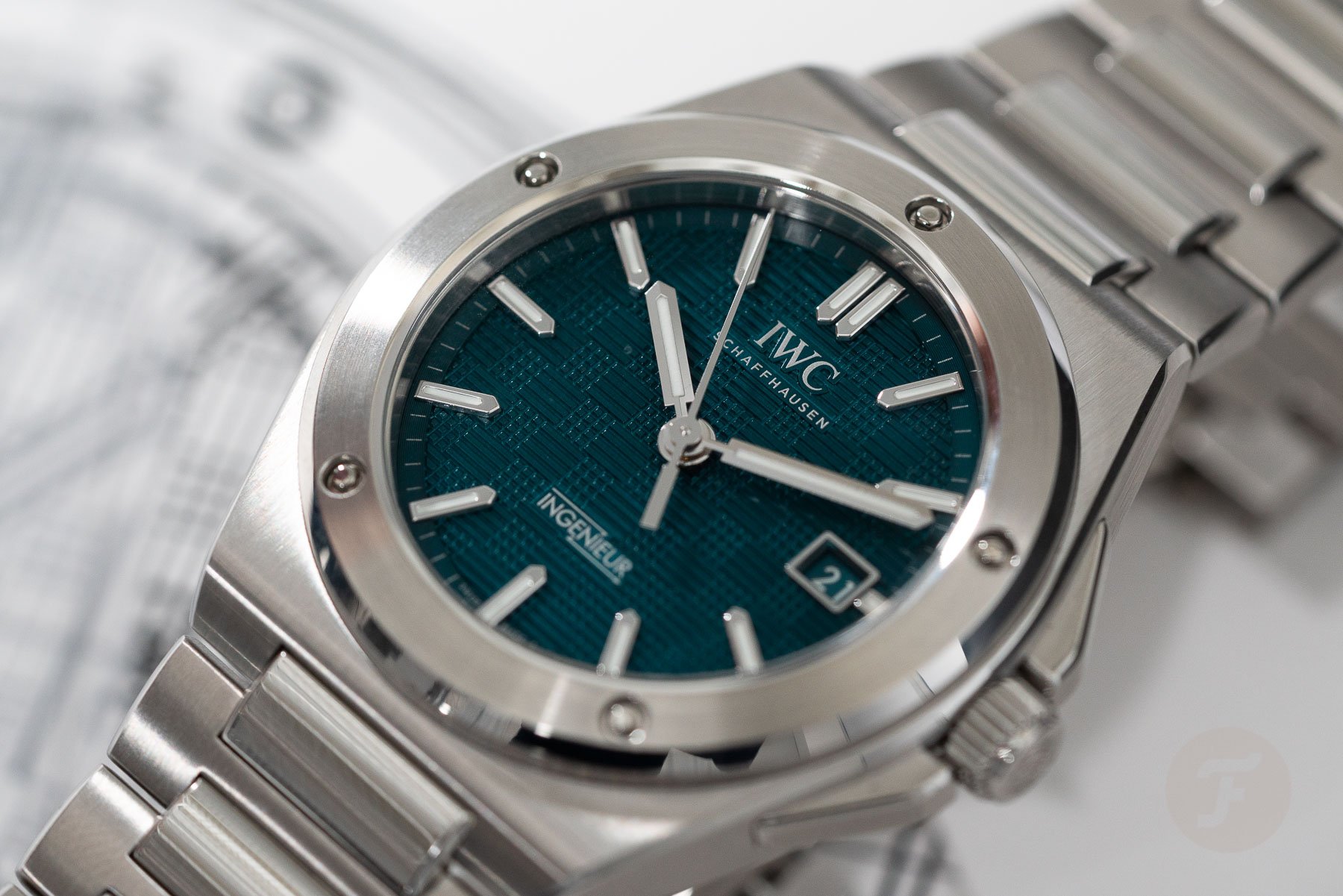 IWC Ingenieur
IWC does blue dials exceedingly well, and though I'd bet half of you would class this as green, I'm going with petrol blue. Even if IWC also calls it green, my contrarian nature emerges yet again. I would keep it in low-light situations under a dark blue shirt, where its chameleonic tint will err on the side of blue (Thomas called it Aqua, which is technically a shade of blue). I have registered some debates on the bracelet and clasp on this sleek new 40mm Ingenieur, but I'd still be happy to wear one. The bold case and broad bezel make for a smaller dial. This means that it wears more like a 39mm watch. A serrated chequerboard dial plays brilliantly with the light, and thin bevels underline the bold case's sides. It's slim at 10.7mm, and the caliber 32111 is a worthy beating heart, nicely decorated even if hidden behind a closed case back; it also boasts a massive 120-hour reserve. Well played, IWC! If anything, I'd say it's just a tad pricier than I'd have liked, at €12,900.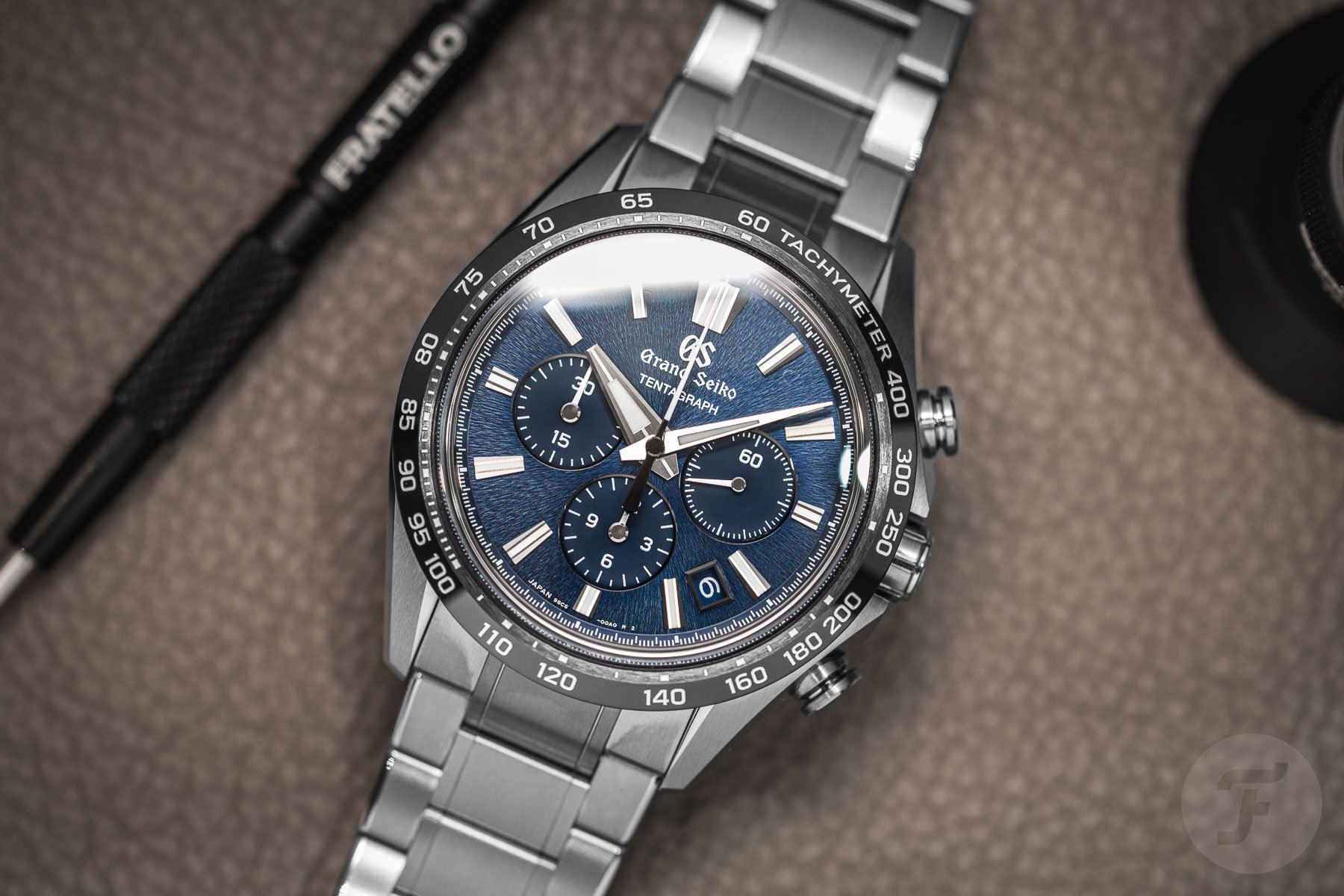 Grand Seiko SLGC001 Tentagraph
Grand Seiko is the master of dial texture and a more than apt dabbler at lacquer work. Though mostly kept within three-handed designs and GMTs. This all changed with the all-mechanical Tentagraph. The case belongs to the modern Evolution 9 collection, and this model represents the first Hi-Beat Chronograph in that range. It's not small by any means. But it measures slimmer than the previous chunky 45.3mm chronographs. It's toned down to 43.2mm and nicely executed in lightweight, high-intensity titanium. So the vibe of the Tentagraph is medium but mighty, with the 9SA5 movement and a black DLC bezel toughening up its image.
The bark-like texture is stunning, with three  recessed navy registers creating a wealth of interest on a busy dial
But this is about deep blue dials, and this one is a killer example. The bark-like texture is stunning, with three recessed navy registers to create zen-like depth on an otherwise busy dial. The solid 72-hour power reserve might not be needed, as the Grand Seiko comfort will make it an everyday fave. Is it costly at €14,300? Well, it's not if you consider it a superbly executed alternative to the Daytona. And believe me, it is. Sure, I've blown this story's €10K budget by 43% here. My apologies to the sticklers. Trust me, it's worth it!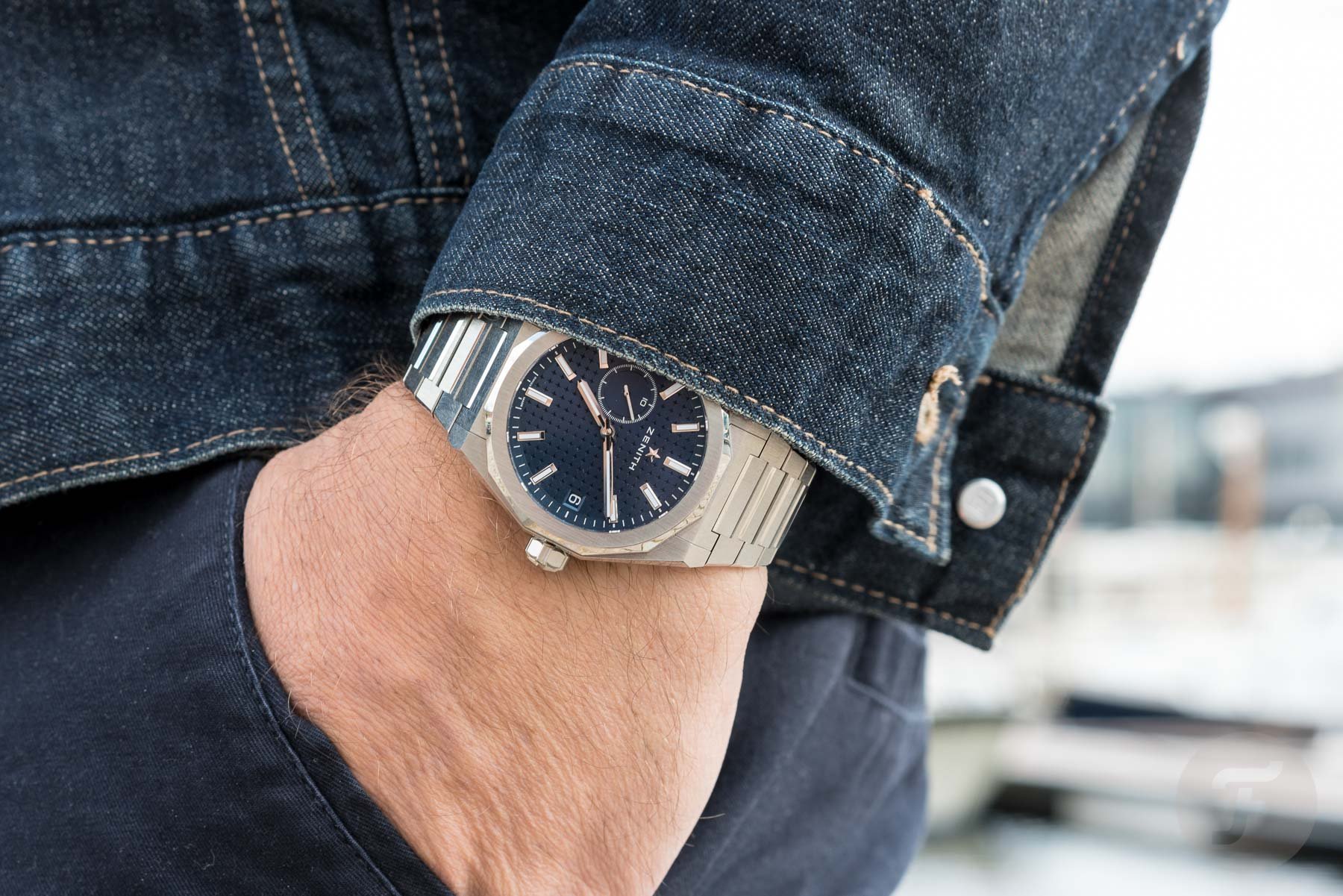 Zenith DEFY Skyline
I am a big fan of Zenith's buzzing small seconds register at 9 o'clock. It might feel irresponsibly placed with its spinning tenth-of-a-second frivolity. But I find it charming as hell. The dimpled dial is just a great alternative to Piquè, Clous de Paris, and other guillochè variants. The smooth, stepped surface of the 9 o'clock register makes it stand out, a detail that I love. Zenith's chunky version of the hot integrated bracelet plays nicely with the facetted design of the bold case. At 41mm it's an excellent medium-sized watch. Should you want a sportier look, Zenith includes a matching blue rubber strap, making this indigo version a perfect package. I agree with Thomas on the crown not being my favorite detail here, but I'd still happily rock it on my wrist. A great example of Zenith's contemporary side for €8,300.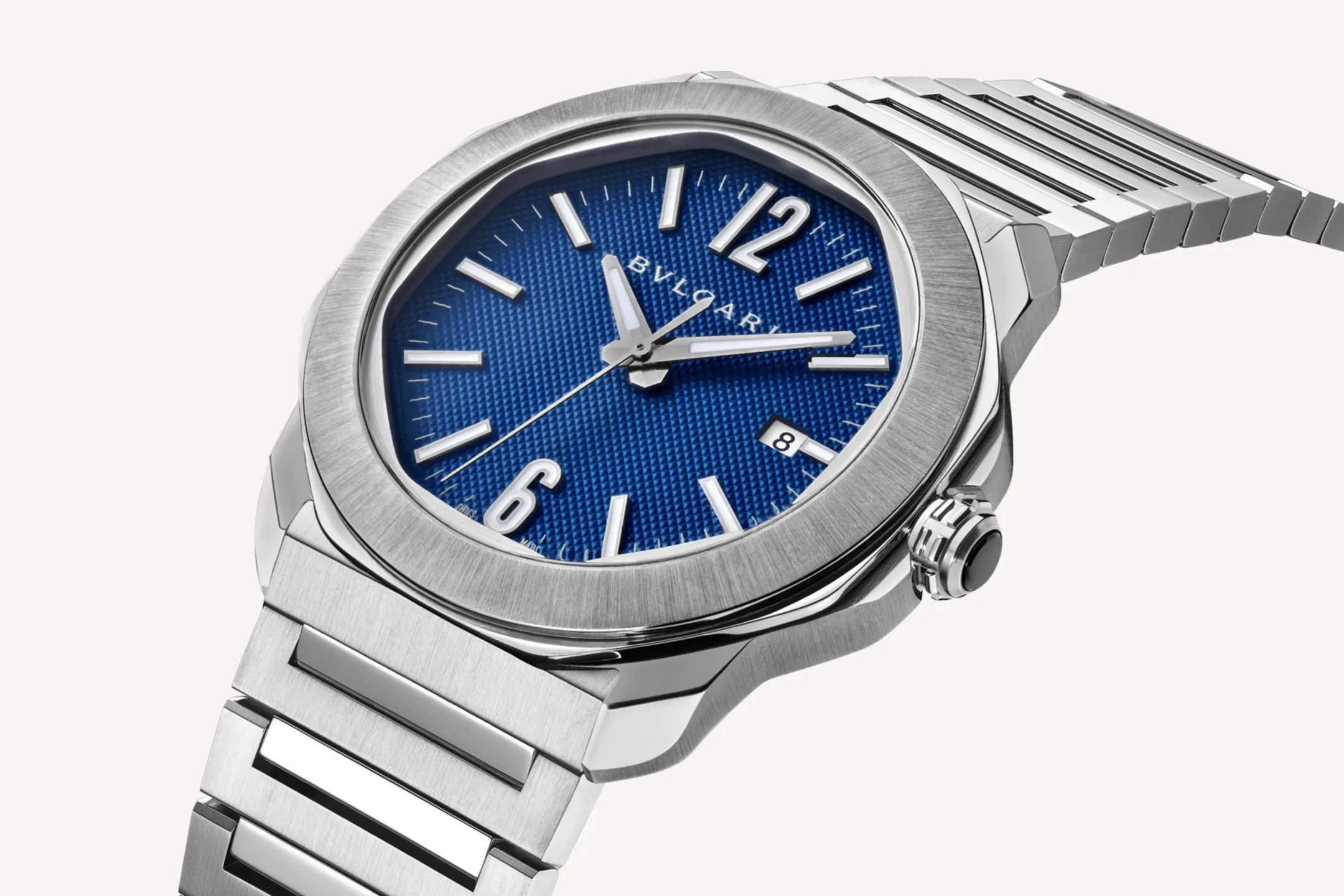 Bulgari Octo Roma
Have we had our fill of razor-thin wonders from Bulgari? I might not be a big fan of matte-blasted cases, but I still have a thing for the Octo. The more accessible, slightly chunkier Octo Roma has a great take on a deep blue textured dial. The main body of the Roma has the barrage of angles and octagonal flair that we know and love. All within a still-slim 11.35mm case. The small-scaled Clous de Paris pattern is a nice new twist framed by the busy blend of shapes of the bezel and case. I would have loved a blue date wheel, but that is a detail to live with when this Octo is priced at about 40% less than the Finissimo. And with the same 41mm diameter, the subtraction of the square case makes it appear more compact. The Super-Luminova on the hands and indices underlines the sports-lux ambitions of this 100m rated Bulgari. The price, you ask? That'll be €7,900.
So, my tool-watch-obsessed Fratelli, what do you think? Can I get you to move away from matte black to one of the best deep blue dials of 2023? Let me know in the comments. Also, let me know if there are any of your personal favorites that didn't make the list.