Introducing: The TAG Heuer Carrera Skipper
A modern take on a very rare watch enters serial production
Today, we have news of the TAG Heuer Carrera Skipper, a watch that many of us did not see coming. The watch takes its cues from an ultra-rare 1968 Heuer model of the same name that sets the vintage world abuzz whenever one comes to auction. Consequently, creating a serial-production model inspired by an almost-mythical historical piece was a real surprise indeed. Let's assess whether TAG has met the mark or not.
TAG Heuer, by virtue of its association with Heuer, boasts one of the more legendary back catalogs of any brand. While the bulk of the old-time racing chronographs may not inspire discussions about precision watchmaking, they resonate on a very different and perhaps more important level. Namely, vintage Heuer chronographs were trend-setting watches, and it helped that they were worn by some of the greatest racers of all time. Managing this history can prove difficult indeed, and ignoring it feels like a missed opportunity. Embracing it, though, can earn fans or incite extreme vitriol among the faithful. It's tricky stuff, for sure. Therefore, whenever the brand releases some ode to its past, I take a deep breath and approach with caution before choosing to opine. I've done that with the new TAG Heuer Carrera Skipper, and you, fair readers, are the recipients.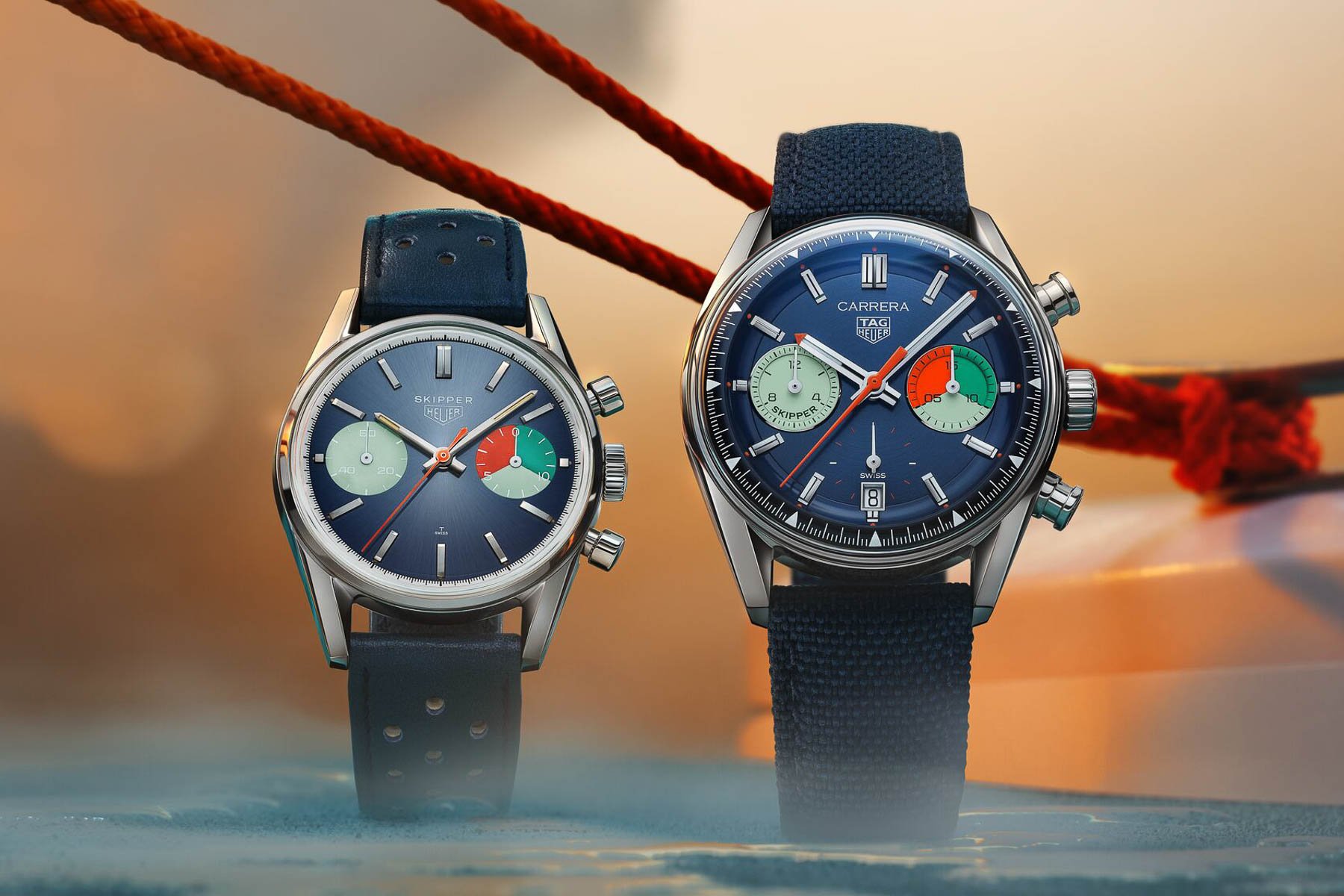 The original Carrera Skipper
Before jumping into the new Carrera Skipper, let's spend some ink on the origin of this model. Historically speaking, Heuer was heavily involved in all sorts of timing-related activities. Car racing was one foray, but Jack Heuer ensured that his brand was also included in yacht racing and organized regattas. The America's Cup has always been the marquee event for sailing, and in 1967, Heuer was the official timer. The Intrepid from Newport, Rhode Island defended its crown. In 1968, Heuer decided to make a watch that took inspiration from this boat. The watch used the original 35mm Carrera case that remains one of the most iconic chronographs in history. However, it brought something very different.
The original Carrera Skipper ref. 7754 added a deep blue dial along with orange and seafoam-green elements. The latter color was inspired by those found on the Intrepid. Functionally, the watch changed slightly because the chronograph counted down from 15 minutes (the first regatta horn) and was subdivided into three five-minute sections. The goal of a racing sailboat is to cross the starting line as close to zero as possible without being early. Some estimate that several hundred of these watches were made, but less than 40 are known to exist today. When a decent one comes to auction, it causes a clamor among the "Heueristi," especially if it is fresh to the market. Asking prices often reach six figures. Jeff Stein, the renowned Heuer expert, has a great article on the history of the original Carrera Skipper and the models that followed until the early '80s.
A (limited) restart in 2017
In 2017, for the 50th anniversary of the Intrepid's win, Hodinkee partnered with TAG Heuer to produce 125 pieces of a new Carrera Skipper. This watch used the brand's 39mm retro "Glassbox" case to create a Carrera Dato-inspired version of the watch. From a functional perspective, it has a 30-minute counter and a date window, so it lacks the pure countdown capability of a regatta timer. Still, it's attractive, and these watches easily sell for over €10,000.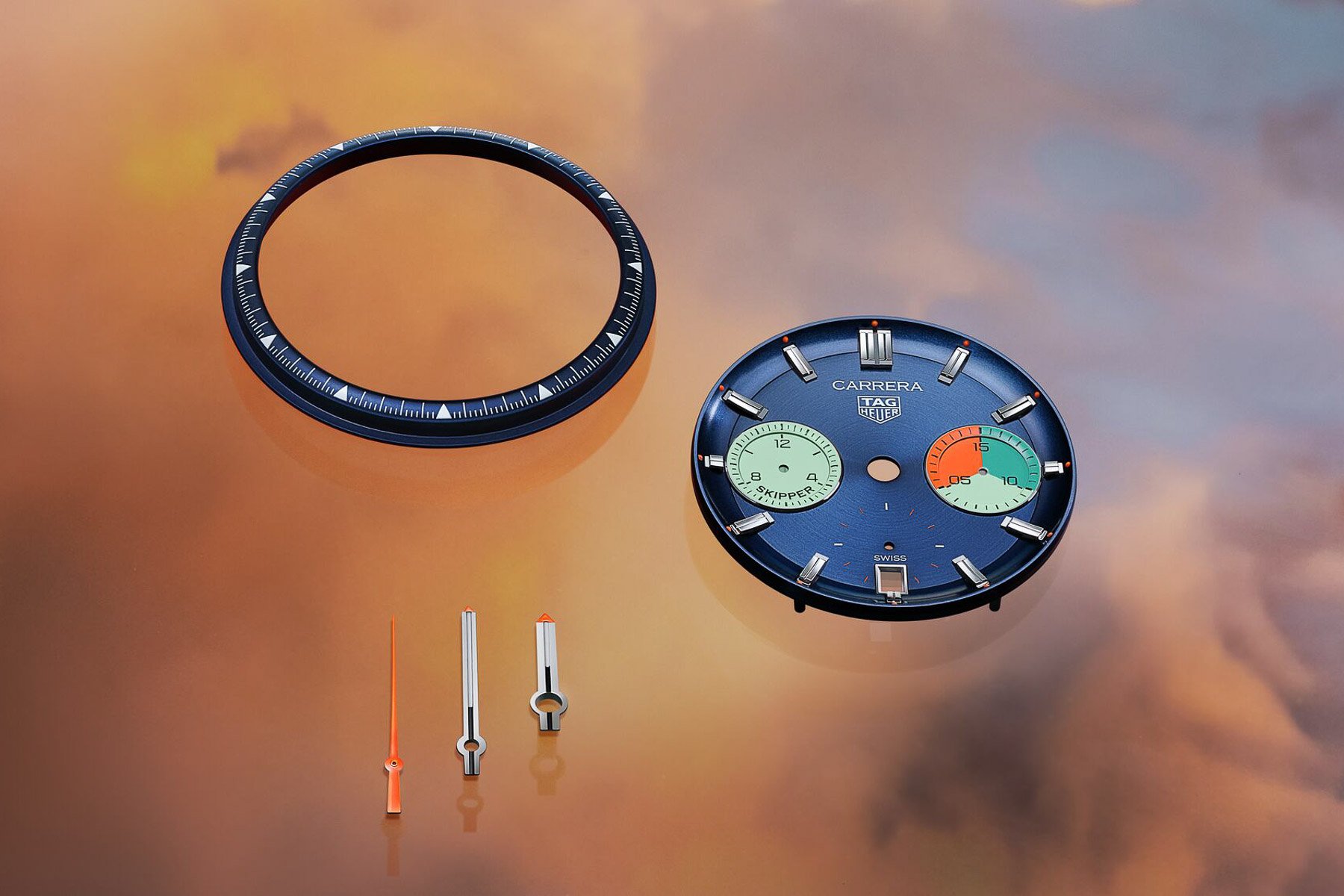 The new TAG Heuer Carrera Skipper is a Glassbox
After nearly seven years of silence regarding the Carrera Skipper, TAG Heuer has elected to create a serial-production model using the theme. Unsurprisingly, the watch is based on this year's new Carrera Glassbox models that Nacho reviewed a few months ago. Those watches contain a highly domed sapphire crystal and dial that, together, provide a smooth and almost-liquid appearance. Intriguingly, two pieces debuted this year, and each has a date window in a different place. They're controversial but also miles ahead of any mainstream Carrera releases in recent memory. These watches also use a 39 × 46 × 13mm stainless case. TAG equips the newest Carreras with the TH20-00 in-house automatic chronograph movement with an 80-hour power reserve. It sports a quick-set date, running seconds, a 30-minute counter, and a 12-hour counter.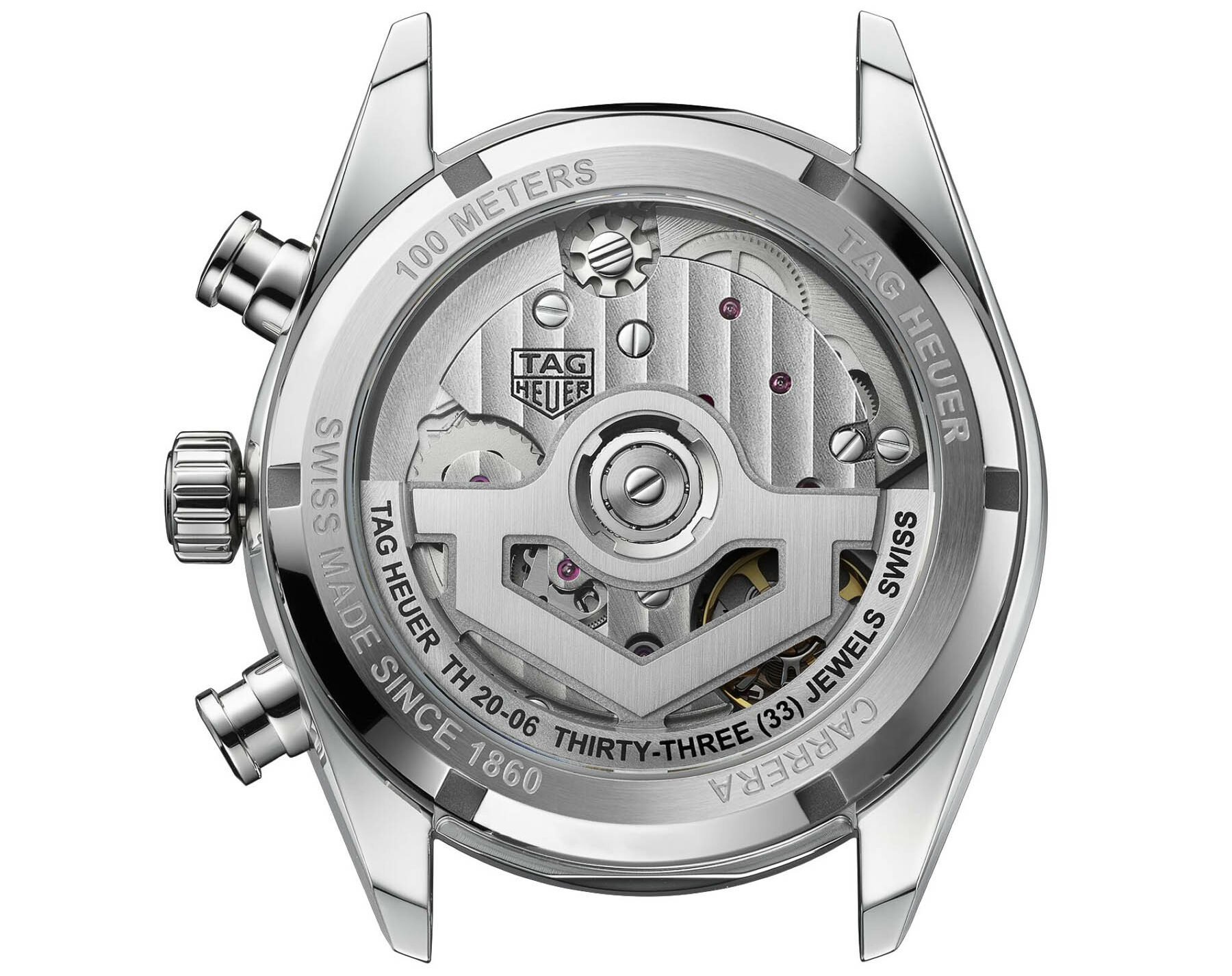 For the new Carrera Skipper, the footprint is the same as the new Glassbox models, and it shares the same domed crystal and dial construction. Inside, things change slightly with the use of the new TH20-06 caliber. This changes the 30-minute counter at 3 o'clock to a regatta-appropriate 15-minute version. Everything else remains the same, including the 12-hour counter at 9 o'clock, running seconds, and the date at 6 o'clock. A display back shows off the revised movement. Of course, the dial is the source of dramatic changes.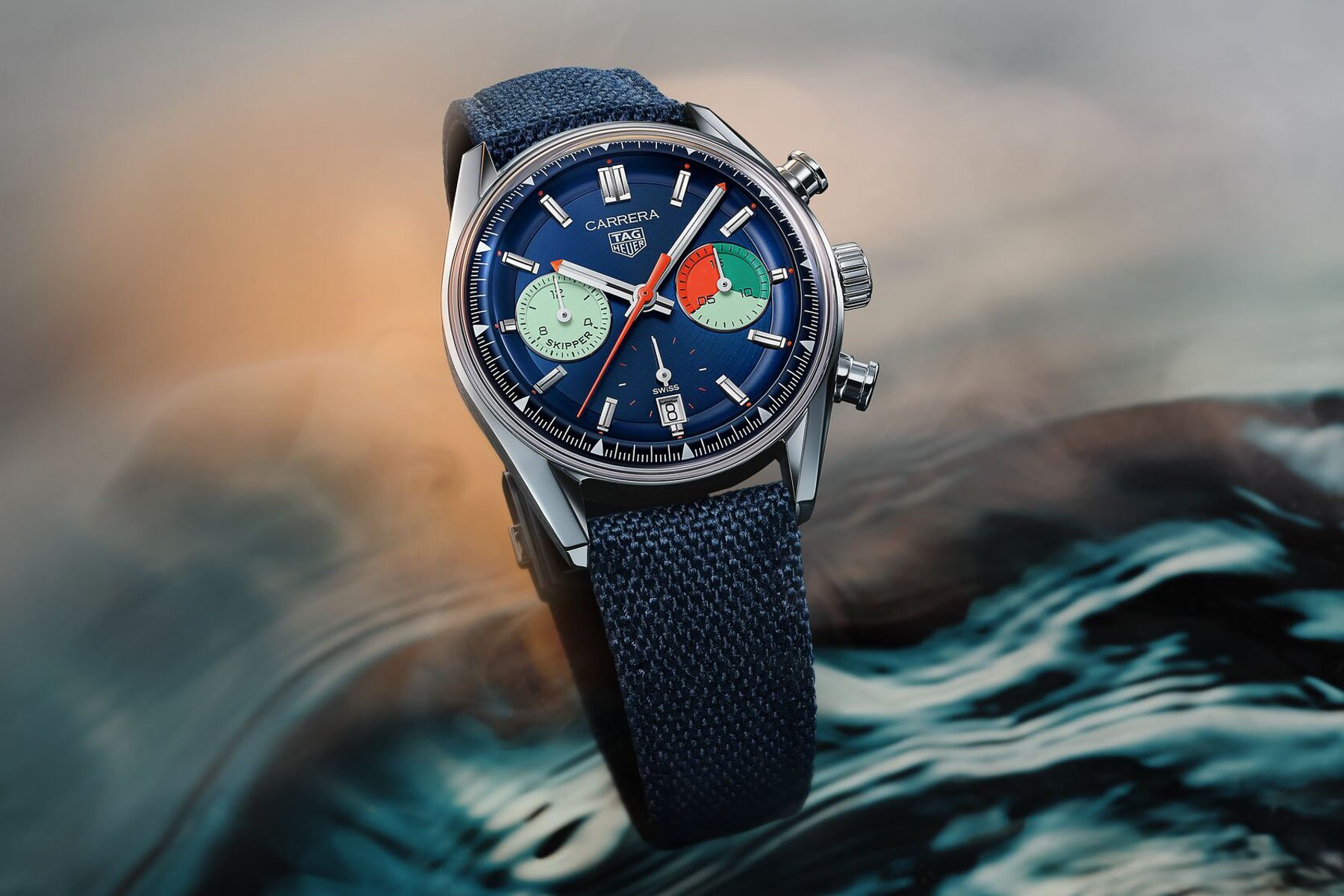 A dial that evokes a legendary reference
With the new TAG Heuer Carrera Skipper, it's evident that the designers intended to stay as close to the original as possible. The leftmost register is in seafoam green, and the right counter brings back the tri-colored five-minute segments. Furthermore, the central seconds counter shows off its bright orange hue just like the original 7754. The bisected and polished hands resemble slightly later Heuer chronographs and also include orange tips. The indices follow the general form of early Carreras but are certainly larger and more modern looking. Orange lume pips also sit at each hour within the upward domed section of the dial. From a distance, there's no doubt that this is an eye-catching watch. It's when we get closer that my brow begins to furrow.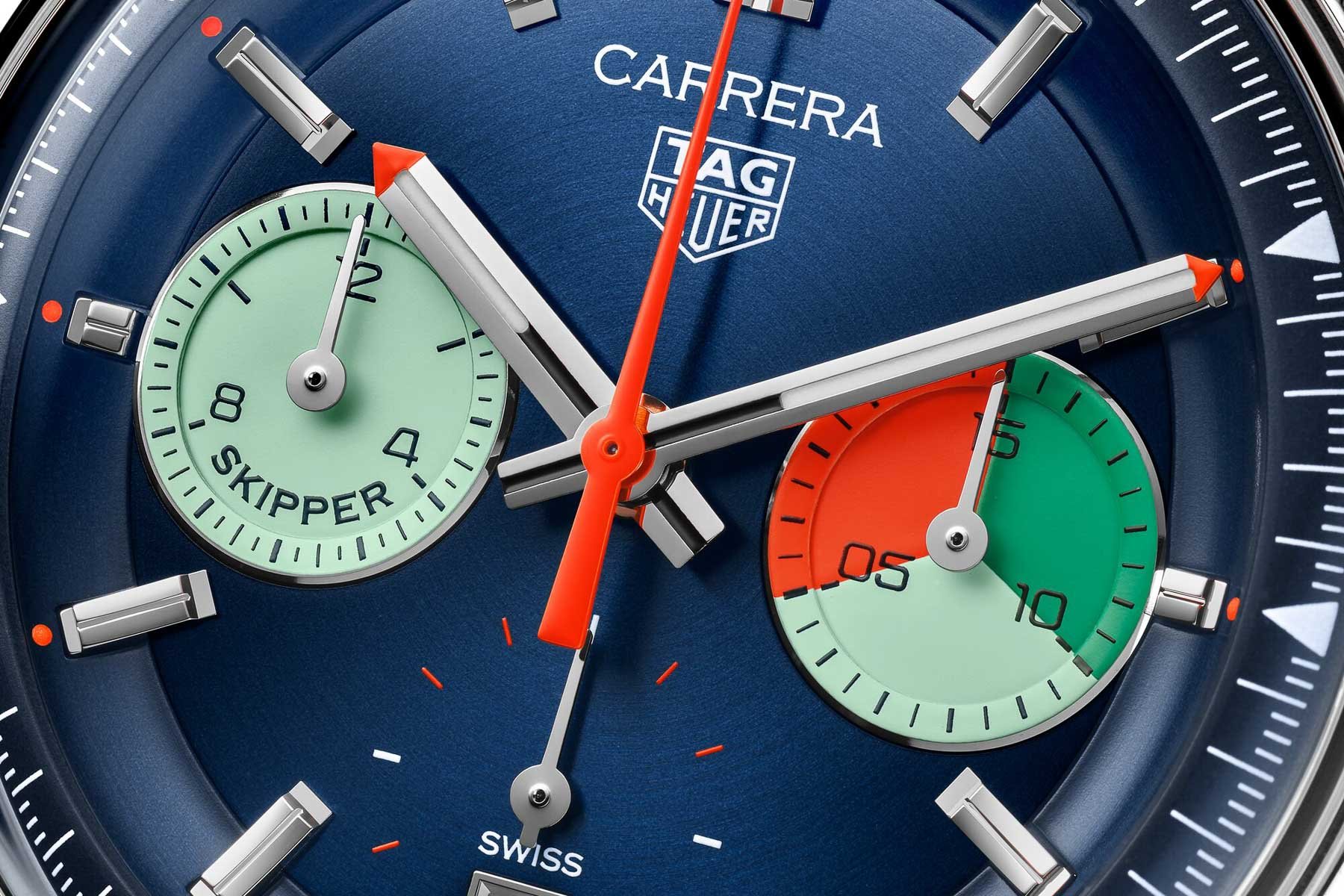 Details matter
TAG Heuer is an interesting brand. It's incredibly popular, and at least during my lifetime, it has served as a real go-to for aspiring young professionals. First big job out of school? Buy a TAG Heuer. For those who are discovering mechanical watches, TAG Heuer is there to lure in new customers. When it comes to attracting more mature buyers, though, I still feel there's room for improvement. The finishing is now where it should be, and the movements are up to spec as well. No, my struggle is that TAG seems to often make choices to appeal to everyone. And when you try to appeal to everyone, well, sometimes the result is less than planned.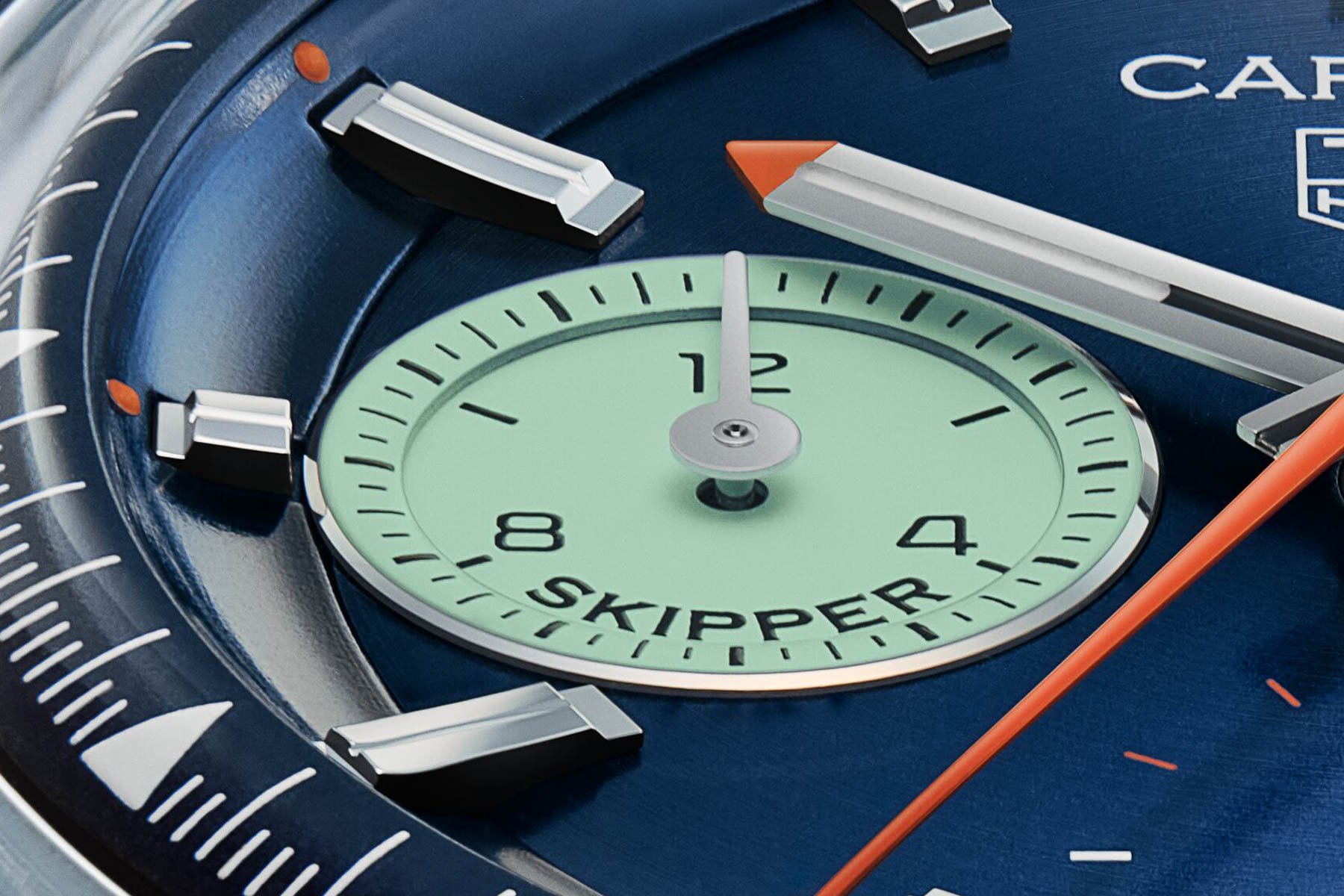 When adding results in subtraction
Before today, the Carrera Skipper was a watch known to no one other than true fans of the brand. If TAG wants to bring it to a wider crowd, that's fine, but why alienate the guaranteed core buyers with some hamfisted additions? Every Skipper in this color combination eschewed the "Carrera" name on the dial and used Skipper instead. Here, we have a clumsy placement of the verbiage at 9 o'clock. I suppose I could get used to that, but why compromise? Then — and this is an ongoing concern I have with current TAG chronographs such as the Carrera and Monaco — there's the real estate at 6 o'clock.
When it comes to moving watches, I am 100% sure that TAG has done its research and knows that buyers prefer a date function and running seconds. But when a designer creates a there/not-there register at six for running seconds, it doesn't feel convincing. Does TAG want it there, or are the designers just checking a box? I'd opt to get rid of it. Furthermore, why not be bold while we're at it and delete the date function altogether? This watch is based on a highly niche reference that did not have a date. It strikes me as highly optimistic to think that, after the initial sales surge, the normal Carrera buyer will opt for anything other than the mainstream black or blue models. So why not cater to the enthusiasts with the Carrera Skipper? It's okay not to try and please everyone all at once.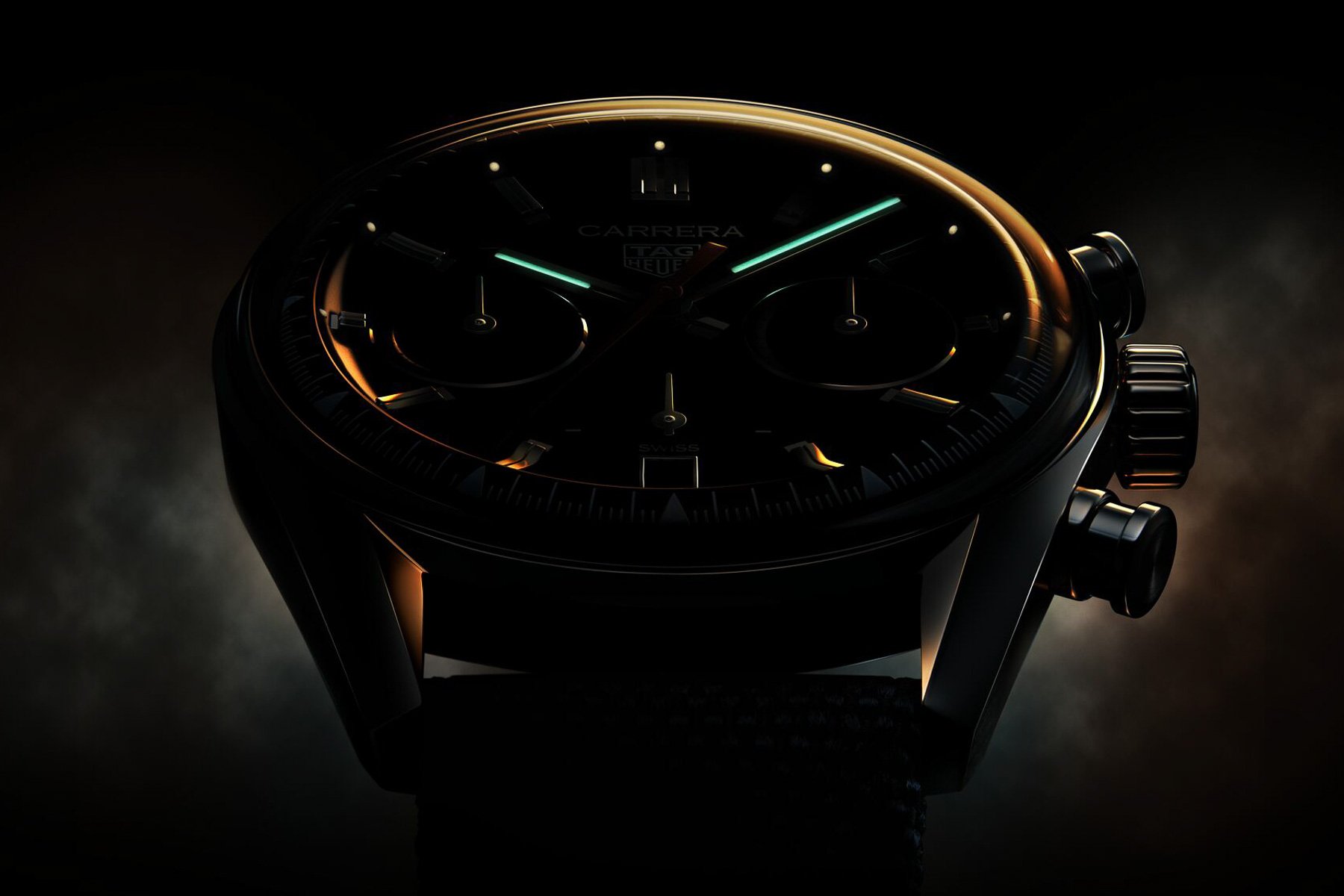 Back to the positives
Despite my concerns, I'd certainly rather have the TAG Heuer Carrera Skipper on the market than not. The colors are fantastic, and I really enjoy the Glassbox concept. Plus, it looks nice on its blue fabric strap with a push-button deployant buckle. I'd also say that I find most current regatta chronographs a bit ugly, and this watch is miles ahead of those options. Plus, as I mentioned earlier, TAG really seems to have gotten its finishing down pat and is far more deserving of its price category than ever before.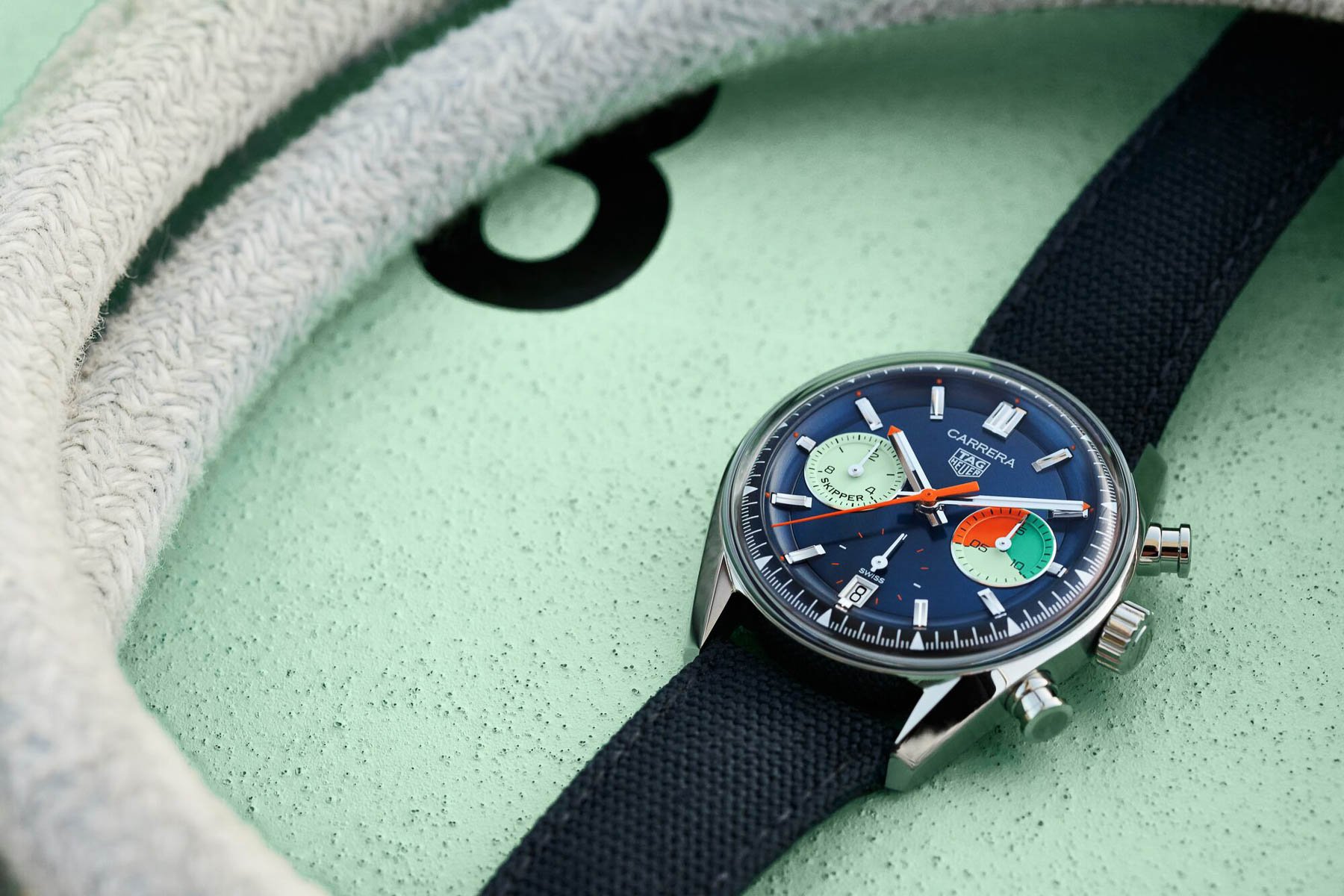 Pricing and final thoughts
The TAG Heuer Carrera Skipper will go on sale in July for CHF 6,600, which is CHF 300 more than the current Glassbox Carreras. I don't think that's out of line considering the slight movement tweak. In the end, it's a truly solid effort, and I love the color scheme. I'd simply like it better if I didn't have any reservations. Hopefully, my honest opinion didn't alienate you if you're in love with the watch! Perhaps I'm the stodgy vintage curmudgeon. Regardless, let's hear your thoughts in the comments below.
For more information on the new Carrera Skipper, visit the official TAG Heuer site.
Watch specifications
Model
Carrera Skipper Chronograph
Dial
Blue circular-brushed dial, rhodium-plated hands and applied indices filled with green Super-LumiNova
Case Material
Stainless steel (316L)
Case Dimensions
39mm (diameter) × 46mm (lug-to-lug) × 13mm (thickness)
Crystal
Glassbox domed sapphire
Case Back
Stainless steel with sapphire window, screw-in
Movement
TAG Heuer TH20-06 — automatic chronograph, 28,000vph frequency, 80-hour power reserve, 33 jewels
Water Resistance
10 ATM (100m)
Strap
Blue fabric strap with push-button folding clasp
Functions
Time (hours, minutes, small seconds), chronograph (central seconds, 15-minute counter, 12-hour counter), date
Warranty
Two-year international warranty