The Best Enamel Dials In The Industry: AnOrdain, Voutilainen, Vacheron Constantin, And… Seiko?
Dave runs us through his faves
Enamel dials are, to some degree, the darlings of the watch industry. A famously fussy material that takes great skill to work with and master. We sit up and listen when we see brands launching watches using enamel dials. Why? Because when done well, enamel dials look absolutely incredible, adding a level of depth and visual appeal quite unlike any other material. So, what are some of the best enamel dials in the business? Let's take a look.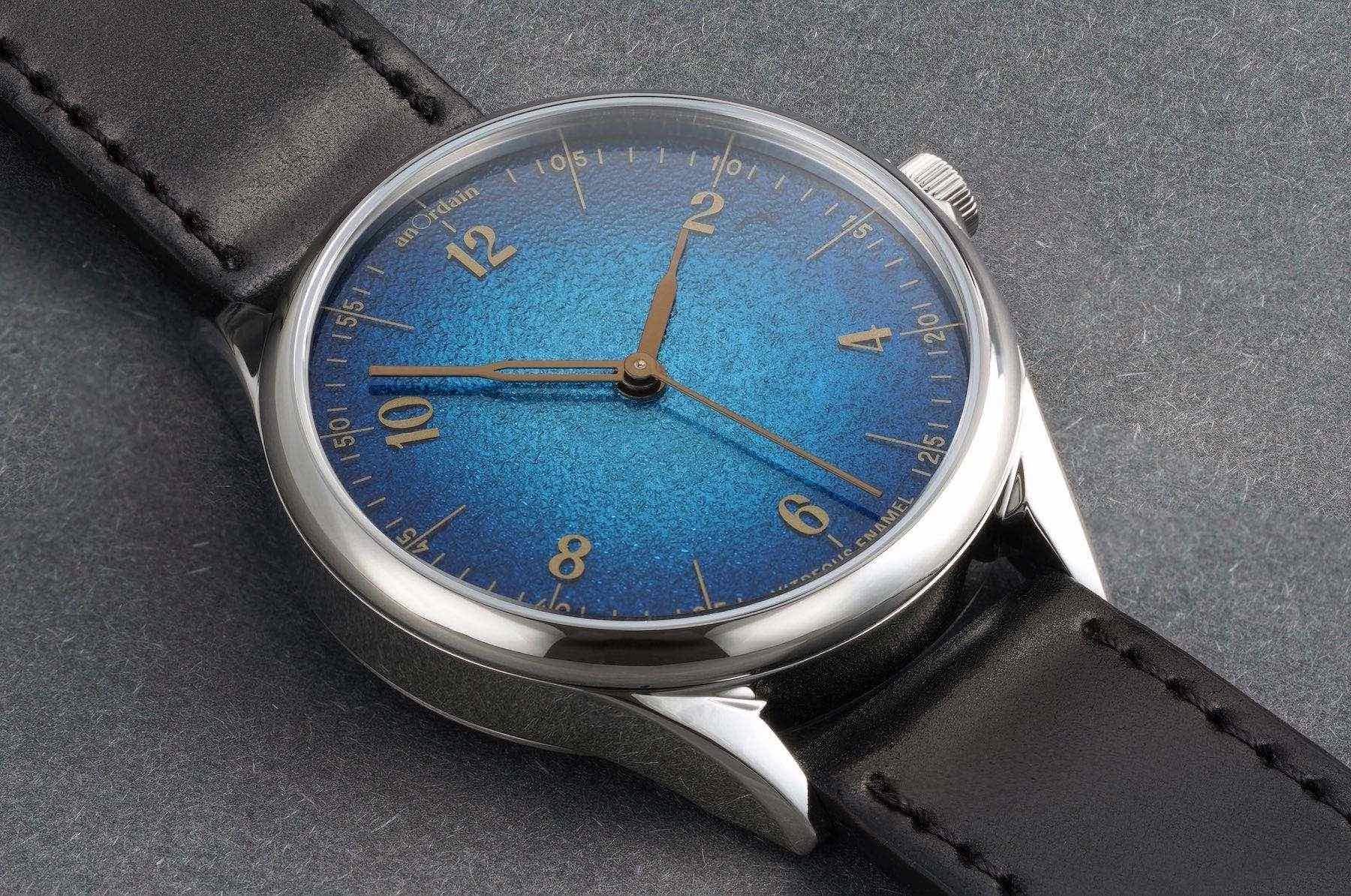 ​​AnOrdain
As a Brit, I have to start this list off with a British company. At Fratello, we're also quite fond of anOrdain as they've made waves over the last few years with a range of stunning enamel-dialed watches. The Scottish brand uses vitreous, or "Grand Feu" enameling for its dials. Vitreous enamel comes as the product of the art that is fusing glass to metal. To achieve the finished look, the brand's artisans start off with a super-thin metal dial blank. Then, very carefully, multiple layers of enamel powder are sifted onto the dial blank and fired at temperatures of over 800 degrees celsius. The resulting dial is less than 1mm thick with a beautiful flat and consistent finish.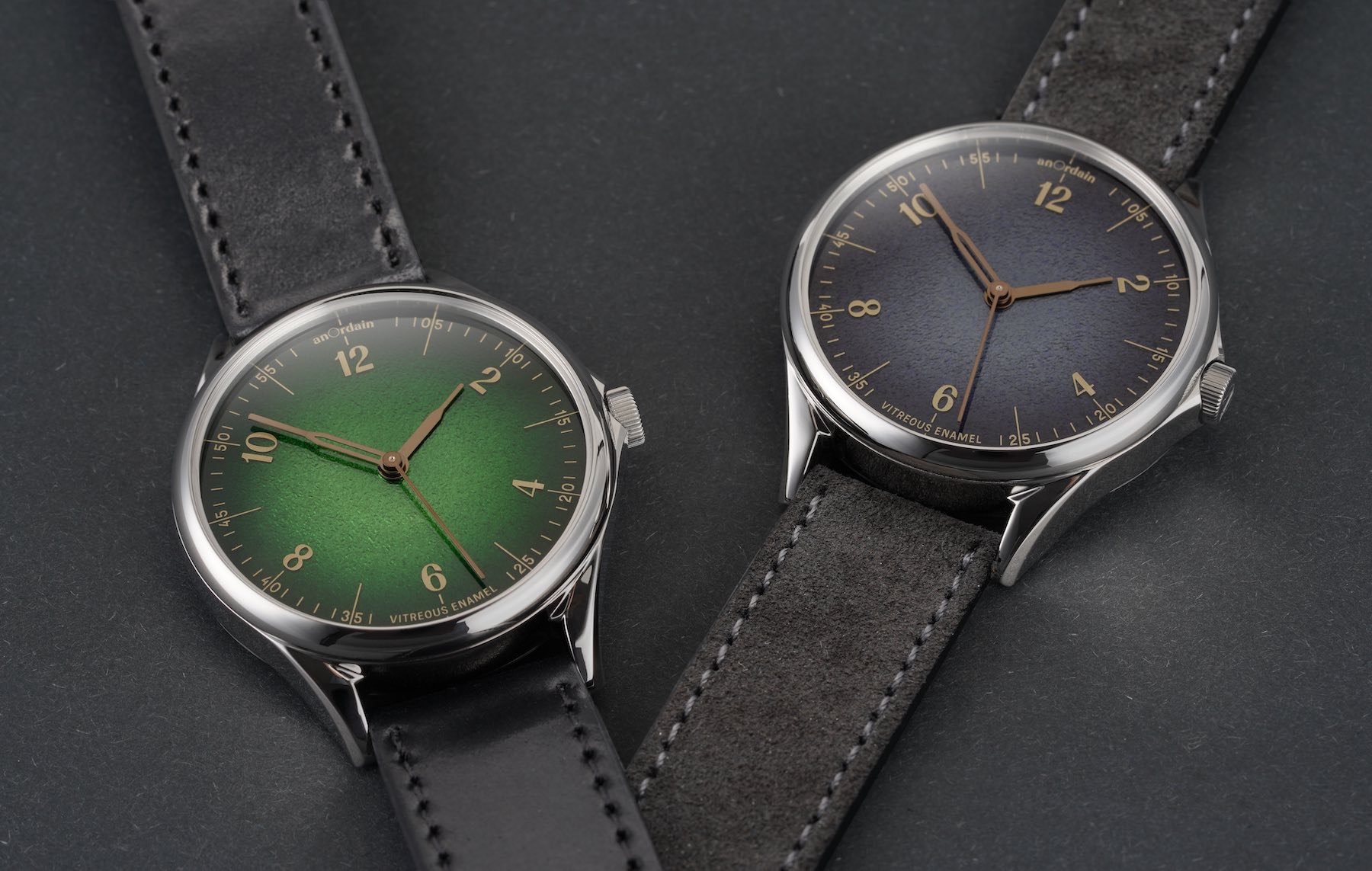 Chaos causes creativity
Of all of anOrdain's watches, the fumé enamel dials are my favorite. Interestingly, they only came about as a result of a small mistake during production. Don't you love it when chaos causes creativity? Basically, during experimentation, the anOrdain team found that a silver dial had the propensity to warp and naturally dome during the enameling process. When the domed dial was sanded flat, it took on the now-signature fumé coloration.
AnOrdain made the fumé enamel dial available in a range of colors. Each looking as tasty as the next. If I had to choose just one, I'd probably go for the blue fumé Model 1  and whack it on a nice brown leather strap. That combo would just sing for days.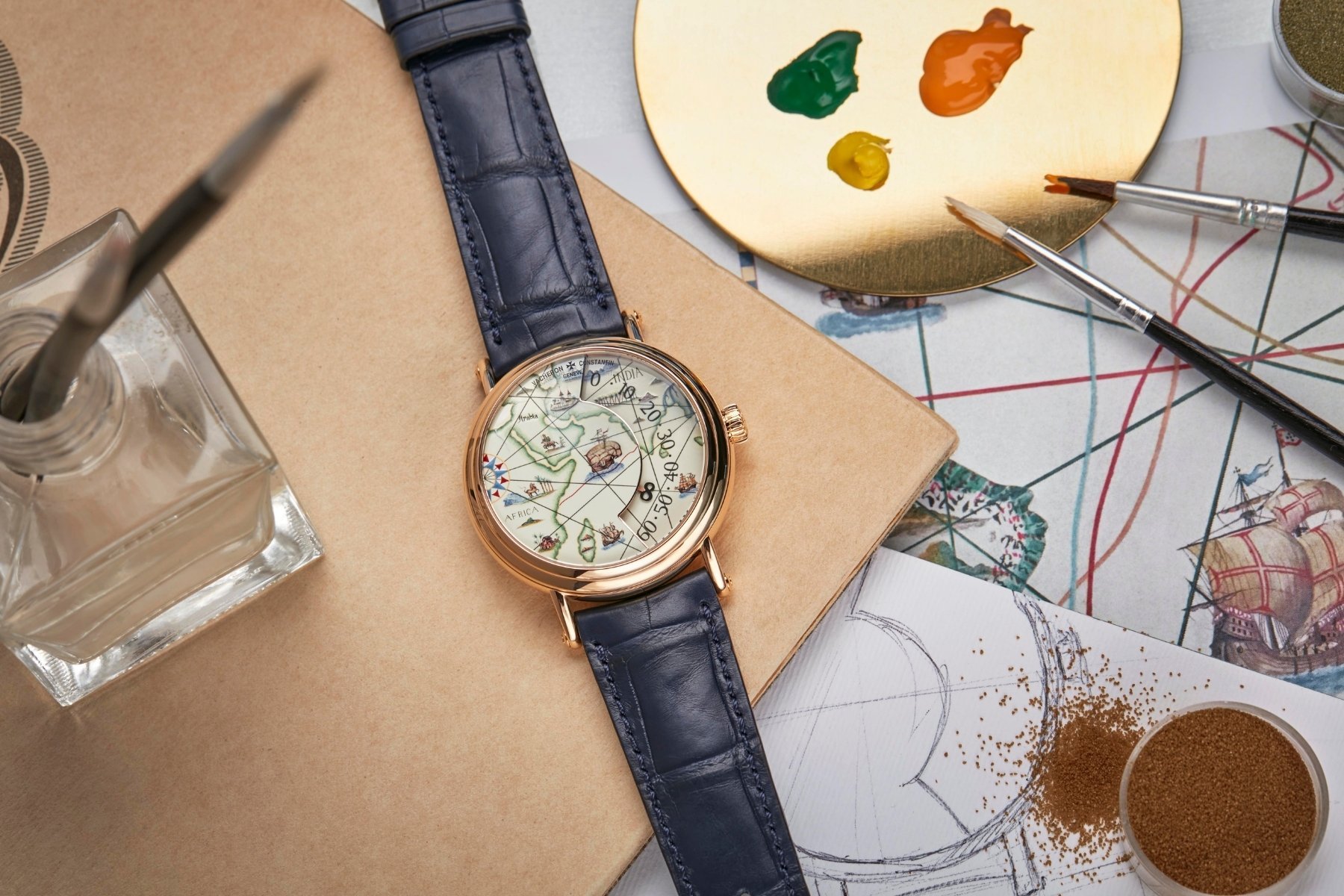 Vacheron Constantin
Next up is one of the masters. We commonly know, love, and respect it as one of the three pillars of the Holy trinity of watchmaking. A brand does not get a reputation like that without being a master of its craft. Vacheron Constantin has proof of expertise in practically all areas of watchmaking in its catalog, so it'll be no surprise if you weren't already aware of its "dabbling" in enamel.
Earlier this year, Vacheron Constantin announced three extremely limited watches paying tribute to some of the world's most famous explorers. Falling into the brand's Métiers d'Art family, the three watches are a shining example of the brand's skill and mastery of enamel craft. The dials are incredibly refined. The inspiration behind these models is a map from the 1519 Miller Atlas. And as you can imagine, to replicate the map, Vacheron Constantin could do only one thing — turn to its Grand Feu enamellers for help.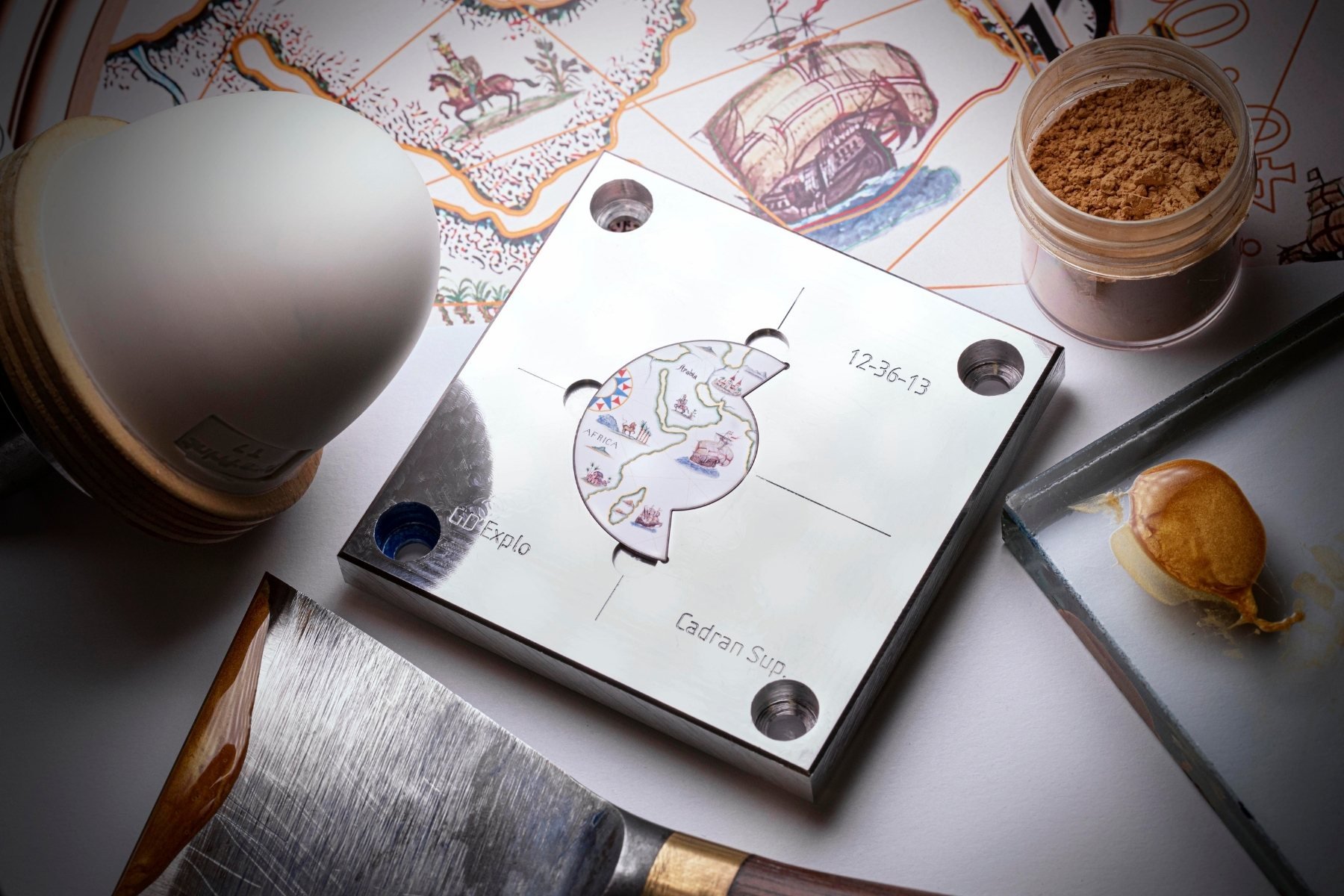 An ode to exploration
Enamel had to have been the most logical choice when the decision was made to honor Bartolomeu Dias, Vasco da Gama, and Pedro Álvares Cabral with these watches. Such small and delicate designs and motifs lend themselves to this ancient technique. It takes Vacheron Constantin's artisans an entire month to create a single dial for those of you wondering. That includes 11 different stages of enamel application and firing. Just one small mistake or natural inclusion in the finish, and the dial is ruined. Countless hours' work wasted in a flash. That takes some real patience that I certainly don't possess, and therefore admire greatly!
As mentioned, each of these three watches has a unique hand-enameled dial. Looking at the images here, I'm sure you'll agree that the finished product is pretty incredible. Each of the three Métiers d'Art watches comes in a 41mm pink gold case and each design is limited to just 10 pieces.
Voutilainen
Kari Voutilainen: the name alone should be enough for this article, but humor me. Kari is a Finnish watchmaker who creates pretty much all of his watches to order in the colors, finishes, and styles his clients desire. If you've ever seen some of his work up close, you'll get it. Kari Voutilainen is a well-respected figure in the industry and will surely be a name recalled many years from now.
I had the good fortune of seeing the collaboration between Kari's eponymous brand and De Bethune for Only Watch 2021 at Geneva Watch Days last week. While Kari's contribution did not feature any enamel finishing, there was plenty of guilloché on display. So, now take that guilloché and add a "dusting" of enamel? Yes, this is where words become very limiting to try and do justice to the combination. I've only seen pictures of his guilloché and enamel creations, but man, they look superb.
Guilloché + enamel = perfection
When you take the undulating geometric guilloché patterns and add in a spattering on enameling over the top, you create something that appears to be greater than the sum of the two parts. The superb complement of the patterns and enamel is tough to describe. The depth they create with one another is incredible. The closest I can come to it is by asking you to imagine a beautiful sculpture under the surface of a blue pool of water, with the waves gently lapping over it. This is art. A perfect example is the Voutilainen 28E in the images above. Amazing stuff.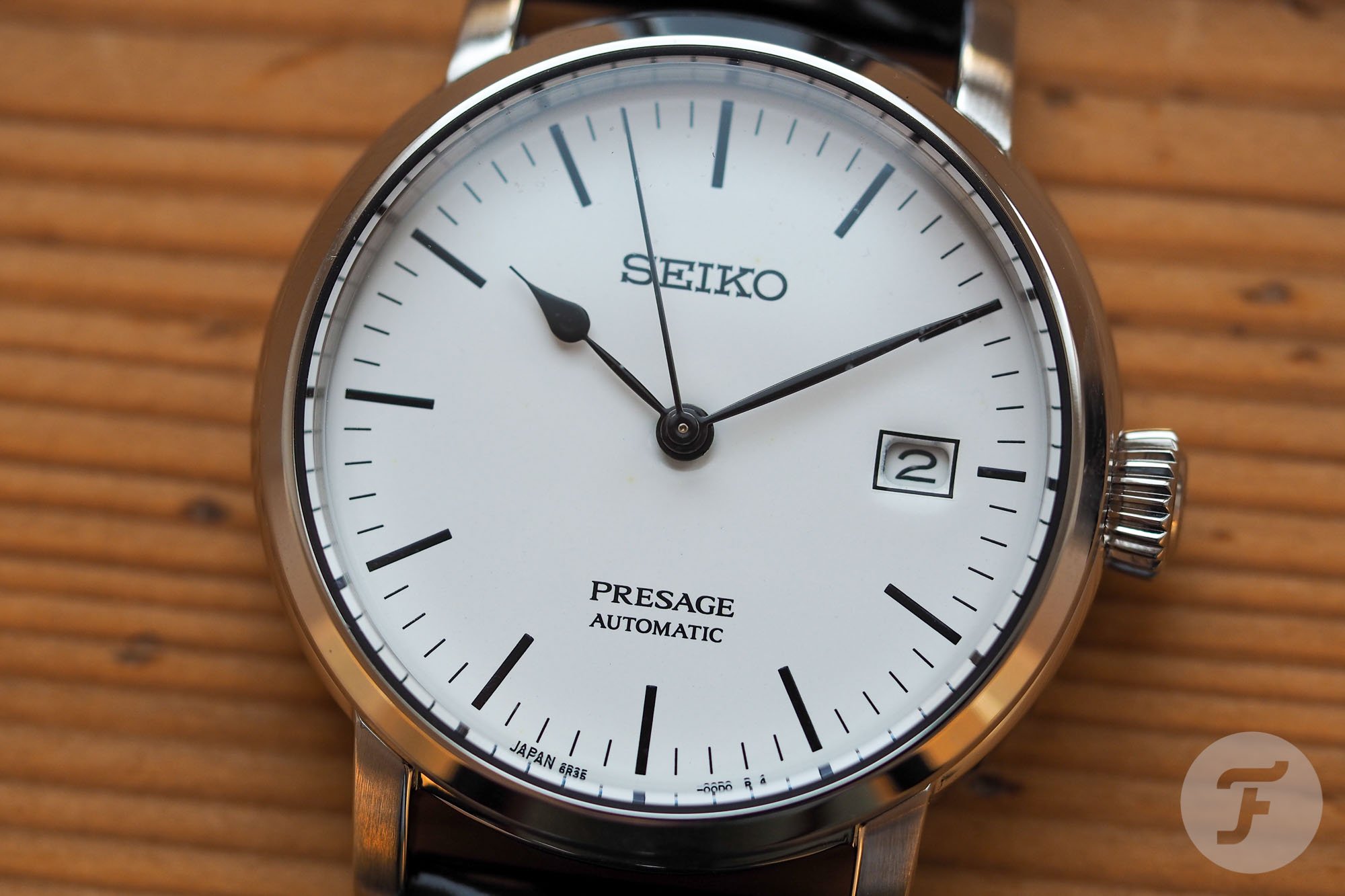 Seiko Pressage
You may be surprised by my inclusion of Seiko in this article, but hear me out. In 2017, Seiko released a trio of watches with crisp, white, enamel dials. Compared to the other watches in this article, I'd forgive you for thinking these are perhaps a bit "bland". What's a flat white dial in contrast to the guilloché enameling by Voutilainen, right? I understand that point entirely, but the answer lies in the craftsmanship and skill required for the execution of such a dial.
Now I'm not saying for one second that Seiko's craft is superior to Kari. That'd be ludicrous. But, when Seiko's artisans were tasked with producing flat white enamel dials, the room for error practically is non-existent. Those stark white dials leave no room for even the slightest mistake. They're even more unforgiving than other colors, especially when combined with textures. As a result, the rejection rate is incredibly high. For Seiko to create the number of watches that it does with these extremely tricky enamel dials speaks volumes to the skill and dedication of the Japanese brand's team of artisans.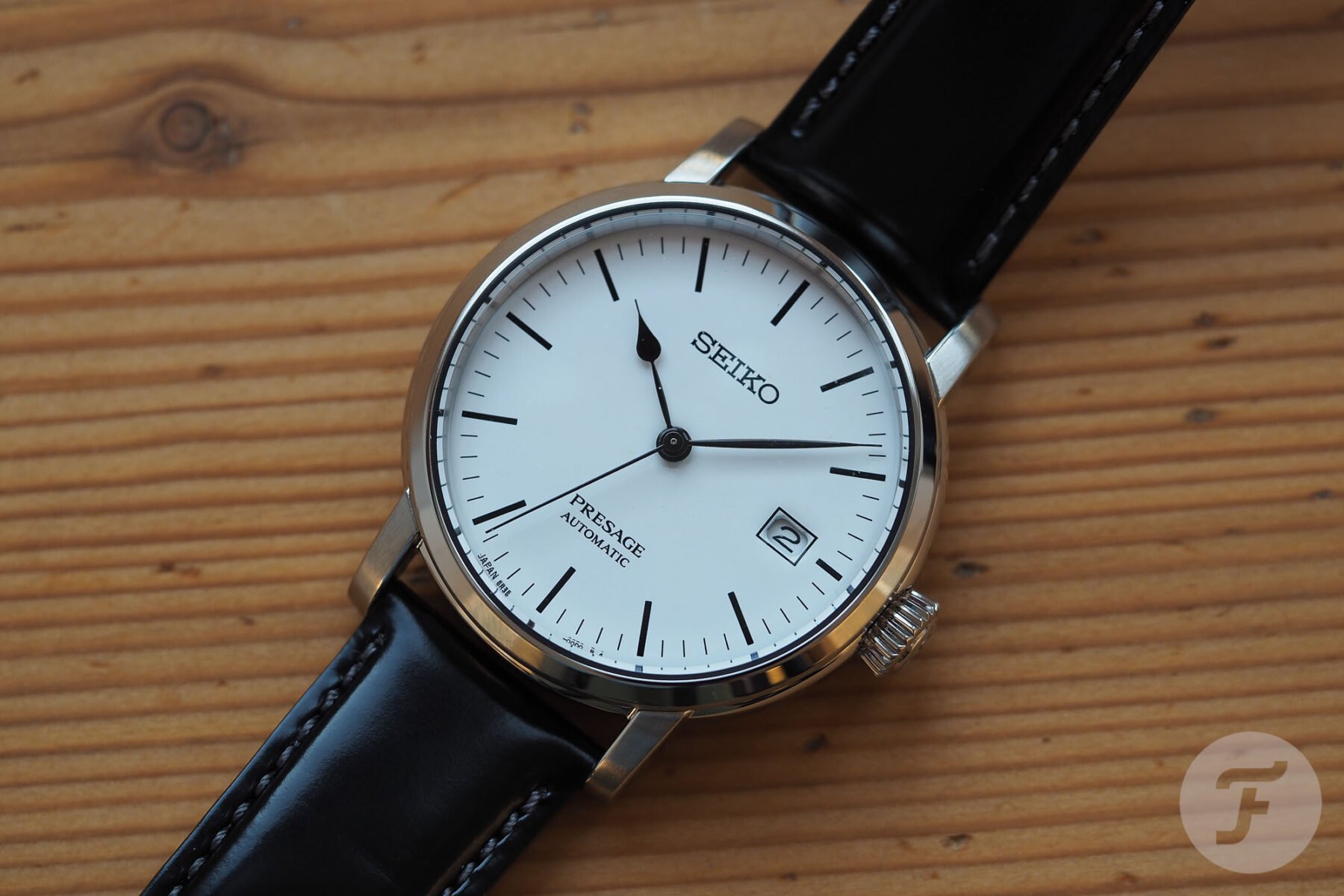 So close…
It's not just white enamel dials that Seiko produces, but of all the options, they are without a doubt my favorite. After I started at Fratello back in October of last year, I looked at a Seiko SPB161J1 with its gorgeous white enamel dial as a celebratory purchase. I was so close, but in the end, I decided to go the extra mile and plump for a Grand Seiko SBGA407 Skyflake. However, I'd be lying if I said I don't keep circling back around to the Seiko SPB161J1 from time to time!
So there we have some of what I believe to be the best enamel dials on the market. There are plenty of other watches that probably deserve to be on this list. Of course, Patek Philippe and Rexhep Rexhepi are two names that spring to mind, but time does not permit me to delve into them today! I'm keen to hear your thoughts, though. Are there any particular watches you feel should have made this top 4? Why? I also want to hear from owners of enamel dialed watches; what drew you to the purchase?
Follow me on Instagram: @davesergeant