The Best Solid Gold Omega Speedmaster Watches
RJ's top five Speedmasters in the precious metal
I love my gold Omega Speedmaster, but it took me quite some time to warm up to the idea of having a sports or tool watch in gold. The Omega Speedmaster was initially meant as a tool watch, for sportspeople and scientists. We all know the old advertisements with the racing car and the Speedmaster featured as a timing device. To make one of these watches in precious metal was then not such an obvious choice. However, hindsight is 20/20 and we now know that there's nothing quite as special as a Speedmaster in gold!
Essentially, I still feel that a tool watch shouldn't be made of gold. Or, better said, a watch you will use as a tool watch. However, I also believe that a) you should buy and wear whatever you like and b) these are not watches that will not likely end up being used as true tools.
Tool watches in gold
The Omega Speedmaster was never a cheap watch to start with, but neither was the Rolex Submariner or the Breitling Navitimer. These watches had a specific purpose and were properly used in a time where there was no alternative. Today, your smartphone (or any quartz watch) is more accurate than your mechanical watch. Divers, pilots, scientists… They all might wear a watch that suits their profession, but they're depending on different (electronic or digital) equipment today to get the job done. Although the watch might be seen as a backup, it's often there more for nostalgic reasons. What I meant by "never cheap to start with", is that today, these watches are luxury watches. You don't need them, but it's something you value enough to buy, wear, or collect.
In my opinion, this also makes it perfectly fine to have these types of watches in gold. In the past, I have been guilty of saying and writing that "this watch needs to be in steel". Until I started to realize that things aren't always that black and white, and especially with the transition of watches from being a necessity to a luxury item, it's all fine. Whatever you prefer, I'd say.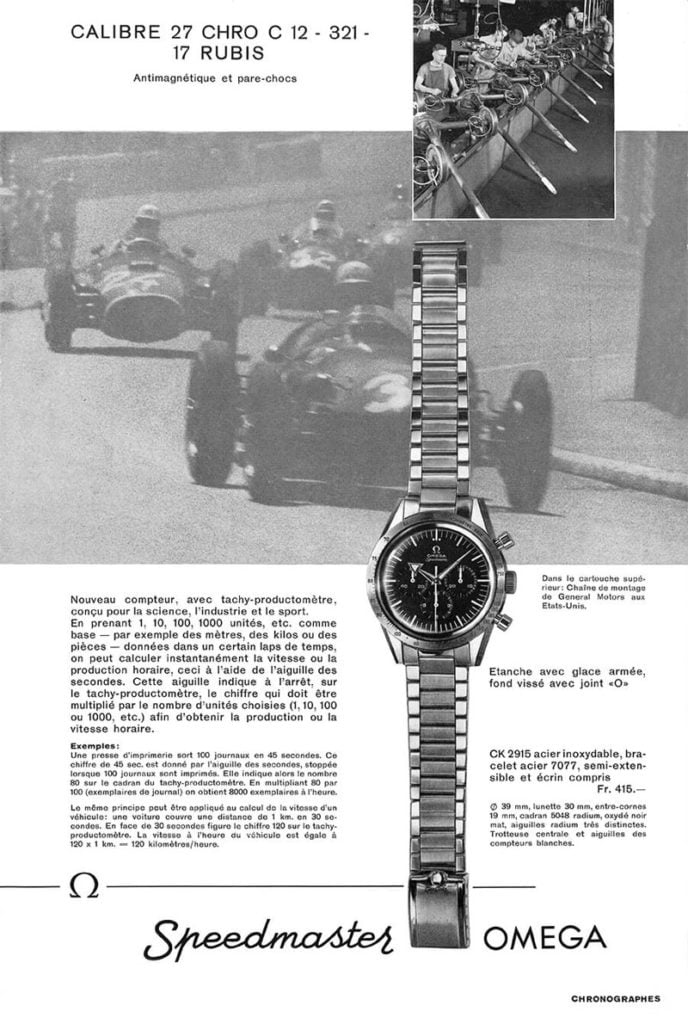 Saving lives
This also applies to the Omega Speedmaster, for example. The most affordable version is €6,200 with its Hesalite crystal and closed case back. I am pretty sure that the majority of you are taking incredibly good care of this watch, not taking unnecessary risks to damage it. It is nearly the same as the watch that helped to save the life of astronauts in space. But today, it's a luxury watch. And, as Omega demonstrated with some of the Speedmaster models out there, it also works perfectly well in gold.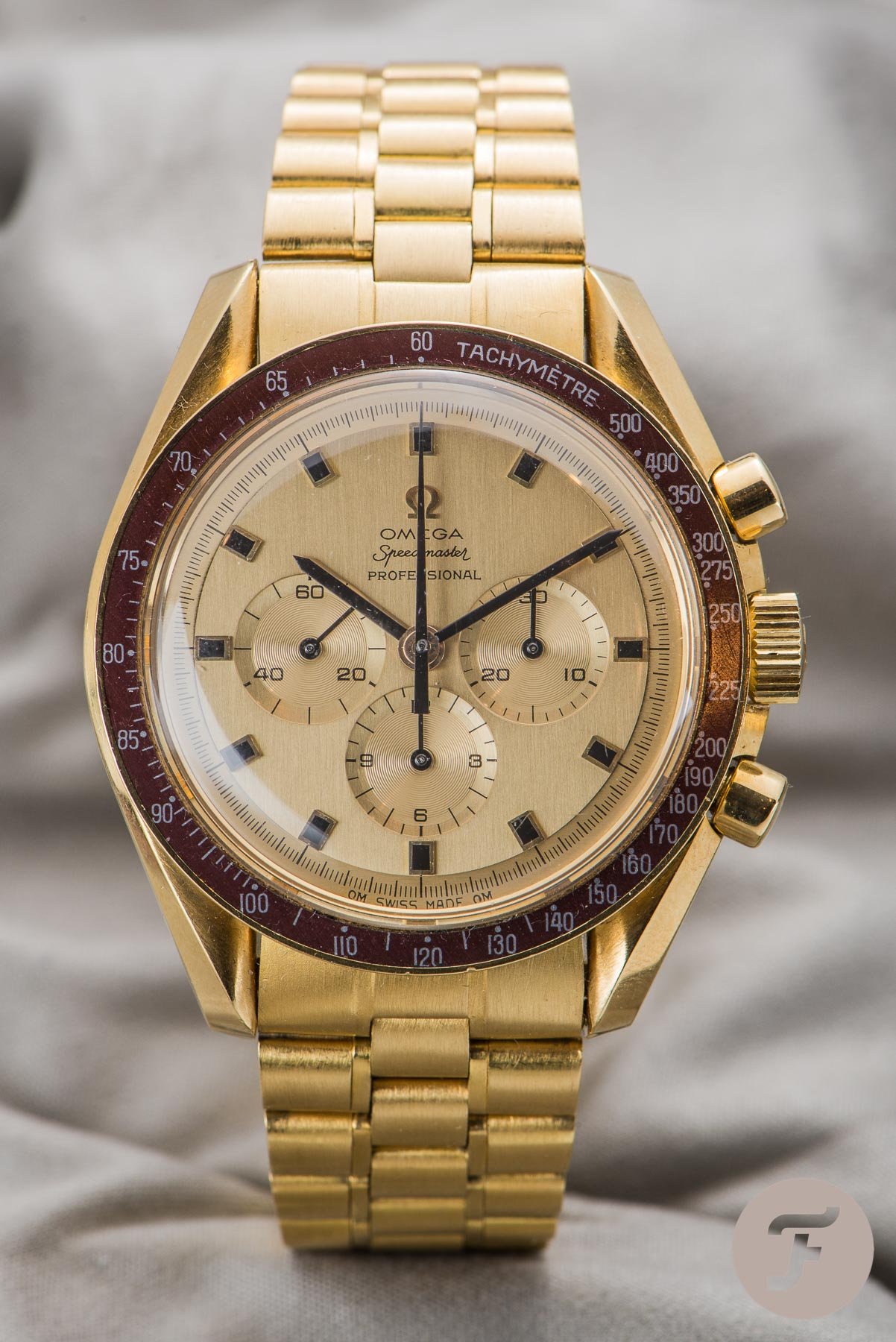 The first gold Omega Speedmaster Professional
The interesting part is that already in 1969, Omega created an 18ct gold version of the Speedmaster Professional Moonwatch. A tribute to the NASA astronauts at the time. The first 32 were all presented during a dinner in Houston on November 25th, 1969, to active NASA astronauts, the US President, and the Vice President.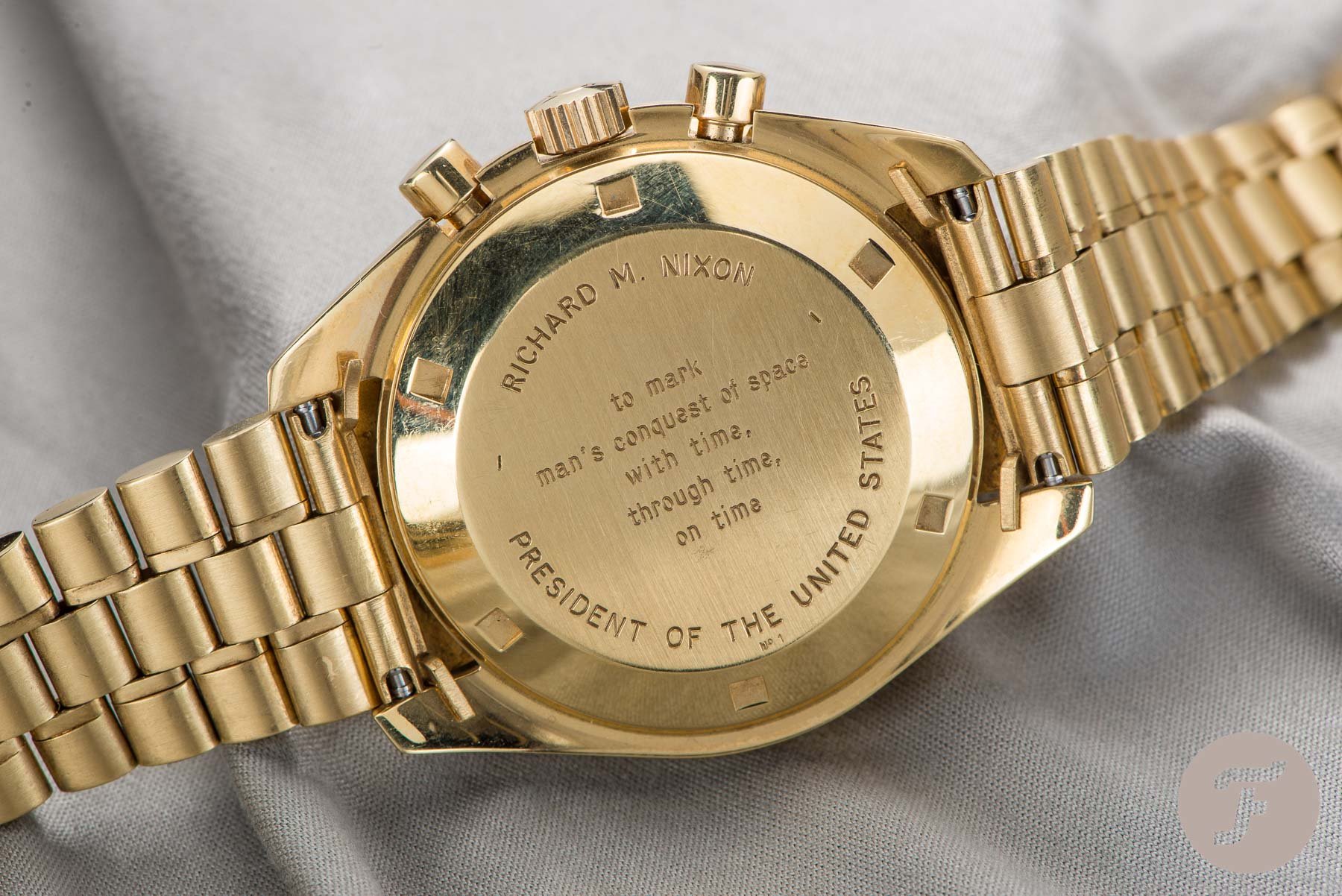 Omega started to manufacture and deliver them to the markets (without the personal case back engraving for astronauts and the White House). There were more manned flights after that gala diner in Houston, so other astronauts received their gold Speedmasters later on. Omega decided to number those watches from 1000 to 1008 and present them to astronauts until 1973. Another 6 watches were numbered (from 1009 to 1014) to present to various VIPs. Omega produced 1014 pieces in total, this was the first (numbered) Speedmaster edition. Something they would repeat in 2019 for the 50th anniversary of Apollo XI. In 1980, the second gold Omega Speedmaster Professional was introduced. Again, not a limited edition, but a numbered one instead. Three hundred pieces in yellow gold and only 20 in white gold. Unlike nowadays, those watches were in the catalog and "in stock" for years (even up until the late 1980s).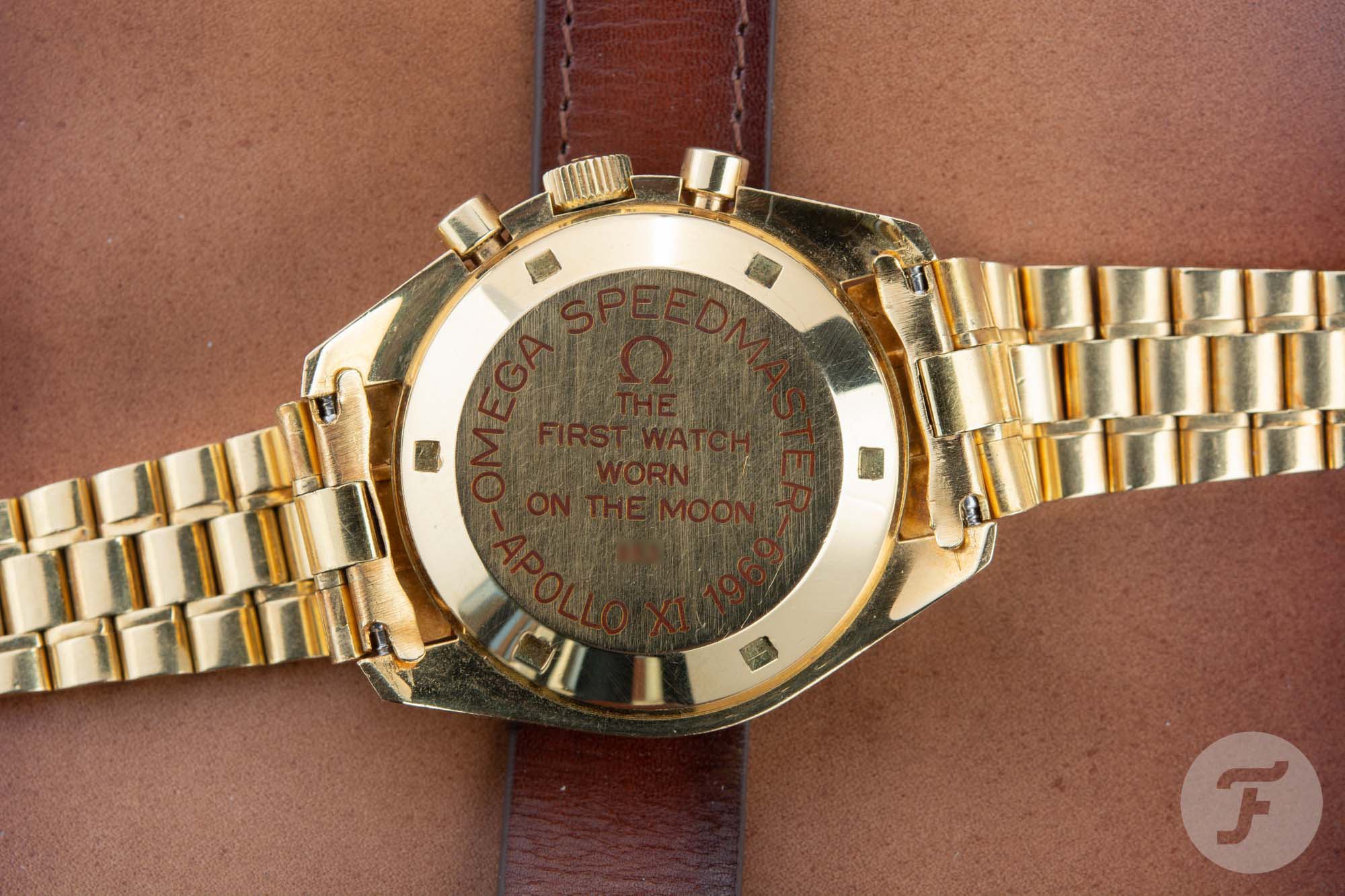 The best Omega Speedmaster watches in gold
From then on, the occasional Omega Speedmaster in gold would appear. Some are more successful than others, and for a long time, you were able to pick one up for low amounts of money. I even vividly remember a 1969 Speedmaster (BA145.022-69) in gold offered to me around 20 years ago, for not more than €5,000. When I purchased my first gold Speedmaster Professional BA345.0802 from 1980, back in 2014, I paid about €7,500. Far less than the prices we see today.
Interesting to know is that until quite recently, gold Speedmasters were basically up for grabs (relatively speaking, of course). The Speedmaster Apollo 17 in gold and the Speedmaster Apollo XI 50th anniversary from 2019 changed that for good. On top of that, I think that the general interest in Speedmaster watches increased quite a bit in recent years, including the gold editions. To cut a long story short, here is my list of the best Omega Speedmaster watches in gold. Not considering any current market values or prices, just based on design and story.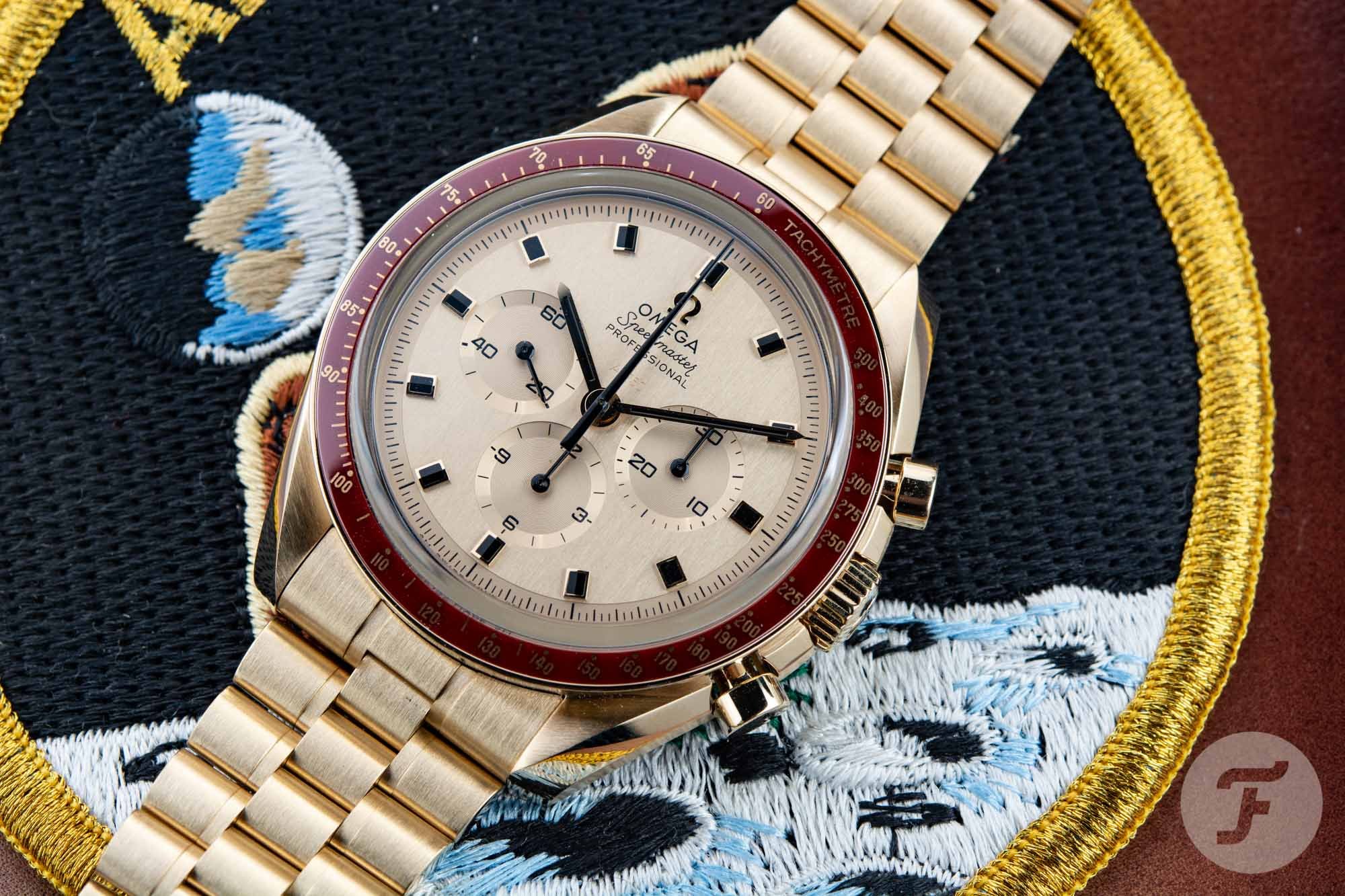 1. Omega Speedmaster Professional Apollo XI 50th Anniversary
You might be a little bit surprised that I put this before the original Apollo XI in gold. It might have been different if I had selected a very specific model, worn or owned by an astronaut, for example. But in general, I prefer the 50th-anniversary re-edition from 2019 over the original. And I don't do this lightly, as it is often the case with re-issued watches that the originals are just nicer. In this case, Omega surprised many, by respecting the design of the original Speedmaster "Tribute to Astronauts" from 1969, and adding some very cool features to it. I am not even talking about the ceramic bezel or the gold hands instead of black, but about the little piece of lunar meteorite in the bezel of the case back, for example.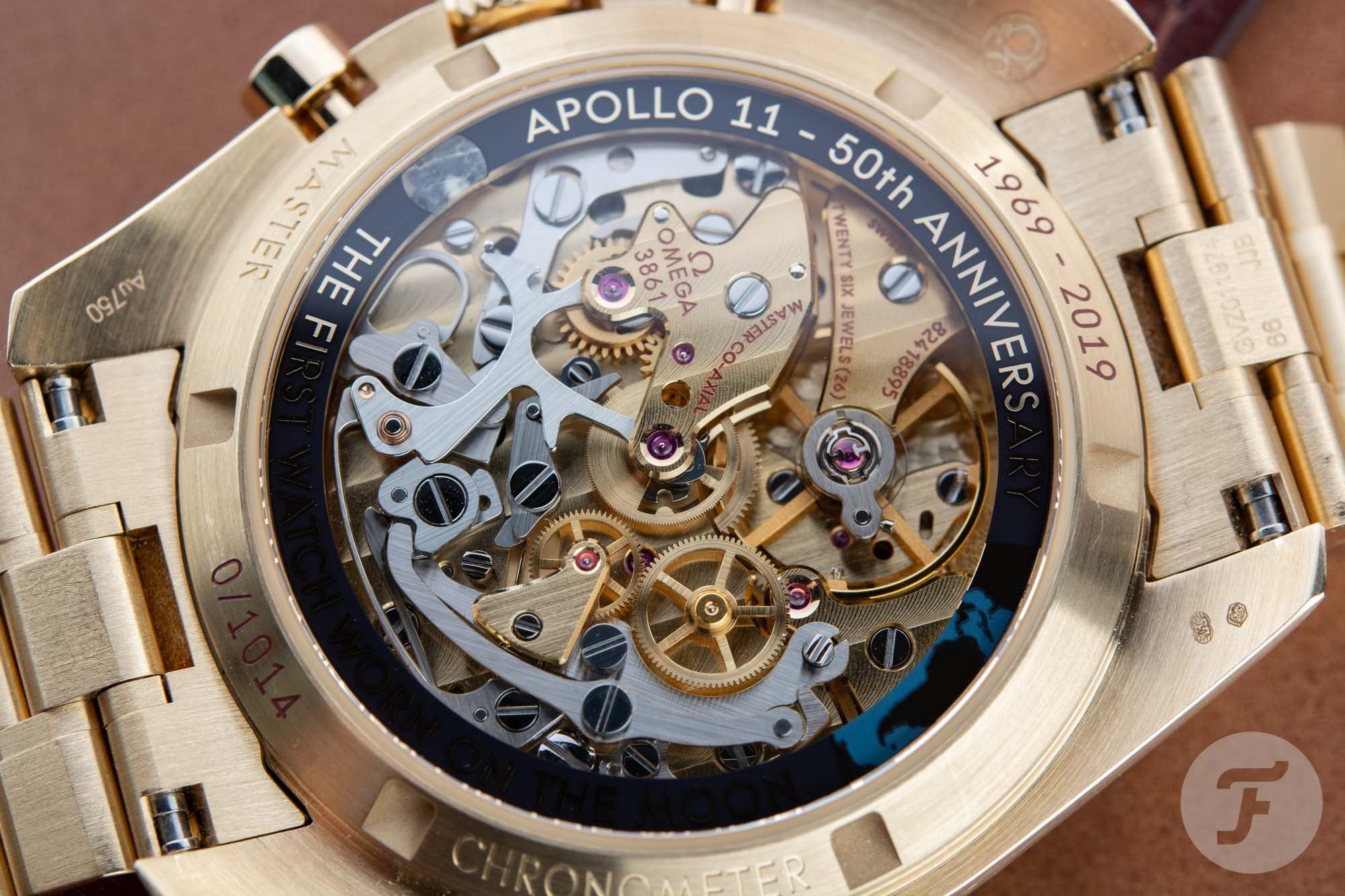 A case back that displays a special version of the new caliber 3861 movement. However, respecting the design cues of the original is of course pretty amazing. The onyx markers, gold dial, the same bracelet design with its extremely thin (14mm) clasp, burgundy red bezel, etc. Even the box shares the same crater relief design. In the end, I prefer the new one because it is just a better-made watch. What I noticed with the vintage BA145.022-69. They all seem to age very differently from one another, showing that the built quality is very different from today's gold Speedmaster Apollo XI. As I've written during the double review I did on this new Apollo XI Moonshine versus the original 1969 Apollo XI gold watch, it's a bit like the Godfather movies, part II was better than part I.
Specifications: 18ct Moonshine gold Speedmaster in 42mm reference 310.60.42.50.99.001, Limited to 1,014 pieces (numbered edition), special commemorative caliber 3861 Master Chronometer movement, gold bracelet with folding clasp, official retail price €32,000. Sold out.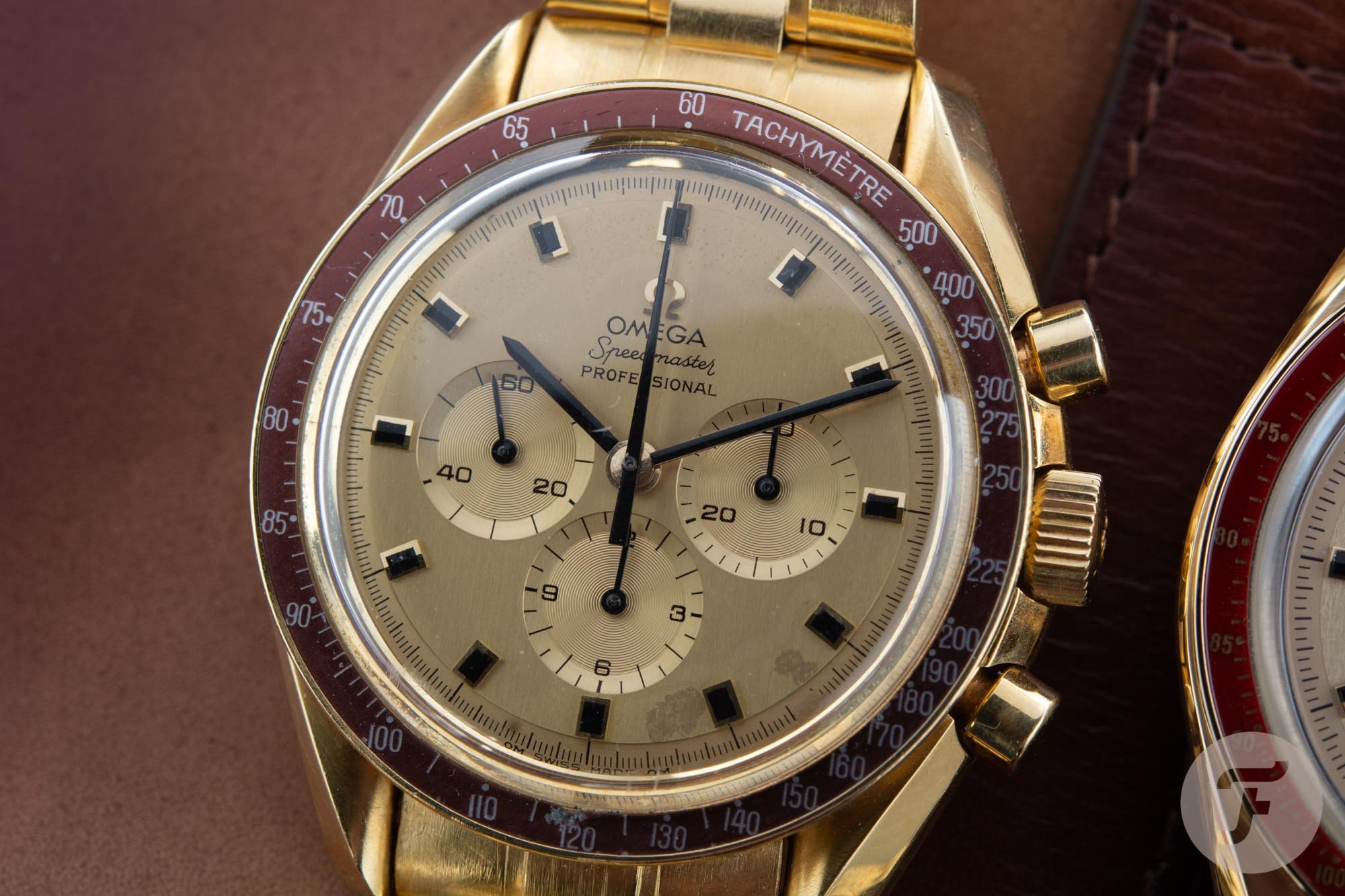 2. Omega Speedmaster Professional Apollo XI "Tribute to Astronauts"
That said, I love the yellow gold 1969 Speedmaster Professional. It has a story to tell, and many of the astronauts who received one between 1969 and 1973 can be spotted wearing it. The issue comes with the spare parts. Some of them are just not available anymore, like the burgundy red aluminum bezel insert. Some of them have been replaced by the later black version. The original Speedmaster Apollo XI in 18ct gold came in this box with a crater structure. Very often, these boxes started to fall apart (as it was all glued), but it looked quite nice originally. Inside this 42mm gold Speedmaster is Omega's caliber 861, the movement they used till 1996 in the Speedmaster Professional.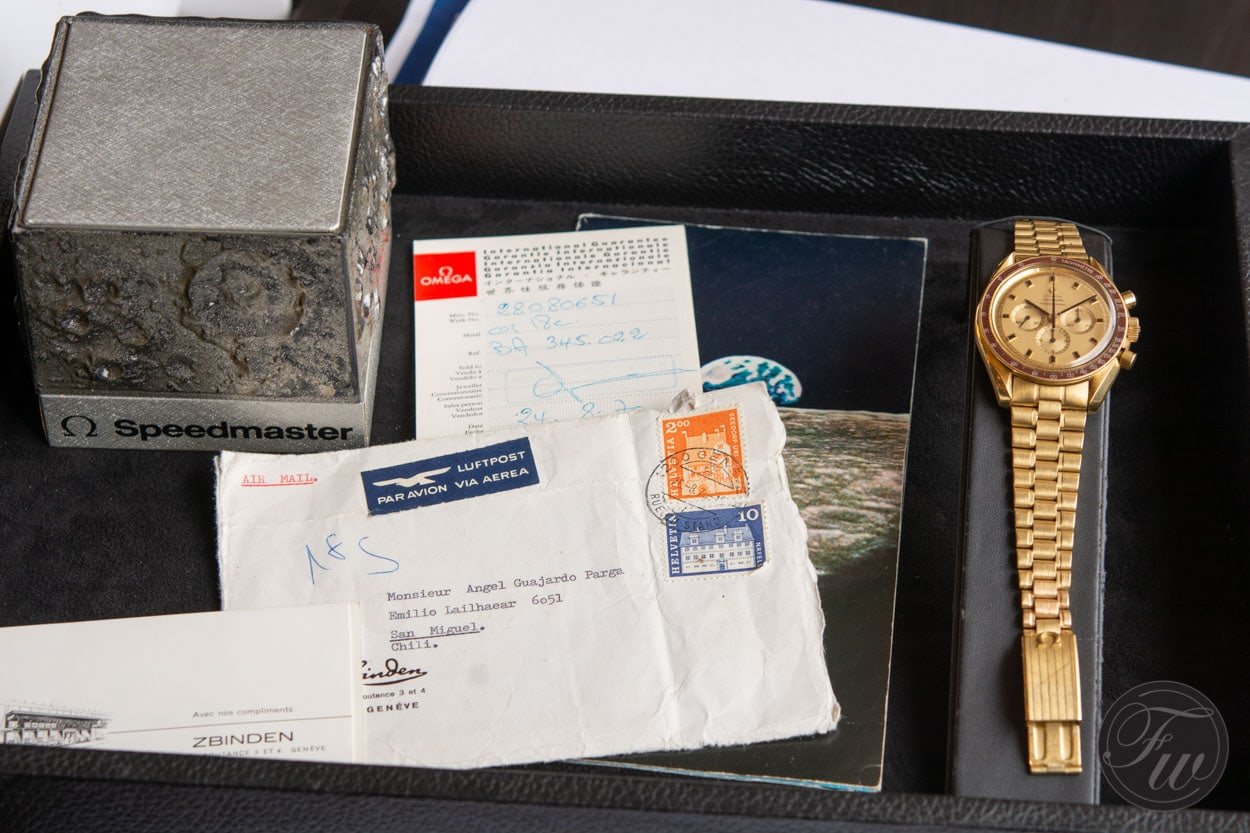 These Speedmaster BA145.022-69 references have become incredibly expensive, one of them (click here) sold for no less than CHF 140,000 during one of the Geneva auctions in 2018. That one came with the original box, papers, etc.
Specifications: 18ct yellow gold 42mm Omega Speedmaster Professional BA145.022-69, limited to 1,014 pieces (numbered), caliber 861 movement, solid gold dial, gold bracelet with folding clasp. Produced between 1969 and 1973. Prices start at approximately €40,000.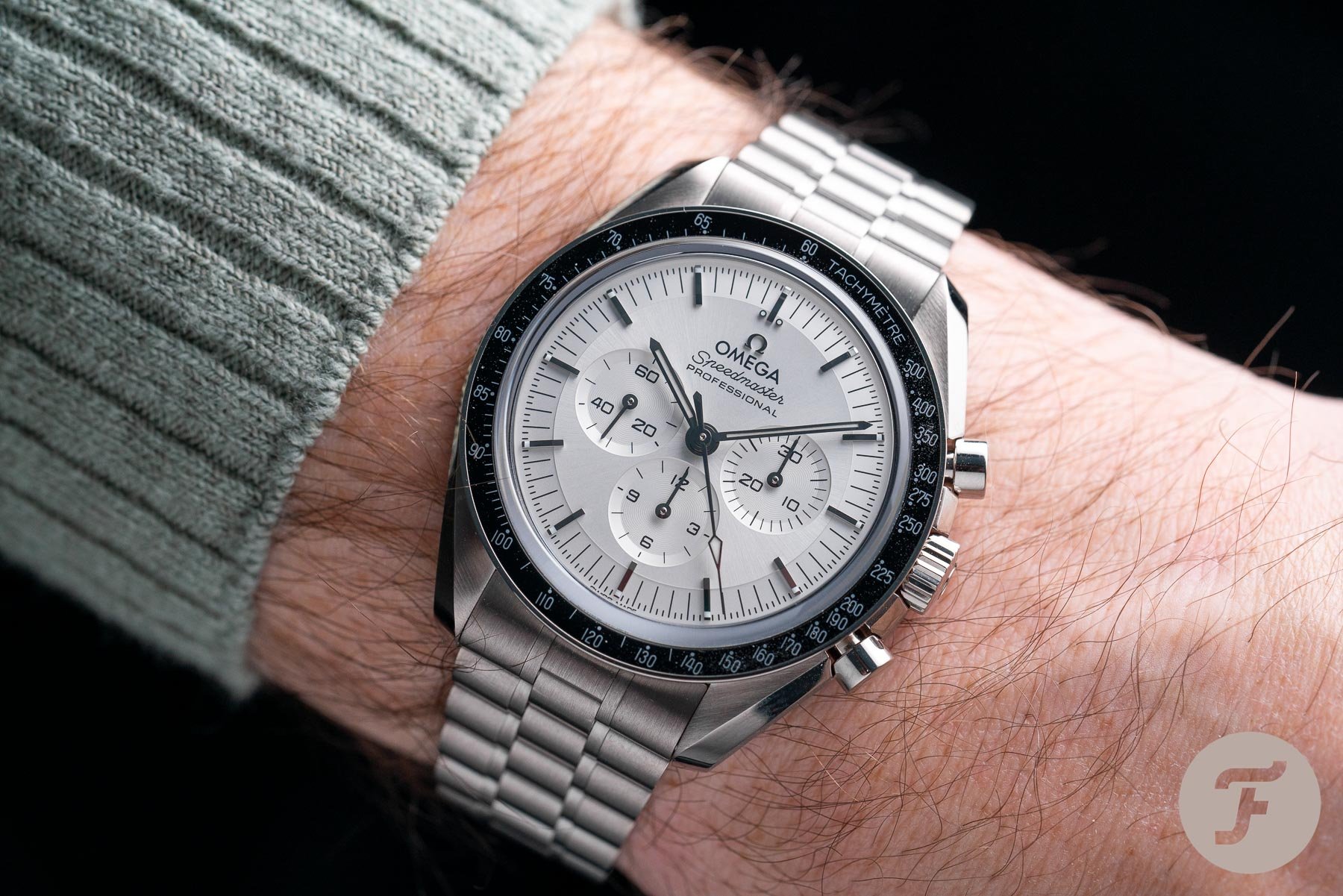 Omega Speedmaster Professional Master Chronometer "Canopus"
Another modern gold Speedmaster in this overview of best picks is this Canopus version of the current Moonwatch Master Chronometer model. I would have put another white gold version in its place if this watch hadn't just been introduced earlier this year, but here it is. When this watch arrived in the Fratello offices, I was just stunned. At the same time, we received the Sedna gold version, but this Canopus white gold is something else. Just like the Moonshine model from 2019, it features the new Master Chronometer movement inside. But in this case, it's the regular version, the rhodium finished caliber 3861.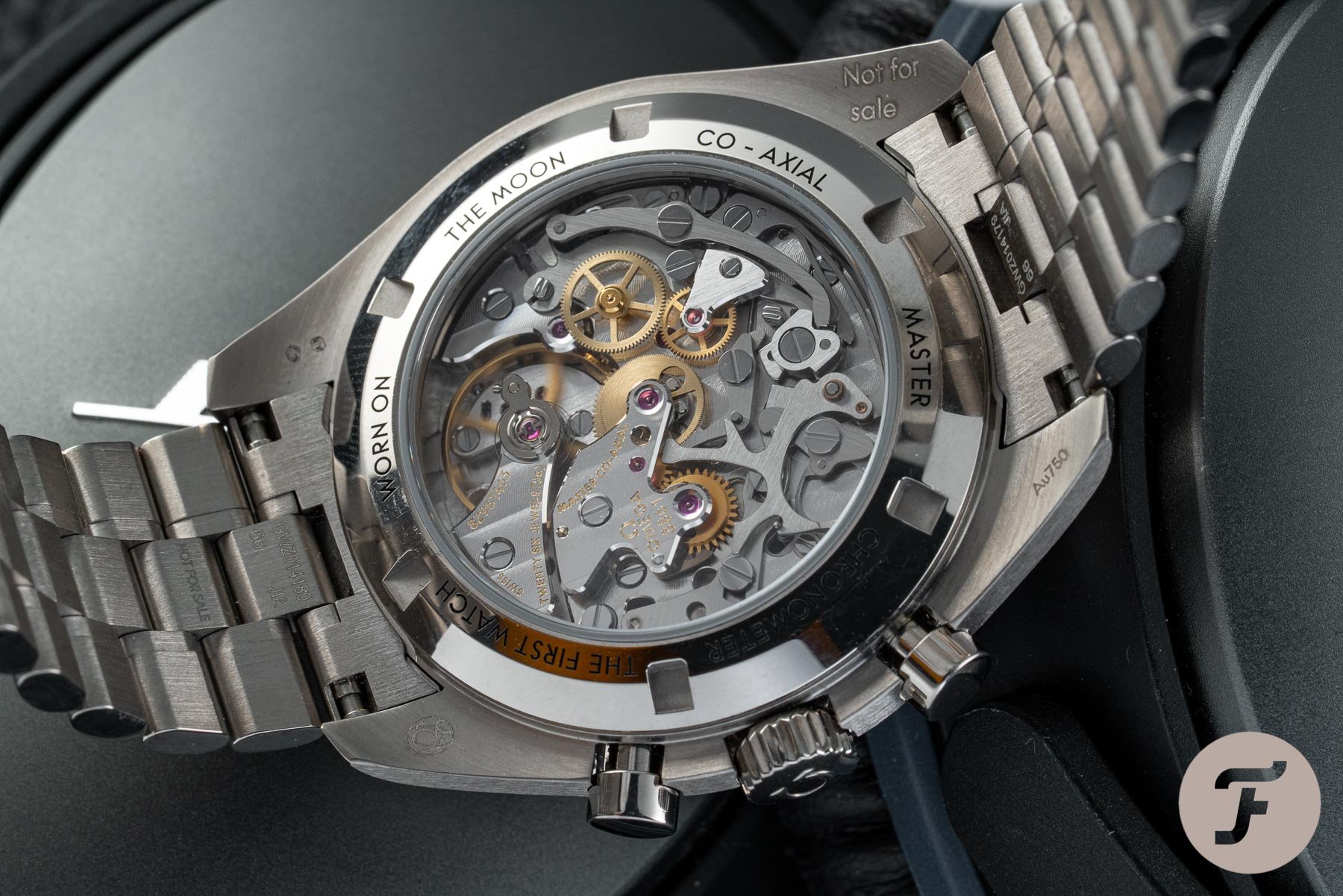 The weight of this watch is incredible, 235 grams (the Moonshine gold with all links is 220 grams). The use of this white precious metal, combined with the silvery step-dial with sun-brushed finish and gold applied markers is a bullseye. The bracelet is like the Apollo XI Moonshine edition, and thus also to the original 1969 gold Apollo XI watch. However, the clasp on the Canopus (and Sedna) gold editions, is 1mm wider. This watch is not limited or numbered, just part of the regular collection.
Specifications: 18ct Canopus (white) gold Omega Speedmaster Professional reference 310.60.42.50.02.001, 42mm gold case with aluminum bezel insert, caliber 3861 Master Chronometer movement, silvery step-dial, gold bracelet with folding clasp but also available on leather strap, available as of 2021, official retail price €45,100 (€30,200).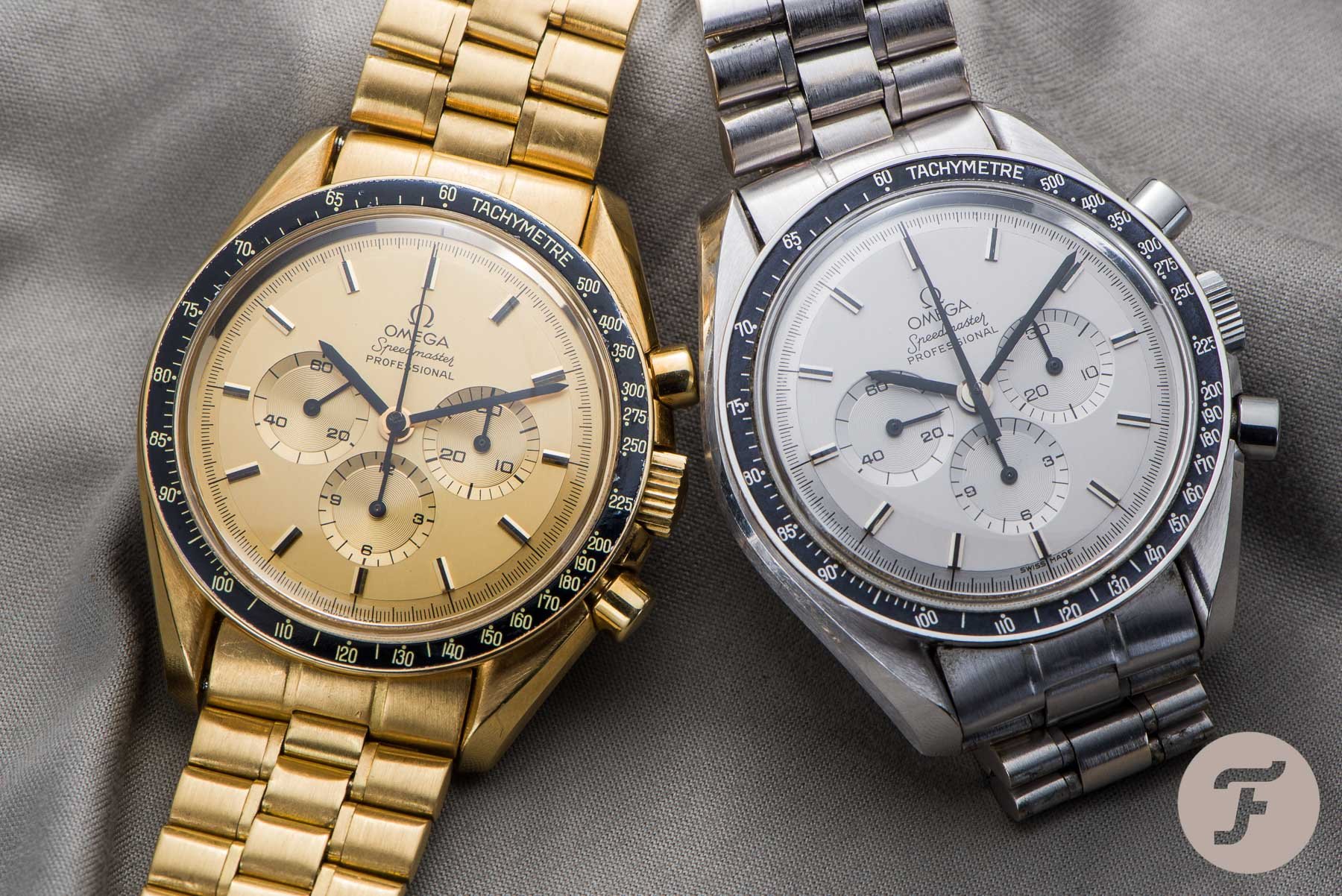 Omega Speedmaster Professional Apollo XI "Space Shuttle"
When the Omega Speedmaster passed the NASA tests again in 1978 for the Space Shuttle program, their Speedmaster Professional with caliber 861 was qualified to accompany the astronauts on this new type of space mission. To celebrate the fact that the Speedmaster became the Moonwatch during Apollo XI and again qualified for the Space Shuttle missions, Omega introduced a gold Speedmaster Professional in 1980. You'd expect them to have released it in 1979, to mark the 10th anniversary of Apollo XI, but they didn't. Perhaps they weren't ready in 1979, close after the re-qualification, but perhaps also because marketing efforts looked a little different back then. Anyway, Omega introduced the 42mm gold Speedmaster Professional 345.0802 in yellow gold (BA) and white gold (BC). The first Speedmaster to have a sapphire case back, to demonstrate a special luxury finished version of the caliber 861.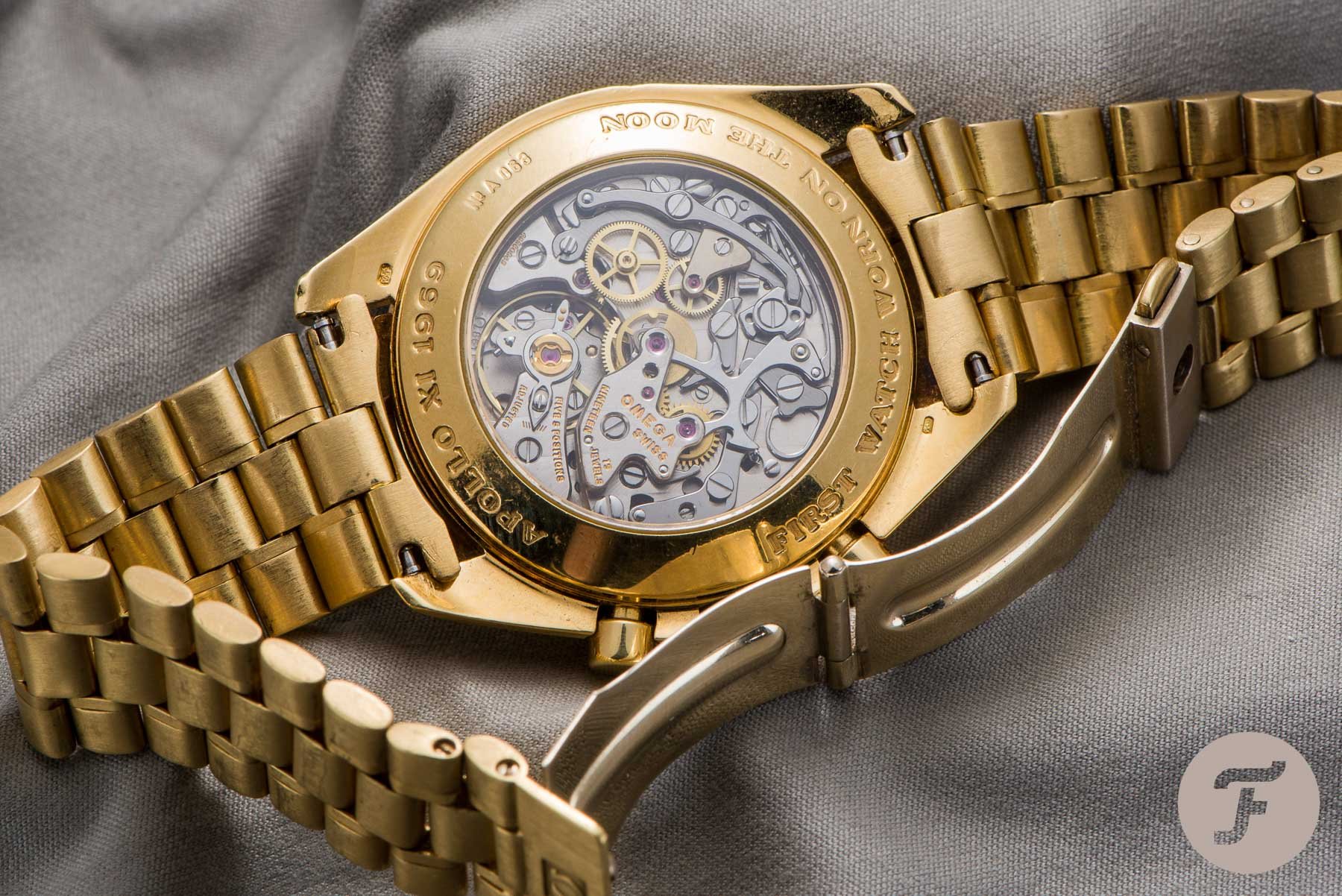 Omega made 300 of these in yellow gold, and 20 in white gold. The white gold version was only for the German market. About half of the yellow gold models were destined for Germany, and the rest were shipped worldwide. I had the yellow gold version for a few years, and it was a marvelous watch. Lightweight (for gold), as it had hollow center links and a Hesalite crystal, not adding on much more weight than the regular modern steel Moonwatch on a bracelet. These watches were individually numbered on the case back. The white gold edition is very rare these days and sometimes confused with the later 1994 white gold version.
Specifications: 18ct gold 42mm Speedmaster Professional, available in white gold (20 pieces) as BC345.0802 and yellow gold (300 pieces) as BA345.0802, with bracelet and/or strap, caliber 861L, display back, numbered edition, produced between 1980 and 1988, prices start at approximately €30,000.
Omega Speedmaster Professional Moonphase (Apollo XI 30th Anniversary)
My colleague Gerard had this watch in his collection, and I think he still wishes he had it today. In 1999, at the time of the Apollo XI 30th anniversary, Omega introduced an 18ct white gold Speedmaster Professional Moonphase watch on a leather strap. I don't think it was an official piece to commemorate the 30th anniversary of the moon landing, but it just coincides with the event. In short, it is a 42mm white gold Speedmaster Professional with a moonphase complication. It is basically a caliber 1863 with an added moonphase and calendar module, resulting in Omega's caliber 1866 movement.
The hands and moon disc are blue, giving a beautiful contrast with the silver-colored dial. This gold Omega Speedmaster moonphase was only available on an alligator leather strap, with a gold folding clasp. It was not limited or numbered, but production ceased around 2005. It was during a time where gold Speedmasters weren't in favor due to their higher price (and today we almost laugh about it). You don't see these up for sale too often, I think likely due to the fact that not that many of them were produced. There was a similar-looking Speedmaster Moonphase available in steel as well at the time, with broad arrow-shaped hands.
Specifications: 18ct white gold Speedmaster Professional reference 3689.30, alligator leather strap with white gold folding clasp, caliber 1866 movement with moonphase and calendar complication, produced between 1999 and 2005, price starts at approximately €15,000.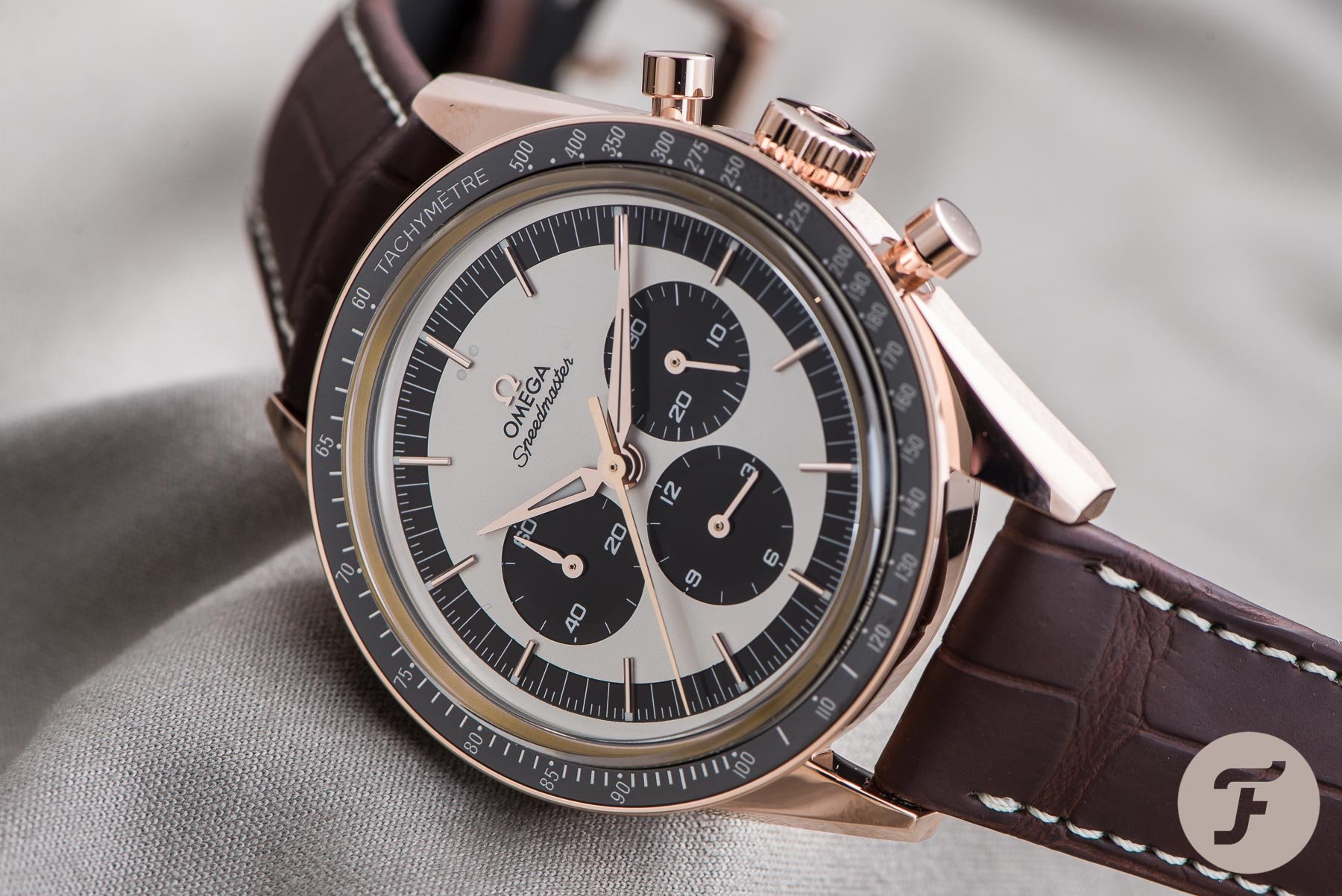 What are your favorite gold Speedmaster watches?
This is a very personal selection of gold Omega Speedmaster watches that I like best. Although sometimes my preferences vary a bit, the top three are rock solid though. Other gold Speedmasters that I absolutely adore are the 1994 white gold Apollo XI edition, the Speedmaster First Omega in Space in Sedna gold, and the Speedmaster Broad Arrow from 1998 that was also available in steel. It will be tough to find a bargain, but some of the gold Speedmaster references seem to be still a bit undervalued compared to others.
What are your favorite gold Speedmaster models? Or do you still think a Speedmaster should only be available in steel? Let us know in the comments below.