The Top Independent Watchmakers You Might Not Know About – Part 1
Celebrating independent creativity
Independent watchmakers are definitely some of my favorites in the industry. In fact, I'd go as far as to say they are my favorite. I love the creative freedom they can enjoy, not shackled by huge investment groups and boards of directors, each with their own conflicting ideas of what the product should be. That kind of approach works for some brands, but it leads to dull and sterile watchmaking for others. However, there are still plenty of small, independent watchmakers striving to invent and push the boundaries of their own creativity. So here are a few that you might not have heard of…
Akrivia
Founded in 2012 by Rexhep Rexhepi, Akrivia has gone from strength to strength, and it's not exactly a small brand anymore. Founder Rexhepi is often celebrated as one of the future horological Hall of Famers, despite the fact he's probably earned that spot already. He started Akrivia (Akrivia comes from Greek and means "precision") after he trained at Patek Philippe as an apprentice, before working at BNB Concept and F.P. Journe. It's hard not to be a little bit wowed by his resumé, considering he is only 34 years old. The fact he's mentioned in the same sentences as the likes of Dufour, Journe, and Voutilainen speaks volumes.
Since 2012, Akrivia has produced a tourbillon (AK-02), a tourbillon regulator (AK-04), a tourbillon chiming jump hour (AK-03), and a tourbillon monopusher chronograph. There is something of a pattern there, but it's the three-hand power reserve equipped model (AK-06), released in 2017, which happens to be my favorite. It's an interesting concept; when many brands work their way up from more straightforward concepts to the more complicated, Akrivia actually worked down.
Evolution in simplicity
Suppose it was the various tourbillon watches that marked Akrivia's emergence in the Haute horology sphere. In that case, it is the AK-06 that makes the statement that Rexhep understands horological purity as well as grand complications. I just love that the AK-06 is almost oxymoronic in nature. It's so technically simple compared to the brand's previous models, yet it exudes a unique complexity of its own.
On the surface, the AK-06 is a time-only watch with central hours and minutes and a small seconds sub-dial at 6 o'clock. Sitting proudly at 12 o'clock is a power reserve indicator, which uses differential gearing to rotate inner and outer discs against one another. The open-worked dial allows the wearer an unobstructed view of the power reserve mechanism in action, along with the keyless works. It's fascinating how these somewhat "everyday" and usually "mundane" parts are highlighted and celebrated in a way that elevates them beyond their regular status. It's tough to create a visually attractive and engaging open-worked dial arrangement. Still, the AK-06 is probably the best I've ever come across.
You can find out more on Akrivia's website.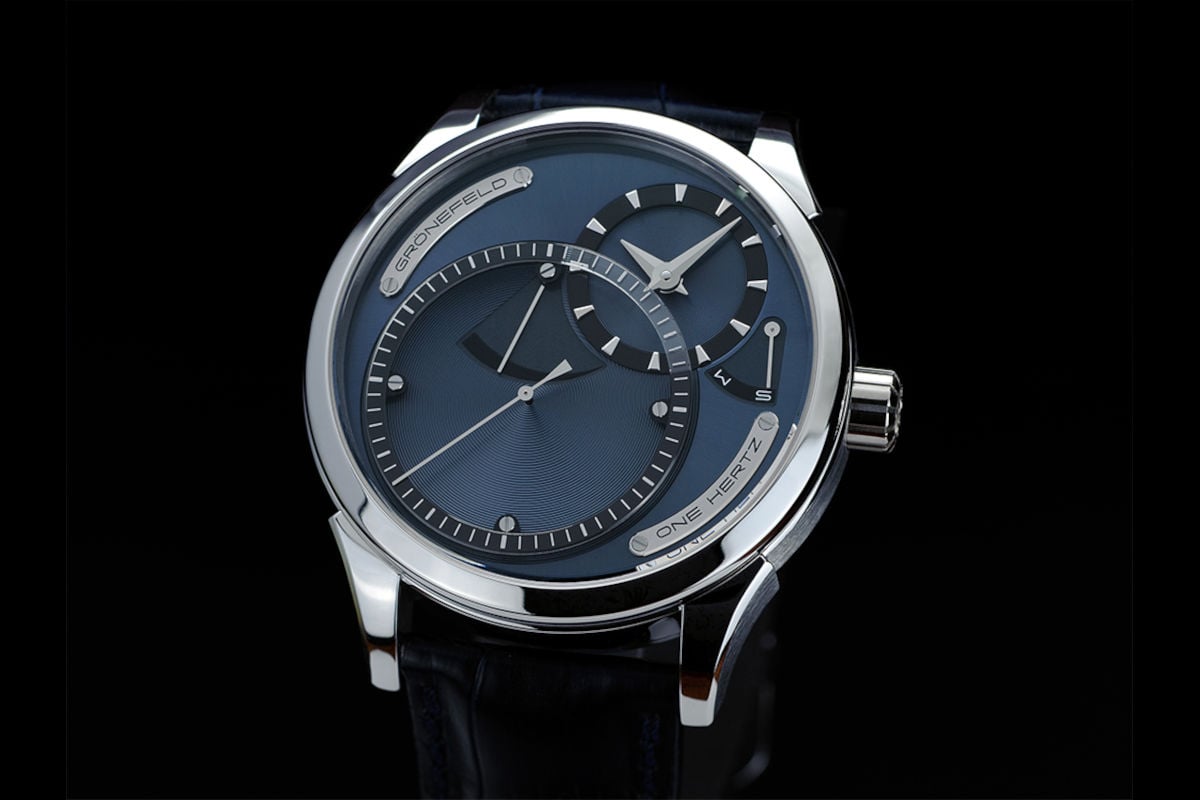 Grönefeld Watches
Next up is another one of my favorites that cemented my love for the works of independent watchmakers. The "horological brothers", Bart and Tim Grönefeld, started their eponymous brand just 13 years ago. Despite this relative "newness" to the watchmaking landscape, Grönefeld has already left a firm footprint on the world of independent watchmaking. The family has a rich history with watchmaking, dating back to the early 20th century. Both their grandfather and their father took employment in the industry, making their eventual pathway into watchmaking somewhat inevitable.
Bart attended a watchmaking school in his hometown of Oldenzaal, Netherlands. After completing his studies, he decided to move to Neuchâtel to study at the prestigious WOSTEP school. From there, Bart joined the team at Renaud et Papi (Audemars Piguet's Haute horology complication supplier) team as a chronograph, minute repeater, and grande sonnerie specialist. Three years later, Tim also joined Renaud et Papi as a specialist in tourbillons and movement regulation. Here, he quickly took over the responsibility of training the other watchmakers too. He also became the go-to for escapement and tourbillon assembly. It's crazy to think that one family can have so much talent…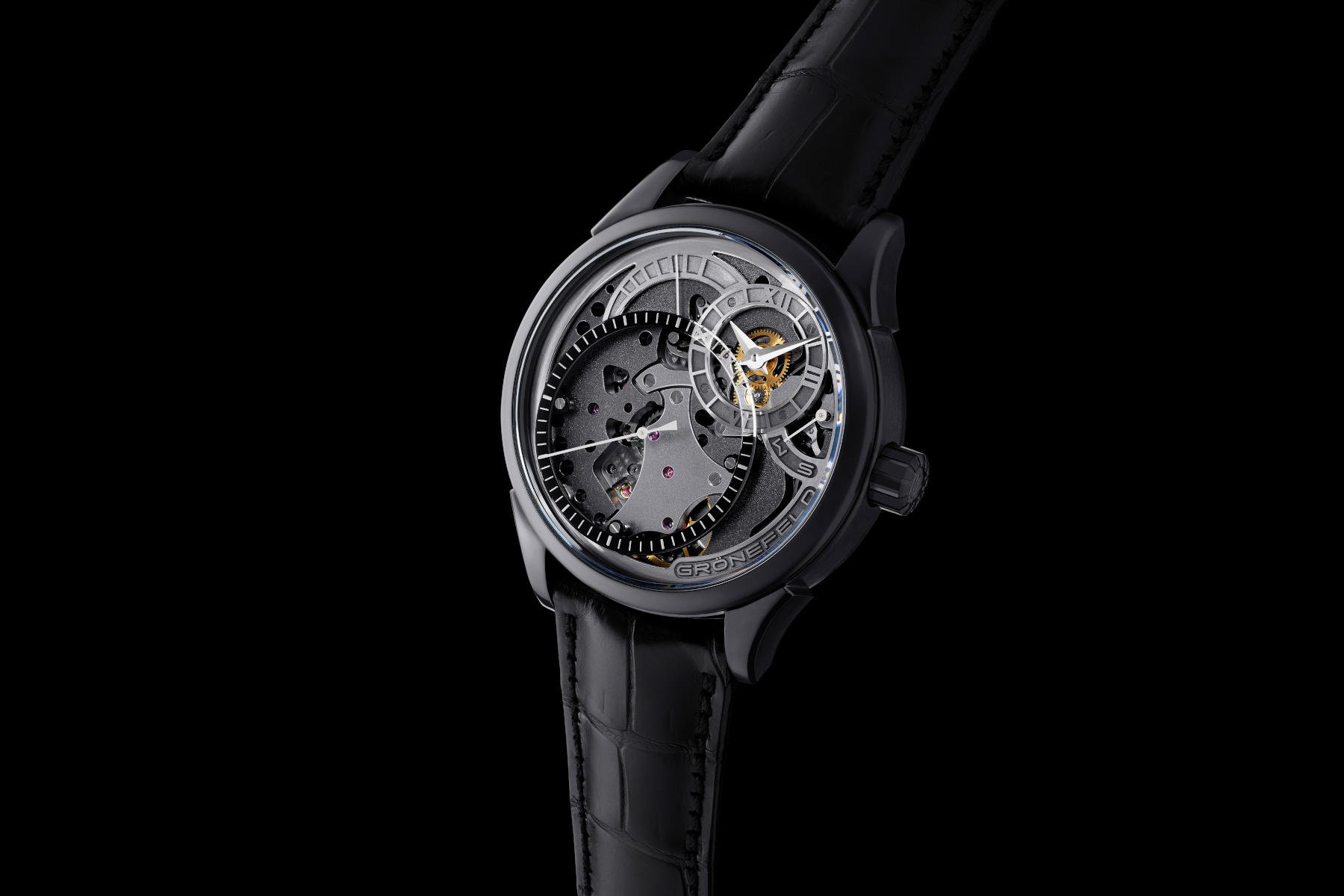 An industry first in watchmaking
It's tough to pick a single model from the Grönefeld repertoire to highlight. That said, I've also been rather fond of the brand's One Hertz model, which they first released back in 2010. The watch features Grönefeld's in-house-designed G-02 caliber, featuring an industry-first innovation of independent dead-beat seconds. What does this mean? While the regular hours and minutes operate at three hertz (21,600 vibrations per hour), an independent gear train operating at a frequency of one hertz (7,200 vibrations per hour) drives the jumping seconds hence the name. An entirely separate mainspring barrel powers the complication.
The One Hertz is one of those classic cases where any sane person might question "why?". Still, I am sure that Bart and Tim's response would be an instant "why not?". And too right! Separating the dead seconds complication from the primary timekeeping function in this way had never been done before on a serially-produced watch. It allowed the brothers to showcase their technical watchmaking chops. Possibly my favorite version of the One Hertz is the Techniek Nocturne, released in 2013. This DLC-coated, titanium-cased watch shows off the One Hertz's impressive movement through an open-worked dial. Simply stunning!
You can find out more on Grönefeld's website.
Ketelaars Watches
I'm starting to delve into some of the far less well-known indie watchmakers with this next brand. Where you may have heard of Akrivia and Grönefeld, you may never have come across the work of young Dutch watchmaker Stefan Ketelaars. Stefan started his brand back in 2017, building watches using ETA Unitas 6497 and 6498 movements that he modifies to add functionality and improve aesthetically. With his first few three models, he developed a bit of a calling card by relocating the balance wheel onto the dial side of the watch.
Of Stefan's three models, my favorite is the 3D Terra in Motion. The name Terra in Motion explains what Stefan has done to the base ETA 6497 with this particular model. Terra is the Latin word for "Earth". So the name literally means "3D Earth in motion", and that's quite literally what Ketelaars serves us with this watch. At 8 o'clock on the dial perimeter, Stefan has built a miniature 3D globe that acts as a visual day/night indicator. You can read the hours and minutes from a small sub-dial at 3 o'clock while you enjoy the excellent hand-finished dial. Last year, Stefan updated the model to include his signature reverse balance wheel too, which just makes a great-looking watch look even better.
The next step in his watchmaking journey
After 4 years of modifying the ETA base movements, Stefan has moved into a brand new workshop and begun working on the next logical step for his brand. His first, in-house designed movement, based on his most complicated watch design, the Terra Luna. The new Terra Luna picks up where the 3D Terra in Motion left off. He adding a second 3D sphere, the moon, which will act as a Moonphase indicator. Having followed Stefan's work on Instagram for a few years now, he posted updates into the movement design, which has since moved to physical prototyping. At this point, I'm not sure how much of the movement he will make in-house, as comments on social media suggest that at least some of the gears will be made by a third party.
Either way, the new design looks incredible on paper and in early images too. This new Terra Luna is a big step up from the ETA-based watches he cut his teeth on. The symmetry in the new design shows a subtle maturity beyond his years, and I am certainly excited to see this project progress over the coming years.
You can find out more on Ketelaars Watches' website.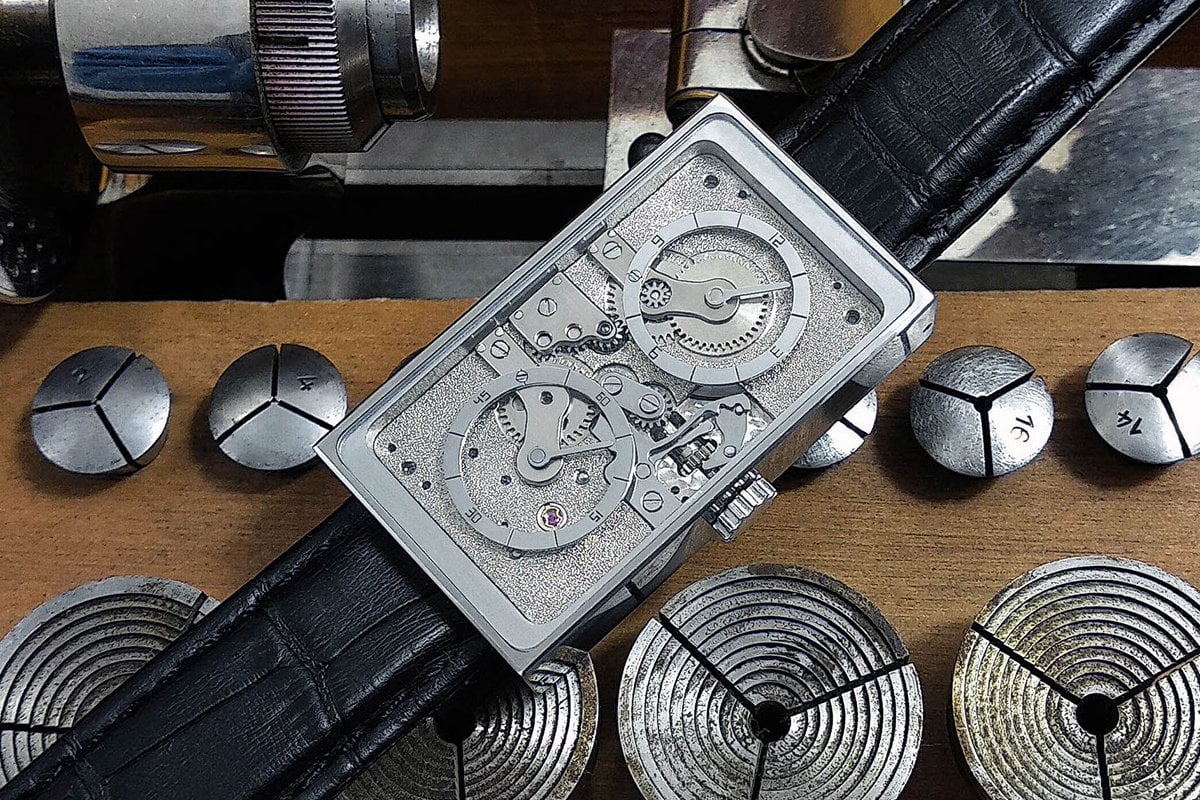 Lowinger Watches
Lowinger Watches is the brainchild of David Lowinger, based in Saxony, Germany. By profession, David is a real estate analyst. But, starting in 2014, he began to teach himself the art of watch design and watchmaking. For an individual with no formal watchmaking training, nor any horological work experience, the feats of his hard work are even more incredible. Led by a hobbyist's passion for watches, he taught himself CAD, lathework, milling, and CNC machining so he could design and develop his own timepieces. Since the start, his goal has always been to produce as many parts as possible in-house. While an entirely in-house movement is some way off, some of his watches to date are pretty incredible when you consider that they're based on preexisting movements.
Take the Series Two watch, for example. While you may see the rectangular shape and think of the iconic Reverso, a secondary glance will quickly tell you this is quite different. Inspired by vintage Doctor's watches of the 30s and '40s, the Lowinger Series Two uses a regulator layout, focusing only on the hours and minutes, eliminating the running second hand. The Series Two displays the hours on the upper half of the dial, whereas minutes occupy the lower half. The dial is semi-open-worked, showing the keyless works and some of the geartrain for each sub-dial. It's a very attractive and futuristic concept and incredible, and the movement is based on an ETA 6498-2. The final result is lightyears away from its starting point!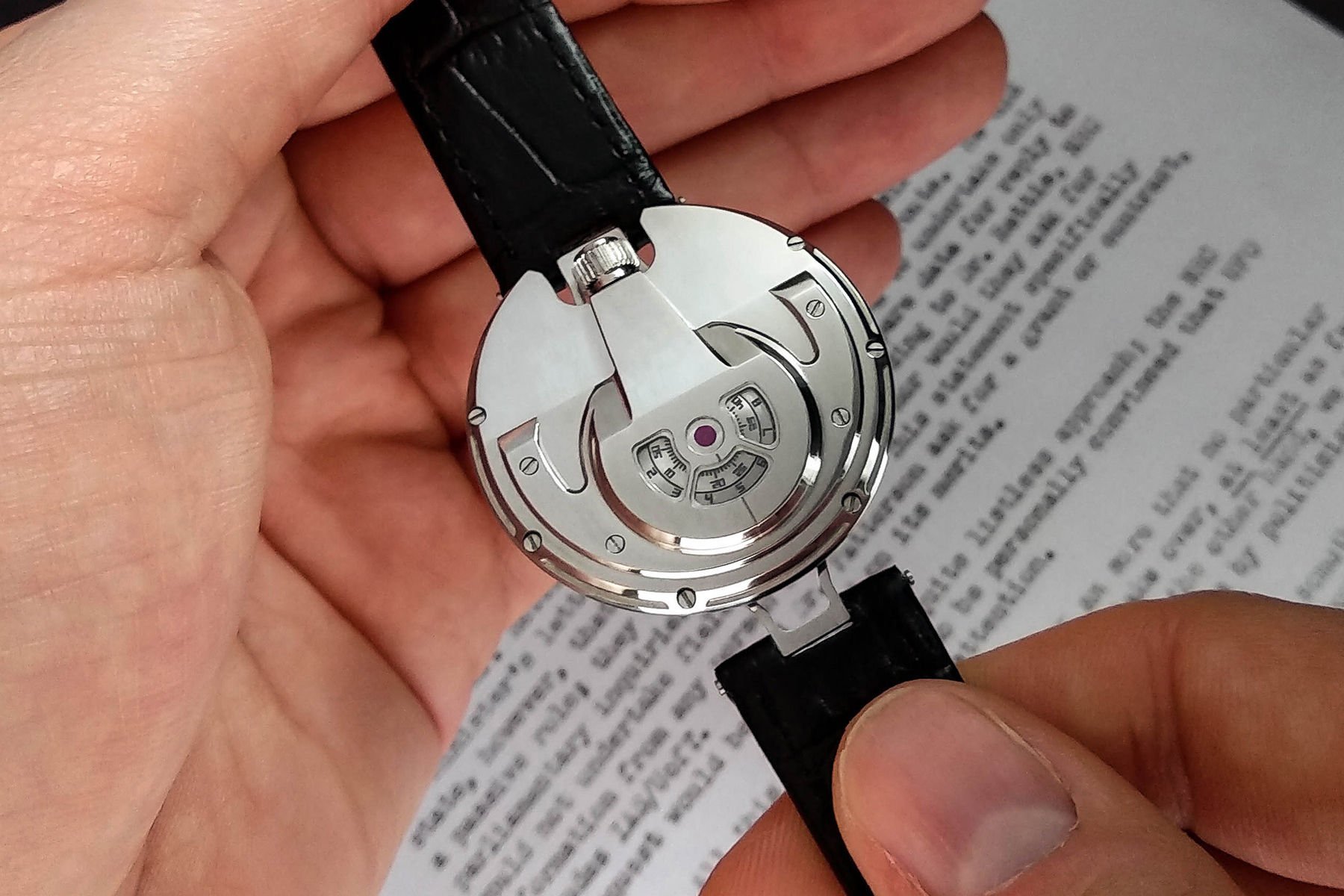 Retrofuturism watchmaking
The most recent watch that Lowinger developed is the retro-futuristic-looking UFO. Possibly my favorite of David's work to date, the UFO looks like a watch designed in 1960 for 2021. It has an authentic charm about it that is difficult to relay into words. The UFO runs off of an old vintage JLC Caliber 818. Lowinger modified the movement with an in-house made jumping hour module. The wearer reads the time through the "cockpit" display window on the dial side of the watch. With the crown located at 12 o'clock, it has subtle "Millenium Falcon" or "Starship Enterprise" vibes. As a final thoughtful touch, the flexible lugs attach to the underside of the case, allowing for a very ergonomic wearing experience.
I recommend anyone reading this to check out and follow Lowinger Watches on Instagram. David regularly posts 3D CAD images of his wild and wacky designs. It's an absolute pleasure watching some of these actually come to life.
You can find out more on Lowinger Watches' website.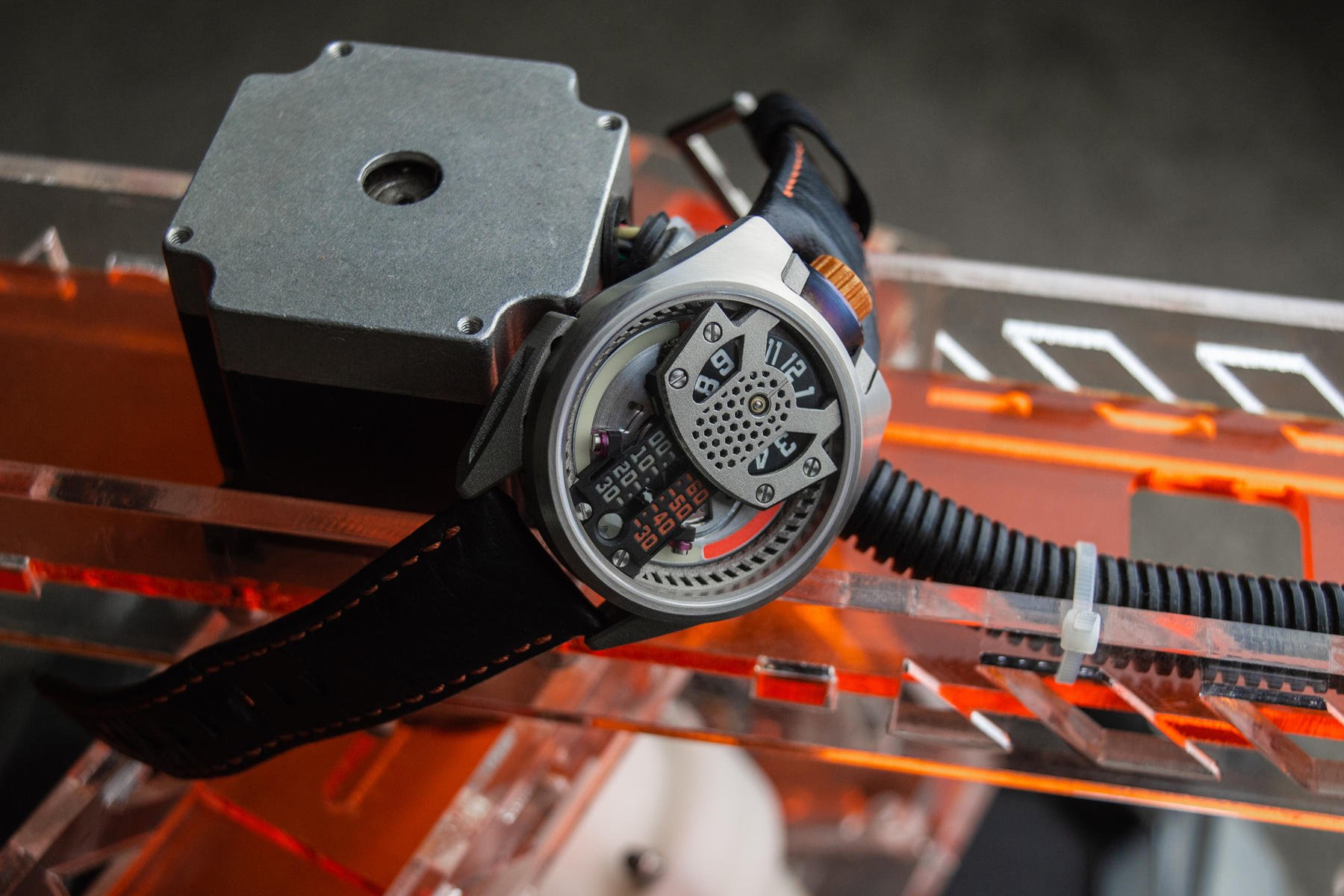 Barrelhand
The last entry on this list is by no means the least worthy of your attention. This is one of the most fascinating stories and one that I find incredibly wholesome. It's the story of an engineer with a love for watches doing what engineers do: working out how cool stuff works and then taking it to the next level. The year is 2012, and engineering student Karel Bachand from San Ramon, California, had just discovered and fallen in love with the Urwerk UR-202.
It's easy to see why. With its futuristic aesthetic and signature method of displaying the time, I totally get where Karel was coming from. I too, love URWERK's watches. To anyone familiar with URWERK's watches, you'll also know that they are not exactly priced for a student's budget. So, instead, Karel decided to reverse engineer the concept of the UR-202. Now, this is made even more impressive because Karel did so without an actual UR-202 in hand. He conducted the entire project using the images and videos he found online. I could explain the story to you, but I heartily recommend you read the story as told by Karel himself. I cannot do justice telling another man's journey!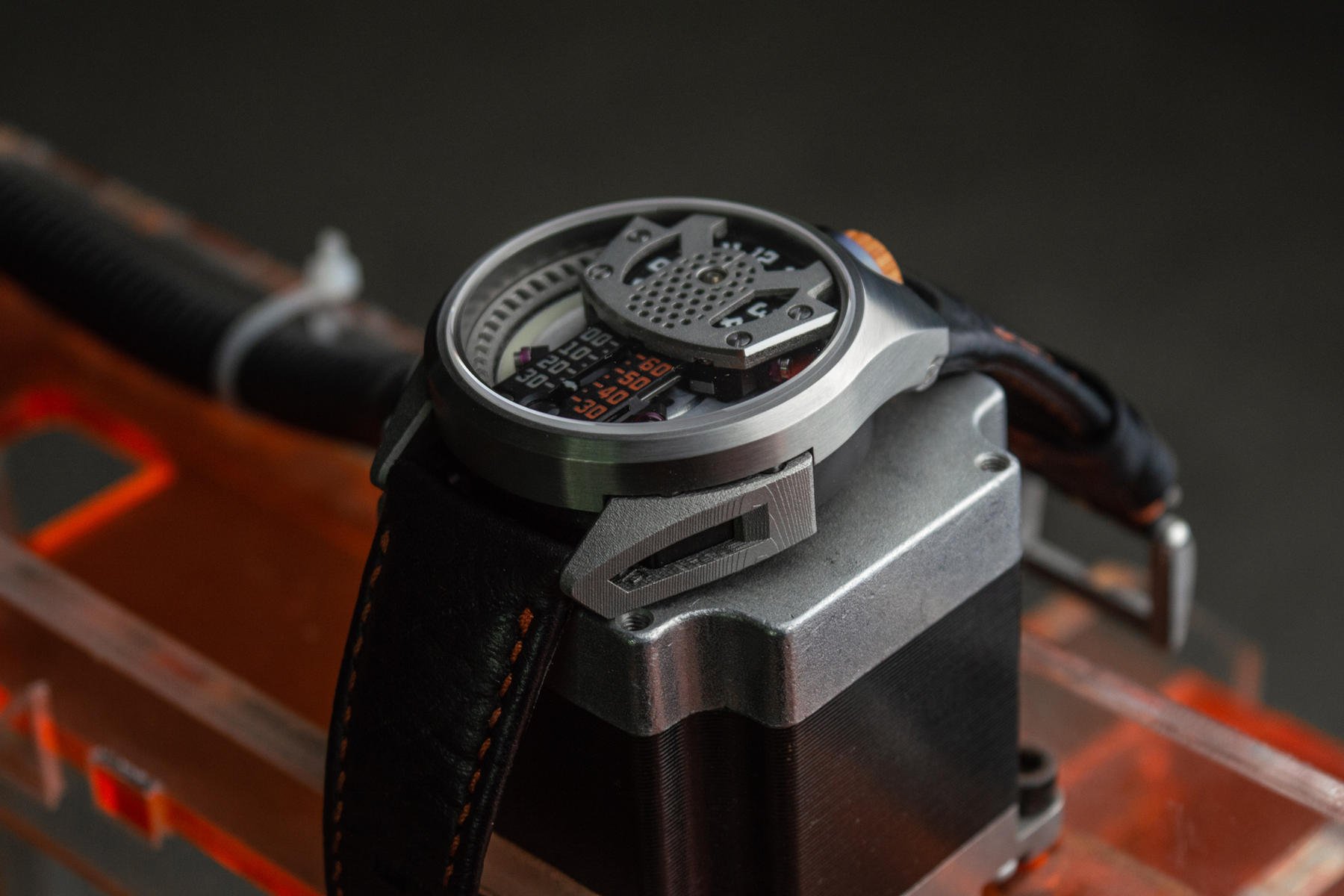 Learning and developing
After the success and learnings from the UR-220 project, Karel decided the next logical step was to design his own watch from scratch. Enter Barrelhand and Project 1. Taking inspiration from the URWERK UR-202, the Project 1 uses a combination of digital jump hours with linear minutes to display the time. The linear minutes using a split scale, which I've not seen in watchmaking before. Please correct me and let me know in the comments if you happen to have seen it used before.
Through every hour, the minute marker drops to the bottom of the pillar and then rises again. Minutes 0-30 are shown on the way down, and 31-60 on the way back up. A colored circle at the bottom of the pillar denotes a color corresponding to the minute scale's color. This simple technique tells you if the counter is moving up or down. It's tricky to explain in words, but it makes sense visually, so do have a look at the images!
The entire watch is made using cost-effective yet high-quality 3D printed parts. This helped to keep the watch's retail price somewhat more accessible ($30,000) compared to its inspiration! I, for one, am looking forward to seeing the evolution of Barrelhand moving forwards. Its debut watch is ambitious and creative in equal amounts. The sky is the limit!
You can find out more on Barrelhand's website.
I really enjoy writing these list types of articles. It's nice being able to share my opinions/thoughts, and discoveries with you, the community. It's great to see some of the fantastic discussions that arise in the comments section. I'll be honest, every day is a school day for me too, so I love learning from you guys! So, with this in mind, let me know of your favorite small independent watchmakers and brands!
Follow me on Instagram: @davesergeant