Best Watch Around 3000 USD? This Marvin Regulator Automatic Makes A Good Chance!
Marvin was founded in 1850 by two brothers (by the name of Didisheim) in Saint-Imier, in the middle of the Jura. Before we write yet-another-romantic-but-sad-story about a watch company that didn't survive the quartz crisis in the 1970s but DID have some nice watches before that time we are going to stop here.
Just a few years ago, Marvin Watches Co was brought back to life again by its current owners, true passionate people about watches and the watch industry. We know, because we've met them during BaselWorld and at their current headquarters in Vaumarcus, Switzerland.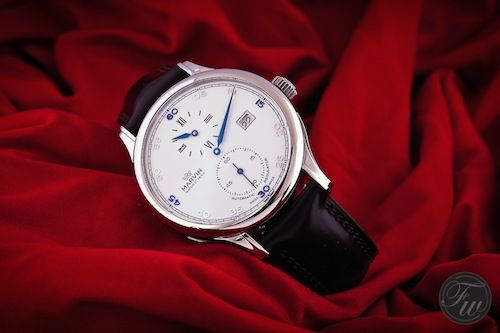 The nice thing about being a watch manufacturer with some history, is that you might have some antique catalogs and drawings of watches that once were yours. Marvin has such luck, as they made pretty nice (and affordable) pieces in the 20th century. Some of their current models are also based on those vintage timepieces but Marvin also invests quite an amount of time and resources in designing new watches as well. The Loeb collection is a perfect example of that.
However, we love watches that have some 'vintage DNA' and picked the Marvin M115, which is their own code for the Marvin Regulator Automatic from their Malton collection. This 42mm diameter round watch has a very cool Regulator feature that we've seen on other watches as well (Chronoswiss, IWC, Sinn). Chronoswiss was the first to design a Regulator for a wrist watch, as it is normally something for clocks, and it has been their 'signature' watch ever since. Marvin designed a Regulator as well, in three different flavors and here is what we think.
Marvin achieved to design and produce a round watch with a classic looking regulator lay-out, without becoming old-fashioned. This Marvin M115 is a modern wrist watch that's suitable for the young executive that wants to have his first decent timepiece without having to pick entry-level models from big watch manufacturers and wants to refrain from buying vintage 35mm classic watches as well. Marvin Watches Co uses a nice modern 42mm case with some kind of design signature in the side, as shown below.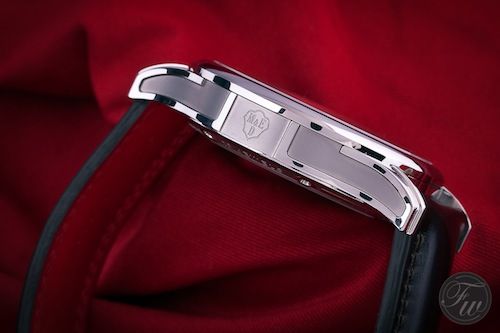 Inside is a Swiss made movement, based on Dubois-Dépraz caliber 14072. This movement features the Regulator lay-out, a 38-hour power reserve and a date indicator. The date indicator has a small magnifier under the sapphire crystal. As you can see below, the mechanical movement is relatively standard but does have a customized case back for Marvin. However, if you are new to mechanical watches or this will be your first mechanical timepiece, you'll be excited to have a glance at the movement every once in a while.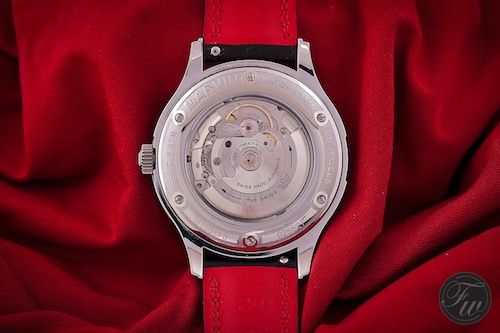 As you can see above, the straps have a quick-release to be removed from the case very easily. We've seen this system with some Patek Philippe watches as well. By sliding the small button with your nail, you make the spring bar a bit smaller so it can be released from the watch case. A very convenient method to change your straps.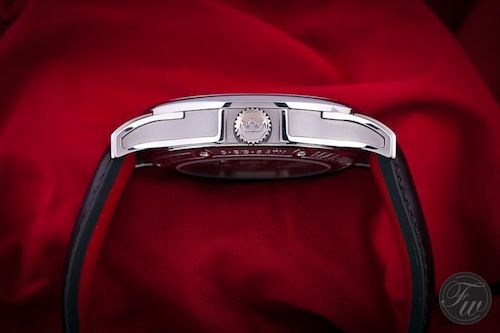 We are impressed by the design of the case and the clean classic Regulator dial (without becoming a timepiece that's too classic for young people). The M115 comes with a black dial with grey sub dials, a grained silver dial and a white dial. We'd pick either the grained silver dial or the white dial with the very nice blue hands and matching blue numerals. Being able to read a Regulator dial is a matter of just moments and this feature does give a nice classic nod to the timepiece.
A watch for just over 3000 USD ($3120 USD) with a good solid Swiss made mechanical movement, original case design, wonderful designed dial, Regulator feature, a leather quality strap and nicely finished buckle is hard to find these days. The big brands are all scaling up which makes some room for a number of smaller brands with very interesting (and uncommon) timepieces that jump into that gap of $1000 – $3000 USD watches. Marvin watches start at under $1000 USD and go up to approx $3000 USD.
You can see and order their watches on-line, or through a selected number of dealers.