Speedy Tuesday – A Blue Dial Speedmaster 105.003 On Auction
We've reported on a blue dial Speedmaster 105.012 and a blue dial Speedmaster 145.012 before in our Speedy Tuesday features, but never on an earlier reference with this dial colour. These dials are still a bit of a vague territory, at least for us, as no one exactly know how many of these watches are around or how they ended up in production. Was it by special request or did Omega just fiddled around with colour options? One thing is certain though, they exist and are original.
Blue Dial Speedmaster 105.003
The previously reported blue dial Speedmaster reference 105.012 and 145.012 were 'Professional' watches, this 105.003, of course, isn't. Interesting to see that Omega used this beautiful blue/grey colour on three different generations of Speedmaster models, but never made it to a larger scale production. These dials are rare as hen's teeth.
Blue Grey Dial
This 105.003 is simply stunning with this dial colour. On the image below, you will see that the hour markers turned a bit green-ish and are a bit smudgy, but look good on the blue/grey surface. The hour and minute hand have some lume missing, but that's a common thing to happen after all these years and might be a good indication that these are still original. Many people like to have their watches perfect, so a lot of hands/dial swapping is going on. In some cases, I would say this is an unfortunate thing. A straight-lug case of the 105.003 has 19mm lugs and is a bit smaller than the later Professional (42m case with 20mm lug width).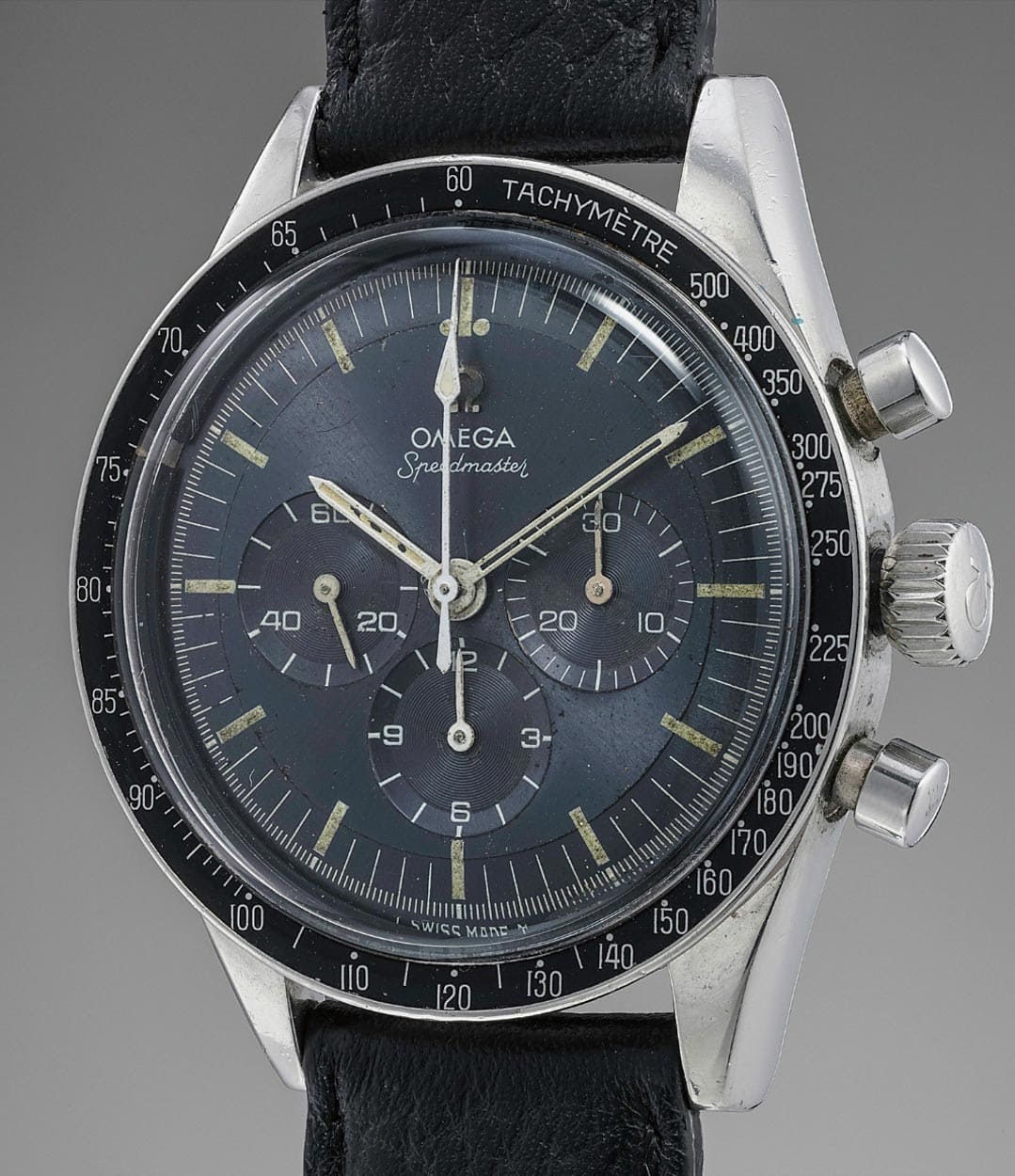 Caliber 321
Inside the blue dial Speedmaster 105.003-63 there is the famous column-wheel chronograph caliber 321 movement. Manufactured by Lémania (calibre 2310), it is used in Speedmasters between 1957 and 1968 (the last ones left the factory in 1969). In 1968, the successor of this movement, calibre 861, was introduced for the Speedmaster. The calibre 321 ticks at 18.000vph and uses a Breguet overcoil. A superb movement that is praised by many collectors. Below, an image of a calibre 321 movement (it is not a picture of the 105.003 blue dial Speedmaster on auction!).
Box and Papers
The blue dial Speedmaster comes with a grey Omega box, a warranty booklet and an extract of the archives from Omega (we did an in-depth article on how these extracts work). On this extract, you will find the description of the dial, mentioned as 'blue/grey' and that the watch is delivered to Mexico. The box and papers are of a later date, as we've been informed so these do not belong to this watch.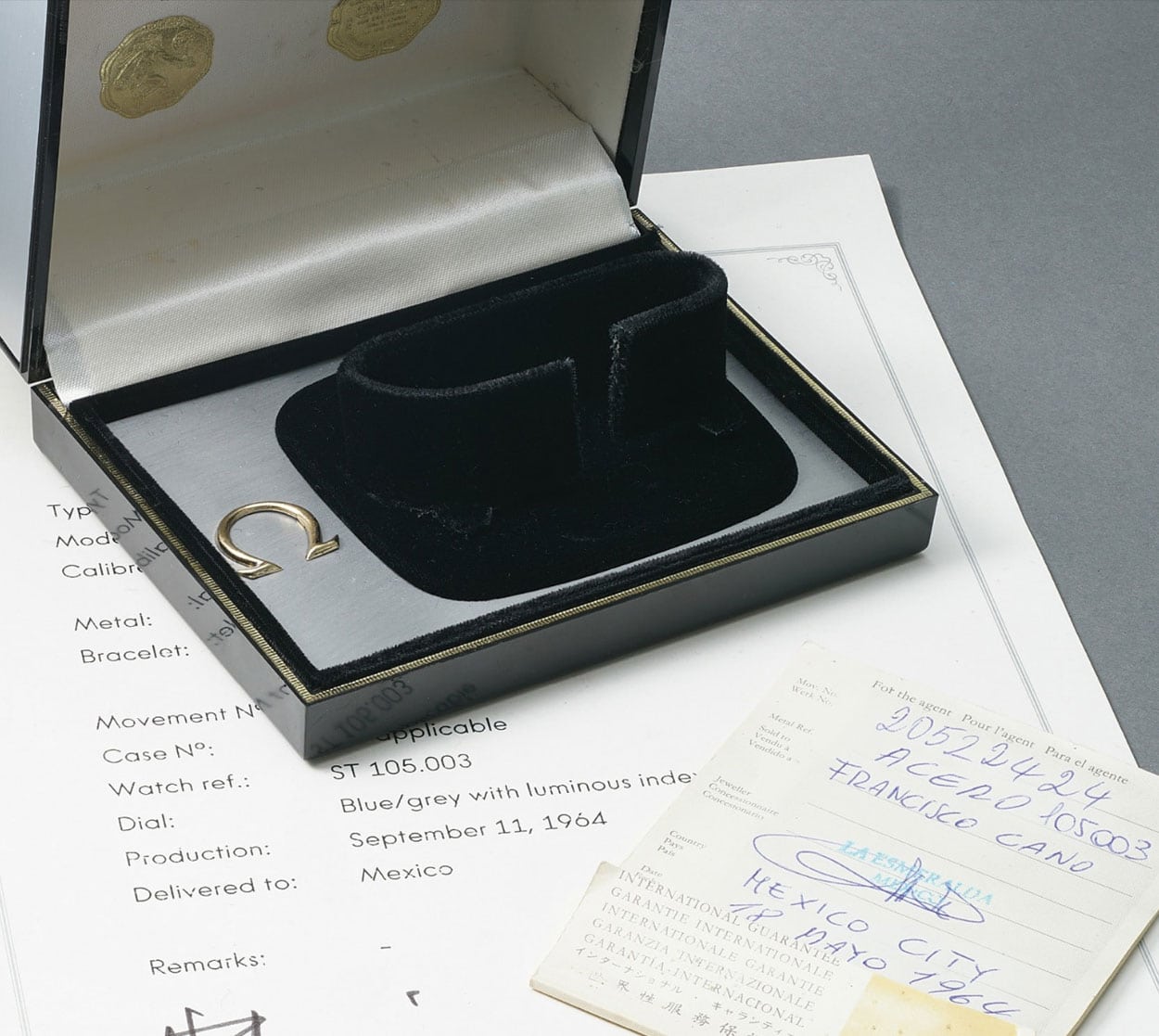 Production Date Payment Date
Now, the eagle-eyed enthusiasts among you might notice that the production date on the Extract of the Archives is after the date of sale. On the extract, you see that the production date is September 11th 1964. The warranty booklet though, says May 18th 1964 as the date of sale. The lot description gives a bit of background information on this odd order of events. Omega marked in their books as sold once they would receive the payment. This needs a bit more explanation I think, so I checked with Omega myself and asked them about this.
Gaps And Dates
As you might know, there are a few gaps in the archives at Omega in Bienne. But what is known about this specific watch, is the production date of its caliber 321 movement. This has been recorded in their archives. Based on this, they can see that the production was actually indeed before the written date of sale in May 1964. At the time, just like Patek Philippe, Omega sent the watches to some of their agents and would receive the payment later. In some cases, much later, depending on the arrangements they had with the clients. In their books, they would not mark the watch as shipped unless the watches were paid for.
Production Year
So basically, what happened, is that once the payment was received from Mexico, Omega filled in the 'Production Date' field with that particular date. In short, Omega received the payment for this watch (and the entire batch of watches) on September 11th, 1964. A very accommodating payment condition I would say. Thanks to Omega in Bienne for clearing this one up. The serial number is shown on the warranty booklet and would actually indicate 1963 as production year.
Estimate Of The Blue Dial Speedmaster 105.003
With the current Speedmaster craze, for both vintage models as well as new (and limited edition) watches, the price can go anywhere in my opinion. Phillips' estimate is between 52.800 and 106.000 Euro (CHF60,000-120,000) which is indeed all over the place. I would not be surprised if this blue dial Speedmaster 105.003-63 would hit the high end of the estimate, or perhaps even go over. The end of the vintage Speedmaster love is not in sight yet, and some collectors have deep pockets, as proven recently during other auctions. Interesting to notice is that Phillips' estimate on the gold BA145.022-69 is quite low, while these are very much in demand right now as well.
The listing at Phillips of this blue dial Speedmaster 105.003-63 is here.