Book Review: The Vintage Rolex Field Guide
And we put it to the test as well!
There is the flashy coffee table type of Rolex book, and then there's the other, more educational one out there. On which end of the spectrum sits The Vintage Rolex Field Guide?
For the first type of Rolex books, you usually need more than both hands, as those books often have impressive dimensions and ditto weight. The paper is thicker than the cardboard your fridge was packed in and the pages so glossy that you need sunglasses, so you don't burn your cornea. We all know which books I am talking about. And we probably all have a few of them at home, myself included.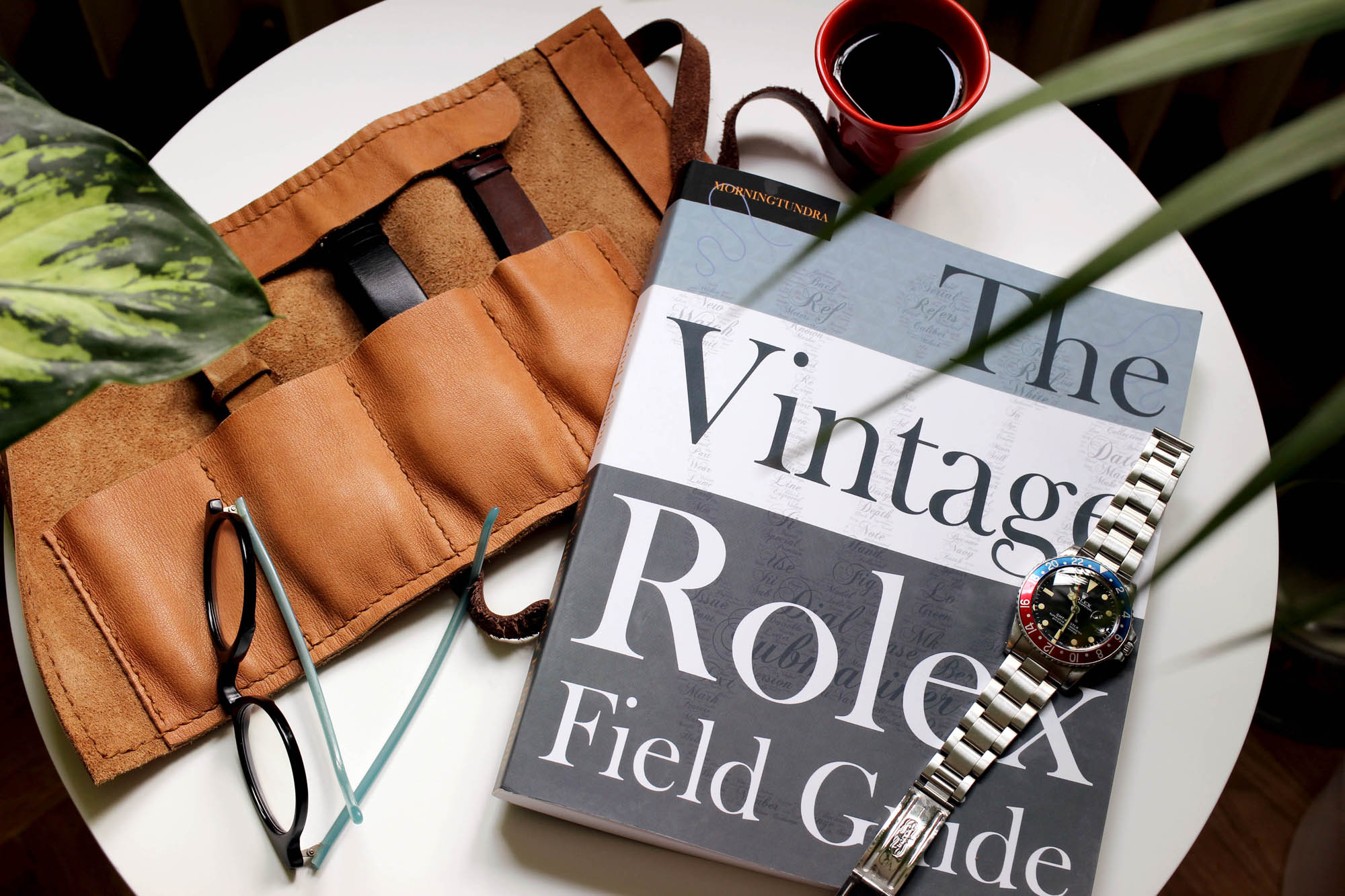 The Vintage Rolex Field Guide
The book in review today falls on the other end of the spectrum. A lot of black & white pages. Many pages without any pictures at all. A lot of charts, model timelines, and graphs. The Vintage Rolex Field Guide's content is very true to its title and fulfilled all of my expectations. As the author says in pre-face: "It summarizes the insider knowledge and experience of several collectors, streamlining the essential education needed to purchase a vintage Rolex." And speaking of the author…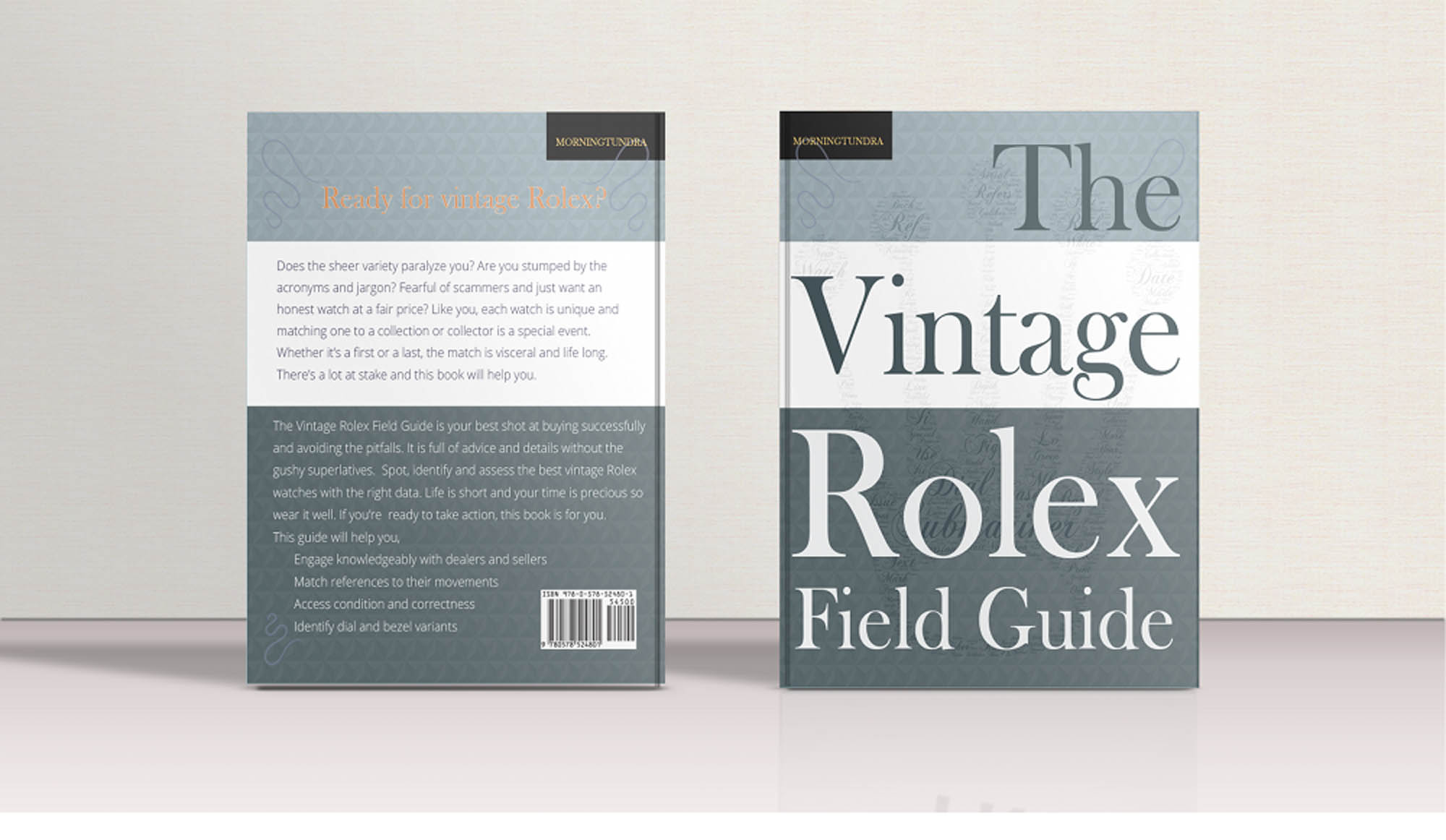 Mysterious identity
The eagle-eyes among you probably noticed there is no author mentioned on the book cover. There's only "Morningtundra" printed on there. One might expect that the author of such an elaborate deep dive into vintage Rolex watches would love to frame his achievement after more than ten years of collecting data, catalogs, and manuals. A bit of well-deserved fame, you could say. I realized only a few weeks after we started chatting that I still don't know his real name. I was texting him on Instagram, where you can find him under the same @morningtundra name. Without further hesitation, I simply asked him – why don't you claim your fame? Morningtundra responded: "I have no desire to be famous or recognized as an "influencer" or "guru." I have a job at an organization that I respect. While I don't imagine they'd object to me writing a book, I'm concerned about unintended consequences. The internet is highly unpredictable, as are the people that use it. I'm just trying to keep me and my interests out of the limelight."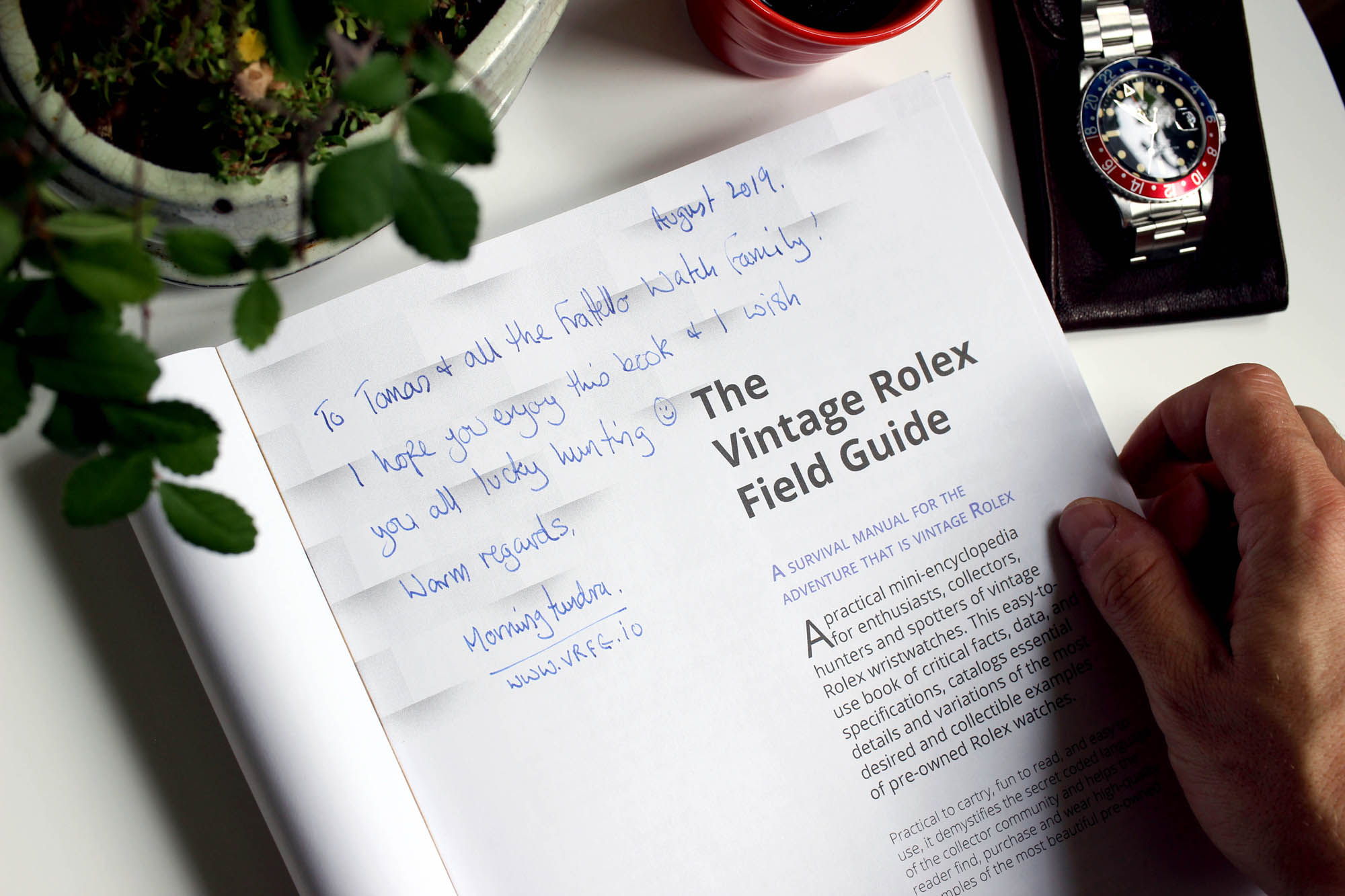 The first half of the book
An introduction part defines the antique, vintage, modern classic and contemporary Rolex watches. The next few pages dive into the topics of authenticity and originality, and correctness. After the case serial number timeline, you find twenty pages on understanding Rolex cases, dials, hands, crowns, or crystals. If you decide to skip the next twenty pages on antique and pocket Rolex watches, you are drawn into the core of the book that digs deeper into different vintage Rolex watches made from the early 1950s through the 1970s. Sixty pages of professional tool watches, each described in detail.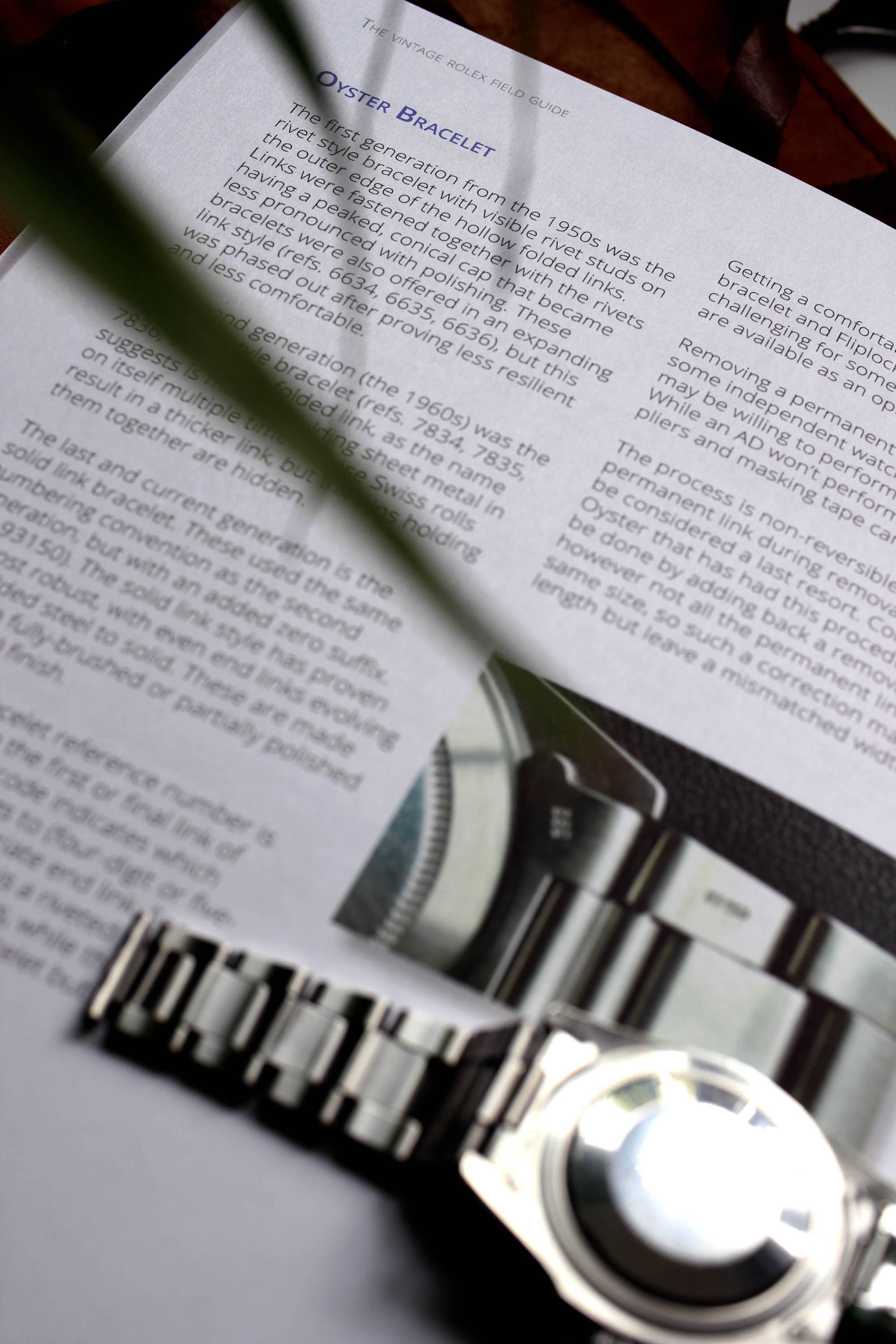 The second half of the book
After the sixty pages about Rolex' professional watches, you'll find an overview of their more classic-looking watches. Most impressive about this part of the book were the very detailed pages on Rolex bracelets and Rolex movements. This part is especially interesting for those who are exploring the world of vintage Rolex, as I guess that seasoned collectors won't read things here they've never seen before. But, it is good that it has been well-documented for references purposes. I am sure that even the Rolex collector that has been around for a while will appreciate the detailed charts and tables.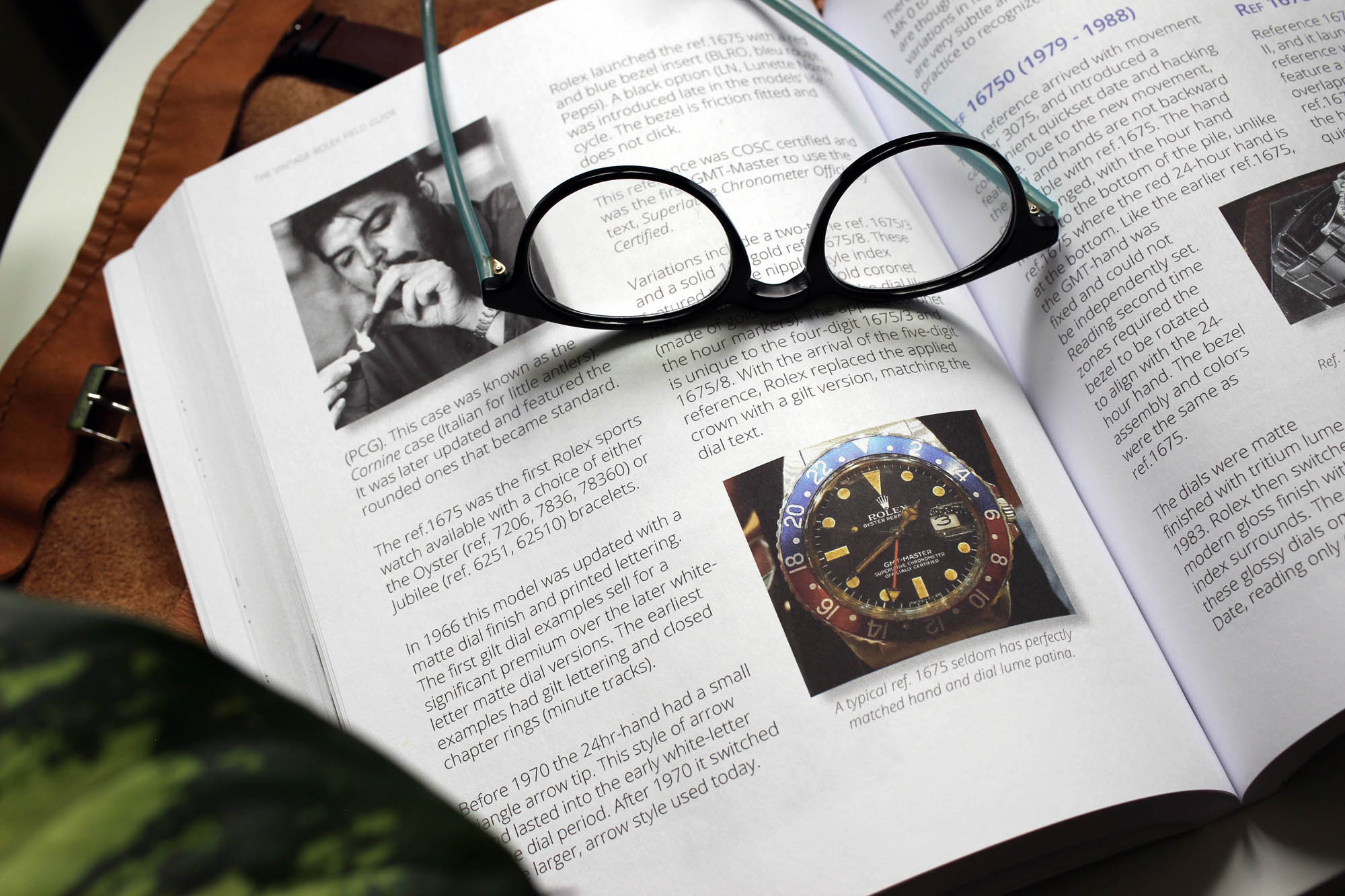 Scary load of reference tables and descriptions
As written above, this book carries a lot of data on vintage Rolex watches (and parts). Reference descriptions involved Amazon Mechanical Turk Human Intelligence Tests. The author has a professional job in the field of data, which is perhaps why, according to his own words: "I have a fascination for the mechanical." The author is a software engineer and data scientist by trade, which gives us, the readers more faith in the quality of the laborious efforts behind these reference pages.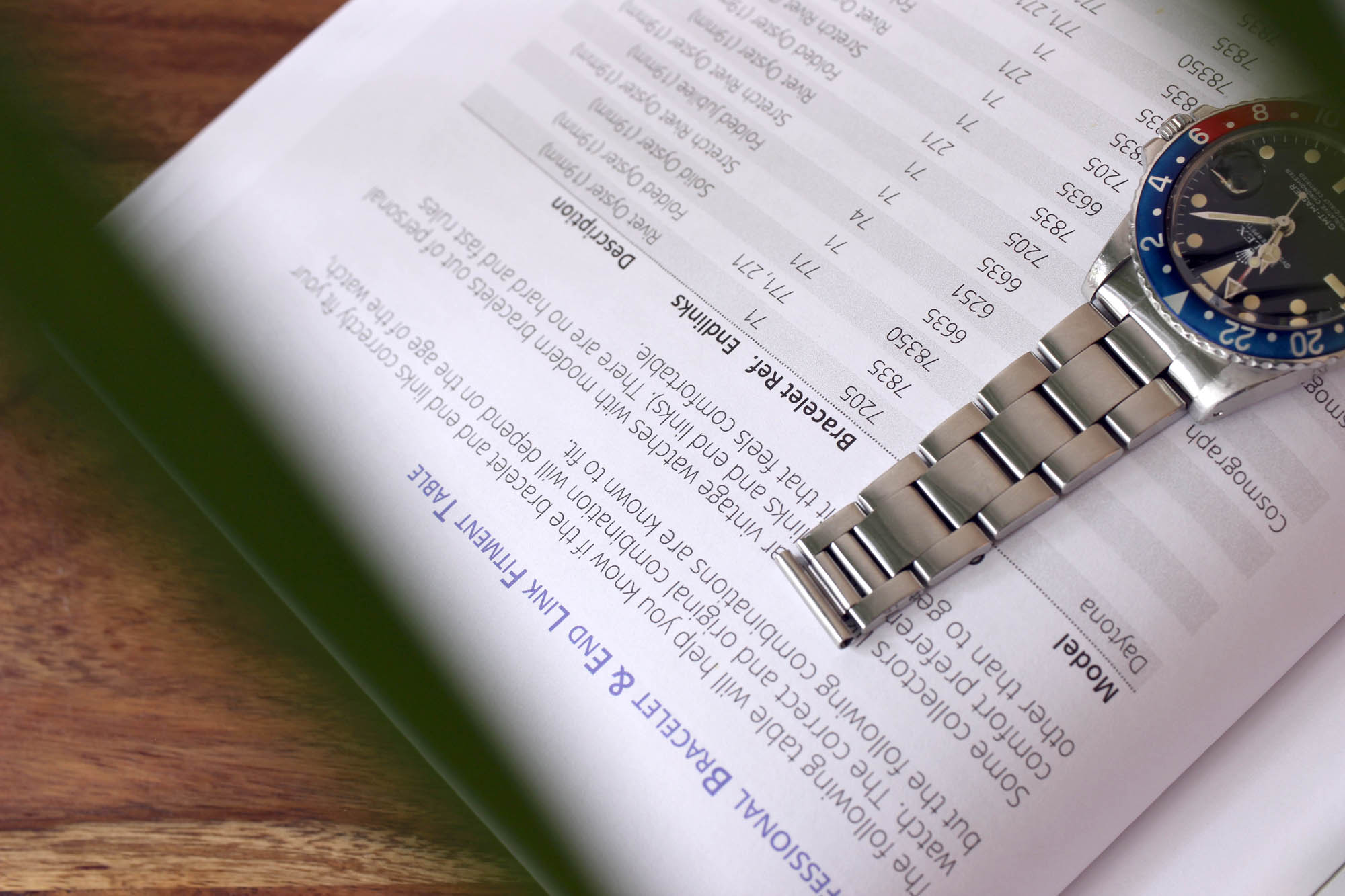 A real test
I was waiting anxiously for the Vintage Rolex Field Guide to arrive because I wanted to put it to the test and use it to guide me through the purchase of my first Rolex. Historically, I ignored Rolex for a long time when it comes to collecting watches. During one of my recent conversations with Michael Stockton, he said: "Ignoring Rolex is dangerous." I took his words seriously, and I suddenly found myself developing a particular interest in the Submariner and GMT-Master and decided to acquire one. As many first buyers, I wasn't familiar yet with all the differences between the references they made. I just had a list of the ones I liked.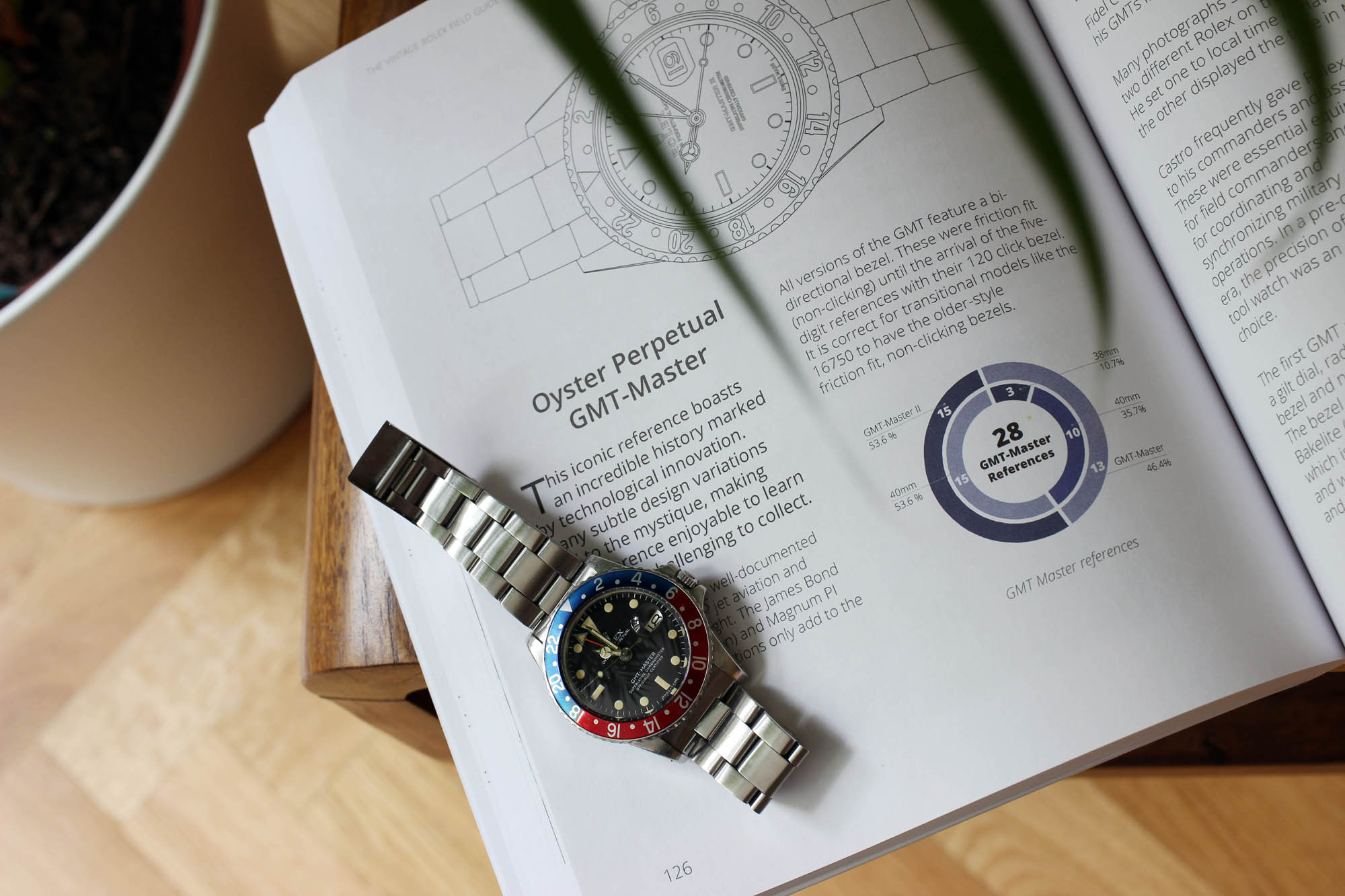 Learning GMT-Master references
The Vintage Rolex Field Guide features five pages filled with text on all the vintage GMT-Master references, starting with the 6542, and onwards with the 1675, 16750, 16760, 16700 and 16710. You get three to five paragraphs featuring key descriptions, specifics, variations, and movements details per reference. Some of them spiced up with a full-color reference picture. If you are particularly interested in one reference, the information might be a bit too summarized. But if you want to understand the vintage GMT models quickly, this guide is the perfect source for useful, punchy information. All written and pictured with an (almost) scientific approach like we've (only) seen in the Moonwatch Only books.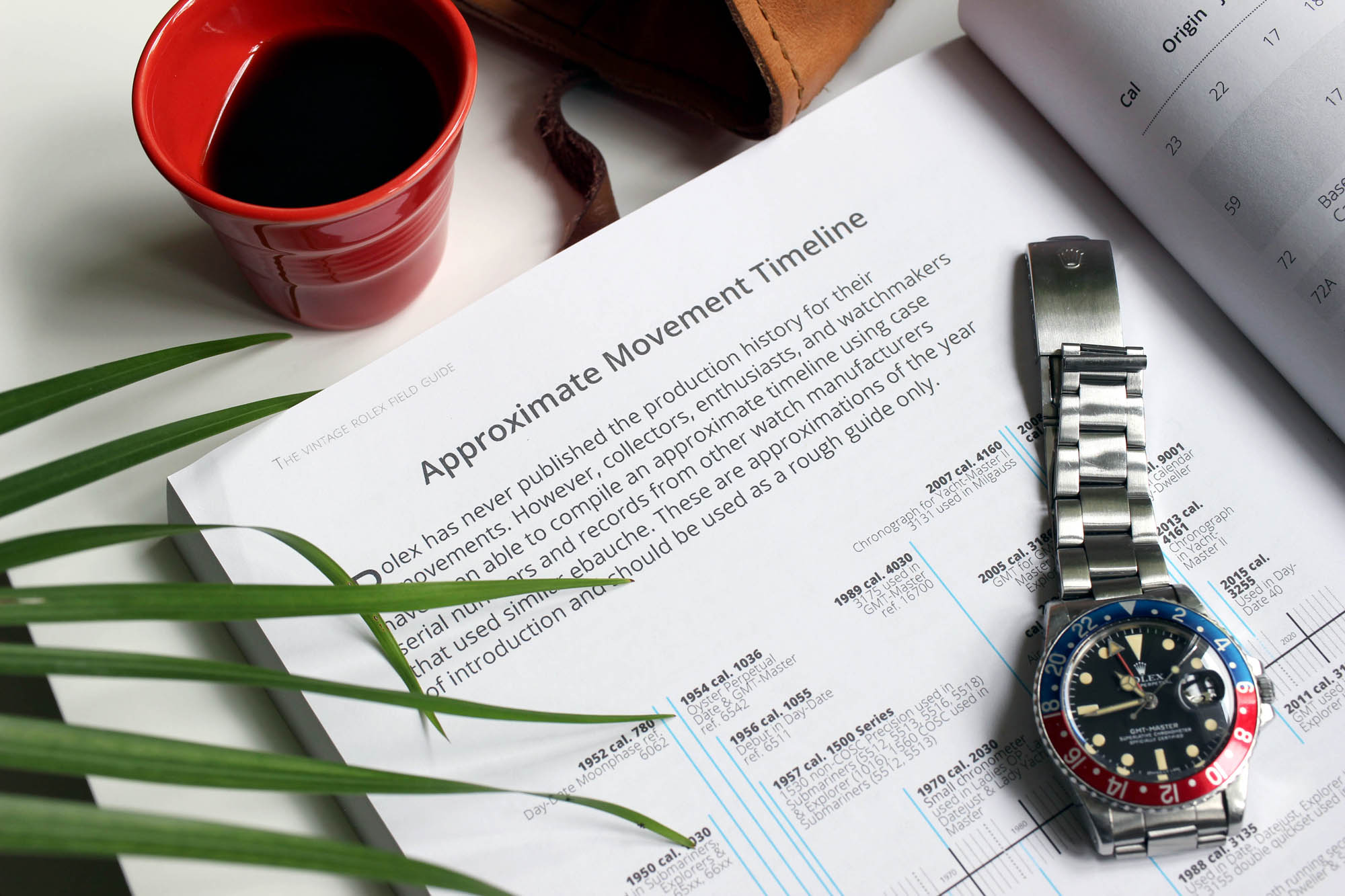 Best fit?
I was not very strict about which Rolex – GMT or Submariner I wanted to buy first. Hunting for one specific watch is quite tough today, and the vintage hype doesn't help much either. The Vintage Rolex Field Guide quickly helped me understand the entire GMT evolution and supported my decision which one to buy. A decision not only based on pictures, but also on other more technical aspects. One important observation I made is that you always try to find articles that compare references that are rather close to each other, such as the 1675 and 16750, for example. After reading a full chapter on GMTs, I have to say that I found it interesting to have a broader view of this collection, putting the specific references into a better perspective.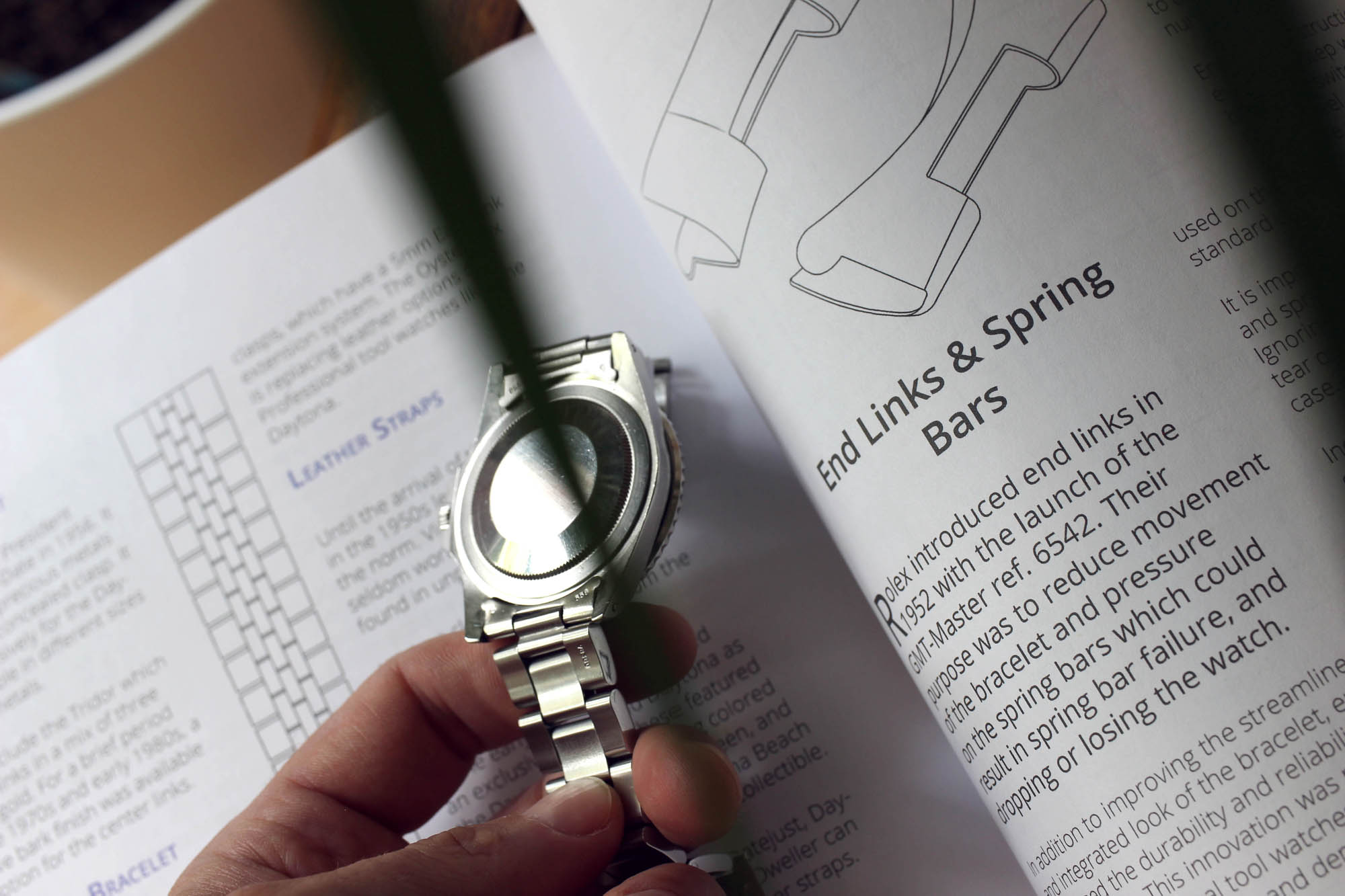 The author's favorite Rolex
I asked the author about his first Rolex was, and his daily (or favorite) watch. "My first watch was a two-tone Datejust from 1989. I traded it for a ref. 9708 at a pawn shop in the 1990s. While I still have the 9708, I don't wear it as much, and I actually miss the Datejust. If I ever buy another Rolex, it'll be an early Turn-O-Graph though. Perhaps a 6202, if I can find one that I can afford. My daily wearer is a Rolex GMT-Master 16710 from 1990. While it's not vintage, it's a very practical old watch with tons of charm. After finishing this book, I started downsizing. I'm selling most of my collection, including many spare parts and documents."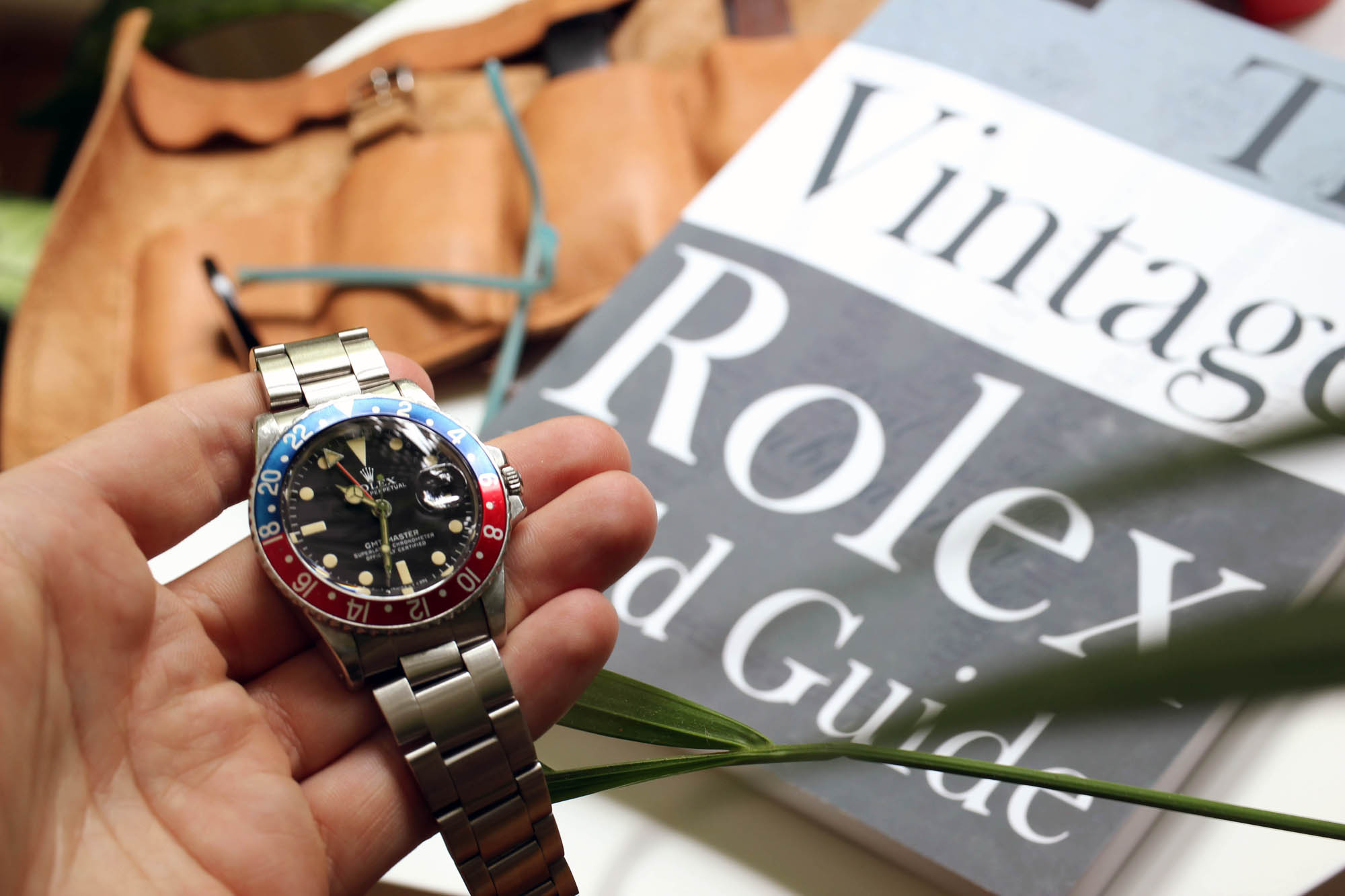 Author's best advice for first buyers
"Start small. Perhaps a manual wind Rolex Oyster Precision like a reference 6494. Find a 3-6-9 waffle dial. Learn the market. Make contacts on forums. Find a friendly watchmaker to service your 6494. Attend meetups. Buy my book. You can do all this in a couple of months. If you enjoy the experience, then think carefully about spending serious money."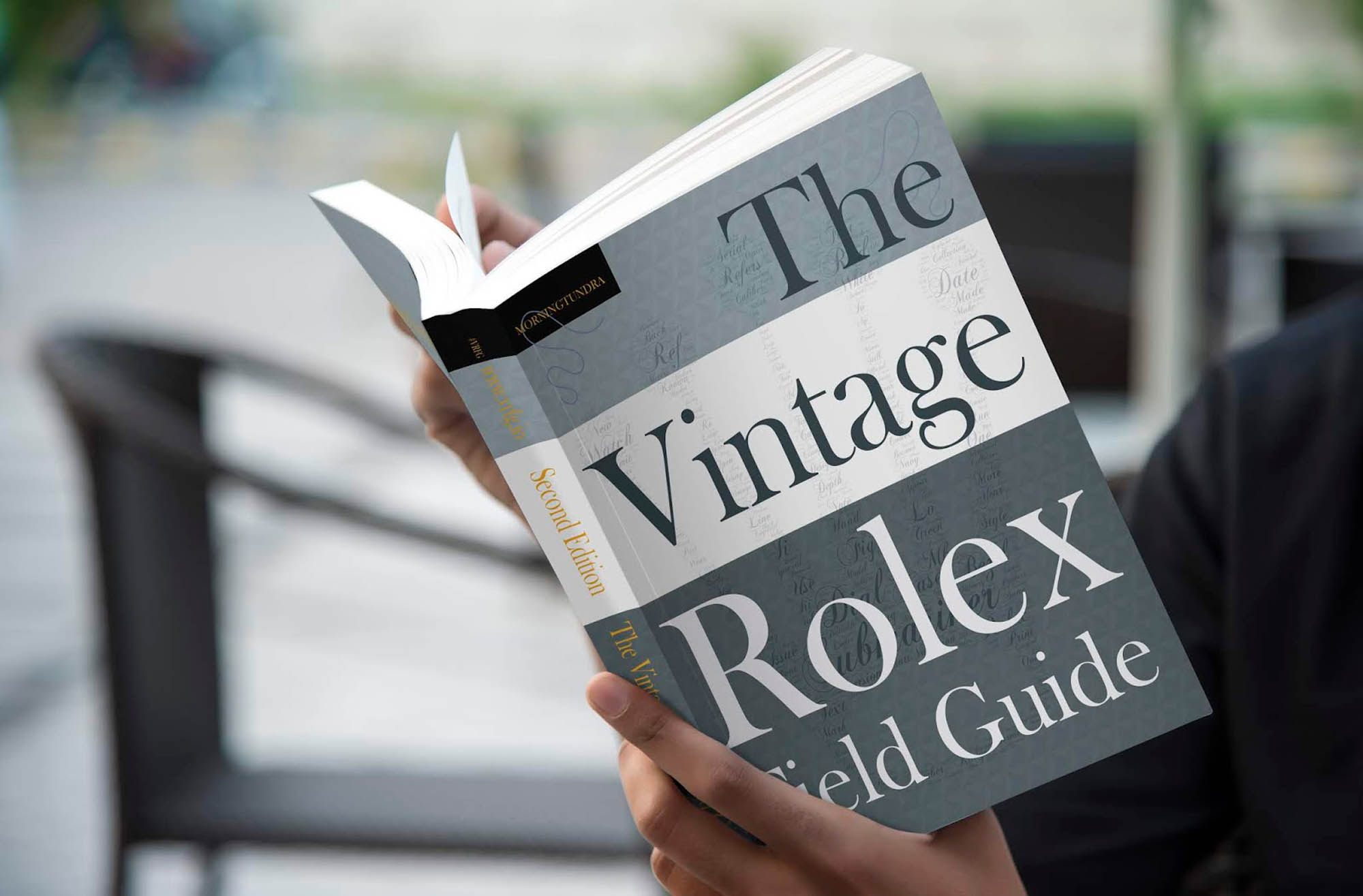 Last thoughts
I believe that The Vintage Rolex Field Guide will be of great help for first-time buyers but also supports the serious collectors during their hunt. The book has a softcover but is also available in a digital format. As the name suggests, and the format support, it is meant to be carried around in your bag and should be taken out on the spot if you need to check some facts. Very useful when you find something interesting at trade shows or watch fairs. Happy hunting!
The price of the book is $45USD, excluding shipping.