Breitling AVI Ref. 765 1953 Re-Edition Is A Faithful Successor
Breitling proves its ability to decimate savings accounts once again
It's no wonder the average age of first-time homeowners is on the increase. Breitling keeps mining its archives with unavoidably awesome results. Last year's 1959 reissue was, in my opinion, the best thing Breitling has ever done. I mean it. Ever. Well, chalk me up as consternated, because the Georges Kern carnival has just served up another doozy. The Breitling AVI Ref. 765 1953 Re-edition is truly something special. But it's not without its controversies…
The Breitling AVI Ref. 765 1953 Re-edition's life began 67 years ago with the launch of a pilot's watch known as the "co-pilot." Almost seven decades later, this oft-forgotten gem has been reborn. Seeing it now, it is a wonder it took a management overhaul to bring this model back to the light. We often talk about the fidelity of re-issues. In this case, the similarity is truly startling. The 41.1mm stainless steel case is topped with a domed hesalite that is central to the vintage vibe. With my bare eyes, I can discern two "major" differences on the dial and one slight amendment to the case. Beyond those sympathetic changes, this looks to be a blow-for-blow remake. And it's all the better for it.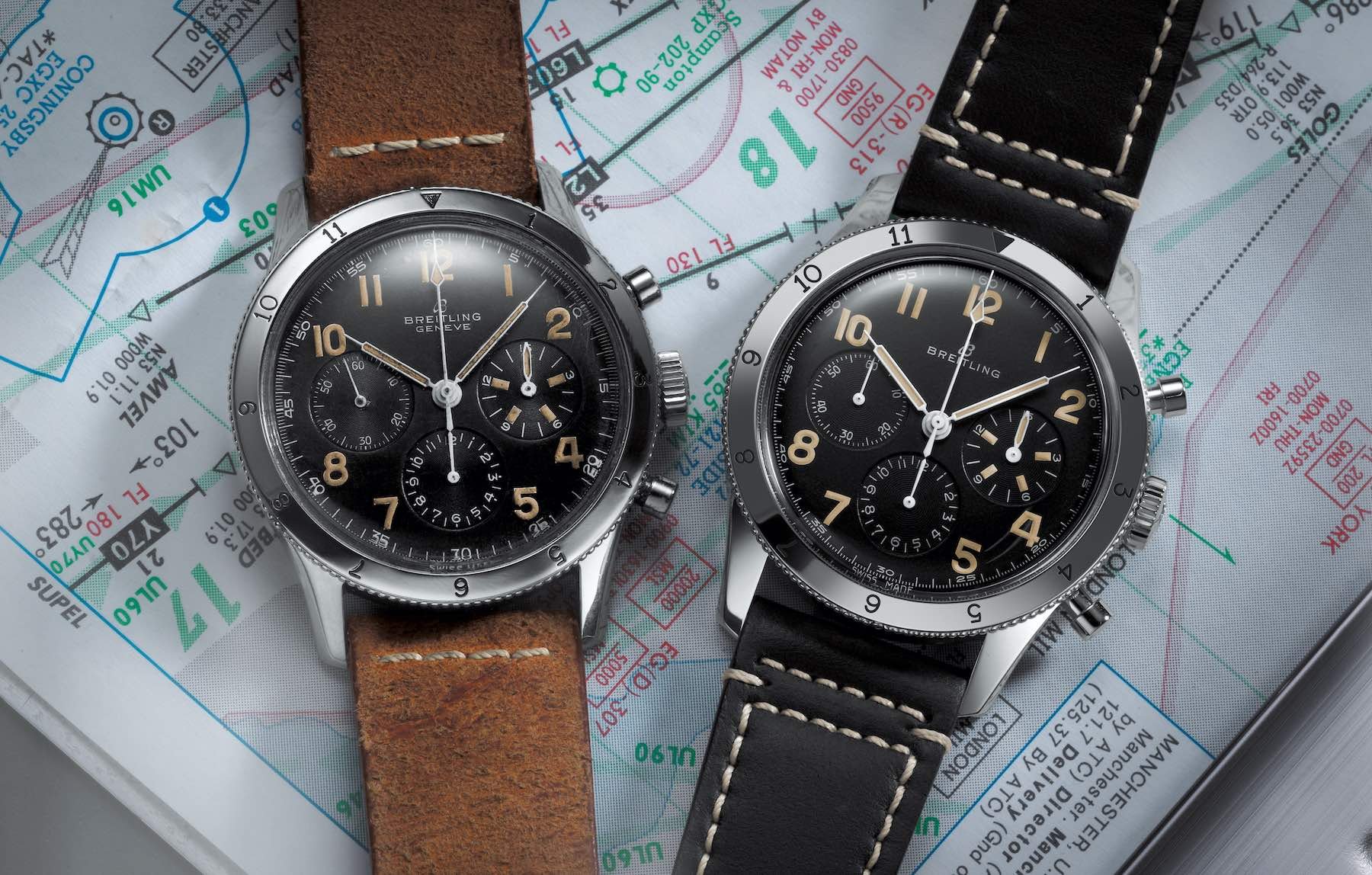 What's new?
So, so what's new? Immediately, eagle-eyed critics are likely to notice two things: The absence of "Geneve" from beneath the Breitling wordmark, and the apparent shrinking of the minute/seconds track and five-minute numerals. In the image above, you can see the original model (on the left) sitting next to the new model (on the right). Although it looks as though the minuterie and five-minute numerals have been reduced and the hour markers have been enlarged slightly, this is actually an optical illusion courtesy of the domed crystal. Having spoken with one of the men behind this reissue's design, I can confirm that this AVI Ref. 765 is as close to an exact reproduction of the original as was possible
As for the case, I believe the new lugs are broader and sharper, with less-obvious faceting.  The profile of the pushers and the crowns look relatively similar, but the new pushers are slightly more prominent — a necessity thanks to the movement update.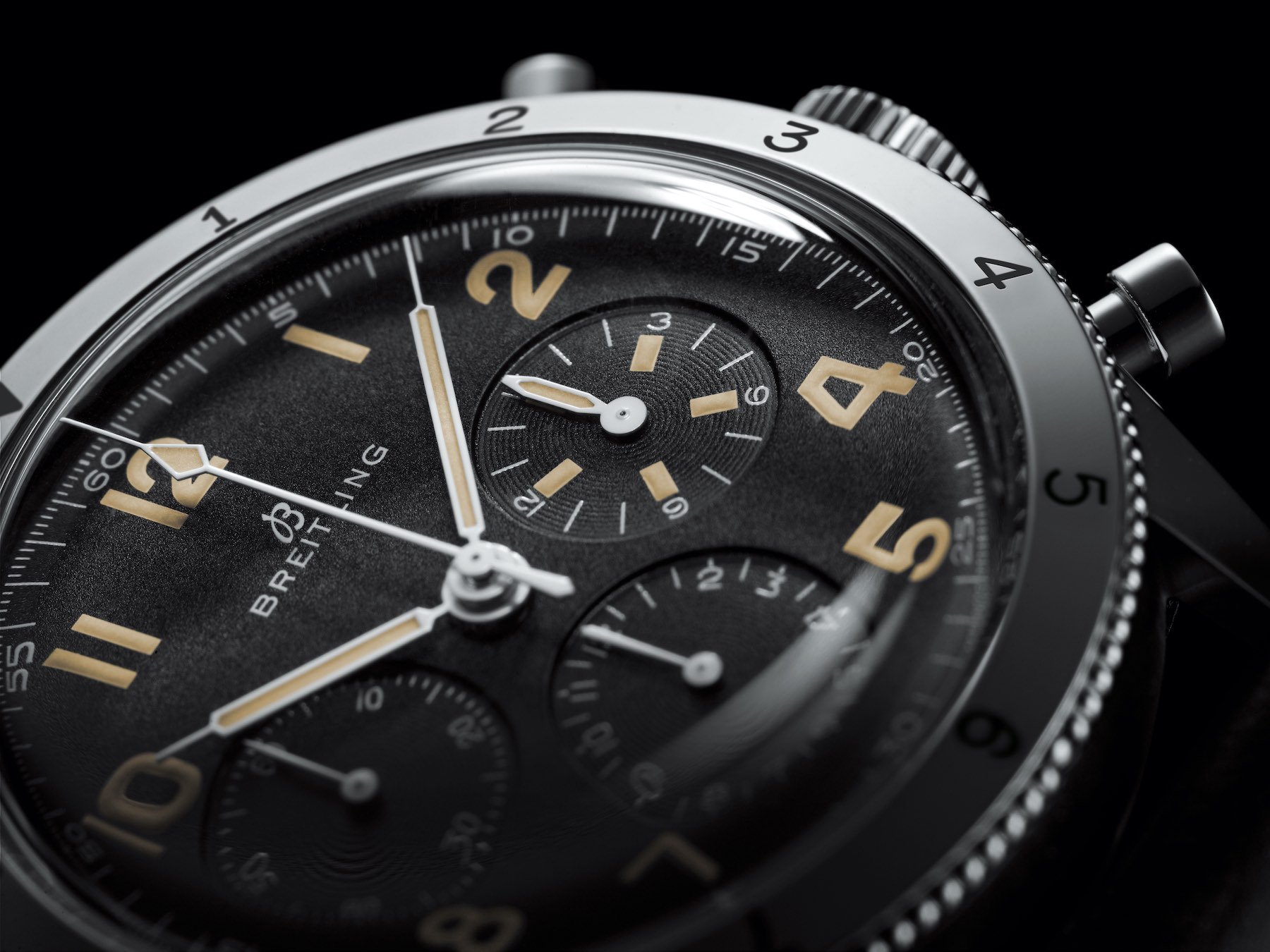 Controversy
I'm not going to just address the elephant in the room; I'm going on safari. Fauxtina. Faux-radium. Faux-rad. Whatever you want to call it, the argument about its legitimacy in watch design is sure to raise its ugly head once more. But before the comments section descends into chaos, let me clear a few things up.
Firstly, the original Breitling AVI Ref. 765 did not have white lume. It was a creamy soft yellow (which has been replicated here as best as is chromatically possible, even though the press shots seem to show a darker, pumpkin shade).
This creamy yellow color of lume was common in most Breitlings of that era. The modern argument against using a "non-white" color straight out of the box seems centered around its insincerity. If you believe that certain colors should be blacklisted because it is possible that they may be arrived upon by the fading or aging of other colors, then you're going to live a pretty dull life.
I'll tell you what my eyes tell me: It looks awesome.
Pink is not "fake" red. Ochre is not "fake" brown. Beige is not "fake" white. They are colors in their own right. As is this shade of beige/yellow/orange/pumpkin/brown, or whatever your eyes tell you it is. I'll tell you what my eyes tell me: It looks awesome. So what if 99% of watch designers in the industry today were inspired by the natural aging process of radium lume and brought that handsome, warm, inviting colorway into their new creations? That's like hating New York City for loving the green/blue color of aged copper. You can do it. It's your right. But it's a whole lot of wasted energy.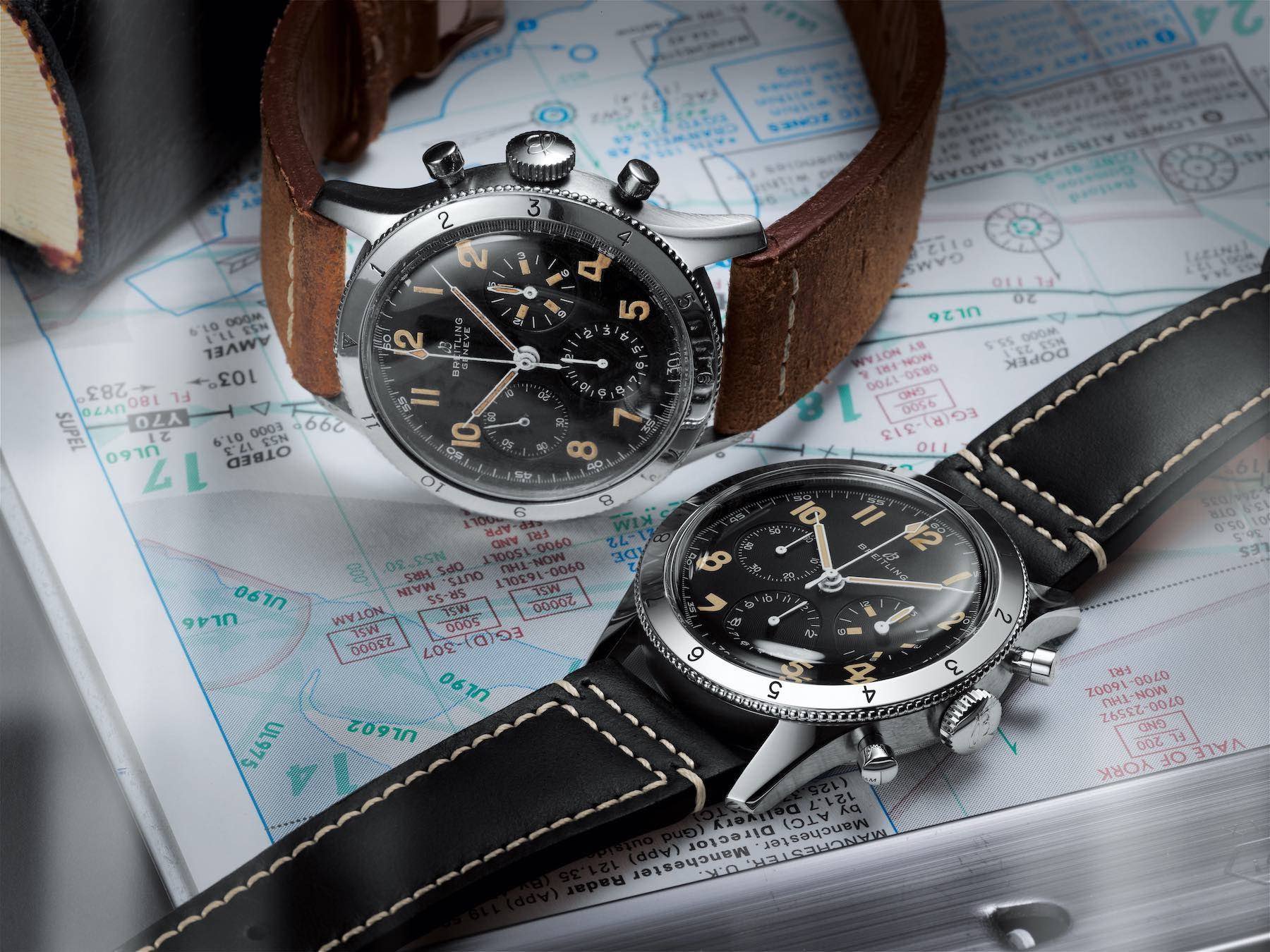 One minor gripe
Ostensibly, I like the color of luminant used on the Breitling AVI Ref. 765 1953 Re-edition. It has the added advantage of being Super-LumiNova so it won't age as its predecessor did. I'd call that an improvement. One aspect of the watch that is definitely not an improvement is the water resistance. Here we are in 2020, staring down the barrel of another luxury purchase, and on the other end of it is a 30m WR rating. It is unfortunate. This is actually listed as an improvement over the original, but it seems like Breitling could have pushed the boat out a little further on this front. But, given the fact it is neither a faithful hangover from the inferior original nor an oversight ignored by the press coverage, the truth may well be that the internal design of the Breitling AVI Ref. 765 makes superior water resistance impossible.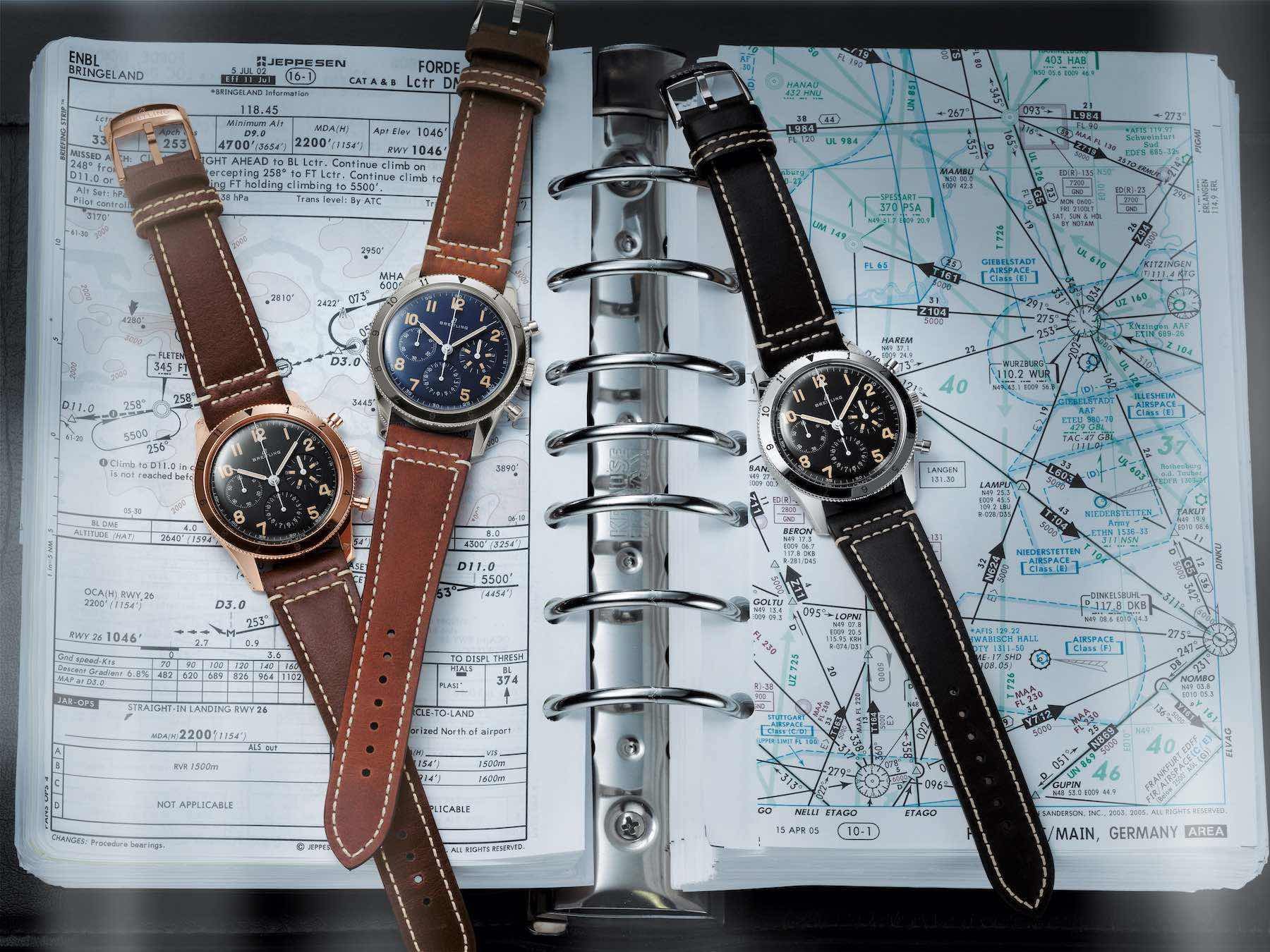 Limited
Sadly, for the collection itself more than anything, this model will be limited to just 1,953 pieces. That's a generous limitation, sure, but I think it adds so much to the catalog it would have been nice to see it stick around as a foundation upon which the brand could have built. Each individual unit will be engraved with "One of 1953," so you won't be getting your own number whether you like it or not.
The Breitling AVI Ref. 765 (catalog reference AB0920131B1X1) is powered by the Breitling Manufacture Caliber B09. This is a manually-wound mechanical movement with an operating frequency of 28,800vph and a power reserve of approximately 70 hours. It is a COSC-certified chronograph with a column-wheel control component, a vertical clutch, and 1/4th second, 15-minute, and 12-hour sub-registers on the dial.
I feel they step away from the true, functional beauty of this watch…
But that's not all! There will also be two precious-metal versions of the 765 released. Both will come in even more limited run sizes: An 18 karat rose gold piece (253 pieces), and a platinum-cased version (153 pieces). I personally have no interest in the precious metal options as I feel they step away from the true, functional beauty of this watch, but I am sure all 406 will find homes soon enough. The rose gold version costs CHF 21,000 and the platinum model retails for CHF 39,000. The all-important steel variant carries a CHF 7,900 price tag. All of these new watches come with a 5-year international warranty. Learn more here.
Watch specifications
Model
AVI Ref. 765 Re-edition
Case Material
Stainless steel/Rose gold/Platinum
Case Dimensions
41.1mm diameter
Movement
Breitling Manufacture Caliber B09
Price
CHF 7,900/CHF 21,000/CHF 39,000
Special Note(s)
Limited to 1,953/253/153 pieces