Breitling Premier Bentley Centenary – Celebrating in Style!
In what has become an increasingly divided world, it's difficult to find topics of discussion where almost all sides can come together in unanimous agreement.
One such example of harmony, though, relates to opinion on the run of watches that Breitling created with Bentley since the two began partnering way back in 2003 (that's the longest running partnership between a watch brand and an automotive marque as an FYI).  If you were wondering about the flavor of said opinion, it was, in a word, awful.  The Bentley by Breitling watches were large, garish, and contained little of the elegance and prestige that the four-wheeled Bentleys so proudly exuded.  Well, today, in honor of Bentley's hundredth year, we've received word of the new Breitling Premier Bentley Centenary Limited Edition watches.
The Breitling Premier Centenary Limited Edition
The Breitling Premier Bentley Centenary Limited Edition pieces will come in two flavors: stainless steel and 18K rose gold.  The watches will keep the same form factor and mechanicals as the recently reviewed Premier B01 Chronograph, which means 42mm in diameter and the use of the in-house chronometer certified B01 automatic chronograph.  The steel piece will be made in a run of 1000 examples and will retail for 9,600 CHF while the gold model will be limited to 200 and will sell for 27,000 CHF.  It appears that both versions will come on a brown quilted leather strap (nice!) that mimics the seating surfaces of the motor cars, while the stainless version will also come on a bracelet.  The watches will be available starting in July 2019.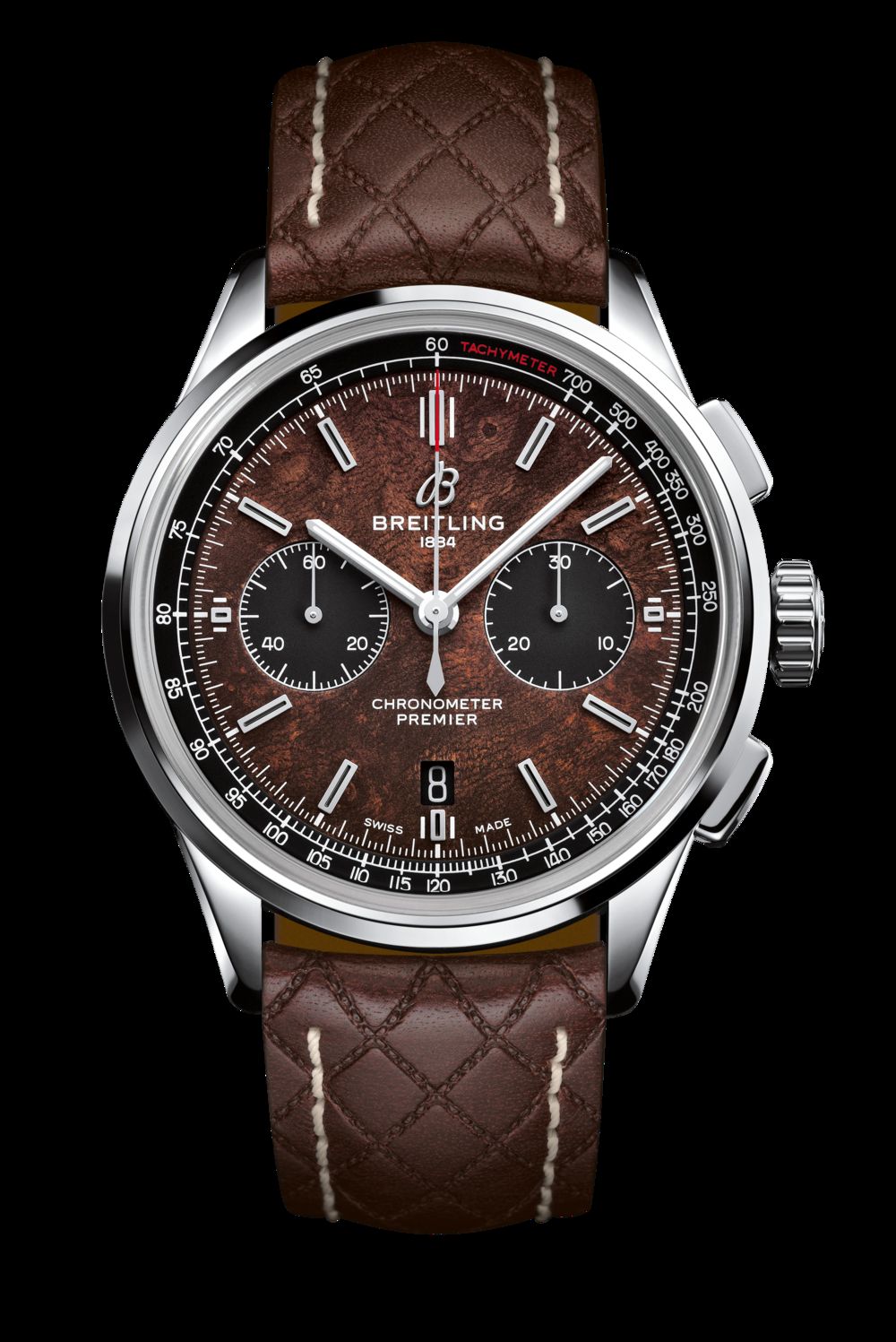 No More Garish Breitling Bentley Pieces
With the Breitling Premier Bentley Centenary Limited Edition, we have a few interesting things to mention.  First and foremost – and in keeping with the history of the Premier line back to the 40's and 50's – we have the (re)debut of a gold Premier.  It's worth mentioning because it likely means that we will see some other dial variations – perhaps yellow gold as well – made from the precious metal.  Also, from the top side, there's no mention of "Bentley" and I like that level of subtlety.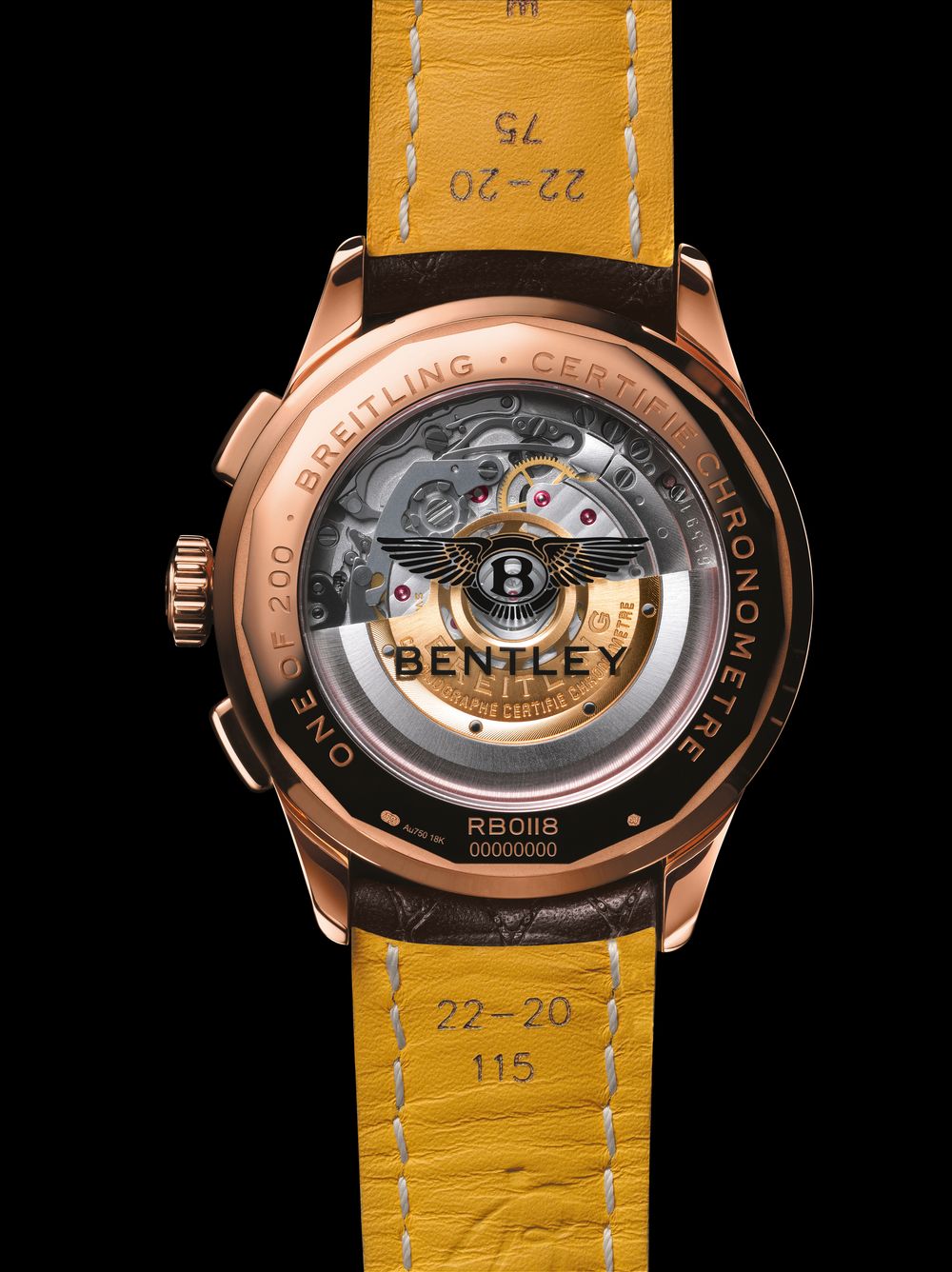 In fact, the display back features the Bentley logo and the side contains an engine turned badge that states "Bentley" and is affixed by screws.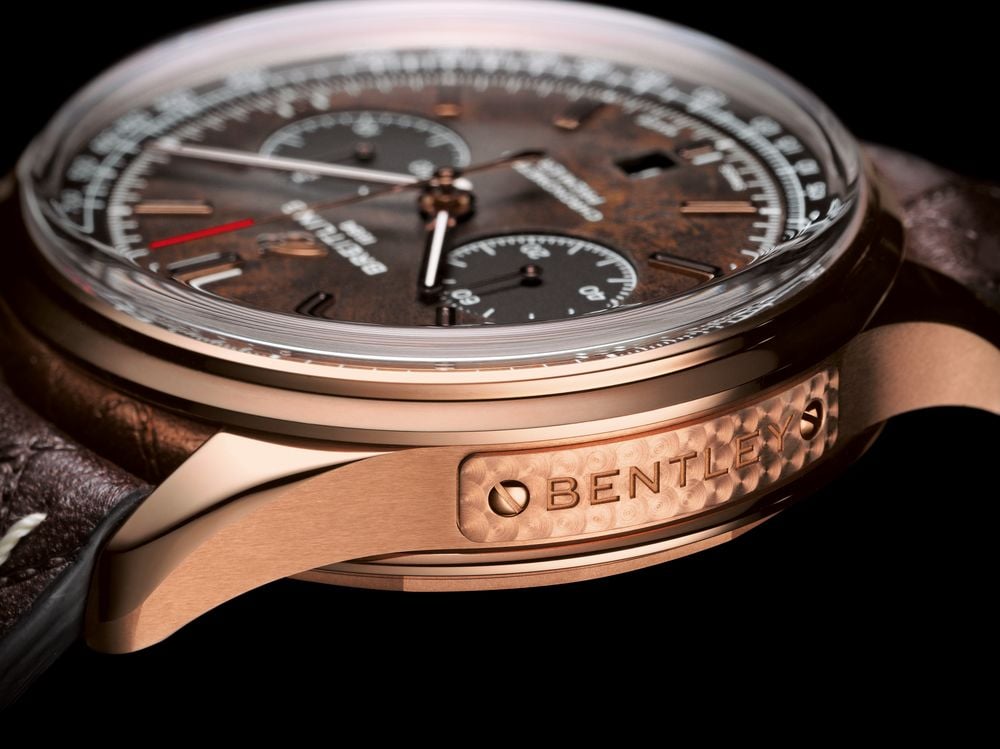 The latter Bentley indicator is similar to what we saw on the Seamaster 300M Tantalum and it "feels" like it's a bit of an oncoming trend.  Second, we have the somewhat unconventional use of wood as a dial medium.  Specifically, this is brown elm burl similar to what is used on the interiors of a Bentley vehicle.
Wood is Back!
Let's spend a little time on this dial because I find it an interesting move for the Breitling Premier Bentley Centenary Limited Edition.  Aside from its liberal use on the packaging front, a dial constructed from wood is a rare thing indeed.  In the higher end world of horology, only the Ralph Lauren Automotive collection of watches come to mind as liberal users of the material.  Moving on from that, the watches that jump to mind are the 80's Rolex Presidents and Datejusts that could be optioned with an exotic wood dial – the so-called radica chiara.  Now, wood dials may appeal to the eccentric, but in a watch world of ceramics, precious metals, nano-carbons, and gems, I'd classify this as very different.  In short, I like it!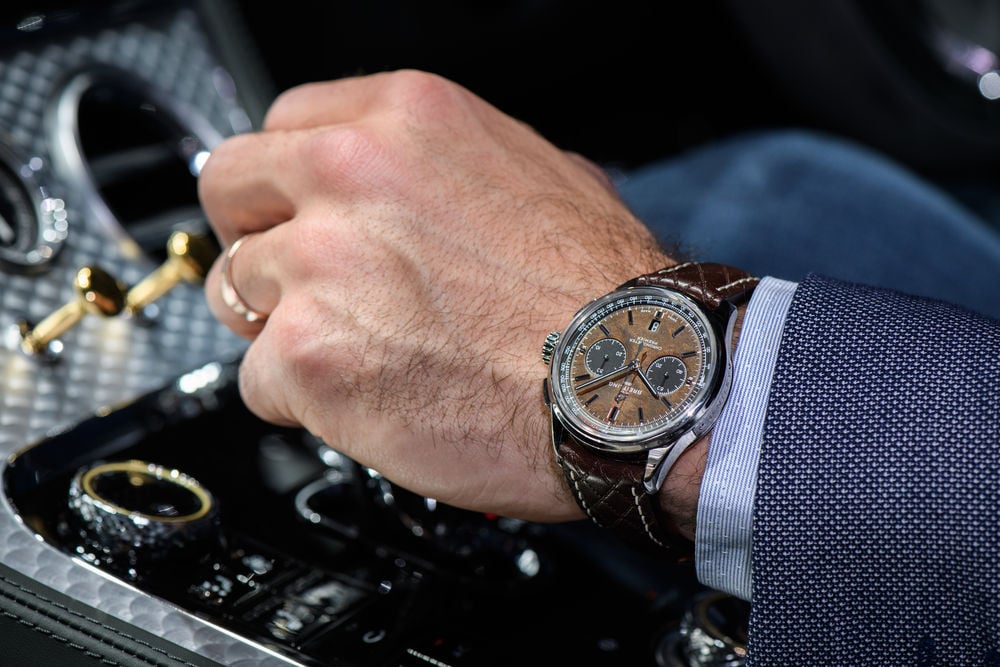 Classy & A Rare Positive Watch x Automotive Tie Up
To me, the Breitling Premier Bentley Centenary Limited Edition watches look classy, luxurious, and blend traditional cues (the Premier styling is traditional after all) with technology in the use of a modern and proven engine.  In other words, these watches are finally aligned with their branding partner.  I do realize that for many, the use of wood won't come across as a positive, but as limited pieces, it's more than fine.  Whether this new Breitling is or isn't for you, I do think we can all unanimously agree that this watch represents a real turnaround for the Breitling/Bentley partnership.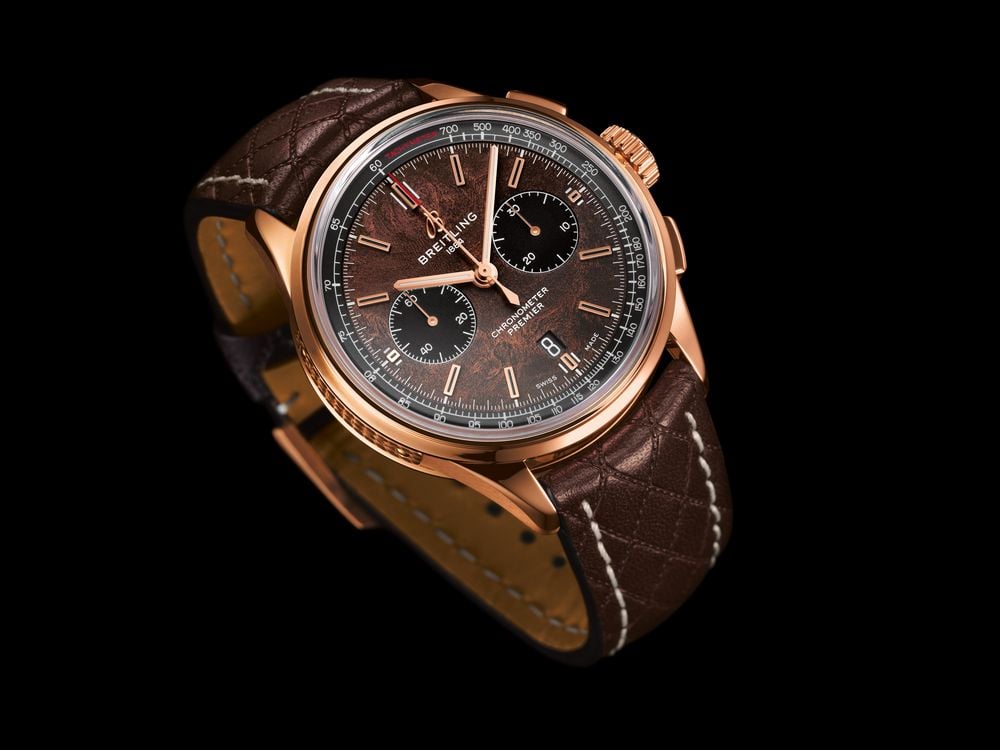 For more information on the new Breitling Premier Bentley Centenary, head to Breitling's official site.