Building The Perfect Watch Collection With €25,000 — Mike's Picks From Patek Philippe, Rolex, And Ming
Vintage looms large in these picks
There's no denying that €25,000 is a lot of money. In fact, some might think it's an absurd amount to fork over for a watch collection, but this is the budget I have. To meet the guidelines of our article series, it also seems that I'm obliged to spend it all. Well, I grabbed my imaginary shopping cart and am now sprinting through the aisles. What will I choose?
During the '90s, there was a funny period when music stores graduated from shoebox-sized mall shops to much larger venues. I was really into my CDs at the time (hair bands, thank you very much), and I still remember when we got our first Blockbuster Music. This place was ridiculously huge, priced a bit below the competition, and had an incredible selection. I'd go in armed and ready with my weekly paycheck from the grocery store, and something strange always happened: I'd get what I call "record store syndrome." It happens to me when the options are so overwhelming that I simply lose the ability to remember what I wanted in the first place!
When it comes to building a presto-chango watch collection with two and a half stacks of high society, the same thing can happen. But don't worry; I've snapped out of my daze and have spent my ducats. Whether I've chosen wisely or not is a matter of opinion.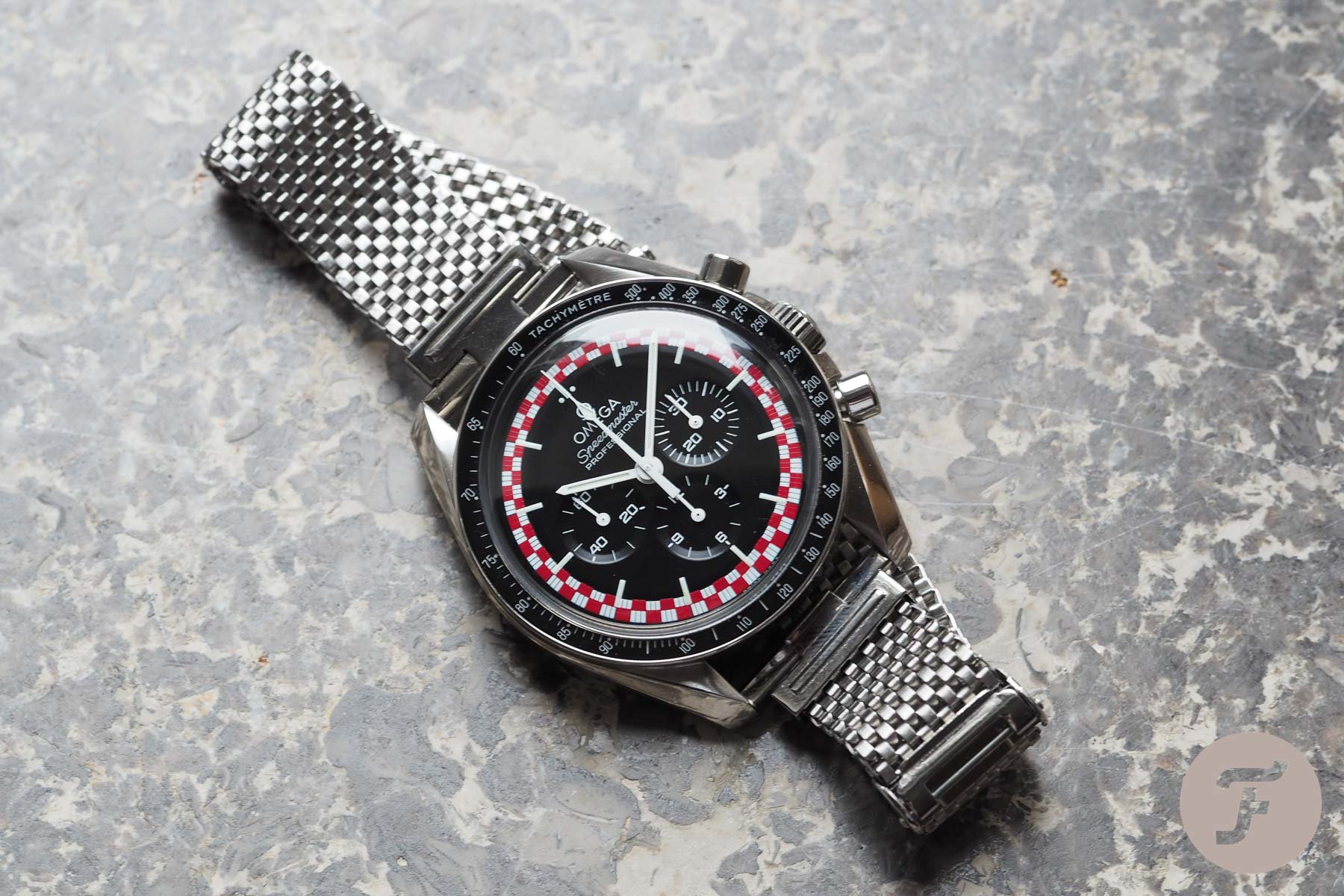 Building a watch collection for €25,000
I've decided to limit myself to a watch collection comprised of just three pieces for a total of €25,000. I think most folks would opt for a dive watch, a chronograph, and a dressier piece. I've ended up two-thirds of the way there. I do love chronographs, but I rarely use their functionality and can time events using a dive bezel. However, if I had to choose such a watch, it would be hard to keep away from my Speedmaster Tintin. Of course, I'd like to get one at its original price, which isn't going to happen.
It also stands to reason that modern watches would make up most of the mix, but that's not my modus operandi. I like new watches, but in my world, it's so hard to top a good vintage mechanical watch. True, these watches will contain evidence of a past life, but I like to think of myself as a custodian who might add a little more history to these wonderful objects. My picks are somewhat eclectic, but that's why most of us are taking a shot at this. After all, if everyone chose the same pieces, life would be incredibly boring!
Patek Philippe Golden Ellipse 3546 — €12,000
The first pick for my watch collection comes so far out of left field that I've almost managed to surprise myself! It's none other than the Patek Philippe Golden Ellipse 3546. A non-round watch in the mix that isn't from Cartier? The horror! Look, I have to apologize, but I am still in a dreamlike stupor caused by the acquisition of a vintage Calatrava, and it is most certainly affecting my judgment. Then again, I happen to think that I've finally seen the light. Yes, we've seen my colleagues' fondness for Breguet, and watches from brands like Lange would also deserve a place in anyone's theoretical collection. However, there's a reason that vintage Patek is so revered, and it has nothing to do with the hype machine. The rationale is simple: there's simply nothing quite like an old-school Patek Philippe.
Now, to be fair, I prefer a vintage Calatrava over the Golden Ellipse 3546 on all days ending with a "y." However, there's nothing vintage that meets my criteria as most lower-cost options have stodgy stick lugs. While I would wholeheartedly support spending the whole wad on a Calatrava, I'd still need more money. Plus, there's honor in making a vintage Patek an "only watch," but I think daily life and its abusive nature might like to have a word. So the 3546 will have to do, but it's no slouch.
The golden ratio for your wrist
The Golden Ellipse first debuted in 1968, and, unsurprisingly, it remains in the brand's current collection. It takes the "Golden" in its name from the golden ratio, and I think this makes it a very easy watch on the eyes. What I like about this example from Wind Vintage is that it has strong lugs and a beautiful flat-sided bezel similar to that of a Calatrava. It also doesn't hurt that it's white gold. Inside, the watch uses the hand-wound caliber 23-300, which is a bridge-filled beauty. At 27mm wide and 35mm long, some will bemoan the case's petiteness, but vintage Patek pieces always box above their weight when on the wrist.
I've budgeted €12,000 to add one of these beauties to my hypothetical watch collection, and that might even render some change. I'd even wager that these are currently undervalued. Folks, there are oodles of watches that will make you feel special, but there's nothing quite like a Patek.
Rolex Submariner 14060M — €10,000
I battled with myself for some time before deciding on the Rolex Submariner 14060M as my next pick for my €25K watch collection. It was between this and my beloved Explorer 14270, but the Sub won due to its practicality. No, it's not a surprising pick compared to the Patek, but I simply couldn't ignore it. There have been plenty of iconic dive watches throughout history, but the reality is that there's only one Submariner. This is the dive watch when most think of the genre. It's so perfectly designed and weighted that I struggle to find a fault.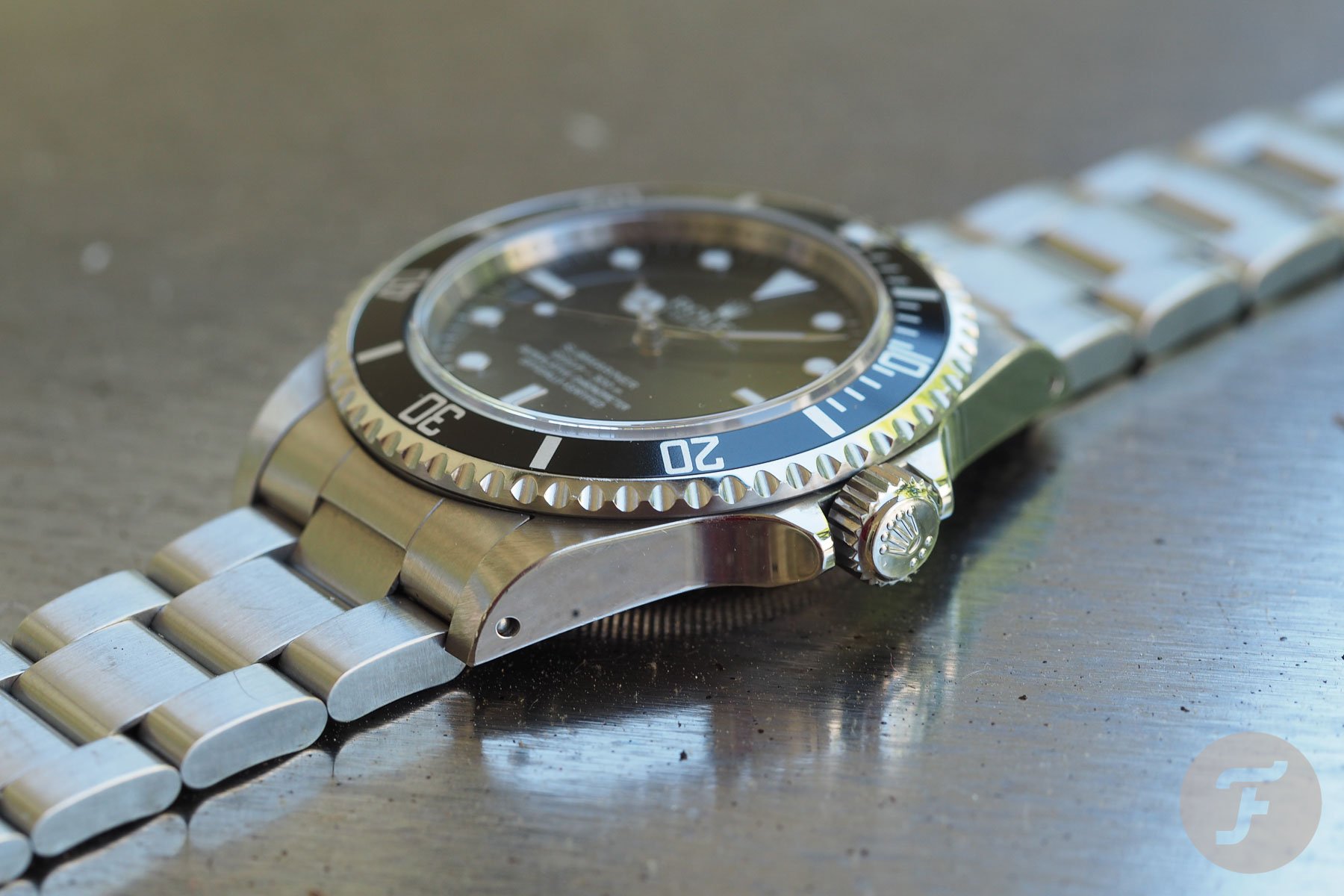 Since I'm partial to the four-liner, I chose the 14060M. This is the last of old-style Rolex sports models, yet it's modern enough to withstand everything that a piping-hot current model can. The sapphire crystal, modern movement, and bank-vault-like build quality should make this a watch for the rest of anyone's life. Characteristics like the aluminum bezel insert, drilled lug holes, and stamped end links and clasp keep a foot in the old world. The only negative of a watch like this is that it can be a target for thieves. Otherwise, it will and can go anywhere and do anything in just about any situation. Prices have come down over the past year, and €10,000 should net the best modern diver above or below sea level.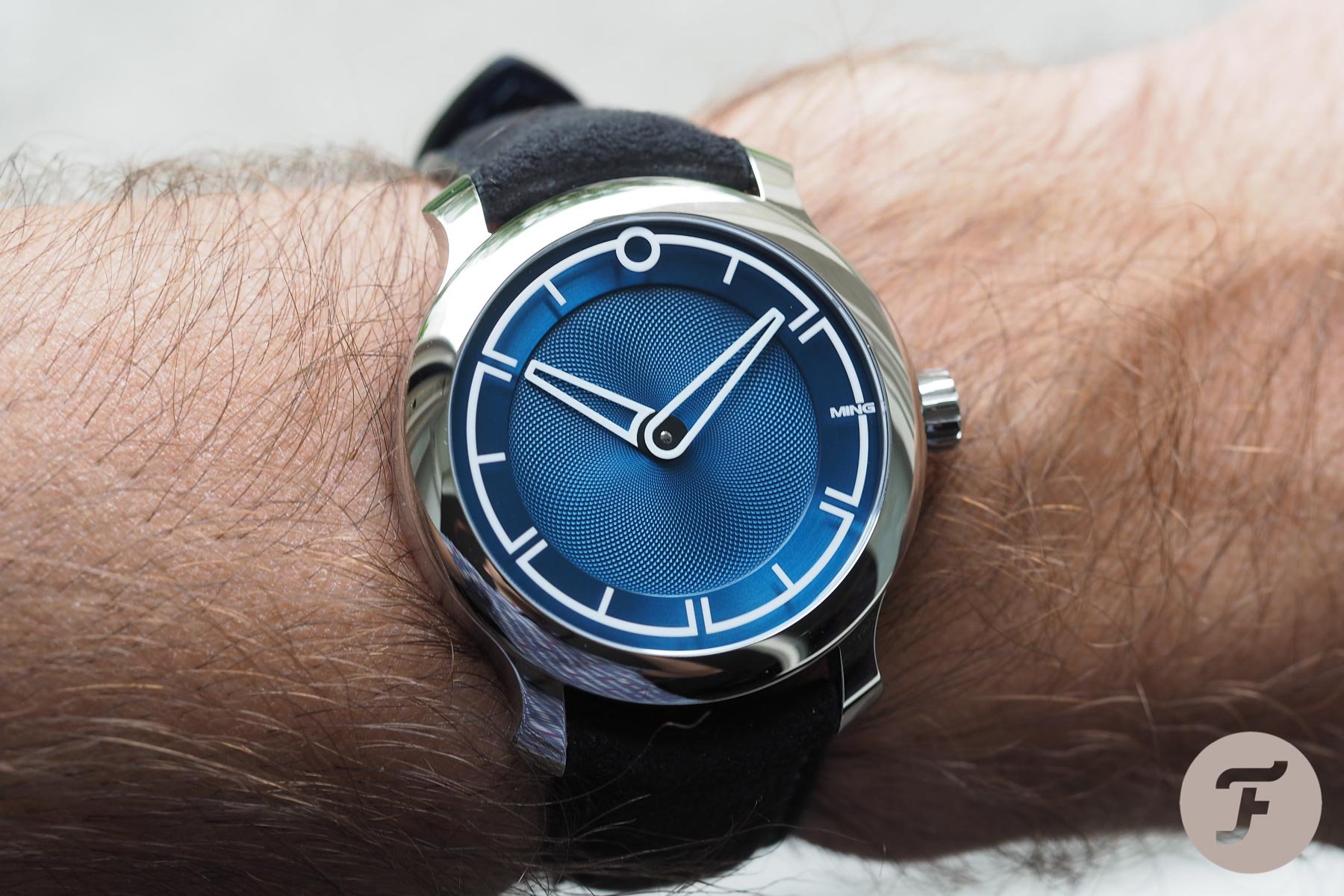 Ming 17.09 — €3,000
For the final pick in my €25K watch collection, I did choose a modern release, albeit one that's long gone. It's no secret that I'm a big fan of what the folks at Ming are doing, and it led me to the 17.09. I wanted a good everyday piece but one that would stand out from the crowd. I had originally considered the Grand Seiko SBGW235, but prices have risen above our remaining allowance. Plus, I wanted to select something from a smaller brand.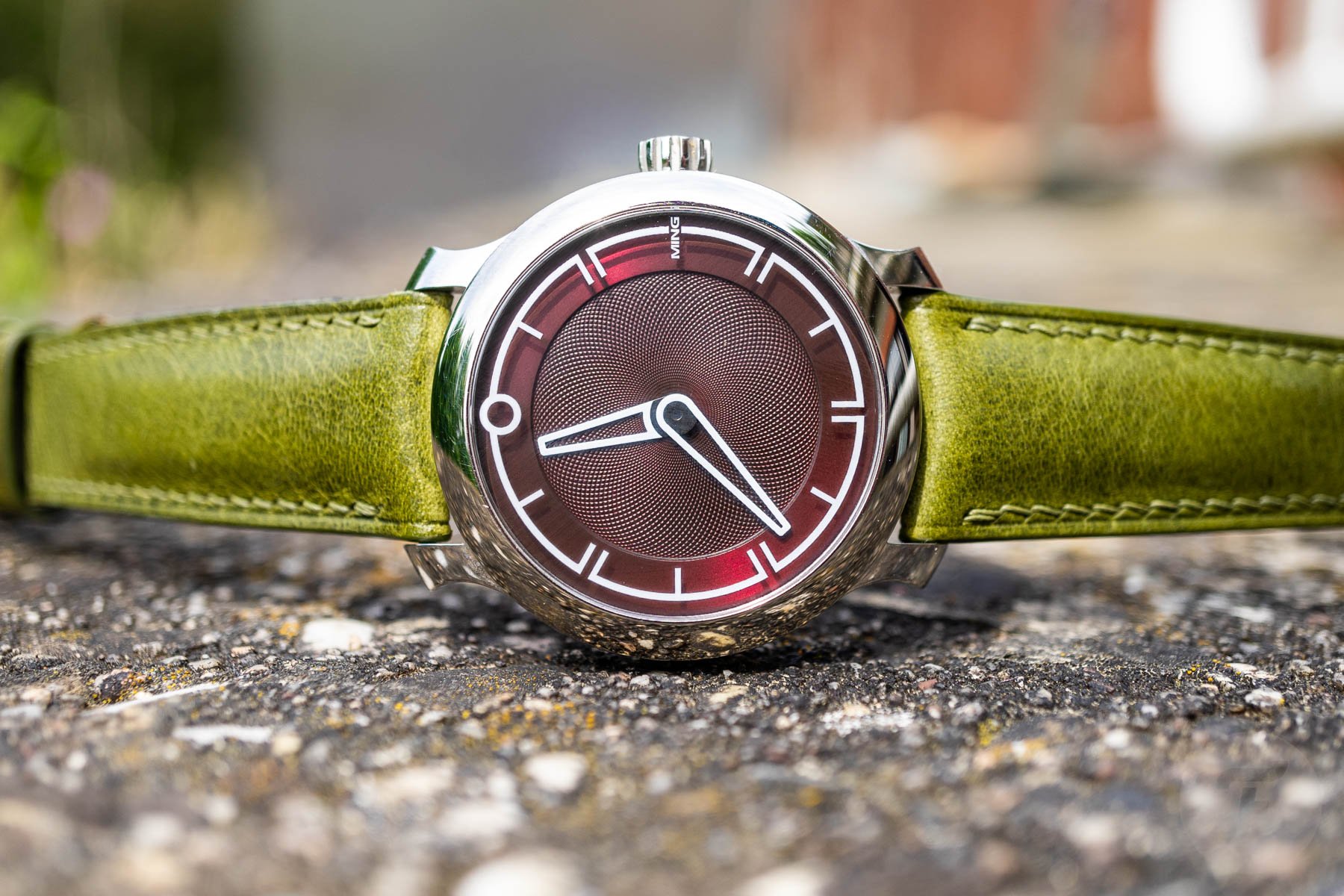 The 17.09 may be classed as an entry-level model from Ming, but don't let that fool you into missing its beautiful details. These 38mm steel watches, whether in blue or burgundy, have a stunning Clous de Paris-patterned dial. To ensure everyday practicality, the 17.09 has ample Super-LumiNova on its hands and the underside of the crystal. Plus, taking it in the water is a breeze thanks to the 100m water resistance rating. The automatic Sellita SW330-2 has been worked (and reworked) by Schwarz-Etienne, giving the hour hand a jumping function for setting the time. For €3,000, it should be possible to track one down. If there's any money left over from this piece or the previous two, I'd try to get the brand's fantastic new polished steel bracelet for CHF 650. This is an exemplary watch that should provide years of stylish wearing pleasure.
Final thoughts on my €25,000 watch collection
Aside from the Submariner, I don't think that any of my choices for this watch collection were predictable. The Patek has a slightly polarizing shape but is so glorious in the metal. Of course, several '60s and '70s Calatrava models (both hand-wound and automatic) could be substituted. As for the Rolex, it's hard for me to recommend alternatives without feeling just a little empty. Finally, with the Ming, I am sure it will come across as a real wild card. Here again, though, I like the fact that it's not a me-too "field watch" that gets lost in the crowd. With all of that said, I am sure many of you will disagree and have other thoughts. Let's hear them below!