Bvlgari Impresses With Two New Wrist-Sized Concert Halls For The Octo Roma Line
Or should we call these luxurious speaker boxes?
To show that Bvlgari has definitely made its way into Haute Horlogerie and to connect that fact to its beginnings as a jeweler, the brand has launched two new members of its Sinfonia Della Meccanica. The Bvlgari Octo Roma Blue Carillon Tourbillon is a blue version of the watch that was first released last year in black. And the Bvlgari Octo Roma Emerald Grande Sonnerie houses the brand's most complicated minute-repeater movement yet. Welcome to a concert by the Bvlgari Symphony Orchestra! Letting you experience the beats of a mechanical watch movement through the music created by multiple hammers and gongs!
Very few of us might actually end up with one of these on the wrist. That may be because of their substantial prices or the fact that these are very limited or unique pieces. But even though they seem like fairly unreachable objects for most of us, they can still be admired from a distance, of course. I mean, most of the time we're already quite impressed when we see a tourbillon in a watch. Then when we see and hear a minute repeater, it might receive even more respect. So what, then, should we do when Bvlgari combines both of those impressive complications? Or when the brand fully covers one with 72 baguette-cut emeralds and 374 baguette-cut diamonds? That's right, we should just sit back and enjoy the show!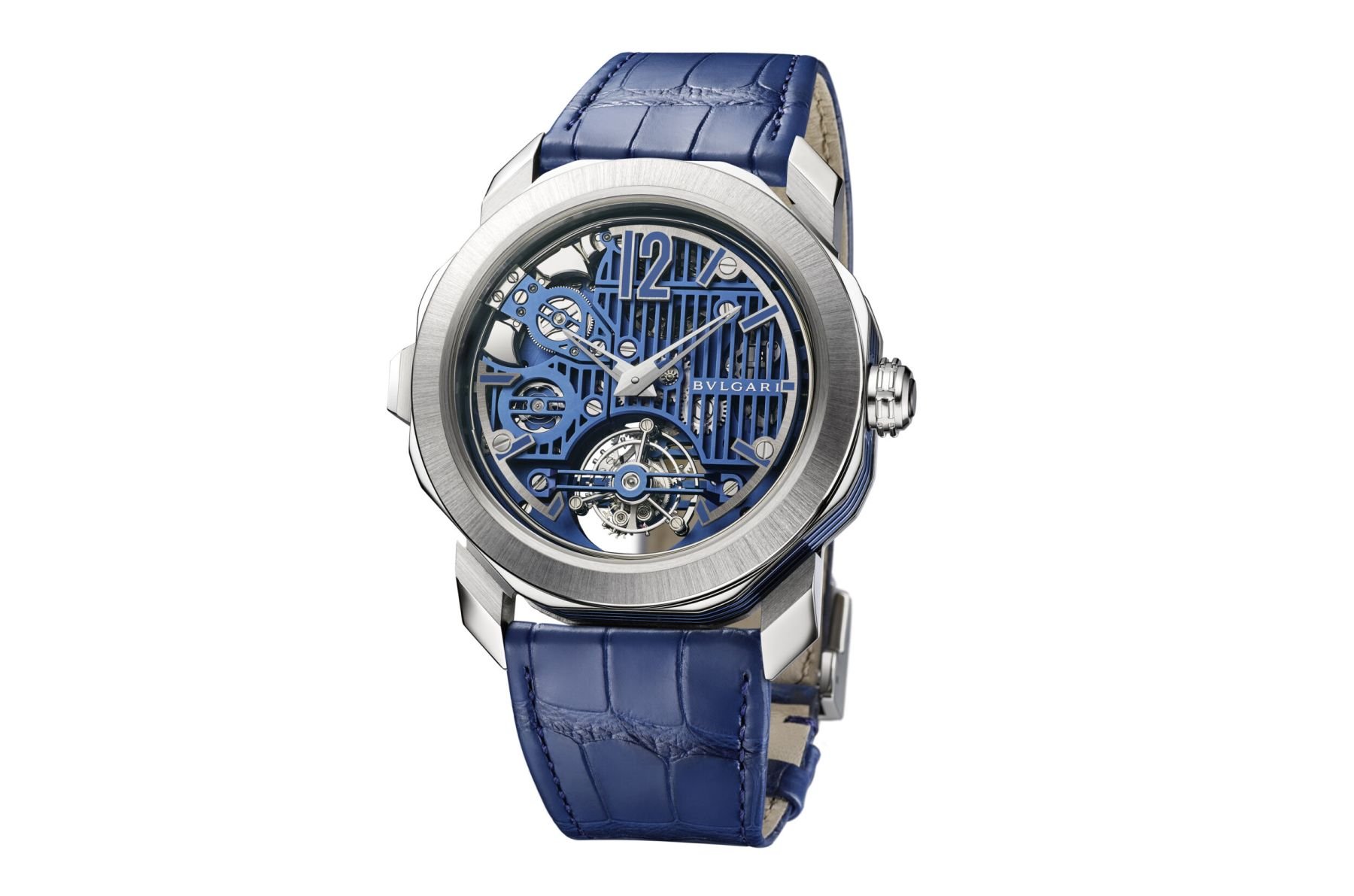 Musica Maestro!
Let's start with the Bvlgari Octo Roma Blue Carillon Tourbillon. It's the one that might be closest to something I'd wear myself. Last year, Bvlgari had already launched this exact model with a black DLC-coated titanium case and a matte finish. This year, the brand brings back the 44mm Octo Roma case in a combination of platinum and blue titanium parts. The titanium likely keeps the weight of the 44mm × 12.83mm case down while achieving better acoustics for the minute repeater. 
And those acoustics are exactly what I'd like to highlight from this release. Because when you put a minute repeater inside a watch case, it's not just important that it physically fits. That case also has to deliver good sound distribution. You can imagine that the smallest or thinnest of watch cases out there are actually not the best-sounding ones. That's why Bvlgari designed this specific case to "[…] maximize sound propagation, enabling increased torque from the three-tone construction and greater sound power production." I took this sentence directly from Bvlgari's press release. Why? Because when I read it, for a moment, I thought I was reading the description of an actual speaker box.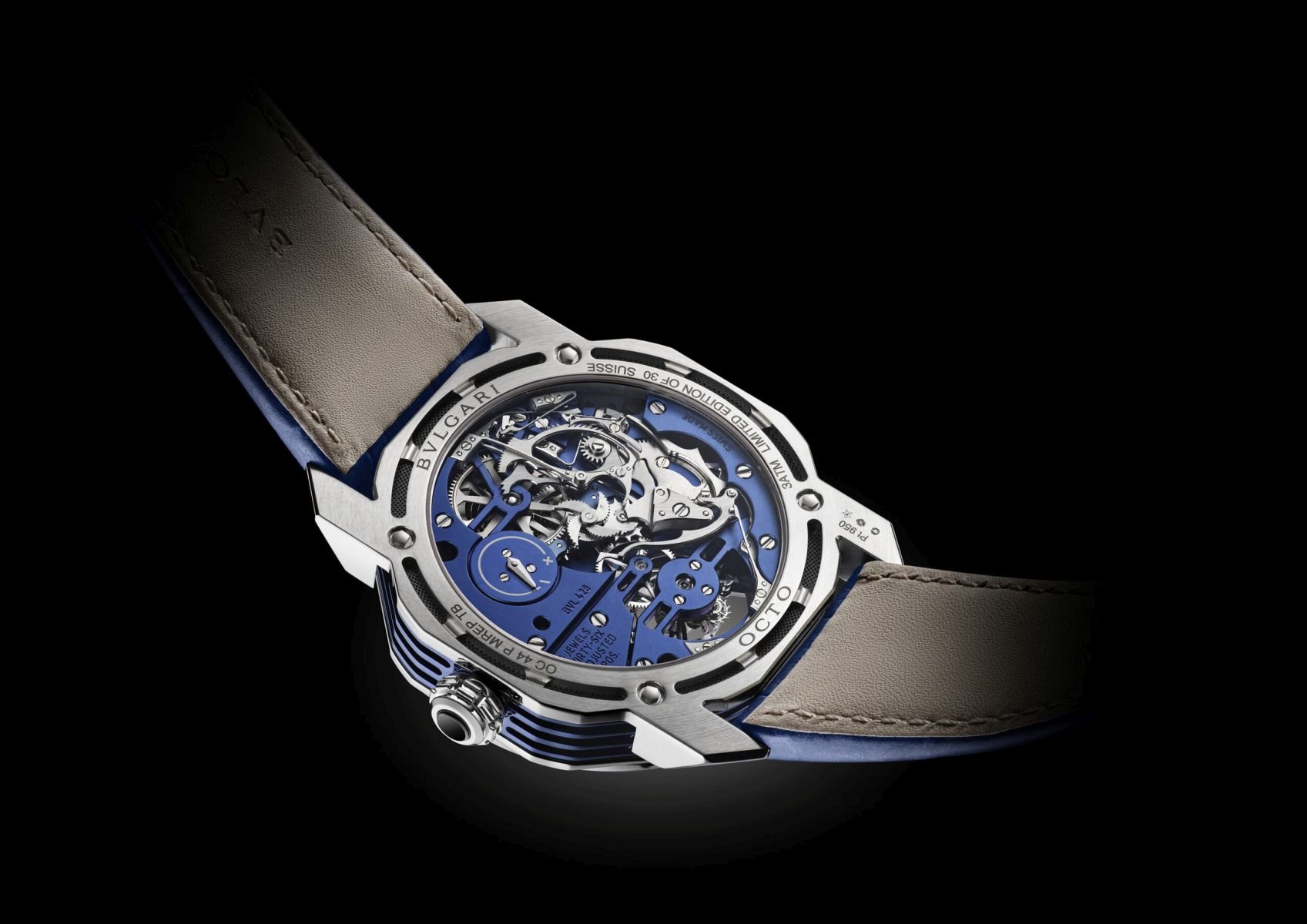 How to achieve the best acoustics?
To be honest, when you look at the bottom of the Bvlgari Octo Roma Blue Carillon Tourbillon's case, it bears some physical resemblance to a speaker box. Look, for example, at the titanium mesh laying within those long open channels. It allows for the sound to exit the case, and in doing so, create a bigger soundstage. You can also find those gaps on the blued titanium case band, which allows for less metal to distort the sound.
That's also why the gongs are directly attached to the inside of that case band. And as you can see, there are three outlets in the case band, one for each gong. That also means there are three hammers, which one can see at the 10 and 11 o'clock positions on the dial. They're very visible, unlike many other minute repeaters, which often conceal the hammers deep inside the case. The same goes for the hand-curved and hand-filed gongs, which wrap around the movement, remaining visible to the wearer. The white gold pusher at 9 o'clock activates the minute repeater, allowing the aural and visual symphony to commence.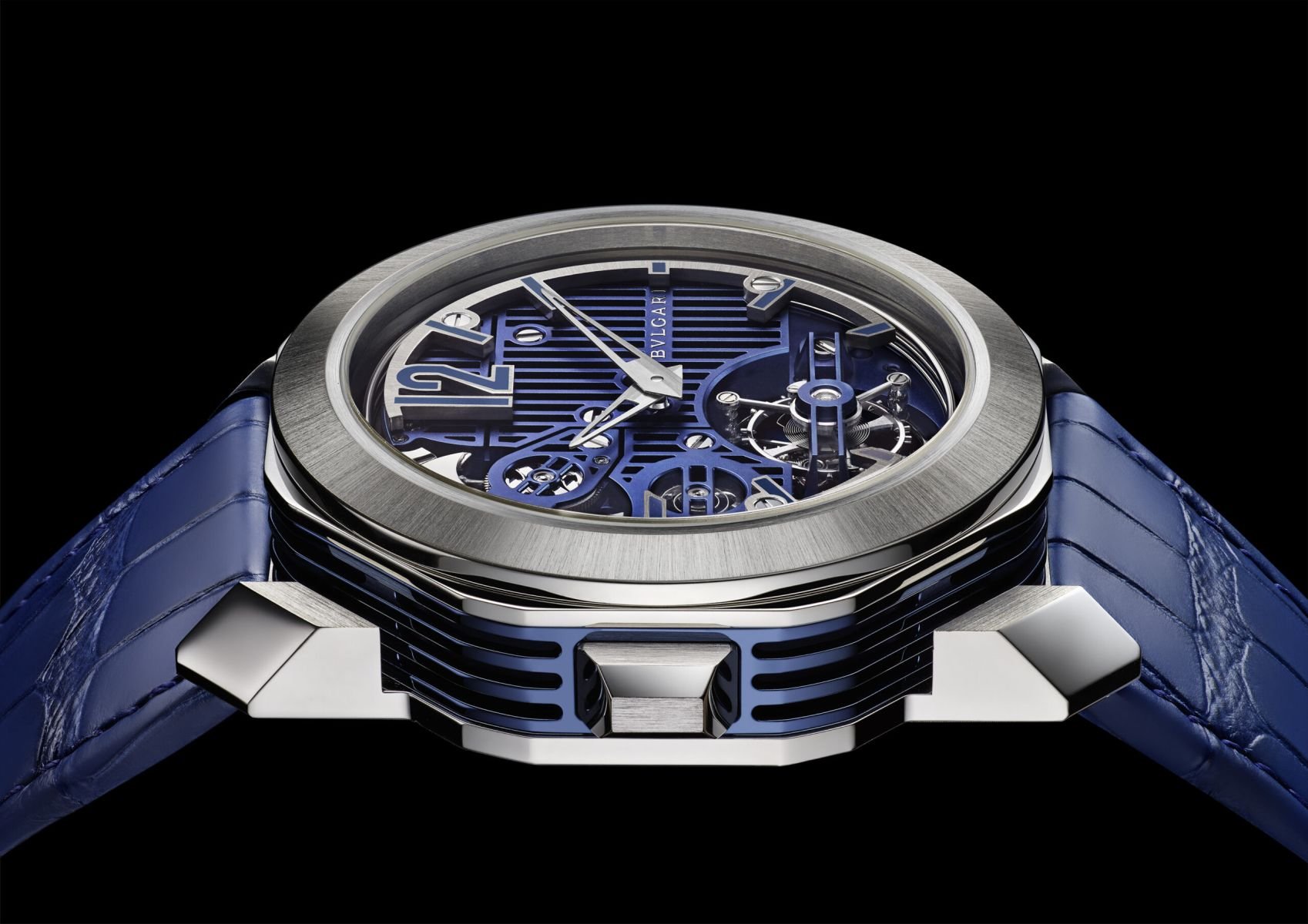 The blue dial of the Bvlgari Octo Roma Blue Carillon Tourbillon is partly skeletonized in a contemporary design. It clearly shows the tourbillon and the rest of the impressive hand-wound BVL 428 manufacture caliber. You wind it by using the white gold crown with a black ceramic inlay. The movement uses one barrel and holds a power reserve of 75 hours, which can be checked on an indicator, visible through the sapphire case back. The BVL 428 runs at 21,600vph, contains 36 jewels, and consists of a mind-boggling 432 components.
The Bvlgari Octo Roma Blue Carillon Tourbillon is limited to 30 pieces and comes on a blue alligator strap with a platinum folding clasp. It's available for €262,295 (excl. taxes).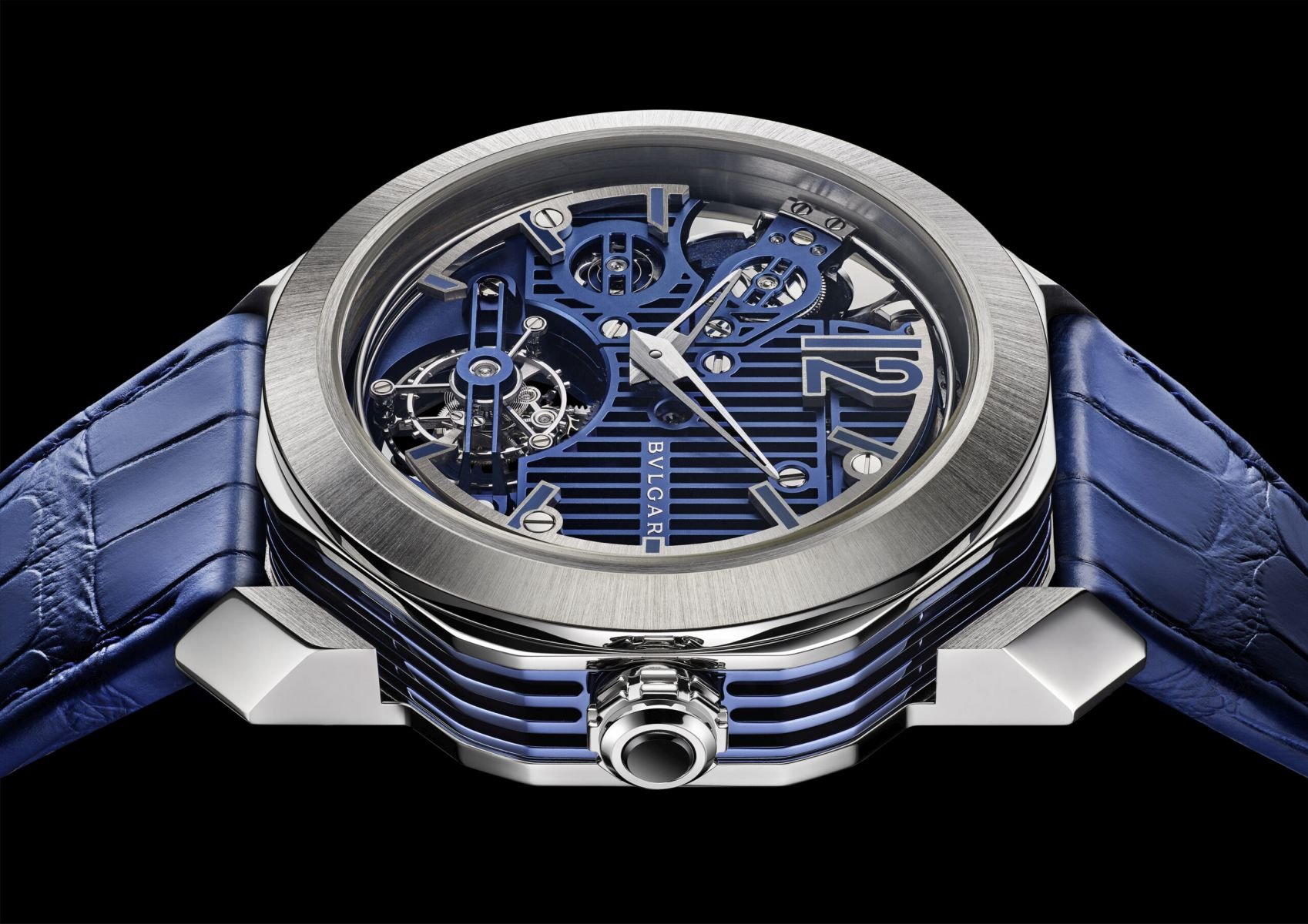 Diamonds, anyone?
Now we move on to the next star of the show, the Bvlgari Octo Roma Emerald Grande Sonnerie. Let's first look at that Emerald part of its name. As you might have read in Brandon's piece on Bvlgari's watchmaking history, the company founder Sotirios Voulgaris actually started out as a jeweler. So, what better way to honor those early beginnings than to cover your most complicated watch to date in a combination of 72 baguette-cut emeralds (approximately 7.28 carats) and 374 baguette-cut diamonds?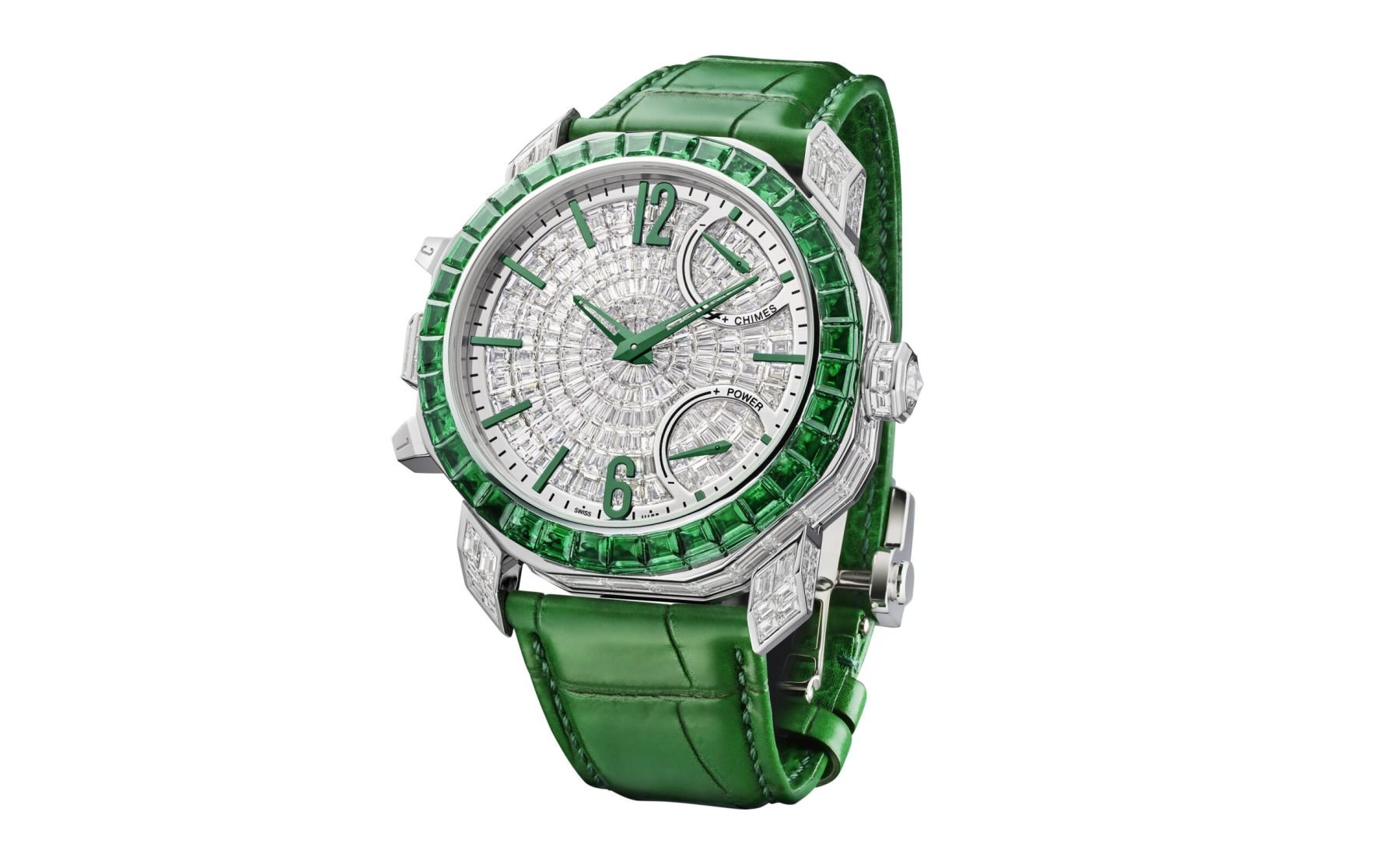 When looking at it, there is no doubt that Bvlgari has tried its absolute best to meld its jewelry DNA and high horology into a piece of art. Whether it's to your taste or not, I'll let you decide. But impressive it sure is, I must give Bvlgari that. This time, the 44mm Octo Roma case is made out of white gold, and it is slightly thicker than the one presented above at 15.42mm. This is due to the Grande Sonnerie minute-repeater movement inside.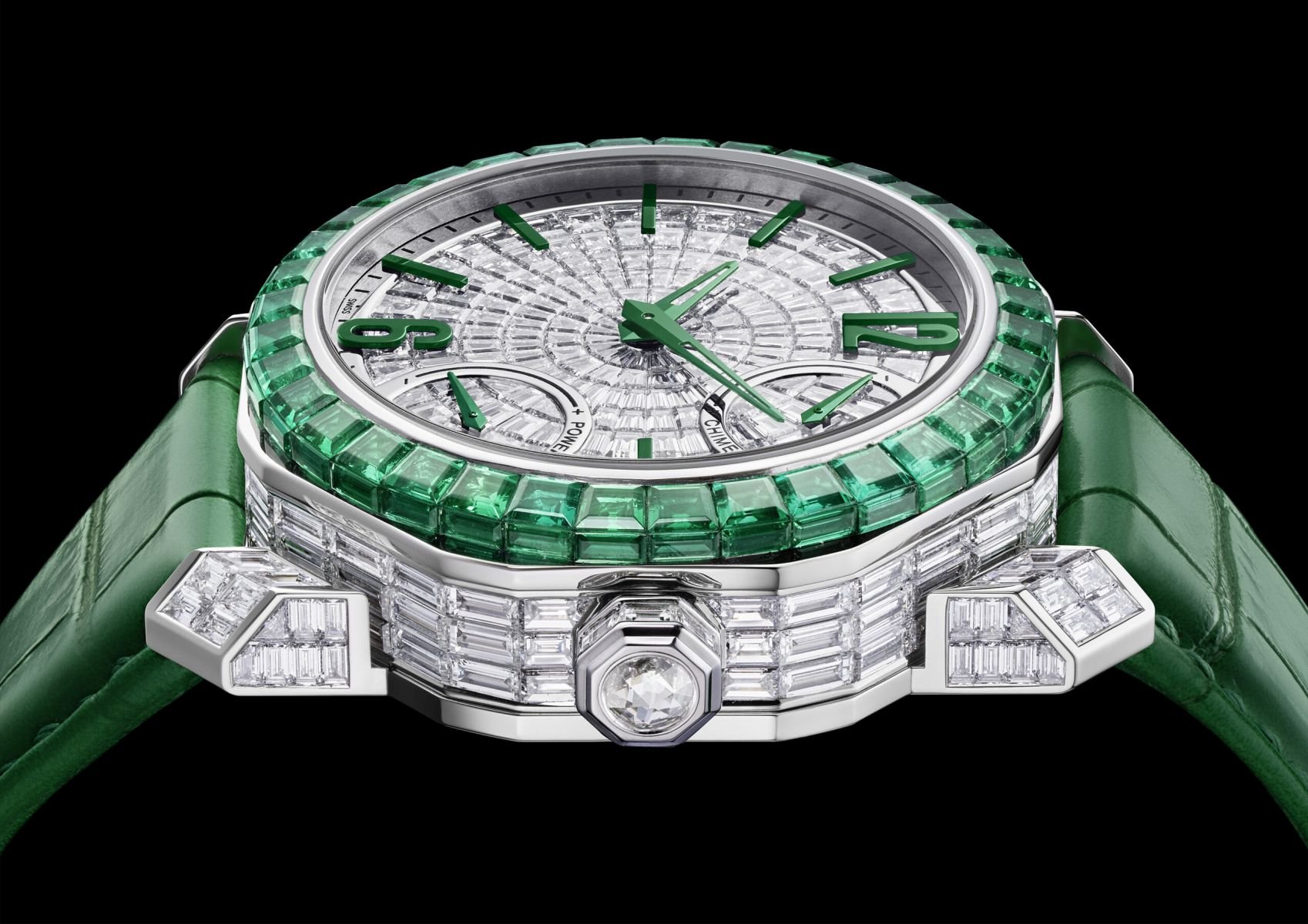 As mentioned, this is Bvlgari's most complicated caliber yet, the tourbillon-regulated BVL 703 automatic movement. It contains 732 individual parts (including 82 jewels!) which are all put together by one watchmaker over a period of nine months. The four gongs and hammers inside play the melody of the Westminster Chimes and sound the hours, quarters, and minutes. You can silence it using those impressive pushers on the left flank of the case. When chiming the hours and quarters in passing (Grande Sonnerie mode) it has a power reserve of 24 hours, in comparison to 28 hours when only chiming the hours when passing (Petite Sonnerie mode). This show-stopper is a unique piece and costs €1,600,000.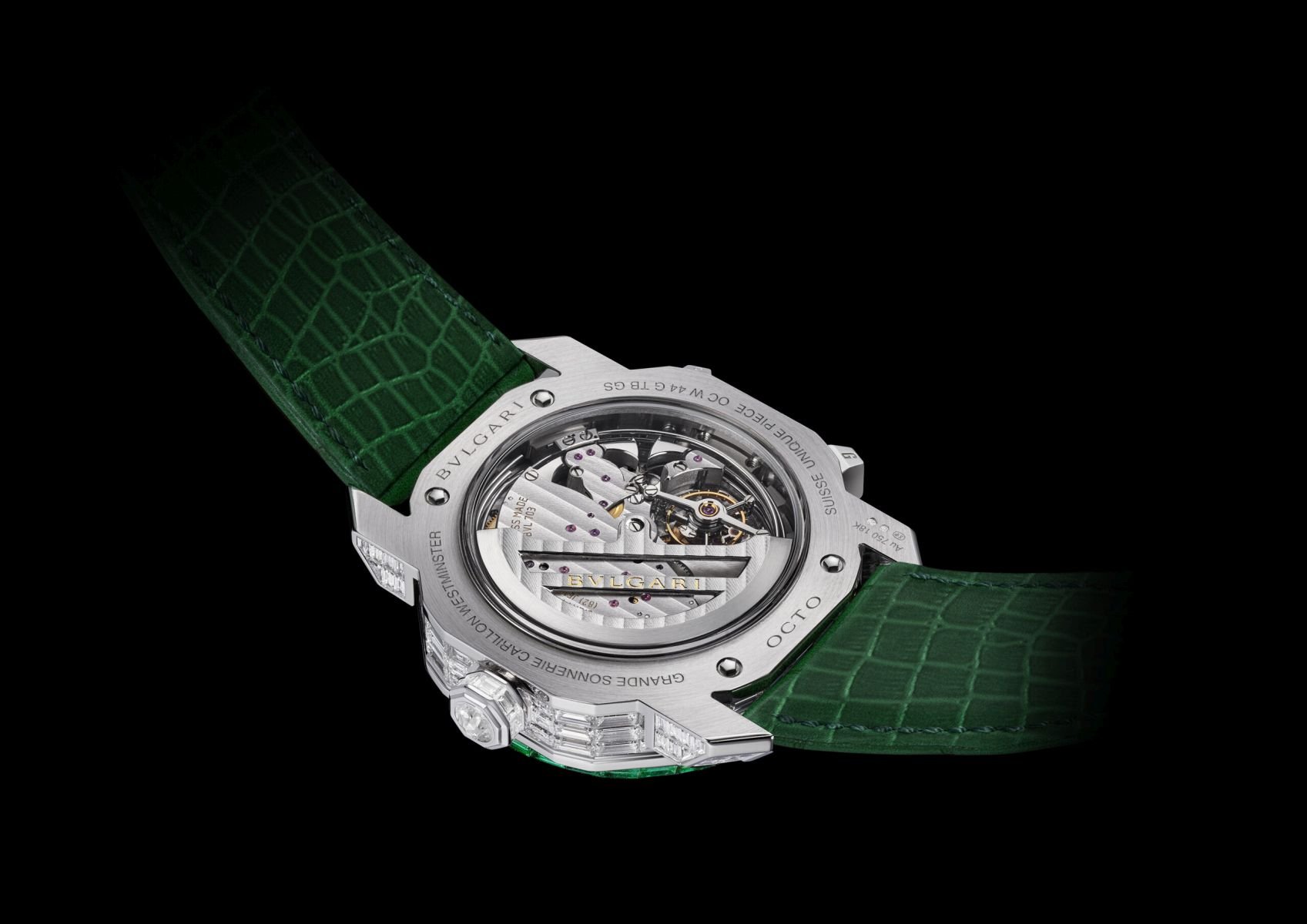 Final thoughts
"Impressive", "unattainable", and "not really to my taste" are all words that come to my mind when looking at these timepieces. But it sure is a bold statement Bvlgari is making here, melding the finest watchmaking with the most extravagant jewelry currently available. Bravo!
Please find more information on these watches on the Bvlgari website.
What would be your example of a watch that best combines high horology and jewelry? And would you ever wear a diamond-set watch, or would you rather save your money for a minute repeater? Let me know in the comments below!
You can also find me on Instagram @fliptheparrot