Can Car-Themed Watches Be Cool? These Options From IWC, TAG Heuer, Autodromo, Porsche Design, Bell & Ross, And Laurent Ferrier Sure Are
Fratelli, start your engines!
I find car-themed watches to be a bit of a minefield. One filled with many cringe-worthy attempts at reaching wider sales demographics. But, unlike the logo-stamped quartz wall clock you've stared at while waiting for your car to be serviced at the brand dealership—or the matching wrist-sized version the manager wears—some brands simply get it right. For me, the kicker is having a good design quietly inspired by a brand or car model, not spelling it out too literally. Less is more, and it's always best to err on the side of subtlety.
A big logo on the dial is a no-go for me. As iconic as the prancing Ferrari horse is, I don't want it on my dial. The kind of understated cool I want lies in not being overly explicit in the brand association. A great watch design is what it is. But with the right touch, a unique collaborative identity can improve a good design. Like a sports chronograph where one accent color defines a racing team. Or the Easter egg of a skeletonized logo as the secondhand counterbalance. A wheel-shaped rotor covering the movement? Not so much.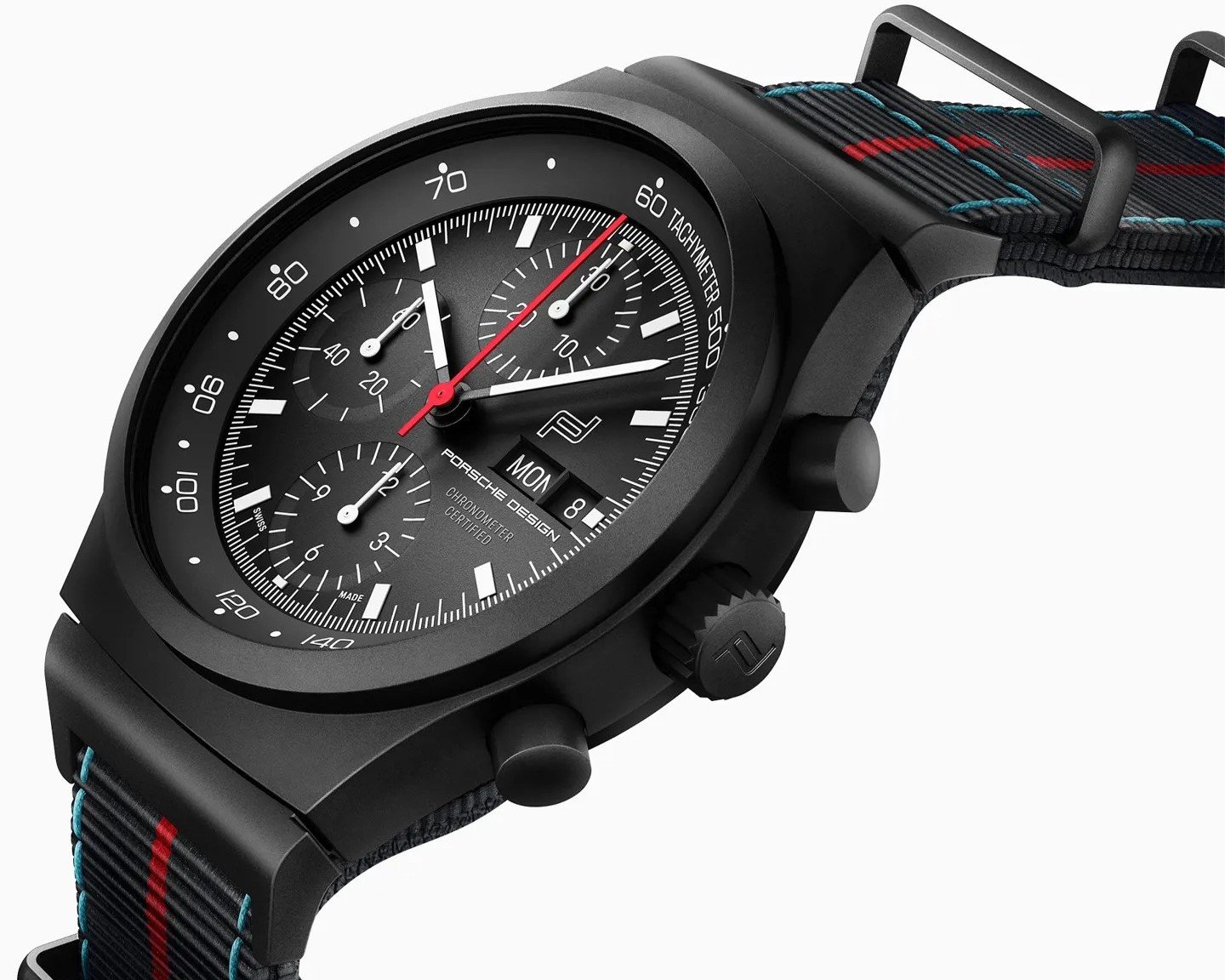 Porsche Chronograph 1 75 Jahre Porsche Edition
Every Porsche Design watch is quite explicit in its association. Right? Well, yes and no. The company is a separate entity from the car business for many years now, though still under the same umbrella. Sure, many buyers are Porsche owners, but the understated cool is still very much its own thing. At least for me, and they are some of the very few all-black DLC watches I like. The Teutonic spare design of the dials and the pure instrument feel used to feel like having a Porsche Speedo on the wrist. But with today's touchscreen world, this is changing. I'm no big fan of black watches, but with Porsche Design, it is the only right way to go, and the Chronograph 1 is the best starting point. At close to €10k, it needs to be good, and it starts with the COSC-rated caliber WERK 01.140.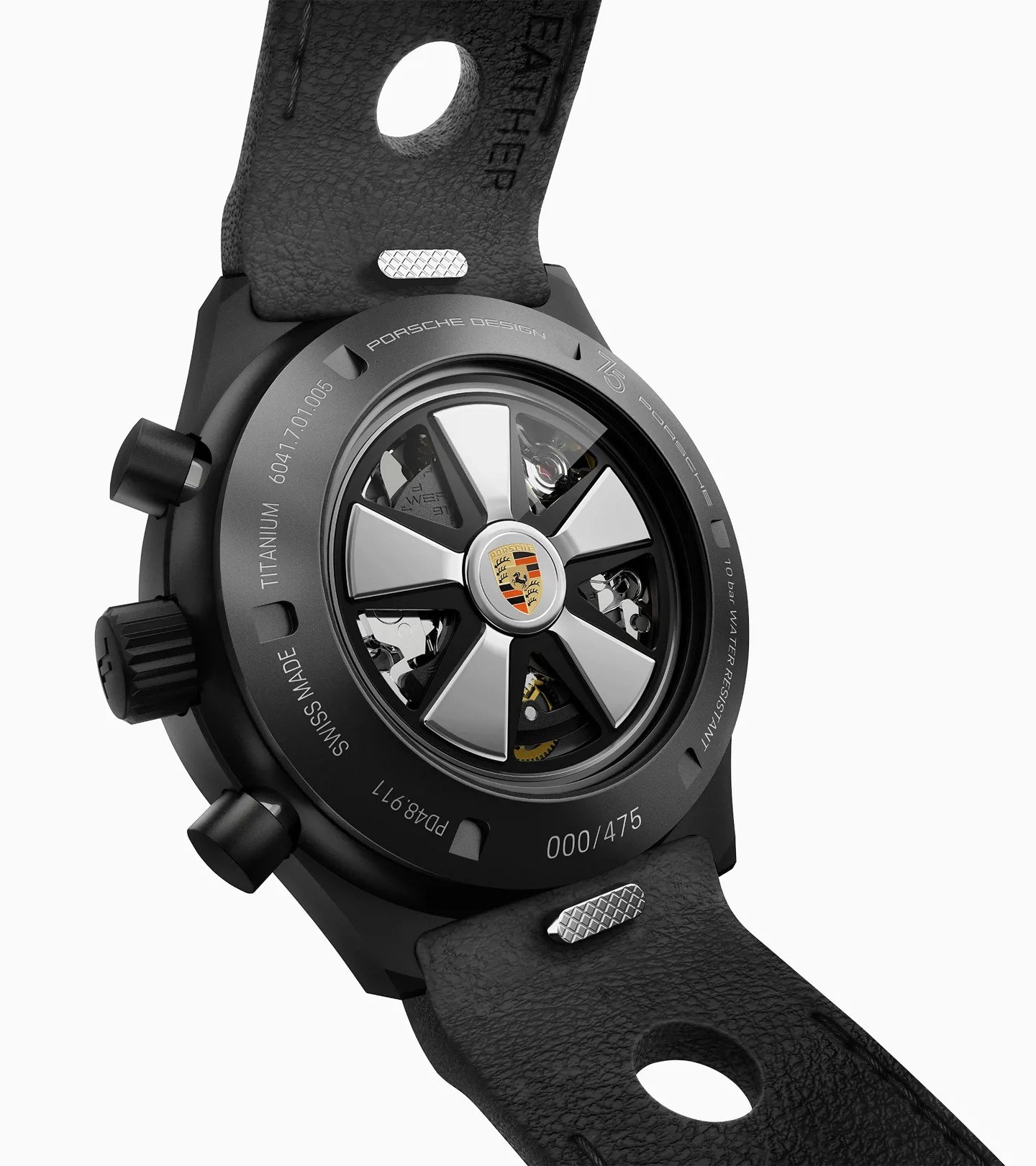 The black DLC coating of the 40.8mm case is as solid as it gets, and I like the red and white accents on the sturdy-looking NATO, complete with an articulated end link. I say NATO, but this is a leather-backed affair of German strap engineering. The dial has the requisite red seconds hand nestling at 12 and has the quintessential textbook chronograph legibility. Porsche Design, with its tell-tale smooth cushion-like case, has got all it takes except for one small detail. Turn it around, and the movement is covered by a perfect rendition of a Fuchs alloy wheel for the rotor. I love the watch, but this detail would make me want to mod it; it's too much, too literal, and a bit kitsch. Otherwise, €9,975 gets you a killer black chronograph with plenty of pedigree.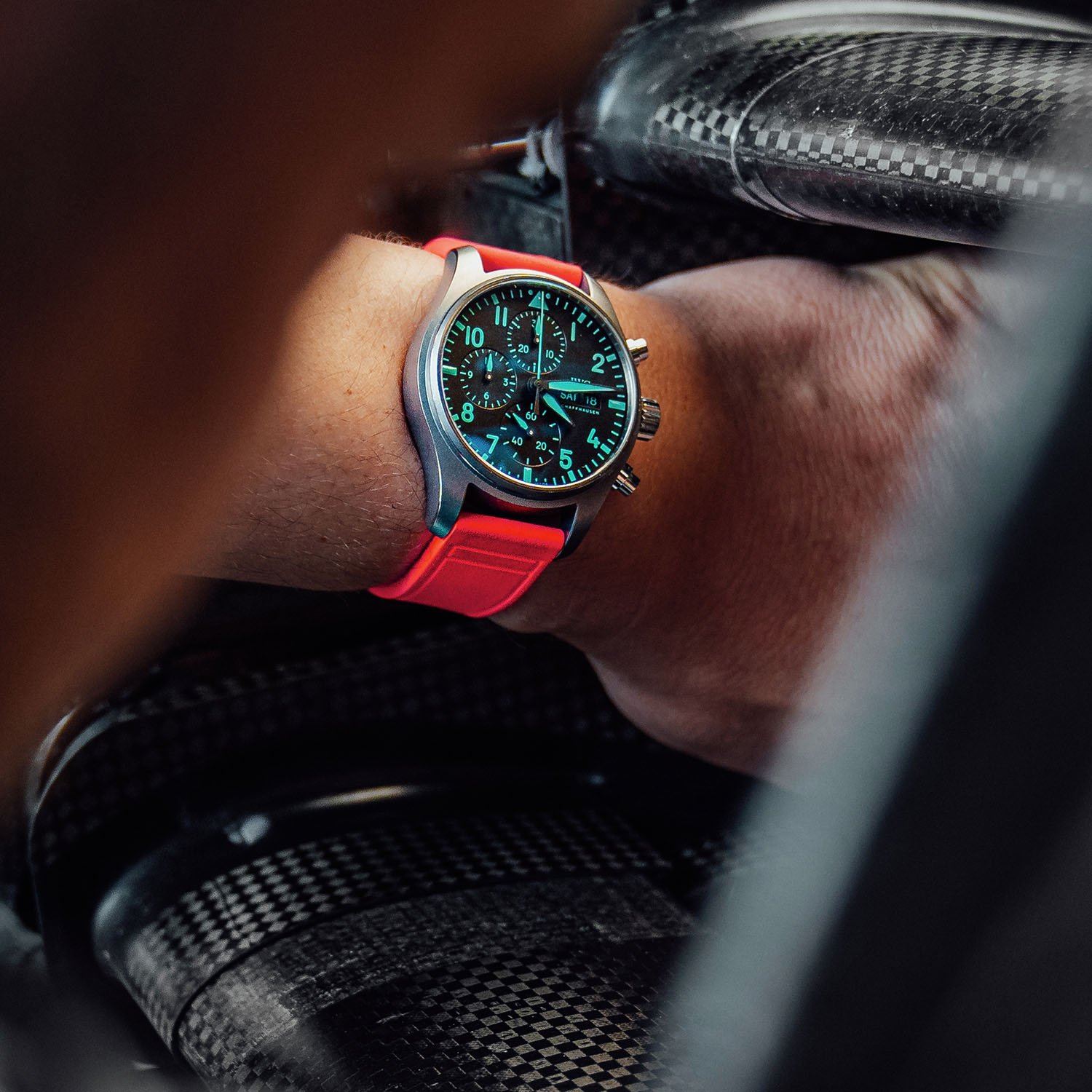 IWC Pilots Watch Chronograph 41 Mercedes AMG Petronas "Miami-Pink-Edition"
This IWC is perhaps one of the best examples of a collaborative effort that stays on the down low. Except, of course, for a mad turquoise knock-out touch, you'd never guess the association. If you know, you know. The Petronas smash-pop of summer freshness subverts the über-tool-watch feeling of the 41mm Pilot's Chronograph. It becomes fun with a capital "F" while opening up for a more fashion-conscious crowd. Now, if you love flight instruments for the wrist and cringe at the bright blue-green color pops and hot "Miami pink" strap, I guess we'll just have to agree to disagree.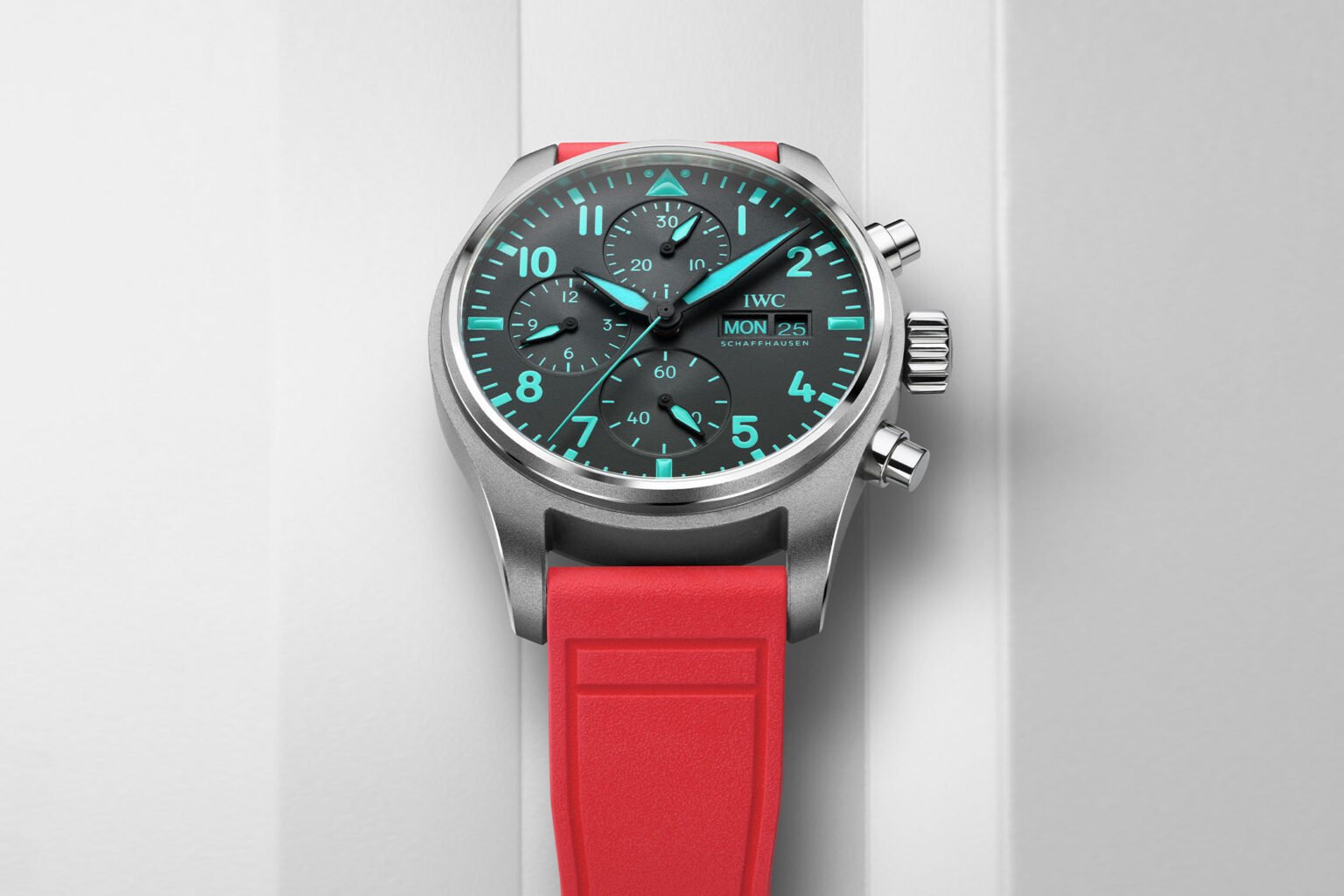 The wow factor
Maybe this is not for you, but a 41mm pilot's chronograph in lightweight titanium opens new doors for the brand and is rather cool with it. I can well imagine Lewis Hamilton having a hand in the design of this one. It works with the mad casual fits he's been sporting this year in the paddock and into pit lane. The bold shade of turquoise doesn't detract from a very accomplished chronograph; for me, it adds charm. The hot pink strap, even more so. I'm still stoked about the 41mm size, making it much more wearable than its 43-46 mm cousins, even with a 14.6mm thickness. With the IWC manufacture caliber 69385, this rocks at €9,000.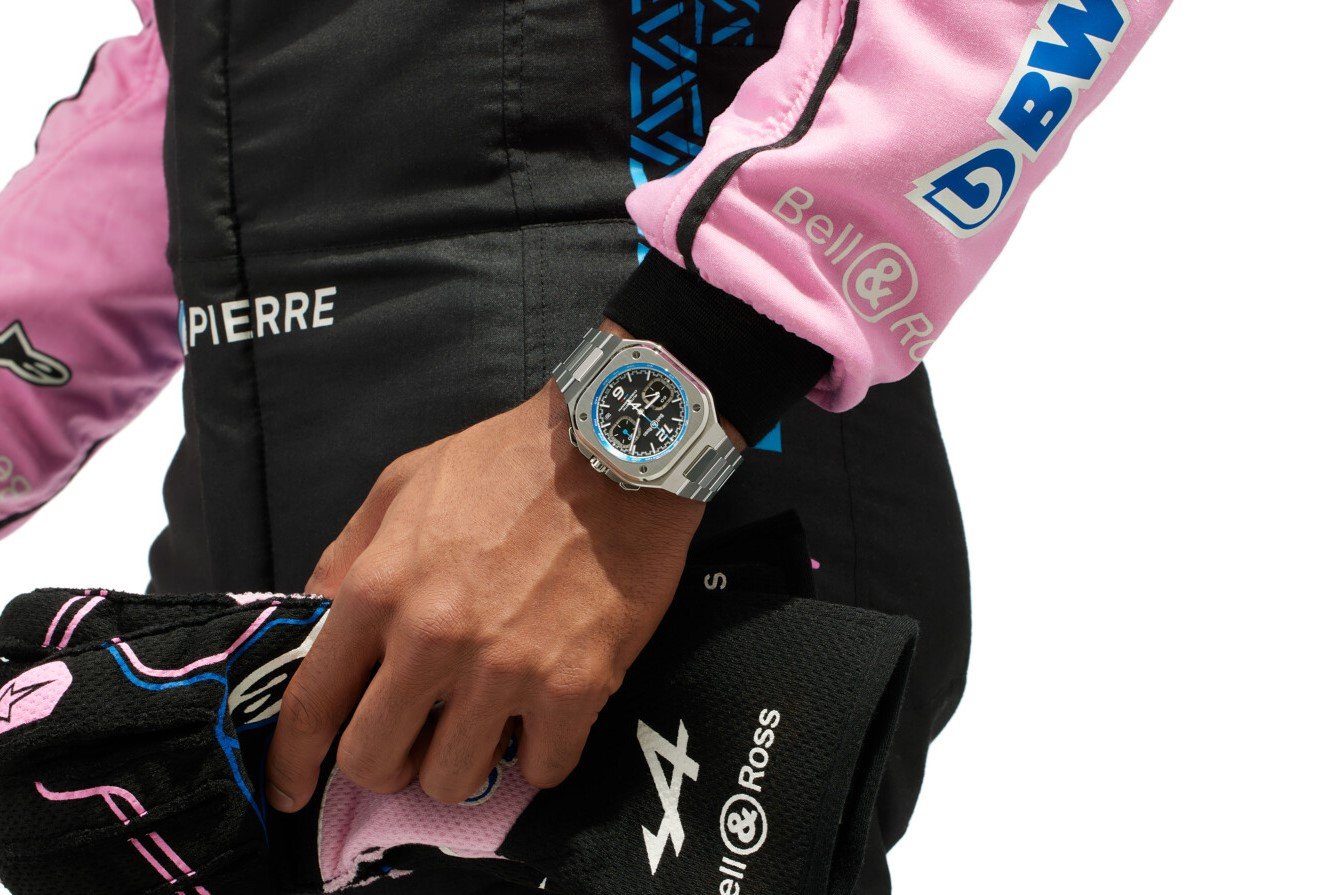 Bell & Ross BR05 Chronograph A523 x Alpine F1
I feel the Fratello office being slightly divided on the Bell & Ross BR05 with its cheeky squircular shape and integrated bracelet. I enjoy some of its variations, and this time they came up with an understated take on French racing vibes. Bell & Ross has a history with the Renault F1 team, which has morphed into Alpine F1 and brought an elegant touch of French racing blue with it. While I kind of miss the flash of lemon yellow with black, the new colorway brings an understated charm to the 42mm A523 Chronograph.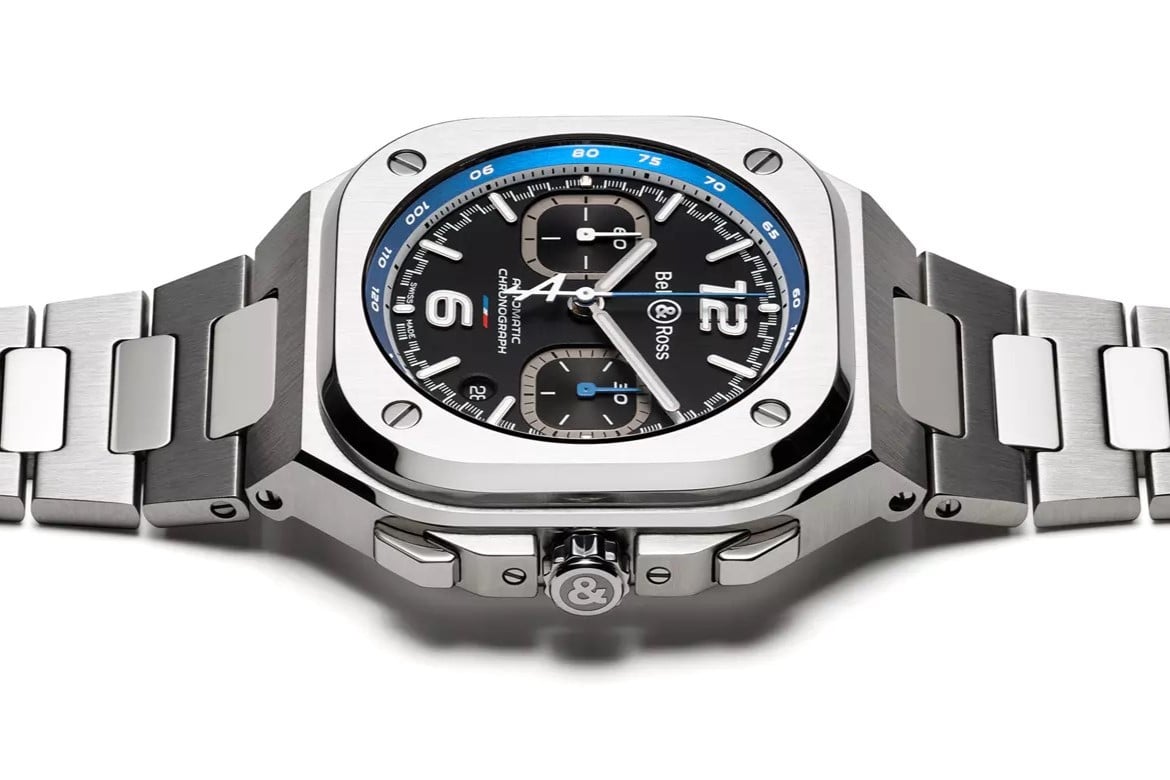 An understated touch
I might still feel that the rounded square of this BR05 is slightly oversized, but it's worth it. This BR05 is an evolved textbook example of how four-wheeled racing collaborations can be done. The understated, even sartorial, chic is strong, perhaps because Bell & Ross is French (though manufactured in Switzerland). If you're not a petrolhead or racing buff, you'll see the seconds hand as an excellent detail, but for me, the big "A" of Alpine is instantly recognizable. That makes this blue-tipped pointer a dial fave, matched to a blue tach on the steeply angled rehaut. A blue pointer for the 30-minute register and a French discrete tricolor above 6 makes a well-executed and tempting package at €7,500.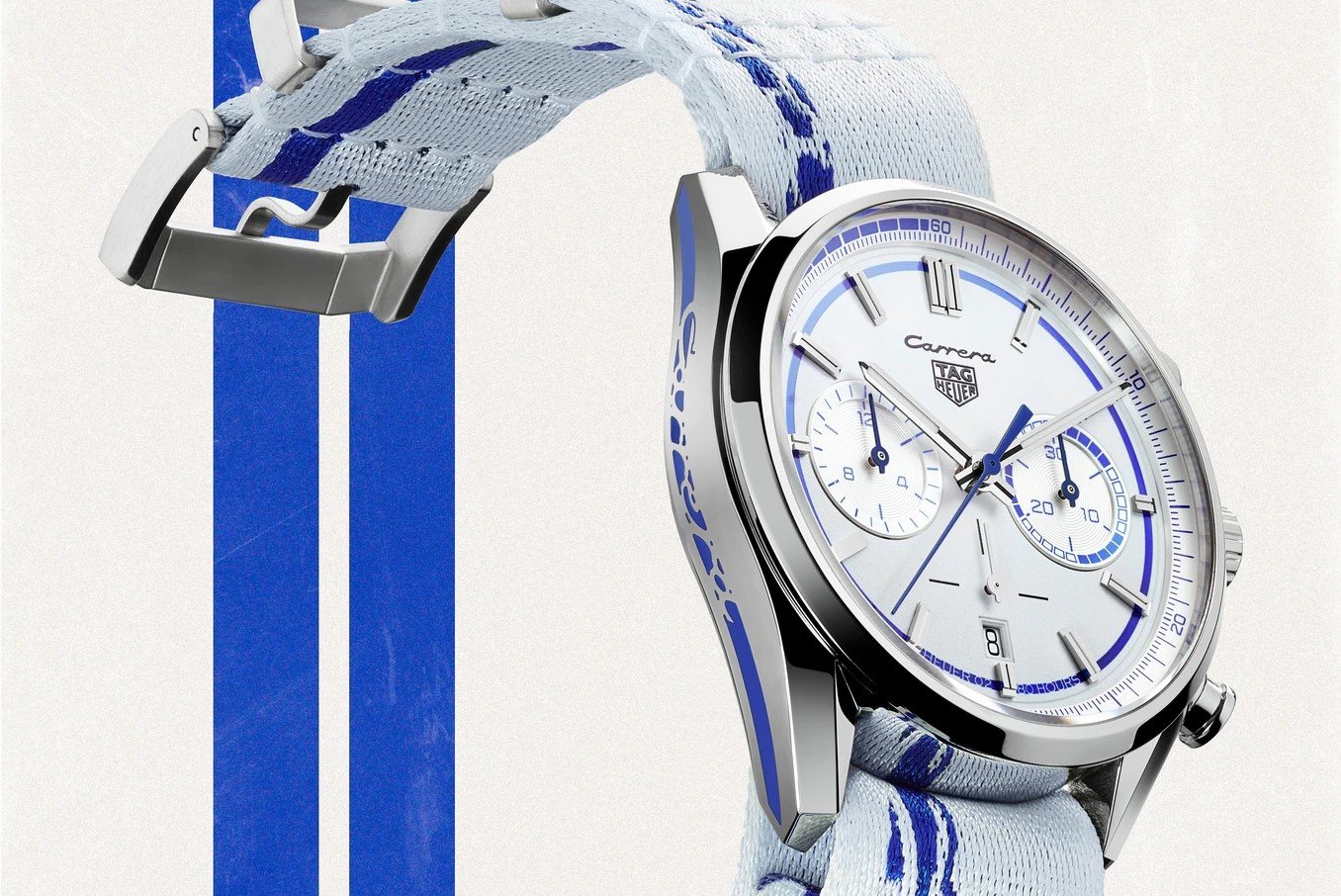 TAG Heuer Carrera Porsche RS 2.7
From Easter egg details and French chic, we move on to TAG Heuer and its long-standing relationship with racing and Porsche. I'm a big fan of the 39mm Carrera reissues, and the case shape is the same though slightly enlarged for a wider audience. I've taken a more relaxed stance to size lately, so I could easily live with the compromise, but is it too  Porsche-infused?  As a fifty-year marker for the legendary RS 2.7, the Rennsport clues abound, and I enjoy the super crisp white dial. I could live without the Carrera logo in blue on the left case side, but it's still a looker. I don't gel with NATO straps for some reason, so I'd pick the steel bracelet option.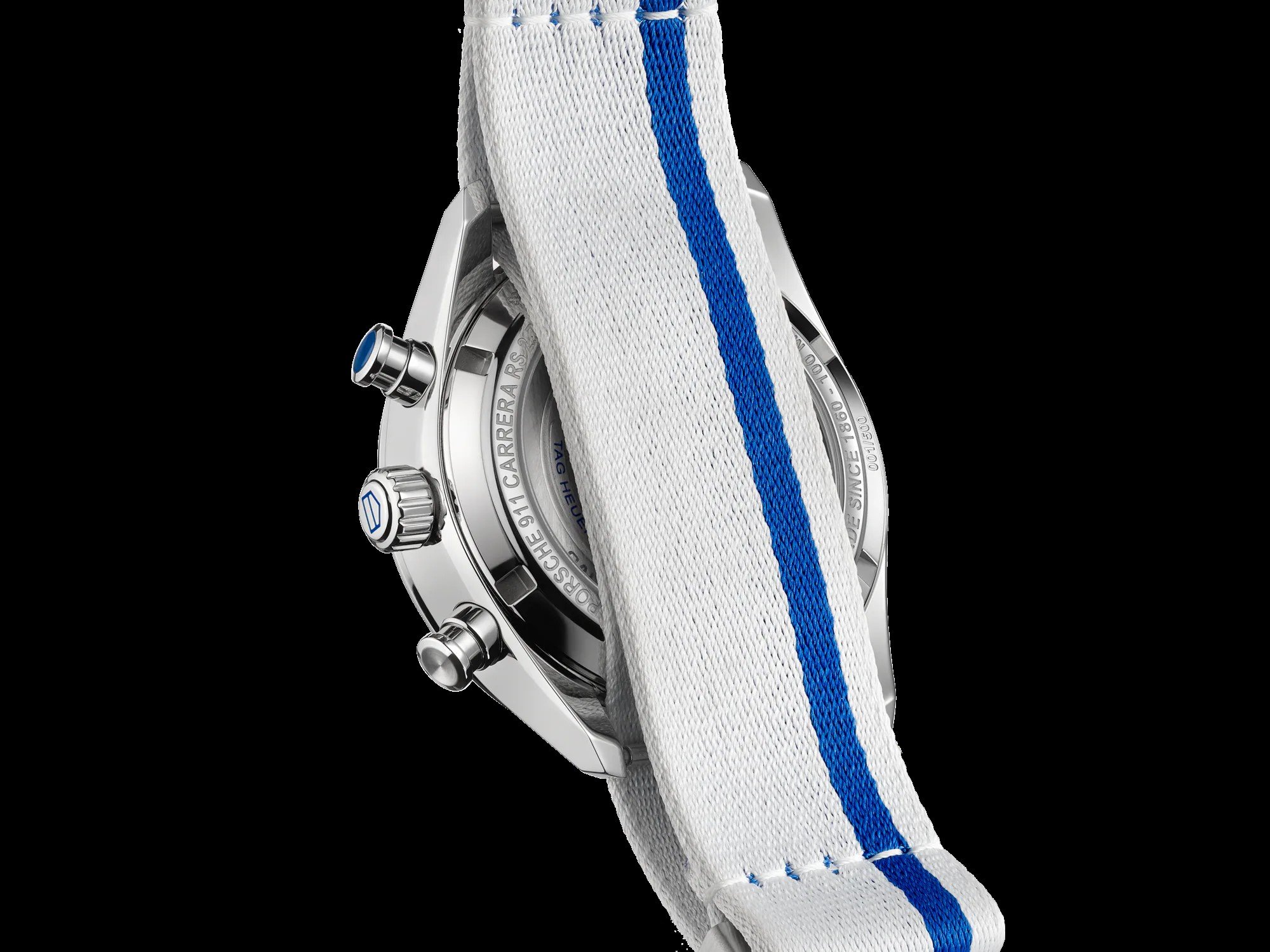 Too much Porsche?
If you are a huge Porsche fan, by all means, go for the white NATO with the Porsche logo and Carrera blue script, but I find it a bit overpowering. The dial has the neat touch of a Carrera script at 12; for some people, it is no surprise, as it harkens back to Heuer Carreras, but this is the Porsche Carrera logo, see? And the first time this connection has been used so literally by TAG Heuer. The fresh contrast fills the dial, and I'm a big fan of the "faux" twin register look, where the running seconds at six gets a register so minimal that it doesn't look like a triple. Yes, TAG, I could see myself rocking this on a bracelet as it has grown on me. Equipped with the Calibre Heuer 02 and an 80-hour power reserve, it's a full-package deal for €7,900.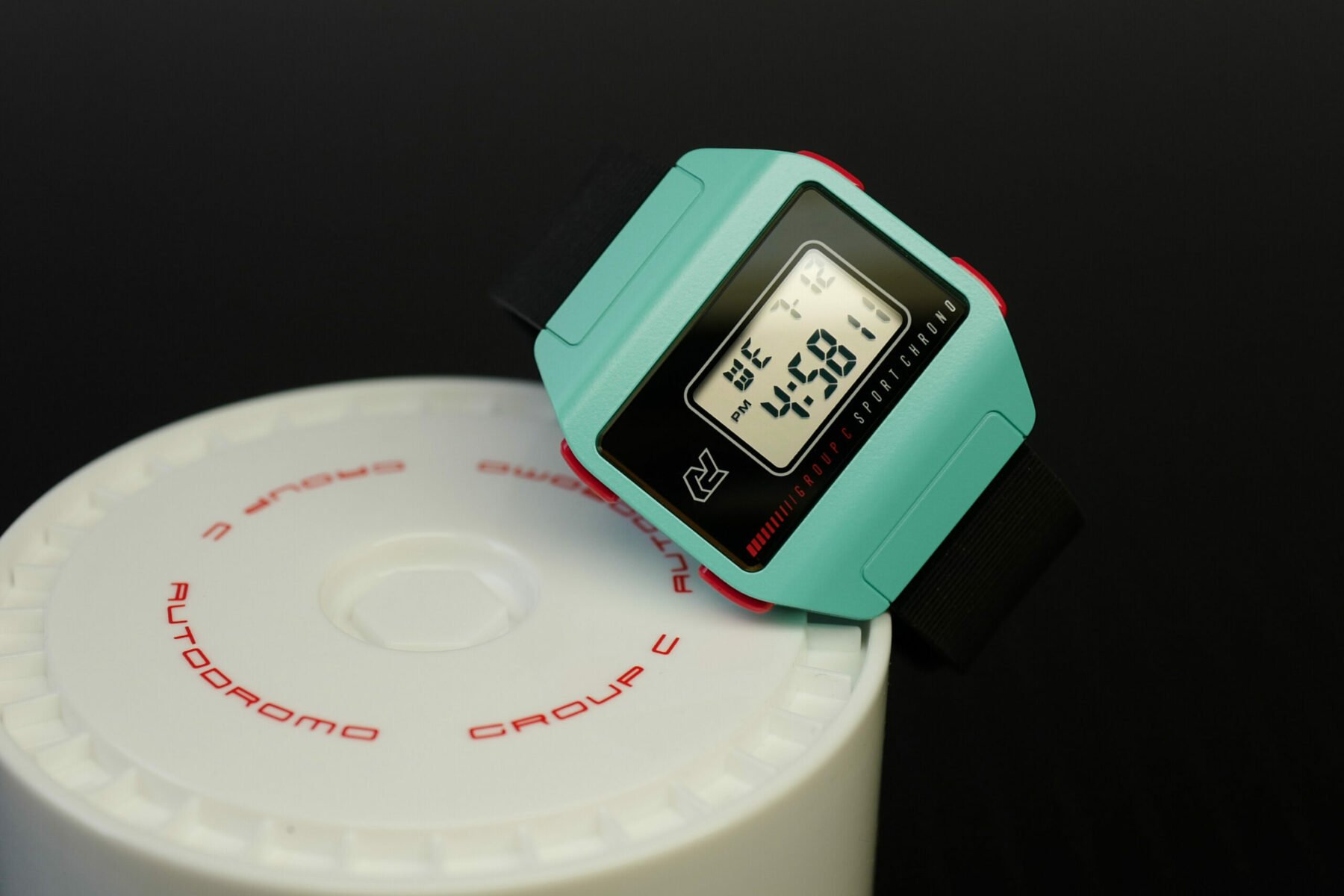 Autodromo Group C
Autodromo does a great job of harnessing the pure vibe of car racing. They mold their wristwear from the feeling of speed and the smell of petrol, rather than overly spelling it out. The Group C collection is the perfect example of a less literal association. The Group C digital watch comes in a turquoise blue for its fourth iteration with a lemon yellow alternative and more. And it comes in a sweet-sized 36mm case with red pushers and logo screen detail. The simplicity gives Casio a run for its money; the Cerakote is a tough surface and the strap? It comes on an eighties-looking fine ribbed rubber, which is reversible and made from comfortable FKM (Fluoroelastomer) instead of dust-magnetic silicone.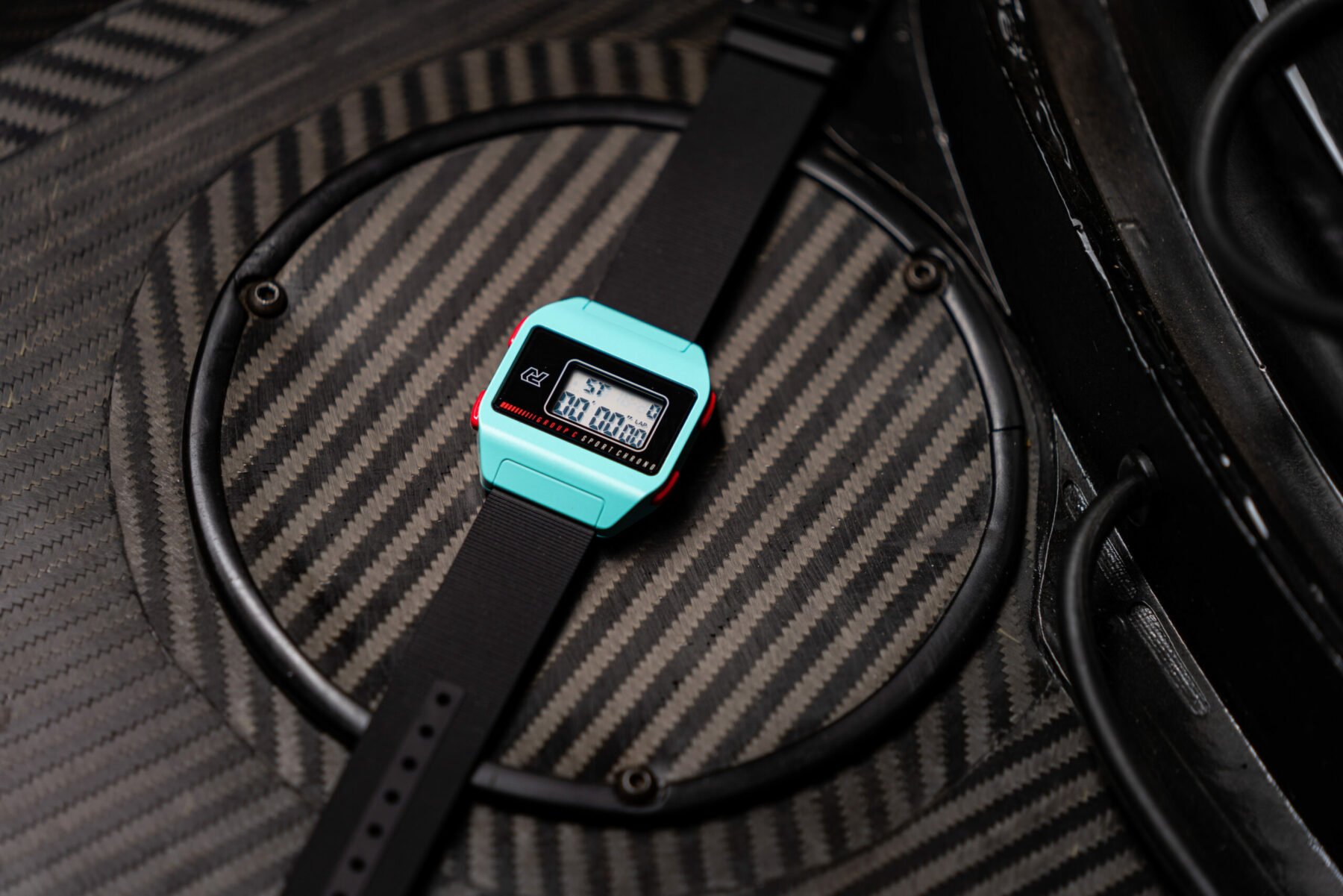 The slim 10 mm, weighty (for a digital watch) feel of the Autodromo Group C is in a class of its own. To be honest, I know of great micro brands out there with retro love as their motto. But they're not digital, and tough digital in a steel case with tough Cerakote-summer-colors is unique. At €510, you're shelling out decent G-Shock money, but just one look makes you feel the vibe. I can imagine timing a lap, strapped into a Group C Porsche 962 with its fire-spitting engine two inches behind my back. I love my G-Shocks, but this one tickles my eighties-kid taste buds something crazy. The Group C has the appeal of a pure 1984 NOS piece but with today's QC, dependable electronics, and sharp display. The Group C is heaps of fun and also the only digital watch I know with an AR-coated sapphire crystal, tempting stuff.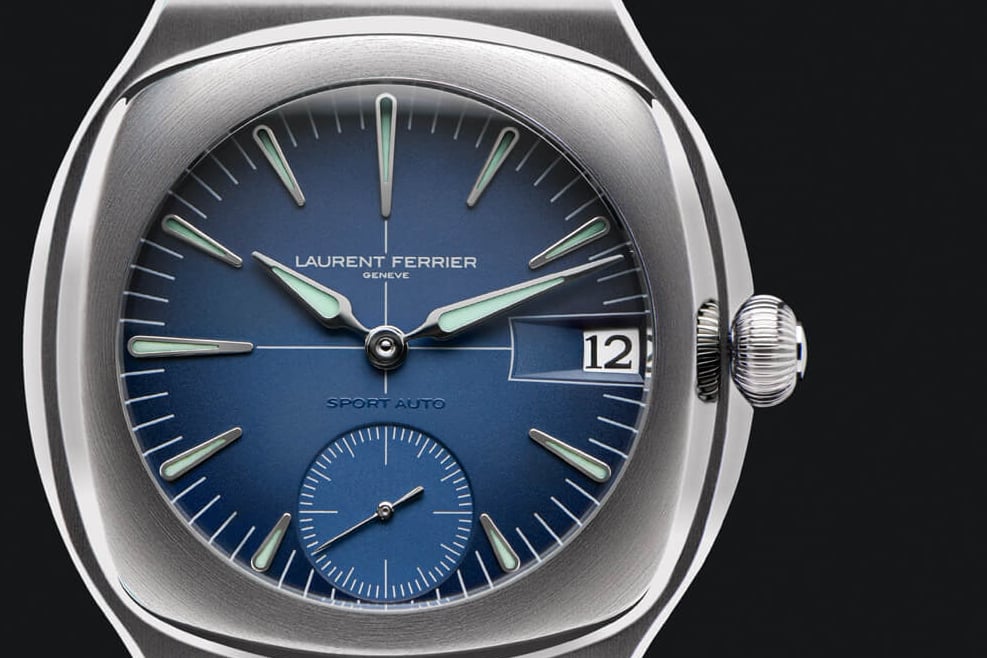 Laurent Ferrier Sport Auto
I'll finish with a more lateral view of car-themed watches in the Laurent Ferrier Sport Auto. I've covered this grail before, and you'll be searching in vain for car clues here, so don't even try. The exquisite Sport Auto is a rather chunky yet refined take on the classic shape of an integrated bracelet sports watch. You'll recognize the tell-tale clues of his Assegai spear hands, though shown in a broader, more assertive style and with added pistachio green lume. Long, slender applied indices appear to reach out, trying to touch the handset, and the scene is set within a salmon, almost powder pink degradè dial with a crosshair. At close to €50K, it is jostling Patek, but it's a different vibe, underlined by the bold grade 5 titanium case and blocky-soft bracelet.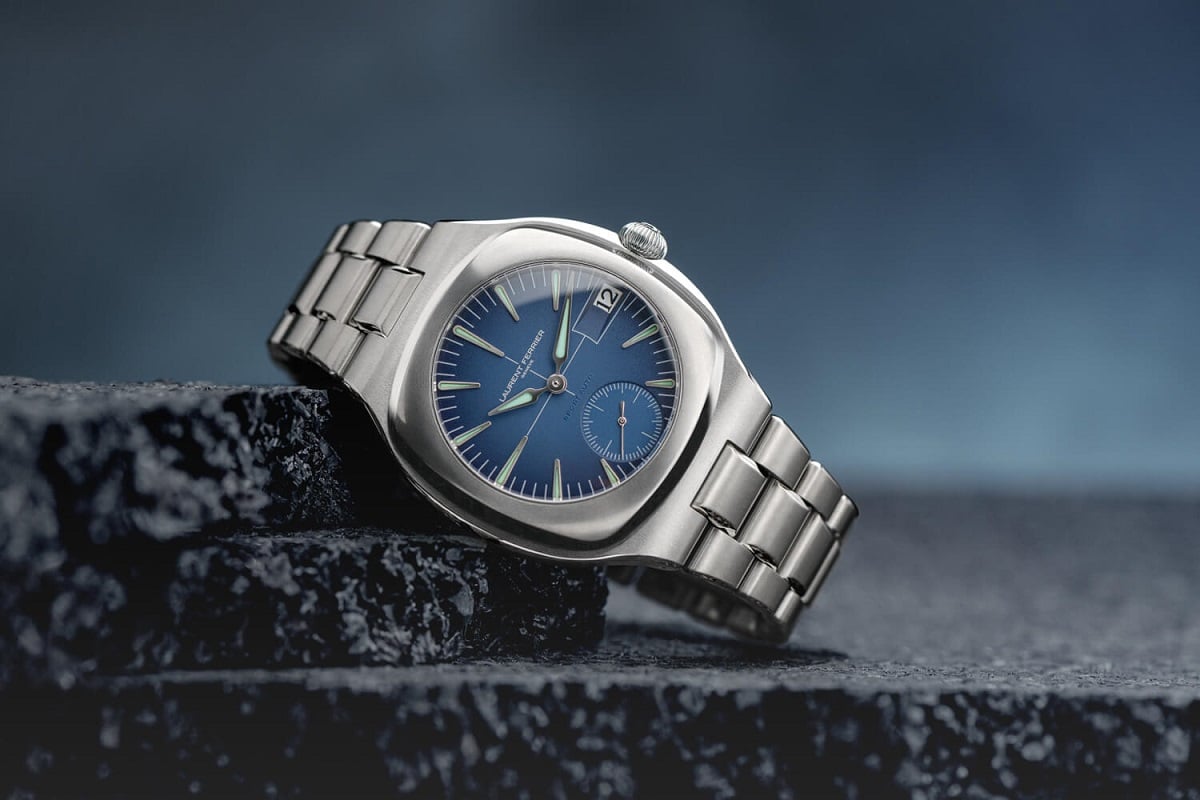 A discreet link
So, how is the Sport Auto car-centric like the other watches in this story? Mr.Ferrier has a past of motor racing at Le Mans in the upper echelons of endurance racing. The curves of racing cars inspire the rich mid-blue dial. Perhaps the podium-placed Porsche 935 he shared with partner Francois Servanin? Whilst cars and racing significantly influence the case, The delicately finished caliber LF270.01 micro-rotor movement remains a quiet secret until turning the case around. Its 41.5mm wears perfectly in the soft cushion case and is available for CHF 46,000 ex. VAT. That's firmly in Patek territory, but I'd pick the lightweight, soft-angled Sport Auto over a more ubiquitous Nautilus any weekday.
Have you lined up at the starting grid, Fratelli? Or is the mere thought of car-themed watches a no-no? Me? I could see myself wearing a few of these, budget-allowing, especially if the car or racing connection remains discreet.