Explaining The New Cartier Ronde Croisiere Collection
Just about 4-5 months before the SIHH, Cartier announced a new mens watch that comes in three different versions listening to the name Ronde Croisiere Collection. This time it is not a new watch from the 'Fine Watch Making' collection, these will be presented in January, but a more affordable, main stream time piece, created to accompany you literally anywhere. The differences between the three models are aesthetic only. There is a version with a gold plated bezel, a version with an ADLC coating and a steel model, all sharing the same automatic caliber.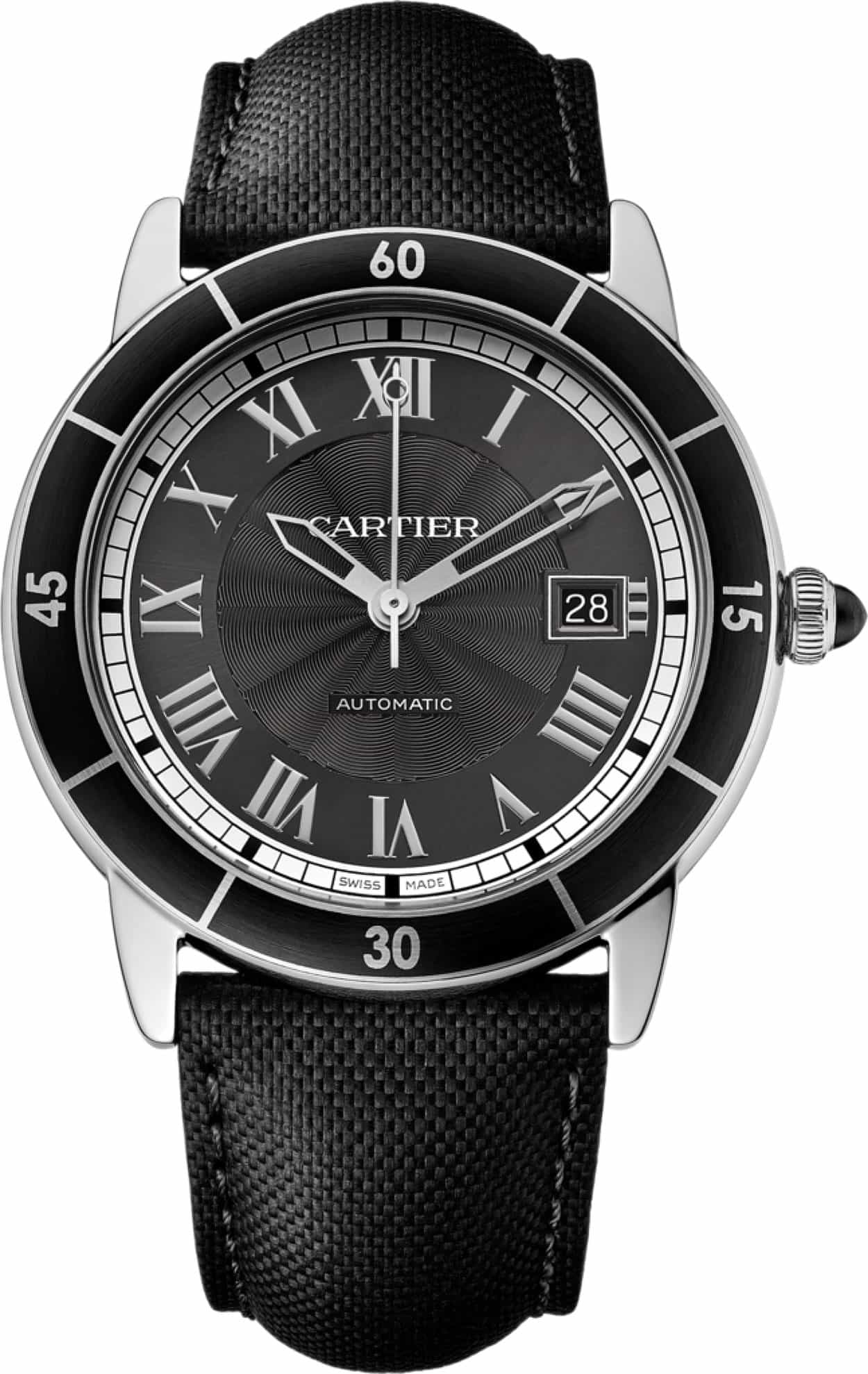 Cartier Ronde Croisiere Collection
The watch is a masculine straight forward 'time only' timepiece with a date function as the only complication and it's powered with Cartier's own fairly new, dual direction winding, automatic caliber, the 1847MC with 23 jewels, 28,800 vph and a power reserve of 48 hours. The caliber is not visible through the back; this time the back of the case is closed. Personally I like the closed back on this watch a lot. See through backs have been a real trend over the years, but they actually only make real sense, when the caliber is a nice hand wound- or complicated movement.
Where I am a bit puzzled about is the 18k pink-gold-plated bezel, especially when I think back of the vermeil 'Must Tanks' from the Seventies and how the problems that occurred were handled, but I am sure Cartier has a lot more experience now and knows exactly what they're doing. It is after all about 45 years ago when the 'Les Must Tanks' were selling like hot cakes. But the fact that a brand like Cartier is taking this path, is quite remarkable.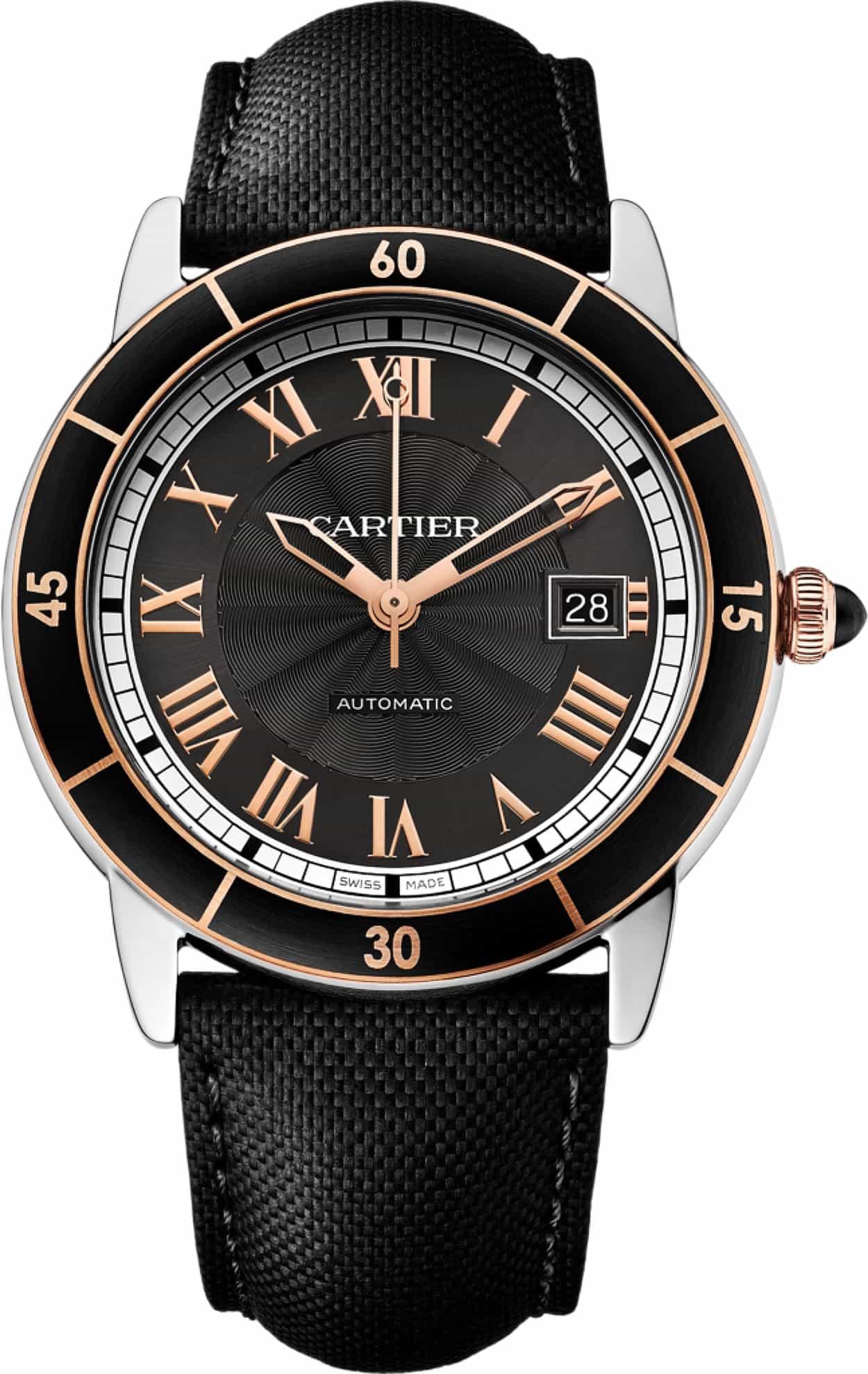 As long as Cartier is producing watches and clocks, 'La Maison' has always dived deep into their rich archives, to bring back historic details in their new collections, that's why Cartier pieces always had their own distinctive look and were so recognizable even from a distant. But when the first pictures of these new watches were PM'ed to me, I honestly thought for a moment, that I was confronted with Chinese copies of the 'Ronde de Cartier', since there were so many details, that are not Cartier like at all. But when I gave them a closer look, it became clear that Cartier was not inspired this time, by the early sketches of Louis Cartier him self, but that the brand relied more on elements that are already popular in the market and have been around in collections of other brands since years, like the black bezel with the large numbers for instance. But also the fat open hands and the hand for the seconds with the O at the end, are pretty common and are details that, I am sure, Cartier would not dare to use a few years go. The typical spinel set crown however is what remained. 
If this traditional Cartier crown had also made room for a normal fat steel crown, without the spinel, I am sure Cartier would have done the target group of this new 'Ronde' an even greater favor. It is obvious that 'La Maison' stepped away from the classic Cartier look, that brought Cartier fame for over a century, by launching this mens watch, that breaks with the Cartier tradition and that has to appeal to the more sporty male consumer of today.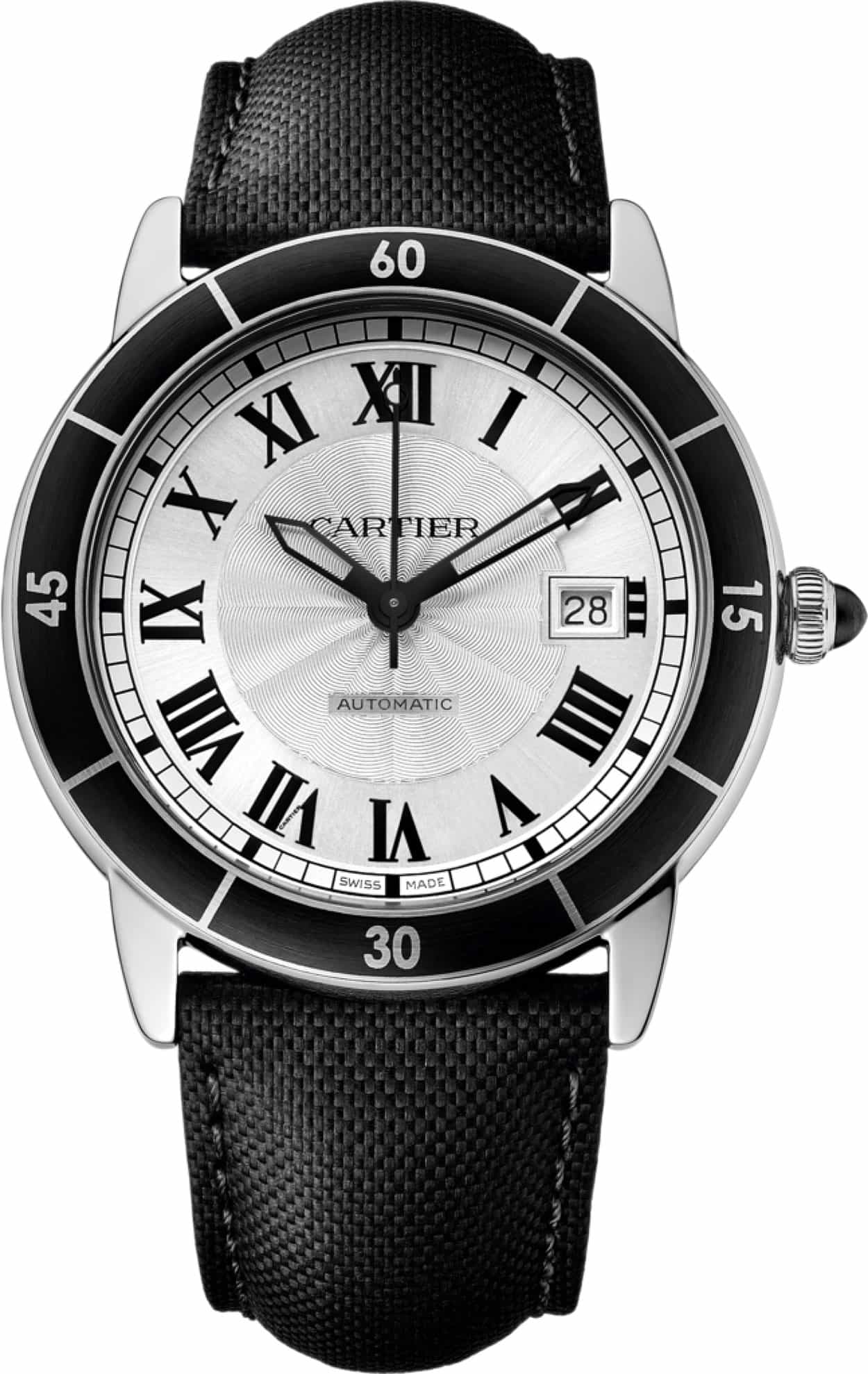 Old school Cartier aficionados may find the Ronde Croisiere collection a degradation of the classic 'Ronde' line. A series of dress watches that is around since about 1922, and that used to exist of watches in precious metals only. The line was only confronted with the first steel Ronde SOLO models a couple of years ago.
For the fashionable- and the 'New to Cartier man', that has nothing going with the rich history of Cartier, these sporty watches could be the ultimate mix, of a great classic dress watch and a more sporty model.
And for the man who would love to wear his diver watch, but has enough style, not to wear it with his suit, a model from the new Ronde Croisiere collection could be a great solution too!
The round flat case, with sapphire crystal, is water resistant to 100 meters and measures 42mm. The new 'Ronde' is available in steel with a 18k pink-gold-plated bezel and 18k pink-gold crown, in steel with a black ADLC coating, both with applied numerals and in just steel with an off white guilloche dial with blued numerals and hands. All three models have a date ring, matching the colour of the dial, what makes this complication good looking.
The USA will have the official premiere in September and is the first territory where the new models will exclusively be available, but most US Boutiques have stock already. The rest of the world will be supplied in November.
More information on the Cartier Ronde Croisiere Collection can be found on the official Cartier (US) website.