Monday Morning Camouflage: Wearing The Casio G-Shock GMW-B5000TCC-1 With A Circuit-Board Pattern
While "hunting" the Ralph Lauren Ralph & Ricky Bear Watch together with the stealthy Panerai Submersible S BRABUS Verde Militare Edition
Camouflage comes in numerous styles and colors. The Panerai Submersible S BRABUS Verde Militare Edition relies on a moss-green color to stay undetected in nature. The Casio G-Shock GMW-B5000TCC-1 watch with circuit-board camo pattern is suited for an urban environment — wear this watch with a all-black outfit inside a computer, and you will be completely undetectable. And since camouflage has a functional purpose, I've added a watch you can "hunt" while wearing camo. It's the preppy Ralph Lauren Ralph & Ricky Bear Watch. The new Ralph Lauren watch is not a limited edition, meaning it won't go extinct due to overhunting. Such a relief!
A titanium G-Shock "Square" is something special. There's just something about how these premium G-Shock models look, feel, and wear. The Casio G-Shock GMW-B5000TCC-1 (€1,790) is no exception. The laser-engraved camouflage design on the black IP titanium case incorporates patterns from the actual circuitry of the watch's module inside the case. This impressively sharp and crisp pattern decorates the bezel and bracelet. There's also a sense of depth in the pattern that uplifts this functional Square. And because the engraving is also seen on the side of the bezel and the buckle; the pattern sort of ties the watch together in a Big Lebowski kind of way.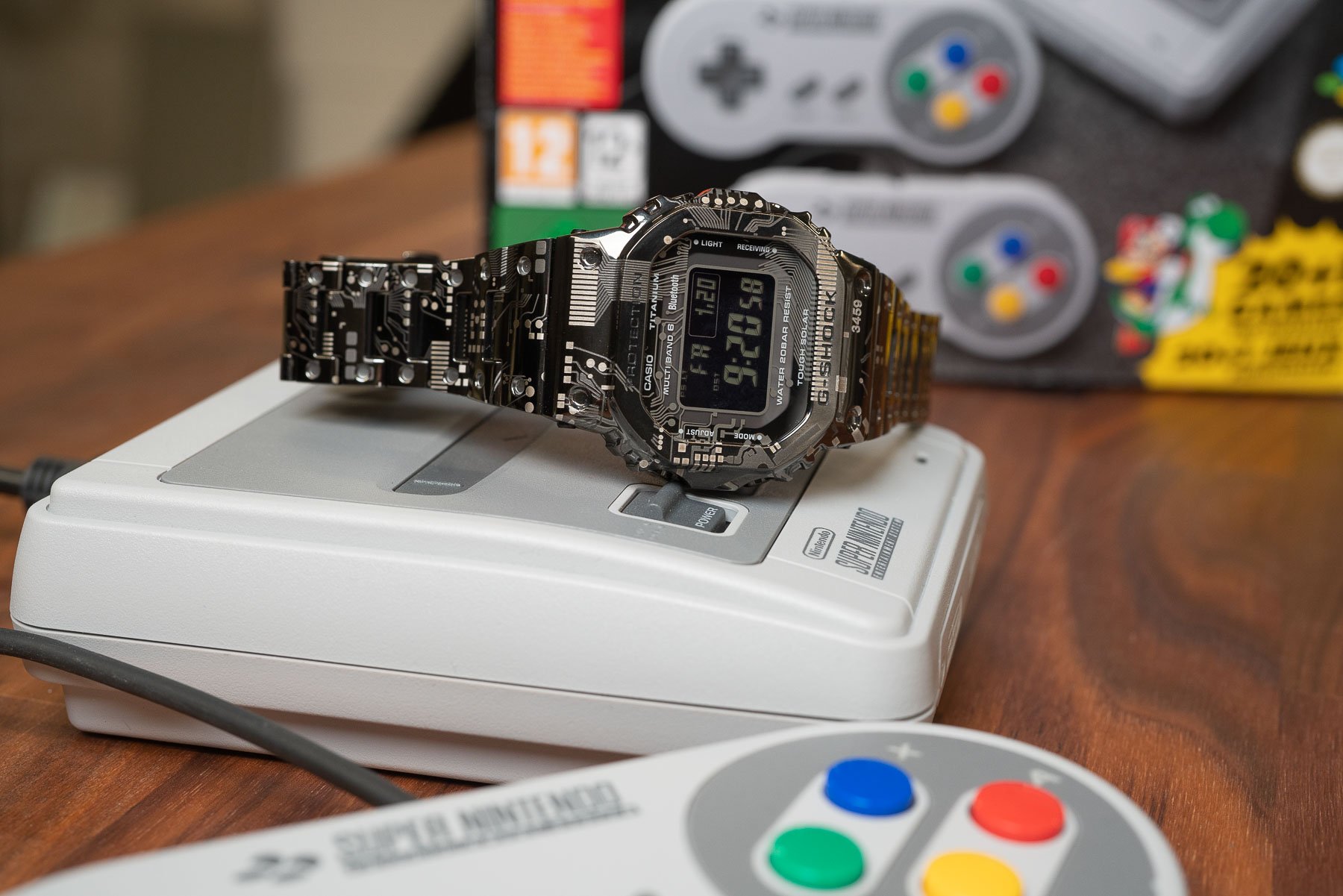 The Casio G-Shock GMW-B5000TCC-1 wears its 3459 module on the outside
The 49.3mm × 43.2mm × 13mm GMW-B5000TCC-1 wears its insides on the outside. To be more specific, the unique camouflage pattern you see is abstracted from the circuitry of the 3459 module inside the case. It's like a skeleton watch that's closed but wears a depiction of its inner workings on the exterior. In any case, it's a unique look. It's a look that's very durable because the titanium that Casio uses is so-called TranTixxii titanium. It's an alloy developed by Nippon Steel Corporation with roughly twice the surface hardness of conventional titanium. When this kind of titanium gets a mirror finish, it even resembles polished steel.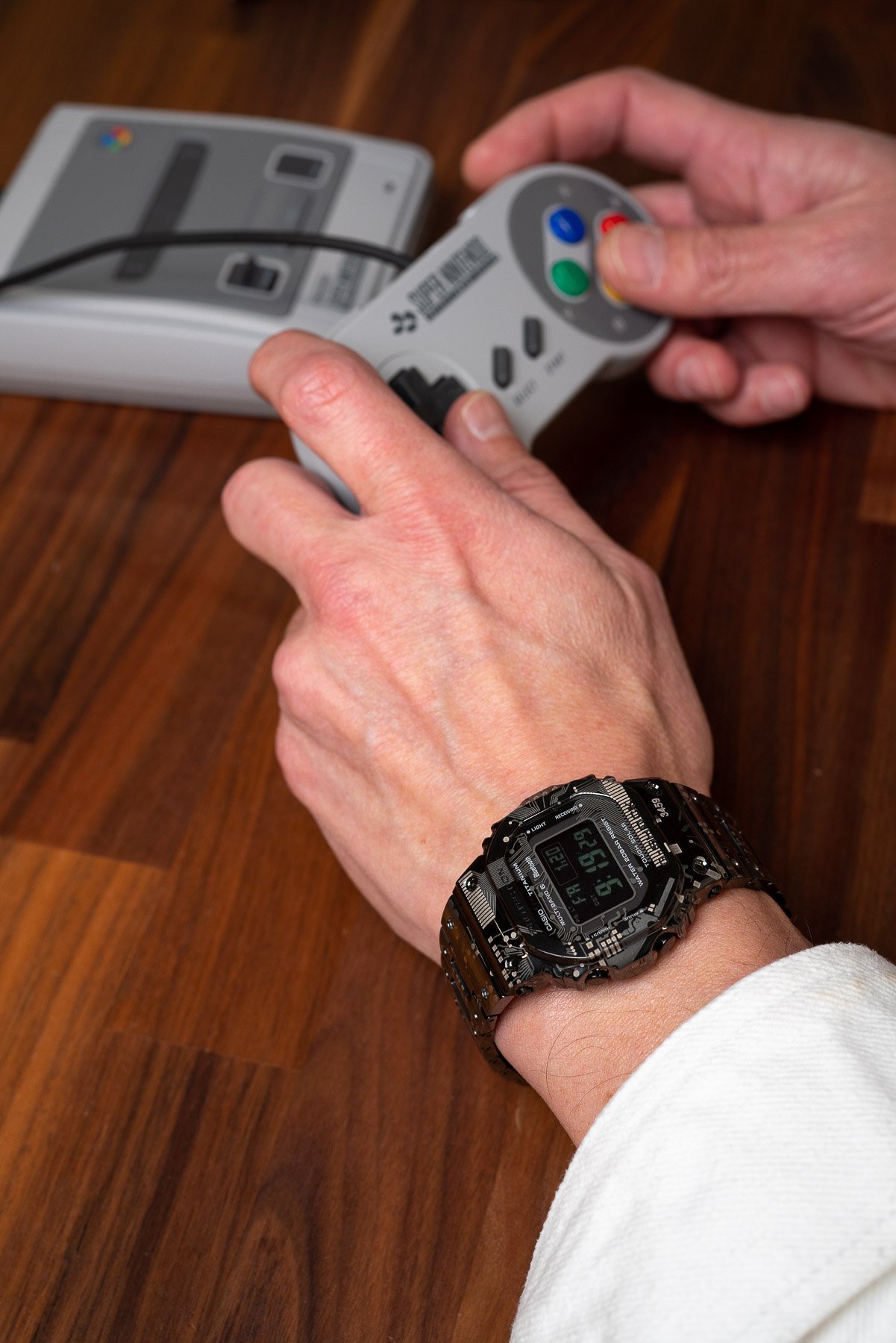 Of course, this top-of-the-line G-Shock is easy to operate via the link with your smartphone, and it has all the bells and whistles you expect — Multi-Band 6, Tough Solar, a Super Illuminator backlight, and all that. It's also water resistant to 200 meters, so you can take it for a swim in all the 39 time zones that this watch can keep track of. Most importantly, in my humble opinion, this very originally styled GMW-B5000TCC-1 just looks the part.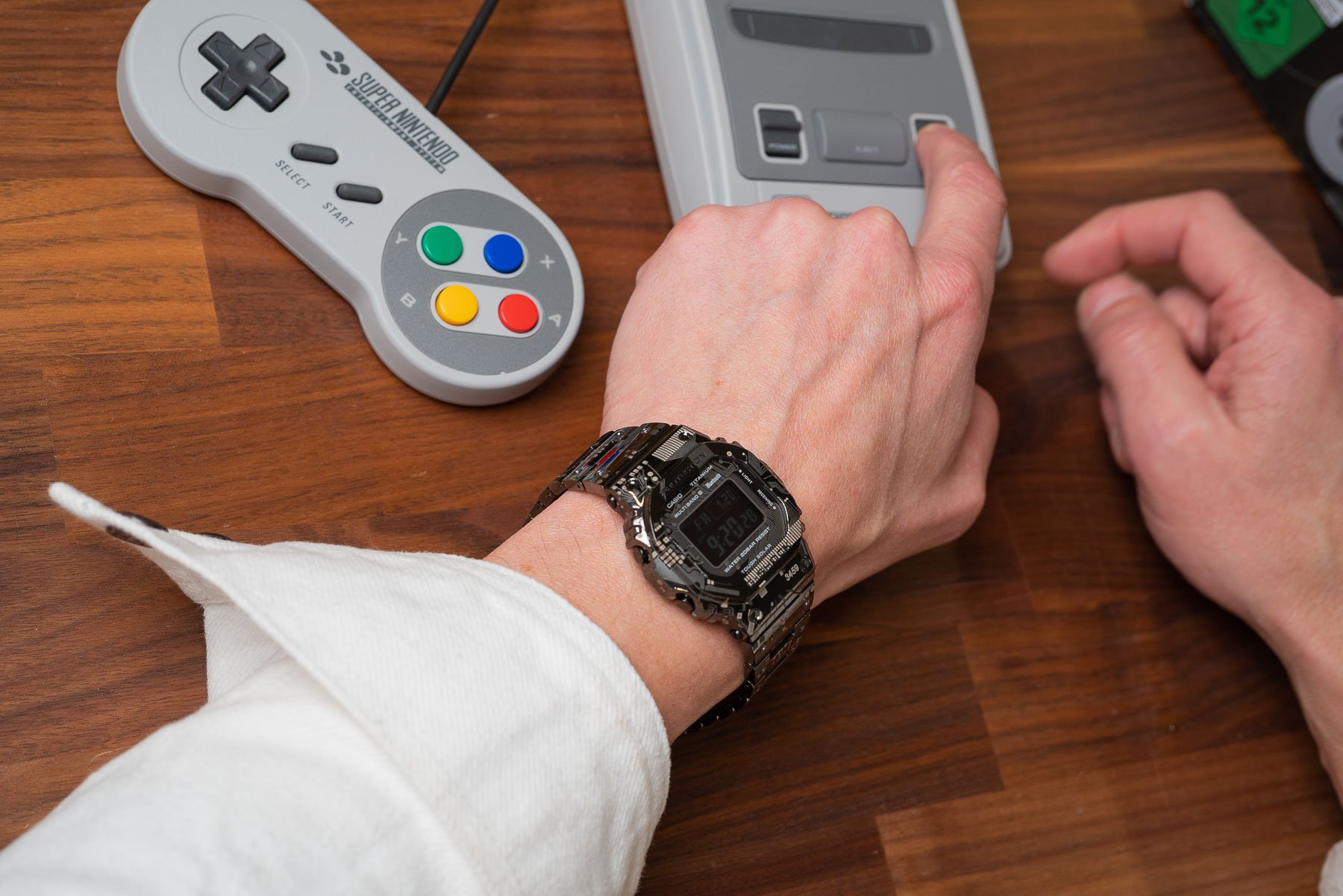 You can find more info about the GMW-B5000TCC-1 on the official G-Shock website.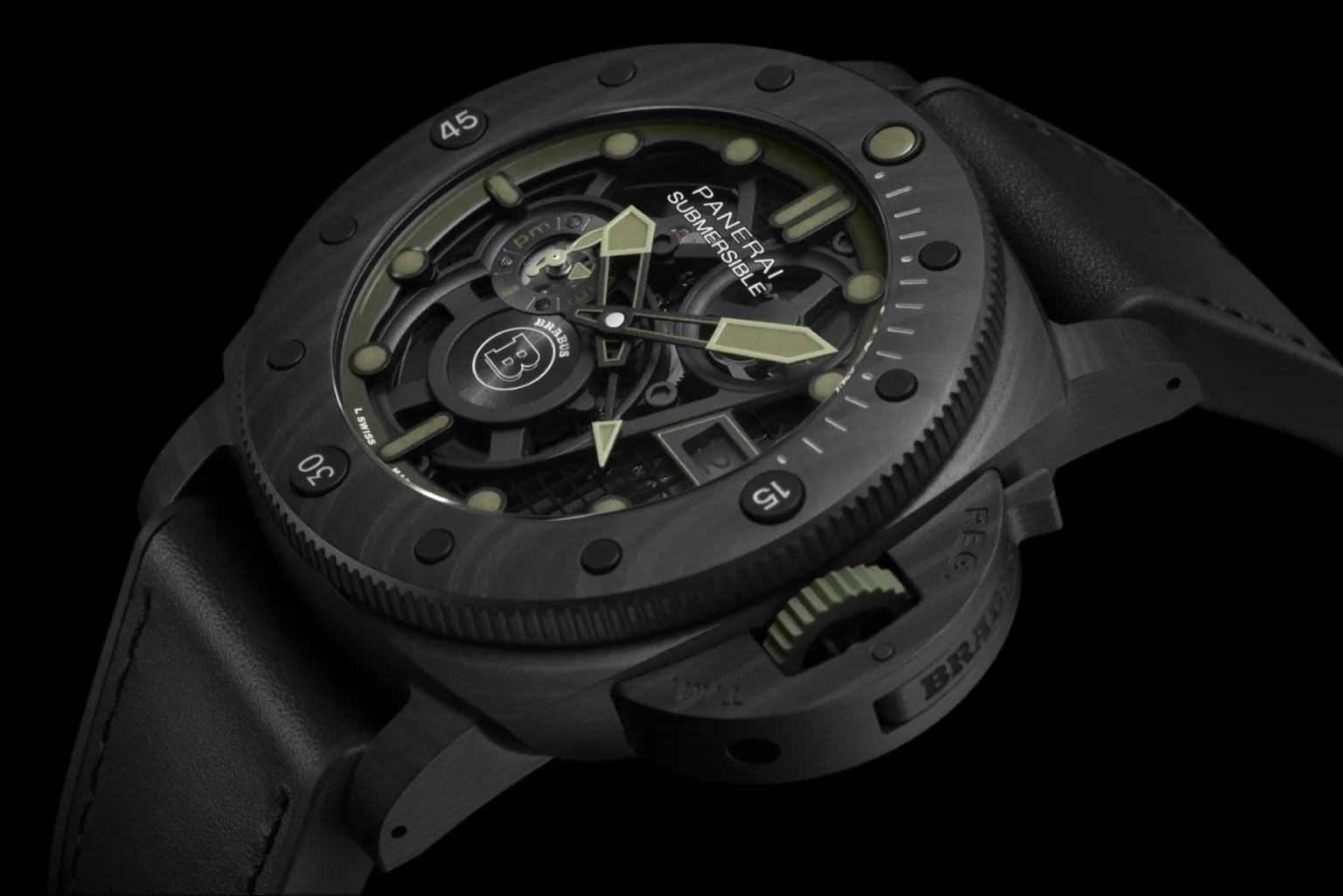 Panerai tries to sail stealthily with BRABUS
The Panerai Submersible S BRABUS Verde Militare Edition PAM01283 (€52,000) has a look that combines high-tech details with military styling with a touch of urban fashion. It reflects the BRABUS vibe very well because it's big, brash, bold, and impossible not to notice. When you read the name BRABUS, you probably thought of tuned Mercedes-Benzes with large rims. I can't say I didn't, and you're also not wrong, but BRABUS does more than cars. The German company also makes boats, and it's this part of the brand with which Panerai has a partnership.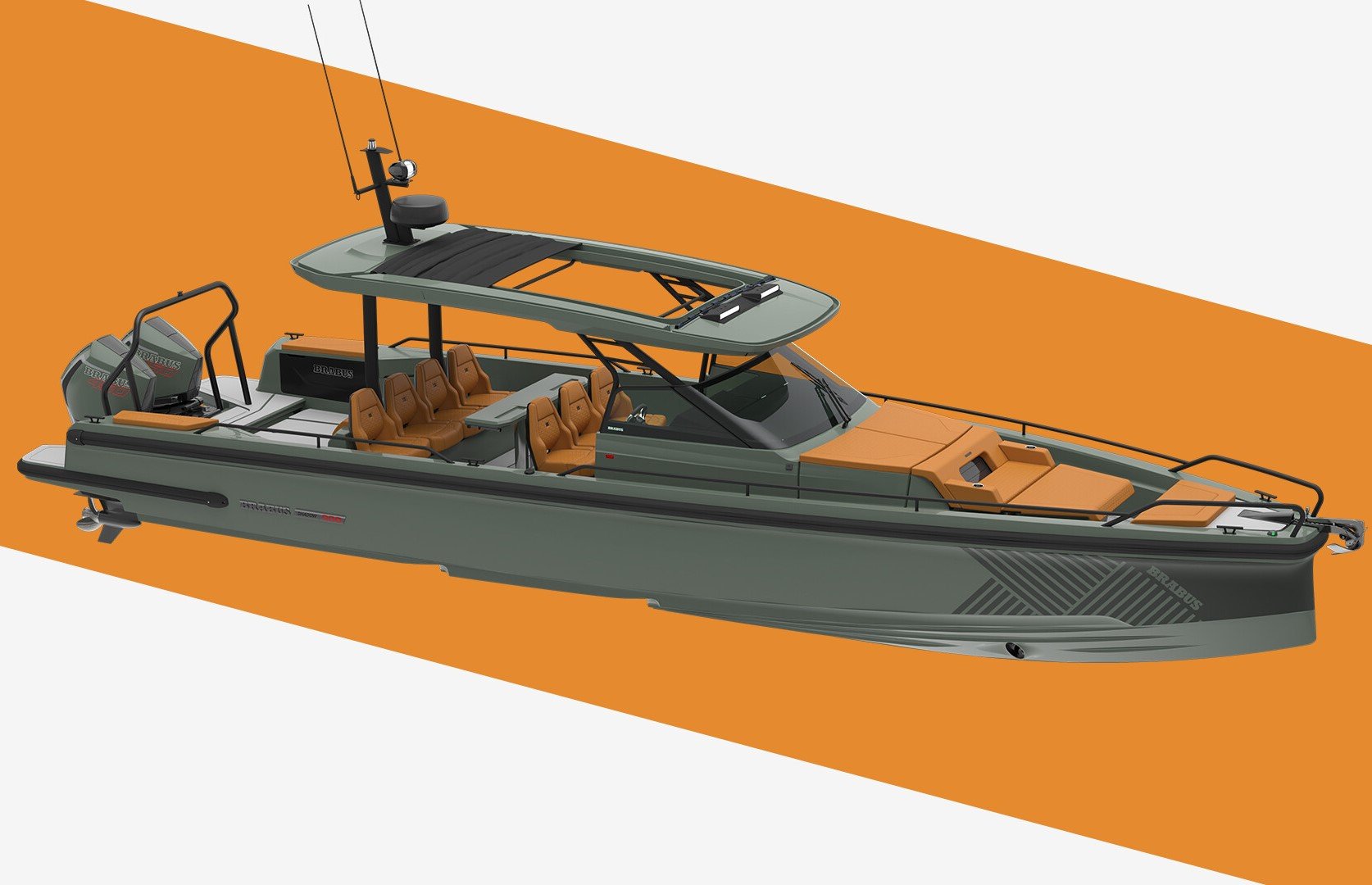 Different types of carbon
The 47mm Submersible S BRABUS Verde Militare Edition is the perfect deck watch if you're the owner of the new BRABUS Marine Shadow series luxury powerboat. The watch has a case in Carbotech, a composite material that Panerai was the first brand in watchmaking to use. You see a different kind of carbon in abundance on the Marine Shadow powerboat, but the two lightweight composites are a great match nonetheless. Accents in military green appear on the watch's hands, flange, rubberized crown, AM/PM indicator, and the small seconds sub-dial. This is the same color used for the Shadow 900 Stealth Green Signature Edition. And whether you drive, sail, or wear a BRABUS, you want to be reminded of that. That's why each of the 200 pieces of this limited-edition Submersible shows the BRABUS logo on the dial side and the case back.
Want to know what this powerboat for the wrist looks like in real life? Remember that Panerai will be present at Watches and Wonders 2023 and that on April 1st and 2nd — that's the first weekend of April — the salon is open to the public. Tickets for Watches and Wonders will be available as of February 1st on this website. The tickets are nominative and available for CHF 70 each. See you in Geneva — bring your BRABUS.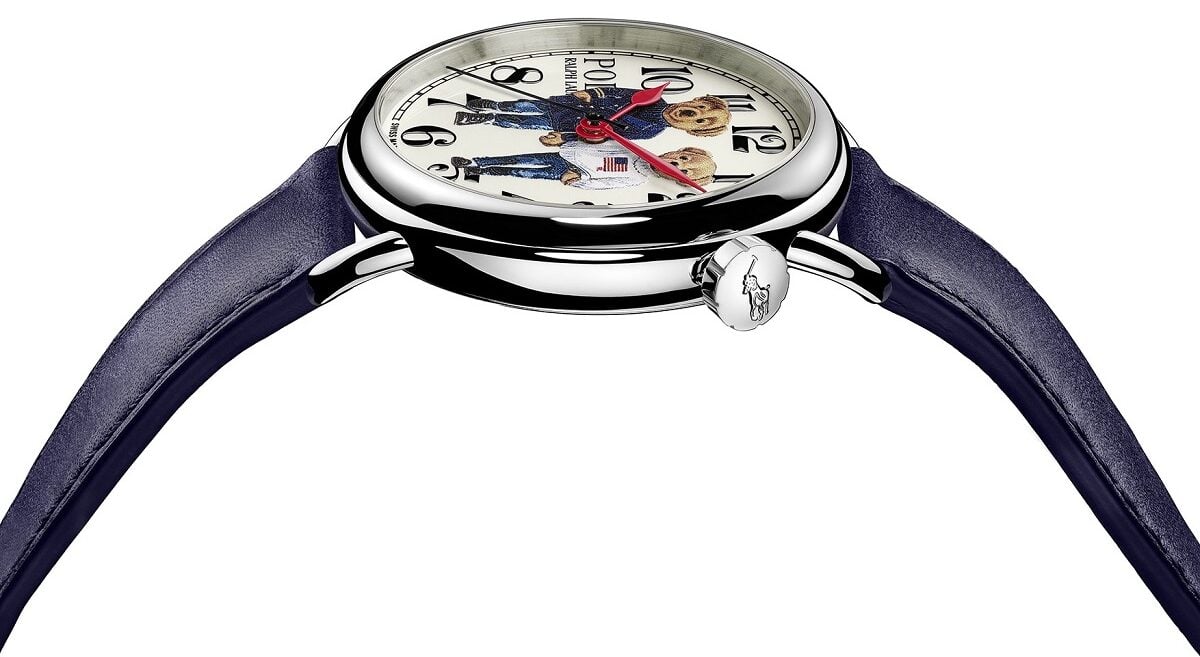 The new 38mm Ralph Lauren Ralph & Ricky Bear Watch
What you won't get to see at Watches and Wonders 2023 are Ralph Lauren watches. The brand did participate in SIHH, the forerunner of "W&W," but that was back in the days when the Polo Ralph Lauren Watch and Jewelry Company was in a 50/50 joint venture with Richemont in its early days. The strategy of the watch division of Ralph Lauren has changed a bit since it started working with Richemont in 2008. I remember watches inspired by Ralph Lauren's vintage Bugatti featuring a bezel made of wood in the style of the car's dashboard.
Less serious, more preppy
The watches the company has been releasing lately are less highbrow. The Ralph Lauren RL867 is a square dress watch with a vintage touch, and the Polo Ralph Lauren Vintage 67 is retro with a fashionable touch. Both watches are still pretty serious. Well, more serious than the Ralph & Ricky Bear Watch anyway. This 38mm steel watch (US$1,450 / €1,600 / CHF 1,450) houses the Swiss-made automatic caliber RL200 (Sellita SW200) and shows two bears holding hands on the dial. It's a signature look that is modeled after a 1996 photograph of Ralph and Ricky Lauren walking together at their estate in Bedford, New York.
The Ralph & Ricky Bear Watch comes on a quick-change navy calfskin strap, making it easy to match with everything in your preppy (Ralph Lauren) wardrobe.
For more information, please visit Ralphlauren.com.
Find and follow me at Lex Stolk • Instagram.