Casio G-Shock Retro
In 1983, Casio introduced the G-Shock. As the name suggests, this watch is able to take a few serious blows. This ref.DW5000 watch was in those days (for me) the coolest of the coolest. Ofcourse, being a little guy (only 7 years old), it was way too big for my wrists, so I (or my parents) settled for a much smaller digital Casio watch, that I still have somewhere.
Anyway, 20 years later, in 2003, there was this Project Team Tough-model (DW5000SP) to celebrate the first DW5000 G-Shock. It was only available in Japan (officially) and came in a very nice giftbox. I ordered one right away via eBay and was amazed by the nostalgic feeling that this watch gave me. Although I wear it seldomly (and just for fun), it is a great retro timepiece.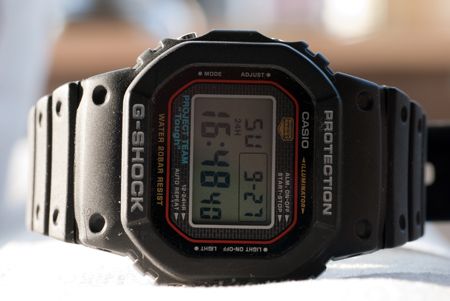 Photo by me, click here for better pics by Jason
A friend of mine recently asked me if he could have this model. Ofcourse, I said no 🙂 Being a special edition and all 😉 However, I did mention to him that the current Casio G-Shock model, DW5600E-1V is still for sale for approx. 45 USD.?Ǭ† This DW5600 has the same functionality as the original DW5000 and Anniversary DW5000SP model, but it comes without the fancy box.
TestFreaks.com website has a special category for watches, and it includes a lot of Casio (G-Shock) coverage. If you are interested in getting a retro G-Shock as well, I suggest visiting www.testfreaks.com/watches and search for the DW5600 model. They also cover a number of other brands, with great links to e-tailers who have these watches on sale.