Casio Honda Racing Limited Edition EQW-A2000HR
Get your knee to the ground and go for pole!
Limited editions come in all shapes and sizes. They also come with all kinds of nods to their inspiration. When it comes to the Casio Honda Racing Limited Edition EQW-A2000HR, we have a very full-blooded manifestation of the risky and riveting world of motorbike racing. With aesthetic and material cues riddled throughout this piece, we ask whether it achieves its remit.
I've had the recent pleasure of coming up close and personal with Casio's modern catalog. I'm not afraid to say I have my favorite sections thereof and that the Edifice collection is not one that particularly resonates with me. However, I do happen to be quite the motorbike fan, so when the opportunity to get the Casio Honda Racing Limited Edition EQW-A2000HR in hand and on the wrist for a couple of days arose, I duly took it with eager hands and an open mind.
This watch is inspired by the Honda RC162, which earned Japan its first motorcycle Grand Prix victory at the Second Round West German Grand Prix in 1961. It went on to win all 10 of the Grand Prix events that it ran that year, making it a true world champion. (Champion Bike No. 100, ridden by Kunimitsu Takahashi).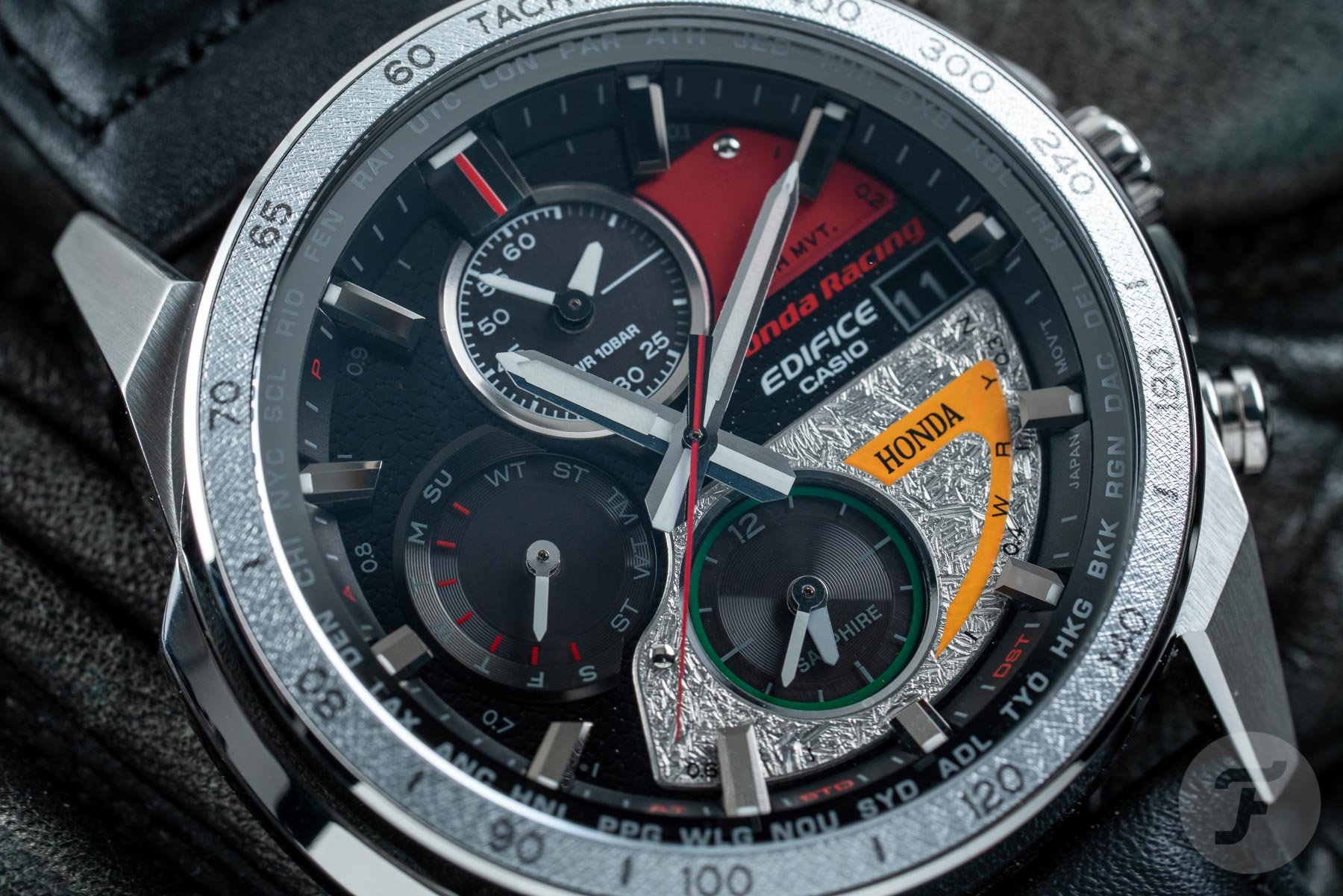 A vibrant face
I chose a close-up of the dial as the starting point of this analysis for a reason. This is not a watch for the faint-hearted. It is dripping with pit-inspired character to such an extent, you can almost smell the gasoline. The watch face looks more like a fuel gauge than it does a time-telling device at first glance, and I think that is exactly what the brand went for.
How was this achieved so effectively? The liberal use of green and red (common racing colors for petrol companies, traffic lights, and up/down indicators) get things off to a strong start. These colors are also reminiscent of the RC162 itself (the tank was red and the fairing line was yellow). The scored metal "RC162 aluminum faring" in the bottom right third of the dial brings a tinkering vibe to an otherwise ordered dial. This scratchplate looks like a used, functional piece of metal. You can easily imagine it having done hundreds of laps of any of the world's most famous race tracks.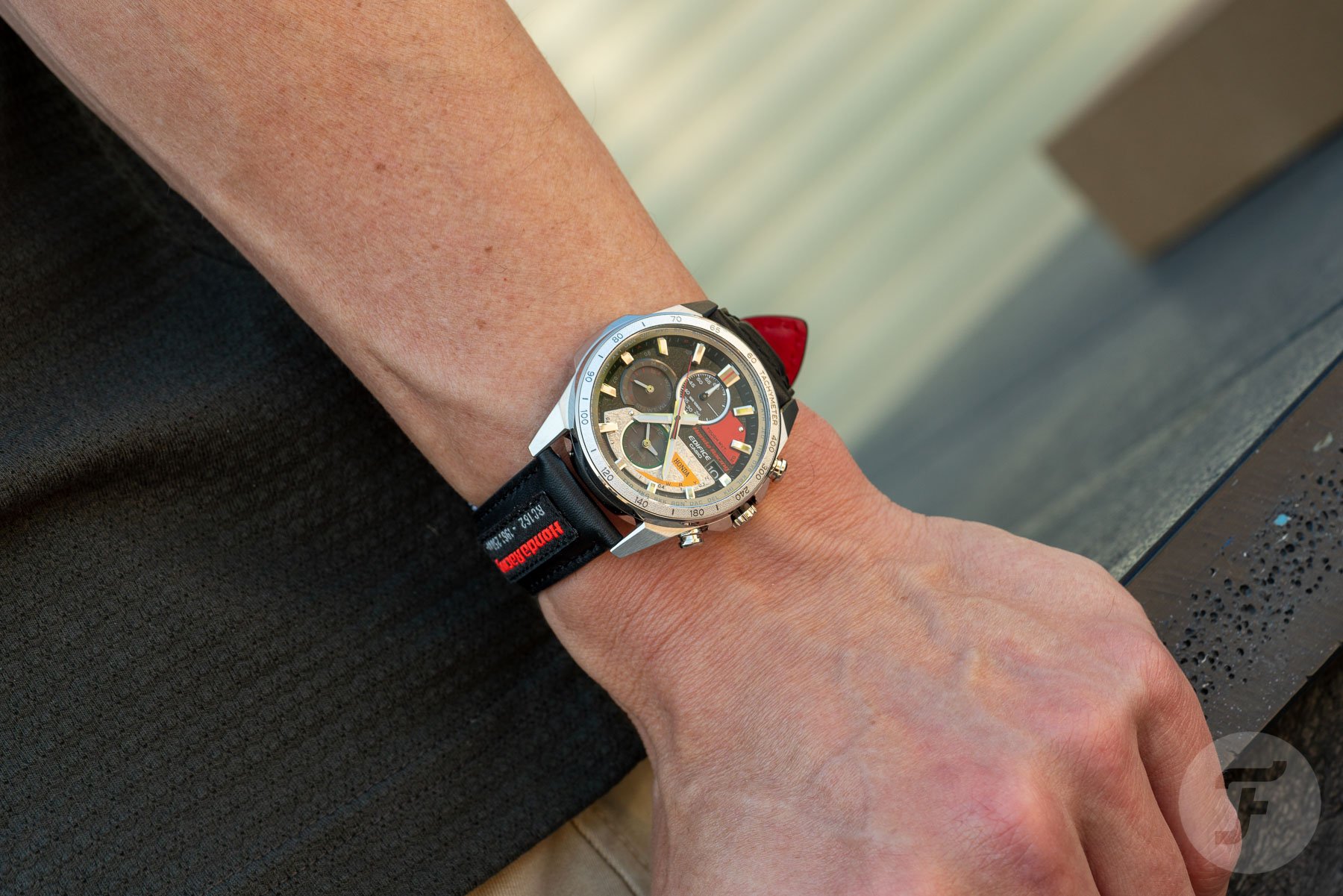 On the wrist
So how does the Casio Edifice EQW-A2000HR Honda Racing edition wear on the wrist? The stainless steel case is 45.8mm wide, 13mm thick, and 50mm lug-to-lug. It wears much, much smaller than that diameter might lead you to believe. In fact, the pleasingly stout 50mm lug-to-lug is only possible thanks to the "Carrera-style" lugs' incredibly sudden drop-off.
The finishing on those lugs is actually rather good for this kind of watch. There's a bit of style to it. Normally, with these motorsport collaborations, I expect brands to get a bit lazy. Casio stepped up here with some nice angles and a silhouette that, while interesting, is unlikely to rock the boat. It's a good balance for this kind of entry-level watch to strike.
The strap though…
This watch's character is completed by the strap. In fact, I would go as far as to say your experience of this watch on the wrist and whether it is positive or negative will rest almost entirely on your feelings toward the strap. If you hate this "padded-driver's-seat-style" strap then I think it will be hard for you to see this watch in a favorable way. If, however, it is not to your taste (and mark my words, it is divisive), pause for a moment and imagine this watch head on an Italian flag-inspired NATO. That kind of strap would be a great secondary choice for this watch particularly. I could see it wearing really comfortably on a fabric NATO and those colors would double down on its racing provenance.
In fairness, as striking and all-consuming as the padded leather strap is, it gets a real pass from me for being so well made. As I said, this is a design that splits opinion. Some people will like the seriously retro styling and rejoice in its shamelessness. Others will find it uncomfortably passé and out of place on a decent watch. Regardless, the execution is more important to me than anything else and I think Casio did a very solid job here, especially considering this kind of product is not the brand's bread and butter.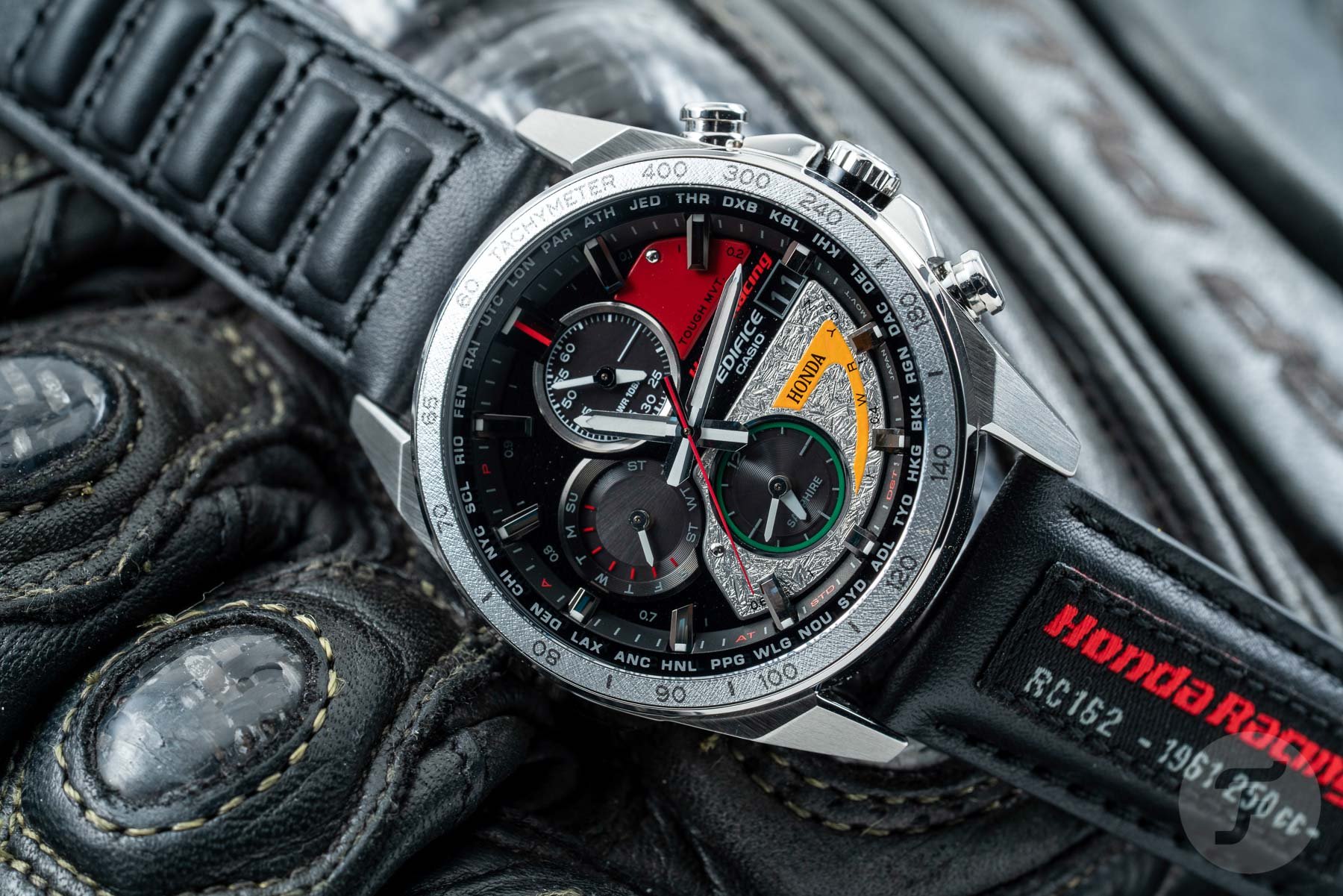 Functions
It has a screw-down case back (ensuring 100 meters of water resistance) and a mineral crystal. Its solar-powered quartz-regulated module guarantees timekeeping within Accuracy: ±20 seconds per month. There is a date and a chronograph that boasts an interesting "first and second place" feature.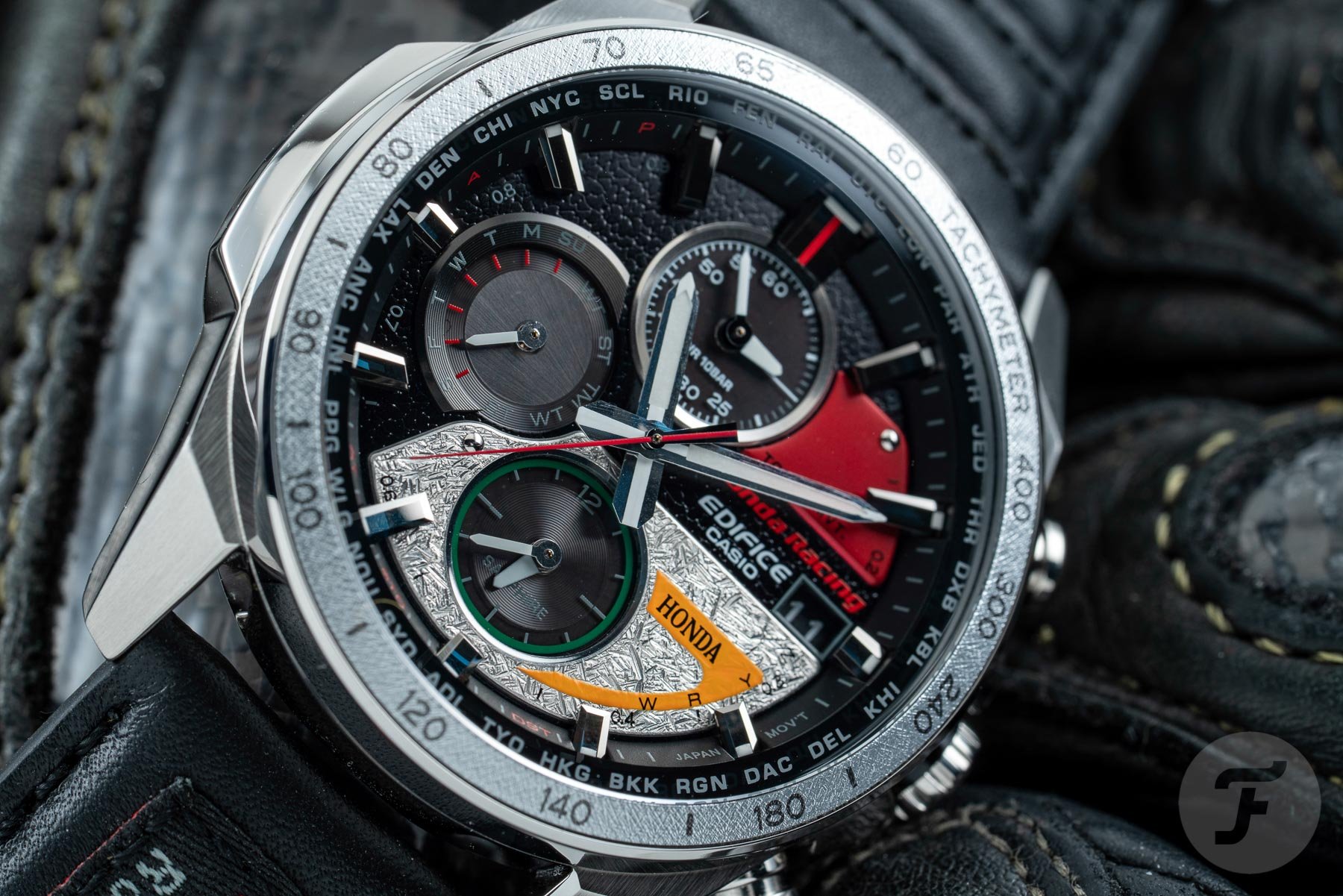 Conclusion
Altogether, this watch is a lot to handle. I like elements of this design very much (I'm a sucker for red and green), but this one is definitely too focused on racing culture even for me. I can picture this watch's customer, however, and that's always a good sign. This watch would be thrilling for young (teenage/early twenties) Superbike lovers. It is exactly the kind of gadget I would have loved to own when I was that age. There are hidden details that have the power to engage over and over again. The Edifice functionality is always welcome, and the case shape is far from boring.
It has the requisite "va va voom"…
All in all, I think it is a good entry from Casio but focused on a very specific audience. I would imagine the majority of our readers will feel the same as me. This is a "cool" watch, but not in the wheelhouse of many serious collectors. It is, however, an excellent option for the children of those serious collectors. It has the requisite "va va voom" to capture the imagination. And so it fulfills its remit: it captures the racing spirit effectively. As such, while it isn't a watch I would wear myself, I can see this one racing out of the paddock and being on the top step of someone's wish list, priced, as it is, at €599. If you'd like to learn more about this watch, please click here.