Casio MRW S300H-8BVCF – 52Mondayz, week #39
This will be the cheapest watch ever covered at Fratello Watches. And until we would do the illustrious Casio F-91W, it will most probably remain that way.
Casio MRW S300H-8BVCF
First I want to apologize for the picture quality of this weeks 52Mondayz. I had no access to a decent camera and thus the pictures in this weeks article are made with a mobile phone and and compact camera.
Still in a not very easy going area in Latin-America, I had to look for another watch which doesn't get me a lot of attraction. For these occasions I love to look at watches which do give wearing pleasure without costing a lot of money.
A lot of wearing pleasure at minimum costs
Japanese brands like Seiko, Citizen and Casio often carry such products in their collection. Among others, a Seiko SKX-007 would have been a possibility, however these are still watches which are quite present. Shiny stainless steel and all. As well, the price of a SKX-007 is still equal to a half-months wage here.
One way or the other I hardly find Citizen models in the current collection which appeal to me enough. At least not over other watch models. I do ow some Citizen watches though, mainly divers watches. You might have seen me bringing my Citizen Promaster Hyper Aqualand MA9024-24E to Baselworld this year. Another more modern Eco-Drive Aqualand Promaster, the JV0020-04E, I actually use for diving from time to time. Both not very useful in mountainous jungle areas where I'm at the moment.
With Casio, G-Shocks are always a good option. However this time I chose an even lower priced model from the regular Casio 'Sports' collection, the MRW S300H-8BVCF.
To get the rest of this review into right proportions, let's start with the price of the watch. Casio lists this model at their US website at $ 49,=. The going 'street' price is even much lower. At Amazon and through various dealers on the bay, this watch can be found for $ 35,=. Including shipment.
Good looking and excellent readability
I hope the pictures allow to show that this watch looks good on the wrist. A first point won. Secondly, it wears very comfortable as well. The size of the watch (43 mm x 12 mm) and the way the strap is fitted to the casing are both spot on. As well, the only 44 grams of weight make you forget you wear it.
Very positive to me is the readability as well. Large white hands, large numerals and bold index dashes mounted in a 3-dimensional way towards the edge of the dial. The hands and numerals are luminous in the dark, oddly enough the indexes are not. Personally I would have probably opted the other way around, to lume the indexes, not the numerals. Still the watch is very well readable at night.
A classic diver-look watch
Casio presents the MRW S300H series as 'classic diver-look' watches. And that exactly what it is. It looks more or less like a divers watch, but it isn't. It is waterproof to 100 meter however, which makes it suitable for swimming and snorkeling. Not bad at all.
Being one of the major flaws of the watch to me, is the bi-directional bezel. Bi-directional not being a flaw as such, however the bezel can be turned way to easily. If you ever want to use the bezel for timing, make sure it isn't anything else then boiling an egg.
Solar powered Japanese quartz
What else ís good for for this kind of money? A Japanese quartz movement with a minimum accuracy of 15 seconds per month. And it's solar powered, the whole dial of the watch is a solar cell. No need to change batteries. The movement even has a low-battery warning. The second hand advances in 2 second intervals in case the solar powered battery gets low on power. Less than 30 minutes of bright sunlight will charge the watch fully again, enabling it to run for weeks and weeks without light.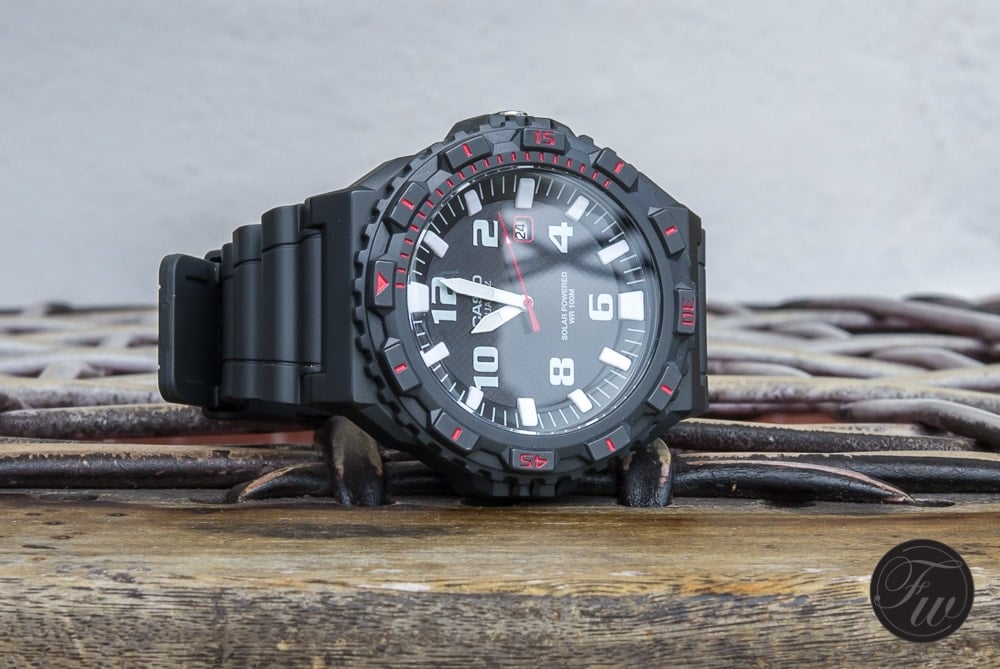 What else?
Not much more to tell about the watch really. It's obvious that the material of the watch is resin, as is the strap. It uses an acrylic crystal which won't scratch easily because it's situated quite below the top of the bezel. Normally I end the 52Mondayz column with 'for more information look at the company website' however in this case I doubt if there's much more information to find. Anyhow, if you want to give it a try www.casio.com and look for MRW S300H-8BVCF